Are you ready to take your taste buds on a trip to Spain?
Here at Visit Southern Spain, we unlock a world of flavorful, authentic Spanish food with these delicious recipes.
Get ready to impress your guests or indulge in a personal feast with these traditional Spanish recipes.
From simple tapas like garlic shrimp and patatas bravas to hearty dishes like paella and chorizo stew, there's something for everyone to savor.
Whether you're a seafood lover or a meat enthusiast, you'll find plenty of options to satisfy your cravings.
So grab your apron and let's get cooking – it's time to spice up your culinary repertoire with the vibrant flavors of Spanish cuisine!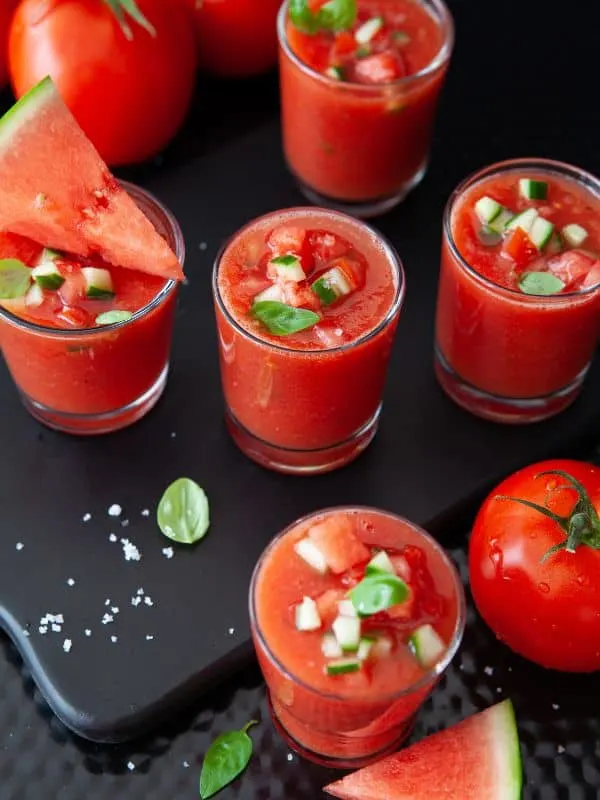 Whether you're a connoisseur of tapas or prefer to indulge in a full-on paella feast, Spanish cuisine offers an extensive array of traditional recipes that are sure to satiate your cravings for something deliciously different.
Even if you're a novice in the kitchen, Spanish recipes are often simple to follow, with many of the classic dishes relying on fresh ingredients, herbs, and spices to create mouthwatering results.
Spanish food recipes
Spanish food is a vibrant and exciting cuisine that has gained tremendous popularity around the world.
With its eclectic mix of spices, fresh herbs, and bold flavors, Spanish dishes never cease to delight the taste buds.
From paella to tapas, there are many delicious and authentic Spanish recipes that you can try at home.
The key to mastering these recipes is to keep the ingredients simple, yet flavorful.
Whether you're a seasoned foodie or just starting out with your culinary journey, Spanish food is sure to leave a lasting impression.
Spanish mackerel recipes
If you're looking for a fish that's both flavorful and versatile, you can't go wrong with Spanish mackerel.
This vibrant fish is a popular ingredient in Spanish cuisine and for good reason.
With its rich, oily texture and bold flavor, it holds up well to a variety of cooking techniques and spices.
Whether you're grilling it with a simple marinade or baking it with a complex spice rub, there's no shortage of delicious Spanish mackerel recipes to try.
Plus, not only is this fish tasty, it's also packed with omega-3 fatty acids, which are great for heart health.
Spanish soup recipes
If there's one thing to love about Spanish cuisine, it's the myriad of flavors and ingredients that make each dish come alive.
And when it comes to soups, Spanish recipes do not disappoint.
From hearty stews with chunks of chorizo and beans to light and refreshing gazpacho, Spanish soup recipes have something for everyone.
These recipes can often be traced back to centuries-old traditions, with each region of Spain having its own unique spin on soup.
For example, the Spanish Picadillo Recipe is a classic from the Mancha region and Caldo Gallego Soup is from the province of Galicia in the North of the peninsula.
Whether you're a seasoned chef or just starting out, experimenting with Spanish soup recipes is a great way to bring a taste of Spain into your home.
Some of my favorite recipes for the cold days are Spanish Lentil Soup and Spanish Fish Soup.
Andalusian gazpacho recipes
As a lover of fresh and flavorful soup recipes from Spain, I have fallen head over heels for Andalusian gazpacho recipes.
This Spanish classic is the perfect way to cool off during hot summer days while indulging in a delicious and healthy dish. What I love most about gazpacho is its versatility.
There are countless variations, and each one has its own unique twist.
From traditional tomato-based gazpacho like the Andalusian Gazpacho to those made with watermelon, strawberries, or even almonds, there is a flavor for everyone.
Some of my favorite ones are definitely the Bacalao Gazpacho or the Gazpacho de Mango.
I highly encourage you to explore the world of cold Spanish soup recipes and find your personal favorite – you won't regret it!
Octopus recipes
If you're looking for a unique and flavorful seafood dish, look no further than the octopus recipes from Spain.
Whether grilled, braised, or stewed, Spanish octopus brings a rich and savory taste to any meal.
Utilizing simple ingredients such as olive oil and garlic, these recipes offer a satisfying and healthy way to enjoy this underappreciated seafood.
Spanish dessert recipes
If you're looking for a way to satisfy your sweet tooth, Spanish desserts are the perfect solution.
From traditional churros dipped in rich chocolate sauce to creamy flan drizzled with caramel, Spain is home to a plethora of sweet treats that will have your taste buds dancing in delight.
One of my personal favorites is the tarta de Santiago, a moist almond cake dusted with powdered sugar that is effortless to make yet impresses every time.
Another classic is the Tocino De Cielo Recipe or the Fruit Empanada Recipe.
Whether you're seeking to try something new or craving a taste of Spain, these dessert recipes are a must-try for any dessert lover.
Oxtail recipes
If you're looking for a hearty, flavorful meal, Spanish oxtail recipes are definitely worth trying out.
From traditional stews to tasty braises, there are many ways to prepare this tough cut of meat in a way that brings out its rich, savory flavor.
One popular dish is rabo de toro, a slow-cooked oxtail stew that's often served with potatoes, carrots, and red wine.
Another favorite is estofado de rabo de buey, a braised oxtail dish that's seasoned with garlic, bay leaves, and paprika.
Whatever your preference, there's no doubt that oxtail is a delicious and satisfying ingredient that will elevate any meal.
Spanish pork recipes
If you're a fan of pork dishes and haven't explored the world of Spanish cuisine, then you're truly missing out!
Spaniards have a long-standing love affair with pork, and their recipes are guaranteed to tantalize your taste buds.
From succulent pork stews to crispy pork belly, Spanish pork recipes pack a punch with their unique blend of herbs and spices.
What truly sets Spanish pork dishes apart is the attention to detail given to each step of preparation.
Whether it's drying the meat under the sun or using time-honored cooking techniques, Spanish cuisine elevates pork to a whole new level.
Spanish chorizo recipes
When it comes to Spanish cuisine, nothing quite matches the smoky and spicy flavors of chorizo.
This cured sausage is a staple ingredient in many Spanish dishes, from traditional paella to hearty stews.
The versatility of chorizo is simply astounding; whether cooked up in bite-sized pieces as a tantalizing tapa or sliced and used to add depth to soups or casseroles, its distinct flavor profile never fails to impress.
Fortunately, there are countless Spanish chorizo recipes that home cooks can tackle, allowing them to fully appreciate this beloved ingredient's unique taste.
With a range of savory dishes to try, cooking with Spanish chorizo is sure to become a joyous culinary adventure.
Spanish fish recipes
When it comes to cooking fish, Spanish cuisine has a variety of delicious recipes that are sure to impress any seafood lover.
From the classic bacalao al pil-pil to mouthwatering paella de marisco, the possibilities are endless.
Studying in a coastal town in Spain, fish was a staple in our household and my ex-mother in law, an expert in the kitchen, passed down her secret recipes that have been cherished for generations.
Using fresh ingredients like garlic, olive oil, and paprika, these dishes are bursting with flavor and are perfect for any occasion.
Whether you're a fan of grilled fish or enjoy a flavorful stew, Spanish fish recipes are a must-try if you want to explore new and exciting flavors.
Spanish salad recipes
When it comes to salads, many people assume they're all the same – just a bunch of leafy greens with some dressing.
But oh, how mistaken they are!
Spanish salad recipes are a perfect example of the vast array of flavors and textures that can be incorporated into this dish.
From the classic ensalada mixta, with its combination of fresh veggies and canned tuna, to the more complex ensalada de naranjas (yes, salad with oranges!) that balances sweet and savory flavors, Spanish salads are both refreshing and satisfying.
And with the abundance of fresh produce and Mediterranean flavors available, there's no shortage of options to try out for yourself.
Spanish breakfast recipes
As someone who has always been interested in cuisine from all over the world, I couldn't help but delve into the world of Spanish breakfast recipes.
From the savory and hearty tortilla de patatas to the sweet and flaky churros con chocolate, there are countless options to choose from that will start your day off on the right foot.
And let's not forget about the tostada con tomate, a simple yet satisfying dish made of toasted bread topped with fresh tomato, olive oil, and sometimes even serrano ham.
Whether you're enjoying a leisurely breakfast at home or trying to recreate a piece of Spain in your own kitchen, these recipes are sure to add some flavor to your mornings.
Vegetarian tapas recipes
If you're on the hunt for some delicious, meat-free tapas recipes, look no further!
Vegetarian tapas are not only healthy and fulfilling, but they're also packed with a whole bunch of flavor that'll make your taste buds sing.
Whether you're hosting a dinner party or just looking to switch up your weeknight dinner routine, these recipes are bound to impress.
So why not experiment with new flavors and textures and try out some of these amazing vegetarian tapas recipes? You won't be disappointed!
Spanish Paella recipes & rice
Living in Spain, I have had my fair share of Spanish Paella dishes and rice recipes, but no two are ever quite the same.
The beauty of Spanish Paella is that it is a versatile dish that allows for endless variations and additions of meats, seafood, and vegetables.
I have tried everything from the classic Valencian-style Paella with succulent chicken, rabbit, and saffron-infused rice, to the seafood version with shrimp and mussels, to the vegetarian option loaded with bell peppers, asparagus, and artichokes.
But no matter which one I choose, the aroma of fragrant Spanish rice cooking with a delicious mixture of spices and ingredients always gets my mouth watering.
Spanish seafood recipes
As a lover of Spanish cuisine and seafood, I cannot help but express my enthusiasm for the fusion of these two delights – Spanish seafood recipes.
The Spanish have mastered the art of using fresh seafood to create mouth-watering dishes that are bursting with flavor.
From paella made with succulent shrimp and mussels to grilled octopus with paprika, and garlic shrimp that are both savory and bold in flavors, the Spanish never cease to amaze me.
With an endless list of seafood options, it is no wonder that Spanish cuisine is known for its diverse and exquisite culinary offerings.
Spanish chicken recipes
I absolutely love experimenting with different flavors and cuisines in my kitchen, and one of my recent favorites has been exploring Spanish chicken recipes.
From classic dishes like arroz con pollo to spicy and tangy dishes like pollo al ajillo, there's a world of options out there to tantalize your taste buds.
I love how vibrant and flavorful these dishes are, with a perfect blend of spices, herbs, and sauces that come together to create a truly mouth-watering experience.
Whether you're a beginner cook or an experienced chef, there's a Spanish chicken recipe out there that's sure to delight and impress. So why not give it a try and discover a new world of flavor?
Spanish croquettes
As a lover of Spanish cuisine, one of my absolute favorite dishes has to be the iconic croquette.
Handheld, crispy, and bursting with creamy goodness, it's no wonder these savory bites are a staple in tapas bars all over Spain.
Whether you're craving a classic ham and cheese or feeling adventurous with seafood or even vegetarian filling, there's a Spanish croquette recipe out there that's sure to satisfy.
What I love about making these croquetas at home is the personal touch you can add to each batch, from experimenting with different flavors to shaping them into unique designs.
Spanish drinks
As a lover of all things Spanish, I cannot help but rave about the country's incredible drinks culture.
From crisp and refreshing white wines to bold and flavorful reds, Spain has long been recognized as a hub for sensational drinking pleasures.
And let's not forget about the signature drinks that truly capture the essence of Spanish life.
Sangria, for one, is an all-time favorite that perfectly blends juicy fruits and wine for a thirst-quenching beverage that's both sweet and refreshing.
And if you're feeling extra creative, why not try your hand at creating your own Spanish drinks recipes?
The possibilities are endless and the results are sure to be delicious.
Spanish Christmas recipes
There's nothing quite like Spanish Christmas food to get you in the holiday spirit.
From classic dishes like turrón and polvorones to heartier fare like roast suckling pig, the cuisine of Spain offers something for everyone during the festive season.
But perhaps my favorite Spanish Christmas recipe is one that's a little less well-known: bacalao al pil-pil.
This Basque dish of cod cooked in garlic and olive oil may not sound particularly festive, but it's a staple of Christmas Eve dinners across Spain.
With its rich flavors and comforting warmth, it's the perfect dish to share with loved ones on a chilly winter evening.
So if you're looking to spice up your holiday menu this year, why not try your hand at some Spanish Christmas recipes? I promise you won't be disappointed!
How to cook Spanish mackerel?
If you're a fan of seafood, then you must try the delicious and nutritious Spanish mackerel! Not only is it packed with omega-3 fatty acids, but it also has a delectable taste and firm texture.
Wondering how to cook Spanish mackerel?
There are so many ways to prepare it, from grilling to baking, and even smoking. One of my personal favorite ways to cook it is pan-searing.
First, season the fish with some salt and pepper. Then, heat some olive oil in a pan over medium-high heat and add the fish, cooking it for 3-4 minutes on each side until golden brown.
Serve with a side of veggies or rice for a delicious and balanced meal. Trust me, once you try cooking Spanish mackerel, you'll want it on your plate time and time again!
What are top 10 Spanish foods?
Spanish cuisine is versatile, flavorful, and delicious.
From the delicately spiced chorizo to the velvety smoothness of gazpacho, Spanish food is a feast for the senses. When seeking a true taste of Spain, be sure to indulge in some of their top dishes.
For starters, try tortilla de patatas, a thick potato omelet that's perfect for any meal of the day.
If seafood is more your style, paella, a saffron-infused rice dish with fresh seafood and meat, is an absolute must-try.
And of course, don't forget about the many varieties of jamón serrano (cured ham).
Whether it's in tapas form or as a main course, it's the star of any Spanish meal.
These are just a few of the top 10 Spanish foods that will have you falling in love with the cuisine of this beautiful country.
What are some traditional Spanish meals?
When it comes to Spanish cuisine, there are countless traditional dishes that are sure to tantalize your taste buds and make your mouth water.
From the famous paella, stuffed with seafood and savory rice, to the humble tortilla española, a simple yet delicious omelette made with eggs, potatoes, and onions, Spain is a veritable treasure trove of culinary delights.
Other must-try dishes include gazpacho, a refreshing cold soup made with fresh vegetables, garlic, and olive oil, and churros con chocolate, a heavenly dessert made of crispy fried dough dipped in thick, rich chocolate sauce.
Whether you're a seasoned traveler or a curious foodie, exploring the many flavors and traditions of Spanish cuisine is an experience not to be missed!
Ingredients for Spanish Recipes