Are you looking for a wonderful city that's bustling with activity, rich in culture and steeped in history?
Then, we at Visit Southern Spain think that Jaen is the perfect place to explore! You simply never run out of things to do in Jaen!
From vibrant markets where you can shop for locally made souvenirs to ancient castles that tell tales of days gone by, there are countless adventures awaits in this lively city.
Whether this is the first time you're visiting Jaen or if you've come here before, every journey promises something new and exciting.
Ready your cameras and start jotting down those unique experiences – it's time to discover all the amazing things to do during your stay!
Famous for its stunning views of the surrounding countryside, vibrant cultural heritage, and delicious food scene – Jaén is a city with endless possibilities.
Join us as we explore some of our favorite things to do in this amazing city: from checking out incredible monuments like Santa Catalina Castle and the Convento de Nuestra Señora de Belén or savoring traditional cuisine at one of the many tapas bars.
This blog is supported by you, dear reader. If you purchase through a link, we earn a small commission. As an Amazon Affiliate, we earn from qualifying purchases.
Resources to visit Jaen, Spain
✈ Book cheap flights to Jaen with Skyscanner

⚘ Avoid tourist traps and get the customizable "Andalucia Like a Local" itinerary. – Get it here

✔ Book tours in Jaen with GetYourGuide

➳ Find the best hotels in Jaen with Trivago

❖ Rent a car at the best rates with DiscoverCars

✎ Never leave without travel insurance! I get mine at HeyMondo. It is easy to set up, cheap and reliable.

$ Withdraw money without hidden fees and avoid exchange charges with Wise (Free Mastercard debit card to spend money abroad)
There are plenty of things to do in Jaen, from touring the magnificent Cathedral of Jaen to visiting the fascinating Arab Baths.
For those who love nature, there's no better place than Parque Natural Sierra de Andujar, where you can go hiking and spot the Iberian lynx.
And of course, you can't forget about the delicious local cuisine!
From tapas to the famous Jaen olives, there's something to satisfy every palate. Visiting Jaen is truly a unique experience that will leave you with unforgettable memories.
Things to do in Jaen
Oh, there are so many amazing things to do in Jaen! You can explore the stunning 13th-century Cathedral of Jaen, admire the breathtaking views from Santa Catalina Castle, or stroll through the charming streets of the old town.
For those interested in history, the Jaen Provincial Museum is a must-visit, showcasing the rich heritage of the area from prehistoric times to the present day.
And let's not forget about the delicious gastronomy; Jaen is famous for its olive oil, and you can taste some of the best dishes in the region at local restaurants and bars.
Whether you're a culture vulture, a foodie, or simply looking for a relaxing getaway, there's something for everyone in Jaen.
Is Jaen worth visiting?
As someone who has had the pleasure of visiting Jaen, I can confidently say that it is absolutely worth a visit.
Located in the Andalusian region of Spain, Jaen is often overlooked by tourists in favor of more well-known cities like Seville and Granada.
However, what Jaen lacks in popularity, it more than makes up for in history, culture, and natural beauty.
The city is home to stunning historic landmarks such as the sprawling Alcazar de Jaen fortress, as well as the awe-inspiring Cathedral of Jaen.
Beyond its fascinating architecture and deep cultural roots, Jaen is also surrounded by stunning natural landscapes, including the nearby Sierra de Cazorla natural park and the olive groves that blanket the surrounding hillsides.
Whether you're a history buff, nature lover, or simply seeking a unique, off-the-beaten-path destination, Jaen is definitely worth visiting.
Where is Jaen, Spain?
Jaen is a city located in the autonomous community of Andalusia in southern Spain.
It is the capital of the province of Jaen.
The city is situated in the Guadalquivir Valley and is surrounded by a mountainous landscape.
Jaen is known for its rich history, cultural heritage, and olive oil production.
---
LIMITED OFFER: the Ultimate Andalusia Itinerary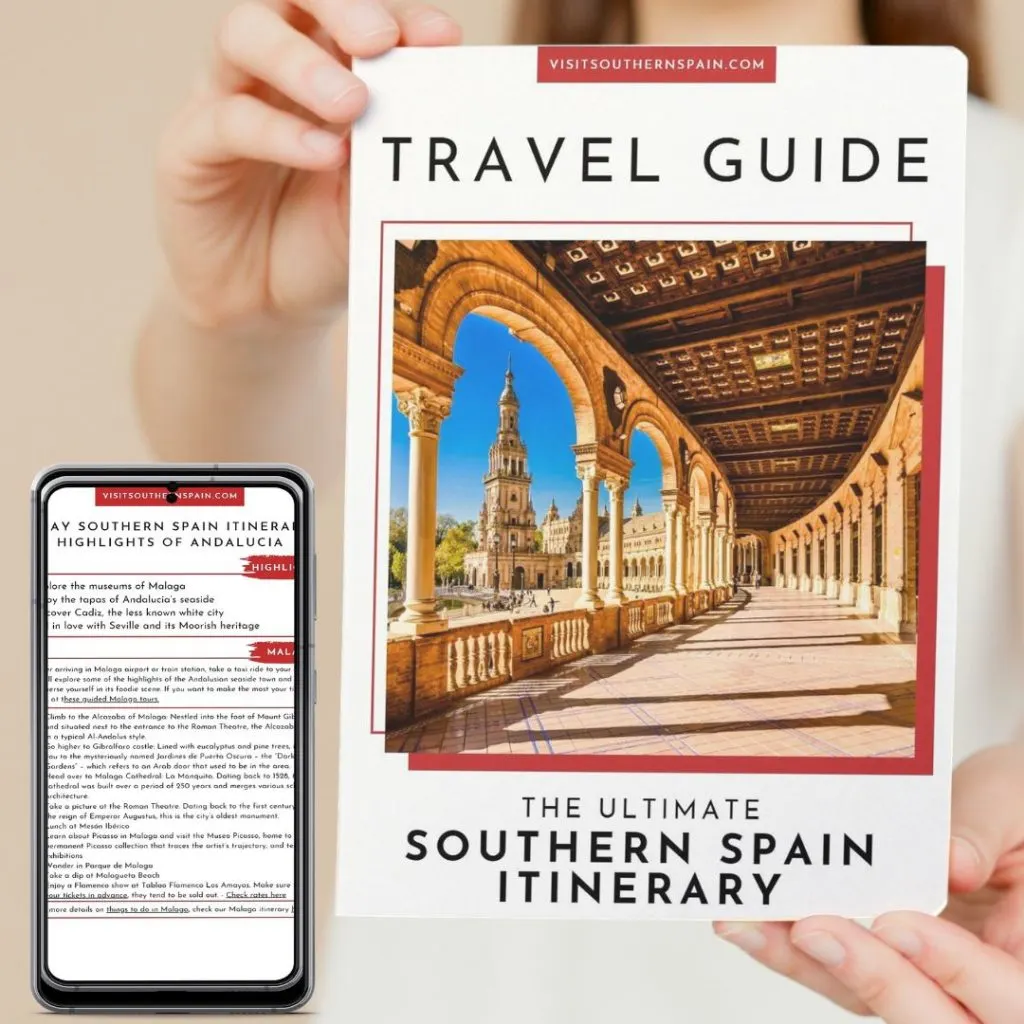 Visit Andalusia like a Local!
After calling Southern Spain my home for several years and organizing customized Andalusia trips, it was about time to put the best places in Andalusia into this handy travel itinerary.
Save time and money, avoid tourist traps and see only the very best of Andalusia.