Have you ever been in search of a place that feels like it's stuck in time?
A special corner of the world where you can explore timeless architecture, enjoy culinary delights, and be mesmerized by undiscovered sights?
If so, we from Visit Southern Spain think that Cadiz is the place for you! You simply never run out of things to do in Cadiz!
This coastal city in Spain is full of vibrant characters, inviting culture, and a captivating atmosphere – making it an ideal destination for travelers looking to experience something unique.
From mouth-watering tapas on the beachfront to spectacular monuments somehow hidden among tree-lined squares, Cadiz will astound you with its energetic spirit and awe-inspiring attractions.
This charming coastal city boasts a rich history that dates back over 3,000 years, meaning there are a ton of fascinating landmarks and attractions to explore.
Of course, you can't visit Cadiz without soaking in some sun on one of its stunning beaches, like Playa de la Caleta or Playa de la Victoria.
Additionally, foodies will love sampling the local cuisine, which features plenty of fresh seafood dishes and delicious tapas.
This blog is supported by you, dear reader. If you purchase through a link, we earn a small commission. As an Amazon Affiliate, we earn from qualifying purchases.
Resources to visit Cadiz, Spain
✈ Book cheap flights to Cadiz with Skyscanner

⚘ Avoid tourist traps and get the customizable "Andalucia Like a Local" itinerary. – Get it here

✔ Book tours in Cadiz with GetYourGuide

➳ Find the best hotels in Cadiz with Trivago

❖ Rent a car at the best rates with DiscoverCars

✎ Never leave without travel insurance! I get mine at HeyMondo. It is easy to set up, cheap and reliable.

$ Withdraw money without hidden fees and avoid exchange charges with Wise (Free Mastercard debit card to spend money abroad)
You don't want to miss visiting the 18th-century watchtower in Torre Tavira, catch a panoramic view of the city, and snap some perfect shots of the sea and skyline.
And if you're a beach lover, head to Playa de la Victoria, a seven-kilometer stretch of pristine beach and crystal-clear waters, perfect for a sun-kissed day out amidst breathtaking views.
There's no doubt that Cadiz has an incredible range of things to see, and it's up to you to explore all the city has to offer and make unforgettable memories along the way.
Things to do in Cadiz
Are you planning a trip to the charming city of Cadiz but not sure what to do?
Don't worry; the city has something for everyone!
Whether you're a history buff or a lover of beautiful beaches, Cadiz will not disappoint.
Take a stroll through the picturesque Old Town and marvel at the stunning architecture and narrow streets that transport you back in time. And here we share our local guides about Cadiz!
Is Cadiz worth visiting?
As someone who has been fortunate enough to explore the charming city of Cadiz, I can confidently say that it is absolutely worth visiting.
With its rich history, stunning architecture, and gorgeous beaches, Cadiz truly has something for everyone.
Walking through the winding streets of the old town, you'll feel like you've been transported back in time with the breathtaking buildings that have stood for centuries.
And when you're ready to relax, take a stroll along La Caleta beach or any of the other pristine beaches and soak up the warm sun.
Trust me, if you're looking for a one-of-a-kind experience in Spain, Cadiz will not disappoint.
How many days in Cadiz?
If you're looking for a city that perfectly blends historic charm with modern flair, Cadiz is the perfect destination for you.
And the question of "how many days in Cadiz?" is one that's easy to answer: as many as you can!
This coastal gem is brimming with culture, cuisine, and stunning sights that will leave you in awe.
Whether you want to stroll along the beach at sunset, wander through winding streets filled with colorful homes, or indulge in mouth-watering local seafood, there's something for everyone in Cadiz.
And with each passing day, you'll discover new treasures that will make you want to stay just a little bit longer.
LIMITED OFFER: the Ultimate Andalusia Itinerary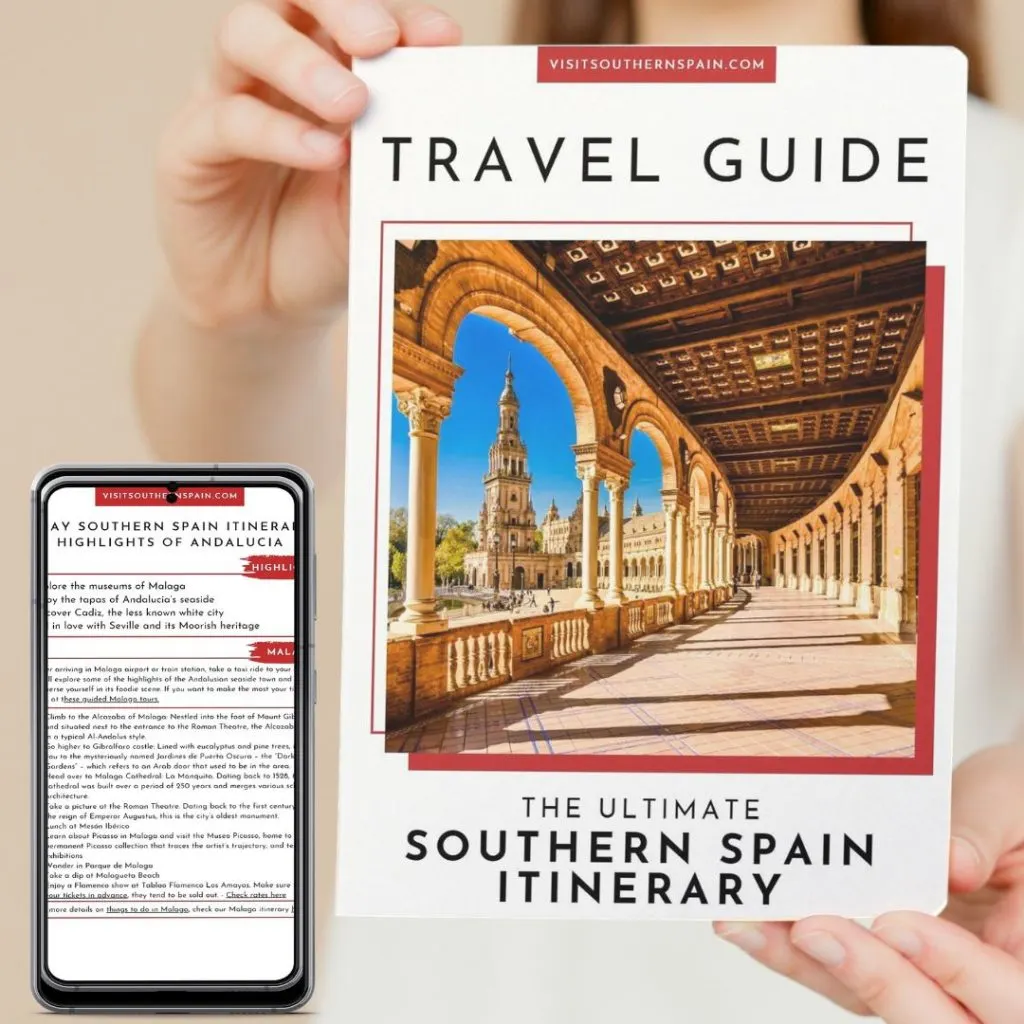 Visit Andalusia like a Local!
After calling Southern Spain my home for several years and organizing customized Andalusia trips, it was about time to put the best places in Andalusia into this handy travel itinerary.
Save time and money, avoid tourist traps and see only the very best of Andalusia.