If you're looking for a Mediterranean oasis, sprawled along miles of sun-kissed coasts boasting some of the best beaches in Europe, then look no further!
Almeria is the Spanish hotspot that promises to be packed with adventure and culture. You never run out of things to do in Almeria!
Here at Visit Southern Spain, we love unique food experiences, epic outdoor activities, incredible architecture and stunning scenery! And therefore Almeria should be on your South Spain itinerary!
From mountain ranges to salt flats; windsurfing adventures in Cabo de Gata National Park to exploring mysterious caves – get ready for an unforgettable tour around this vibrant corner of Spain.
Almeria beaches are among the most beautiful in Spain, and there are plenty of things to do in Almeria beyond the sandy shores.
But it's hard to resist the lure of the crystal-clear Mediterranean waters and golden sands that stretch for miles.
Whether you're seeking relaxation, adventure, or fun in the sun, Almeria is your go-to destination for an unforgettable beach experience.
This blog is supported by you, dear reader. If you purchase through a link, we earn a small commission. As an Amazon Affiliate, we earn from qualifying purchases.
Resources for things to do in Almeria
✈ Book cheap Almeria flights with Skyscanner

⚘ Avoid tourist traps and get the customizable "Andalucia Like a Local" itinerary. – Get it here

✔ Book tours in Almeria with GetYourGuide

➳ Find the best Almeria hotels with Trivago

❖ Rent a car at the best rates with DiscoverCarHire

✎ Never leave without travel insurance! I get mine at HeyMondo. It is easy to set up, cheap and reliable.

$ Withdraw money without hidden fees and avoid exchange charges with Wise (Free Mastercard debit card to spend money abroad)
From beautiful beaches to stunning architecture, there are plenty of things to do in Almeria that will leave you wishing you had more time to explore.
One must-see attraction is the Alcazaba, a Moorish fortress that dates back to the 13th century.
The Fortress is an incredible sight to see, and with its panoramic views and beautiful gardens, you'll feel like you've stepped back in time.
Another fantastic place to visit is the Cabo de Gata Natural Park, where you can explore the beautiful natural landscapes and enjoy the crystal clear waters of the Mediterranean.
No matter what you choose to do, Almeria is a perfect destination for anyone looking for a unique and unforgettable vacation experience.
What to do in Almeria
What to do in Almeria, you ask? Well, there are countless stunning landmarks to discover, such as the Alcazaba fortress, the Cathedral of Almeria, and the incredible astronomical observatory.
You can also soak up the sun and work on your tan at one of the many picturesque beaches, indulge in delicious Spanish cuisine at local restaurants, or take a stroll through lively boulevards with charming shops and street performers.
Whatever your interests may be, Almeria has something for everyone, and I guarantee that you'll leave enchanted by this amazing city.
Is Almeria worth visiting?
For anyone seeking a true Spanish gem off the tourist trail, Almeria can be an absolute delight. Nestled in the Andalusian region of Spain, this city thrives on its authentic charm and culture.
Is Almeria worth visiting? Absolutely.
From the breathtaking desert landscapes to the magnificent Moorish architecture and pristine beaches, there is so much to explore and admire here.
The city's history is fascinating – you can lose yourself for hours in the 10th-century Alcazaba fortress alone.
Even if you are not a fan of history, the vibrant nightlife and delicious tapas will keep you entertained.
And let's not forget the impressive film industry that has taken root here (think "Game of Thrones").
Bottom line – if you are seeking an unforgettable Spanish experience, Almeria should definitely be on your radar.
What to see in Almeria?
Almeria is a melting pot of cultures, with a rich history that dates back to the Phoenicians and a vibrant modern art scene. So, what to see in Almeria?
Well, start with the Alcazaba, a towering fortress perched atop a hill that offers sweeping views of the city and the sea. Inside the walls, you'll find a maze of gardens, fountains, and courtyards, as well as a museum that showcases the region's Islamic heritage.
Afterward, head to the Cathedral of Almeria, a stunning Gothic-Renaissance temple that's filled with intricate details and religious artifacts.
And don't forget to explore the Cabo de Gata-Níjar Natural Park, a rugged coastal wilderness that's home to some of Spain's most stunning beaches and cliffs.
There's so much to see and experience in Almeria, so make sure you give yourself enough time to soak it all in.
---
LIMITED OFFER: the Ultimate Andalusia Itinerary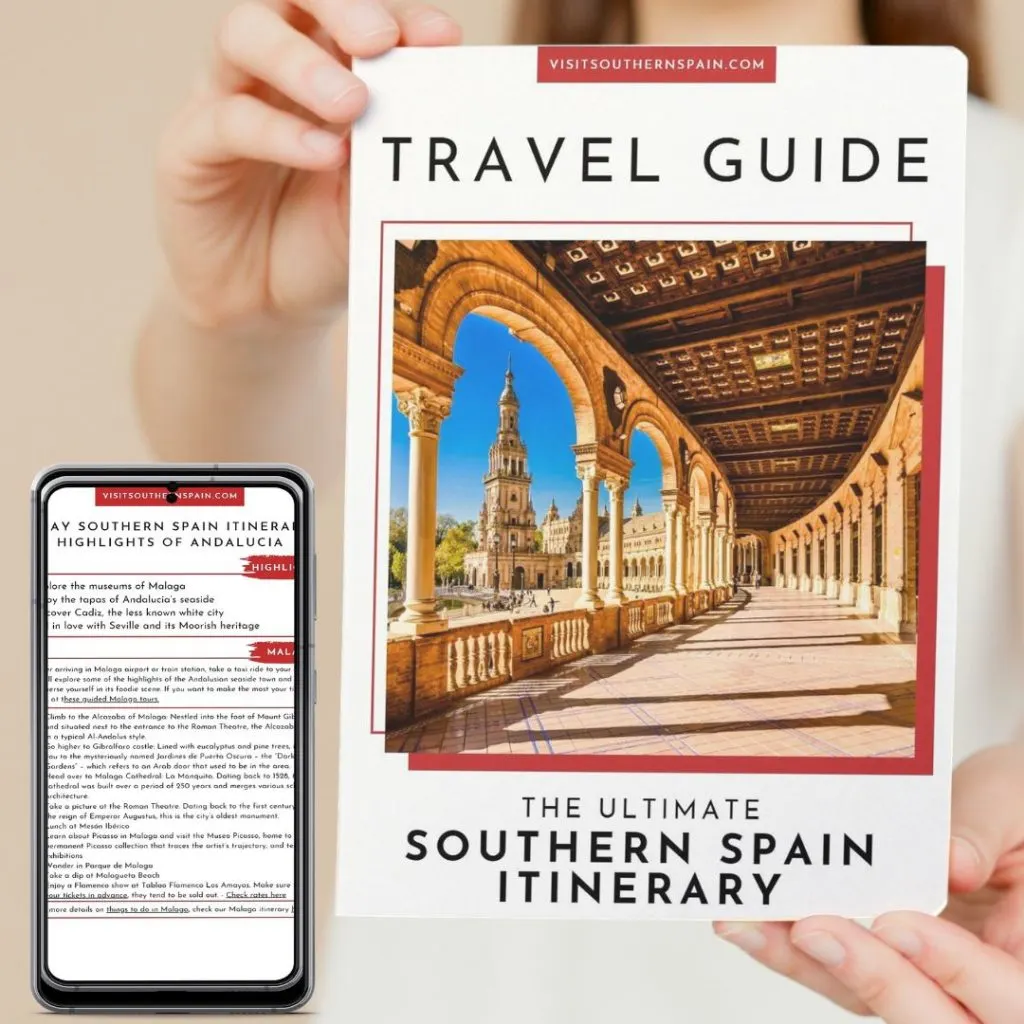 Visit Andalusia like a Local!
After calling Southern Spain my home for several years and organizing customized Andalusia trips, it was about time to put the best places in Andalusia into this handy travel itinerary.
Save time and money, avoid tourist traps and see only the very best of Andalusia.