A guide to the best things to do in Almeria when spending 3 days in Almeria, Southern Spain
Almeria is a city for those trying to disconnect from the urban lifestyle, but at the same time want to experience the atmosphere of a Spanish town set next to the Mediterranean sea.
A place where you will hear the rough (sometimes almost understandable) Andalusian Spanish and will be able to try great tapas in local bars.
Arabic architecture right next to industrial, sometimes a bit rusty, landscapes are why Almeria is an amazing destination on the eastern edge of Andalusia, home to Some of Spain's best unspoilt beaches, and perfect for those seeking authenticity and a less crowded place alongside the Mediterranian coast.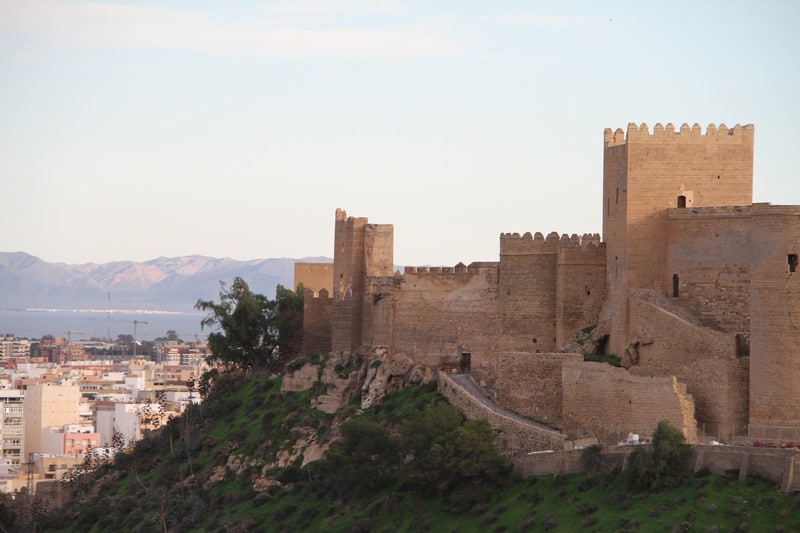 An amazing little hidden gem to visit for a few days, also great for a short one day trip you won't have to rush through to discover!
This post contains affiliate links. If you buy via them, I'll earn a small commission which helps me to keep this blog running. As an Amazon Associate I earn from qualifying purchases. All opinions are my own.
Top Things To Do In Almeria, Andalusia – Our Almeria Itinerary For 3 days
Visiting Europe's second-biggest Muslim castle remains – La Alcazaba
Learning about the Muslim influences and war history of Almeria.
Enjoying the best Spanish flavors and tapas.
Relaxing at the seaside promenade with stunning views of the beach.
Experiencing wildlife and boat tours around the Natural Park Cabo de Gata and Desert areas.
Useful Travel Information About Almeria
✈ Book cheap Almeria flights with Skyscanner

⚘ Avoid tourist traps and get the customizable "Andalucia Like a Local" itinerary. – Get it here

✔ Book tours in Almeria with GetYourGuide

➳ Find the best Almeria hotels with Trivago

❖ Rent a car at the best rates with DiscoverCarHire

✎ Never leave without travel insurance! I get mine at SafetyWing. It is easy to set up, cheap and reliable.

$ Withdraw money without hidden fees and avoid exchange charges with TransferWise (Free Mastercard debit card to spend money abroad)
How to get to Almeria
How to get from Malaga to Almeria:
The bus takes 4h 45m and costs 16€ – 28€. The train will take you 5h 36m and can cost 27€ – 55€. – Book tickets here
How to get from Granada to Almeria:
The train takes 2h 40m and costs 14€ – 18€. Alternatively, you can go by bus, which costs 16€ – 22€ and takes 4h 10m. – Book tickets here
How to get from Seville to Almeria:
Getting here by plane takes 2h 39m. There is also a bus for 30€ – 55€ taking 5h 15m, or the train, which costs 35€ – 50€ and takes 6h 10m. – Book tickets here
How to get from Cordoba to Almeria:
The quickest way to get from Córdoba to Almería is to take a train to Seville, and then fly, which takes 3h 32m. You can also take a 5h 45m bus for 25€-35€. – Book tickets here
How to get from Barcelona to Almeria:
Flights to the Almeria airport take 2h 54m.
The train costs 130€ – 230€ and take 10h. And taking the bus costs 45€ – 95€ and takes 13h 40m. – Book tickets here
How to get from Madrid to Almeria:
Flights from Madrid take 2h 49m. Alternatively, you can take the train for 30€ – 45€ (6h 28m), or bus, which costs 28€ – 60€ (6h 45m). – Book tickets here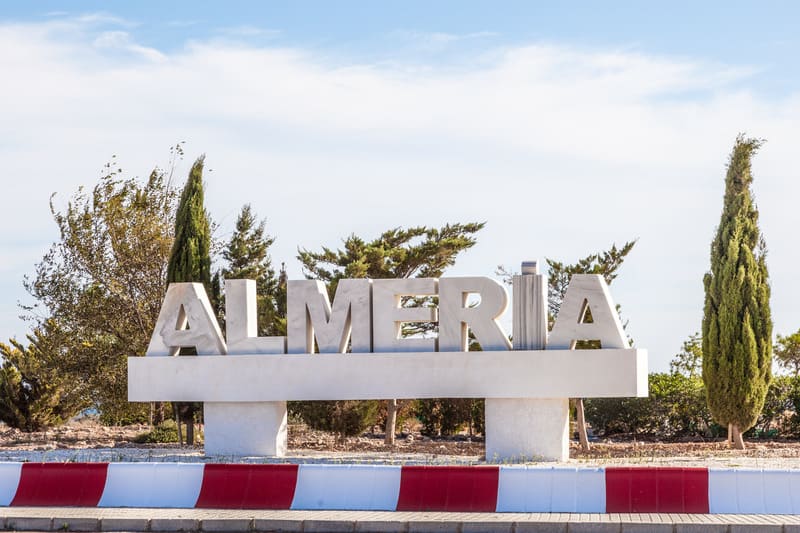 Day 1
Alcazaba of Almeria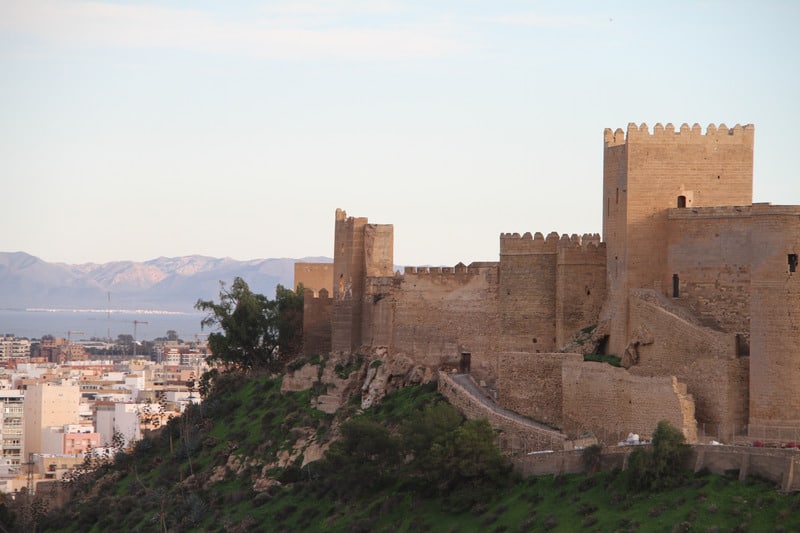 A magnificent old fortress and one of the most famous Arabic remains in Almeria dating back to 955. It shows a mixture of 3 different historical periods which you can discover by walking around entirely for free! Alcazaba is by far one of the very best activities in Almeria.
The fortress is one of the major Almeria attractions. It was supposed to be the residential place of the local government with houses, squares, gardens and a mosque built within its defensive walls.
Walking around its alleys and being surrounded by the tall, thick walls will take you back in time, creating a peaceful distance from the busy city below.
Not to mention the amazing view from the tower walls and the desert scenery surrounding the fort. Make sure to book tickets in advance.
Opening Times:
1 Apr -15 Jun: Tue-Sat 9:00-20:30, Sun and Bank Holidays 9:00-15:30;
16 Jun -15 Sep: Tue-Sat 9:00-15:30, 19:00-22:00, Sun and Bank Holidays 9:00-15:30;
16 Sep-31 Mar: Tue-Sat 9:00-18:00, Sun and Bank Holidays 9:00-15:00
Castillo de San Cristóbal
A castle built in 1147, after the first Christian conquest of Almeria – a historically important moment of changes in architecture and culture in the south of Spain.
As one of the best places to visit in Almeria, make sure you leave time to visit.
The Castillo de San Cristobal is now in ruins and is connected to the Alcazaba with a line of walls, taking you to the San Cristobal Hill where you can find both Muslim and Christian remains and an impressive marble statue of the Sacred Heart of Jesus.
It is an amazing viewpoint and a great place to relax after visiting Alcazaba Castle.
Museo Refugio de la Guerra Civil
After visiting the open space and uphill monuments of Alcazaba and Castillo de San Cristobal, it's a great idea to change the scenery and go deep under the city!
Nine meters below the Paseo de Almeria and the streets of central Almeria, you will find an amazing hidden spot! A network of tunnels from the 1936 Spanish Civil war has been restored and prepared to give you great insight into the city war history and defense systems of those times.
The tunnels are well-restored and equipped with great, informative stops and stories of people fighting for their lives during the German bombardment of the city. – Book your Almeria City Tour
Opening Times:
Tue – Sun 10:30 – 13:30, 17:00 – 20:00
Lunch in Cafe Cyrano
If you are looking for a relaxed place away from the busy streets, but still in a nice neighborhood Cafe Cyrano might be one of the best restaurants in Almeria to go to.
A beautiful combination of Arabic and traditional Spanish cuisine, great prices, decor and atmosphere.
Every now and then Cafe Cyrano hosts smaller music events and jam sessions – who knows, maybe you'll end up enjoying a delicious lunch accompanied by some local musicians!
Almeria Cathedral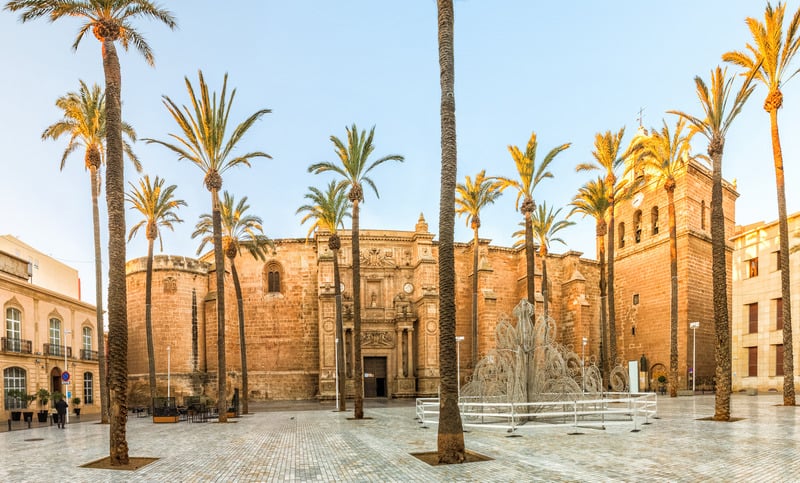 One of the Gothic cathedrals to discover while traveling in the south of Spain! It was built as a fortress temple (defending the city from pirate attacks), making the whole construction heavy, massive and not church-like at first glance.
Today, it's one of the most popular Almeria tourist attractions.
This is what makes it a truly intriguing attraction to visit. Surrounded by palm trees, the Cathedral invites you into a chamber full of wonders, paintings, and sculptures.
The altar itself is a well-known piece of art and is worth spending a few minutes to admire in peace. It's located at the Plaza de Cathedral, on the way down from the Alcazaba and is almost impossible to miss while walking around the city.
Opening Times: 10:00-18:30
The John Lennon Statue
The John Lennon statue in Almeria was dedicated to The Beatles during the filming of the movie How I Won the War (1966). The statue is located in the Plaza de las Flores, near Passeo del Almeria. I would recommend asking the locals for the exact location of the John Lennon Statue, Almeria.
Visit Museo de Almería
Housed in an award-winning contemporary building, the Archaeological Museum of Almeria is a great place to find not only exhibitions from prehistoric remains to the Roman times, but you can hide from the burning heat outside after a few hours of walking!
You can find the museum at Carretera de Ronda 91, next to one of the main streets of the city. – Book an Almeria Museum tour
Shopping in Las Ramblas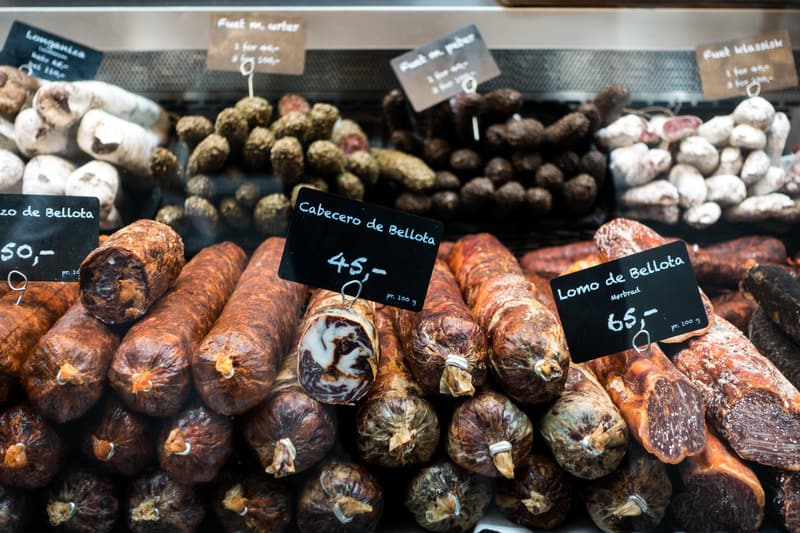 An imitation of the famous La Rambla of Barcelona, this shopping area is not as busy and crowded, but is still full of stores and cafes, enough to walk around for at least a few hours if you feel the need to get a souvenir, buy some fresh produce, or grab some delicious ice cream!
A relaxing place to walk through palm trees avenue – Av. Federico García Lorca – leading down to the port and promenade: that's the beauty of La Rambla de Almeria.
Flamenco show in Peña Flamenca El Morato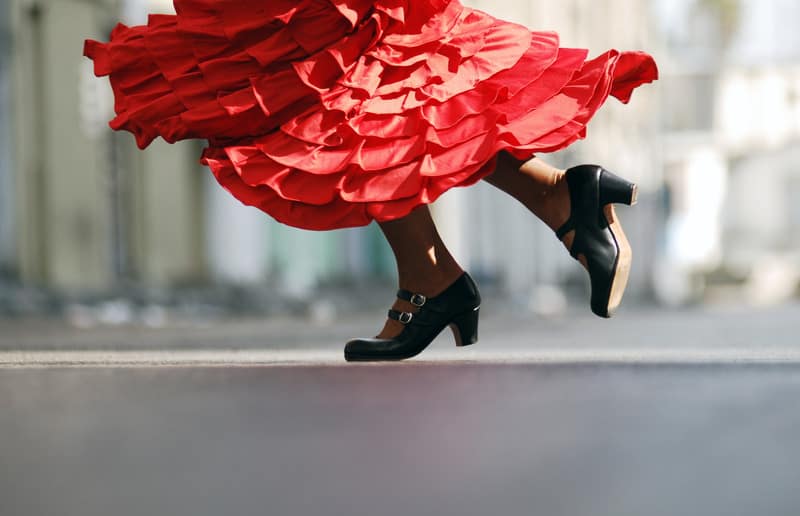 For a great Flamenco show with an authentic cave scenery, it's best to go to the Peña Flamenca El Morato club. An extraordinary place with a cave-like flamenco experience, great wine and tapas!
Their main goal is studying and performing flamenco in the most traditional and harmonious way – a truly mesmerizing and unique scenery – which will surely make you forget yourself in the passion and magic of the art of dance.
Day 2
Central Market of Almeria
The best place to buy fresh vegetables, meat and of course seafood! Even if you are not planning to cook for yourself, it's a great plan to walk around and enjoy the smells and colors.
Almeria's Central Market is kept clean and tidy, and definitely less crowded than the ones you can find in Barcelona or Seville – that's why it's such a great place to have a closer look at the authenticity of the city.
If you love trying local food and drink, the market is one of the best things to do in Costa de Almeria.
Opening Times: Mon-Sat : 9:00-15:00
Plaza de Toros, Bullring of Almeria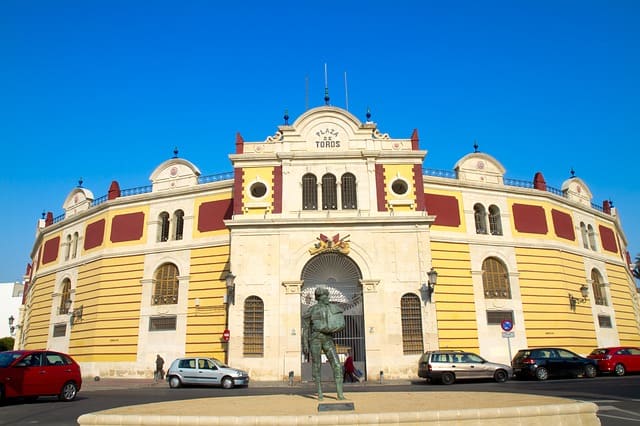 Bullfighting is one of the most traditional shows in Spanish culture but it is such an intense experience that it might not be for everyone.
Nevertheless, if you are a traveler looking for such experiences, Almeria hosts them at Plaza de Toros, next to Calle Fernandez Caballero – one of the best Almeria things to see.
It's also a great idea to visit the rink for its architectural beauty and discover Spanish culture without the necessity of seeing the violent, yet by many truly admired shows.
Opening Times: Tues-Thurs : 9:00-17:00
Explore Barrio de la Chanca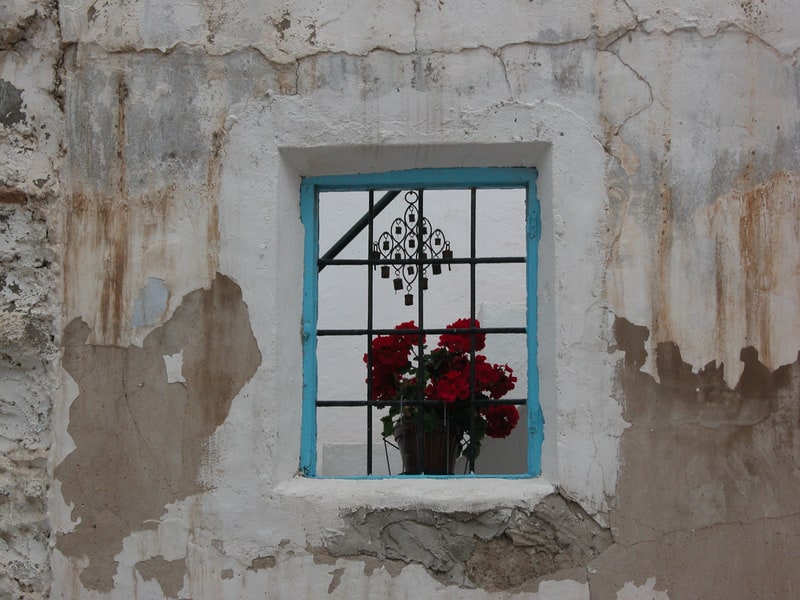 Known as the coolest neighborhood of Almeria, Barrio de la Chanca presents itself with colorful houses, narrow streets and extreme amounts of cats ruling in this area. It is one of the most charming and authentic places to see in Almeria.
A combination of gypsy families living in caves and local people makes this neighborhood so unique. A bit scruffy at first sight, yet very welcoming and one of the best things to do in Almeria.
You can find the houses and alleys right below the impressive Alcazaba, creating a marvelous path to walk through.
Santuario Virgen del Mar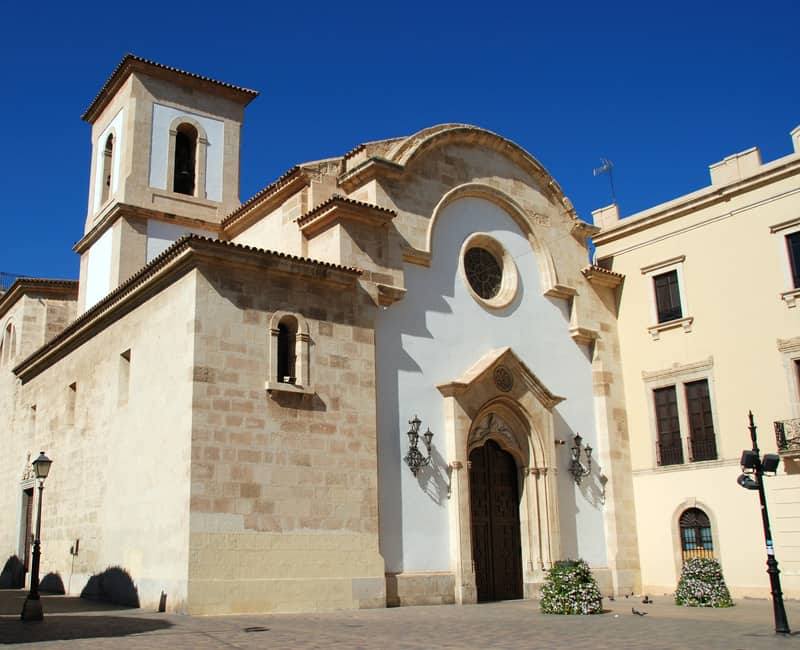 The Basilica Virgen del Mar was built in the second quarter of the 16th century, which holds the image of the "Virgin of the Sea", the Saint Patron of the city of Almería, and the fishermen from this area.
The basilica hides the Saint's statue inside like a treasure – a very impressive and highly ornamented altar of this small church will definitely take you by surprise!
You will find it between the main Cathedral of Almeria in the center and the shopping district La Rambla.
Lunch in La Consentida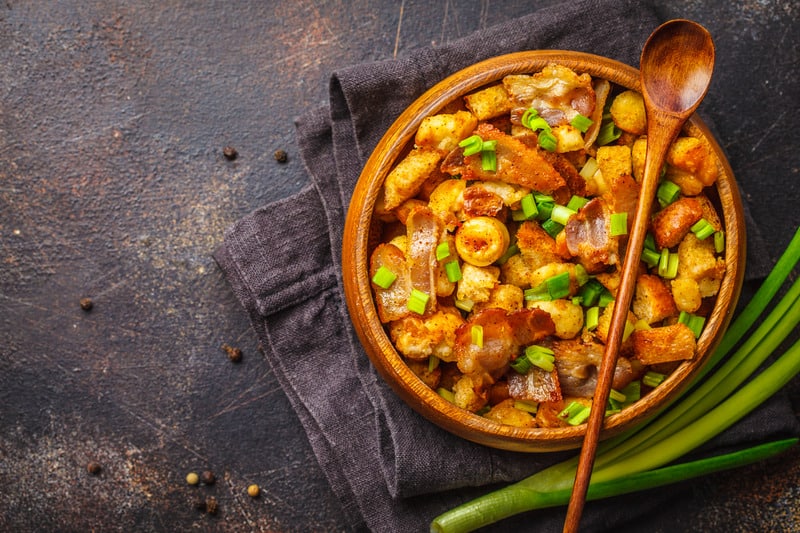 Getting hungry and looking for a closeby place to eat? La Consentida has got you covered! A very friendly place with delicious croquettes, best quality meat tapas and fresh bagels with traditional Spanish pastes – one of many fantastic options to try here.
Located at Plaza Antonio González Egea it's a great choice after visiting the Cathedral and Basilica in the center and has the option of indoor and outdoor seating.
Visit the Museums of Almeria
Andalusian Centre of Photography: Located close to the main Cathedral, this free-entry museum tends to hold great expositions of local and international photographers.
Museo de la Guitarra: Learn and explore the history of guitars and the artwork of Spain famous luthier Antonio de Torres. The museum is also in the area of the Cathedral and often host recitals and smaller concerts.
Pedro Gilabert Museum: A small, free-entry museum dedicated to hand-crafted, wooden works and sculptures of Pedro Gilabert.
Casa del Cine: Museum of Film is a great place to discover more about Almeria and its movies sets history. Game of Throne fans will find some sneak peek photos from the set of Alcazaba!
Museo de Arte Doña Pakyta: A beautiful civil war house turned into a museum with plenty of artwork beautifully exhibited in the rooms. A great opportunity to see the insides of a typical Andalusian home.
Marvel at El Alquife, the "English Cable"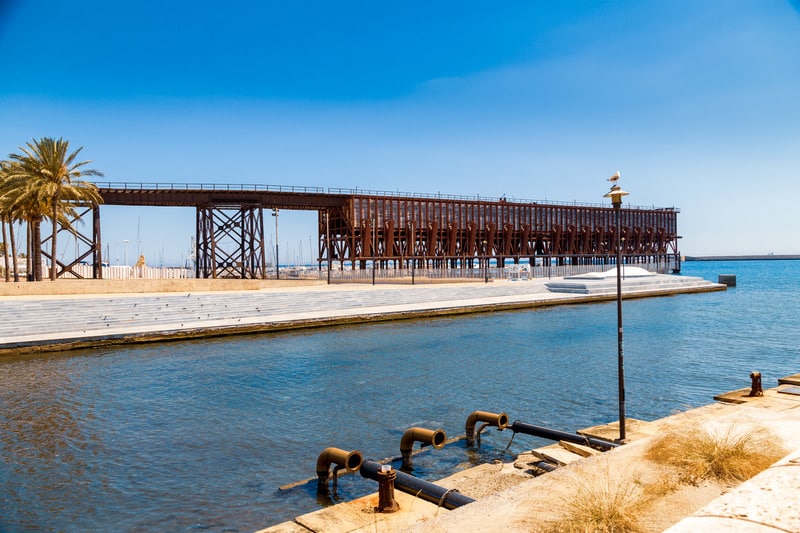 Time to go down to the seaside! Located in the Playa de las Almadrabillas, next to the docks of Almeria, it's one of the most impressive pieces of iron architecture of the XX century.
A stunning and massive metal construction made to transport material from the trains onto the ships is a great place to visit at night, with illuminating lights, making the view even more impressive!
The pier was used to load ships with mineral ore for more than 65 years up to the year 1973, where railroad engines would unload directly into the hulls of waiting ships, reducing loading time from 5-10 days to ten hours.
This construction is also known as "Cable Inglés" – the English Cable.
Wander at Paseo Maritimo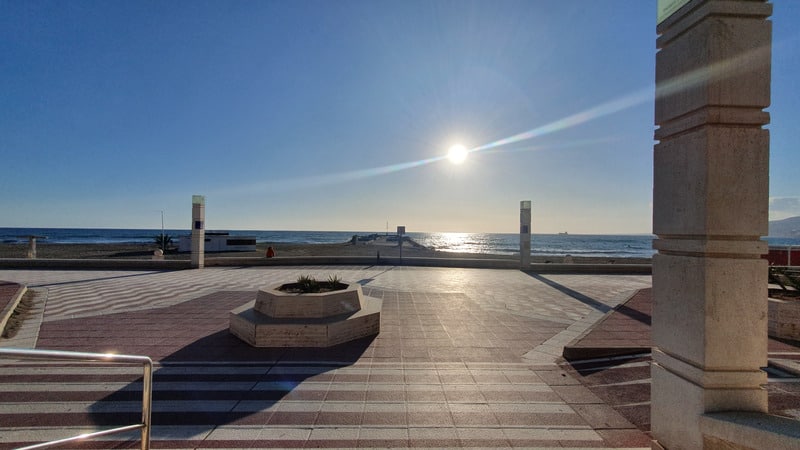 It's impossible to spend holidays in Almeria and not walk along the Paseo Maritimo.
A comfortable path, next to the sandy beach and an overwhelming view is the perfect plan for a sunset evening and one of the best things to do in Almeria.
The walk begins close to the previously mentioned El Alquife, and ends at the University of Almeria located 5 km away from the city – the running and cycling path of all the locals! It's highly recommended and has some amazing seaside views to discover.
Indulge in Tapas in Almeria
Tapas is one of the things we all fall in love with while traveling around Andalusia. And Almeria has some great places to discover the culinary side of the South!
Here some of our favorite places to enjoy tapas in Almeria:
Taberna Nuestra Tierra – Calle Jovellanos 16
Here you can try some of the best and original tapas in Almeria. The chefs focus not only on the amazing flavors, but also pay great attention to what you will see on the plate, and the focus on high-quality products is very visible. A modern and classy place – a must-go when visiting Almeria!
Casa Puga – Calle Jovellanos 7
For the most traditional dishes and the full Spanish experience of tapas, there is no better place than Casa Puga. A very busy and quite crowded place, full of Andalusian decorations and jamón serrano hanging from the ceilings! This is where you should come to try fried calamares and boquerones fritos!
El Rincon de Basi – Calle Travesia de San Luis Esquina Con Calle Gavilan
A less crowded and more quiet place is also a great way to rest and enjoy tapas. This elegant, yet affordable restaurant has great Vino de Casa which goes extremely well with their paté de pulpo or queso de cabra dishes. They also have a huge variety of Spanish vegetarian dishes to choose from.
Day 3
Day Trip to Cabo de Gata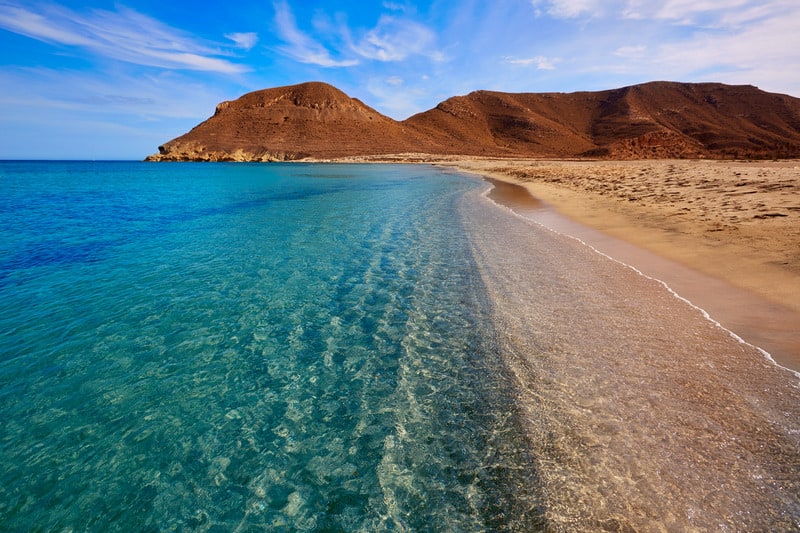 One of the most amazing natural resorts in Andalucia, and a perfect way to end your trip with some fresh excitement.
This volcanic wildlife park will stun you not only with the incredible views of cliffs and beautiful beaches, but also has a lot to show under the water!
It's a great idea to book one of many boat tours available, which will take you to the most hidden and amazing cliffsides and bays.
And if you're feeling energetic, you should definitely look for snorkeling tours or yoga sessions on the beaches of Cabo Gata – there is quite a variety to choose from, including the stunning Playa Los Genoveses and La Fabriquilla.
Book a day trip to Cabo de Gata
Stop at Desierto de Tabernas & Los Millares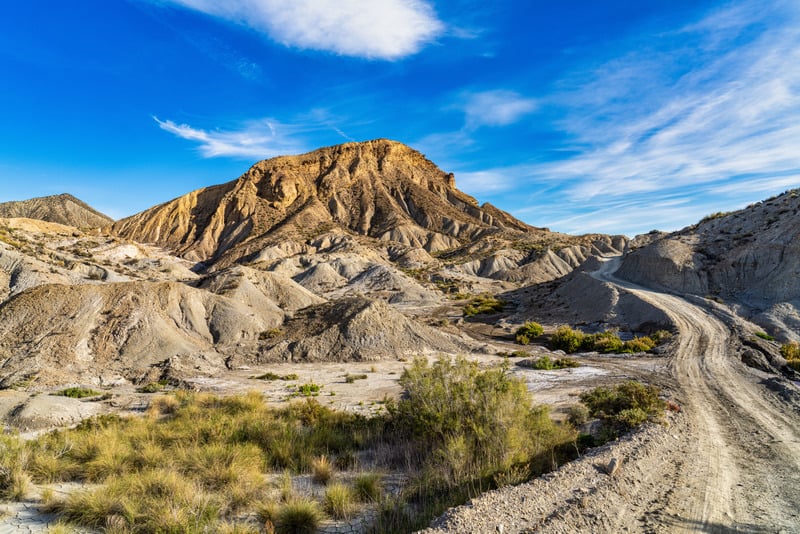 After a few days in the city, it's a great idea to change your surroundings and get away from the busy city streets.
There is no better way to do so, than going straight into the desert!
Not many people know that famous western production sets were held on these lands – you'll definitely be blown away by the change of scenery you'll get at Desierto de Tabernas and Los Millares – the remains of a Christian settlement located about 17km from Almeria.
Los Millares opening times: Wed-Sun 10:00-14:00 (free entry)
Book a day trip to Tabernas Desert
End the day in Western Theme Park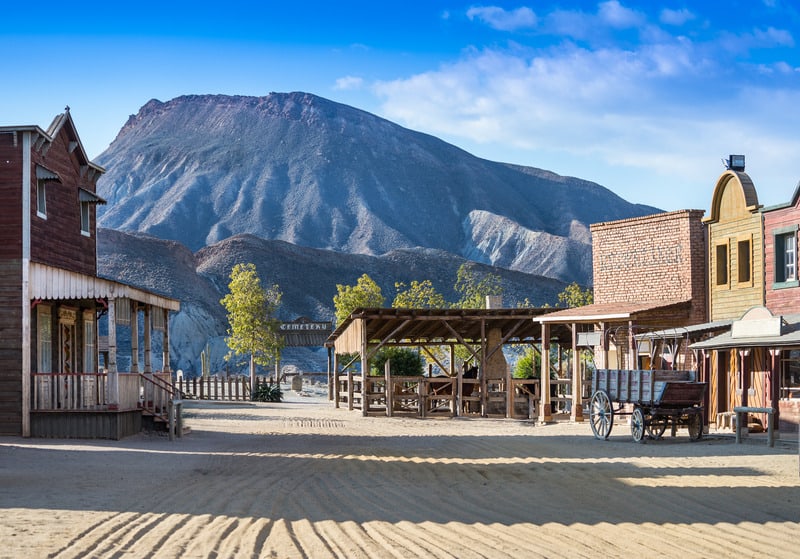 To get the whole Western experience, you should definitely visit the Oasys Minihollywood Theme Park.
Located in the Tabernas desert, Mini Hollywood will take you back in time for sure – you'll even get a live western show during your visit, filled with characterized employees walking around, horses and cowboys in the bars, and an impressive shooting scene! What a way to end your trip to Almeria!
Opening times: it's best to check directly on their website, to make sure you can get in for the hours of the shows.
There are no busses directly to the above-mentioned places, and the best option would be to rent a car for one day to explore the sites freely. Otherwise, you can book a day trip to the park here.
Alternative Day Trips from Almeria to do on Day 3
Whether you've already visited Cabo De Gata or you prefer one of these suggestions, here are some of the best alternative day trips from Almeria.
Roquetas de Mar
The town of Roquetas de Mar is one of the best day trips from Almeria. To get to Roquetas de Mar from Almeria it's just a 24-minute drive (21.8km), a 45-minute bus journey or a short taxi ride.
Roquetas de Mar is home to stunning beaches, including Playa Serena, which is 6km long!
Roquetas also has a castle of its own – Castillo de Santa Ana, a medieval castle that has free entry and even a lift to the top. To find Castillo de Santa Ana, just walk south of Roquetas Marina.
San José Village
San Jose is a remote seaside village with a beautiful beach and lots of Spanish charm, San Jose is a 45-minute drive from Almeria or 1 hour on the M-212 bus line.
Once in San Jose, you can spend a chilled-out day on the Almeria coast, visiting the dreamy marina, trying Spanish cuisine at one of the traditional restaurants, or even spending a relaxing day at the beach.
San Jose is the perfect day trip from Almeria for anyone who wants to visit a traditional Spanish seaside village and spend a day away from the city.
If you love San Jose, other similar day trip options are Los Escullos, Playa de Los Genoveses, and Playa de Monsul.
Las Negras
Las Negras is another beautiful fishing village on the coast of Almeria, Spain, and one of the best things to do in the Almeria Provence.
The village is a 50-minute drive from Almeria or a 1.5-2 hour bus journey. Your best bet would be to drive or book a private transfer. You could even book a tour that includes Las Negras.
Once in Las Negras, you can visit Molino de Los Méndez – a traditional mill and an insight into traditional Spanish culture from years ago.
One of the main sights is Playa de Las Negras, the huge isolated village beach with stunning views.
Visiting Almeria During Special Events – A Unique Experience
If you have flexibility on when to visit Almeria, I highly recommend that you visit during a special event. Almeria has numerous festivals, celebrations,and religious days throughout the year and it's truly a unique experience to visit during one of them.
Semana Santa: Also known as the holy week, Semana Santa takes place between Palm Sunday and Easter Monday.
Almeria Carnival: The Almeria carnival turns the city into a colorful, vibrant festival and creates a fantastic atmosphere for an Almeria city break.
You'll see concerts, amazing costumes, parades, and street musicians and be emersed in the rich culture of Almeria.
Best Hotels in Almeria, Spain
Below you'll find our three top choices of the best hotels in Almeria based on your budget. All of them with great locations and focus on making this 3-day trip most comfortable.
Catedral Almeria **** – Luxury
Hotel Cathedral Almería is a restored mansion, located in the Almeria Cathedral Square. You'll find elegant and spacious bedrooms with en suite bathrooms, air conditioning, and computers with fast internet connectivity.
A rooftop bathtub with an amazing view can be found on the upper terrace of this 4-star hotel and restaurant – a great place to relax after a whole day of sightseeing. – Check rates & reviews
Hotel Costasol *** – Mid-Range
Hotel Costasol is a modern and well-located hotel in the city center, with plenty of tapas bars and restaurants closeby. All bedrooms have private bathrooms, air conditioning, and access to the internet.
The facility also allows you to use the sauna, rent bikes and dine at the hotel's cafeteria. – Check rates & reviews
La Perla ** – Budget
A quiet hotel located 500m from the main Cathedral and 20 minutes from the bus and train station. You'll find the rooms tidy and clean, with private bathrooms, a mini-fridge, flat-screen TVs and wifi. La Perla also offers car and bicycle rentals to make your trip even easier. – Check rates & reviews
Getting Around Almeria
The best way to explore Almeria is definitely on foot or bicycle – the city has many cycling lanes, which are very well connected! You can also hop on the Tourist Bus (3€) and enjoy the 1 hour, historical tour around the old town. – Book a bike here
As for public transportation, the busses run very frequently and are easy to follow – each stop having a map with all necessary connections explained and the fare being only 1,2€ per person.
FAQ's
Is Almeria worth visiting?
Definitely, YES! There are so many reasons for visiting Almeria! The city is less crowded than other Andalusian cities, but there's still so much to see and do. An Almeria must-see is La Alcazaba – the remains of Europe's second biggest castle, visit the stunning Almeria beaches and explore the nearby Natural Park Cabo de Gata and Desierto de Almeria.
What is Almeria, Spain, known for?
Almeria is famous worldwide for many things. Throughout Spain, Almeria is famous for its gorgeous white sand beaches and crystal clear waters. The city is also the driest place in Europe and sees ONLY 156mm of rain each year, not to mention the stunning Tabernas desert just north of the city. Many famous films and music videos have been shot partly in Almeria, the most famous of which being John Lennon's How I Won the War in 1996, and the Alcazaba fortress has been used to shoot part of Game of Thrones. More recently, Almeria was used as the filming location for Little Mix's "Shout out to My Ex" music video.
Does Almeria have nice beaches?
YES! Almeria has some of the best beaches in Andalusia. Playa de San Miguel is a stunning beach (Almeria city beach) located next to a long seaside promenade and backed by many bars and restaurants. If you're visiting Almeria with kids, San Miguel is one of the best things to do in Almeria for families. Even when San Miguel gets busy during the summer, it's still one of the best Almeria things to do. The beach is 2km long, so there's plenty of room for everyone! Another of the best beaches in Almeria is Nueva Almeria beach is also well worth a visit. Located in a residential area, this beach feels more remote and has stunning scenery.
Map of Almeria and Best Places in Almeria, Spain
This Almeria Spain map will take you through all the best things to do in Almeria:
---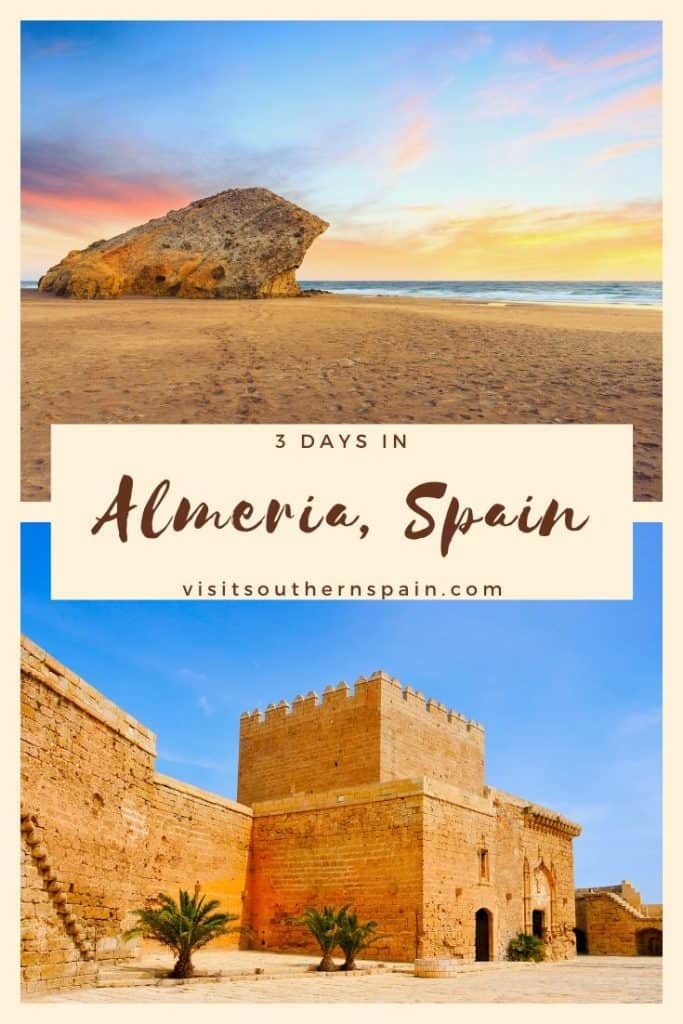 ---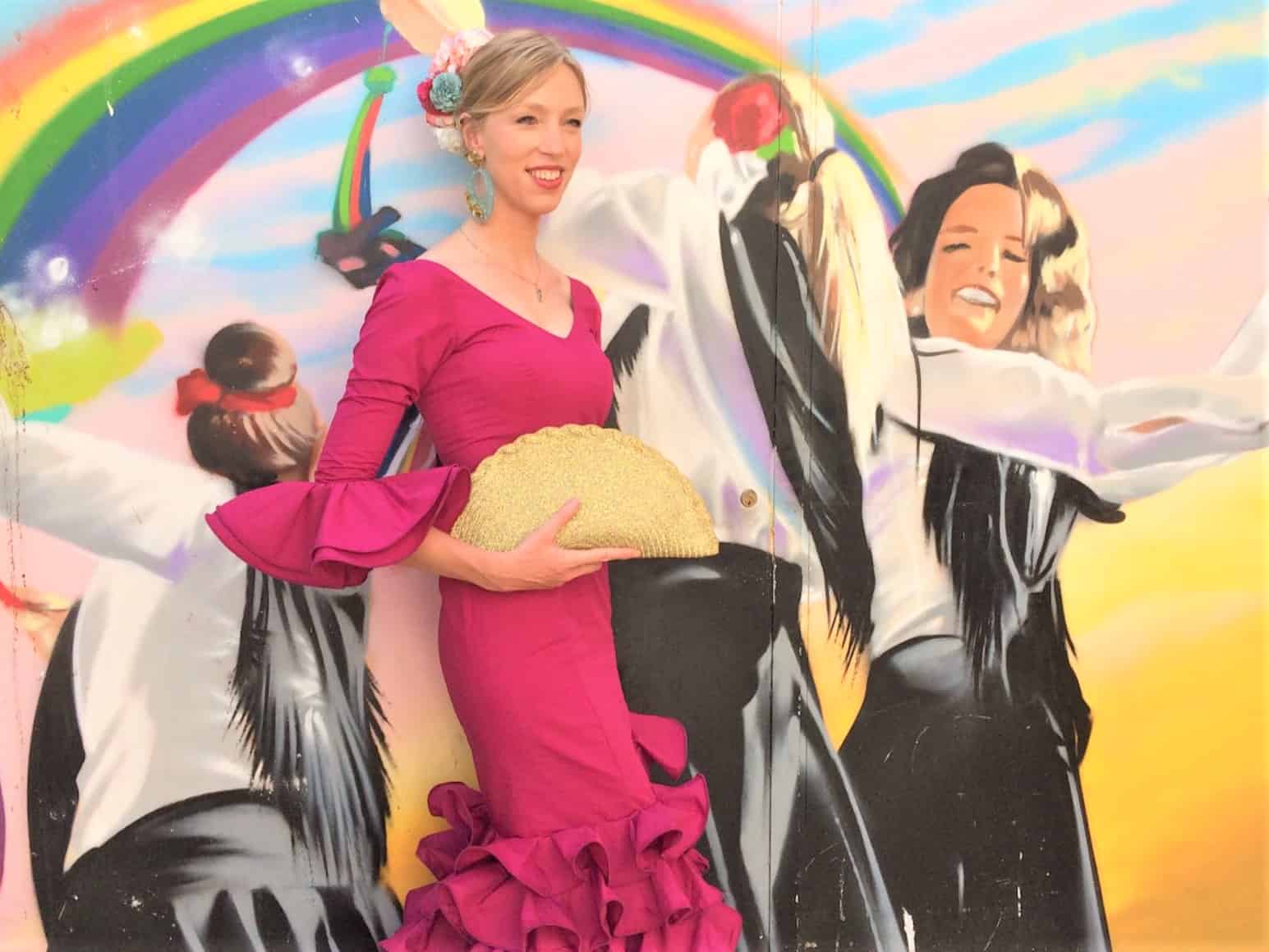 Hola, I'm Paulina! Together with my team, we are passionate about Southern Spain. Here we share all you need to know for great times in Southern Spain with the best places to visit, stay and, of course, the best food to eat.
Let's dive in and explore Southern Spain's outdoors, food and culture con pasión!