A guide for the best activities in Malaga, Spain – The perfect 3 Day Malaga Itinerary
Malaga is not only home to one of five airports to fly into when traveling to Andalucia, but it also happens to be one of the region's most popular holiday destinations.

Offering a fantastic cultural agenda throughout the entire year, you'll always find something to encourage your first ole! in Europe's oldest city.
There are so many things to do and see in Malaga, and you'll notice that, as soon as you've had your first tapas and a cold San Miguel, you'll have adopted the Andalusian rhythm of life in a matter of seconds when visiting Malaga.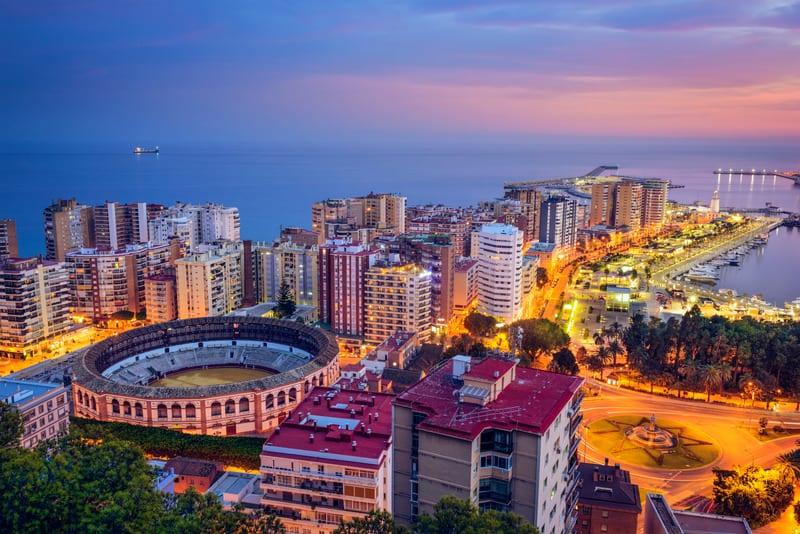 Hence, you won't feel the need to speed-walk through your sight-seeing experiences – follow this itinerary and adapt it as you see fit.

Whether you're here on a short two-day stay, a long four-day weekend, or a 24-hour blitz visit, this travel itinerary will help you make the best of a dream come true for many: a visit to Malaga, Spain.
This post contains affiliate links. If you buy via them, I'll earn a small commission which helps me to keep this blog running. As an Amazon Associate I earn from qualifying purchases. All opinions are my own.
Top Things To Do In Malaga, Andalucia – Our Malaga Itinerary For 3 Days
There's plenty to see in Malaga, even on a short, three-day trip, and you won't have to rush through your itinerary either.

You'll have more than enough time to explore the city's main highlights en plan tranquilito – in a leisurely manner – as the Malagueños would say. Here are the six must-sees during your long weekend in the Costa del Sol's capital city:
Alcazaba of Malaga
Museo Picasso Málaga
The Roman Theatre
Espetos at the Beach
Soho District
Day trip to Nerja
Useful Travel Information About Malaga
✈ Book cheap flights to Malaga with Skyscanner

⚘ Avoid tourist traps and get the customizable "Andalucia Like a Local" itinerary. – Get it here

✔ Book tours in Malaga with GetYourGuide

➳ Find the best hotels in Malaga with Trivago

❖ Rent a car with at the best rates with DiscoverCars

✎ Never leave without travel insurance! I got mine at SafetyWing. It is easy to set up, cheap and reliable.

$ Withdraw money without hidden fees and avoid exchange charges with TransferWise (Free Mastercard debit card to spend money abroad)
How to get to Malaga
By flight: You can often find cheap deals through airlines such as Ryanair and Iberia if you're headed to Malaga via Madrid or Barcelona. Alternatively, you can catch a train from the María Zambrano or Alameda train station. – Check cheap flights here
Bus or Train: Unlike many other cities along the Costa del Sol, Malaga can be easily reached by bus or train, and it's easy to travel around the coast via public transport with the city as your base. All buses arrive at the bus station in Malaga. – Buy bus & train tickets here
From Granada to Malaga: The best way to reach Malaga from Granada is via a pleasant two-hour bus ride. – Buy bus tickets here
Cordoba to Malaga: By train from Cordoba, you'll reach Malaga in around 58 minutes, whereas from Seville it takes around 1 hour and 55 minutes by train. – Buy train tickets here
If you're road-tripping to Malaga by car or camper, you'll usually have two options, both of which are scenic: the coastal roads or the inland Carretera.
Day 1
Alcazaba of Malaga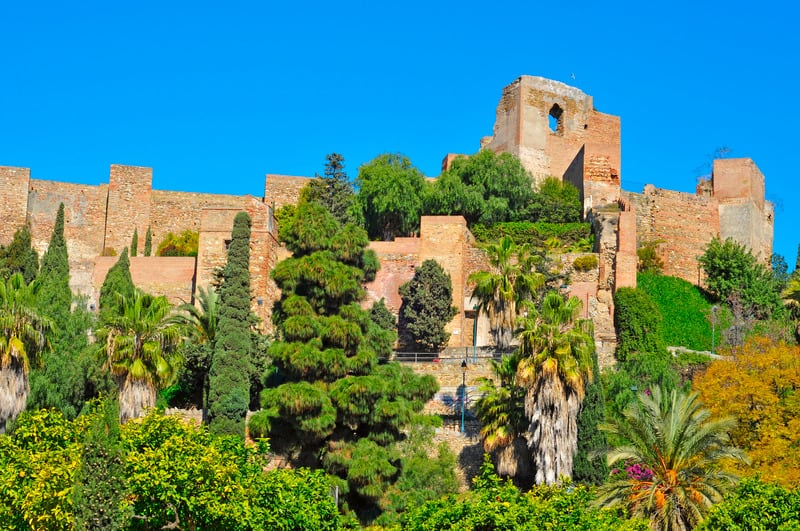 The Alcazaba – an 11th-century citadel built during the Hammudid dynasty – is a piece of history that protrudes from Malaga's bustling city center like a protective spirit of the past.

You'll find yourself strolling the city's modern shopping streets, traditional tapas bars and fancy fusion cafes when suddenly you reach the Calle Alcazabilla, a pedestrian street that invites you to marvel at both the present and the past.
Nestled into the foot of Mount Gibralfaro and situated next to the entrance to the Roman Theatre, the Alcazaba is built in a typical Al-Andalus style.

Complete with ancient archways beautifully kept gardens and patios and a stunning view over Malaga and its port, this Moorish citadel will draw you into its undeniable charm.
Visit the Alcazaba in springtime and you'll get the full Andalusian experience with the scent of orange blossoms lifting your spirits and the sea-breeze gently tousling your hair.

Hike up along the fortress walls and catch a glimpse of the Palacio de la Aduana's sparkling roof made up of a mosaic of 6,000 silver and blue aluminum tiles. It's considered one of the top things to do in Andalucia.
The entrance is free on Sundays and €3,55 for the Alcazaba and Gibralfaro combo for the rest of the week. – Book here your guided tour
Opening Times:
Summer: Tuesday – Sunday 09:00 – 20:15, Monday 09:00 – 20:00
Winter: Tuesday – Sunday 08:30 – 19:30, Monday 09:00 – 18:00
Gibralfaro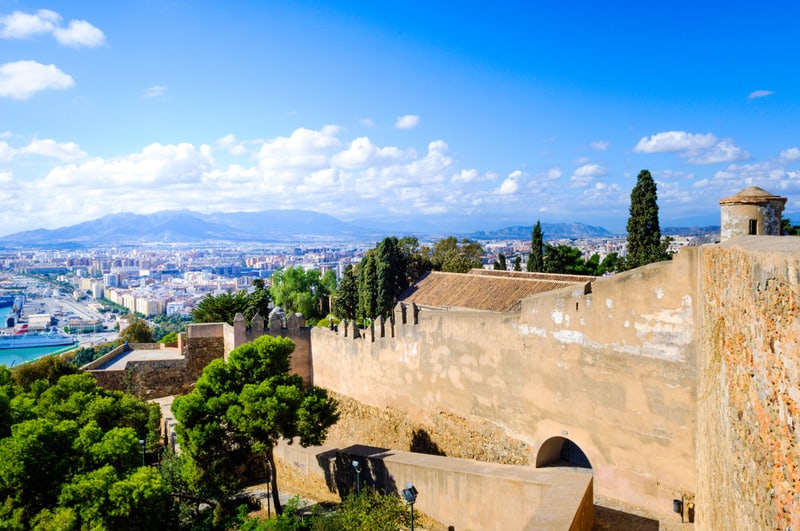 Once you've walked through Alcazaba's wonderfully designed and fragrant gardens and patios, take some extra time to walk along the Coracha Terrestre, the double-walled walkway up to Gibralfaro Castle.
Not only will this spark your imagination, taking you back through time and the old ways of life, it will also make for a nice break from the busier tourist spots and shopping streets.
Lined with eucalyptus and pine trees, it will lead you to the mysteriously named Jardines de Puerta Oscura – the "Dark Entrance Gardens" – which refers to an Arab door that used to be in the area.

Offering plenty of cool, shaded areas, fountains and lush vegetation, this is a great place to visit all-year-round.
Entrance is free and the gardens are open 24-hours a day. They are the favored way of accessing the Mirador de Gibralfaro, and a visit at night time is definitely worth it, as it offers a calming view of the city warmly glowing under the streetlights.
Opening Times: 24/7
Malaga Cathedral: La Manquita – A UNESCO World Heritage Site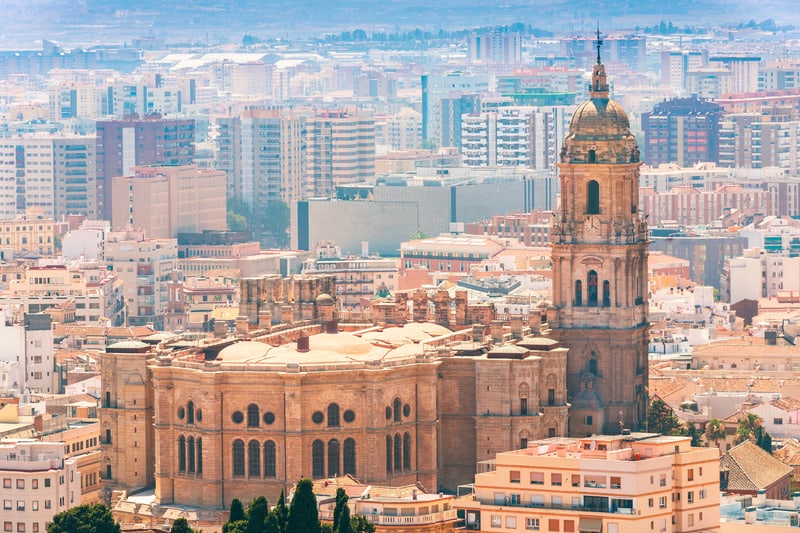 You can't miss the La Manquita Cathedral in the center of Malaga – it virtually sneaks up on you and, unexpectedly, you're faced with this stunning piece of medieval architecture on the Calle Molina Lario with amazing stained glass windows.

Dating back to 1528, this cathedral was built over a period of 250 years and merges various schools of architecture.
While the face is designed in the classic Baroque style, the rest of the building follows the architectural traditions of the Renaissance era.
Once you've taken in the spiritual and architectural beauty of the La Manquita, marvel at its impressive façade over tapas or a menu del día at the La Taberna del Obispo, just across from it. For us, it's a fabulous option when wondering where to eat in Malaga.
Opening Times: 08:00 – 21:00
Roman Theatre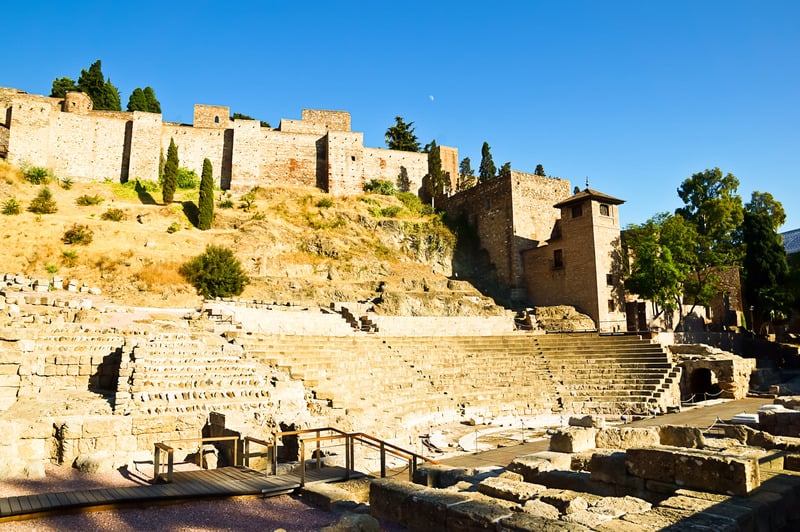 If you're trying to narrow down your choices in terms of what to see in Malaga, make sure the Roman theatre forms part of your top priorities.

Dating back to the first century BC and the reign of Emperor Augustus, Teatro Romano de Málaga is the city's oldest monument. It was rediscovered in 1951, and since opening to the public in 2011, it has established itself as a popular venue for open-air performances throughout the spring and summer months.
The visitor's center is adjacent to the amphitheater and is a little architectural gem in itself.
Designed by Antonio Tejedor, it is made of various elements including wood, steel and serigraphic glass engraved with the Lex Flavia Malacitana, Malaga's legal declarations under the reign of the Roman Empire.
Admission to both the amphitheater and the visitor's center is free. – Book here a walking tour of Malaga
Opening Times:
Tuesday – Saturday 10:00 – 18:00
Sunday and Holidays 10:00 – 16:00
Lunch at Mesón Ibérico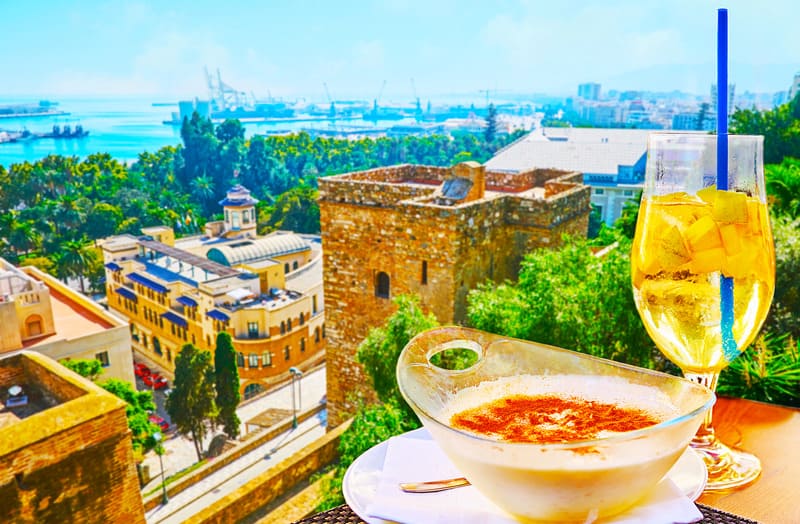 Ask any experienced chef were to delight on the best, traditional Spanish cuisine in Málaga, and they'll recommend Mesón Ibérico – the restaurant that promises "una cita con la Calidad", a date with quality. It's considered one of the best places to eat in Malaga.
Excite your palate with the sizzling spices of gambas al pil pil and surprise your taste buds with a choice of more than a hundred expertly prepared and delicious dishes and an impressive selection of wines.
Located in the Calle San Lorenzo, just a hop away from the trendy Soho district of Malaga, the Mesón Ibérico is the ideal stop to rest tired feet and fill rumbling bellies after a shopping-spree or sight-seeing tour.
Opening Times: Monday – Sunday, 13:00 – 16:30 and 20:30 – 24:00
Picasso in Malaga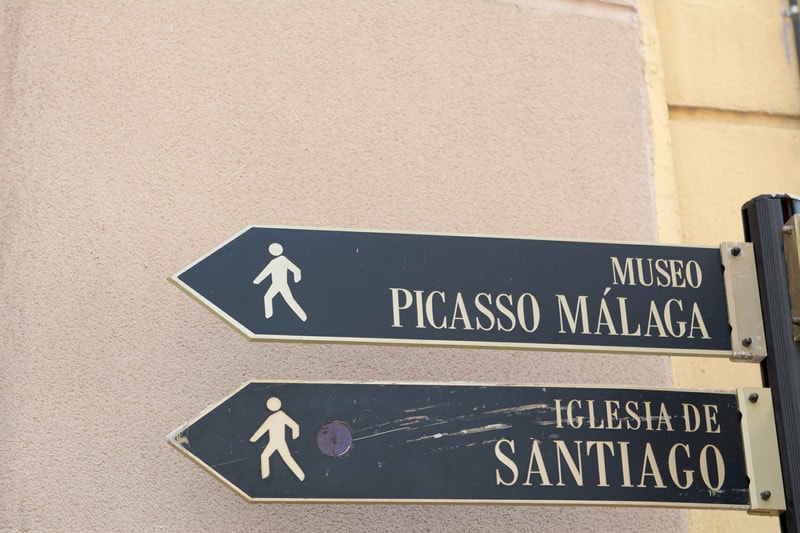 An afternoon spent at the Museo Picasso Malaga is one of the top things to do in Malaga – what better way to pay homage to Spain's most renowned artists?
Home to a permanent Picasso collection that traces the artist's trajectory, and temporary exhibitions showcasing important national and international artists across all spectrums, this museum always offers something surprising to visitors from all over the world.
The museum found its home in the historic Buenavista Palace in Calle San Agustin, and first opened its doors to the public in 2003. – Book here a private Picasso Walking Tour
Opening Times:
September-October: open daily 10 am-7 pm
November-February: open daily 10 am-6 pm
March-June: open daily 10 am-7 pm
July-August: open daily 10 am-8 pm
Parque de Malaga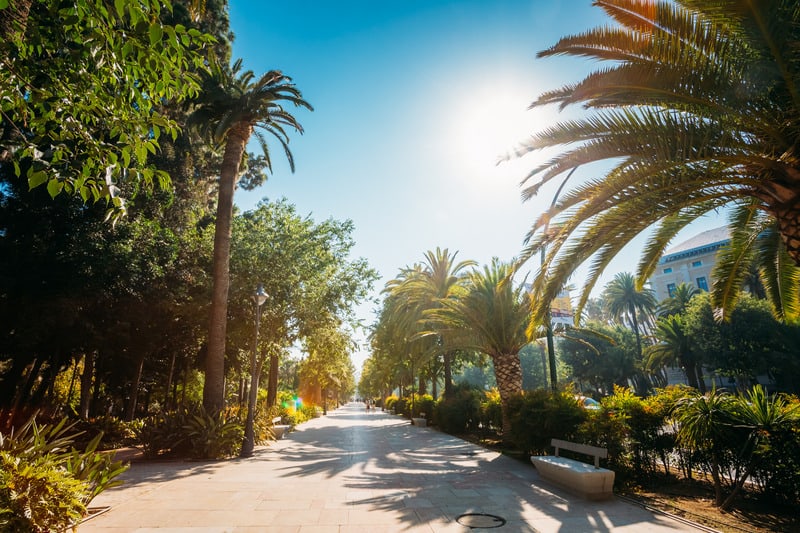 Stretching from the Plaza de la Marina to the Plaza del General Torrijos in La Malagueta, the Parque de Malaga is one of the most important public parks in Europe boasting botanical species from all five continents.

During high season, Parque de Malaga is lined with little artesian market stalls and various musical and cultural events are here during the summer.
If you have the chance to catch a classical concert in this unique, open-air venue, consider it a must in terms of what to do in Malaga, Spain. This park offers the perfect backdrop for a night spent listening to an orchestra serenading the stars.
Las Malagueta Beach
For a dip in the sea or a little siesta in the sun, head down to Playa de la Malagueta in the center of town.
Surrounded by typical chiringuitos and within walking distance of supermarkets, Malagueta is one of the best beaches in Malaga.
With its own outdoor gym, sandy beaches and easy access to the water, this beach is a top hang-out for families as well as solo travelers.
Flamenco show at Tablao Flamenco Los Amayas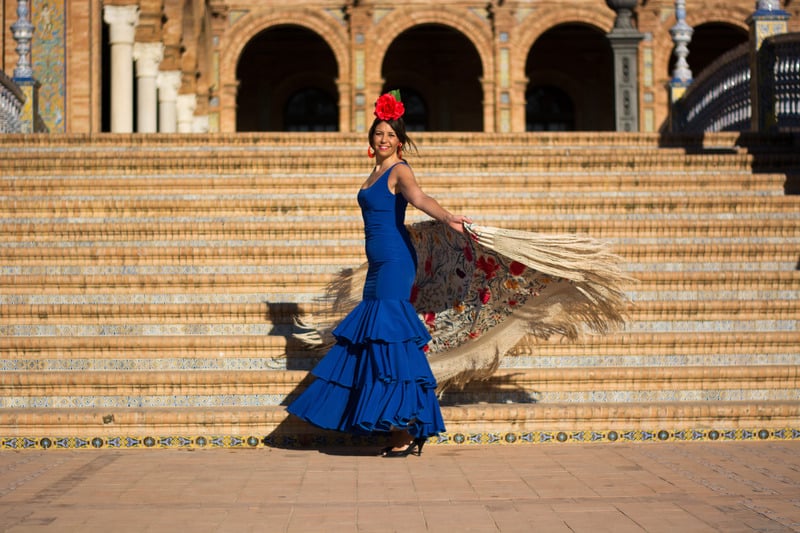 Catch a fabulous show at the Tablao Flamenco Los Amayas, conveniently situated near Muelle Uno and the Pompidou Centre. Declared Intangible Cultural Heritage by UNESCO in 2010, Tablao Los Amayas has long since been a staple in Malagueñan flamenco culture.
Enjoy the dance and musical performances over traditional Spanish cuisine and tap your feet along to the passion and fury flamenco embodies. – Book here your tickets for flamenco shows in Malaga
Show Schedule: Daily at 19:00 and 21:00
Day 2
Ataranzas Market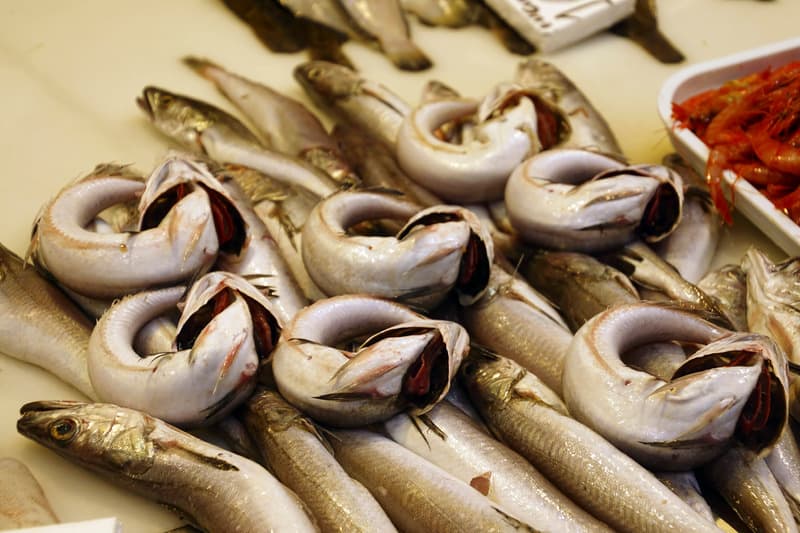 The Ataranzas Market is a haven for foodies looking to familiarize themselves with the ingredients that make Andalucia's dishes so special.
Taste your way through cherimoyas and boquerones en vinagre – anchovies marinated in vinegar, a staple in Malagueñan cuisine – and wash it all down with a fresh smoothie or a cold glass of beer.
The central market of Ataranzas is where all the best chefs of the Malaga region purchase their ingredients, so you can rest assured that the vegetables, fruit and meat products you buy here will make for an unforgettable culinary experience.
If you are a foodie in Malaga, don't forget to check out our guide on where to eat in Malaga and mostly, what typical food to eat in Malaga.
Located near the Plaza Arriola in the city centre, you'll find lots of nice little cafes around to rest your feet after a morning of exploring Mercado Central de Atarazanas. – Book here your cooking workshop and market visit in Malaga
Opening Times: Monday – Saturday 08:00 – 15:00
Shopping at Muelle Uno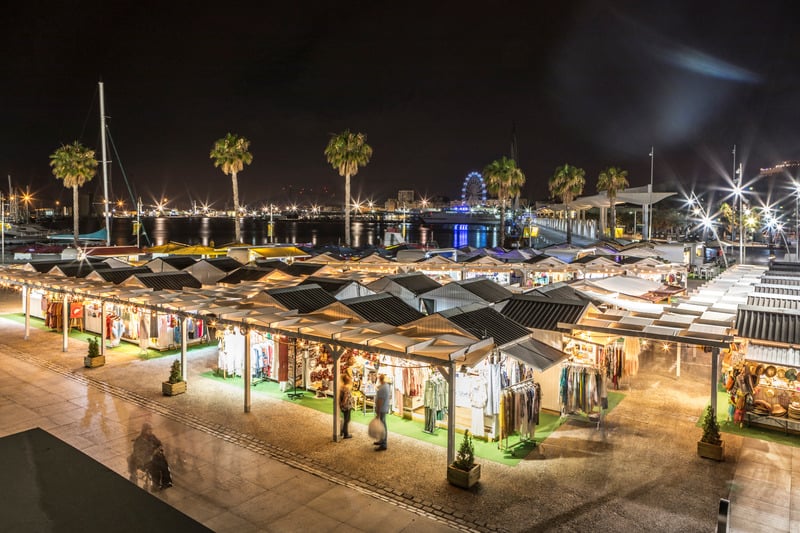 Muelle Uno, the open-air shopping complex in the port of Malaga, offers a fantastic shopping experience.
Here, you can get your shop on and kick back with a café con leche, panoramic views of the Alcazaba and a welcomed sea breeze.
With the striking Centre Pompidou forming part of this chic complex, Muelle Uno has become the city's number one stop for leisure and shopping activities.
Explore Artsy Soho District
If you want to fuel your creativity and return home from Malaga feeling inspired and ready to take on your next big art project, strolling through the city's Soho Art District is an absolute must.

The Soho District invites you into a colorful world of breath-taking murals and cultural events that will feed the artist in you.
This district is also home to the CAC – Centro de Arte Contemporáneo – one of Malaga's most important exhibition spaces showcasing the works of artists from all over the world.
Automobile and Fashion Museum
Located just a ten-minute walk from the Torcal Metro station, the Automobile and Fashion Museum showcases cars from the Belle Epoque, to the Roaring 20s, all the way to the vehicles we know today.
Each car comes with a mannequin decked out in the fashionable designs of the era – from classy ladies in Chanel to sophisticated madams sporting the latest headwear complete with ostrich feathers – offering insight into the trends and designers of the respective time period.
Opening Times: Tuesday – Sunday 10:00 – 19:00
Lunch in Pedregalejo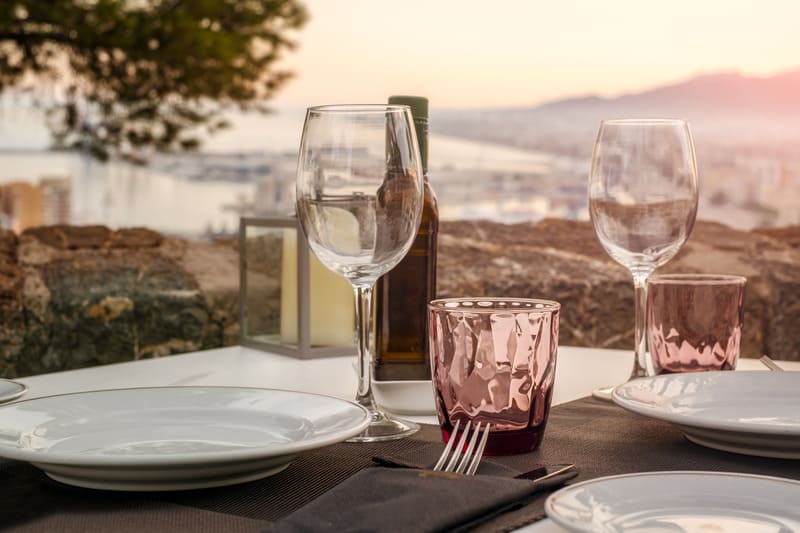 Want to get a feel of the towns and villages surrounding Malaga? Then head to Pedregalejo for lunch.

This charming little fisher's village is famous for the Baños de Carmen, which is basically an open-air beach spa that was originally built for the upper-class people of Malaga in 1918.
A fun way of reaching Pedregalejo is by bike, as it can be reached by following the paseo marítimo from the centre of Malaga.
For a delicious energy boost for lunchtime, head to chiringuito El Caleño, which first opened more than thirty years ago.
Famous for their Garrucha prawns and a mouth-wateringly exciting selection of seafood, this is the place to go for a scrumptious lunch with sea views.
Read here more about what to eat in Malaga.
Opening Times: Daily from 12:30 – 16:30 and 20:00 – 23:30
Visit the Museums of Malaga
Want to know what to see in Malaga, Spain on a one-day trip? So much! A great place to start, however, is via a tour of the best museums in Malaga, namely: Carmen Thyssen, the CAC, and the Pompidou.
While the CAC invites you to delve into the world of modern art through captivating exhibitions and video-installations, the Carmen Thyssen – situated near the La Manquita cathedral – takes you through Andalucia's 19th-century art history.
The Centre Pompidou, Malaga's most recent museum addition, boasts one of the most unique collections of art, including Pierre Huyghe's "This Is Not a Time for Dreaming" and Kandinsky's "Développement en Brun". – Book here your tickets to Centre Pompidou Malaga
Opening Times:
Centre Pompidou – Wednesday – Sunday, 09:30 – 20:00
CAC – Tuesday – Sunday, 09:00 – 21:30
Carmen Thyssen, Tuesday – Sunday, 10:00 – 20: 00
La Concepción Botanical Garden, Malaga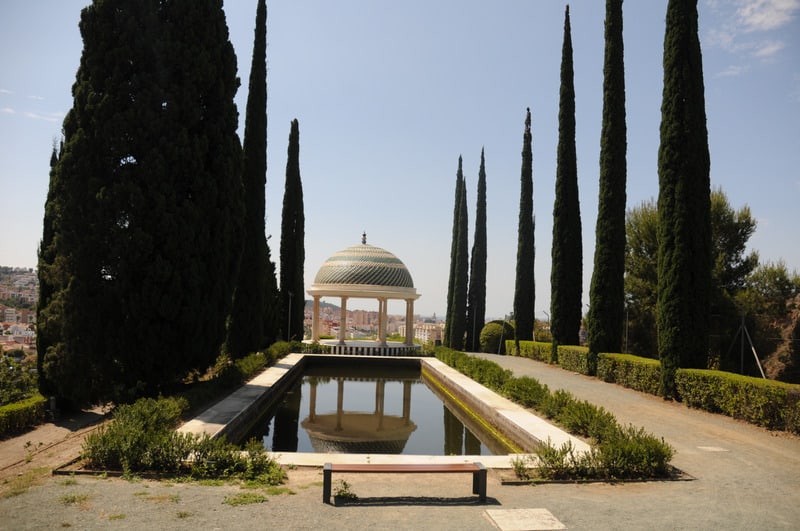 Immerse yourself in the magic that is the La Concepción Botanic Garden in Malaga and breathe in its history as you familiarize yourself with the many exotic plants that can be found here.

Stroll through the historical and botanical gardens and you will feel as though you have escaped the city in favor of a secret hideaway.
La Concepción Botanic Garden is situated an hour outside of Malaga and can be reached by car, or the number 91 bus that leaves from the Car Museum or the bus station Malaga, for as little as €1, 30.
Opening Times:
From 1st April to 30th September: 9:30-19:30
From 1st October to 31st March: 9:30-16:30
Relax in Arab Baths at Hammam Al Andalus, Malaga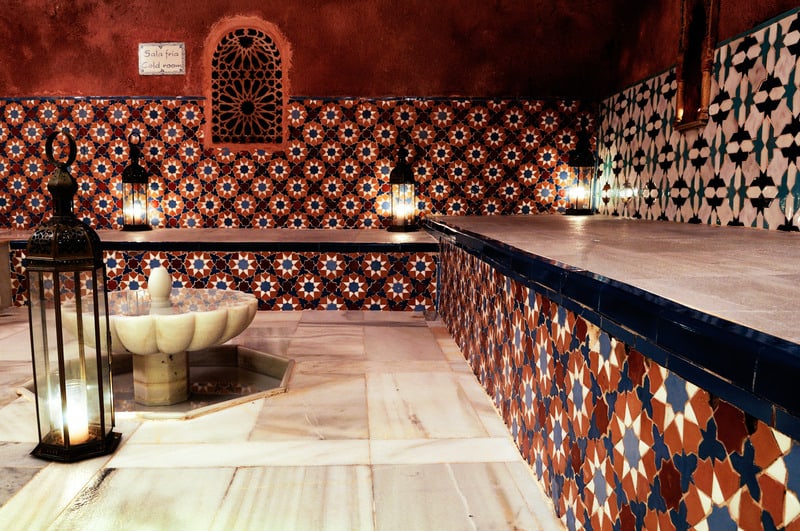 There's no better way to end a day of sight-seeing and shopping, than by treating yourself to a luxurious, Arab bath at the Hammam Al Andalus.

Situated next door to the Carmen Thyssen Museum, Hammam Al Andalus awakens all the senses in these healing waters and immerse you in the silence of this beautifully designed spa experience. – Book here a relaxing massage at Malaga's Hammam
Opening Times: Daily, 09:30 – 12:00
Aperitivo with Malaga wine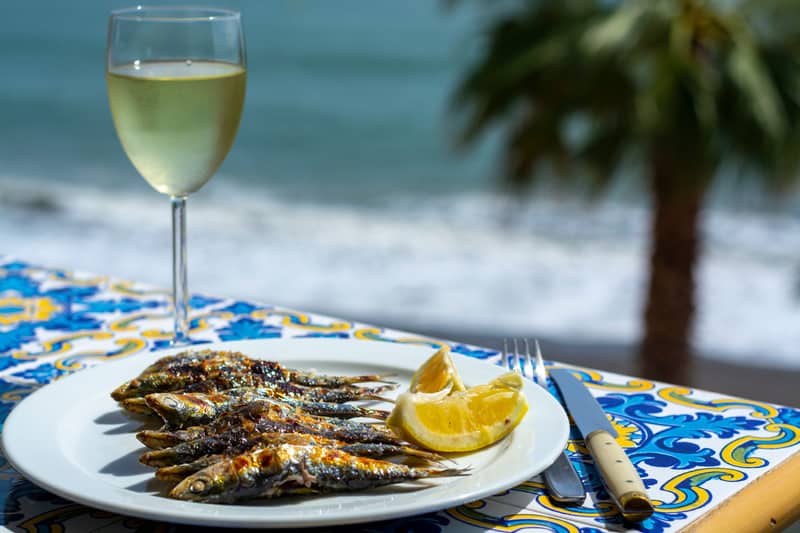 Nothing spells relaxation more than relaxing into the traditional atmosphere of a typical Malaga bodega with a glass of sweet wine and a cheese board – and the best place to do this is at the Bodega Bar El Pimpi.
Just a one-minute walk from the Picasso Museum, this is the perfect place to allow your mind to absorb all the impressions of the day.
Bodega Bar El Pimpi is one of the most popular bodegas for wine and tapas in the city, and its interior design will take you through Andalucia's cultural history by way of an antique collection of old feria posters, flamenco and bullfighting imagery.
Its Barrel Hall is a testament to the bar's quality – you will find the names of famous actors and directors such as Antonio Banderas and Juan Antonio Bardem signed on to various wine barrels.

If you are wondering what to do in Malaga Spain, this is definitely a must!
Opening Times: Daily, 12:00 – 03:00
Espetos at the Beach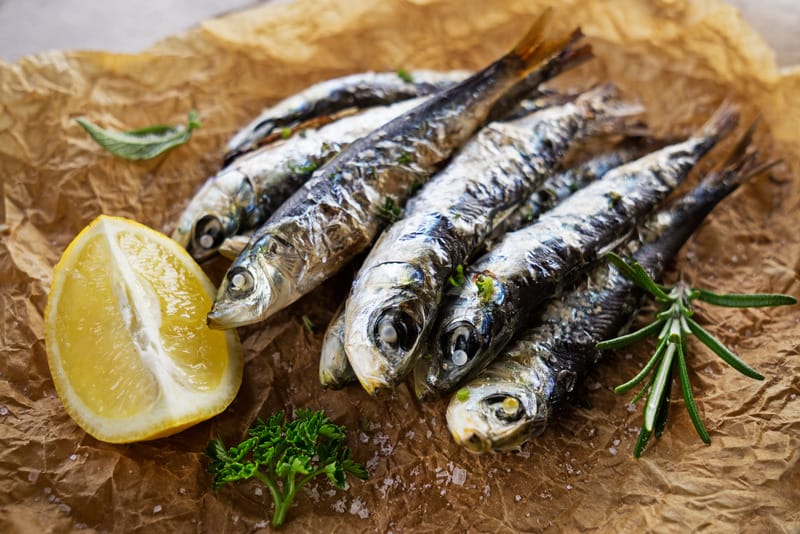 While the Malagueños earned the nickname "boquerones" long ago, the espetos – skewers – they are most famous for, are actually made up of six sardines seasoned with olive oil and sea salt.
They are cooked over a pit of coals, usually fashioned in old fisher boats. You simply cannot visit Malaga, Spain without treating yourself to the espetos this city is famous for.
And if you're going to try something new, you better do it right by heading to the Restaurante Gabi in the Calle Quitapenas between Malaga's El Palo and Pedregalejo. – Book here your Malaga food tour
Day 3
Do a Boat-Trip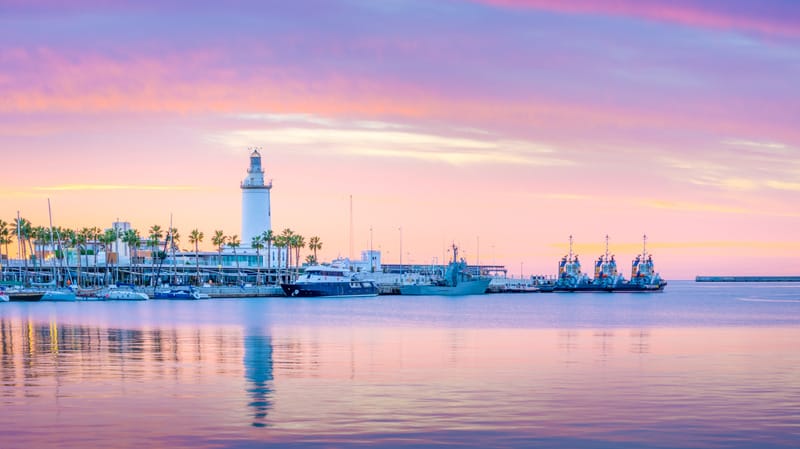 Whether you're looking to spend a day on a yacht-like your favorite celebrities or sail along the Malaga coast on a sailboat with your entire squad of friends, a boat trip is a very special way to spend your third day in Malaga.
There are various boat trip options for you to choose from in the seaside city of Malaga – the 1-hour City Sightseeing boat with audio commentary in two languages or a yacht or sailboat via Fusion Yachts.
Whatever you choose, you'll get to see Malaga from a whole new perspective. – Book a boat trip from Malaga
Day Trip to Nerja
For one of the best day trips from Malaga, head to Nerja, the popular beachside town close to Vélez-Málaga. Nerja is a day out with plenty of activities to enjoy in a beautiful natural environment,

Hike along the Chillar river, snorkel through the clear waters of the Acantilados de Cerro Gordo-Maro or explore the impressive Cueva de Nerja for a fun and action-packed afternoon. There are plenty of things to do in Nerja! – Book here your day trip to Nerja
How to get there: Catch a bus from the Estación de Autobuses de Málaga for a direct journey to Nerja or rent a car and follow the A-7 in direction Nerja.
Quick stop in Frigiliana, White Village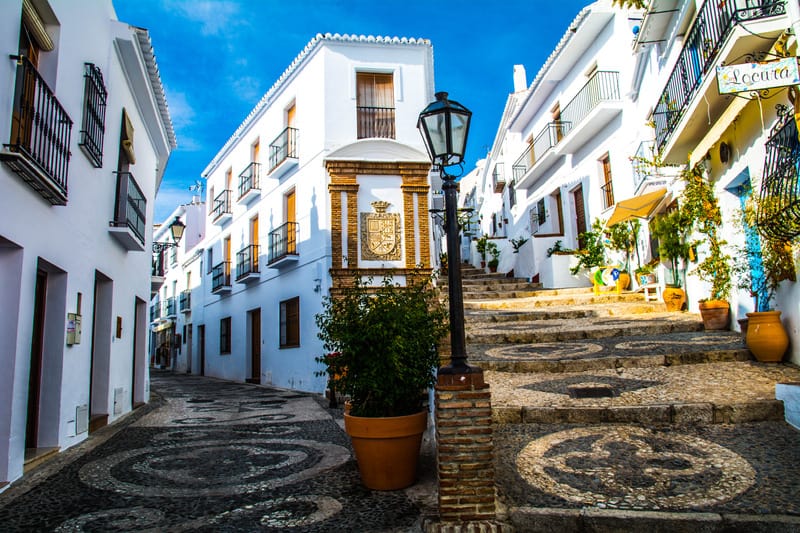 Just an hours' drive from Malaga, you will find the picturesque, whitewashed village of Frigiliana, which has been voted the "prettiest village in Andalucia" by the Spanish tourism board.

Divided into two parts – the old Morisco-Mudéjar neighborhood on top of the hill, and the modern part below – this town looks like it was taken straight out of a storybook with its cobbled streets and El Torreón's idyllic courtyard filled with a myriad of potted and wall-mounted plants.
How to get there: If you're traveling by car, follow the A7/E15 and take exit number 292, Nerja/Frigiliana.

Turn left on the first roundabout, and continue on straight after the second one, following the MA-5105 into the mountains. Alternatively, take a fully organized day trip to Nerja & Frigiliana.

By the way, if you are looking for an unusual daytrip from Malaga, please have a look at this Almeria itinerary.
Best Hotels in Malaga, Spain
Not sure where to stay in Malaga? No need to worry – this city offers comfortable and gorgeously designed accommodations from luxury hotels to budget gems.
Whether you're looking for the ultimate hostel experience, a unique little boutique hotel or are looking to treat yourself to a bit of grand luxury, you'll find the right place for your stay.
Here is our selection of the best hotels in Malaga!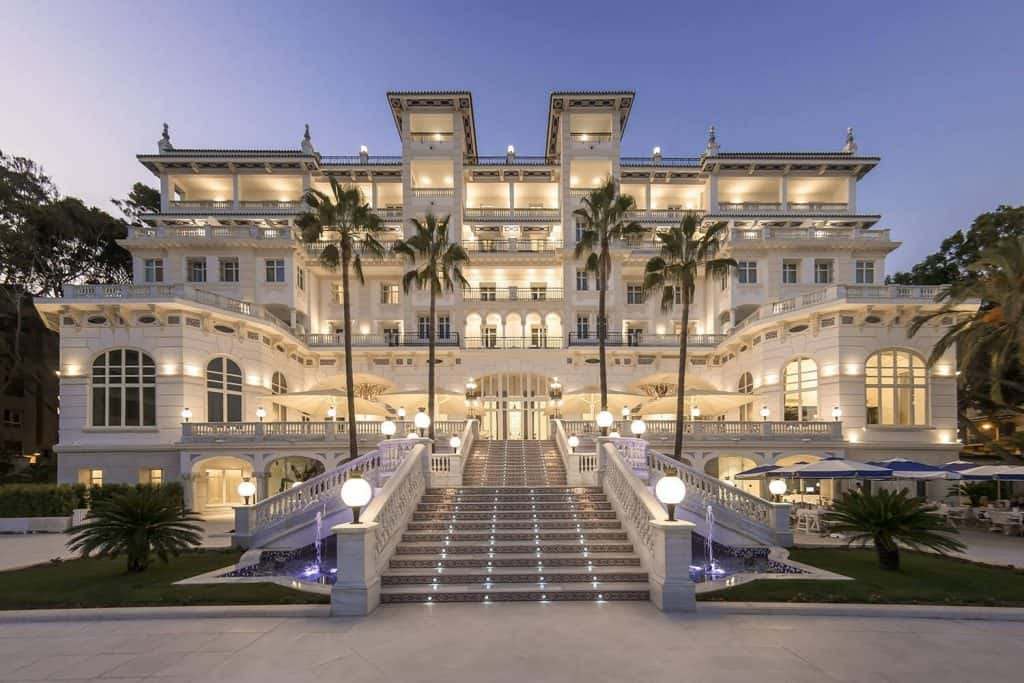 The majestic façade of the Gran Hotel Miramar***** speaks volumes. This is the kind of place that will treat you like royalty from the moment you enter. With elegant room designs, two outdoor pools, a gym and a chill-out area with sea views you will be able to wind down in a comfortable style.

If you're traveling with kids, you'll feel relaxed knowing they too will have the time of their lives at the hotel's own Kid's Club. – Check rates & reviews here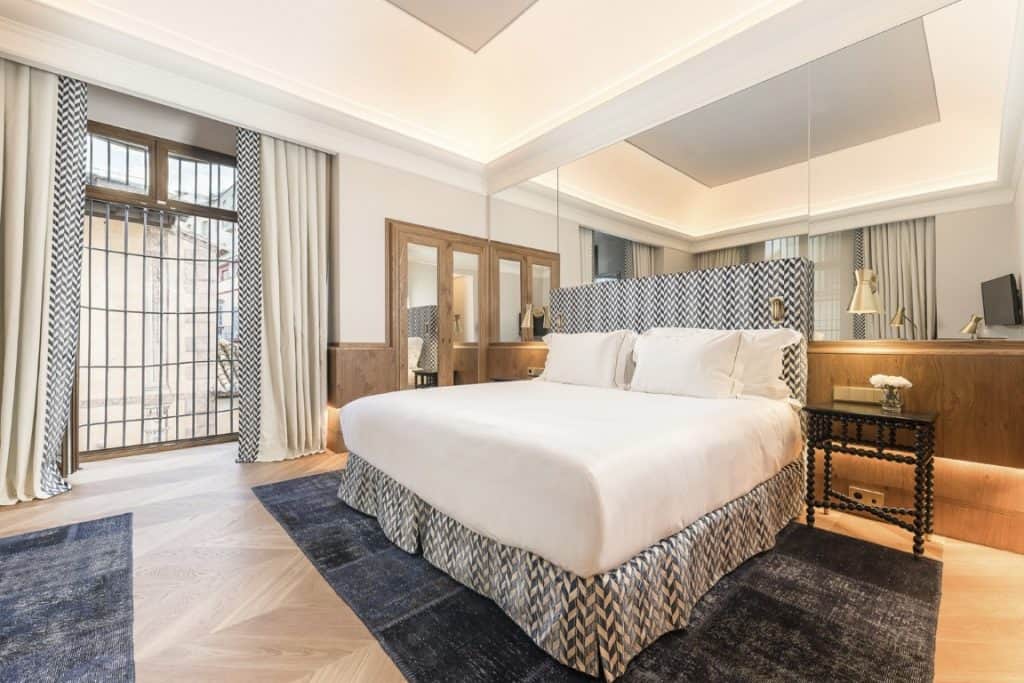 The Palacio Solecio**** hotel in the old Jewish quarter of Malaga feels steeped in a different era – one of subtly chic, retro design and strong attention to detail. Featuring its house-own Restaurant Balausta run by José Carlos García you will be able to enjoy expertly prepared dishes in an atmospheric setting.
The rooms are warm and spacious and come equipped with everything you need for a comfortable stay. If you're not ready to turn in for the night, the spacious lobby and bar invite you to linger whilst sipping on an exclusive cocktail. – Check rates & reviews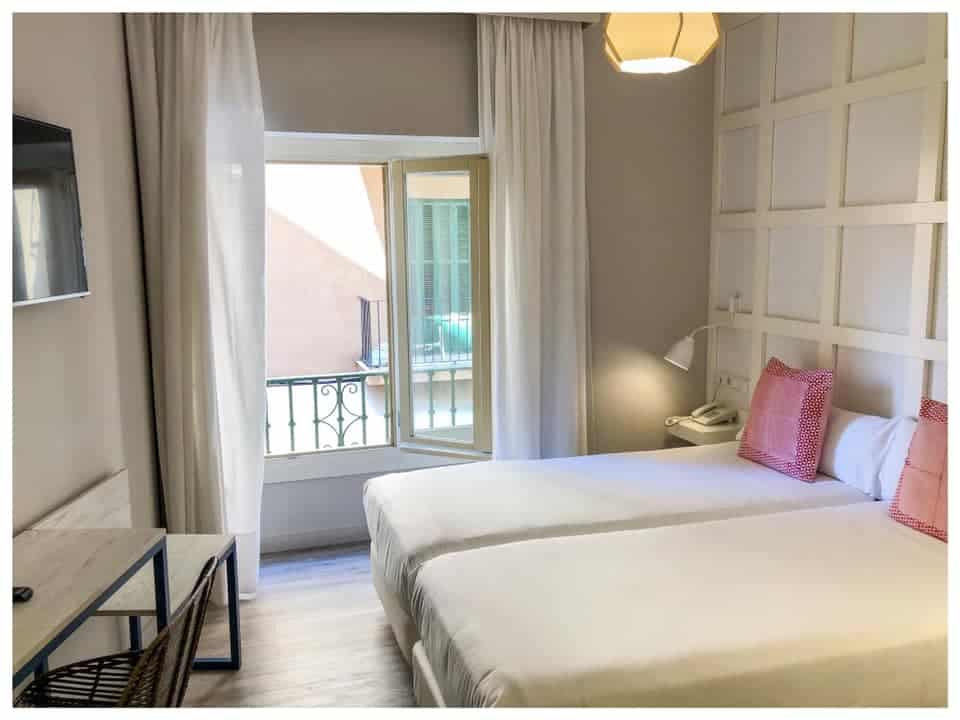 Hotel Boutique Teatro Romano's clean and modern interiors will help you clear your mind and fully embrace all the new memories you're making during your stay in Malaga.
Just a three-minute walk from the Picasso Museum and the Alcazaba, it is in the heart of the city and a great base from which to explore it.

A cozy, bright breakfast nook offers views of the city and all the cultural attractions are literally at your doorstep here. It's the best place to stay in Malaga if you are traveling on a budget. – Check rates & reviews
Getting Around Malaga
While the Hop-on/Hop-off buses are always a fun way to explore a new city, one of the best ways to get around Malaga, is by foot or bike. This way you won't miss out on all the little hidden gems tucked away in narrow side-streets. – Book here Hop-On-Hop-Off Bus Tickets

And besides – can you think of a better way to get around than biking along the seafront, with the beach to one side and the bustling city to the other? You can even go for a passive ride, by opting for an e-bike at a local rental shop. – Book here your bike in Malaga
If you'd rather move at a quicker pace, use the metro and bus systems, which are very well connected throughout the entire city and beyond.
---
Things to do in Malaga Map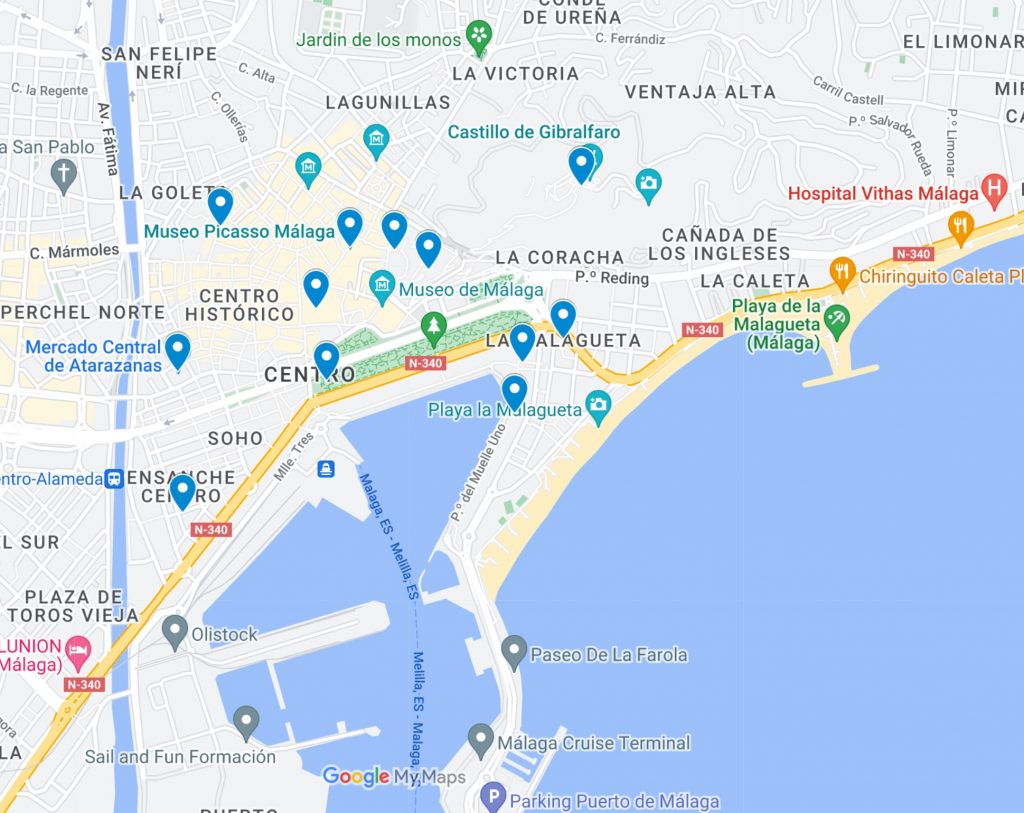 ---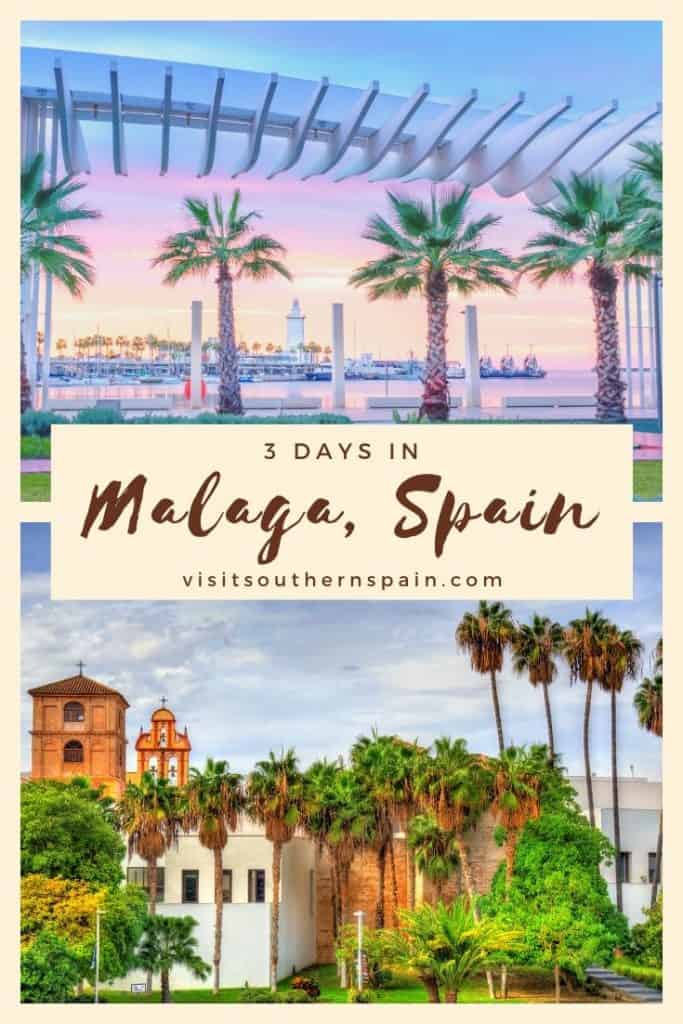 ---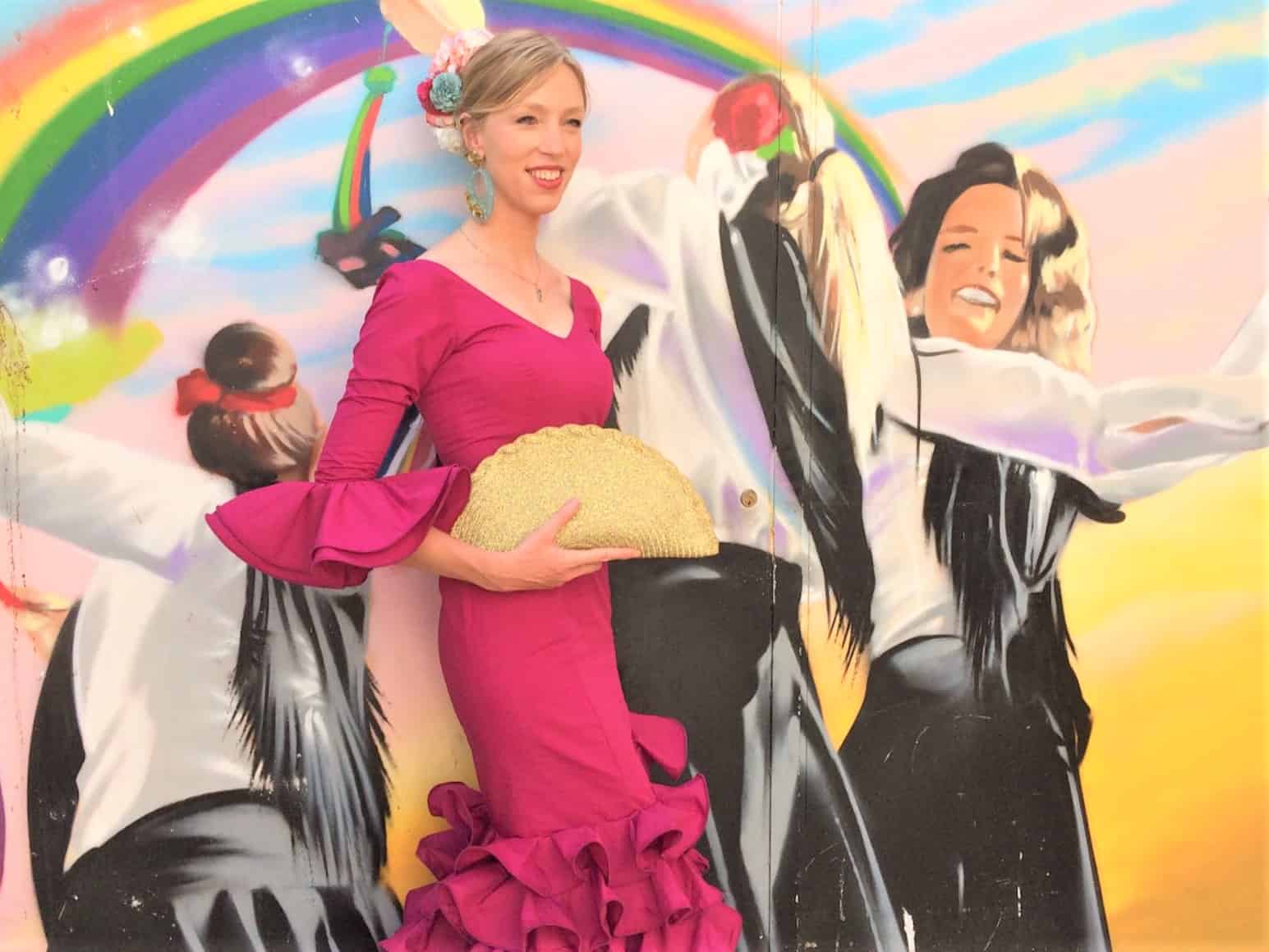 Hola, I'm Paulina! Together with my team, we are passionate about Southern Spain. Here we share all you need to know for great times in Southern Spain with the best places to visit, stay and, of course, the best food to eat.
Let's dive in and explore Southern Spain's outdoors, food and culture con pasión!