An Essential Guide to the Best Things to do in Andalucia and the best places to visit in Andalucia
Spain is not only one of the most coveted travel destinations in the world, but also one of the most varied. The north and the south strongly differ from each other and every "autonomous community" has its very particular background, culture, and identity.
After living roughly 5 years in Spain, I still can't decide which part of the Iberian peninsula is my favorite.
The region I probably visited the most and that I have the deepest knowledge (and passion) for, is clearly Andalucia. No other part of Spain has this intriguing mix of cross-cultural heritage, art, nature, and passion.
This essential guide on things to in Andalucia goes especially to first-time visitors and includes Andalucia's most important and beautiful places to visit in Andalucia, Spain.
This blog is supported by you, dear reader. If you purchase through a link, we earn a small commission. As an Amazon Affiliate, we earn from qualifying purchases.
Short Cultural Background Information
Located in the south of the Iberian peninsula, the Andalusian territory is divided into 8 provinces: the capital Seville, Cádiz, Cordoba, Granada, Huelva, Jaen, Almeria, and Malaga.
On this site, we also write about Murcia region since it's part of the geographic area too.
Due to its geographic location between the north of the Mediterranean Sea and the Atlantic Ocean, Andalucia boasts several microclimates and a wide range of activities and leisure options based on the sea.
But Andalucia is not all about oceans and the sea. The region boasts several mountain chains such as the Sierra Morena, Sierra Nevada, Axarquia or the Sierra Madrona.
The Mediterranean coast near Granada and Malaga boasts a lot of cliffs and unique rock formations like El Torcal near Antequera or El Chorro near Malaga.
In case you're visiting Andalucia for the first time, you can't miss this Essential Guide on Things To Do in Andalucia, Spain, the guide to the best hotels in Andalucia for every budget and of course, the best Spanish souvenirs from Andalucia.
---
1. Things to do in Andalusia: Seville
Seville, the capital of Andalusia, is a must when visiting the South of Spain.
Set on the emblematic Guadalquivir river, Sevilla boasts one of the most impressive Morrish and cultural heritage in entire Andalucia. It also used to be one of the richest towns in Spain, as its port was a commercial hub for all the boats arriving from las Americas.
At that time Seville had the monopoly of foreign trade in the world. Still, nowadays its former wealth and economic activity are palpable in many corners of the town.
For me, the best part of Seville is getting lost in its narrow streets and admire the rich heritage of almost every building that you come across in the old city center.
Sevillians are very proud of their town and will not be afraid to say that Sevilla es una maravilla, Seville is marvelous. I took them up on those words and definitely think Seville is one of the top places to visit in Andalucia.
The popular neighborhood of Triana is said to be the birthplace of flamenco. Several schools are offering introductory courses or restaurants have specialized on flamenco shows joined by a traditional Andalusian meal.
Related: 3 Day Itinerary for Seville
Things To Do in Andalucia – Seville
Must-Visit Places:
Visit the Cathedral + Tower
Skip-the-Line Alcázar Guided Tour
1-Hour Walking Tour Barrio de Santa Cruz
2-Hour Seville Panoramic Walking Tour
Experience Seville in a different way:
Guadalquivir 1-Hour Cruise
Kayaking Tour
Tapas Tour Across the River in Triana
Experience Seville's culture:
Flamenco Dance Museum – Show
1-Hour Flamenco Dance Lesson
Tapas Cooking Class
Best Day Trips from Seville
Day Trip Pueblos Blancos from Seville
Doñana National Park Off-Road Tour
Day Trip from Seville to Ronda
Insider and off-the-beaten track:
Kingdom of Dorne Game of Thrones Tour
Seville from the Rooftops
Spanish Cooking Class & Triana Market Tour
2. Things to do in Andalusia: Malaga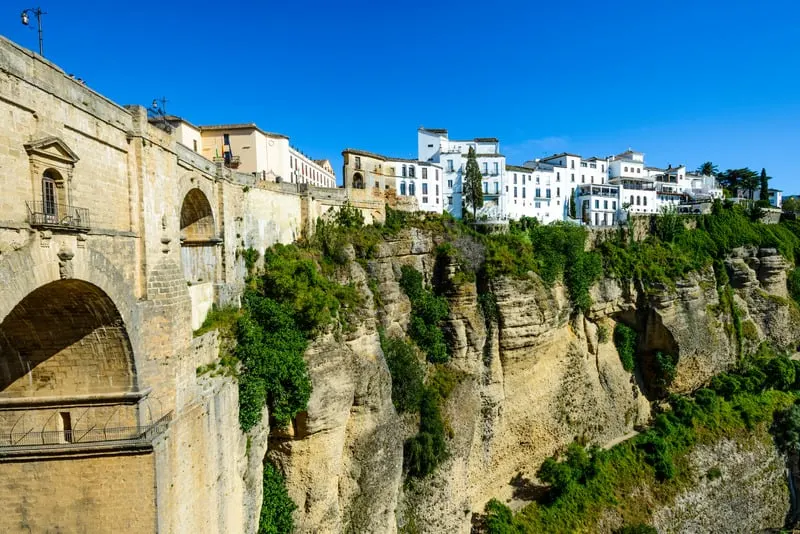 Located on the famous Costa del Sol, Malaga is the southernmost large city in Europe. The town boasts of one of the best climates in Europe all year round and is the birthplace of the legendary Pablo Picasso and actor Antonio Banderas.
If you'd like me to describe the vibe of Malaga in comparison to Seville, I think that Seville is all about pride of the Andalusian identity and culture, whereas Malaga has been more "open" to foreign influences due to the long history of its port.
In general, the atmosphere is very lively and people are extremely warm-hearted. It will be so easy to feel at home in Malaga.
Even though Malaga and its adjacent Costa del Sol are internationally known for its top-quality golf courses and sandy beaches, the port town boasts an impressive cultural heritage such as the Moorish fortress, the Roman theatre, and many prestigious museums (Thyssen, Picasso Museum, Centre Pompidou and many more…).
Malaga itself is a perfect destination for a city trip but also the perfect base to explore the beautiful surroundings of Costa del Sol and the mountainous backcountry.
In this area, there are some amazing and unusual things to do in Andalucia. One of these is the Caminito del Rey, the most dangerous trail in the world!
Malaga is also the home to some of the best lakes in Andalucia that you should not skip when visiting Southern Spain.
Related: 3-Day Itinerary for Malaga, 20 Free Things to do in Malaga, 17 Best Hiking Trails near Malaga
Things To Do in Andalucia – Malaga
Must Visit Places in Malaga
Picasso Birthplace Museum
Centre Pompidou
Roman Theatre and Alcazaba Guided Tour
Experience Malaga in a different way:
Evening Wine and Tapas Tour
Traditional Andalusian Bath and Ritual
Paella Cooking Class
Flamenco in Malaga:
Best Day Trips from Malaga:
Caminito del Rey Path: Full-Day Tour
Day Trip to Gibraltar
One Day Trip Ronda
Frigiliana and Nerja Tour
Full-Day Tangier Tour by Ferry
Related: best day trips from Malaga
Insider and off-the-beaten-track:
Antequera: Private Tour
3-Hour Private Sightseeing Treasure Hunt
Hammam: Bath and Relaxing Massage
3. Things to do in Andalusia: Granada
Granada, also known as the Moorish pearl, is an absolute must-go place to visit in Andalucia. Hardly any other Andalusian town has such a rich and varied cultural heritage as the former capital of the Moorish Al-Andalus empire.
Indeed Granada combines the cultural heritage of the Arab legacy, Jewish influence with Renaissance architectural gems.
From all the Andalusian cities, the Moorish influence is the most palpable in Granada. This is probably due to the fact that Granada was the last town to be conquered by the Spanish Catholic Kings.
If you visit Calle Elvira in the historic city center with its numerous Arab inspired tea shops, leather shops etc., you'll think for a second, you're in Morocco.
The most prominent attraction of Granada is without any doubt the Alhambra and the Generalife.
The most beautiful part of the Alhambra, the Nasrid Royal Palaces, has limited access, so you need to make sure to book your tickets days in advance to visit this gem. This should surely be on your top things to do in Andalucia.
The Albaicín neighborhood, together with the Generalife gardens and Alhambra, holds the UNESCO heritage label and spreads out on yet another hill of Granada.
The neighborhood seems to be lost in time of the Moorish Medival times and offers some of the most spectacular views on the Alhambra and the Sierra Nevada peaks (like at the Mirador St. Nicolas).
Another neighborhood worth visiting and a gorgeous place to visit in Andalucia, Spain, is the Sacromonte area. It used to be inhabited mostly by gypsies living in cave-homes and was one of the poorest quarters in Granada.
Nowadays the former cave-houses have been turned into restaurants and bars offering some of the most unique Flamenco experiences in town.
You can't miss visiting the ultimate wellness place in Granada: the Al-Andalus Hammam.
Read:
19 Best Castles in Andalucia worth visiting
Things To Do in Andalucia – Granada
Must Visit Places in Granada:
Alhambra and Nasrid Palaces: Guided Tour + Skip The Line
Albaicín and Sacromonte 2.5-Hour Walking Tour
Cathedral Tour
Experience Granada in a different way:
Sacromonte Caves Museum
Hammam Al Ándalus with Optional Massage
Walking Food Tour
Flamenco in Granada:
Sacromonte: Flamenco Show at Cuevas Los Tarantos Tickets
Flamenco Show at Jardines de Zoraya + Dinner
Best Day Trips from Granada:
Sierra Nevada Privat 4WD Safari
Tropical Coast and Caves of Nerja Day Tour
Caminito Del Rey
Úbeda and Baeza Tour
Insider and off-the-beaten-track trips from Granada:
Full-Day Tour of Sierra Nevada Mountains
Las Alpujarras Full-Day Tour
Read more about my experience in Guadix, the emblematic cave quarter and desert
4. Things to do in Andalusia: Cadiz
Even though Cadiz is less known as other Andalusian gems, the southernmost province of Andalucia is probably my favorite.
Cadiz has the virgin, endless beaches, lush green mountains, vibrant culture and history, sherry, bull breeding, white villages…
Did I forget anything? Maybe the super delicious seafood tapas? This makes it one of the best places with so many things to do in south Spain.
Did you know that Cadiz is the oldest city in Western Europe? It was founded 3000 years ago and Cadiz' role in Spanish history was vital.
Besides flamenco, delicious regional tapas, the province of Cadiz is particularly coveted among nature lovers.
Is there anything better than touring the Natural Park of Doñana or enjoying a kitesurf lesson in Tarifa with the views on the African continent? Or exploring the famous dunes of Bolonia?
Related: 3 Days in Cadiz
Things To Do in Andalucia – Cadiz
Must Visit Places in Cadiz:
Hop-on Hop-Off Tour
Guided City Tour
Experience Cadiz in a different way:
Guided Bike Tour
3-Hour Tapas Tour
Best Day Trips from Cadiz:
Private Trip to Jerez with Winery & Horse Show
Private Day Trip to Gibraltar and Bolonia
Private Day Trip to Vejer de la Frontera & Bolonia
Best Day Trips from Cadiz for Nature Lovers:
Yeguada de la Cartuja Carthusian Horses Tour
Doñana Natural Park & Sanlucar Private Day Trip
Insider and off-the-beaten track tips:
Horseback Riding at Natural Park & Private Tour
Caminito del Rey: Private Day Hiking Trip
5. Things to do in Andalusia: Cordoba
Cordoba can't be missing on any Andalusian itinerary. As UNESCO World Heritage town, Cordoba boasts a unique cultural and historical value that can be hardly found in any other town.
When Cordoba was capital of the Umayyad Caliphate, it attracted many intellectuals and cultivated science and knowledge. That's how emblematic figures like Seneca, Maimonides and Averroes arose in Cordoba.
Nowadays Cordoba is mostly famous for its Great Mosque-Cathedral, a symbol of the town. The almost 1000 pillars inside the mosque, built on a Visigoth cathedral, create the famous "Forest of Columns".
After the Reconquista, a Gothic cathedral was built inside the mosque. A visit of Cordoba's mosque will definitely leave you in awe.
But Cordoba is not only famous for its Moorish heritage, but also for the Jewish quarter with its narrow streets and white-washed house fronts. The patios, the interior courtyards of these quaint houses are yet another attraction of Cordoba.
Each year the famous Patio Festival is held, during which neighbors decorate them with the most colorful flowers.
Read:
Things To Do in Andalucia – Cordoba
Must Visit Places in Cordoba:
Mosque-Cathedral: Skip-The-Line Guided Tour
Complete 4-Hour Tour
Jewish Quarter: Guided Tour with Skip-The-Line Tickets
Experience Cordoba in a different way:
2-Hour Small Group Walking Tour at Nightfall
3-Hour Terrace & Local Tapas Gastronomic Tour
Patios Walking Tour
Flamenco in Cordoba:
Flamenco Show at the Arabian Baths
Best Day Trip from Cordoba:
Insider and off-the-beaten track tips:
Olive Oil Mill and Wine Region Tour
Viana Patios
6. Things to do in Andalusia: Almeria
Located in the southeast of the Iberian peninsula, Almería is skipped by many Andalucia travelers. They don't know what they are missing!
Indeed the landscapes of Almería are some of the most contrasting that you can find in entire Andalucia and it definitely worth it's place on your 'best things to do in Andalucia' list.
On its limited size, the province of Almería boasts the most fertile agricultural area in entire Europe, the desert of Las Tabernas was used as a movie set for several Western – Cowboy movies whereas the 200 km of Mediterranean coastline is only at a stone's throw away.
You shouldn't miss the film studios of the Tabernas desert and the vibe of Almería capital, with its lively terraces, market, and museums.
My favorite part of Almería is the natural reserve of Cabo de Gata-Nijar, with its virgin beaches and off-the-beaten, alternative track vibe.
It has become a very popular destination for campers and travelers looking for the "unspoiled" things to see and do in Andalucia.
Read: Things to do in Almeria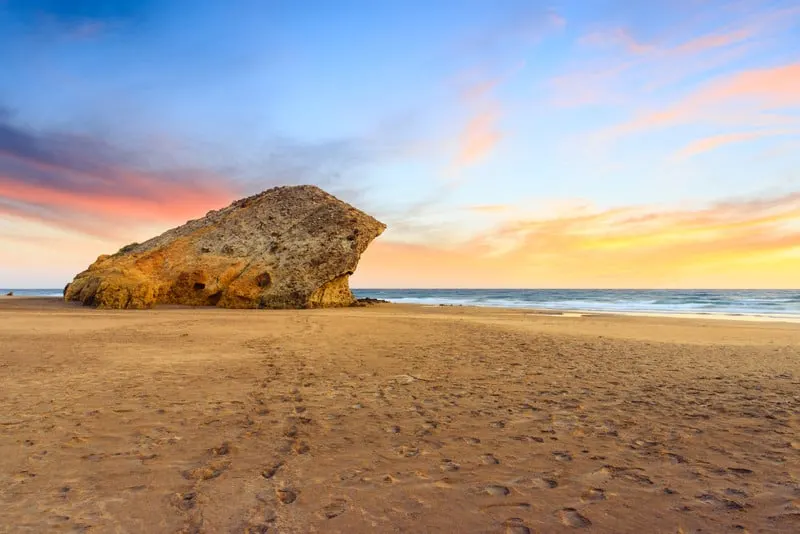 Things To Do in Andalucia – Almeria
Must Visit Places in Almeria:
Like a Local: Customized Private Tour
Alcazaba Guided Tour
Experience Almeria in a different way:
Cabo de Gata: Boat Tour to 5 Coves
Full-Day Western Theme Park Tour of Mini Hollywood (Oasys)
Best Day Trips from Almeria:
Full-day Tour of Sierra Nevada Mountains
Day Trip to Cabo de Gata-Nijar Natural Park
Things to do in Almeria for Natur Lovers:
4×4 Tour of Cabo de Gata-Nijar Natural Park
Cabo de Gata: Kayaking and Swimming Excursion
Giant Geode and Pulpí Mine Guided Tour
Insider and off-the-beaten track tips:
Camel Ride and Visit Camel Farm
7. Things to do in Andalusia: Huelva
Huelva is probably not the most visited province in Andalusia, speaking in terms of international tourism, however, the province holds some of the most beautiful and virgin beaches of Andalucia.
On the shores of the Atlantic Ocean, also known as Costa de la Luz (Coast of Light), you'll explore traditional fishermen villages, endless virgin beaches, and typical Mediterranean landscapes.
The province of Huelva is particularly known for its legacy to Christopher Columbus. In case you'd like to visit the sites of Columbus' epic exploration, make sure to visit Palos de la Frontera from where Columbus departed to discover the Americas.
Still, nowadays you can still replicas of the 3 ships that crossed the Atlantic Ocean.
The famous Iberian Jabugo ham comes from the province of Huelva and might be a very interesting day trip to do or to the most important religious site in Andalucia: El Rocio.
Sharing borders with Portugal, you can easily opt for a day trip to Portugal or even enjoy the first cross-border zipline in the world. This is one of the things can only do in Andalucia.
Read: 3 Day Itinerary for Huelva
8. Things to do in Andalusia: Jaen
Jaen is probably the less-visited province in comparison to all the others. During summer, the town and the entire province can become incredibly hot, that's why travelers often opt for the beaches of Costa del Sol.
Jaen is famous for being the home of the coveted Spanish virgin olive oil. Once you enter the province of Jaen, you'll be surrounded only by olive groves for many kilometers.
The cultural attraction of the province are its capital Jaen with a gorgeous cathedral, the World Heritage site towns of Ubeda and Baeza and several castles.
Jaen is also a coveted destination for hiking and outdoor lovers as the province boasts 4 natural reserves and a mountain area with a rich fauna with some great things to do in Andalusia, Spain.
Related: Things to do in Jaen
Things To Do in Andalusia – Jaen
Jaén 2.5-Hour Tour: Cathedral, Arabs Baths and Old City
Úbeda and Baeza Tour
Private Olive Grove walk and Oil tasting
See Jaén in a different way:
Jaen Prehistoric Rock Paintings Private Tour
Jaen Tasty Tapas Tour
Jaen for Outdoor Lovers:
Veleta Peak hiking at 3398 meters altitude
---
Short FAQ about what to do in Andalusia
Why is Andalusian Cultural Heritage unique?
The cross-cultural heritage is probably the ingredient that adds a lot to Andalusia's attractiveness. The name "Andalucia" comes from the Arabic word "Al-Andalus", who reigned Andalucia for almost a century.
The Moorish legacy is still visible and palpable in every Andalusian corner.
Besides the Arabs, Andalucia's culture and history has been influenced by the Phoenicians, the Greeks, the Romans, the Vandals, Hews and North Iberians that settled in the area after the
Reconquista.
What makes Andalusia different from the rest of Spain?
Compared to the rest of Spain, Andalucia is a traditionally agricultural region relying strongly on the tourism sector. The strong identity and the regional pride on Andalucia's rich culture including flamenco, Moorish architecture, to some extent, bullfighting, wine production and gastronomy make Andalucia a vibrant destination to visit.
Many of the mentioned cultural phenomenons are often perceived as typically Spanish, their origins, however, are entirely Andalusian.
What's the best time to visit Andalucia?
The best time to visit Andalucia, in my humble opinion, is probably in spring and autumn. The temperatures are still mildly warm and cities and beaches are less crowded.
If you plan to visit in the summer months (June, July, September), I recommend staying along the coast as the Andalusian back-country is one of the hottest regions in Europe.
---
Map of Things To Do in Andalucia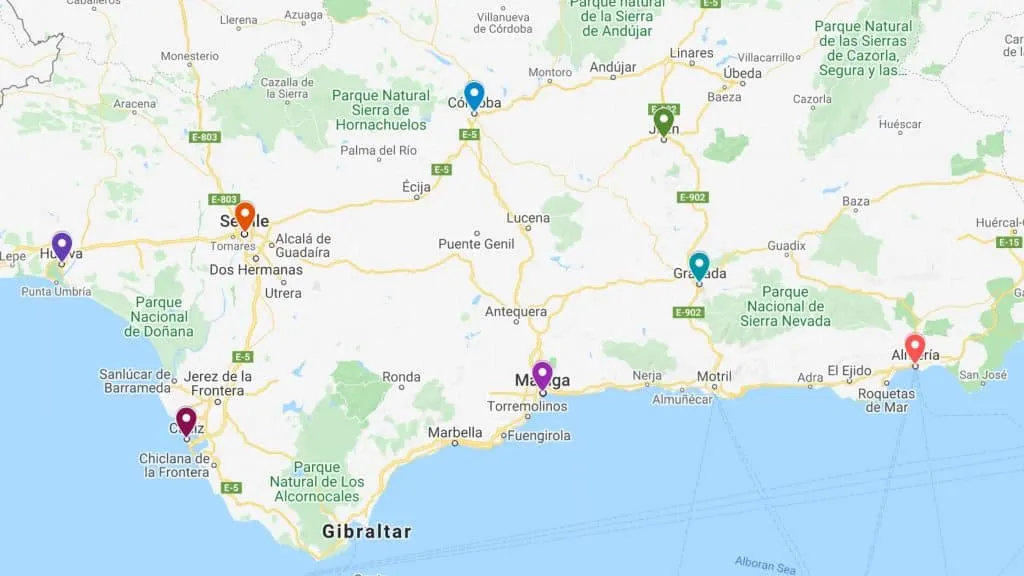 ---
I hope this article helps to plan your perfect stay in beautiful Andalucia.
You still have doubts? Please do not hesitate to contact me, I am sure there is the perfect activity or day trip in Andalucia that perfectly meets your needs.
Have you already been in Andalucia? I would love to hear about your favorite things to do.
---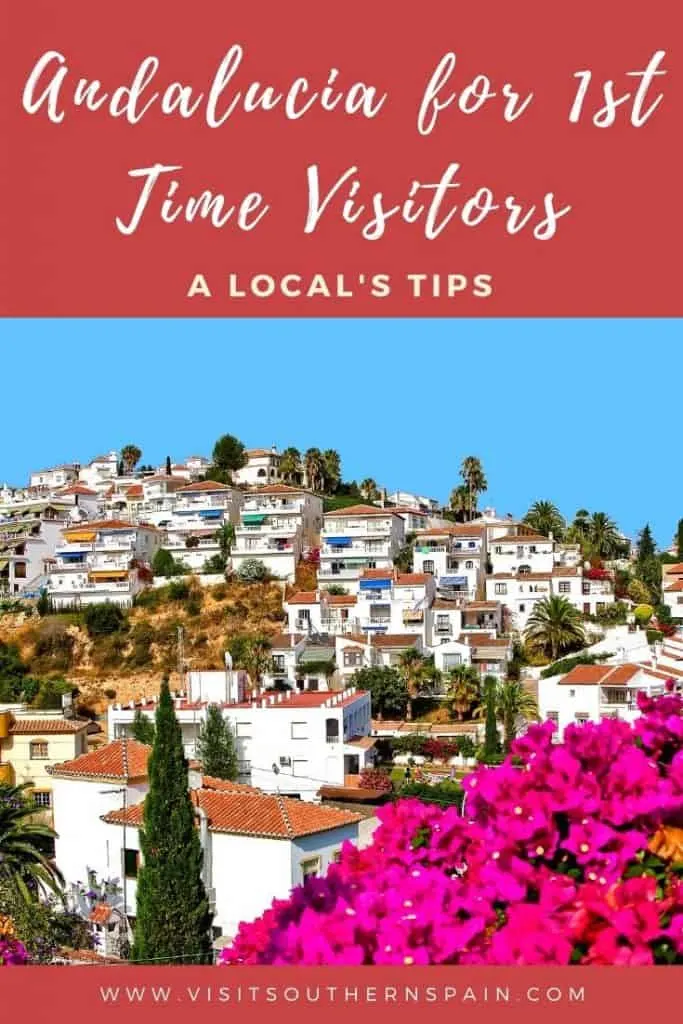 ---
Hola, I'm Paulina! Together with my team, we are passionate about Southern Spain. Here we share all you need to know for great times in Southern Spain with the best places to visit, stay and, of course, the best food to eat.
Let's dive in and explore Southern Spain's outdoors, food and culture con pasión!