El Rocío or the place where people dance all day long, where horses are the first means of transportation and fervid Andalusian rhythms sound at each corner!
El Rocio village is not only one of the legendary Andalusian white villages (most famous ones are Mijas, Arcos or Vejer), but also has a high importance for the Andalusian culture and tradition.
This blog is supported by you, dear reader. If you purchase through a link, we earn a small commission. As an Amazon Affiliate, we earn from qualifying purchases.
Resources to visit Seville, Spain
✈ Book cheap flights to Seville with Skyscanner

⚘ Avoid tourist traps and get the customizable "Andalucia Like a Local" itinerary. – Get it here

✔ Book tours in Seville with GetYourGuide

➳ Find the best hotels in Seville with Trivago

❖ Rent a car at the best rates with DiscoverCars

✎ Never leave without travel insurance! I get mine at HeyMondo. It is easy to set up, cheap and reliable.

$ Withdraw money without hidden fees and avoid exchange charges with Wise (A free Mastercard debit card to spend money abroad)
It's also a perfect destination for backpackers in Spain since costs are relatively low and the natural surroundings are stunning.
At first sight, this place seems to be the incarnation of the Andalusian cliché: religious fervor, shops with flamenco dresses, and haughty Caballeros on their Andalusian horses.
And I couldn't lose the impression until the end that this actually IS a place that shaped the Andalusian identity.
Things to do in El Rocio Village, Spain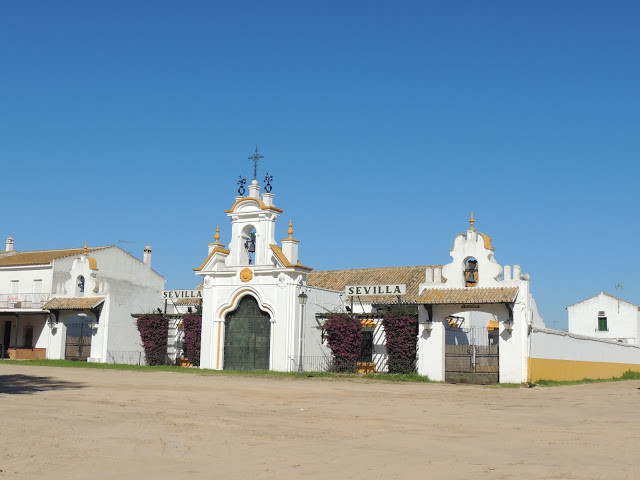 El Rocio, located in the centre of Donana park, is a beautiful little village that has pretty white cottages, sandy paths, and a Spanish wild-west feel to it. – Book Donana Tours here
The village is popular for horse riding and they have special rails for tying the horses amidst riding so that they can enjoy lunch in between. The small village offers a lot of things to do and visit, including delicious food and impressive accommodation.
Visitors can start by visiting popular destinations in the village. Visitors like to visit the church of Nuestra Señora del Rocio. It is a tall building standing beautifully with interesting details and lots of arches.
The church was originally built in the 1960s and still stands strong in the heritages of the village. You might spot the ancient church in many Spanish western movies. The building features beautiful white brickwork that shines between the surrounding greenery.
Visitors can also visit the Hermitage of El Rocio, which is recognized as la Virgin del Rocio- the spot of the major annual pilgrimage to the village. The virgin is located inside an astonishing ornate gold altar within the church. Travelers also like to visit the place on a day trip from Seville.
However, about a million people visit here for the pilgrimage that lasts for about a month. This is what makes it most beautiful and worth-visiting.
The Donana National Park, Seville culinary and gourmet tours are some of the other things that the visitors majorly relish in the village.
Discovering Donana in El Rocio is one of the unusual things to do in Andalucía that people can enjoy with regional Andalusian food.
To experience the food with outdoor seating, travelers can visit Albero 36, which offers undiscovered delicacies with an incredible view.
El Rocio Hermitage
The hermitage and the venerated statue of Our Lady of El Rocío attract each year on Pentecost one million pilgrims from all over Spain. The festival and the pilgrimage last for several days.
The atmosphere is absolutely unique: fierce and festive at the same time.
El Rocio is thus a perfect option when looking for day trips from Seville.
El Rocio Pilgrimage
Many do the cumbersome way on their horses, by carriage or by foot. During the night they sing and dance at the campfire the traditionally cheerful Sevillanas Rocieras, songs about the pilgrimage and the Virgin.
On Saturdays and Sundays people come to El Rocío to celebrate life. They bring the traditional Rociero instruments: the drum, a flute and guitars.
Together they sing and dance in the streets while the horse carriages pass along and the next mass is being celebrated inside the hermitage.
Streets in El Rocío are not paved: you better bring your country boots unless you come by horse to visit this magical place.
In my humble opinion, it is one of the top things to do in Andalusia.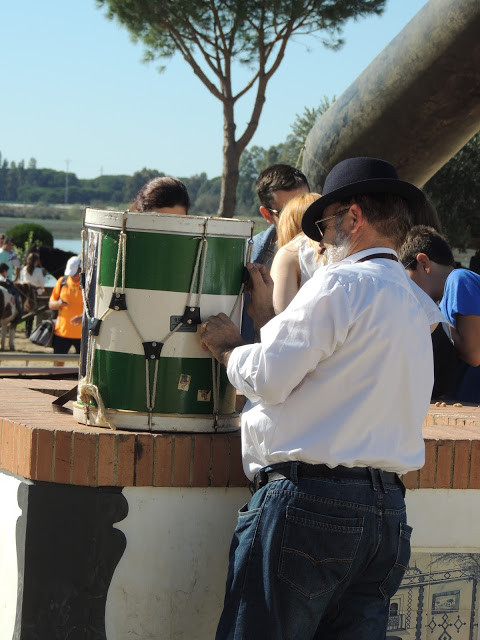 How to Celebrate El Rocio Festival
The religious festival and pilgrimage of El Rocio village in Seville are most popular in the world. Seville celebrates the largest Holy Week in the world. You must have heard of the holy annual El Rocio pilgrimage.
Every May, the small town in Andalucía drives millions of people to celebrate the Romeria del Rocio, which is known to be Spain's most traditional festival.
The pilgrimage is special because it is one of the oldest festivals in Andalucía, celebrated for many years. It can be dated back to the 13th century when a local hunter came across the statue of the Virgin Mary in a tree trunk.
People from around the world travel to El Rocio every year to make the journey similar to the pilgrims three hundred years ago.
They travel in beautifully decorated wagons that look like a gypsy wagons, pulled by oxen. The pilgrims trundle slowly along the country tracks or minor roads. Some also hook their wagons to tractors and travel through longer stretches by motorway.
Women appear in pretty flamenco dresses and men traditionally wear grey trousers, wide-brimmed hats and short riding jackets. They start their journey to the Hermitage of El Rocio where the virgin is seated.
They arrive on Friday before Pentecost Monday.
You can spot grand old houses by sandy avenues that are home to 90-odd religious brotherhoods of El Rocio. On weekends, these brotherhoods are filled with guests who take Virgin Mary to her next chapel during her grand tour on Monday.
It lasts from Friday to early Tuesday. Most people also prefer relishing things to do in Huelva after the festival ends.
It's a tip for visitors to book accommodation in person because virtual booking is impossible at that time. Otherwise, they can stay in camps in Donana National Park.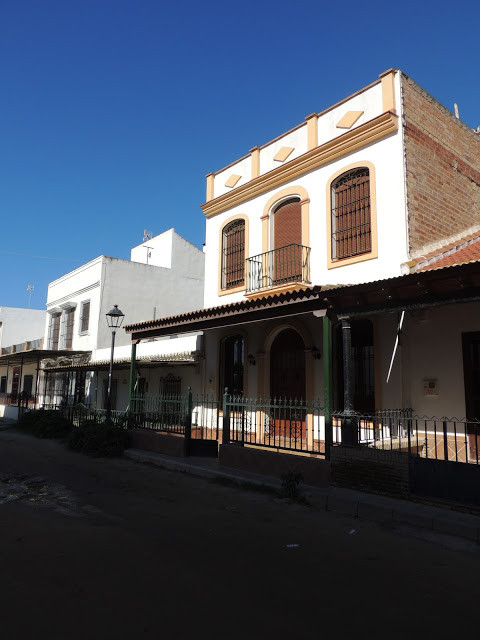 ---
Hola, I'm Paulina! Together with my team, we are passionate about Southern Spain. Here we share all you need to know for great times in Southern Spain with the best places to visit, stay and, of course, the best food to eat.
Let's dive in and explore Southern Spain's outdoors, food and culture con pasión!