A Guide to the best foods in Andalusia, Southern Spain incl. drinks, tapas and desserts
Food in Spain is already a thing on its own. But when it comes to typical food from Andalusia, foodies' hearts will definitely beat even faster.
Indeed, the combination of extremely fresh ingredients, the influences of Moors, Sephardic and Phoenicians, and the huge variety, make Andalusian food some of the best in Europe.
This post brings you the most typical Andalusian food, tapas and meals that you need to try.
Hey! Don't forget to grab our free Weekly Meal Plan with Spanish food below!
This blog is supported by you, dear reader. If you purchase through a link, we earn a small commission. As an Amazon Affiliate, we earn from qualifying purchases.
1. The Star Dish of Andalusia Cuisine: Gazpacho Soup
Let's just start right away with an Andalusian cold tomato soup, probably the most famous Andalusian dish, if not Spain's favorite food, the gazpacho!
This cold tomato soup can be found in every town, every village thus I cannot attribute it to any province in particular, it's one of the best Spanish cold soups to try.
The traditional Gazpacho recipe is made of raw vegetables such as garlic, onion, plenty of tomatoes, peppers, and cucumbers. Some add bread, others take out the garlic or onion. It's a recipe that really is up to many variations.
The classic Andalusian gazpacho recipe knows many variations by now. I love to vary the original recipe with strawberries, melon, or mint. Each restaurant in Andalusia has its very own recipe of Andalusian cuisine's star!
Gazpacho soup is always refreshing and gives you plenty of energy. It's the best you can have during hot summer days.
If you love tomato soups, have a look at our creamy Spanish tomato soup recipe.
If you're planning the best Spanish themed party, this is the perfect soup to serve.
Best Andalusian Food to Try in Huelva
Food in Huelva province is influenced by the omnipresence of the sea and vast agricultural land. Its strategic location at the Strait of Gibraltar, a place known for its fish and seafood migration, makes Huelva famous all over Spain for its top seafood and tuna.
However, it's the combination of sea and vast farmlands that make Huelva one of the best places to visit in Andalusia for foodies.
Looking for food tours in Huelva? – Check rates here
2. Bellota Ham
The inland of Huelva is home to the acorn-fed black Iberian pigs which live freely in large fields. Rich in omega 3 fats and the absence of pesticides, the Iberian black pork meat is considered as a healthy Andalusia tapa.
The Bellota ham (literally acorn ham) of Huelva is known as Jabugo ham, named after the village of Jabugo in the Sierra de Aracena.
Without any exaggeration, Jabugo ham is considered one of the most popular foods in Southern Spain. If you want to try some local food in Spain, Iberian ham is the perfect start.
3. Mojama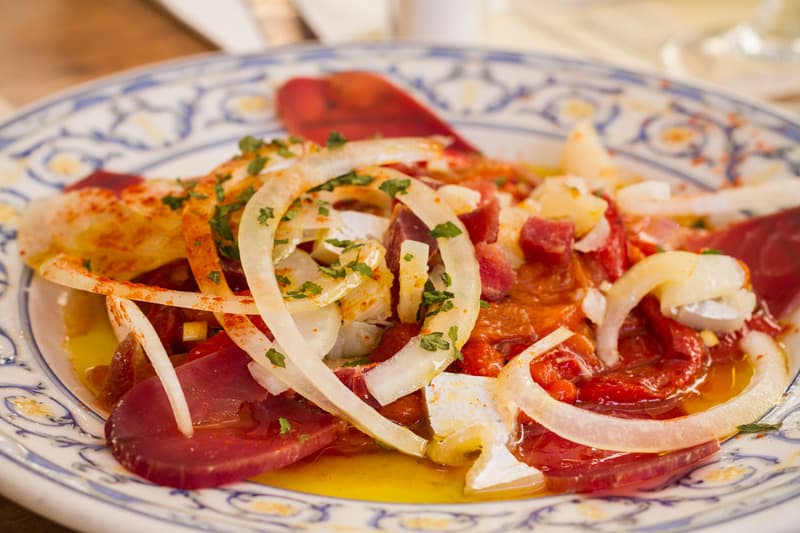 Mojama is one of the most typical tapas in Huelva, although it can also be found in Cadiz province. This dish consists of salt-cured, filleted tuna. Its origins go back to the Phoenicians!
Laying in salt for 2 days, the filets are afterward draught in the sun and in the wind before being ready for sale.
It can be eaten as an appetizer or as a snack with a beer.
4. Gambas de Huelva: White Prawns
White prawns, las gambas de Huelva, are the star dish of Huelva. Their quality and their label as "Gambas Blancas de Huelva" are a reference in Spain.
The prawns from Huelva are a little larger than their counterparts on the rest of the Spanish coasts. Most of them are still fished the traditional way by hand. Hence their pure taste!
White prawns are usually served chilled with coarse sea salt or a la plancha.
Best Restaurants in Huelva to enjoy Andalusian food
Pappis
Paco Moreno
Azabache
Restaurante Juan José
If you're planning to visit Huelva, please take a look at this 3-day itinerary Huelva we wrote earlier.
Best Andalusian Food to Try in Malaga
Malaga is one of my favorite cities to visit when it comes to enjoying typical Andalusian food. The cuisine of Malaga is mostly dominated by fish and seafood. No wonder, the beach is always close in Malaga.
The large variety of fish and seafood gave place to a mere infinite number of fish meals ranging from soups to snacks and main dishes.
However, also the mountainous inland of Malaga is rich in vegetables, nuts, and fruits. All of them are part of the most typical Andalusian food.
You may be surprised to find paella on this list (which is originally from Valencia). However, paella is the star dish of any beach par in Malaga or the villages which are some of the best day trips from Malaga
It's no wonder as only a few meters separate the ocean from the beach bar (chiringuito).
If you happen to be a foodie in Malaga, make sure to check out our guide on where to eat in Malaga and mostly, what to eat in Malaga!
Looking for tapas tours in Malaga? – Find and book a food tour in Malaga here
5. Espetos
Espetos are probably the most famous dish in Malaga cuisine. The skewers of sardines, sometimes a dorade or prawns, are grilled over a barbecue in the form of a boat.
Almost every beach bar in Malaga, Nerja, or Marbella has its own barbecue pit. Espetos are a generally cheap meal as prices can vary between 2€ to 5€. You can't leave Costa del Sol without having tried this Malaga dish.
Get the recipe: Espetos – Andalucia's Most Tasty Grilled Sardines
6. Boquerones Al Limón
Did you know that the inhabitants of Malaga are also known as "boquerones"? The boquerones fritos, fresh anchovies are part of any "Fritura Malagueña" where different kinds of fish are served deep-fried.
However, you can also enjoy boquerones as appetizers or tapas. Another form of eating anchovies is "boquerones en vinagre" – anchovies in vinegar.
During days the anchovy fillets are marinated in a mix of vinegar, garlic, parsley, and olive oil. It's the perfect snack along with beer!
7. Fritura Malagueña
After the "espetos"; a fritura malagueña is a must for every trip to Malaga. The shores of the coasts of Malaga and surroundings, also known as "Costa del Sol", are abundant in fish. So, why should you limit your meal to one fish or seafood only?
Even though you can enjoy a delicious fish meal in many ways, the mixed fried fish platter is the most typical Malaga food you can have.
Even though this meal might sound very heavy and not suitable at all for your diet, please be reassured that it's still healthy to a certain point.
Indeed, the batter of the fritura malagueña is traditionally made with flour only and the fish are fried in extra virgin oil. Usually, this typical Malaga food is served on paper in order to show that not too much oil has been used.
The original taste of the fish is surprisingly well preserved!
8. Paella
Even though Paella is typically from the region of Valencia, it will be hard to find a chiringuito (a beach bar) in Malaga that doesn't serve paella. Paellas are usually enjoyed with the entire family and 20 minutes to be ready at least.
The original recipe consists of rice cooked in fish broth, saffron, seafood, and eventually fish, chicken, or rabbit meat.
Paella, Spanish food, is a must when traveling to the beautiful Costa del Sol.
Best Restaurants in Malaga to enjoy Andalusian food:
El Tintero
El Pimpi
Cortijo de Pepe
Beach Bar Los Cuñados
If you're planning to visit Malaga, please take a look at this 3-day itinerary Malaga we wrote earlier and our guide on where to eat in Malaga.
Best Andalusian Food to Try in Cadiz
The food of Cadiz province is one of my favorites. It is very similar to the one in Huelva as it's abundant in fresh fish and the inland are home to some of the most qualitative ingredients in Spanish food.
Unlike in Malaga, the seafood and fish of Cadiz is not always fried but can be steamed, boiled, come in a sauce, etc.
Looking for tapas tours in Cadiz? – Check tours here
9. Ortiguillas
Ortiguillas de Cadiz, sea anemones from Cadiz are one of the most intriguing tapas you can get in Spain. Usually served fried it may taste like eating seaweed. The taste of ortiguillas is really intense, it can be compared to oysters.
They are considered a delicacy in Spain and I heard from people that travel to Cadiz just to eat ortiguillas!
10. Chipirones
I rave about chipirones! Fried baby squids are probably one of the most popular tapas in Cadiz. You cannot leave without having tried some.
Chipirones can be served fried or a la plancha with garlic and parsley. They are the perfect snack to go with your beer. You can't miss it when looking for typical Cadiz food.
11. Tocino De Cielo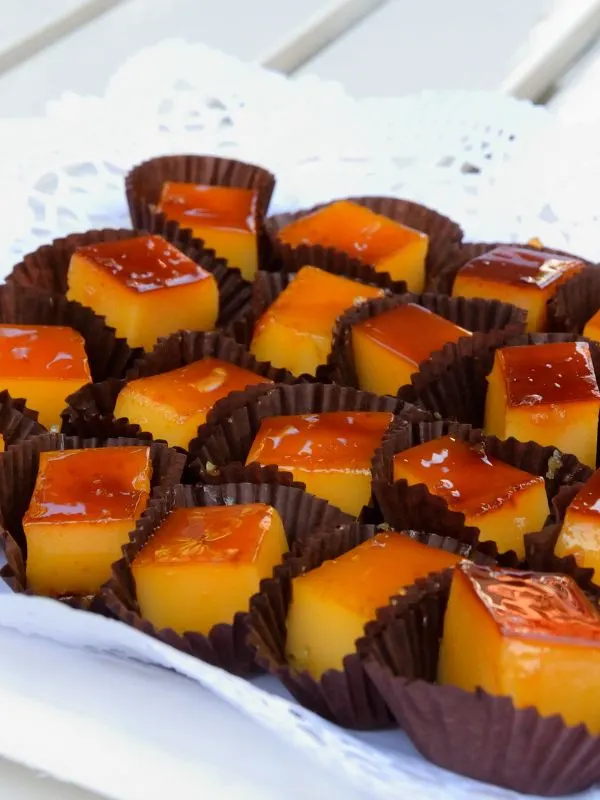 Tocino De Cielo is one of the most popular Spanish Desserts. Its name translates to 'Bacon from Heaven', but don't let that confuse you – this dessert doesn't contain any meat.
The name is a playful reference to its divine taste, and originally, it was a clever way to use up leftover egg yolks from the wine-making process.
This golden dessert is then steamed or baked until it sets to a jelly-like consistency and then chilled.
Tocino De Cielo is usually served in small portions due to its richness and is often garnished with a thin layer of caramel on top.
If you love it, why not try our Tocino De Cielo recipe or another one of our amazing Spanish desserts recipes?
12. Tortillitas de camarones
If a tapas would symbolize Cadiz, then it would probably be the "tortillitas de camarones"! The legendary shrimp fritters can be enjoyed as a side dish, appetizer, or snack with your beer.
The batter is made of chickpea and wheat flour, water, onion, parsley, and tiny, whole shrimps (camarón). It's crunchy and tasty at the same time!
Best Restaurants in Cadiz to enjoy Andalusian food:
El Faro
La Pepa
Bodeguita el Adobo
If you're planning to visit Cadiz, please take a look at this 3-day itinerary Cadiz we wrote earlier.
Best Andalusian Food to Try in Seville
Oh, Seville, you are so easy to fall in love with. Not only because of your exceptional beauty but also because Seville cuisine consists of some of the vert best Andalusian dishes.
Even though you can find plenty of fish on the menu cards of the bars in Seville, meat is predominant! Whether it's pork, veal, or even bull, there are plenty of variations of how to serve meat in Seville.
Looking for tapas tours in Seville? – Check food tours in Seville here
13. Spanish Chickpea Stew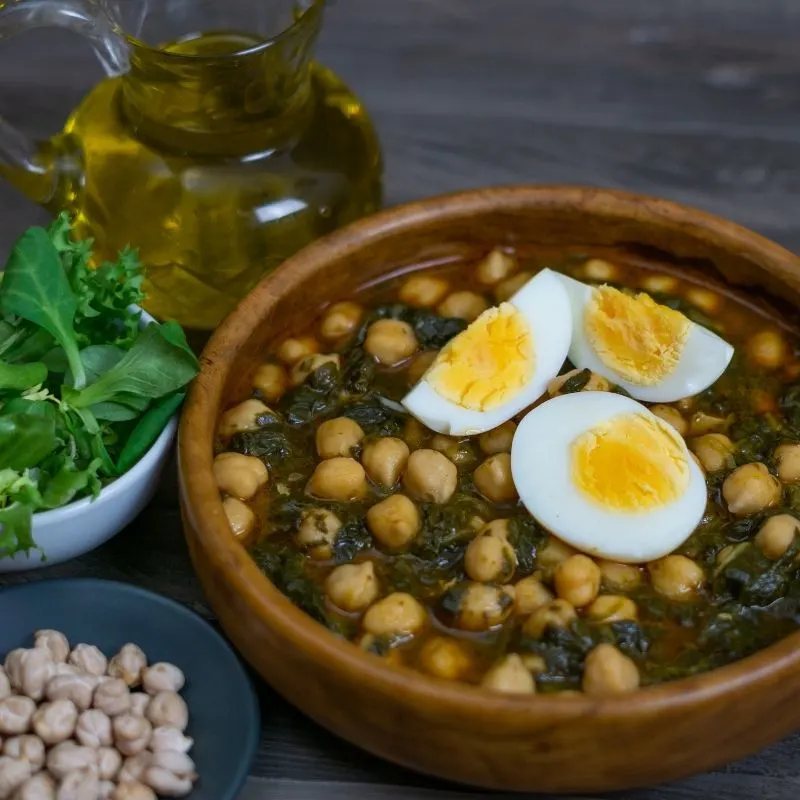 cadSpanish Chickpea Stew or Espinacas con Garbanzos is an Andalusian dish that is widely popular in Seville. It perfectly showcases the Moorish influences on Andalucian cuisine.
This comforting stew is a perfect blend of nutritious spinach and hearty chickpeas, simmered together in a flavorful sauce made from stale bread, garlic, and various spices, including pimentón (smoked paprika) and cumin. Some variations also include a touch of Spanish sherry vinegar to add a tangy twist.
The stew is usually served as a tapa but can also make a satisfying light meal on its own.
14. Caracoles – Snails
Are you wondering what to eat in Seville Spain? Well, you can't leave without having tried a tapas of caracoles, snails!
It's definitely one of the must-try Seville food specialties! Snails are considered as typical food in Seville.
Even though you might not like the idea of eating snails, the way they are prepared in Seville is particularly tasty.
On top, Snail eating has a long tradition in Spain… they started 30.000 years ago!
The snail Andalusian tapas are served in a flavourful sauce, including garlic, parsley, black pepper, and cumin. It's delicious to finish the sauce by dipping in your bread!
Be aware that the season for snails only lasts from May to June. However, there are lots of Spanish recipes for each season.
For more traditional food from Seville, check out our guide on what to eat in Seville.
15. Pringá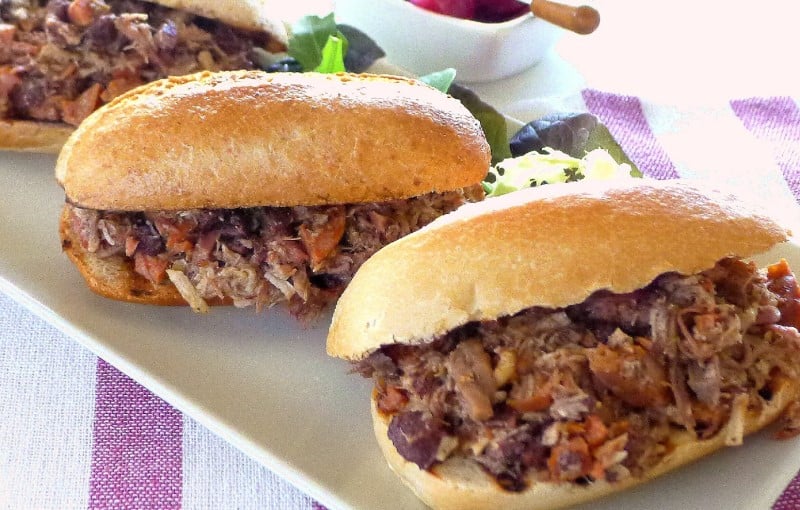 The people from Seville take a lot of pride in their "pringá", which is probably the most typical Seville food.
Pringá is usually eaten as a spread on toast or sandwiches. I admit it doesn't look very inviting at first sight… but man, it's super delicious! Thus, it's one of the toè things to eat in Seville.
The pringá consists of different kinds of meats that are slow-cooked for hours. Among others, you can find cured sausages, roast beef, pork, pork or beef fat.
Every bar and every home has its very own recipe of pringá which can also be added to broths.
16. Cazon en Adobo
Seville isn't very far from the ocean, so it's no surprise that you'll find plenty of fish on the menus of Seville's restaurants.
Cazón en adobo is a marinated fish, usually, dogfish or monkfish, which is fried in a second step. During 4 to 8 hours the fish is marinated in a mix of vinegar, peppers, garlic, oregano.
After being dipped in flour, the fish bites are fried in extra virgin olive oil. It's a tasty snack that's usually shared among friends around a beer. When wondering what to eat in Seville, cazon en adobo is a must!
If you want to do this tasty dish at home, check out our marinated cazon fish recipe.
17. Spanish Rice with Corn
The Spanish Rice with Corn recipe or Arroz con Maíz arrived in Andalucia with the colonizers of the 16th Century. Now, the flavours have been adapted to include Andalusian ingredients like fresh tomatoes.
This dish is one of the most popular Spanish rice recipes.
The recipe is easy to prepare and includes the Spanish staple saffron, onions, corn, garlic and olive oil.
It's commonly served as a side dish, accompanying meat or seafood, but can also be enjoyed on its own as a light meal.
18. Huevos a la Flamenca
This dish originated in Seville, the birthplace of Flamenco, but has now spread across Andalusia. The base of Huevos a la Flamenca is egg and potato.
The eggs, cooked just right, have a runny yolk that seamlessly merges with the tangy tomato sauce and creates a balanced, savory dish.
The ingredients used to cook Huevos a la Flamenca can vary slightly based on what's in season, but the core components remain the same. Many varieties include Spanish Chorizo and Serrano ham.
If you love Spanish Chorizo in your Huevos a la Flamenca recipe, there are plenty more of the best Spanish Chorizo recipes to try.
Best Restaurants in Seville and best places to eat in Seville to enjoy Andalusian food:
Restaurante Oriza
Donaire Azabache
Abaceria del Postigo
La Comilona
If you're planning to visit Seville, please take a look at this 3-day itinerary Seville we wrote earlier.
Make sure to check our ultimate guide about the best restaurants in Seville where you can eat like a local!
Best Andalusia Food to Try in Granada
Granada cannot only be limited to La Alhambra as there is plenty of traditional food in Granada Spain that you need to try!
Surrounded by some of the highest mountains in Spain, the Sierra Nevada and Alpujarra mountains, which produces loads of vegetables, fruits and is home to Iberico pigs.
Some of the best Bellota ham comes from mountain villages like Trevelez near Granada. – Check food tours in Granada here.
Here are some of the star dishes of Granada Spain cuisine which features a mix of modern and traditional Andalusian food.
19. Patatas a lo pobre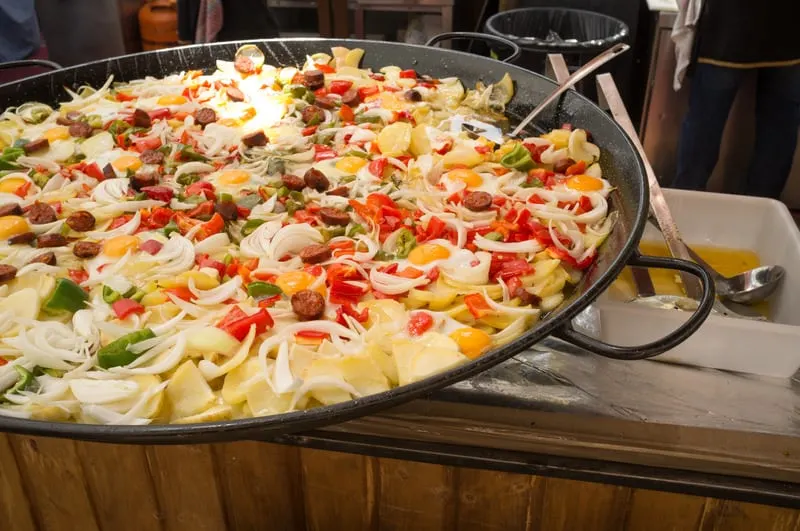 Patatas a lo pobre (potatoes poor man's style) is probably the tastiest version of potatoes you can have! The dish is pretty easy to prepare at home.
The potatoes are slowly fried together with green peppers and onions. Eventually, you can add chorizo.
The best moment to enjoy "patatas a lo pobre" is during winter when it can get extremely cold.
Find here the recipe to make "poor man's style potatoes" at home.
20. Ajo Blanco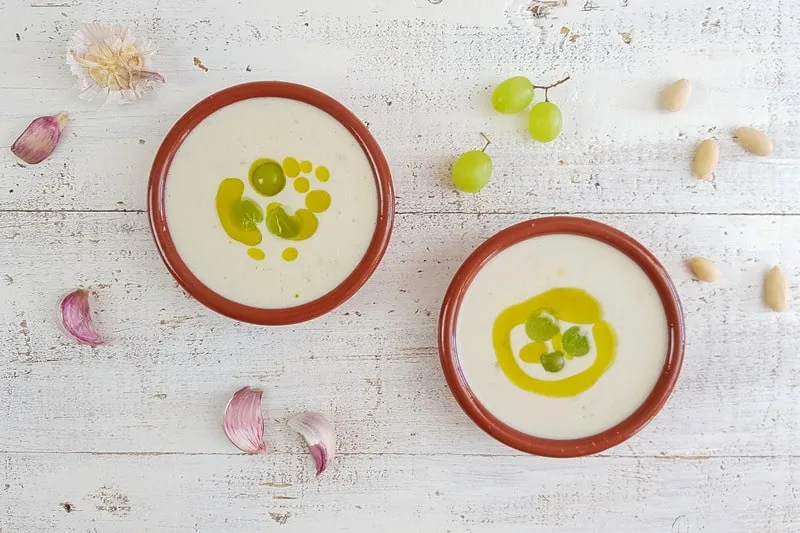 Ajo blanco is a cold soup that is not only very popular in Granada but also in Malaga. It's full of taste and extremely beneficial for your health!
The roots of this cold Andalusian soup dates back to the Roman times. Often referred to as the white gazpacho, Ajo Blanco consists of crushed almonds, plenty of garlic, some bread, water, olive oil, and sometimes some vinegar.
As a topping, you can opt between fresh grapes or melon. Every time I have ajo blanco, I am full of energy, this cold soup is absolutely fantastic!
Have I caught your attention with this unique soup? Then check the recipe here and try it for yourself. And if you are wondering where to eat this star-dish from Granada, check our guide on the best restaurants in Granada.
21. Piononos de Santa Fe
Piononos from Granada is an extremely sweet pastry that is named after Pope Pius IX's Italian name, "Pio Nono".
This sweet treat comes from the village of Santa Fe near Granada but they are sold all over the province. I loved to stock up on piononos in the gas stations when driving from Malaga to Madrid.
A pionono consists of a thin pastry rolled as a cylinder which is fermented with different syrups. It's then topped with toasted, sweet cream. Usually eaten in 1 bite, it's the perfect dessert or coffee snack.
Best Restaurants in Granada to enjoy Andalusian food:
El Mercader
Apo Restaurante
Meson el Cordobes de Jose Peregrina
Restaurante Cala
If you're planning to visit Granada, please take a look at this 3-day itinerary Granada and where to eat in Granada we wrote earlier.
Related: What to eat in Granada, Spain
Best Andalusia Food to Try in Cordoba
The food of Cordoba is characterized by the geographical characteristics of the province.
Relatively far from the sea, Cordoba cuisine has plenty of meat, (healthy) virgin olive oil, and vegetables. The result is that some of the best Andalucia foods from from Corboda.
When in Cordoba, we strongly recommend going on a tapas tour. – Check food tours in Cordoba here
Related: 25 Things to eat only in Cordoba
22. Salmorejo
Cordoba is home to some of my favorite cold soups: Salmorejo! Originally from Cordoba, it can nowadays be eaten in restaurants all over Spain.
However, the people from Cordoba are undeniably proud to be at the origin of one of the most popular foods in Spain.
This dish was invented by the Moors and in the beginning, it just consisted of garlic, bread, salt, oil, and vinegar. Only after America was "discovered", tomatoes were added.
Nowadays Salmorejo cold soup is always prepared with tomatoes and served with some hard-boiled eggs and Iberico ham as a topping. It's a refreshing and healthy Andalusian dish.
Salmorejo is served by almost any restaurant in Cordoba and is considered as one of the most typical Spanish dishes
23. Revuelto cordobés
Translated as "omelette from Cordoba," the revuelto cordobes is Cordoba food in its quintessence.
Easy to prepare, it mostly consists of green asparagus, some eggs, Cordoba wine, and of course, Iberico ham. It's very tasty and healthy at the same time!
24. Pastel de Cordobés
Pastel de Cordobés is a sweet pastry traditionally filled with a delectable layer of cabello de angel, or 'angel's hair', which is a sweet filling made from spaghetti squash.
The pastry is then sealed with a lattice pattern on top, and before baking, it's typically glazed with egg wash for a shiny finish and sprinkled with sugar for an extra touch of sweetness.
The final result is a scrumptious dessert that boasts a crispy, golden exterior and a soft, sweet interior.
This delightful dessert is a testament to the confluence of cultures in Andalusian cuisine, showcasing influences from Sephardic and Moorish culinary traditions.
25. Flamenquito
Once you've tried Flamenquito, you'll wonder how you could live without it for so long! This fried pork roll is definitely a must-try food in Cordoba.
Pork and Iberico cam, sometimes even cheese too, are rolled together, breaded and deep-fried. I admit that it may not be the healthiest Andalusian dish, but it's super tasty!
Best Restaurants in Cordoba to enjoy Andalusian food:
OBA Tapas & Shop by Bodegas Mezquita
Bodegas Mezquita Ribera
Noor Restaurant
ReComiendo
If you're planning to visit Cordoba, please take a look at this 3-day itinerary Cordoba and our guide on where to eat in Cordoba we wrote earlier.
26. Spanish Bean Soup
Spanish bean soup is a staple all over Spain, but it has a particularly intense tasrte in Andalusia. Why? Because Andalusian people love to add in more spices and meat products.
However, there are also vegan and vegetarian options. It's thus a dish for everybody.
You may wonder if Spanish bean soup (also known as garbanzo bean soup), isn't too hot for the climate of Southern Spain?
You may be surprised but from November on, nights can get really chilly in Southern Spain.
You can take a bite of Southern Spain home with this easy Spanish bean soup recipe.
27. Thick Hot Chocolate
You may wonder what's so special about hot chocolate? Well, Spanish hot chocolate is different!
Unlike its counterparts from the rest of Europe, hot chocolate from Spain is much thicker and creamier. Even though you may think hot chocolate may be too hot for Andalusia, you couldn't be more wrong.
It's never too hot for tasty, hot thick chocolate. Especially when it comes along with churros.
It's one of the most popular things to do in Southern Spain: have a walk with the entire family to the best chocolatería to enjoy some hot thick chocolate altogether.
You can easily make hot thick chocolate from Spain with this recipe.
28. Spanish Garlic Soup
Spanish garlic soup is a true staple in Andalusian cuisine. You may wonder how Andalucian garlic soup can be a staple in such a warm area of the world?
Well, the winters in Cordoba and Granada can get extremely cold. Hence, there are many great Spanish soup recipes such as the Spanish lentil soup or the Spanish bean soup.
However, one of the most famous soups in Andalusian gastronomy is a healing garlic soup (sopa de ajo).
You can easily prepare it at home with this Sopa de Ajo recipe.
Can't get enough of Andalusian food? Have a look at our webstory about the best food from Andalusia.
---
What makes Andalusian Food special?
Even though Andalusia is limited in size, every province and every town has its very own Andalusian cuisine. There are even villages that are particularly famous for a specific dessert, starter or produce such as honey. Foodie tours are thus one of the top things to do in Andalusia.
How come that Andalusian food is so diverse? Largely because of its incredible geographical variety.
Jaen is famous for its mountains and olive trees, Huelva and Cadiz for its tuna and seafood, Sevilla for its qualitative Iberian pork meat, Malaga for its abundant fish…
Thus, the best way to learn and enjoy Andalusian food is by province and their capitals. That's why this post is organized by the best food to eat in each Andalusian region.
Of course, you can also get a Fritura Malagueña (mixed fried fish) in Seville, but it will never taste the same!
As far as possible, I recommend the best restaurants in each town where you can enjoy typical Andalusian food.
---
---
A short FAQ about Andalusian Food
What food is Andalucia famous for?
There are many Andalusian food specialities. The Star Dish of Andalusia is the Gazpacho Soup.
What things are made in Andalucia?
There are plenty of things being made in Andalusian. Besides a lot of artisan work, you can find the finest Andalusian foods such as Spanish olives, Spanish sausages or the legendary Spanish hot chocolate.
What do you eat in southern Spain?
Mostly fish, seafood and Iberian pork.
What food is Spain famous for?
Some of the most typical food from Spain includes paella, gazpacho, churros, tapas, and jamón ibérico.
---
---
Hola, I'm Paulina! Together with my team, we are passionate about Southern Spain. Here we share all you need to know for great times in Southern Spain with the best places to visit, stay and, of course, the best food to eat.
Let's dive in and explore Southern Spain's outdoors, food and culture con pasión!