A travel guide to the best attractions in Gibraltar, Southern Spain: the perfect Gibraltar Itinerary
Looking for fun things to do in Gibraltar? Gibraltar calls, and it's impossible to resist!
Imagine standing at the top of the rock of Gibraltar, with the continents of Europe and Africa in your gaze, seeing wild monkeys and learning about British military history.
Here are 25 fun things to do in Gibraltar and a 3 day Gibraltar itinerary that will inspire you whether you're visiting Gibraltar on a day trip or even more than 3 days.
Introducing Gibraltar
Perfect as a jumping-off point for exploring Andalucia, Gibraltar is a little slice of Great Britain with the bonus of near-endless sunshine.
Guarding the entrance to the Mediterranean Sea, Gibraltar's strategic location has been fought over by European powers for hundreds of years.
Captured by an Anglo-Dutch fleet during the War of the Spanish Succession (1701-1714) Gibraltar was given to Britain by Spain under the terms of the Treaty of Utrecht in 1713.
Now under British rule, the first thing the conquering power did was to reinforce its fortifications and absorb the local population into the British way of life.
Today Gibraltar is unique in a way that you don't expect. Firstly everyone speaks English and Spanish so you won't have any problem communicating and they use the pound sterling just like back in the United Kingdom.
Gibraltar does not charge V.A.T. so shopping on the Rock of Gibraltar will allow you to pick up a few bargains to take back home. Getting to Gibraltar is easy too with regularly scheduled low-cost flights from the UK.
This blog is supported by you, dear reader. If you purchase through a link, we earn a small commission. As an Amazon Affiliate, we earn from qualifying purchases.
Top Things To Do In Gibraltar, Andalucia – Our Gibraltar Itinerary For 3 days
Visit the Rock
Have your photo taken with a monkey
Visit Europa Point
Visit the Mosque
Winsor suspension bridge
Explore the historic centre
Useful Travel Information About Gibraltar
✈ Book cheap flights to Gibraltar with Skyscanner

⚘ Avoid tourist traps and get the customizable "Southern Spain Like a Local" itinerary. – Get it here

✔ Book tours in Gibraltar with GetYourGuide

➳ Find the best hotels in Gibraltar with Trivago

❖ Rent a car at the best rates with Discover Cars

✎ Never leave without travel insurance! I get mine at HeyMondo. It is easy to set up, cheap and reliable.

$ Withdraw money without hidden fees and avoid exchange charges with TransferWise (Free Mastercard debit card to spend money abroad)
Day 1 – Gibraltar One Day Itinerary
Whether you're looking at things to do on a day trip to Gibraltar or you want to see the major sights on the first day of your Gibraltar trip, here's what we recommend doing.
Visit Gibraltar Rock – An Essential Part of Any Gibraltar Itinerary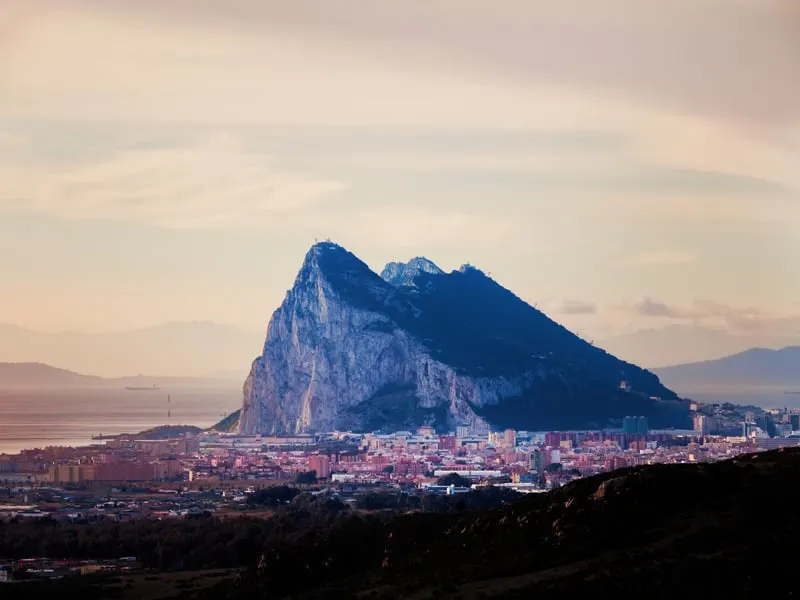 No trip to Gibraltar is complete unless you visit the top of the Rock which is one of the top places to visit in Gibraltar. The rock is designated a Nature Reserve.
Tickets to visit the Upper Rock Nature Reserve include the Apes' Den, St Michael's Cave, and O'Hara's Battery on the rock's summit.
You can learn all about the Rock's strategic location in the Military Heritage Centre before experiencing the Great Siege Tunnels.
Hewn from solid Rock to help troops move about while under attack from Spanish and French forces the tunnels are a testament to the British military's most prolonged ever siege.
You can also visit tunnels built during the Second World War and learn about the plans for the invasion of North Africa.
Please note that WWII is a separate ticket that you need to buy on top of your Upper Rock Nature Reserve. If you have a head for heights, be sure to walk across the 340m-high Skywalk. – Book guided tours here
Opening times: Mon-Sun 09:00 – 18:15 last entry 19.45
Take pictures with the Apes of Gibraltar
Regarded as being one of Gibraltar's most famous tourist attractions, the Barbary Macaques that inhabit the Rock are native to North Africa and are believed to have arrived during the early days of the British garrison.
Several legends surround why a wild monkey population lives on the Rock with one saying that if they should ever disappear, it would mark the end of British rule.
With this in mind as their numbers depleted during the Second World War, British Prime Minister Winston Churchill imported Barbary Macaques from Morocco.
There is a lot of concern that tourism and interactions with humans have harmed the barbary apes who now associate humans with food.
Having your photograph taken with the animals is simple, but remember not to make any sudden moves and always remember that they are wild animals that are willing to scratch and bite you.
Visit Europa Point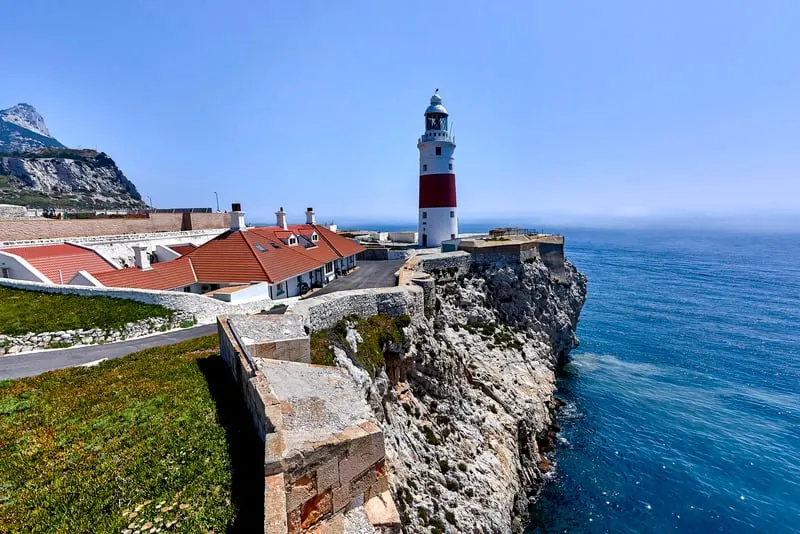 Accessed by Europa Road, the Europa Point is on the south tip of the Rock. It is home to a Catholic church, a mosque, Europa Point Lighthouse, and a military gun emplacement that was capable of sinking any vessel entering the Strait of Gibraltar.
On a clear day, you can see the Rif Mountains in Morocco.
Visit the Mosque in Gibraltar
Following the Reconquista and the expulsion of the Moors from Spain, the Catholic Monarchs decreed that Gibraltar must strip itself of all reminders of the Muslim faith.
While many buildings were razed to the ground, 700 years of Moorish rule could not be erased entirely with reminders remaining to this day.
Sitting on top of Europa Point the Ibrahim-al-Ibrahim Mosque is the most southerly mosque in Europe and was a gift to Gibraltar and its people from King Fahd Al-Saud of Saudi Arabia.
Costing around £5 million to build the mosque took over two years to construct and is now one of the most visited attractions in Gibraltar.
Opening times: Mon-Sun 11:00 – 15:00
Admission: Free
Explore the historic centre of Gibraltar
Protected by the Gibraltar Heritage Trust the historic centre of Gibraltar was mostly destroyed during the Great Siege of Gibraltar when from 1779 to 1783 the town was bombarded by sea from a combined Spanish and French fleet.
Today, the historic centre is one of the best things to do in Gibraltar. Tthe main pedestrianized thoroughfare called "Main Street "is home to various shops similar to those found on any British high street.
Running parallel to Main Street is Irish Town, an area that got its name from Irish immigrant women who were sent to Gibraltar to provide female company for the troops stationed on the Rock.
The streets' most prominent building is a Victorian police station that was used by the Gibraltar police up until 1984.
In order to visit all the hidden gems of Gibraltar, I recommend booking a guided tour. – Check tours & reviews here
Lunch in Jury's Café and Wine Bar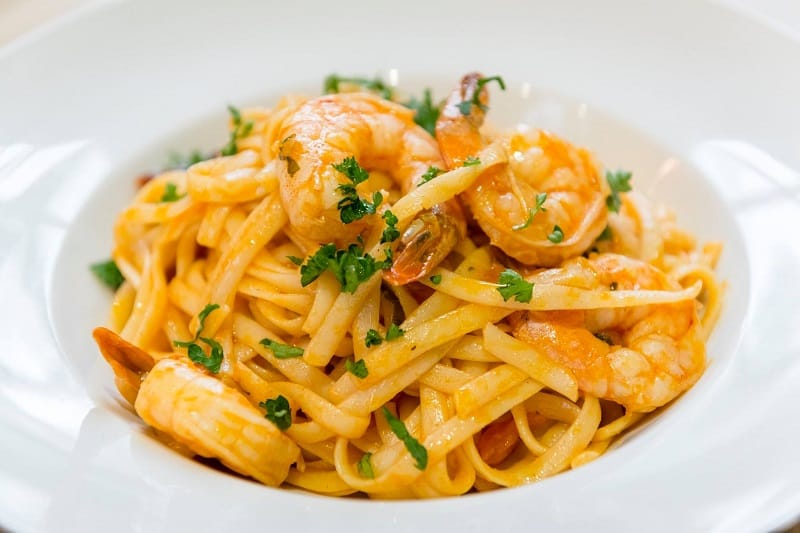 Located on Main Street Jury's Café & Wine Bar is always buzzing with tourists and locals, and while you would expect the prices to match the location, it is surprisingly inexpensive.
For lunch, at Jury's, you will find an extensive menu that includes fish and meat dishes along with a variety of salad, sandwich, and burger options.
Jury's offers choice of more than 40 wines and champagnes from around the world along with popular beers that include John Smith's extra smooth ale on draught.
Address: 275 Main Street, next to the courts.
Opening times: 08:00 to 22:00 every day
Visit St.Michael's Cave
Located around a 25-minute walk down St. Michaels road from the top cable car station, St. Michael's Cave is one of the most popular Gibraltar attractions.
The cave is a natural wonder full of stalagmites and stalactites.
Legend has it that from the cave there is a secret path beneath the sea to Africa. Today the cave is a venue for concerts and other events.
A three-hour tour of the lower cave is available for £25, but not recommended for children under the age of 10. – Skip the line and book tickets here
Opening times: 09:30 – 18:45 every day.
Admission: Admission is included in the price of the Upper Rock Nature reserve ticket price.
Gibraltar Cable Car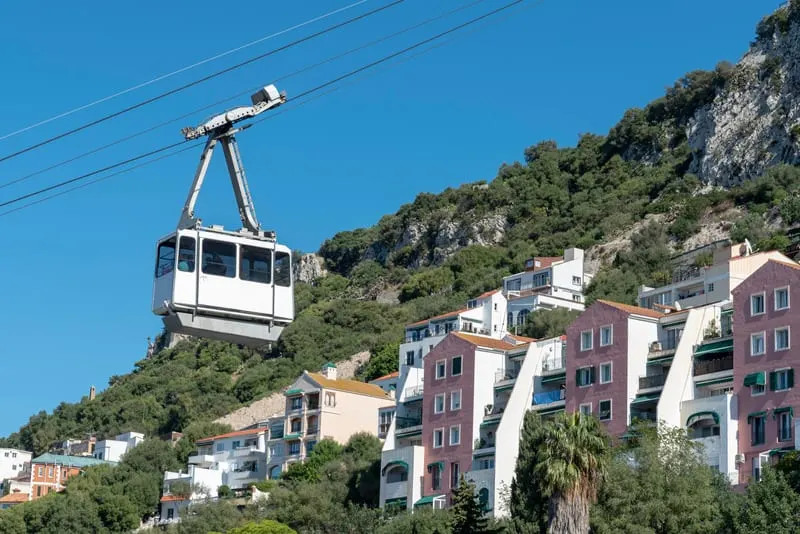 With it no longer being possible to drive up to the top of the Rock, the best way to get there is by cable car.
The base station from where you take the cable car is located alongside the Alameda Gardens at the bottom of Main Street.
The journey to reach the top of the Rock at 412m (1351.71ft) takes six minutes. From here you are treated to a spectacular view of the Spanish coast and the Rif Mountains in Morocco.
Explore the Moorish castle
Dominated by The Tower of Homage, Gibraltar's Moorish castle has a sketchy early history following its destruction when the Christians re-conquered the city of Gibraltar from 1309 and 1333.
The castle has been attacked many times and has had its inner courtyard used as a prison up until 2010. Well worth a visit if only to learn about the armies that fought to control its strategic vantage point.
Opening times:
Monday: 14:30 – 22:30
Tuesday to Sunday: 12:00 – 22:30
Admission: The admission price is included in the Upper Rock Nature reserve ticket. – Book tickets here
Learn about history in Gibraltar museum
Founded by Governor of Gibraltar General Sir Alexander Godley in 1930, the Gibraltar National Museum is home to a wide array of unique collections and items portraying the Rock's history and culture.
Highlights include artifacts from the Great Siege a collection of model ships and planes and various other archaeological finds dating back to the Phoenicians and Greeks.
Opening times: Mon-Fri 10:00 – 18:00 Sat 10:00 – 14:00 Sunday closed
Admission: Adults £5.00 children £2.50
Have a sundowner cocktail in Ocean Village, Gibraltar
Set in a mixed-use residential complex and marina, Ocean Village Gibraltar, Costa Del Sol offers 20 exciting oceanfront restaurants and bars with sweeping views of the Mediterranean Sea.
At night recessed colored spotlights light up the cobblestone streets giving it a relaxing ambiance between the sea and the Rock.
At Ocean Village, there is something for everyone from sports bars to romantic dining, making this tiny corner of Gibraltar the perfect place for a sundowner.
Enjoy tapas in Gibraltar
Gibraltar might seem like a tiny slice of Britain that has been towed to the gateway of the Mediterranean, yet remains influenced by its nearest neighbor
Union Jacks proudly fly but when it comes to food Gibraltar has a Spanish taste about it. Tapas might be typical of Andalucia, but they are firmly entrenched in the Gibraltarian culture as well.
Everyone loves an enjoyable tapas tour and the place to go for a night of tiny bites of tasty food are:
Jury's Cafe & Wine Bar
Vinopolis Gastrobar
D'Bellota Gibraltar
Little Bay Indian Tapas Bar & Restaurant
La Bodeguiya
Read about the best Spanish Tapas here or discover amazing Spanish vegetarian tapas here.
Day 2
Here's what you could do when visiting Gibraltar for two days.
Have a morning walk on the Alameda: Gibraltar Botanic Gardens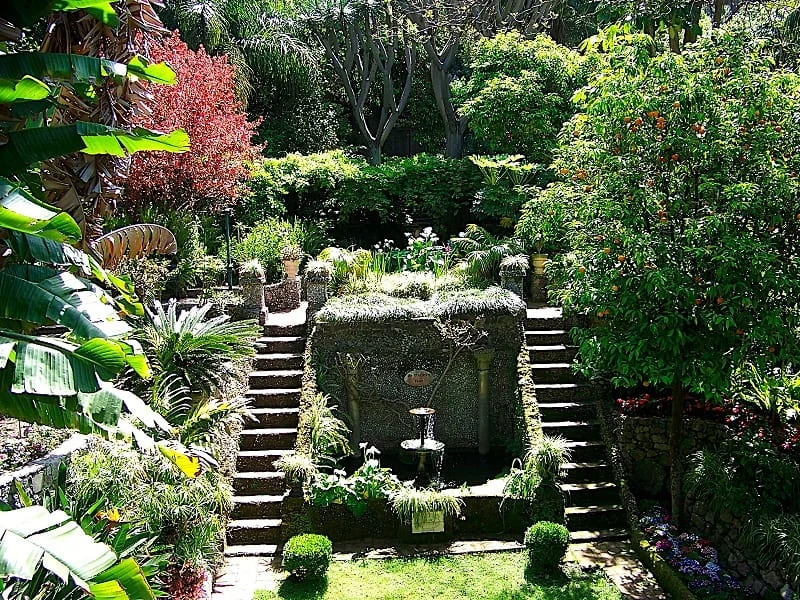 Commissioned by the British Governor of Gibraltar General George Don in 1816 to provide a green space for soldiers to enjoy, the Gibraltar Botanical Gardens are a beautiful place to escape from the sun.
Spread out over six hectares (15 acres) the gardens have interconnecting paths and several monuments including one of George Augustus Eliott the commander of the British troops during the Great Siege.
The gardens also contain the largest area of open freshwater on the Rock in the form of a lake filled with Koi Carp and exotic lilies. The park is located near the lower cable car station and is open from 08:00 -21:00.
Explore Gibraltar's Nature Reserve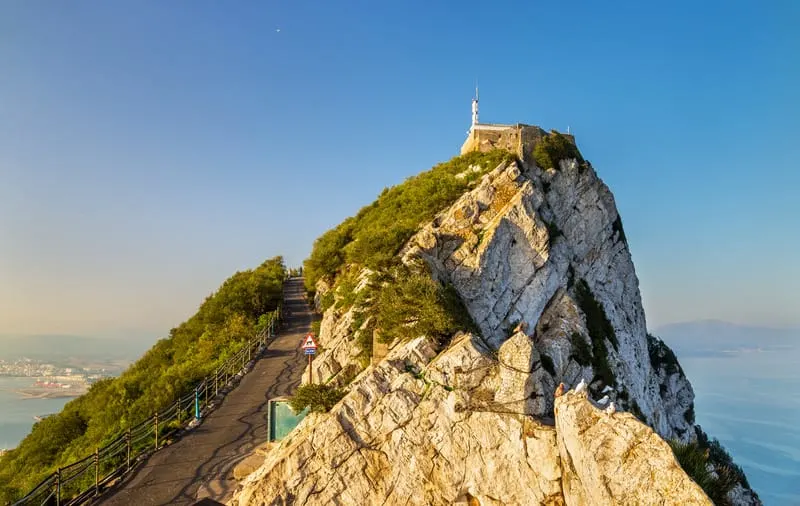 Originally named the Upper Rock Nature Reserve the Gibraltar Nature Reserve was established in 1993 to protect an area of land no longer used by the British military.
The primary purpose of the Nature Reserve is to provide a habitat for wild animals and the many bird species that stopover in the area during their annual migrations.
The reserve also helps look after the Rocks major tourist attractions which include St. Michael's Cave, O'Hara's Battery, and the Great Siege Tunnels which play a big part in British military history.
Tip: To avoid the crowds and the scorching sun plan your visit for when they open first thing in the morning.
Opening times: 09:30-19:15
Admission: £12 for adults and £7 for children aged 5-12 – Book tickets in advance here
Visit the Cathedral St Mary the Crowned
Built on the site of a former mosque, parts of the Cathedral of St. Mary the Crowned Roman Catholic church date back to 1462.
For almost four years during the Great Siege, the church is considerably smaller than it was before the Spanish and French forces nearly destroyed it.
Rome elevated the church to the status of a cathedral in 1926 along with its own Bishop. The temple is located on Main Street and provides an oasis of calm.
Opening time: Mon-Fri: 07:00 – 19:00 Sat-Sun 08:30 – 19:00
Admission: Free
Lunch in Sacarello's Cafe-Restaurant
Located in Irishtown in what used to be a wealthy merchant's house, Sacarello's offers a comprehensive homemade lunch menu that includes popular English, Italian and Spanish dishes.
Sacarello's menu also includes five specials of the day, which change three times per week.
Address: 57 Irish Town, Gibraltar
Opening hours:
Mon-Friday 08:30-19:30
Sat 09:00-15:00
Sun CLOSED
Wander in Irish town
The name, Irish Town is somewhat confusing as it is, in fact, a pedestrianized street that runs parallel to Main Street. How the road came to be called Irish Town can be attributed to two things.
One says it was where an Irish regiment was barracked while another says it got the name due to its brothels and seedy taverns. The most notable building in Irish Town is the old Victoria police station that opened in 1864.
Get dizzy at the Windsor Suspension Bridge
Opened in 2016 the Windsor Suspension Bridge is a 71 meter (233ft) narrow foot traffic only bridge located in the Gibraltar Nature Reserve.
As a part of the Royal Anglian Way footpath, the bridge offers spectacular views of Gibraltar and the sea.
Dinner in El Faro Gibraltar
Despite not having a sea view as it is located a street in from the marina El Faro is recognized as being one of the best seafood restaurants in Gibraltar.
The staff at El Faro are courteous without being overbearing, and the dishes served up by the kitchen could be some of the best Spanish food you have ever eaten.
Tip: Order the freshly caught Sea bream as it is delicious!
Be inspired by these Spanish food facts we wrote earlier.
Day 3
Day trip to Morocco from Gibraltar
While in Gibraltar don't miss the chance to pop over to the Moroccan city of Tangiers where you will find a bustling place with narrow alleyways, cafes, and bazaars.
While there is one ferry from Gibraltar to Tangier, it is mostly for Moroccan workers. What you will need to do is take a bus to Tarifa and catch the fast ferry to Tangiers from the port. You can view more things to do in Tarifa here.
The journey time to Morocco takes around 35 minutes with all customs formalities carried out onboard the ship.
Tip: Buy your a guided tour and avoid the long queue in the port. – Check tours here
Day Trip to Ronda from Gibraltar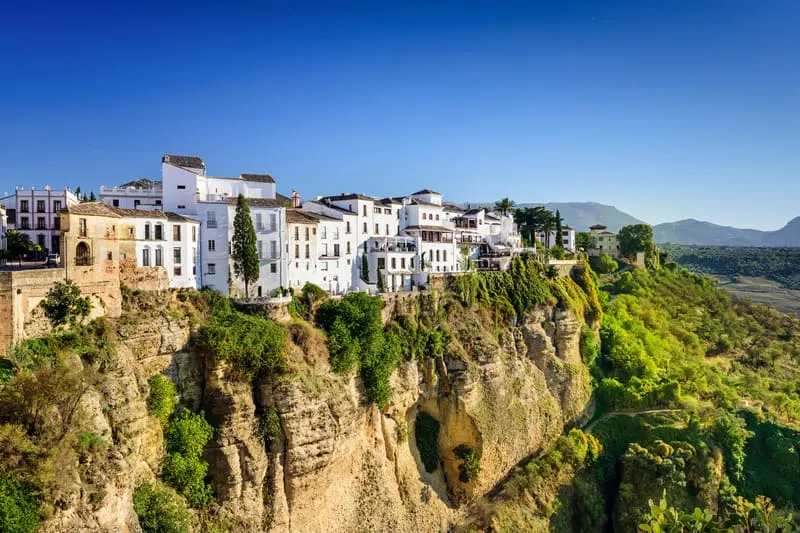 The best way to visit Ronda from Gibraltar is to take a scenic 1h 20m rail journey from Algeciras. Built straddling a massive gap in the mountains carved out by the Río Guadalevín, the Puente Nuevo (new bridge) connects the old town with the new.
Ronda has a rich history that dates back to pre-Roman times and is credited with being the birthplace of modern bullfighting. Today, visiting Ronda is one of the best things to do in Andalucia. Earnest Hemingway adored Ronda as did Hollywood actor Orson Wells whose ashes are buried in the town.
In order to make the most of your time, I recommend booking a guided tour. – Check rates here
Day Trip to Estepona and Casares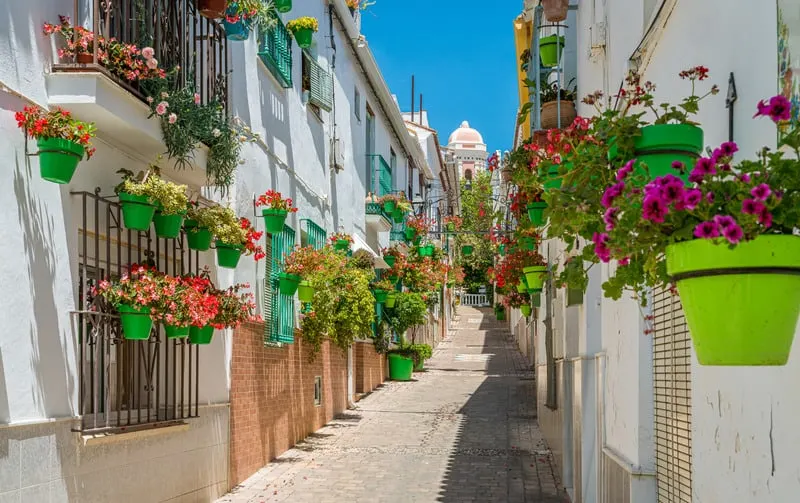 Called the "Marmalade Run," a day trip from Gibraltar to the beautiful white hilltop village of Casares will take you through miles of orange and lemon groves.
After you have explored Casares it's time to head down to the coast and visit the picturesque port of Estepona, a unique town that has managed to keep its pueblo charm despite the Costa del Sols building boom of the 60s and 70s.
Tip: While it is possible to visit Estepona and Casares by bus from Algeciras, you would be better off hiring a car or organizing an excursion with a private tour operator.
You should really check out our 3 day itinerary Estepona we wrote earlier.
Do a Dolphin Safari
If you want something to do and need an excuse to get out on the sea, take a dolphin safari from the harbor. Despite the Strait of Gibraltar is one of the worlds' busiest shipping lanes dolphins and other marine mammals thrive.
The dolphins around Gibraltar only swim a couple of miles from the coast and include short-beaked, common, and striped species. During the summer it is possible to glimpse bottlenose dolphins and several species of migrating whales.
There are plenty of operators, but in order to get the best price, we recommend booking your Safari tour in advance, hassle-free. – Check dolphin watching tours here
Before getting into the accommodation in Gibraltar, be sure to check out these 2 other posts we wrote on the things to do in Cadiz and the 3-day itinerary Seville.
Best Hotels in Gibraltar, Southern Spain
When it comes to where to stay, Gibraltar has limited options with just 700 hotel rooms available. In our list below we have given three options but have not included hostels or Airbnb. During the summer months, accommodation can be hard to find, making it best to book early.
Located on Gibraltar's stylish Ocean Village, the Sunborn Gibraltar is a mega yacht that was designed as a hotel and is the only 5-star hotel in Gibraltar.
While staying at the Sunborn guests enjoy large rooms with king-size beds and luxurious marble bathrooms.
The hotel features a spa, gym, and an infinity pool along with two restaurants and a casino. Rooms are available from £200 per night. – Check rates here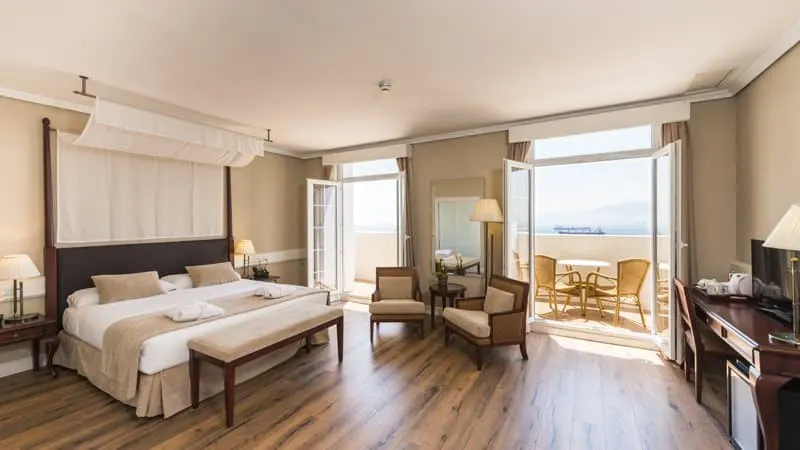 For a city center close to everything, the Rock Hotel is an art deco treasure that oozes old-fashioned charm.
Perched on the side of a hill above Europa Road the Rock Hotel offers unrestricted views out over the atlantic ocean. Rooms start at £95 per night with breakfast included. – Check rates & reviews here
Located a 2-minute walk from Main Street, the Bristol Hotel is the oldest Hotel on the Rock and features 60 rooms with a swimming pool and subtropical gardens.
While we list the hotel as our budget pick rooms are relatively expensive, starting at £98 per night, which is however a standard rate in Gibraltar. – Check rates & reviews here
Getting Around Gibraltar
The best way to get around in Gibraltar is to use public buses. Gibraltar has just nine bus routes that will take you to all the Rocks' main attractions.
Day bus passes make it inexpensive, and once you figure out what bus goes where it is a breeze. Alternatively, you can take a taxi from Gibraltar airport or three of the Rocks taxi ranks.
How to get to Gibraltar
If you are driving to Gibraltar from Spain, you will need to have a valid passport. The land border crossing is open around the clock every day of the week with no limit on how many times crossings you want to make.
By bus: Spain has an extensive bus network meaning that you can get to Gibraltar from anywhere in Andalucia. All buses for Gibraltar take you to La Linea de la Concepción, a Spanish town just across the border from Gibraltar. – Buy bus tickets here
From there you walk across the frontier into the British Overseas Territory. Again make sure you have a valid passport to show the police at the border.
By train: Getting to Gibraltar by train is a little time consuming but can be done. The closest train station to Gibraltar is located in the Spanish city of Algeciras just over 20 kilometers from Gibraltar. – Buy train tickets here
When arriving at Algeciras station, you need to cross over the road to the bus station and buy a ticket for La Línea de la Concepción and then walk across the border into Gibraltar.
Buses between La Linea and Gibraltar run every ten minutes so you will never have long to wait in Algeciras.
How to Get to Gibraltar from UK
Although Gibraltar is a British overseas territory, it's 2,143km away.
By Train: The train from London to Gibraltar takes over 20 hours, and there is no direct service. You would need to get the Eurostar to Paris Gare Du Nord, transfer to Paris Gare De Lyon, then get a train into Spain to Barcelona-Sants. You would then need to get the train to Málaga before catching a short train to Gibraltar. Get your train tickets here.
Flight: Flights to Gibraltar from the UK are the best option. You can fly direct from London Heathrow, London Gatwick, Bristol and Manchester. Book your flight here.
Another option is to fly to Malaga, which is a 1 hour 25m drive or a 2-hour bus via Estepona with Avanzbus. Get your bus tickets here
How to get from Malaga to Gibraltar:
There is a direct bus from Malaga Bus Station to La Línea de la Concepción that departs Malaga every four hours and has a journey time of 2h 15m. – Buy tickets here
Read our step by step guide on how to get from Malaga to Gibraltar here.
How to get from Seville to Gibraltar:
The best way to get to Gibraltar from Seville is by bus to Algeciras and then transfer to the bus for La Linea. Buses depart Seville every couple of hours with a journey time of 3hr 45m including transfer time. – Get tickets here
How to get from Cadiz to Gibraltar:
Buses from Cadiz to Gibraltar depart every couple of hours to Algeciras where you transfer to La Linea. Buses to La Linea are every ten minutes which means if you catch a fast bus to Algeciras you have a journey time of around 2h 20m. – Book tickets here
How to get from Marbella to Gibraltar:
There is a direct bus between Marbella and La Linea departing every four hours operated by ALSA with a journey time of 1h 15m. – Get tickets here
How to get from Estepona to Gibraltar:
There is a direct bus between Estepona and La Linea that departs every four hours with a journey time of 1h 30m. – Book tickets here
How to Get from Madrid to Gibraltar
The best way to get from Madrid to Gibraltar is to drive. The drive will take around 6h 37m.
To travel from Madrid to Gibraltar by train, change at Malaga for Estación La Línea. On some routes, you will also need to change at Córdoba Train Station. Get your train tickets here.
You can also fly from Madrid to Malaga or Jerez and get a taxi or catch a bus from there. Book your flight here and Book tickets for the bus here
---
Attractions of Gibraltar Map
---
A short FAQ about Things to do in Gibraltar, Spain
What are things to do in Gibraltar at night?
Have a traditional dinner in El Faro is a great things to do in Gibraltar at night.
What are things to do in Gibraltar for free?
Visiting the Cathedral St. Mary the Crowned and the Mosque of Gibraltar are free things to do in Gibraltar.
What are things to do in Gibraltar with toddlers?
Explore Gibraltar's Nature Reserve is a great idea when looking for things to do in Gibraltar with kids.
What is the currency in Gibraltar?
Gibraltar uses the Gibraltar Pound (GIP) as its official currency. The Gibraltar Pound is pegged to the British Pound Sterling (GBP) at par. British Pounds Sterling (GBP) are widely accepted in Gibraltar. However, it's worth noting that while you can spend GBP in Gibraltar, Gibraltar Pounds are not always readily accepted in the UK.
What is Gibraltar best known for?
Gibraltar is primarily known for the Rock of Gibraltar. It's also famous for its Barbary macaques, which are the only wild monkeys in Europe, and its status as a British Overseas Territory.
Does Gibraltar have a beach?
Yes, Gibraltar has several beaches. The most popular ones include Eastern Beach, Catalan Bay, and Sandy Bay.
Can you drive up the rock of Gibraltar?
Yes, it is possible to drive up the Rock of Gibraltar. However, it's best to travel on the cablecar due to the crowds and parking issues.
Do you need a passport to go to Gibraltar from the UK?
Yes, a valid passport is required for travel from the UK to Gibraltar. Gibraltar is a British Overseas Territory but is not part of the UK.
---
---
Hola, I'm Paulina! Together with my team, we are passionate about Southern Spain. Here we share all you need to know for great times in Southern Spain with the best places to visit, stay and, of course, the best food to eat.
Let's dive in and explore Southern Spain's outdoors, food and culture con pasión!