Can you believe that some people still dare to say that Spanish vegetarian dishes are boring and have a bland taste?
Well, thankfully, the Spanish vegetarian tapas come to the rescue – they have an amazing flavor, and the recipes are so simple that anyone can make them.
If you don't believe us (or want to learn more about them), then keep reading this article, because here we will show you the best 20 Spanish vegetarian tapas.
This post contains affiliate links. If you buy via them, I'll earn a small commission which helps me to keep this blog running. As an Amazon Associate I earn from qualifying purchases. All opinions are my own.
20 Spanish Vegetarian Tapas
What we love the most about these recipes is that they are usually healthier than regular tapas, and even when they are not, they are still a great way for people with different diets to enjoy fantastic Spanish dishes.
1. Marinated Carrots
When it comes to Spanish vegetarian tapas, one of the easiest that you will find is marinated carrots.
This recipe was created in Cadiz, Andalusia, over 100 years ago, and since you serve it cold it is perfect for summer and spring.
To make this recipe you will only need carrots (regular size or you can go for the cute baby carrots), garlic, sherry vinegar, and olive oil.
Then, you can add any type of seasoning and spices of your choice.
Get the recipe: Easy Marinated Carrots Recipe from Spain
2. Tortilla De Patatas
The tortilla de patatas is a classic among Spanish vegetarian tapas, and it is probably the most famous one on a worldwide level.
If you are having a tapas party, you simply can't miss this one: everyone will love it and you can have it ready pretty fast.
This Spanish tapa was invented in the 1500s, as soon as potatoes arrived in the Old Continent from America.
You will only need two main ingredients: potatoes and eggs. In some cases, people add onions to give it a different flavor, and we can assure you that that combination is fantastic.
Get the recipe: Tortilla de Patatas – Spanish Omelette Recipe
3. Gazpacho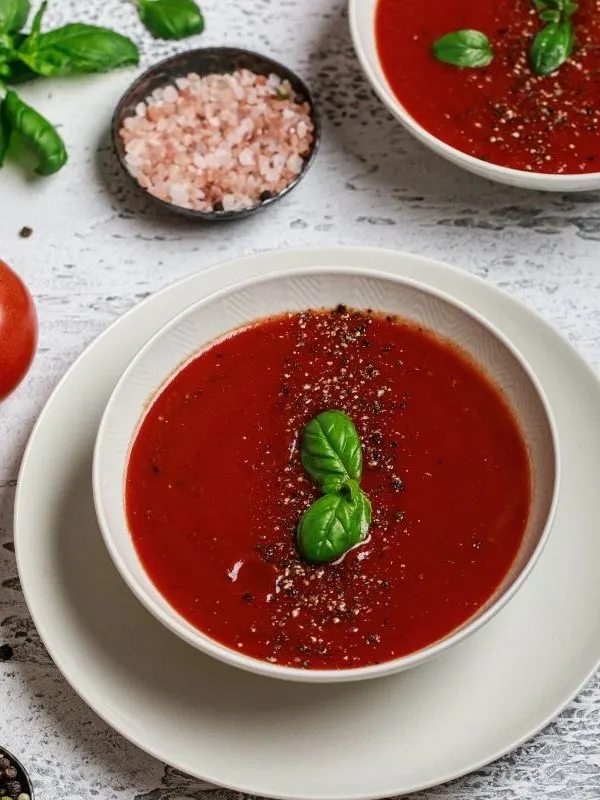 The main reason why the Gazpacho stands out from other Spanish vegetarian tapas recipes is that you can either serve it as a tapa or as a main dish.
In case you didn't know, Gazpacho is a cold tomato soup from Southern Spain, making it perfect for hot summer days.
The classic version is the tomato gazpacho, but nowadays you can find dozens of different versions, from watermelon gazpacho to cucumber gazpacho, almost any juicy vegetable or fruit can work to make this recipe.
The traditional Andalusian gazpacho calls for a little bit of serrano ham as a topping, but you can skip it and it will be completely vegetarian.
Get Gazpacho recipes here:
4. Padron Peppers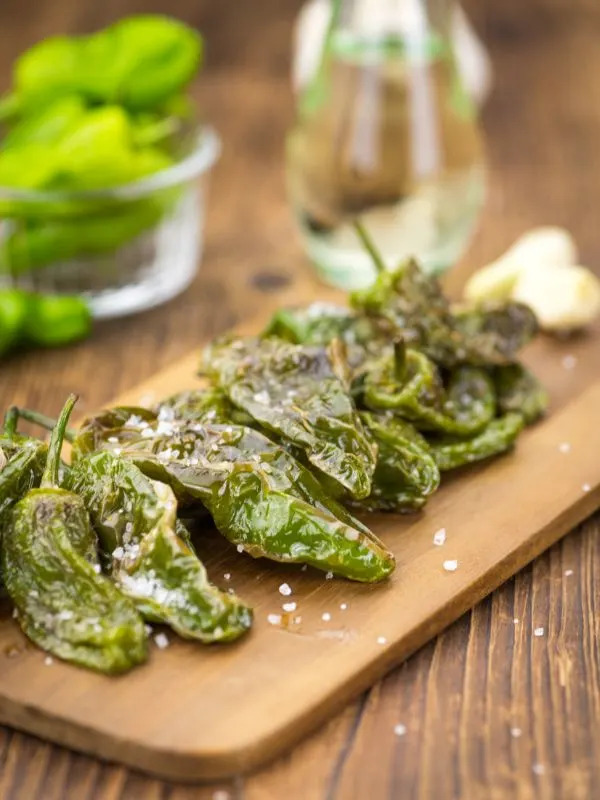 You can check thousands of Spanish starters, and none of them comes close to the spiciness of this dish.
As you can guess from the name, the main ingredient is Padron peppers (a flavor profile similar to the green bell pepper but way spicier), and besides that, you just need salt and oil to make them.
The best way of cooking them is on the grill, but you can also make them in the oven or in a regular pan.
You can make a Spanish vegetarian tapas platter and serve this with dipping sauces or creams like aioli, cream cheese, sour cream, etc.
Get the recipe: Best Spanish Padron Peppers Recipe
5. Patatas Bravas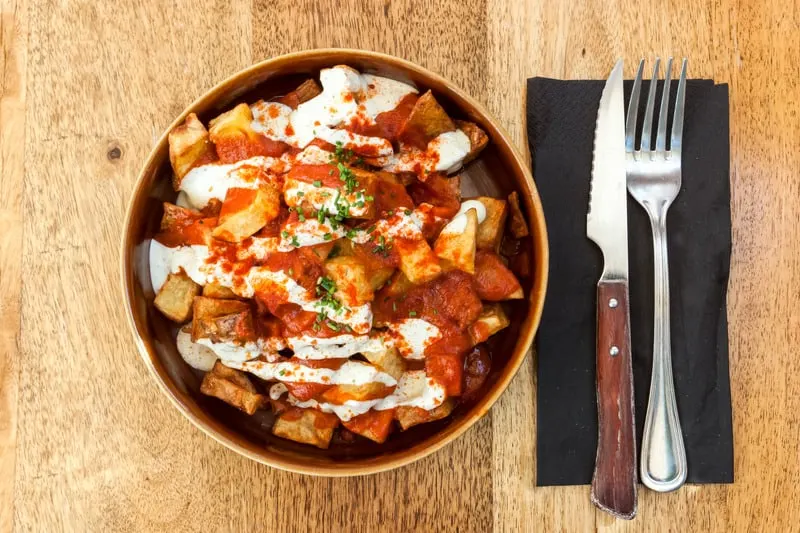 Potatoes are known for being a neutral flavor vegetable, but with the Patatas Bravas, you will be able to give them a fantastic twist.
This Spanish vegetarian tapa has a lot of paprika as the seasoning, alongside salt and pepper, and the potatoes are served with an amazing tomato sauce.
You can have this as Spanish vegetarian tapas if you use vegetable broth instead of chicken broth, and the flavor will still be great.
Get the recipe: Crispy Patatas Bravas [Spanish Fried Potatoes]
6. Berenjenas Fritas con Miel
Now we switch from spicy to sweet with the berenjenas fritas con miel.
This is one of the most amazing and bold Spanish vegetable dishes because it isn't afraid of mixing sweet ingredients with salty ones.
You prepare and fry the berenjenas (eggplants) and after that, you serve them with a drizzle of honey sauce (or serve it as a dip in a small bowl), and that's how you end up with a match made in heaven.
If you aren't the biggest fan of eggplants you can use other vegetables, or you can switch the honey for a different dip (but the honey works wonders).
Get the recipe: Spanish Berenjenas con Miel – Berenjenas Fritas Recipe
7. Vegetarian Empanadas
This Spanish vegetarian tapas recipe is perfect because it is a change from the classic empanadas recipe that everyone knows and loves, but it still is amazing in its own way.
We know that you might be more used to enjoying chicken, beef, or cheese empanadas, but vegetarian empanadas are great too.
If you are having a party and some of the guests are vegetarian, then this tapa is perfect because it is easy to eat and you can serve the empanadas cold, warm, or at room temperature.
To serve them as vegan tapas, you have to avoid any animal product on the dough (check the label if you are using a store-bought one) and skip the cheese.
Get the recipe: Tasty Vegetarian Empanadas Recipe from Spain
8. Vegetable Paella
Spanish paella is one of the dishes that Spanish vegetarian people miss the most once they switch their diet, and who can blame them, everyone loves it.
With the help of the vegetable paella, they have a way of enjoying it again but as a vegetarian Spanish dish.
Instead of the classic seafood, you have to use a mix of vegetables for the topping of the rice and make sure to use vegetable broth.
Get the recipe: Quick Vegetable Paella Recipe from Spain
9. Spanish Lentil Salad
Among the different Spanish vegetarian tapas that you can find out there, the Spanish lentil salad is probably the healthiest one.
Not only is it low in calories, but the lentils give all of the nutrients that you need, and it is a great replacement for meat in case you are following a vegetarian diet.
The recipe itself is easy to make, and you can play with the different ingredients.
It is the perfect side dish or tapa if you serve it in a small portion, and it works as a main dish too, just make sure to serve it on a bigger plate.
Get the recipe: Healthy Spanish Lentil Salad Recipe
10. Spanish Roasted Vegetables
Sometimes we don't want to spend all day in the kitchen preparing a recipe, and we need something that can be done fast; for those days Spanish roasted vegetables are the solution.
Not only is it a delicious dish that is made with a mix of the best vegetables, but it also is healthy and super easy to make.
You just have to grab your favorite vegetables, clean and chop them, and follow the cooking method.
After that, you will end up with one of the healthiest Spanish vegetarian tapas that you will find.
Get the recipe: Delicious Spanish Roasted Vegetables Recipe
11. Mushroom Croquettes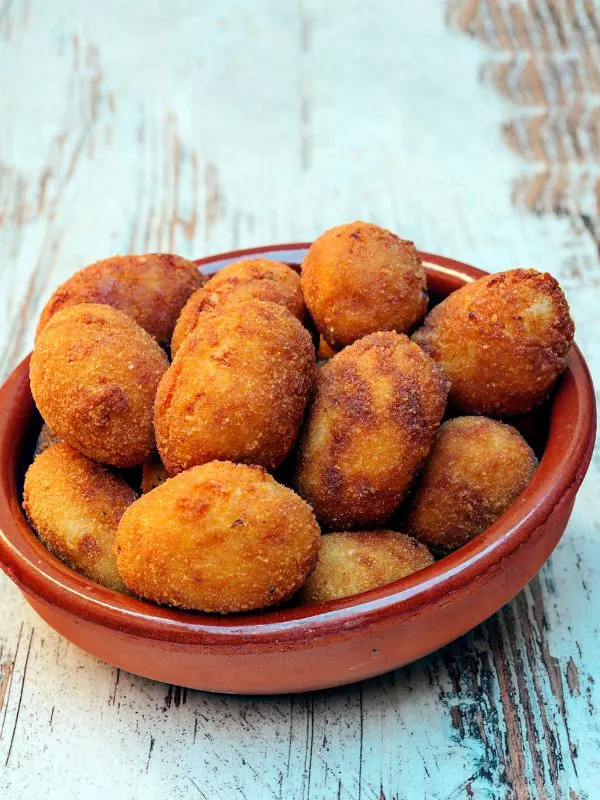 Croquettes are the most classic types of tapas, but the mushrooms are a modern twist to this recipe.
What we love about this dish is the flavor that it has: everyone knows and loves the traditional version with ham, but this alternative is pretty great too.
Since the mushroom doesn't have a strong flavor, you can serve this Spanish vegetarian tapas with dipping sauces such as aioli, sour cream, tomato sauce, etc.
Get the recipe: Best Spanish Mushroom Croquettes Recipe
12. Fried Goat Cheese
If you like mozzarella sticks then you will adore this fried goat cheese dish.
Contrary to the other Spanish vegetarian tapas recipes listed in the article, this one has a fast-food feeling to it.
We know that it isn't the healthiest of the bunch but we don't care: the flavor is amazing, the goat cheese melts perfectly, and the recipe is super easy to make.
It is known as a sweet-and-sour recipe, because the fried goat cheese is served with some melted honey, making it the best of both worlds.
Get the recipe: Sweet-Sour Fried Goat Cheese Recipe from Spain
13. Pisto Manchego
For all the people that enjoy feeling the taste of every vegetable, this recipe is for you.
Compared to other Spanish vegetarian tapas, this one relies the most on the flavors of the vegetables, as all the ingredients are vegetables (plus seasoning).
The name can sound a bit odd if you don't know Spanish, but it is a game of words.
"Pisto" is sometimes used as "crushing" or getting the juice out of something, and that's exactly what you do with the vegetables in this recipe.
Get the recipe: Best Spanish Summer Stew – Pisto Manchego
14. Espinacas con Garbanzos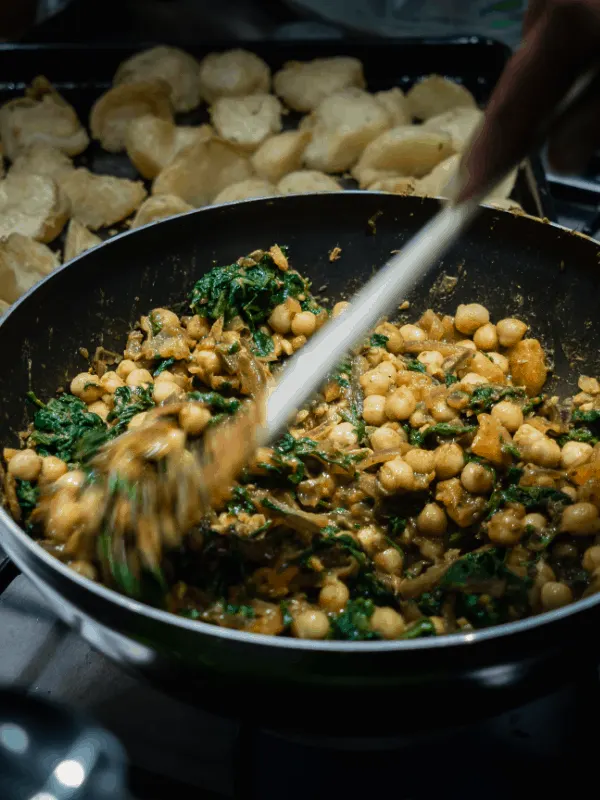 Espinacas con garbanzos, or spinach and chickpeas in English, is one of the most popular vegetarian food in Spain.
It is perfect for when you are looking to have a healthy lunch or dinner, but still want to feel filled up.
Also this dish is served during Lent of Semana Santa in Spain, making the version that's without meat.
Spinach and chickpeas are the main ingredients, and the dish is usually served warm as a side or tapas, but you can serve it as a main dish too.
What we love the most about this recipe is that you can play a lot with the ingredients: switching the spinach for other vegetables, using lentils or beans instead of chickpeas, etc.
Get the recipe: Easy Potaje de Vigilia Recipe – Espinacas con garbanzos
15. Salmorejo
The Salmorejo is one of the oldest Spanish appetizer recipes that there is, dating back to the 1800s.
The recipe was created in Cordoba, Andalusia, but it went through a lot of changes until it reached the form we know today.
The Salmorejo is easy to make, and sometimes people like to pair it up against gazpacho, but we think that that competition is pointless and we should enjoy both dishes.
The Salmorejo is commonly served with chopped boiled eggs on top, and some serrano ham, but you can skip them if you are looking for Spanish vegan recipes.
Get the recipe: Savory Spanish Salmorejo Recipe
16. Spanish Garlic Mushrooms
This is probably the most simple among easy tapas recipes, and we couldn't be more obsessed with it.
As well as other Spanish vegetarian tapas, garlic plays a key role in being the main flavoring agent, but the mushroom also gets to shine.
It is usually served warm, but the great thing about this tapa is that you can serve it cold too.
You can also serve them as a side dish, or make a table filled with Spanish tapas plates of all kinds.
Get the recipe: Easy Spanish Garlic Mushrooms Recipe
17. Spanish Fried Cauliflower
If you are one of those people that think that cauliflower tastes bad or nothing good can come out of it, then you have to try the Spanish fried cauliflower.
This Spanish vegetarian tapas will change your mind immediately, as it is one of the tastiest vegetarian Spanish dishes that you can find out there.
The best part is that you can have it as a side dish, as a tapa, or even as a main dish.
You can serve it at big parties, or when you have just a few friends over at home: they are the best tapa for any occasion.
Get the recipe: Tasty Fried Cauliflower Recipe from Spain
18. Pan Con Tomate
There can be thousands of Spanish appetizer recipes, but no other is more iconic than the pan con tomate.
This is mentioned in multiple books, stories, and songs from Spain, and it has an important place in Andalusian culture.
Everyone from Southern Spain knows how to prepare this recipe because it is extremely simple to make, so you should give it a try.
Get the recipe: Easy Spanish Tomato Toast [Pan con Tomate]
19. Patatas a lo Pobre
Patatas a la pobre are other iconic easy tapas, and what makes them a little bit more popular worldwide is the fact that the main ingredients are potatoes.
The flavor of this dish is simply amazing, and you won't be able to find another recipe like this anywhere in the world.
It doesn't take much effort or time to make this dish, so everyone can try and make it.
Get the recipe: Patatas a lo Pobre – "Poor Man's Potatoes" Recipe
20. Papas Arrugadas
Papas arrugadas, or wrinkled potatoes, are one of the most creative dishes from all of Spain.
Something that makes them stand out is the fact that the potatoes taste like any other potato dish but have a wrinkly texture on the outside.
You can serve them by themselves or with some dipping sauces, from tomato sauce to aioli or the classic condiments, everything goes well with these potatoes.
Get the recipe: Wrinkled Spanish Papas Arrugadas Recipe
Check out other Spanish recipes roundups here:
Short FAQ the Spanish Vegetarian Tapas
Are there vegetarian tapas in Spain?
In this article, we showed you 20 recipes for Spanish vegetarian tapas, but there are more.
You can find thousands of vegetarian tapas recipes, or you can switch some ingredients of the classic tapas and you will end up with a vegetarian or vegan version.
What are typical Spanish tapas?
The typical Spanish tapas are similar to appetizers or entrees since they are small dishes.
They are usually served before lunch or dinner, like an afternoon snack or something that you eat after breakfast
What do Spaniards drink with tapas?
In Spain, Tapas are usually served with beer or another type of alcoholic beverage.
However, if you don't drink you can have them with water, soda, or juice.
---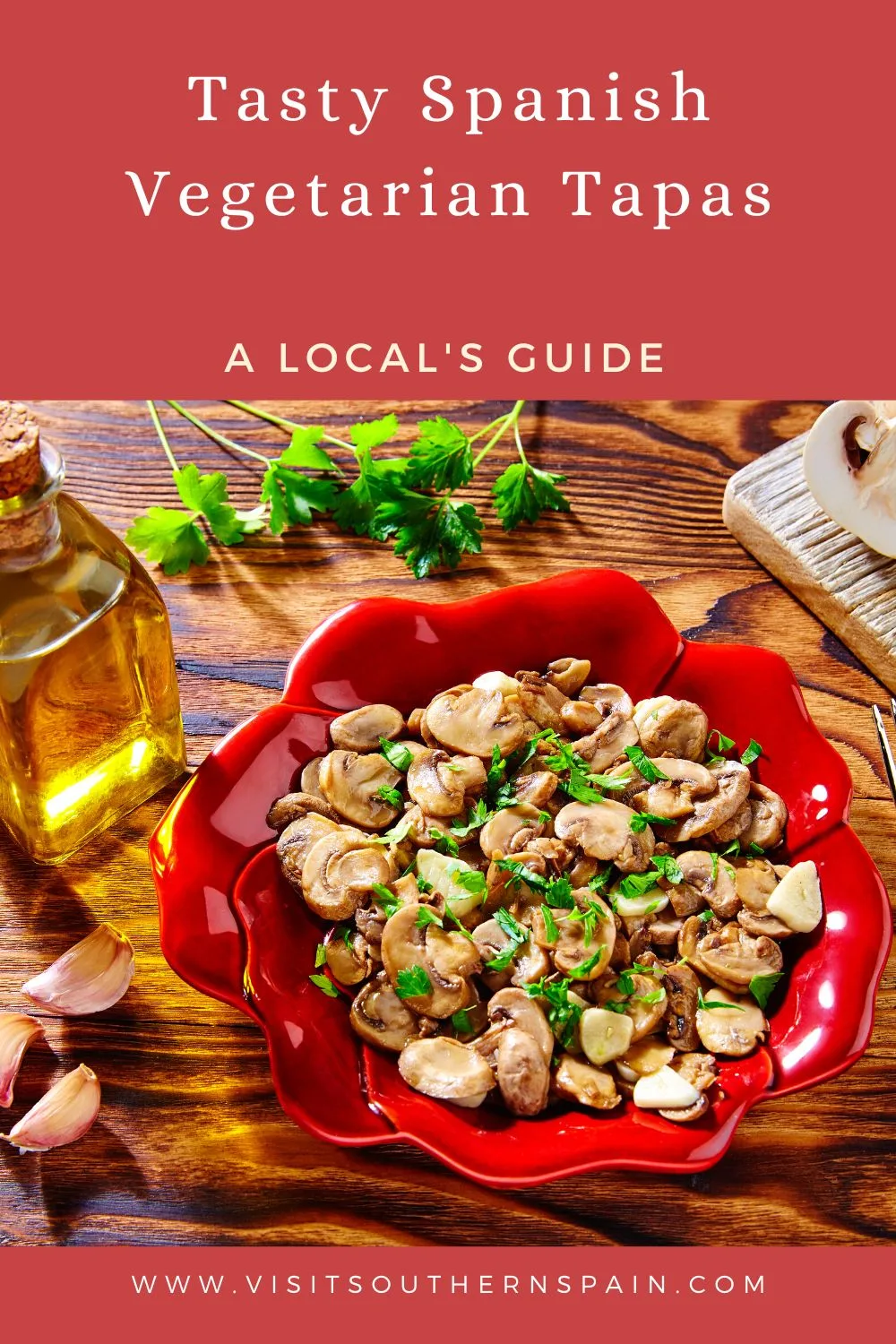 ---
Hola, I'm Paulina! Together with my team, we are passionate about Southern Spain. Here we share all you need to know for great times in Southern Spain with the best places to visit, stay and, of course, the best food to eat.
Let's dive in and explore Southern Spain's outdoors, food and culture con pasión!