Ah, Seville – the vibrant capital of Southern Spain!
From its lively Andalusian charm to its architectural beauty, it's no wonder that this amazing city is a favorite destination among travelers worldwide.
As one of the oldest cities in Western Europe, Seville has something for everyone. We from Visit Southern Spain think that you simply never run out of things to do in Seville!
From exploring its stunning monuments and churches to savoring traditional tapas dishes after a stroll through one of its many parks – you'll never run out of things to see and do here!
Here, we'll go over some top sights and activities that will help you get the most out of your time in Seville!
With stunning architecture, impeccable cuisine and vibrant nightlife, Seville has something for everyone.
From its magnificent UNESCO World Heritage Sites and colorful street markets to its various outdoor activities – kayaking along the Guadalquivir River, practicing flamenco dancing in Triana, or shopping for artisanal products in La Macarena – there are plenty of unique experiences awaiting visitors here.
This blog is supported by you, dear reader. If you purchase through a link, we earn a small commission. As an Amazon Affiliate, we earn from qualifying purchases.
Resources to visit Seville, Spain
✈ Book cheap flights to Seville with Skyscanner

⚘ Avoid tourist traps and get the customizable "Andalucia Like a Local" itinerary. – Get it here

✔ Book tours in Seville with GetYourGuide

➳ Find the best hotels in Seville with Trivago

❖ Rent a car at the best rates with DiscoverCars

✎ Never leave without travel insurance! I get mine at HeyMondo. It is easy to set up, cheap and reliable.

$ Withdraw money without hidden fees and avoid exchange charges with Wise (A free Mastercard debit card to spend money abroad)
Flamenco Seville & more
The city of Seville is a vibrant and lively place, filled with passionate people and stunning architecture.
It's no wonder that it's considered the birthplace of flamenco, a dance style that is as emotive as it is rhythmic.
To experience flamenco in Seville is to immerse yourself in the city's cultural heart, to feel the passion that drives its people and to witness the skill of its performers.
And let me tell you, there's nothing quite like experiencing the passion and energy of a live flamenco performance.
But flamenco is not just contained to Seville.
Throughout Spain, you'll find dance schools, music stores, and performance venues, all dedicated to preserving and sharing this art form with the world.
Flamenco is a way of life in Spain, and experiencing it for yourself is a chance to connect with the country in a truly profound way.
Things to do in Seville
Seville is one of the most charming cities in Spain, boasting a stunning blend of traditional Andalusian architecture, delectable cuisine, and rich cultural heritage.
With so many things to do in Seville, you'll never run out of ways to explore and enjoy this vibrant city.
From visiting the famous Alcázar palace and the incredible Seville Cathedral to strolling through the enchanting Plaza de España and the iconic Triana neighborhood, you'll be immersed in the sights, sounds, and flavors of Seville.
Don't forget to indulge in some delicious tapas and a refreshing glass of sangria, taking in the bustling energy of the city while you do.
Trust me, you won't want to leave this unforgettable place.
Best restaurants in Seville
If food lovers were to find themselves wandering the cobblestone streets of Seville, there would be no shortage of exquisite dining options to choose from.
With so many outstanding eateries in the city, it can be challenging to decide where to begin.
Whether you're searching for a romantic evening out or an immersive culinary adventure, the best restaurants in Seville have something for everyone.
Seville hotels
Seville hotels are a delightful blend of traditional Spanish charm and modern amenities.
From opulent five-star hotels in the heart of the city to charming bed and breakfasts tucked away in the charming suburbs, Seville offers a wide array of options to choose from.
No matter what your budget or preferences may be, there is a hotel that's perfect for you.
Whether you want to stay in a luxurious hotel with a rooftop swimming pool or a quaint bed and breakfast with an intimate courtyard, Seville has it all.
One thing is for certain – a trip to Seville is not complete without experiencing the cozy and comfortable accommodations the city has to offer.
Day trips from Seville
Nestled in the heart of Andalusia, Seville serves as an excellent base for day trips to explore the surrounding cities and towns.
For nature lovers, the Coto de Doñana National Park is just an hour's drive away, where one can spot exotic wildlife and breathtaking landscapes.
Head south to the nearby beaches of Huelva or east to the picturesque town of Carmona to discover stunning architecture and rich history.
For a truly unique experience, venture north to the ancient city of Córdoba, where the impressive Mezquita-Catedral de Córdoba awaits.
Whether you prefer a relaxing day by the sea or an adventure-filled exploration of the region's cultural gems, the day trips from Seville are sure to impress.
How to get from Seville to Granada?
If you're visiting Seville and want to explore the iconic city of Granada, you might be wondering how to get there. Let me tell you, it's easier than you think!
There are several ways to reach Granada from Seville, including driving, taking a bus, or hopping on a train.
Each option comes with its own perks – driving allows for maximum flexibility, while the train offers breathtaking views through the Sierra Nevada mountains.
Whichever mode of transportation you choose, make sure to plan ahead and book your tickets in advance.
And trust me, once you arrive in Granada and catch sight of the stunning Alhambra palace and the charming Albayzín neighborhood, you'll know it was worth the trip. Let's get going!
How to get from Seville to Malaga?
Looking to embark on a journey from Seville to Malaga? Well, let me tell you, you're in for quite the adventure!
Whether you're traveling for business or pleasure, this route is sure to be an exciting experience.
And don't worry, there are plenty of options when it comes to transportation.
From trains and buses to rental cars and private transfers, you'll have no shortage of choices for how to get from Seville to Malaga.
And with the stunning Andalusian countryside to take in along the way, you'll be grateful for whichever mode of transportation you choose.
---
LIMITED OFFER: the Ultimate Andalusia Itinerary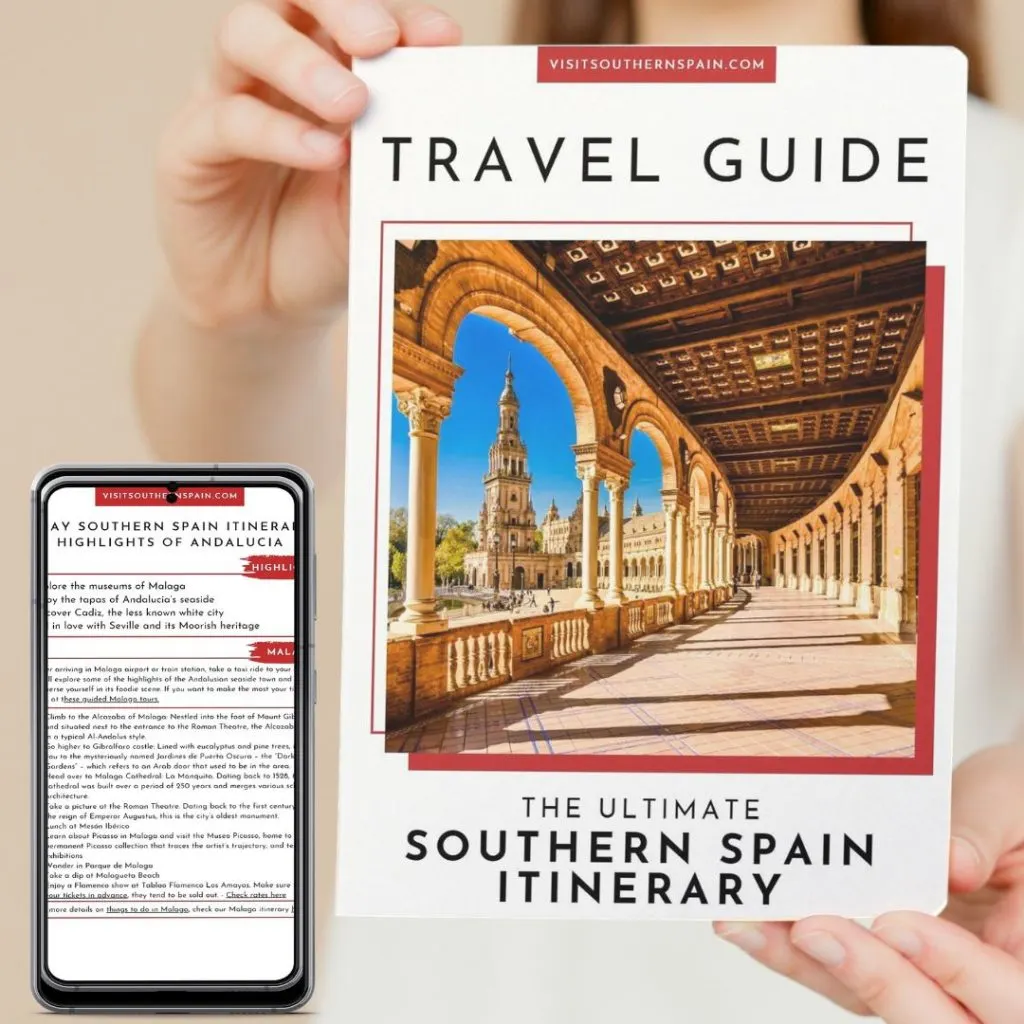 Visit Andalusia like a Local!
After calling Southern Spain my home for several years and organizing customized Andalusia trips, it was about time to put the best places in Andalusia into this handy travel itinerary.
Save time and money, avoid tourist traps and see only the very best of Andalusia.