A guide to the best flamenco shows in Seville for a holiday to remember.
Are you looking for a truly captivating experience while exploring Seville?
From the bright, vibrant dresses of the dancers to the quick clapping and mesmerizing guitar chords – nothing quite compares to a traditional Flamenco show!
Whether you're an avid fan or completely new to this classic art form, prepare yourself for an explosive cultural experience that will leave you enchanted.
Without further ado, here are some of the best flamenco shows in Seville – so get ready to immerse yourself in Andalusian culture at its finest!
This blog is supported by you, dear reader. If you purchase through a link, we earn a small commission. As an Amazon Affiliate, we earn from qualifying purchases.
OVERVIEW: The Best Flamenco Shows in Seville
Whether you're looking to go flamenco dancing or just listen to some flamenco music, in these places you'll find some of the best flamenco Seville has to offer:
La Carboneria
Museo Del Baile Flamenco
Baraka Sala Flamenca
Los Gallos
T de Triana
Auditorio Alvarez Quintero
Useful Travel Information About Seville
✈ Book cheap flights to Seville with Skyscanner

⚘ Avoid tourist traps and get the customizable "Andalucia Like a Local" itinerary. – Get it here

✔ Book tours in Seville with GetYourGuide

➳ Find the best hotels in Seville with TripAdvisor

❖ Rent a car at the best rates with DiscoverCars

✎ Never leave without travel insurance! I get mine at SafetyWing. It is easy to set up, cheap and reliable.

$ Withdraw money without hidden fees and avoid exchange charges with TransferWise (A free Mastercard debit card to spend money abroad)
Best Flamenco Shows in Seville
If you want to learn about flamenco dance history, then the Museo Del Baile Flamenco is the place to head to.
Set within a labyrinth building in Santa Cruz, you'll discover historical artifacts depicting the history of flaminco dancing.
The nightly shows are some of Seville's most highly regarded flamenco shows. And on top of that, it's one of the best museums in Seville that you need to visit.
The venue's stable of artists performs in spectacular flamenco dress as they perform their elaborate routines.
Combined tickets are available for those wishing to take in both the Flamenco Dance Museum and enjoy a flamenco show in this magnificent setting. – Check out tickets for this Flamenco show here.
Opening times:
The museum is open daily from 11:00 – 18:30.
Three shows nightly 17:00, 19:00, 20:45
Where to find it: Calle Manuel Rojas Marcos, 3, 41004 Sevilla
El Patio Sevillano has been around since 1952 and it's easy to see why. The quality of the performances here is truly exceptional.
It even bills itself as 'the oldest flamenco show in Seville', though this is debatable!
The venue has a storied history of hosting many famous flamenco artists throughout the years, something that continues to the present day.
The venue is noted for shows which feature a variety of flamenco styles, performed to the highest standards.
If you're only going to see one flamenco show in Seville, make sure it's the show at El Patio Sevillano. – Check out the guided tour here.
Opening times:
Two shows nightly at 19:00 and 21:30
Where to find it: Paseo de Cristóbal Colón, 11, 41001 Sevilla
Featuring the largest stage in the city, this spacious venue is quite different from most in which you will experience flamenco.
The building is actually a renovated exhibition space (it's not really a palace!) that offers unrestricted sightlines from every seat.
They have three shows a night but be warned, with prices ranging from €46 to €155 for the 19:00 / 21:30 shows, this is not a cheap option.
The more expensive prices do include a meal though, the cheaper ones a drink and chocolate truffle.
You'll find the venue near the Isla Magica amusement park just over the bridge from the magnificent Macarena neighborhood. – Check out entry tickets for El Palacio Andaluz here.
Opening times:
Daily shows at 17:30 / 19:00 / 21:30
Where to find it: Calle Matemáticos Rey Pastor y Castro, 4, 41092 Sevilla
Located in the cradle of flamenco which is the beautiful historical district of Triana, this intimate venue provides seating for up to 50 people and has two shows nightly.
Please note, that they close on Mondays.
This is a great venue for those with families as unlike many other less touristy places, this one allows children of all ages.
Here you will see many types of flamenco such as La Soleá, Tangos, Guajiras, Bamberas, Alegrías and Bulería.
Prices are: Adults – 20€ (with 1 drink) / Over 65 years of age – 15€ (with 1 drink) / Children (from 6 -12 years) €15 / Under 6 free if accompanied by an adult. – Check out tickets for this amazing show here.
Opening times:
Tues-Sun two shows nightly at 20:30 / 22:30
Where to find it: Calle Pureza, 107, 41010 Sevilla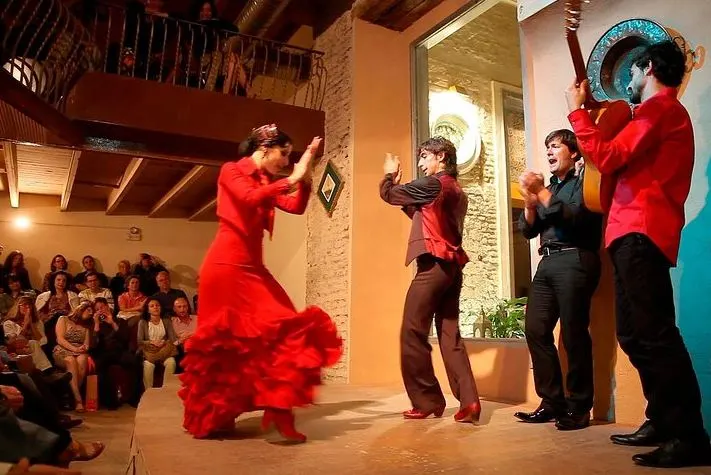 Casa de la Memoria is a great place to learn about the history of flamenco.
This flamenco cultural center features a museum and has live performances of the art (times vary seasonally so make sure to check before you go).
In addition to the flamenco performances, the venue features exhibitions, courses, and conferences that explore the roots of traditional flamenco and its history.
The building is set around a central courtyard and is beautifully ornate.
They put on first-class flamenco performers who due to the magnificent acoustics here are able to perform without amplification. – Get your ticket in advance for their flamenco show here.
Opening times:
Tues-Sat 10:45 – 21:00
Sunday 11:00 – 21:00
Closed Mondays
Where to find it: Calle Cuna, 6, 41004 Sevilla
La Casa de Flamenco is a truly spectacular venue. This historical palatial residence in the heart of Santa Cruz dates back to the 15th Century.
The main courtyard of the building is truly extraordinary as the acoustics allow for performances without microphones and amplifiers.
The amazing acoustics allow the audience to experience beautiful mournful flamenco guitar in a purely unembellished way.
This alone makes this one of the best venues in which to see flamenco shows in Seville.
Show times vary depending on the season so make sure to visit the website of the Casa de Flamenco to ensure you don't miss out.
Opening times:
Daily 10:30 – 21:30
Where to find it: Calle Ximénez de Enciso, 28, 41004 Sevilla
The energetic shows in this intimate theater make this a worthwhile place to see some flamenco in Seville.
The dancers in particular are very highly rated here. You'll find many locals among the audience.
Performance is taken very seriously here with silence expected during the show, allowing the artists to fully concentrate.
They also offer a short introduction to flamenco class which you can attend. This is held 30 minutes after the first show and 30 minutes before the last.
This is a relatively new venue set on the ground floor of a historical building. Seating is for up to 70 people.
Opening times:
Nightly shows 19:00 – 20:00 / 20:30 – 21:30
Where to find it:
Calle Álvarez Quintero, 48, 41004 Sevilla
Another Triana favorite, El Mantoncillo is the place for those who want to go dancing!
The performances here are highly spontaneous with participation encouraged. It can get very lively indeed!
Performances take place early in the evening but that's just the start of it. While the performances are the trigger, the dances continue through the night until the early hours.
This attracts a younger, more energetic crowd.
They serve excellent tapas here too. It's only quite a small bar and be warned that it does get very crowded. If you want to taste the best tapas in Seville, know the options are almost endless.
Opening times:
Bar open Mon-Fri 06:15 – 04:00.
Performances Thurs-Sun 18:00 – 19:00
Where to find it: Calle Betis, 29, bajo izquierda, 41010 Sevilla
Founded in 1966 and set within a magnificent renovated historic home in the Plaza de Santa Cruz, Los Gallos put on some of the best flamenco shows in Seville.
Very few people ever leave this outstanding venue disappointed.
The flamenco shows don't use any sound amplification such as microphones or speakers as the acoustics of the building are such that they're not required.
This helps accentuate the natural talents of the artists.
They feature 8 artists every day and entry is €35. You'll find it near the Alcazar. Make sure not to miss it!
Opening times:
Two shows nightly at 19:00 – 20:15 and 20:45 – 22:00
Where to find it: Plaza de Santa Cruz, 11, 41004 Sevilla
Set within an old coal warehouse, La Carboneria is larger than many of the venues showing flamenco.
However, you may find it difficult to find as there's no sign at the entrance! The shows here are some of the best flamenco shows in Seville.
They have shows nightly. Be warned though, despite the cavernous space, as one of the most famous places to see flamenco in Seville, it gets busy. Shows are free but drinks are compulsory.
They serve excellent and very reasonably priced, tapas here, so if you're looking for somewhere to spend a night whilst taking in some flamenco, this really is a magnificent choice.
Opening times:
Daily 19.00 – 01.00
Where to find it: Calle Céspedes, 21, A, 41004 Sevilla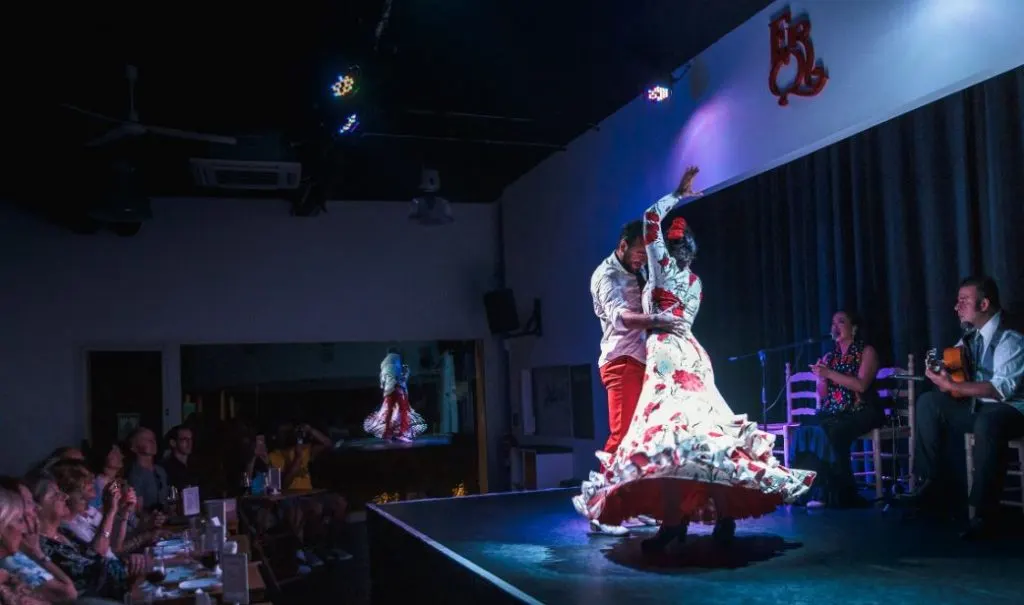 Another venue located in the home of flamenco is the wonderful Triana.
The shows here feature two dancers, one male, and one female, allowing you to see the difference between the male and female styles of dancing.
Tablao Orillas de Triana also works alongside the Flamenqueria Sevilla flamenco school to provide a combined flamenco workshop and show experience for those wishing to know more about the world of flamenco.
The shows here follow the format of a guitar solo, female dancer solo, singing, male dancer solo, and a party finish.
Opening times:
Shows Wed-Sun at 20:30
Where to find it: Calle Castilla, 94, 41010 Sevilla
The live shows at the Tablao Flamenco La Cantaora aim to provide an authentic experience that goes back to the very roots from which the art derives, which is the Andalucian gypsy heritage.
What is unique about the shows here are that they feature a festero or festera, an artist who both sings and dances. They typically perform happy flamenco styles.
This is notable as singing and dancing at the same time is something that few flamenco artists perform.
Conveniently located in the center of town, prices range from €20 for the show only, with other options right through to €70 for the show plus the chef's menu.
Opening times:
Two shows nightly at 19:00 and 21:00
Where to find it: Calle Albareda, 22, 41001 Sevilla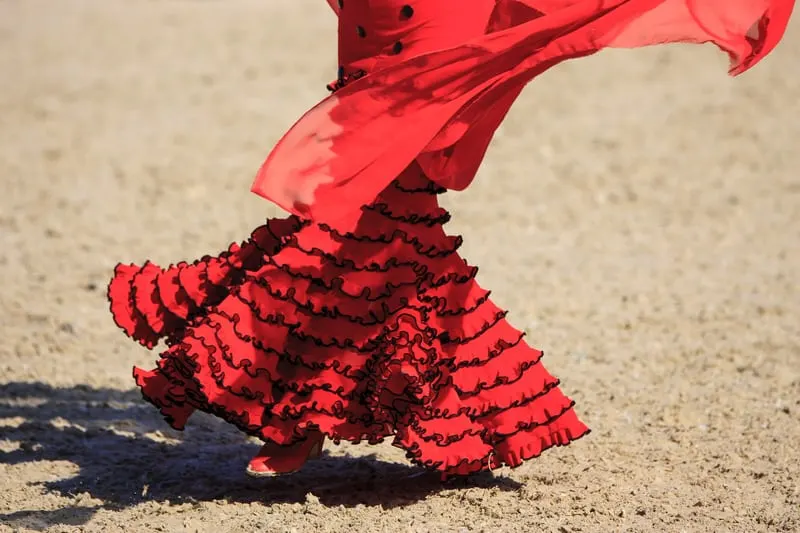 This highly rated venue is located just across the river from the famous Torre del Oro in the delightful neighborhood of Triana.
Make sure to take a stroll around the area after taking in a show here, you won't regret it!
The shows here draw on the broader flamenco tradition, not just the local one.
The singing, dancing, and guitar playing represent styles from the different regions in Spain, with different rhythms and characteristics than those offered in many other venues.
The incredibly creative interpretations of the art performed here make this one of the best flamenco shows in Seville.
Opening times:
Shows daily at 20:00
Where to find it: Calle Betis, 56, 41010 Sevilla
On the banks of the historic River Guadalquivir in the enchanted neighborhood of Triana, you'll find the amazing Flamenco Esencia.
If you wish to experience something truly authentic then look no further!
Set within a traditional Andalucian tavern, Flamenco Esencia is a project established by the flamenco artists themselves.
Their desire was to take flamenco back to its roots, highlighting the spontaneity and intimacy of the artform.
Book well in advance for this one as space is extremely limited with VIP space for a maximum of 20 people and general seating for about 30.
Opening times:
Mon-Fri 18:00 – 01:00
Sat 13:00 – 01:00
Sun 12:30 – 01:00
Where to find it: Calle Betis, 20, 41010 Sevilla
Our Recommendation for the Best Flamenco Shows in Seville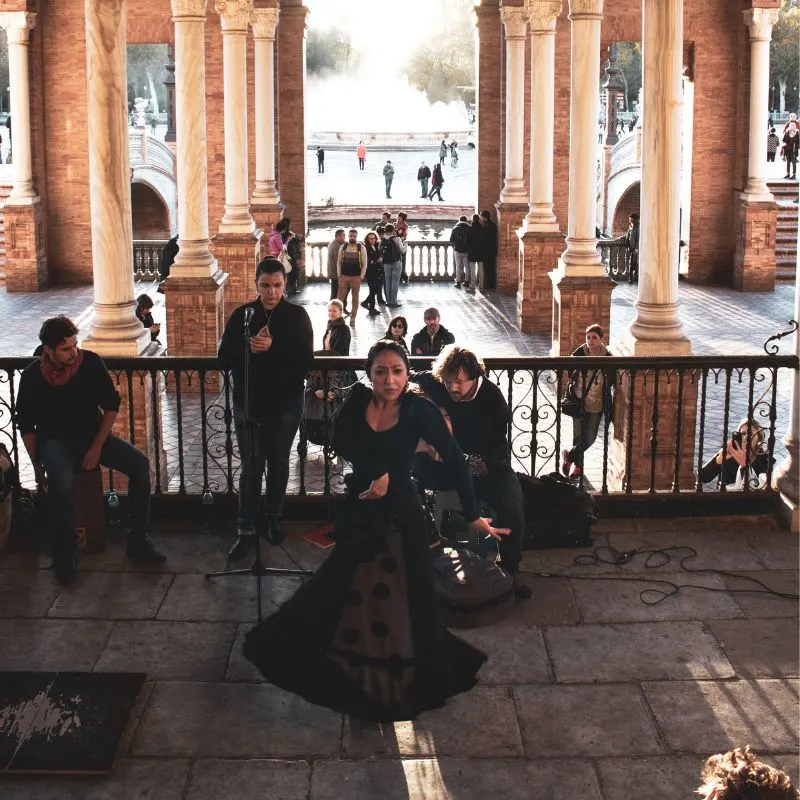 Seville is undisputedly the home of flamenco. Whether its origins lay here are disputed but to wander the city's streets the essence of the music, dress, and dance is simply inescapable.
The city simply pulses to flamenco.
Flamenco dancers in Seville are much like buskers in most countries and you can often witness proponents of the art performing around Seville's various plazas (it's rare not to see any at the Plaza de España for instance).
Expect a hat to be passed around at some point though.
Yet if you wish to experience authentic flamenco in its true surrounds then don't miss the wonderfully atmospheric historical district of Triana.
Triana is the epicenter of flamenco dancing in Seville and to see a performance here is simply unforgettable.
From the Torre del Oro, cross the Guadalquivir River via the Puente de San Telmo (San Telmo Bridge) and step into this historied world of flamenco legend.
If you want to dance, bring your flamenco shoes as it can get lively. – Check out tickets for flamenco lessons here.
While in Seville, you can also take advantage of the beautiful nature and give it a go at the best hiking trails in Seville.
Are you just for one day in Seville? Rest assured that you can still see the best parts of Seville and enjoy a flamenco show as well.
History of Flamenco
The origins of flamenco are those of a performative art of the Gitano (gypsy) communities who arrived in Spain between the 9th and 14th centuries.
The art form is believed to have shaped into the form we now know around the 15th century in Andalucía.
It is a highly spontaneous and intimate art that includes singing, guitar playing, dancing, hand-clapping, and finger-snapping.
Varieties include Bulerías, Alegrías, Fandango, Petenera, Rondeña, Soleá and Tango.
Due to its Gitano roots and popularity among the Spanish working classes, flamenco was initially looked down upon and even marginalized by society.
However, during the Franco reign (1939-1975), the General realized the potential flamenco could have.
Franco used flamenco as a symbol of Spanish national identity. It even formed part of the regime's plan to attract more tourists to Spain.
The assimilation of flamenco into Spanish society was complete. In 2010, UNESCO recognized flamenco as a World Heritage Treasure.
Where to stay in Seville, Southern Spain
There are so many accommodation options in and around the city that you may be wondering exactly where to stay in Seville. Well, don't worry! We've produced a series of guides to help you out.
If you are traveling to Seville with your family, you can rest assured we have a guide to the Best Family Hotels in Seville for a hassle-free holiday.
The Best AirBnBs in Seville are also a great option if you want to live in Andalucia just like a local and together with the best holiday villas in Seville you have many options to choose from.
Of course, we think about your budget as well and this is why we put together a list of the Best Cheap Hotels in Seville for which you don't need to break the bank.
But if luxury is what you're after, take a look at the Best Resorts in Seville for ultimate relaxation in Andalucia's most famous city, as well as the best hotels in Seville with pool.
Whatever you're looking for, we've got you covered!
Short FAQ About the Best Flamenco Shows in Seville
---
How much is a flamenco show in Seville?
As the home of flamenco, there are so many options to choose from.
From free street performances to shows in excess of €75, you'll find a performance to suit your price range.
How long are flamenco shows?
This depends largely on whether you're catching an impromptu performance in a bar or seeing a show.
Shows typically last from one to one and a half hours.
What is a flamenco bar?
Flamenco bars are typically small bars where the atmosphere is more intimate.
They often feature local performers playing to a local clientele. You'll find many in Triana.
---
---
Hola, I'm Paulina! Together with my team, we are passionate about Southern Spain. Here we share all you need to know for great times in Southern Spain with the best places to visit, stay and, of course, the best food to eat.
Let's dive in and explore Southern Spain's outdoors, food and culture con pasión!