A guide on what to eat in Seville, Southern Spain and the best local dishes from Seville, Andalusia
Seville is known as "the capital of Andalusia" and it has one of the richest historical and architectural heritage in the world.
Moreover, some of the typical things associated with Spain such as flamenco dance, sangria drink, and tapa food, all originated in Seville.
This is a town where many cultures reside, merge, and create a wonderful mixture reflected in all aspects of life, especially cuisine.
Wondering what to eat in Seville? Let's dive right into Seville's dazzling ffodie scene!
Hey! Don't forget to grab our free Seville Foodie Checklist below!
To be able to fully grasp the lifestyle of locals in Seville, one must understand tapas as an independent gourmet culture, which is why we will provide you with first-hand experiences through this food guide.
If you happen to be a foodie in Seville, make sure to check our guide on where to eat in Seville.
This blog is supported by you, dear reader. If you purchase through a link, we earn a small commission. As an Amazon Affiliate, we earn from qualifying purchases.
Take a food tour in Seville
One of the main reasons why booking a food tour is a great idea is that you don't have to spend time researching where to eat in Seville, or where to eat in Seville.
It is a perfect opportunity to get to know the local cuisine and taste a variety of dishes while learning about Sevillan gourmet traditions.
If you're interested in other activities, here is our 3-day itinerary to Seville, Spain.
Check all food tours in Seville here
The best part is that there are different kinds of food tours to choose from:
Check all tapas tours in Seville
Make a cooking workshop in Seville
Imagine how exciting it would be if you can make an Andalusian dish on your own when you come from Seville?
Not only you can try all kinds of gems from Spanish cuisine, but you can also get the opportunity to learn how to make some classics such as different types of tapas, Paella or Gazpacho.
With the following cooking classes, it is possible to learn how to cook traditional dishes served as the best food in Seville:
Check all cooking classes in Seville here
---
25 Foods You Must Try in Seville
It is impossible to imagine a trip to Seville without mentioning tapas (and we did mention them many times throughout the guide).
Many other cities in Spain have tapas but in this part of Andalusia, they are more than just food, they are part of the history, the culture, and the lifestyle of each resident of Sevilla.
For those of us who aren't residents of this vibrant city, we recommend our list of best boutique hotels in Seville
1. Churros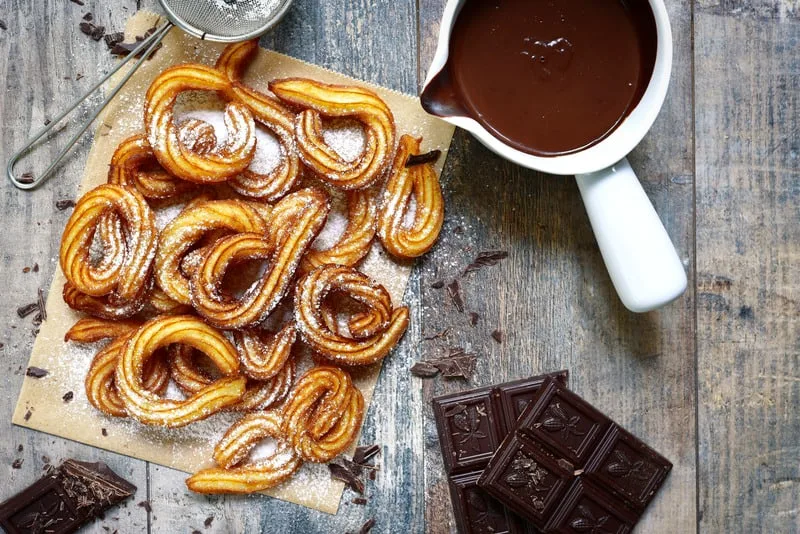 Spain has a very distinct regional cuisine, and churros are no exception. Churros in Seville are also known as calientitos and they are typically airy and dipped in hot thick chocolate.
Some consider churros con chocolate to be the best breakfast in Seville. Note that traditionally churros must be served as either a snack or breakfast.
There are several places (some of them are known as churrerías) around the city center where you can eat the best churros in Seville.
Where to try: Bar Comercio
2. Carrillada de Cerdo
Or simply the braised pork cheeks. It is a very traditional way of preparing pork meat which also means that it can be found in pretty much all places to eat in Seville.
The usual ingredients that are paired with the pork cheeks are garlic, carrots, and other vegetables. Personally, I couldn't imagine a good carrillada del cierdo without a glass of red wine (or a few).
Where to try: Eslava Restaurant
3. Montadito de Pringá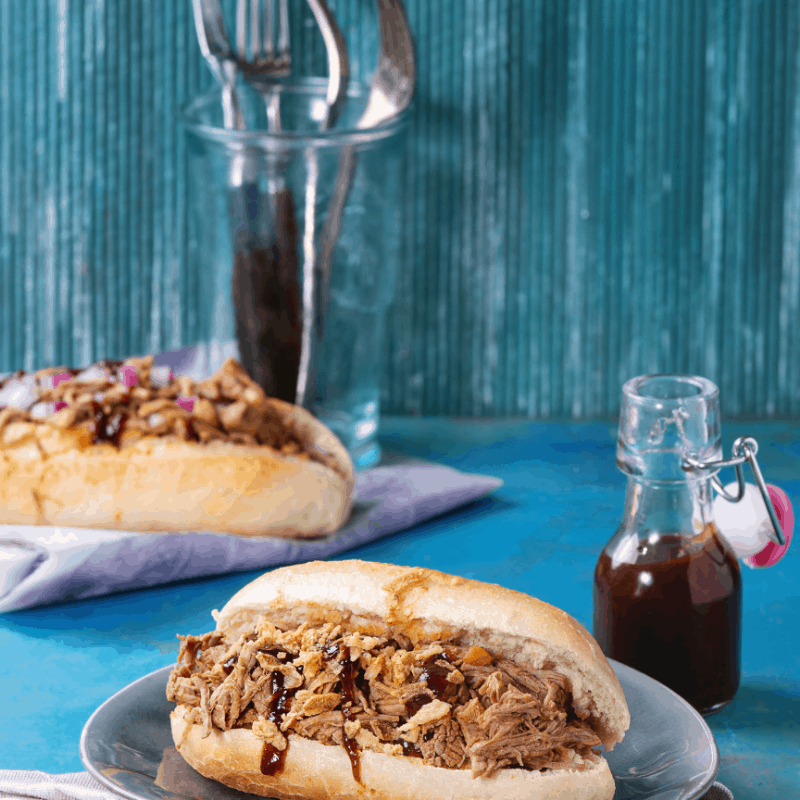 Another Sevillan pork specialty, the pork sandwich that tastes better in Seville than anywhere else in the world.
The main ingredient of this sandwich consists of leftovers of Sevillan stew known as puchero.
Montaditos de pringá is also served as a bite-sized portion, so make sure you don't over-order, especially if you consider them the best food in Seville as I do. You can find the montaditos in any traditional tapas bar.
Where to try: Bodeguita Romero
4. Tortitas de Aceite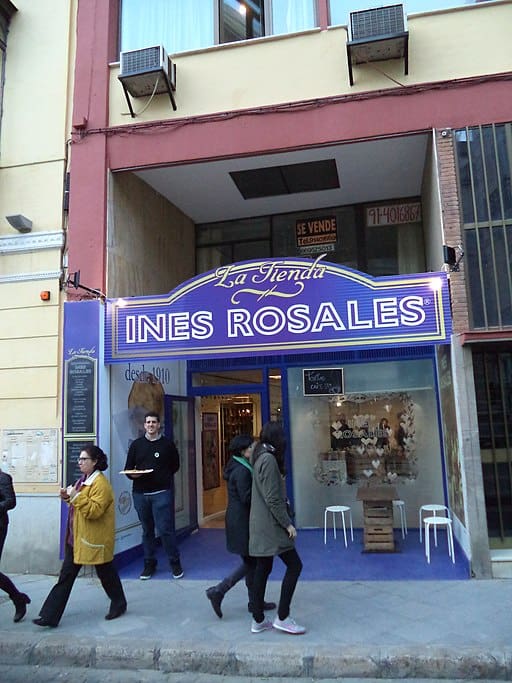 There is an interesting story about this famous pastry made mostly from flour, virgin olive oil, wheat, sugar, and different kinds of seeds.
According to the story, tortitas de Aceite is a family recipe, rescued by Inés Rosales, and it was her, along with many other women from the area who later started the production of tortitas that became worldly known.
That's why you can always expect to find a crowded shop at Inès Rosales.
In order to make the most of your time in Seville, consider booking a food tour in Seville. – Check rates here
Where to try: Confiteria La Campana
5. Cazón en Adobo
The main ingredient of Cazon en adobo is boneless whitefish. Still, the easier ingredient to acquire, thus more commonly used, is dogfish. The fish is marinated and fried after it is cut into middle-sized cubes.
The marinade is commonly made using spices such as black pepper, garlic, paprika (all typical spices for Spanish cuisine), and flour is used before deep-frying the cubes.
If you want to make this tasty dish at home, have a look at our cazon en adobo recipe.
Where to try: Casa Antonio Los Caracoles
6. Serranito de Lomo
The history of Serranito de Lomo can be traced back to the 1970s. It is also known as bocadillo, but in plain English, it is translated as a bite-sized sandwich.
It is mainly made of crusty bread rolls called viena Andaluza, slices of fried pork loin, and a specific type of ham known as Jamon Serrano.
The great thing about Serranito de Lomo is that it can be found in the simplest places, but it can also be served in the best restaurants Seville has to offer.
To better understand the structure of the city, check out the list of the best neighborhoods to stay in Seville.
Where to try: En La Espero Te Esquina
Get the Recipe: Easy Spanish Sandwich Recipe
7. Espinacas con Garbanzos
When speaking about the signature dishes of Sevilla, Espinacas con garbanzos can't be overlooked. It is an Andalusian version of Spanish spinach and it is, of course, considered to be one of the most classical tapas to eat in town.
Many food lovers consider it to be among the best food in Seville, and they call this dish ''a true gourmet find'' since it showcases both the history and influence on the overall food culture of the city.
If you want to learn how to cook typical dishes from Seville, consider booking a cooking class in Seville. – Check cooking classes here
Where to try: El Rinconcillo
8. Torrijas
Torrijas are a common sweet in Spain, especially during holidays such as Easter.
Although it is not necessarily a Sevillan dish, locals have their own version of the recipe that makes torrijas made here different from torrijas made elsewhere.
The bottom line is that torrijas are pieces of bread that are later soaked into a combination of wine, honey, and spices, and finally fried after being coated with eggs. They are served in many bars in Seville.
Where to try: Perro Chiko Tapas Bar
9. Vermouth del Grifo
Vermouth is a drink that is considered to be one of the most important aperitifs in Spanish cuisine.
You will hear from the locals that vermouth is something that was typically enjoyed by previous generations, however, these traditional drinks had a major comeback in recent years.
It is a perfect way to start an evening in any part of the city, and it can be enjoyed in both regular and the best bars in Seville.
A glass of vermouth is often included in the best food tours in Seville. – Check reviews here
Where to try: Caza Vizcaino
10. Bull's Tail (Rabo de Toro)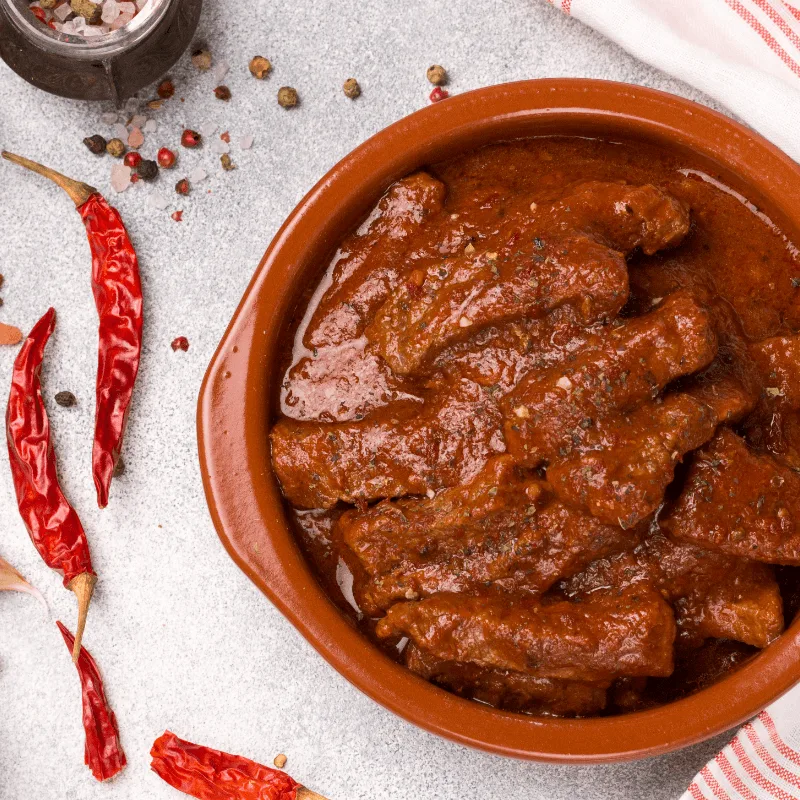 Another commonly eaten and highly praised dish. This stew also has a very rich historical background starting with Roman times.
It is often called an ''old-fashioned'' meal, but despite being simple in preparation, its taste is extremely delicious and complex in texture.
Where to try: Pelayo Bar
11. Flamenquin
As you know, Seville is a town known for flamenco. And if there is a flamenco star among the typical food in Andalusia, it should be known as Flamenquin. Flamenquines are meaty snacks in their essence.
They are popular in tapa bars in Seville, however, they are originally from Cordoba, another big Andalusian city.
Where to try: Santa Marta
12. Salmorejo
There is nothing better than a cold refreshing Andalusian soup on a hot summer day in the Mediterranean.
The main ingredients of Salmorejo are pureed tomatoes, but garlic, vinegar, bread, and oil are also added.
It is a creamy soup that can be served as a tapa or as a sauce depending on the accompanying dish.
Where to try: Restaurante Eslava
13. Croquetas
When talking about the hallmarks of Sevillan cuisine, one must mention some of its finest and most amazing dishes such as croquetas.
They can be made with almost anything, you can have them with raisins, spinach, meat, peanuts, and so on.
Croquetas allow you to constantly evolve a traditional recipe with twists of flavors which makes it one of the most valuable and entertaining items on a menu.
Where to try: Casa Ricardo
14. Presa Iberica
Any person who was interested in the Spanish cooking world at least a little must have heard for Iberian pigs.
Other than Jamon Iberico, which is the best-known product of these animals, there is Presa Iberica, or grilled pork shoulder.
Of course, it is mainly served as a tapa, but it can also be used for making a mouth-watering sandwich.
Where to try: La Escalona
15. Orange Wine (Vino de Naranjas)
Seville, along with the rest of Southern Spain has a bit different definition of orange wine than other cultures.
To make a typical Vino de Naranja in Sevilla, one must have a white vine from Huelva which is sweet, and combine it with bitter Seville oranges.
It is a delicious drink that will make you think of Spain every time you take a sip.
Where to try: Quitapesares
16. Sherry (Jerez)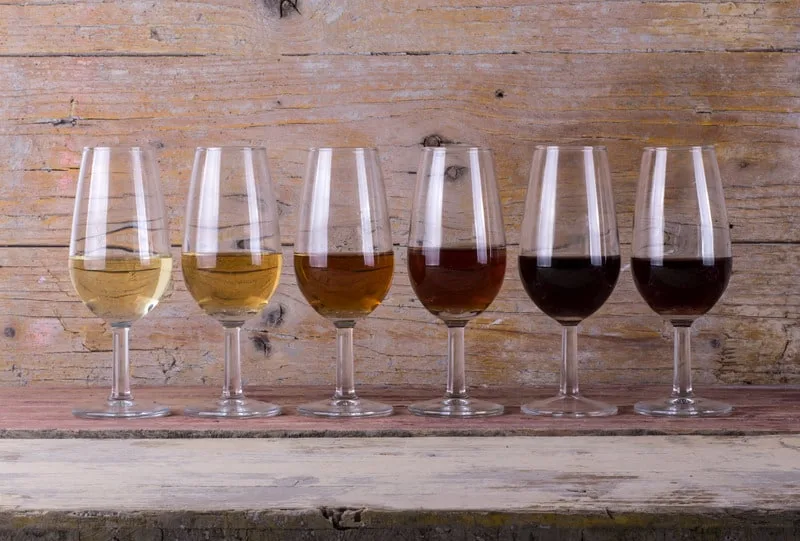 It is impossible to imagine a local cuisine in Sevilla without Sherry wine.
The main reason is the fact that Sherry is actually an Andalusian product and that it can increase the sensitivity of your taste buds.
This is why Sherry is very often ordered as an aperitif, it is a common thing to do among locals. Still, make sure you stick to one glass and not one bottle, at least before the meal.
Where to try: Palo Cortao
17. Chicharrones
Although nowadays there are many vegetarian and vegan-friendly bars in Seville, pork is life in the south of Spain.
It is heavily incorporated into local cuisine, and chicharrones are a good example of how we use each and every single part of pork to make delicious food.
It is possible to find two types of chicharrones in the town, the first one is known as Chicharrones de Sevilla or deep-fried pork rinds, and the other one is known as Chicharrones de Cadiz which are pork belly chunks roasted with spices.
If you want to learn how to cook traditional food from Seville, why do a cooking class in Seville? – Check reviews here
Where to try: Taberna Alvaro Peregil
18. Sangria
When it comes to table drinks, sangria is the best-known liquid in Spain.
Although many countries claim they somehow participated in creating this popular drink, the truth is that the word sangria, along with the drink itself, originates from two countries – Portugal and Spain.
In Sevilla, it is almost a sin not to accompany at least one of the meals (usually lunch or dinner) with a shot of sangria. It is the most common and probably the most popular drink of multiple generations.
If you like your Sangria on the beach, we recommend checking our list of the most fabulous beach resorts near Seville, Spain.
Where to try: El Pintón
19. Jamón Iberico
The Iberian breed is one of the biggest points of pride in our nation, and it is praised by the whole world. It is one of the most special products that boost our cuisine to unimaginable heights.
Iberian pigs have existed in this peninsula for thousands of years, and one can not say that they have visited Seville without trying at least a slice of Jamon Iberico.
This ham has by far the greatest overall influence on our market, and a good number of our dishes which makes it one of the most luxurious, thus, best food in Seville, for sure.
Where to try: Mechela
20. Solomillo al Whiskey
This is also a very traditional dish created in Seville. The dish consists of pork tenderloin and whiskey sauce which has a lot of garlic.
Additionally, it has flour, potatoes, lemons, and spices added to taste.
It is commonly served as a tapa in most of the places to eat in Seville.
Where to try: El Baratillo
21. Andalusian Cocido
The simplest way to describe cocido is to say that it is a chickpea stew, and this one is typical for Andalusia.
History has it that there is another name for this dish – olla podrida, and that it was used in one of the most famous literature classics ''Don Quixote''.
When it comes to tradition, cocido is typically served in at least two courses, which means that it is commonly a lunch rather than some other meal.
Where to try: El Caminante Andaluz
22. Huevos a la Flamenca
A dish vibrant in colors and ingredients, Flamenco styled eggs bring out the super balanced flavor while continuing to gain popularity throughout Sevilla.
These eggs are also served as a tapa, and their aroma and visual appeal lure you in quickly.
There are different stories about the origin of the name, for example, one says that the creator of the dish once saw a flamenco dancer, and later on the ingredients reminded of her dress.
But the fact is that huevos a la flamenco is one of the most endearing recipes in Sevillan cuisine which makes them even more interesting.
Where to try: La Sacristía de Sevilla
Get the recipe: Best Huevos a la Flamenca Recipe
23. Paella
Even though paella is actually a signature dish from Valencia, and its origin goes even further back, in Arabian cuisine, Sevilla has a nice and wide range of paella offers.
It is believed that the first Spanish paella was made by a Valencian farmer who used all available ingredients such as rice, water, tomatoes, snails, etc.
Nowadays, the most popular paellas are seafood paellas which are also the latest version of the dish, contrary to the rabbit and much older chicken versions.
Where to try: La Paella Sevilla
24. Cruzcampo Beer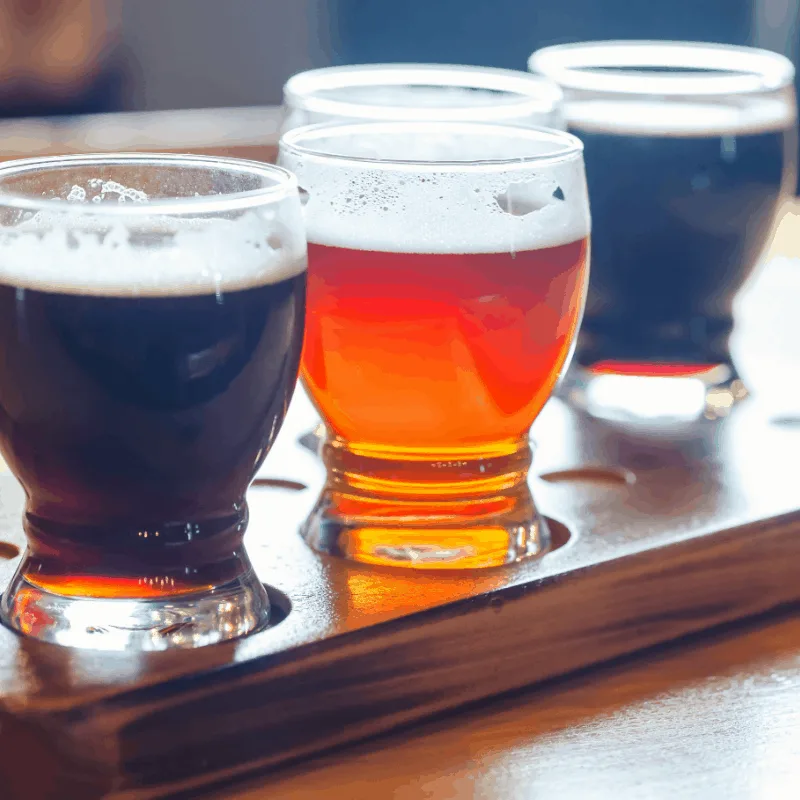 Cruzcampo is a beer brewery in Sevilla, founded in 1904. It is one of the landmarks of the region and the most popular lager beer in Andalusia.
Some tourists will indeed look for the best coffee in Seville, but most of them will ask for a good local beer first.
That is where Cruzacampo kicks in. Cruzcampo has a few different beer types, also craft beer and the fun fact is that this was the first Spanish brand that created a non-alcoholic beer over 40 years ago.
Where to try: Maquila bar
25. Dulces de Convento
There is a rich history and countless stories about the kitchen skills of the nuns and their sweets. History indisputably says that in Spain, nuns were originally pastry chefs.
There are several convents in Seville where it is possible to buy so-called Dulces del Convento, and one of the well-known convents is San Leandro, founded in 1295 by the order of Augustinian nuns.
It is important to remember that there are two systems for selling Dulces del Convento. The first one is when the nun has no contact with the outside world or torno system, and the other one is a face-to-face system which allows you to get in touch with the nun and buy sweets from her.
Where to try: Convento de San Leandro
You can't get enough of the best Seville food? Have a look at our webstory about the best things to eat in Seville.
---
Short FAQ about the best Seville food
What tapas to eat in Seville?
We recommend trying the Espinacas con Garbanzos, which is one of the most common and delicious tapas in town.
What to eat for breakfast in Seville?
If you have a sweet tooth, churros con chocolate might be the best breakfast option for you to try on your holiday in Seville.
What to eat in Triana, Seville?
Besides countless local foods, we recommend not missing out on the Iberian ham, while visiting Triana in Seville.
---
---
Hola, I'm Paulina! Together with my team, we are passionate about Southern Spain. Here we share all you need to know for great times in Southern Spain with the best places to visit, stay and, of course, the best food to eat.
Let's dive in and explore Southern Spain's outdoors, food and culture con pasión!