A guide on where to stay in Seville and the best hotels in Seville according to every district in Seville
Few European cities can compete with the charm of Seville, often referred to as Spain's most beautiful city.
The birthplace of flamenco and the home of tapas, this is a city full of life, passion, and artistic heritage that will excite the senses!
Home to many UNESCO World Heritage sites, the neighborhoods of Seville are steeped in history, tradition, and culture.
From the Romans, the Phoenicians, the Christians, and the Arabs, the influence of the many cultures that have passed through and left their mark on the city is fascinating and is what makes Seville truly unique.
But where is the best place to stay in Seville, Spain?
From the city's tourist heart in the cobbled mazes of Barrio Santa Cruz, centered around the largest gothic cathedral in the world, to the bohemian Macarena and lively Triana, there is truly something for everyone in the endearing neighborhoods in Seville.
If you're unsure on where to stay in Seville, with our extensive expertise, we've put together a guide to help you find the best places to stay in Seville, Spain, with something to suit every taste and budget.
We'll guide you through the very best sights, the hidden gems, how to get around and the best times to visit, so you can decide which neighborhood is the best area to stay in Seville, Spain for you.
---
Overview: Where to stay in Seville, Spain
---
Best Places to Stay in Seville for Sightseeing & First-Timers: Santa Cruz
In Seville Old Town you'll find Santa Cruz neighborhood, the heart of the city, and one of the best areas to stay in Seville, Spain. It's ideal when sightseeing is your priority.
Authentic and charming, it'll be no surprise if this ancient area of the city center seduces you within an instant!
The iconic Seville Cathedral is the natural focal point of this old Jewish neighborhood and cannot be missed! The biggest Gothic cathedral in the world, it's an architectural sight to behold.
Here you can also visit the tomb of the famed explorer Christopher Columbus. If you can navigate the steep steps, we recommend climbing the Giralda bell tower for spectacular views of the city.
If it's your first time in Seville, there's no better activity than getting lost in the maze of cobbled streets with delightful surprises around every corner. Browse the quaint little shops of ceramics and other handicrafts for unique souvenirs and gifts.
There are many walking tours available, both free and for a fee, where you can learn all the interesting and unusual stories about this fascinating neighborhood.
Generally thought of as the best place to stay in Seville, accommodation in Santa Cruz varies from the most extraordinary 5-star hotels in Seville, Spain, to some of the best boutique hotels in Seville.
As Santa Cruz is located so close to the tourist highlights, you'll find that the prices will generally reflect that, however, you'll find that the quality of the accommodation is extremely high, this is the area that you'll find some of the best hotels in Seville, Spain.
Good news, many of them come with fabulous rooftop terraces!
Best Hotels in Seville: Santa Cruz Neighborhood
Budget
Mid-Range
Family-Friendly
Luxury
Where to stay in Seville for Flamenco lovers: Triana
Seville is the birthplace of flamenco and it all began here in Triana.
Humble, down-to-earth, and full of artistic flair, the neighborhood has historically been home to artists, dancers, sailors, gypsies, bullfighters, and potters. If you want to blend in with the locals, this is the most authentic place to stay in Seville.
For your flamenco fix, make a beeline for Calle Betis. Here you'll find live flamenco and an array of fantastic bars, restaurants and music venues lining the gorgeous river.
Head to the Mercado de Triana for an abundance of local food stalls, florists, beer and juice bars, and eateries. Located near the Puente de Isabel II bridge, the market is lively, authentic, and vibrant. Try the salmorejo soup for a real taste of Seville!
Once you've fuelled up on the delicious authentic tapas and other wonderful foodie offerings, wander the craft stalls and shops selling ceramics – the area is historically home to glazed-tile production.
Photographers will love the 'corrales', tiny buildings with flower-filled courtyards, once home to the gypsy families that became Spain's greatest flamenco dynasties.
Under the market, you'll find the Castle of San Jorge, another historical site worthy of a visit. Over a thousand years old, you can wander the grounds and transport yourself as you meander through the old prison and tribunals.
It is one of the best places to stay in Seville for history lovers.
If you're looking to stay in this lively area of the city, here you will find the best boutique hotels in Seville, steeped in authenticity, as well as some of the best self-catering apartment rentals in the city.
Best Places to stay in Seville: Triana Neighborhood
Budget
Mid-Range
Family-Friendly
Luxury
Best Places to Stay in Seville for Nightlife: Macarena
For a more bohemian vibe, head to Macarena, one of the most lively areas of Seville. This neighborhood is an excellent location to explore the one-off vintage shops and antique bookstores.
You will find some of the best hostels in Seville in Macarena, one of Seville's coolest neighborhoods. Macarena is a great area to find cheap accommodation in Seville, with colorful and traditional dwellings, you certainly get value for money staying in this area.
Macarena also has an excellent market in Mercado de la Feria. The freshly cooked paella and croquettes served here are must-tries!
Ideal for the night owls among you, the Macarena neighborhood is young, vibrant, and alive with life until the small hours of the morning, with a range of bars hidden in nooks and crannies around the area.
Macarena is also home to the oldest tapas bar in Seville, and potentially the oldest in the world, El Rinconcillo, built in the 1670s! Another excellent neighborhood to enjoy Seville's buzzing nightlife, in perhaps a more refined manner, is the area of El Arenal.
Macarena is one of the best places to stay in Seville for nightlife fans!
This area is also steeped in history, enjoying a walk down the river, passing by the beautiful 13th-century watchtower Torre del Oro.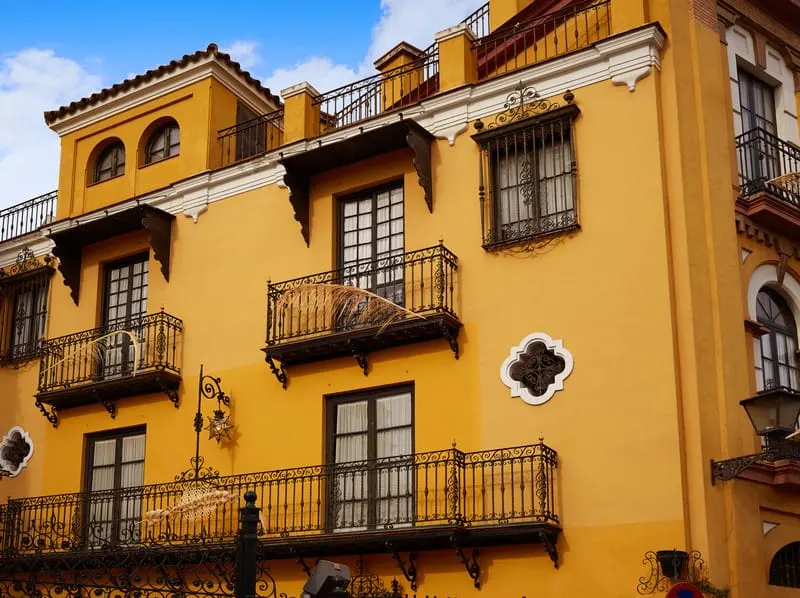 Best Places to Stay in Seville (Macarena Area)
Budget
Hotel Sevilla **
Hotel Boutique Doña Lola **
Casa Palacio Don Pedro **
Hotel Doña Blanca **
Mid-Range
Eurostars Regina ***
Hotel Plaza Santa Lucía ***
Soho Boutique Sevilla ***
Patio de La Alameda ***
Luxury
Hotel Casa de Indias By Intur ****
One Shot Palacio Conde de Torrejón 09 ****
Hotel Ateneo Sevilla ****
Hotel Posada del Lucero ****
Where to stay in Seville for boutique hotels: El Arenal
However, El Arenal is most famous for its bullfighting ring in the heart of the area, Spain's second most important bullring after the Plaza de Las Ventas in Madrid. Visit the ring of Maestranza and learn about the sport in the museum on site.
Be sure to also take in the Plaza del Cabildo. A picturesque plaza dotted with murals, arcades, columns, and surviving parts of a medieval Moorish wall.
For some of the best boutique hotels in Seville and a more upmarket experience, you can find many options in El Arenal.
Best hotels in El Arenal, Sevilla
Budget
Petit Palace Canalejas Sevilla **
Un Patio al Sur **
Hotel Europa Boutique Sevilla *
Basic Hotel Sevilla Catedral *
Mid-Range
Hotel AACR Museo ***
Reyes Católicos ****
Petit Palace Puerta de Triana ***
Adriano Boutique Sevilla ***
Luxury
Hotel Colón Gran Meliá *****
Hotel Mercer Sevilla *****
Hotel Bécquer ****
Hotel Kivir ****
Where to stay in Seville for families: Los Remedios
Another lovely neighborhood in Seville is Los Remedios, a largely residential area, with large, straight, tree-lined avenues.
Upscale Los Remedios is quieter than other areas of the city, making it perfect for families.
For fashion lovers, the neighborhood is a treasure trove of upscale clothing boutiques and stunning interior stores.
On sunny days, and let's face it, that's most days in Seville, enjoy a leisurely stroll in the Parque de los Principes. There are playgrounds and plenty of green spaces for the little ones to run around and play. Stop for refreshments and the Kiosco Bar Principe and relax by the lovely duck pond.
A short walk away to the river offers opportunities for kayaking, rowing, and other water-based activities, so there's plenty to keep the children entertained!
Though we've mentioned Los Remedios is quieter than other areas, the neighborhood comes alive in April.
Should you be visiting for the annual Feria de Abril to enjoy the bullfights and parades, this is where it takes place, so is an extremely convenient place to stay for the festivities.
It's considered one of the best places to stay in Seville during the April Fair.
Best Places to stay in Los Remedios, Sevilla
Budget
Apartamento Sevilla Centro Remedios *
El Hechizo
Apartamento Triana Los Remedios
Azahar de Sevilla
Mid-Range
Wish Suite Sevilla Penthouse
Green-Apartments Puerto de Magallanes
Apartamento frente a Triana
T&L TRIANA LOFT de diseño
Upper Range
Deluxe Apartment La Feria
Monte Carmelo ****
Casa del Poeta Triana Suite & Homes
Minty Stay – San Telmo
Where to stay in Seville for business travelers: La Cartuja & Nervión
If you happen to be in Seville for business rather than pleasure (although the two can go hand in hand here!) the neighborhoods of La Cartuja and Nervion are excellent choices.
The accommodation options are varied in both Nervion and La Cartuja, with clean-cut business hotels, brand-name favorites and characteristic luxury apartments all on offer.
Nervión
Nervion is an important commercial district of the city, where most of the region's business takes place. It's also only a 5-10 minute walk away from the train station of Seville.
Upmarket Nervion is home to Sevilla FC football team, so naturally, the heart of the area is the impressive Ramon Sachez-Pizjuen Stadium.
There's a large mall, with big-name fashion boutiques and of course, you're never short of fantastic tapas bars and restaurants. Take a break in the beautiful park of Jardines de la Bulgaria. The stunning green area plays host to a number of festivals and activities all year round.
Come evening, Nervion is one of the best places to stay in Seville for several stylish, upscale bars and restaurants, perfect for entertaining clients and colleagues with a cocktail.
Best Hotels near the train station, Seville
Mid-Range
Hostal Sevilla Santa Justa – Adults only *
Wish Suite Gonzalo Bilbao
AACR Hotel Monteolivos ***
Hotel Alcázar
Luxury
Hotel Palacio De Villapanés *****
Melia Sevilla ****
Ayre Hotel Sevilla ****
Melia Lebreros ****
La Cartuja
La Cartuja, located on an 'island' of sorts on the Guadalquivir River, just south of the Triana neighborhood is another excellent neighborhood for business travelers.
It was host to the Exposición Universal 1992, known as Expo 92, and the area now houses an impressive technology park. The research and development complex employs over 15,000 people.
If you are traveling with children (or are young at heart!) then the Isla Magica amusement park is a must-visit, with live shows, roller coasters, log flumes, and a whole host of other rides and activities.
This area is also home to some fantastic concert halls and theatres, including the Rocio Jurado auditorium. If you are in Seville for a show or convention, this is a great place to stay.
Mid-range
Fantástico ático
AlohaMundi Castilla I
AlohaMundi Castilla II
Exe Isla Cartuja ****
Luxury
Eurostars Torre Sevilla *****
Barceló Sevilla Renacimiento ******
Where to stay near Seville airport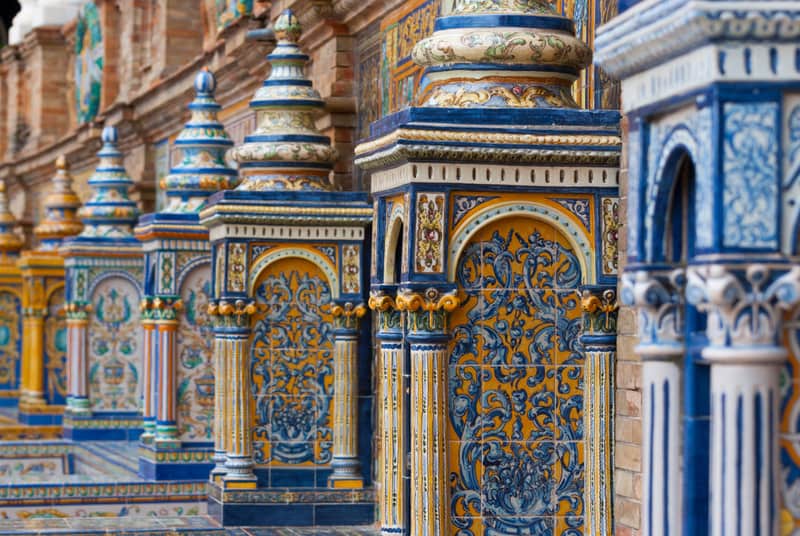 With Seville International Airport (SVQ) just 10km (6 miles) east of Downtown Seville, staying here can be a very smart option.
With an array of airport hotels and a multitude of transport options to and from the city, it's certainly very convenient. Hotels tend to be much cheaper than those downtown too, so this is an excellent option if you are on a budget.
Buses operate from 5.20 am to 1.15 am and usually take around 1h to reach the city center. I strongly recommend booking an airport transfer since traffic can be intense in Seville. – Check airport transfers here
The airport itself is very beautiful too, with an orchard of orange trees and traditional glazed tiles welcoming you on your arrival.
Should your flight in or out of Seville be in the early hours, staying nearby will certainly ease some of the stress that comes with air travel!
Best Hotels near Seville Airport
Ibis Sevilla *
M.A. Hotel Sevilla Congresos ****
Vértice Sevilla *****
AC Hotel Sevilla Forum *****
---
What to do in Seville?
There are just so many attractions in Seville, Spain. The city is awash with sights, activities, and nightlife, it's hard to know where to begin!
It goes without saying, that taking in the incredible historical sites is a must!
From the largest gothic cathedral in the world and Giralda Tower to the Real Alcazar Palace, the unique Plaza de Espana to the romantic Puente de Triana, this city will spoil you with its stunning cultural heritage.
And speaking of heritage, flamenco is one of the city's most treasured traditions. Catch a live show in one of the many venues in the Triana neighborhood or visit the Museo del Baile Flamenco.
Far from a regular museum, you'll learn all about the music, dancing, and historical heritage and you can even take flamenco lessons yourself! The museum hosts a show every evening and you can book tickets along with your museum entry or separately.
Seville is also home to some world-renowned festivals, one of which is the impressive Feria de Abril event. This fiesta takes place around two weeks after Easter and is a weeklong party of food, drink, and dancing with thousands of marquees! Most certainly an unforgettable experience.
---
What is Seville famous for?
As well as oranges, flamenco, and bullfighting, Seville is famous for its incredible tapas, and every neighborhood has a host of excellent tapas bars. Eat like a local and try some Andalusian food such as Albondigas de Choco y Gambas (cuttlefish meatballs) or Costillas al Miel, (honey glazed ribs) some of the local specialties!
If you are a foodie in Seville, make sure to read our guide about what to eat in Seville.
For the more active among you, Seville offers bike rental and bike tours, a great way to explore the city. The city is well-equipped with bike lanes and cycling along the river is a lovely experience.
Water sports are also available in the Los Remedios area. Here you can partake in paddle boarding, kayaking, and rowing, perfect activities for the hotter summer days.
In case you want to escape the heat, we recommend considering a getaway to the best beach resorts near Seville.
How to get around Seville?
The best way to get around Seville is on foot. Seville is extremely pedestrian-friendly with its relatively small size and most of the major attractions, shops, and restaurants being within walking distance of one another.
There is an abundance of walking tours in the city, from standard historical walks to photography and food tours.
Bicycles are another popular mode of transportation, and a great way to see the sights should be short on time! Seville hosts a great bike share program called Servici and the city well designed with bike lanes throughout.
Buses are a reliable way to get around the city. The Tussam bus service offers access to nearly all neighborhoods in and around Seville.
What is the Best Time to visit Seville?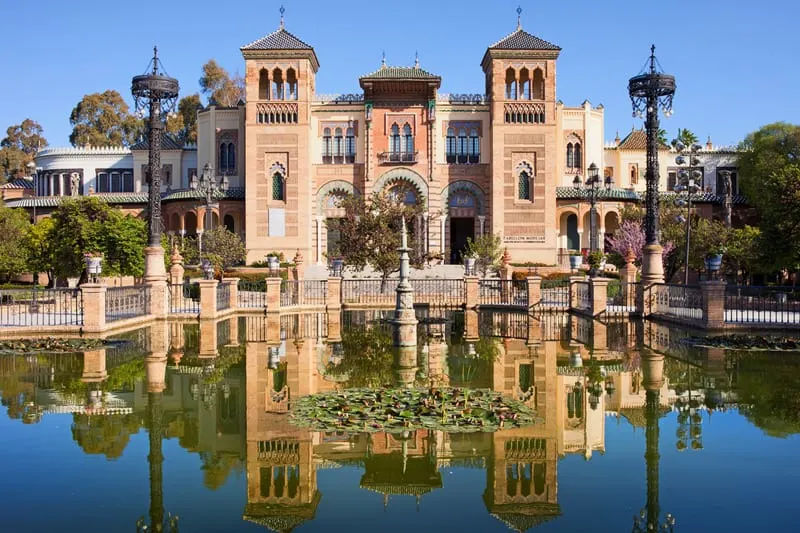 Seville's climate of warm and sunny summers and mild winters allow you to visit all year round, though experiences can certainly vary with the seasons.
Autumn to Winter is a great time to visit. The summer crowds have dispersed and the choice of accommodation in Seville is ample, as well as being far cheaper. With mild weather, you can traipse the sights from dawn to dusk!
February to June are also fantastic times to visit Seville. The weather is beautiful, without being too hot, the days are long, and the local festivals are in full swing. This does however mean it can be an extremely busy time.
This popular season in Seville hosts two extremely popular events: the Semana Santa and the Feria de Abril, usually taking place at the end of March or April.
These are wonderful festivals where most spend their time socializing, dancing, drinking, and eating to their heart's content! As the dates vary, be sure to look at the dates for the next event and plan ahead.
Summers in Seville are some of the warmest in all of Europe and can get extremely hot, sometimes exceeding 35ºC.
For some, this is a great time to visit as there aren't so many tourists around the main sights so you may get them all to yourself.
---
Short FAQ about the Best Neighborhoods in Seville
How long to stay in Seville?
Whether you stay 1 day or 1 week, Seville has plenty to offer. We ideally recommend staying at least 3 days in Seville.
What neighborhood to stay in Seville?
If you are visiting Seville for the first time, we recommend staying in the neighborhood of Santa Cruz.
Is Triana a good place to stay in Seville?
Triana is a great place to stay in Seville when looking for mid-range hotels and being close to the best flamenco venues in Seville.
---
---
Hola, I'm Paulina! Together with my team, we are passionate about Southern Spain. Here we share all you need to know for great times in Southern Spain with the best places to visit, stay and, of course, the best food to eat.
Let's dive in and explore Southern Spain's outdoors, food and culture con pasión!