A travel guide to the best attractions in Jerez, Southern Spain: the perfect Jerez Itinerary
Have you ever heard the saying 'Life is a journey, not a destination'?
Well then look no further than Jerez de la Frontera in Cadiz, Andalusia – it's the perfect place to start your adventure!
From rich culture and warm hospitality to incredible sightseeing possibilities and vibrant nightlife – there really isn't anything that this charming city doesn't have to offer.
Whether it's exploring picturesque old towns or sipping on some of the world's finest Sherry wines, I can guarantee that you will be spoilt for choice with all of the amazing things to do in Jerez.
So join us as we take an unforgettable dive into its captivating streets and cultural hotspots; because trust us when we say – this is one trip that you definitely won't forget!
This blog is supported by you, dear reader. If you purchase through a link, we earn a small commission. As an Amazon Affiliate, we earn from qualifying purchases.
Top Things To Do In Jerez de la Frontera, Andalucia
Centro Andaluz de Flamenco
Circuito de Jerez
Useful resources to visit Jerez
✈ Book cheap flights to Jerez, Spain with Skyscanner

⚘ Avoid tourist traps and get the customizable "Southern Spain Like a Local" itinerary. – Get it here

✔ Book tours in Jerez with GetYourGuide

➳ Find the best hotels in Jerez with Trivago

❖ Rent a car at the best rates with Discover Cars

✎ Never leave without travel insurance! I get mine at HeyMondo. It is easy to set up, cheap, and reliable.

$ Withdraw money without hidden fees and avoid exchange charges with Wise (free Mastercard debit card to spend money abroad)
How to get to Jerez
If you are visiting Jerez de la Frontera from the United Kingdom's low-cost carrier, Ryanair offers several flights a week from Stansted (STN) to Jerez Airport (XRY). Vueling and Iberia offer domestic flights from other cities in Spain. – Check flights to Jerez airport
Thanks to Spain's high-speed rail network trains are a popular way to visit Jerez with buses being an alternative for people arriving from towns not served by rail.
How to get from Madrid to Jerez:
The quickest way to get to Jerez from Madrid is to fly non-stop with Iberia. The flight time from Madrid-Barajas Adolfo Suárez Airport (MAD) is 1h 15m. – Check rates here
Bus: ALSA operates one bus a day between Madrid and Jerez with a journey time of 7h 35m. – Book tickets in advance here
Train: There are 13 trains a day from Madrid Atocha Station to Jerez with a journey time of around 3h33m. Add another 45 minutes if you need to change trains in Seville. – Book tickets in advance here
How to get from Seville to Jerez:
Bus: Buses depart San Bernardo Bus Station for Jerez every hour with a journey time of 1h 30m. – Get tickets here
Train: Trains depart Santa Justa Train Station for Jerez every hour and have a journey time of just over an hour. – Get tickets here
How to get from Malaga to Jerez:
Bus: The fastest way to get to Jerez from Malaga by bus requires a change at Algeciras Airport (AEI) near Gibraltar. The bus from Malaga to Jerez takes just over five hours and includes a one hour transfer. – Get tickets here
Train: Getting a train from Malaga Maria Zambrano Station to Jerez involves changing trains in both Cordoba and Seville and will take approximately 3h 49m. – Get tickets here
How to get from Cadiz to Jerez:
Bus: Transportes Comes operates an hourly bus service from Cadiz to Jerez with a journey time of around 45m.
Train: There are several trains per day from Cadiz to Jerez with a journey time of 34m.
Day 1
Visit Jerez Cathedral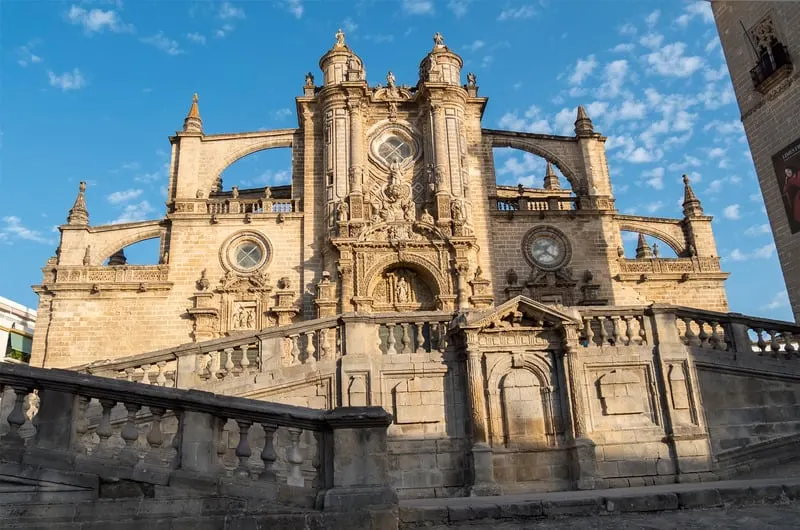 Built with a mixture of baroque, neoclassical, and Gothic styles, Jerez Cathedral was built in the 17th century on the site of a mosque and the old church of El Salvador. It's one of the main things to see in Jerez.
While not known to be a fact, it is believed that the outside bell tower was built over a minaret. Inside the cathedrals, the museum is a collection of silverware and a painting by Francisco de Zurbarán depicting the Virgin Mary asleep as a child.
Opening times: Monday to Saturday 10:30-18:30 Free admission on Sundays from 10:30 to 11:30
In order to see the best hidden gems in Jerez, go with a guided tour. – Check rates here
Visit the Alcazar, Jerez
Visiting the Alcazar is one of the top things to do in Jerez, Spain. Built in either the 11th or 12 centuries, the Jerez Alcazar is one of the best-preserved Moorish fortresses in Andalucia.
Notable for its octagonal tower which is typical of Almohad-era forts, the castle is reached by Islamic inspired gardens and a 12-century mosque that was turned into a chapel.
Transformed by Alfonso X of Castile in 1264, the chapel maintains its Islamic roots thanks to a fountain and horseshoe-shaped arches.
At one point there were 18 mosques in Jerez with the chapel in the Alcazar the only one with remains dating back to this period.
Typical of Moorish rulers' seats of power the Alcazar features geometric flower beds, fountains, and wonderfully preserved Arab baths.
Probably built on what remained of Roman baths the Almohad Baños Árabes features three rooms of which one contains star-shaped vaults to let in the light.
Opening times:
Monday to Friday – 09:30- 17:30 914:30 during winter)
Weekends – 9:30 – 214:30
In order to skip the line, it's best to visit the Alcazar with a guided tour. – Check rates & reviews here
Visit Sherry wineries of Jerez
Sherry tasting in Jerez is one of the best things to do!
Before we get into the excellent wineries of Jerez, it's essential to understand what sherry is and why it became so popular.
Winemaking in the region was introduced by the Phoenicians in around 11 BC and then increased during Roman rule when they conquered Iberia in 200BC.
When the Moors arrived in 711 AD, they brought with them distillation which led to brandy and fortified wines.
Sherry surged in popularity after Francis Drake sacked Cadiz in 1587 bringing back to Britain nearly 3,000 barrels of sherry that were waiting to be loaded onto Spanish ships.
Sherry soon became a famous British tipple which led to English families like Harveys and Sandeman setting up shop in Jerez.
Only produced in the sherry triangle between Cadiz and Jerez, there are numerous bodegas (cellars) that offer sherry tasting tours with each having its legends and its unique charm.
The five sherry bodega cellars in Jerez listed below are all outstanding.
Bodegas González Byass (Tio Pepe)
Bodegas Domecq Alvaro
Díez Mérito
Bodegas Tradición
Lustau
Fundador
Explore the historic centre of Jerez
As you wander around in the Casco Antiguo (Old Town) you will discover narrow streets that lead to squares with noble buildings that date from the Middle Ages. During Moorish rule, Calle Francos was the main thoroughfare that linked all parts of the city.
Dominated by the city's cathedral the historic centre of Jerez is where you will find all government buildings mixed amongst historic churches and thriving businesses.
The 15th century Church of San Dionisio shares an attractive square with the former town hall and is one of the best places in Jerez for outdoor drinking and dining.
Tip: Before setting out to explore Jerez, stop first at the tourist office located in Plaza del Arenal and pick up a free map.
You can also opt for a guided tour in order to get valuable insights into the historic buildings. – Check guided tours here
Lunch in Restaurante La Tasca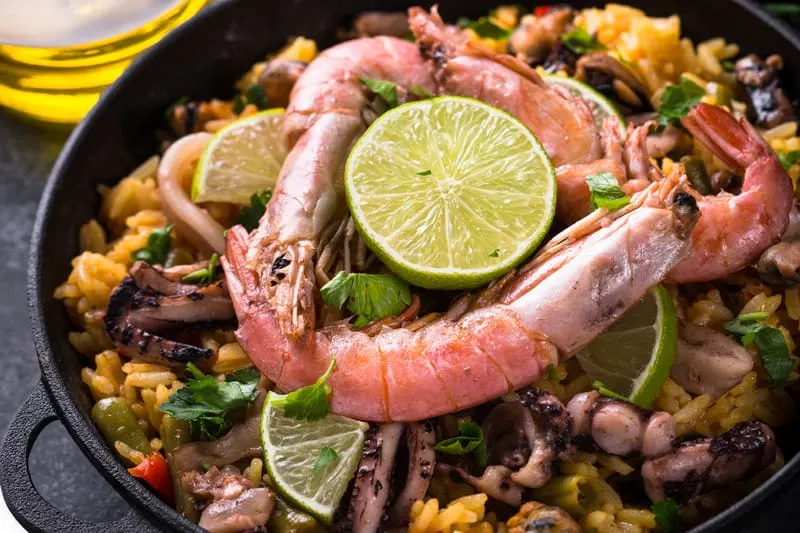 While there is seemingly no end of places in the center to stop for lunch, consider going just off the beaten track and dine at Restaurante La Tasca, one of the best restaurants in Jerez.
Located close to the Plaza del Caballo on Calle Paraíso, Restaurante La Tasca specializes in traditional Andalucian food. To learn more about Andalusian food, make sure you read these Spanish food facts.
Being close to the ocean, you can be assured of the freshest seafood, while also having an excellent selection of meats and seasonal vegetables.
Tip: Try the specialty of the house Rabo de Toro (Oxtail) you won't be disappointed!
Address: Calle Paraíso 4 Edificio Jerez 74 11405 Jerez de la Frontera
Opening times: Mon-Sat 11:00 – 00:00. Closed on Sundays
Visit Palacio del Virrey Laserna
Now doubling as a luxurious private rental for events and short-term stays, the Palacio del Virrey Laserna has been in the same family since the second half of the 13th century.
Undergoing a complete refurbishment in the 18th century the palace retains its neoclassical look to this day.
José de la Serna y Martínez de Hinojosa, the last Viceroy of Peru was born in the palace and had the aristocratic home renamed in his honor.
The general public is invited to participate in guided tours where they will discover the lifestyle of a Spanish noble family while taking a trip back in time.
Address: Calle Conde de Los Andes, 8 close to the tourist office.
Opening times: Tues-Sat 10:00-14:00 and 17:00-20:00 Sunday 11:00-14:00. The palace is closed on a Monday.
Marvel at the Royal Andalusian School of Equestrian Art
The Royal Andalusian School of Equestrian Art in Jerez de la Frontera is regarded as being one of the best riding centres in the world. It's also one of the best prestigious classical riding academies in Spain.
The equestrian centre is devoted to maintaining the classical traditions of Spanish baroque horsemanship, by conserving the ancestral abilities of the Andalusian horse.
Recognized as a distinct breed since the 15th century, the Andalusian horse has been prized by nobility and excels at equestrian dressage.
Along with horsemanship, the school teaches blacksmithing, saddlery, and the breeding of horses.
Visits to the Royal Andalusian School of Equestrian Art includes watching training sessions, a tour of the stables and tack rooms along with entry to the staterooms and carriage museum.
Opening hours: 10:00 – 13:00 closed Saturday and Sunday
Attending a horse show in Jerez is thus a must! This show has great reviews on GetYourGuide. – Check rates here
Watch a horse show in Jerez de la Frontera
Called "How the Andalusian Horses Dance", is an equestrian ballet accompanied by familiar Spanish music with riders dressed in costumes typical of the 18th century.
Based on classical dressage, each show contains eight different choreographies with the same degree of difficulty.
Visitors to the show can marvel at the skills of the horses and riders as they perform traditional classical dressage and cattle herding techniques called "doma vaquera." A show at the Spanish riding school is definitely a must when in Jerez de la Frontera.
During the summer the horse show is held three days per week on Tuesday, Thursday, and Friday. The show starts at noon and lasts 1h 30m.
Tickets can be bought online. – Check prices here
Have a coffee at Plaza de la Asunción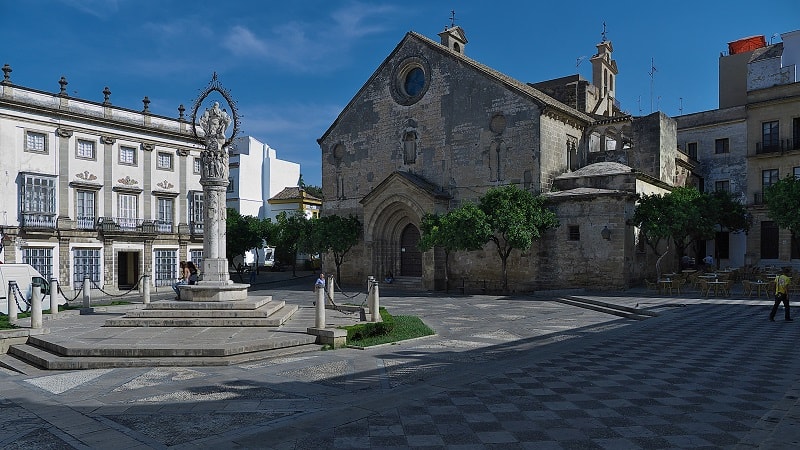 After a morning of exploring the historic centre of Jerez de la Frontera stop for a coffee at one of the bars in the Plaza de la Asunción.
Now a pedestrian-only zone in the heart of the city the Plaza de la Asunción is a popular meeting place for locals and a must-visit place for tourists.
Dominated by some of the city's most elegant buildings including the former town hall, a 16th-century structure built in the Renaissance style.
On the eastern side of the Plaza is the church of San Dionisio and it's beautiful Gothic-Mudejar door.
Do a sherry tasting in Jerez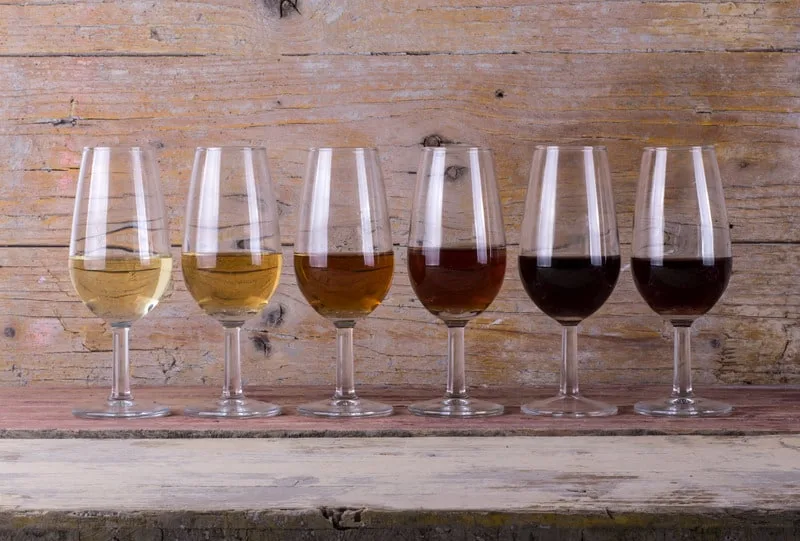 With Jerez de la Frontera, Cádiz, being the sherry capital of the world no visit to Jerez would be complete without learning about the different types of sherry.
Earlier in this guide, we already mentioned visiting a sherry winery where you no doubt had the chance to sample their famous sherry.
Delving into it deeper you will come to learn that sherry is far more complicated than the small glass of Harveys Bristol Cream that you get at grandma's house over Christmas.
Ranging from dry to sweet and everything in between pairing sherry with food is fast becoming an art. Make sure you try Tocino De Cielo when in Jerez.
To sample the different types of sherry, visit what is called a "tabanco" and tell the owner that you would like to sample different kinds of sherry such as the sweet Pedro Ximénez Jerez wine.
Hopefully, you will find one you like and buy a bottle to take home as a souvenir.
Go tabanco hopping
Now armed with the knowledge of sherry, why not spend the night tabanco hopping while sampling the best tapas Jerez has to offer.
Before we list some of the places we like, let's get an understanding of why tapas bars in Jerez are called tabanco's.
The word tobanco is what the old sherry stores used to be called and was a place where locals would buy sherry straight from the barrel.
Over time the tobanco's morphed from a simple sherry store to a place where you could not only purchase sherry but spend the night eating and drinking.
The idea of a wine shop and tavern dates back to the 17th century, and while tobanco's were for a while disappearing, they are today trendy places to eat and drink. Below is a list of our six favorite places to go tobanco hopping.
Enjoy tapas in Jerez
Tapas are, of course, a great way to eat while exploring the many bars and tabanco's in Jerez.
Claimed by some as being the birthplace of tapas going out on a tapas tour of Jerez is a treat. Some of our favorite restaurants in Jerez are:
El Almacén: Mentioned in our list of tobancos, El Almacén is a modern wine bar that also happens to serve delicious food. Try their delightful salt cod fritters, and you won't be disappointed.
Bar Juanito: Almost hidden in a back street behind the squares and monuments Bar Juanito has been serving delicious tapas since 1943. Bar Juanito specializes in taps made from artichoke but has plenty of other dishes on its tapas menu. Our favorite is the meatballs cooked in Oloroso sherry.
La Cruz Blanca: Regarded as being one of the best tapas bars in Jerez, La Cruz Blanca features traditional favorites alongside more modern inspired dishes. Be sure and order the stewed pork cheeks with apple compote!
Las Banderillas: Las Banderillas is hugely popular with locals and offers a wide range of tapas to compliment whatever you are drinking. The specialty of the house is stewed oxtail so be sure to work it in with your tapas selection.
Atuvera: Named after a song by a local flamenco icon of the city, Atuvera is a modern gastro bar serving the latest trends in Spanish tapas.
In order to try the best tapas in every place, I recommend going on a tapas tour in Jerez. – Check tapas tours here
Day 2
Visit the clock museum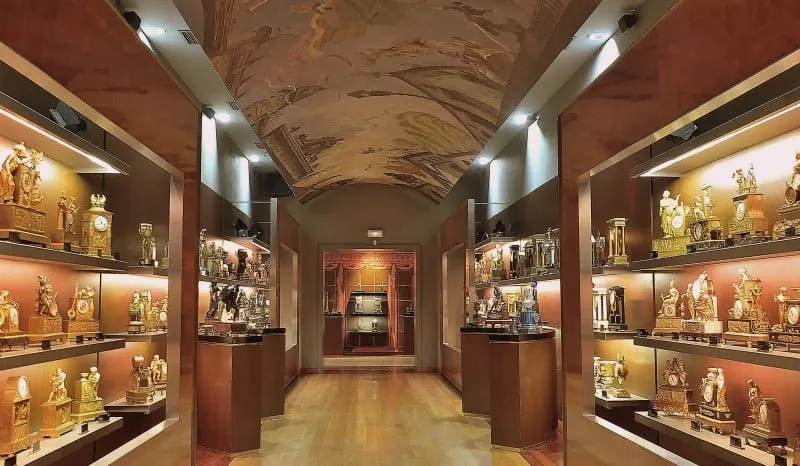 Located in the Atalaya estate, the Jerez clock museum has more than 300 clocks and watches dating back to the 17th century.
Lifesize holograms, classical baroque music, and the ticking of the clocks set the mood in all of the museums' ten rooms.
Opening times: Opening times: Monday to Friday 09:00-14:00. Closed at the weekend.
Go shopping in the market of Jerez – Mercado Central de Abastos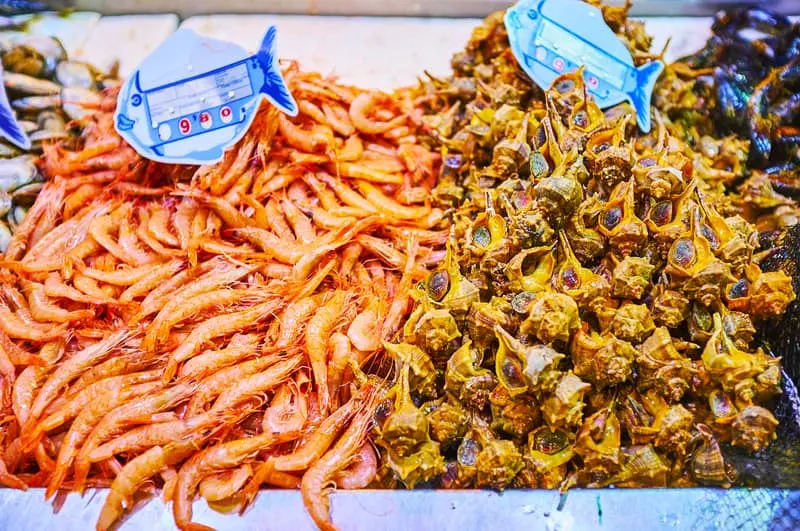 Jerez de la Frontera has some fantastic indoor and outdoor markets selling the freshest seasonal produce you will find anywhere.
If you only have time to visit one market when in Jerez make it the Mercado de Abastos. Housed in a neoclassical building dating back to 1885, the Mercado de Abastos is famous for its selection of seafood brought in fresh from Cadiz each day.
The markets of Jerez are also a key element of every guided Jerez tour. – Check guided walks here
Address: 8 Calle Doña Blanca, Jerez de la Frontera, Spain
Opening times: Mon – Sat 07:00 – 15:00 closed on Sunday
Lunch in Albores
Located in the center of Jerez on a pedestrian-only street, Albores serves traditional Andalucian food that is inspired by the seasons.
Sit out on the terrace and watch the world go by while having lunch at the hour of your choosing, as unlike many restaurants Albores operates an all-day kitchen.
Address: Calle Consistorio, 12, 11403 Jerez de la Frontera, Cádiz
Opening times: Monday to Saturday 08:00 –12:00. Sunday 8:00 – 00:00
Wander in San Miguel neighbourhood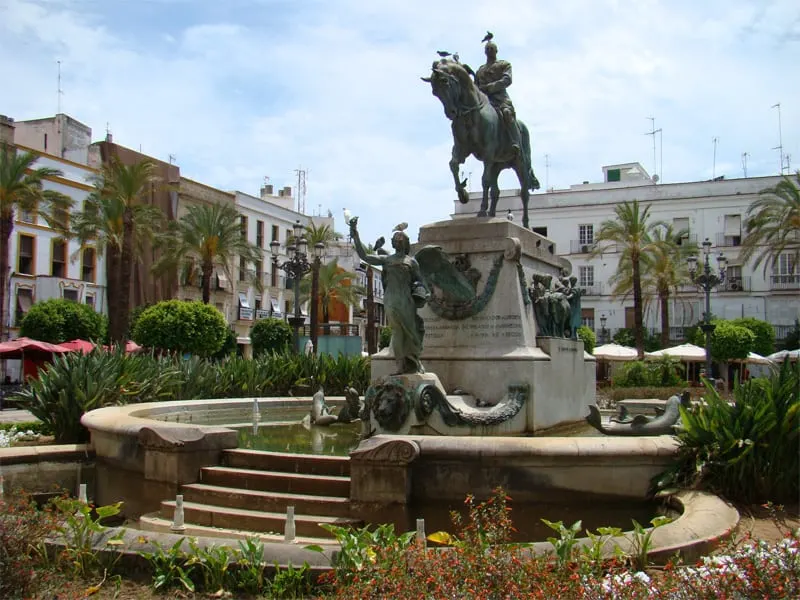 Competing with Santiago for the title of Jerez's flamenco neighborhood the district of Iglesia de San Miguel is built around the Plaza del Arenal.
Here you will discover a palm-fringed square with a statue of former Spanish prime minister Miguel Primo de Rivera.
Plenty of bars and restaurants are in the area as are sculptures honoring two of Jerez's flamenco artists La Paquera de Jerez and Lola Flores.
Pay tribute to Lola Flores
The statue of a flamenco dancer Lola Flores in the San Miguel neighborhood pays homage to Jerez's most famous daughter who from a young age became a star.
Known for her overwhelming personality on stage Lola became an international celebrity performing in more than 35 films.
Address: de la, Calle Ramón de Cala, 15, 11403 Jerez de la Frontera, Cádiz
Visit the motor Circuito de Jerez
Built to host Formula One races the Circuito de Jerez is now more associated with Moto GP and is a hotbed of motorcycle racing in Spain.
Don't worry if you are not in Jerez for a race as you may get lucky and witness a team practicing.
Touring the facilities and standing on the winner's podium is fun as is the motor museum full of cars, bikes, and memorabilia from the likes of Nigel Mansell and Ayrton Senna.
In the Circuito de Jerez gift shop, you can purchase merchandise from top riders like Jorge Lorenzo, Valentino Rossi, and Dani Pedrosa.
It's definitely a great idea when wondering about what to do in Jerez for action lovers.
Address: Carretera de Arcos-Jerez de la Frontera, Km 10, 11405 Jerez de la Frontera, Cádiz.
Opening times: Tuesday, Thursday and Saturday: from 09.00 to 15.00
Watch a flamenco show in Jerez
Tablao Flamenco Puro Arte in Jerez by Raul Ortega offers a different flamenco show every night where top-level artists show off their credentials.
Regarded as being one of the best flamenco shows in existence, the Tablao is a must-see attraction during any visit to Jerez de la Frontera. Each show lasts for around one hour with food and drinks available.
Address: Calle de la Madre de Dios 10 nº10, 11401 Jerez de la Frontera Spain
Opening times: Wed 19:30 – 23:30 Fri – Sat 19:30 – 23:30
Day 3
Day trip to White Villages near Jerez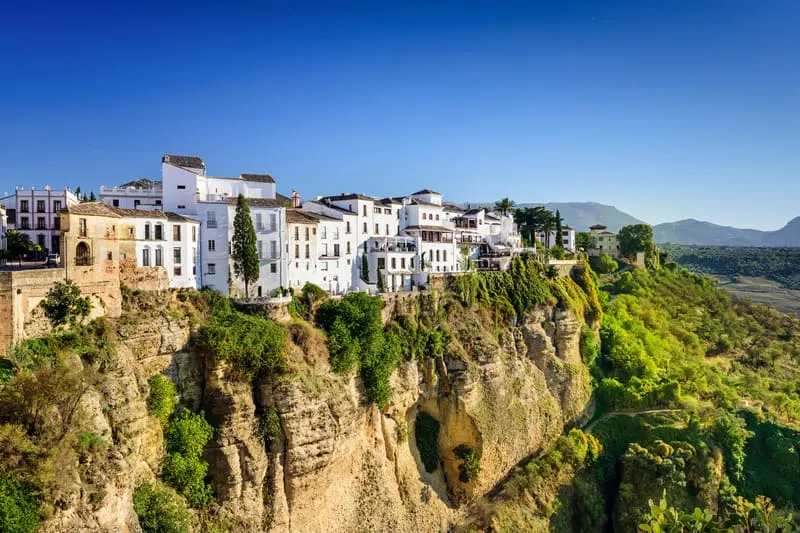 Called Pueblos Blancos the white villages of Andalucia near Jerez include Arcos, Ubrique, El Bosque, Grazalema, Benamahoma, Benaocaz, Villaluenga del Rosario and Ronda.
All within a short drive of Jerez de la Frontera, each village and town has its own unique history and some breath-taking views.
The highlight of the outing is the town of Ronda, and it's amazing Puente Nuevo bridge above El Tajo gorge.
Regarded as being the home of bullfighting, Ronda was a favorite with American writer Earnest Hemingway and Hollywood legend Orson Wells who loved Ronda so much he had his ashes buried on a friend's estate.
To make the most of the white village excursion set aside at least half a day or go on a guided tour like this one. – Check white town tours here
Day trip to Seville
Easy to get to in just over an hour by train a day trip to Seville is a must for anyone visiting Jerez de la Frontera.
Overlooked by a massive Gothic cathedral, Seville is a mix of Moorish palaces, baroque churches and winding medieval lanes.
Exceedingly wealthy during the 16th century when Spain ruled, America's Seville is home to Christopher Columbus's tomb and the Alcázar, a Mudéjar palace that was used to represent the water gardens of Dorne in HBO's Game of Thrones.
For more information, please visit our 3-day itinerary Seville article we wrote earlier.
Day Trip to Cadiz & Doñana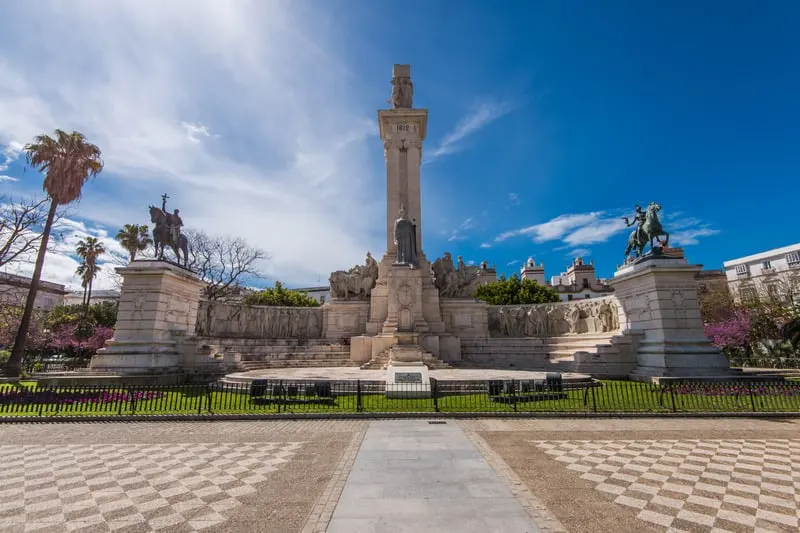 Founded by the Phoenicians in about 1100 BC, Cadiz is regarded as being the oldest permanently settled city in Europe.
Used as a setting off point for Columbus's trips to America, Cadiz became the architectural model for many of South America's great colonial cities.
Surrounded by the Atlantic Ocean, the city of Cadiz is often overlooked by tourists visiting Andalucia, in favor of Granada and Seville, and for this reason alone is well worth a visit. The city is one of the best places to visit in Andalucia.
Tip: Rather than go to Cadiz for a day at the beach, head a little further north up the coast to Rota where you will discover one of the best beaches in Spain.
Doñana National Park is unique UNESCO-listed wetlands that are home to numerous bird species, wild boars, and the endangered Iberian Lynx.
For more information, please visit our 3-day itinerary Cadiz article we wrote earlier.
Attend a bull country show
Visit the Campo Abierto and experience a day out in the Spanish countryside. A trip to see the bulls and horses starts with a 700-meter walk discovering the native wildflowers while watching the bulls and oxen roaming free in the fields.
From the grandstand, you will be treated to a display of Andalucian horsemanship that includes cattle drives and traditional dressage. The show lasts one and a half hours with a ten-minute break. – Get tickets here
Address: A-396, km1 Medina Sidonia | A-381, Jerez – Los Barrios, Salida 31 11170 Medina-Sidonia, Cádiz
Opening times: from March to October every Wednesday and Sunday at 11:00
Gibraltar Day Trip from Jerez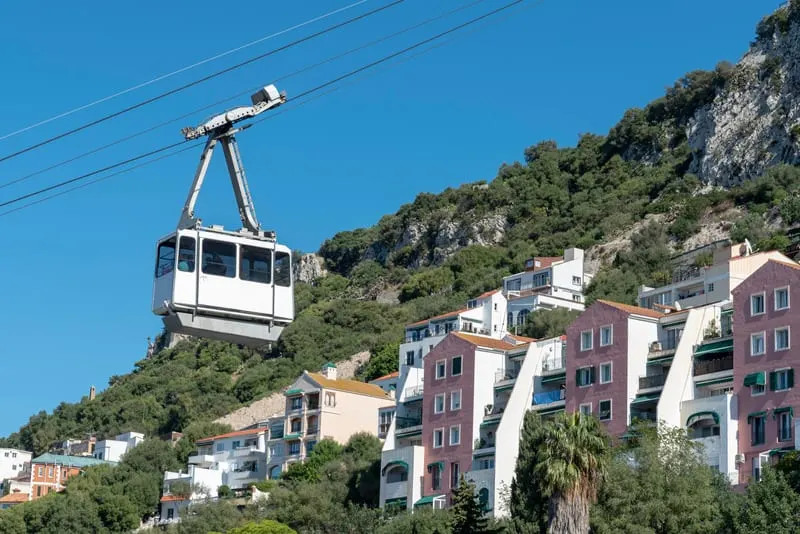 A day trip to Gibraltar from Jerez is an exciting adventure that you should not miss.
Located at the southern tip of the Iberian Peninsula, Gibraltar is a British Overseas Territory known for its iconic Rock of Gibraltar, a limestone ridge that rises dramatically from the sea.
The journey from Jerez to Gibraltar takes about 1.5 hours by car, making it a convenient day trip.
Once you arrive in Gibraltar, there are several attractions you must visit. The first is the cable car ride to the top of the Rock.
From here, you will have a stunning panoramic view of the surrounding area, including the coast of Africa on a clear day. At the top, you will also encounter the famous Barbary macaques, the only wild monkeys in Europe.
Another main attraction is the Great Siege Tunnels, carved out of the rock during the Great Siege of Gibraltar in the 18th century. The tunnels offer a fascinating insight into the military history of Gibraltar.
Before heading back to Jerez, take a walk around the marina and enjoy a meal at one of the many restaurants overlooking the sea.
To see all the major sights in a day and have all your transport sorted for you, consider booking a guided tour. This one includes a trip to the Rock of Gibraltar and free time.
Tip: Remember to bring your passport as you will be crossing an international border. Also, while the official currency in Gibraltar is the Gibraltar Pound, most shops and restaurants also accept Euros.
If you would like to know more about other amazing places in Andalucia, you should visit these three guides: things to do in Gibraltar or 1 week Andalucia itinerary or our 3-day itinerary Tarifa, the surfer town in Southern Spain.
If you want to explore Southern Spain more make sure you read about the most beautiful places in Granada.
Best Hotels in Jerez, Southern Spain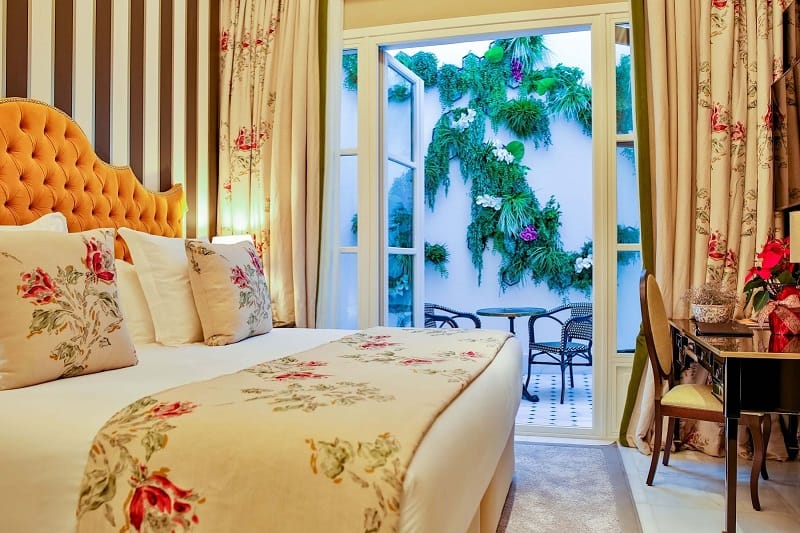 Occupying a former 19th-century casino, the Hotel Casa Palacio María Luisa is one of the best hotels in Jerez. It's ideally located to visit all of Jerez de la Frontera's attractions while still retaining its privacy.
Set in a spacious garden with an outdoor terrace and swimming pool the hotel features its own restaurant, bar, and shared lounge.
Each room has its own private bathroom, satellite television, air-conditioning, and free Wi-Fi. – Check rates & reviews here
Address: Calle Tornería, 22, 11403 Jerez de la Frontera, Spain
Set in an old-world building this modern hotel is located next to Plaza de la Arena, one of Jerez's most popular meeting points.
Ideally suited to people who want to explore Jerez on foot the Eurostars Asta Regia Jerez offers guests every conceivable amenity that includes an outdoor swimming pool, a gym and a sauna.
All rooms come with a complimentary buffet-style breakfast. – Check rates & reviews here
Address: San Agustín, 9, 11403 Jerez de la Frontera, Spain
With an unrivaled location in the heart of the historical center, the Hotel YIT Casa Grande is a boutique-style hotel set in what was once an elegant family mansion.
Hotel YIT Casa Grande features a beautiful inner courtyard and a roof terrace with views of the city.
All rooms at the Hotel YIT Casa Grande are fully equipped with air conditioning, Wi-Fi, en-suite bathroom, and flat-screen TVs. – Check rates & reviews here
Address: C/ Plaza de las Angustias, 3 , 11402 Cádiz – Jerez de la Frontera, Spain
---
Getting Around Jerez
The best way to get around Jerez de la Frontera is on foot as it allows you to enjoy its beautiful streets and squares.
Most of the things that are of interest to tourists are all within walking distance of each other.
For those that don't want to do too much walking, Jerez de la Frontera has a hop-on-hop-off bus tour that stops in all the city's strategic locations. – Check rates here
---
Is Jerez worth visiting?
With a history that dates back to the time of the Moors, Jerez de la Frontera boasts a charming Old Town (Casco Antiguo) with palm-fringed plazas and a partially restored Moorish fortress.
One of the main things to do in Jerez de la Frontera is visit the town's church which was initially constructed as a mosque.
Inside the Sacristy of the Cathedral del Salvador is a painting by 17th-century Spanish painter Francisco de Zurbarán titled "La Virgen Niña." Renowned for his religious paintings, Zurbarán was often called the "Spanish Caravaggio."
Today Jerez de la Frontera has an aristocratic feel, thanks to its wide streets, squares, and colorful jacaranda trees that bloom in spring.
Add to this mix of stylishly dressed business people, contemporary dining, sherry, flamenco music and dancing, and incredible weather, and you will soon realize why Jerez de la Frontera is a great place to visit.
Where is Jerez?
Jerez de la Frontera or simply Jerez is located in South-western Spain around 14 miles (22km) from the city of Cadiz and 7.4 miles (12km) from the Atlantic Ocean. It's also very near the Costa De La Luz.
With just over 200,000 people Jerez is the largest city in Cadiz Province and the 5th largest in Andalucia. Jerez is famous for horse breeding and producing the world's most excellent sherry.
Depending on your style of travel Jerez can be seen in either one, two, or three days.
Weather in Jerez, Spain
Jerez de la Frontera, Spain, enjoys a Mediterranean climate, which means it has hot, dry summers and mild, wet winters. This type of weather is typical for the region of Andalucia.
Summer in Jerez is hot and dry, with temperatures often exceeding 30°C during July and August, which are the hottest months.
Autumn in Jerez (September to November) is a pleasant time to visit. The temperatures start to cool down with temperatures of 17-30°C in September and 9-20°C in November.
If you visit Jerez or most places in Andalucia in winter, temperatures are mild compared to most other parts of Europe.
Temperatures during the day typically range from 11°C, and at night, they rarely drop below 5°C. Jerez is also one of the best places to visit in Andalucia at Christmas.
Spring in Jerez is a lovely time to visit, with mild temperatures ranging from 18°C in March to 24°C in May.
If you're visiting in May, make sure you visit the Feria del Caballo or horse fair – one of the one of the most important horse fairs in Spain.
There are many traditional events going on, including flamenco dancing, and you'll also have the chance to see many magnificent horses.
---
A short FAQ about things to do in Jerez de la Frontera, Spain
What are the best things to do in Jerez de la Frontera?
Visit Sherry wineries, explore the historic center or marvel at the Royal Andalusian School of Equestrian Art are only a few of the best things to do in Jerez de la Frontera.
What are things to do in Jerez on Sunday?
You should visit Jerez Cathedral for the entrance is free on Sundays.
What are fun things to do in Jerez?
Watch a horse show in Jerez de la Frontera is definitely one fun thing to do in Jerez, Spain.
Is it worth visiting Jerez?
Jerez de la Frontera is a charming city known for its delicious sherry, beautiful horses, flamenco, and rich history. It offers a more relaxed and authentic experience than some of the larger Andalusian cities.
What is Jerez Spain known for?
Jerez is famous for its production of sherry, a type of fortified wine. It's also known for its Andalusian horses, flamenco, and historical sites like the Alcázar and the Cathedral.
How many days do you need in Jerez?
Depending on your interests, Jerez can be seen in one, two, or three days. There is plenty to do and see in the city, but a two-day visit will allow you to experience most of the main attractions without feeling rushed
---
---
Hola, I'm Paulina! Together with my team, we are passionate about Southern Spain. Here we share all you need to know for great times in Southern Spain with the best places to visit, stay and, of course, the best food to eat.
Let's dive in and explore Southern Spain's outdoors, food and culture con pasión!