Cadiz
Escape To The Southern-Most Beauty Of Andalucia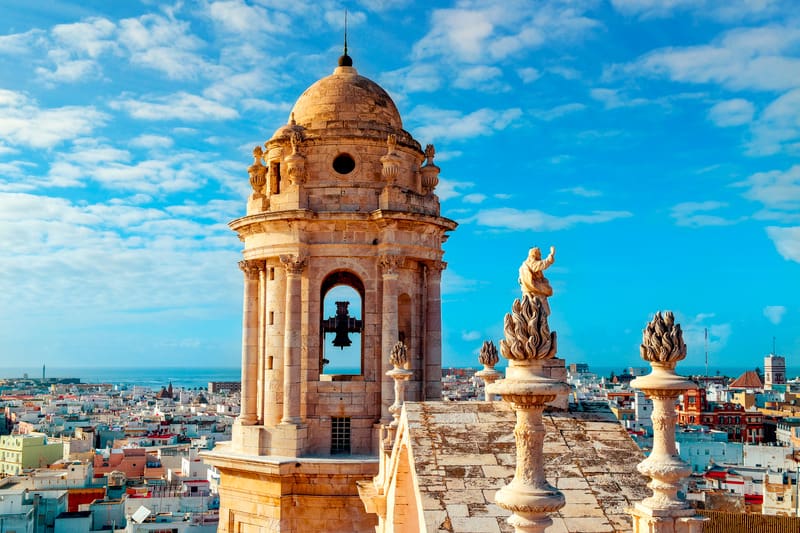 With the distinction of being the southernmost province in Spain, Cadiz is the home of Andalusian horse culture and everything that makes Andalucia such a vibrant place to visit. The Costa de la Luz is not as developed as the Costa del Sol, but being on the Atlantic Ocean has its advantages over the Med with the town of Tarifa attracting surfers from around the world.
History abounds in Cadiz from the Phoenicians right through the Moors and into a period of great wealth brought back from the "New World."
Littered with olive trees and electricity-generating windmills, the province of Cadiz is an exciting place to visit and explore.
Visit Andalusia like a Local!
After calling Southern Spain my home for several years and organizing customized Andalusia trips, it was about time to put the best places in Andalusia into
this handy travel itinerary.
Save time and money, avoid tourist traps and see only the very best of Andalusia.
Most Famous Attractions in Cadiz
First settled by the Phoenicians in 1104 BC, Cadiz city is regarded as the oldest continuously inhabited city in Europe.
Dominated by Mediterranean and Atlantic trade, Cadiz grew rich as the home port of the Spanish treasure fleet. Somewhat surprisingly, Cadiz province is home to the Sierra de Grazalema Natural Park, the rainiest place in all of Spain.
Visit the Sherry Triangle – Cadiz and the sherry triangle around Jerez de la Frontera is the home of fortified wine with plenty of exciting bodega tours on offer from names like Harveys and Tio Pepe. – Book sherry tours here
Baelo Claudia – Baelo Claudia is one of Andalucía's most important Roman archaeological sites. Live concerts take place there during July and August.
Visit the white villages of Cadiz – All located on hilltops with castles, Cadiz's pueblo blancos are famous for their beauty and unique settings. Top amongst them are Arcos de la Frontera, Zahara de la Sierra, and Conil de la Frontera. – Book white town tours here
Playa de Valdevaqueros – Located northwest of Tarifa towards Punta Paloma Valdevaqueros is one of Cadiz Provinces' best beaches and a popular hangout for kite surfers.
Visit Cadiz – Stroll around the historic district of Cadiz and visit the city's yellow-domed cathedral, Roman theatre, and Torre Tavira. – Book tours here
Trafalgar Lighthouse – Located near the village of Los Caños de Meca, the lighthouse overlooks where, in 1805, Admiral Lord Nelson defeated the combined French and Spanish navy during the Napoleonic Wars.
When visiting Cadiz province, you have a wide selection of places to stay. Cadiz itself, Jerez de la Frontera, or accommodations along the Costa de la Luz.
For backpackers and single travelers, hostels in Cadiz are an excellent option, while families might prefer a beachside resort. Mid-range accommodation is widely available in Cadiz and Jerez, as is more upscale hotels and resort complexes along the coast.
The best thing about staying in a hostel in Cadiz is that you can choose one in the old town or close to the beach.
The best place to stay in Cadiz is Casa Caracol, just off the Plaza San Juan de Dios – one of the old town's liveliest areas. Shared rooms start from 16€ with private rooms from 63€. – Check rates here
Whether you decide to stay in Cadiz, Jerez de la Frontera, or by the beach, you will find plenty of mid-range hotels.
Located opposite the Cadiz cathedral, the Hotel La Catedral boasts a local vibe thanks to its pavement cafe-bar-restaurant. Inside the hotel, it is bright and airy with a rooftop bar and a small infinity pool. The hotel does not have parking, but public parking is available close by. Prices at the Hotel La Catedral start from 60€. – Check rates here
Located in the seaside town of Rota, the Hotel Duque de Najera is situated on the beachfront in the historic center of the city next to a marina.
The hotel features large airy rooms, a swimming pool, and an award-winning restaurant. Prices start from 86€ per night. – Check rates here
Throw away any perceived notions about all Parador Hotels being housed in old castles or monasteries as the Parador de Cadiz is a modern, light-filled hotel perched on the Bay of Cadiz.
The sun terrace, swimming pool add spa add some glamour to the place as does the white linen tablecloths in the oceanfront La Tacita del Atlántico restaurant. – Check rates here
Because Cadiz is not that big with a population of less than 120,000, it does not have an airport.
There are, however, two both within an hour's drive. Alternatively, you can get to Seville from most places in Spain by bus or train.
Flights
Cadiz has two airports that are within an hour's drive. Jerez Airport (XRY) and Seville Airport (SVQ) and there are no direct flights from North America there are flights from U.K. budget airlines and domestic flights from other cities in Spain. – Check flights here
Train
Cadiz is easily reached from Seville by train, with several regularly scheduled services making the 90-minute journey each day. Madrid is six hours away, with Cordoba, Granada, and Malaga, about a three-hour trip. – Check schedules here
Bus
There is a regular bus service between Seville, Jerez de la Frontera, and Cadiz. Buses may be slow compared to trains but serve smaller communities in Andalucia that do not have a train service. – Check schedules here
Car
To drive to Cadiz from Seville, take the AP-4 motorway into Puerto Real and then the N-443. You can also reach Cadiz from the south by driving along the A-48 and CA-33 coastal roads. – Check car rentals here
Cadiz Travel Guide: Booking Resources
In order to make travel planning as easy as possible, we gathered below a selection of our favorite companies. We love them for being reliable and offering the best deals in Southern Spain. All of the recommended companies have top-notch customer service and have been tested by us first-hand.
There is never a wrong time to visit the province of Cadiz, but if you are an outdoors type, try and avoid September and October when it rains the most.
Summers in Cadiz can be sweltering with July and August the two hottest months. May and June are ideal as Spaniards are still working, and the beaches are empty.
Located on Spain's Atlantic coast, seafood plays a significant role in Cadiz's diet and especially so during May when Bluefin tuna migrate through the Strait of Gibraltar.
Meats too are widely available, and like all of Spain, the vegetables are always fresh and tasty. A special mention also needs to go out for the region's sherry, which is regarded as the best in the world.
Fried fish – Popular all along the coast, fried fish ("pescaíto frito") is a simple dish of local fish and squid coated in flour and fried in olive oil.
Pollo a la canilla – Pollo a la canilla is chicken breast and thighs soaked overnight in Amontillado wine drained cut up in pieces and then fried until crispy.
Mackerel with pirinaca – Popular during the summer, mackerel with pirinaca is a simple dish of grilled mackerel served on a bed of tomatoes, green peppers, and onions mixed with olive oil and sherry vinegar.
Garlic prawns – As often is the case, the simplest dishes can be the best. Garlic prawns ("gambas al ajillo") are simply prawns, garlic, and cayenne pepper fried in olive oil with a dash of sherry.
Shrimp tortilla – Made using tiny shrimp, chickpea flour, onion, and parsley, shrimp tortillas are small pancake-shaped omelet fried in olive oil.
What to do in Cadiz for Outdoor lovers?
With Cadiz being on the ocean, all forms of watersports are available from surfing to sailing.
Cadiz is also home to one of the most important wetlands in Europe and is a haven for birds migrating between northern Europe and Africa.
Famous for its caves, cliffs, and gorges, the Sierra de Grazalema Natural Park is an excellent place for hiking, biking and rock climbing.
Hundidero-Gato –Located within the Sierra de Grazalema Natural Park, Hundidero-Gato is Andalucia's most extensive cave system stretching for four kilometers.
Surfing –  During the summer, the waves on La Fontanilla in Conil are ideal for people wanting to learn to surf, and with many surf schools in the area, lessons are widely available. For those who already practice the sport wait until the winter months when large waves roll in from Atlantic storms. – Book surf courses here
Donana National Park – Established as a nature reserve in 1969 by the Spanish government and the World Wildlife Fund, the Donana National Park is home to thousands of European and African migratory birds. – Check Donana tours here
Climb El Torreon – Enjoy the white villages of Cadiz as you hike to the summit of the provinces' highest mountain El Torreon at 5,426 feet (1,654 meters). The views from the summit are spectacular.
Horse riding – Take a two-hour trail ride through the Cadiz countryside with the Al-Mesquid Stables in Sanlucar de Barrameda. During the journey, you will stop at the farmhouse where the Celtic treasure of Ebora was found.
What to do in the surroundings of Cadiz?
If you have your transportation, there are many things to see and do in Cadiz, but if not, don't worry as many of the best day trips can be done by bus and train.
Jerez de la Frontera
Home to the world's best sherry and the Royal Andalusian School of Equestrian Art Jerez de la Frontera has plenty of things to see and do. While there, be sure to visit the cellars of Tio Pepe or Gonzalez Byass and take in an equestrian ballet. Jerez is less than an hour from Cadiz by train, leaving you plenty of time to explore this vibrant and rewarding city. – Check tours to Jerez
Tarifa to Tangiers
Visit the continent of Africa by ferry from Tarifa. The journey across the strait of Gibraltar takes around 50 minutes, and there are plenty of sailings each day. Tangiers offers you the chance to do some fantastic shopping while at the same time taking in the historic souk. – Check Morocco tours here
Arcos de la Frontera
Looking like something out of the Arabian Nights, the white village of Arcos de la Frontera is often referred to as Spain's prettiest village.
With a history dating back to several civilizations, Arcos de la Frontera was declared a national historic-artistic monument in 1962. The towns impressive architecture, winding cobbled streets, and imposing castle make it well worth checking out. – Check white village tours here
Seville
With its massive Gothic cathedral, Moorish palaces, baroque churches, and winding medieval lanes, Seville is a city that will amaze you and is only 1hr and 40min by train from Cadiz. If you can try and visit during the Feria, which is held every year two weeks after Easter. – Check tours in Seville here
Visit Gibraltar
To visit Gibraltar from Cadiz, you need to have a car as the bus journey involves a change in Algeciras and takes over 2hrs 30mins. If you have a car, you can drive there in 1hr 18 mins. While in Gibraltar, be sure to take the cable car to the top of the rock and visit the military fortifications. – Check things to do in Gibraltar
Latest Posts about Cadiz: