Malaga
Feel Alive In The Most Vibrant City Of Southern Spain And The Beaches Of Its Gorgeous Costa Del Sol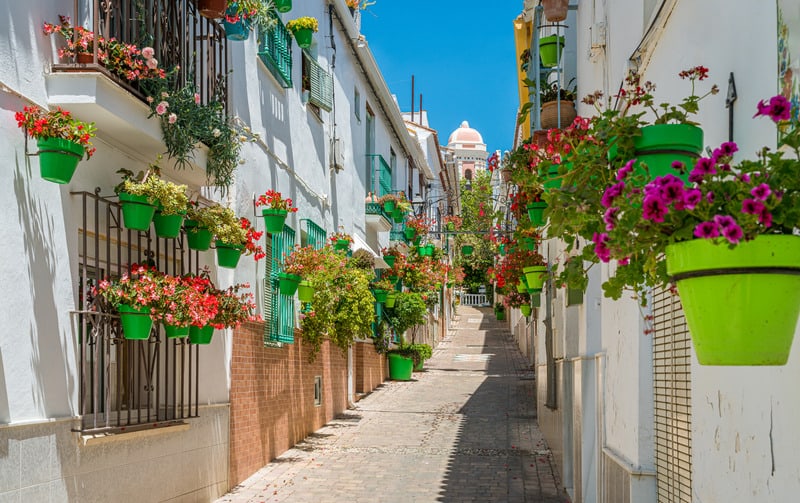 Every part of Malaga Province has a fascinating diversity, whether it is the tourist-driven beaches of the Costa del Sol or the mythical mountains of La Axarquía.
Inland in Malaga, you will come upon the beautiful Pueblo Blancos (white villages) crowned by Earnest Hemingway's Ronda. Antequera and Marbella also have elegant old towns to get lost in, along with numerous archeological sites dating back to the Phonecians.
In a nutshell, Malaga has something for everyone, so get out and explore!
***
Visit Andalusia like a Local!
After calling Southern Spain my home for several years and organizing customized Andalusia trips, it was about time to put the best places in Andalusia into
this handy travel itinerary.
Save time and money, avoid tourist traps and see only the very best of Andalusia.
Most Famous Attractions in Malaga
Cueva de Nerja: The Cueva de Nerja is an impressive series of underground caverns where concerts are held during the summer.
Caminito del Rey: Pinned to the side of a steep canyon, the Caminito del Rey is a small walkway hundreds of feet above a river.
The Alcazaba: Towing over the city of Malaga, the Alcazaba is one of the most impressive Moorish fortresses in Spain.
Marbella Old Town: Stop off in the Plaza De Los Naranjos for some "old world" colonial charm.
Visit Frigiliana: Often called Spain's prettiest town, Frigiliana is famous for narrow streets decorated with ceramic mosaics.
Best Accommodation in Malaga
With the Costa del Sol geared up for tourism, you will have no trouble finding a place to stay. Whether it be a budget-friendly hotel or a swanky hotel built for the rich and famous, the province of Malaga has something for everyone.
Hostels are undeniably the way to go if you are searching for budget-friendly accommodation while visiting Malaga. While most hostels consist of shared rooms and facilities, some offer private rooms with shared bathrooms. As for the price range, it depends where you are, but even in upscale Marbella, a private room near the beach can be had for around 42€ per night. – Check hostels in Malaga province here
Almost always, family-run mid-range hotels in Malaga province are a dime a dozen and a great choice if you are visiting Malaga City. Even the beach resorts like Benalmadena, Fuengirola, and Torremolinos have inexpensive hotels a block or two back from the beach. – Check hotels here
In recent years there has been a significant increase in all-inclusive family resorts where all drink food and activities are included in the price. Some have dedicated children's programs that allow parents to relax, knowing that the children are being looked after. A great alternative to a resort is a self-catering holiday apartment or villa, many of which come with a swimming pool. – Check family resorts here
You don't have to look further than Marbella if you want to receive five-star service by the beach. You will also find some excellent resorts like The Oasis by Don Carlos Resort ***** , an ideal hotel for couples who appreciate the more beautiful things in life. If you decide to stay in Malaga proper, you won't find a more elegant hotel than the Gran Hotel Miramar ***** on Playa Malagueta. – Check hotels here
Flights
Málaga–Costa del Sol Airport (AGP) is the fourth busiest airport in Spain after Madrid, Barcelona and Palma de Mallorca. Regarded as the gateway to the Costa del Sol Malaga airport welcomes millions of passengers each year to sunny Spain. Flights to Malaga are available from just about all European major cities. – Check flights here
Train
Malaga's María Zambrano train station is next door to the bus station in the center of the city. Trains between the airport and Malaga run every 20 minutes. Malaga is connected to Spain's high-speed rail and has three trains per day to Madrid. It is also possible to get to Cordoba, Granada, and Seville by train from Malaga. – Book tickets here
Bus
From Malaga bus station, you can get anywhere in Andalucia and all the main cities in Spain. You need to use Malaga bus station if you want to use public transport to get to Torre del Mar, Torrox, or Nerja. – Buy tickets here
Car
Having a car while visiting Malaga province offers you the opportunity to get out and explore the region at your own pace. Rental prices can be high during the summer, but there are some fantastic deals to be had in the offseason. – Check car rental deals here
Malaga Travel Guide: Booking Resources
In order to make travel planning as easy as possible, we gathered below a selection of our favorite companies. We love them for being reliable and offering the best deals in Southern Spain. All of the recommended companies have a top-notch customer service and have been tested by us first-hand.
With over 300 days of sunshine per year, there isn't a wrong time of year to visit Malaga. The hottest weather and warmest sea temperatures are between May and October.
If there were one month to avoid, it would be November when it rains so hard you often have flash flooding.
When you think of Malaga, you think about sunshine, seafood, and sangria. The people who live in Malaga enjoy a healthy Mediterranean diet of fresh vegetables, fruits, nuts, and olive oil.
Below we have listed five dishes that are typical of Malaga.
Espetos: If there is one thing you are sure to eat while visiting Malaga, it will be Espetos (Sardines). They can be prepared in several ways, but we like then cooked on a skewer over an open fire.
Boquerones: Anchovies flourish in the Bay of Malaga and are ideal as a tapa served deep-fried or marinated in vinegar.
Gazpacho: Slightly different everywhere you have it, Gazpacho is a cold summer tomato soup and a staple of Andalusian cooking.
Ensalada Malagueña: Ensalada Malagueña is a twist on a typical potato salad as Ensalada Malagueña contains bacalao (salt cod), onion, green olives, and oranges.
Tarta Malagueña: Made from almonds, apricots, and sweet local wine Tarta Malagueña is a cake that is typically sold during the autumn.
What to do in Malaga for Outdoor lovers?
With its near picture-perfect weather, a stunning coastline, and inland mountains, Malaga is a nature and outdoor sports lover's paradise.
Every conceivable watersport is available along Malaga's coast and waterways while the interior contains natural parks that are ideal for biking, hiking, and climbing.
Caminito del Rey: Closed for years after being deemed too dangerous, the Caminito del Rey is a narrow three-foot-wide pathway pinned to the side of a steep canyon. Now following a 2.7 million € renovation, the path is open to thrill-seekers once more. – Get tickets here
Sea Kayaking: In between Nerja and Maro is an undeveloped part of the Costa del Sol that is great for sea kayaking. Discover secret hidden cover as you paddle behind waterfalls cascading into the sea. – Book tours here
El Torcal Natural Reserve: Resembling Jurassic Park, the El Torcal Natural Reserve was under the sea 100 million years ago and is today a wonderland for fossil hunters. With some of the most fantastic rock formations found anywhere in Europe, this Malaga nature reserve is a great place to spend a day out exploring.
Birdwatching: Located just 15 minutes from Malaga Airport is the Guadalhorce Natural Park, a bird watchers paradise that acts as a stopover for birds migrating between Europe and Africa. Depending on what time of year you visit, you can observe as many as 260 different birds.
Walk the Rio Chillar: Located close to the town of Nerja is the shallow Chillar River full of waterfalls rockpools and nature all around. Wear some sturdy shoes you don't mind getting wet and try and avoid the weekends as it can get rather busy. It's one of the best things to do in Nerja.
What to do in the surroundings of Malaga?
With thousands of years of history, Malaga is no slouch for things to see and do. Castles, watchtowers, and quaint white villages adorned with flowers are everywhere you look, while the capital, Malaga, is a hotspot full of museums and trendy clubs.
No matter where you decide to base yourself, all of Malaga's main attractions are within a day trip.
Ronda
Considered as the home of Spanish bullfighting, the mountain town of Ronda was a favorite with Earnest Hemingway and Orson Wells. Walk across the magnificent "Puente Nuevo," a stone bridge that connects the old city with the new.
Acinipo
On the road from Ronda to Seville is what remains of the Roman settlement of Acinipo. The town was built after the battle of Munda, a fierce fight between Julius Caesar and Pompey's armies.
Frigiliana
Used recently as a backdrop in a television commercial for Coca Cola the pretty white village of Frigiliana is a testament to Spain's Moorish past. The main town square in Frigiliana has many rooftop restaurants that offer lunch with a view down to the sea.
Marbella and Puerto Banus
If you want to see and be seen head straight for Marbella and the swanky marina at Puerto Banus. The old town of Marbella is exciting to wander around while Puerto Banus is full of mega yachts and Ferraris. – Read more about Marbella here
Malaga City
Famous for being the birthplace of Picasso, Malaga has some unique museums and attractions like the waterfront Muelle Uno. Highlights include the Alcazaba, Castillo De Gibralfaro and the Concepión Botanical Gardens. – Check our Malaga itinerary here
Latest Posts about Malaga Province: