A guide that will help you choose the best area to buy properties in Malaga
Are you thinking about buying a property in Malaga City? Have you heard of the many benefits that come with owning real estate in this vibrant and sunny Spanish metropolis?
If so, then you've come to the right place!
In this blog post, we'll tell you all there is to know about where to buy your dream property in Malaga City – from details on the most popular neighborhoods, and where to stay in Malaga to tips on getting a great deal.
This blog is supported by you, dear reader. If you purchase through a link, we earn a small commission. As an Amazon Affiliate, we earn from qualifying purchases.
So if you're ready to invest in properties in Malaga that will give you a lifetime of sunny memories, let's get started on your property-buying journey and look into where to buy properties in Malaga City.
Ready to join us for an adventure through real estate paradise? Then let's get started!
OVERVIEW: Top Areas to Buy Properties in Malaga
| Neighborhood | Advantage | Disadvantage | Price |
| --- | --- | --- | --- |
| Old Town | The historical center and heart of the city | Noisy because of the events from high-rent places and from restaurants and bars | $$$$$$ |
| Soho | A young and vibrant part of town | Quite a small district and it can get a bit cramped | $$$$$ |
| La Malagueta | Close to the city center, surrounded by the sea and blue flag beach | It's touristy and expensive to live | $$$$$$$ |
| Teatinos | A family-orientated area with outstanding parks and playgrounds | It's more suitable for young people and families | $$$$ |
| La Merced | Modern apartments with clean lines, underground parking, and architecturally historical buildings | Noisy in the evenings and during peak season. | $$$$$ |
Where to Buy Properties in Malaga – Our Top Ten Locations
1. Malaga Neighborhood: Soho (Ensanche Centro)
Soho is a great place to live in Malaga, quirkier than most of Malaga City – you can celebrate Halloween in Malaga any time of the year.
It has a cosmopolitan vibe with its wide range of bars, restaurants, and shops with lots of fun things to do in Malaga, while still being close enough to the city center.
Properties here are more affordable than in many other parts of the city, and there is plenty of green space nearby for outdoor activities.
The quality of life in Soho is high – it's an incredibly safe area with good health facilities and dentists close by.
You won't be bored with so many things to do in Soho. Many famous tourist attractions are nearby, such as La Alameda theatre, and take in all the creative flare Soho has to offer at the Contemporary Art Centre.
You can also quickly access beaches such as Playa de La Malagueta and Playa de Pedregalejo.
The business possibilities are also excellent in Soho, with coworking spaces for freelancers and entrepreneurs, as well as plenty of opportunities for creative networking events.
Living in Soho is perfect for young professional families, those looking to buy a holiday home, or those looking for exciting city life by the sea.
Overall, Soho provides a safe haven where you can enjoy a relaxed lifestyle in the heart of Malaga City – there's no better place to buy properties in Malaga.
2. Malaga Old Town
If you're considering buying properties in Malaga Old Town, you will be in good company.
Home at one time or another to Pablo Picasso, Antonio Banderas, and others. – Check out the guided tour of the Picasso Museum here.
Malaga Old Town is favored by people who love history, culture, and architecture. Old Town is the home to the best museums in Malaga.
Properties in the Old Town are more expensive than elsewhere in Malaga, but you get a lot for your money.
The area is well-maintained, with attractive cobbled streets lined with whitewashed houses, churches, and plazas.
The Old Town of Malaga is ideal if you want to be close to all the action.
The city's historical center has plenty of entertainment spots, such as restaurants and bars, so nights out will always be exciting and very loud, especially during the holiday season.
When it comes to business opportunities, there are many in the Old Town. Whether you're looking for office space, a shop, or a restaurant – you'll find something suitable here.
Malaga Old Town is a fantastic investment place if you want to extend your property portfolio.
3. La Malagueta Area
Who doesn't want to live by the sea? Imagine waking up to the waves. The La Malagueta area is a perfect place to look for properties for sale in Malaga.
It's on the beach and offers stunning views of the Mediterranean sea.
As you would expect, properties here are more expensive than in other parts of Malaga City (add a premium for a sea view), making it an excellent option for those investors or retirees with relaxation on their minds.
Living in La Malagueta is a dream come true for many. The area offers plenty – from restaurants and bars, making it easy to decide what to eat in Malaga while studying the beautiful scenery.
You can also access some of Malaga's famous tourist attractions, such as Alcazaba and El Castillo de Gibralfaro.
Regarding safety, La Malagueta is generally safe, but the beach area can get rowdy at night in peak season.
Also, there are a few schools nearby, so if you have children, La Malagueta is an excellent choice.
Properties here may not be as luxurious as those found in other parts of Malaga City, but they offer all the amenities needed to enjoy a relaxed lifestyle and still be close to all the action.
Buying property here is worth considering– it's one of the best areas in Malaga City.
4. Teatinos Neighborhood
Teatinos is an excellent area to live in; it is the home to the University of Malaga and therefore has a large and vibrant student population.
Properties in the area tend to be more affordable than elsewhere, making it ideal for those on a budget or investors who know that students always need quality accommodation.
Fortunately, it's not all students, as plenty of family-friendly properties are available to buy.
The area also offers excellent start-up business opportunities; the area has plenty of office space and facilities that could be used by entrepreneurs looking to set up shop in the area.
Also, it has plenty of restaurants and bars, so nights out will always be exciting.
Teatinos has accessible transport facilities and links to the rest of Malaga City and beyond. Furthermore, a few hospitals are nearby, making healthcare easy to access when needed.
5. Málaga District: El Perchel
El Perchel is a district we should have mentioned above but didn't. It's a district that is worth considering when you're looking for houses for sale in Malaga.
El Perchel is one of Malaga's oldest neighborhoods, located outside the old city walls.
Properties here are generally cheaper for more floor space than those found in more central parts of the city, making it an excellent option for first-time buyers or those on a budget.
It's not touristy, and you won't find many English-speaking residents here – it's a great place for learning the language.
And if you're looking for a good education, then El Perchel has some excellent schools nearby.
Close to central Malaga with excellent transport connections – Centro Alameda train station and bus station – getting around is easy.
There's also the river to the south and Avenida Andalucia to the north, making it easy to access other parts of the city. Plus, the Jardines De Picasso is nearby, which holds a monument to the great artist.
Houses for sale in El Perchel are perfect for families and anyone who wants an authentic Spanish life without being too far from the action.
As a whole, El Perchel is an excellent district to buy properties in Malaga City – it's safe and family-friendly, with plenty of opportunities for those looking to start a business or invest in real estate.
So why not become a 'Perchelero,' a person from El Perchel, and get a sense of belonging?
6. La Merced, Malaga
Anywhere up and coming has the potential to be a fantastic place for investment. Whether you're a first-time buyer or a property investor, La Merced should be at the top of your viewing list.
This area of Malaga City has been undergoing a renaissance recently, with new restaurants and bars popping up all over the neighborhood.
Properties here are comparatively good value than in other parts of Malaga City, making this an excellent destination for anyone who wants to find property for sale in Malaga.
La Merced is the home of plazas – with the famous Plaza De La Merced to the south and Plaza de Montaño at the neighborhood's northern end.
La Merced is close to many of Malaga's attractions but still retains its unique charm.
Plus, it has plenty of schools nearby, so if you have children, this could be the ideal location for them.
In La Merced, you can find everything you need – good transport links (especially the metro), plenty of restaurants and bars, museums, galleries, and much more.
The area is also very safe and friendly, so you won't have to worry about security issues, but it can be noisy in the evenings and during peak season.
Even with the noise, La Merced is a great place to buy a house in Malaga especially if you're planning to convert it into a short-term rental.
7. Pedregalejo & El Palo Area
Pedregaleo and El Palo are fishing villages located in the western part of Malaga City.
Sitting on El Palo beach through to the beach at Pedregalejo, these blue flag beaches stretch for more than 1,200 meters, offering hiking trails near Malaga along with scenic beach walks.
The area is perfect for families looking for a peaceful location with a selection of well-proportioned houses and apartments for sale.
When it comes to transport, Pedregalejo and El Palo are well-connected. Several bus routes run through the district, making it easy to get around.
You can hop on the N340 from either of these villages, which will take you directly into Malaga City in no time.
For those looking for something traditional yet unique, Pedregalejo and El Palo provide just that. Properties here are reasonably priced and come in various styles – perfect if you want to make your mark on your home.
Shops, bars, and restaurants line the narrow streets of both neighborhoods – so there are plenty of places to try when it comes to Spanish cuisine.
There are also some excellent local schools nearby, making this an ideal area for anyone who wants to buy properties in Malaga.
8. Paseo Marítimo Oeste-Pacífico
Sticking with the luxury theme, Paseo Marítimo del Oeste is another excellent place to buy property in Malaga City.
Properties here are some of the most expensive, with magnificent views of the Mediterranean and access to beachfront restaurants and nightlife options.
The area offers a range of activities – from water sports and paddle boarding to yoga classes on the seafront – so there's always something for everyone to enjoy.
You can eat the best Paella in Malaga at Marisquería La Mayor (weekends only).
Residents also have access to world-class healthcare facilities and good public transport links, making this an ideal spot for anyone looking for a safe and luxurious lifestyle.
9. Cerrado de Calderón, Malaga Area
With mountain views offering a laid-back Mediterranean vibe, Cerrado de Calderón is perfect for those looking to escape city life.
Properties here go from reasonably priced to very expensive, making it an ideal spot for retirees, families, or investors looking to buy property in Malaga City and surrounding areas.
Cerrado de Calderón is a place for those who want to be one with nature, remote but not isolated. Expect to find the best hiking trails near Malaga, along with the beautiful natural parks near Malaga.
Properties here come with a range of amenities such as shops, restaurants, and bars – so there's plenty to do in the area.
Plus, you're only 15 minutes away from Malaga International Airport, making it easy to get around when needed.
If excellent education standards are at the top of your list, look no further than the Cerrado de Calderón, Malaga area.
Lycée Français de Málaga and the British School of Málaga are close by, so your children will have access to the best education available.
There's also Colegio Cerrado de Calderón for students in nursery school through high school. With all these options, Cerrado de Calderón is an ideal spot for families.
10. El Limonar, Malaga Neighborhood
Finally, El Limonar, a neighborhood between the historic bullring in La Malagueta and La Caleta – one of the best beaches in Malaga – is an excellent area to buy property.
Properties here are surprisingly good value, offering stunning views and a prime location within walking distance of all the attractions that make Malaga City so great.
El Limonar dates way back, but its heyday was in the late 19th century when Malaga was one of the most visited cities in Spain.
Historically, this part of the city was the main driver behind the Spanish industrial revolution.
Business in textiles, grapes, and sugarcane thrived, attracting more European entrepreneurs and later tourism start-ups.
Now full of hotels, restaurants, and tourist attractions, El Limonar is a great place to invest in property.
To make things even better, the district has excellent transport links, so getting around town is a breeze.
Plus, there are plenty of shops and bars nearby – so you can enjoy all that Malaga City offers without going too far from the action.
All you need now is information on the legalities of buying property in Malaga and some other valuable things to know before you commit.
Things to Know Before Buying Properties in Malaga
So you have found your favored district, but now it's time to get serious and consider the legalities involved in buying a property in Malaga.
Here are some vital things to keep in mind:
You will need an NIE (Foreigner Identification Number) if you are not a Spanish citizen – this is required to complete any real estate transactions.
Make sure you use professional real estate agents' services registered with the Official College of Real Estate Agents (Colegio Oficial de Agentes de la Propiedad Inmobiliaria).
Get the right legal advice; it's best to go for someone not affiliated with any estate agents, as they can provide impartial counsel on your purchase.
It's essential to hire a reliable lawyer to help with any legal paperwork and contractual agreements.
Don't forget the importance of property inspection – ensure an authorized technician checks the property for any potential issues before signing a contract.
Use platforms such as Properstar.com that can provide you with all the necessary information related to purchasing procedures and important documents regarding your purchase in Malaga City.
Final Thoughts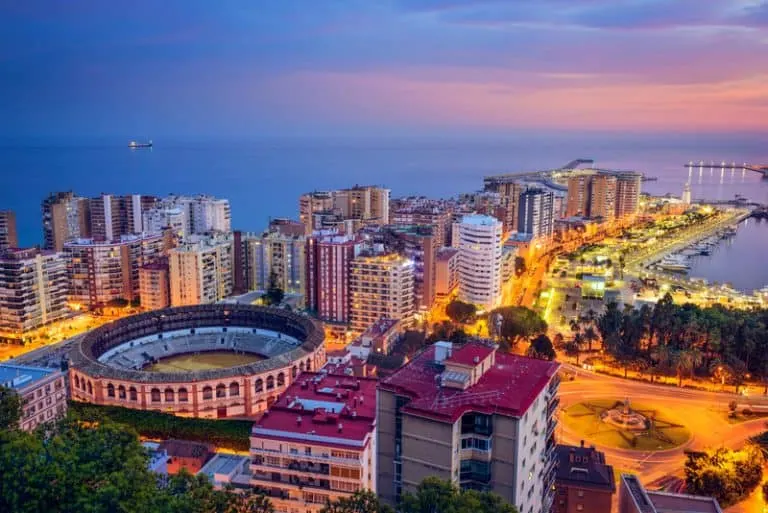 The first step is finding the best location. Properties in Malaga range from beachside apartments to villas in the hills, and downtown penthouses, so you'll need to decide what area you want to live in.
Do some research about each neighborhood before you invest – will it be close enough to amenities like shops and transport links? What about schools for children?
Once you've narrowed down a few areas that meet your needs, head out and check out some open houses.
Guided tours in Malaga
Short FAQ about Where to Buy Properties in Malaga City
Buying properties in Malaga is no small undertaking, but by doing your research and keeping these few points in mind, you can be assured of making the right decision when it comes time to buy your dream home.
Before we finish this blog article, let's answer some frequently asked F&Qs:
Is Malaga a good real estate investment?
Yes, Malaga is an excellent option for real estate investment.
Properties in Malaga City offer great value, and the market is increasingly growing as more people are looking to buy property in this beautiful city on the Spanish coast.
Is it wise to buy a property in Spain right now?
Yes, now might be a good time to buy property in Spain.
The market is stabilizing, so you can find great deals and secure a good investment.
Will Spanish property prices fall soon?
It's always hard to predict what will happen with the real estate market; however, experts predict that prices may remain steady or rise as the economy recovers.
So if you're planning on buying property in Spain, now might be the best time.
We hope this article has been a helpful guide in understanding where to buy properties in Malaga City and other important considerations before purchasing your dream home.
---
---
Hola, I'm Paulina! Together with my team, we are passionate about Southern Spain. Here we share all you need to know for great times in Southern Spain with the best places to visit, stay and, of course, the best food to eat.
Let's dive in and explore Southern Spain's outdoors, food and culture con pasión!