Guide to the best beaches near Malaga you need to visit
People travel to the Costa del Sol for a number of reasons: the welcoming temperatures all year round, its cultural and culinary offerings, and, of course, some of the best beaches in Spain.
From Malaga to Marbella and even further afield toward the Costa de la Luz, you will find some of the most beautiful beaches, inviting you to kick back and get your tan on.
If you're more of an active beach-goer, catch a wave (kite) surfing, kayaking, or any other type of water sport you might enjoy. Ready to explore all the top beaches near Malaga but don't know where to start?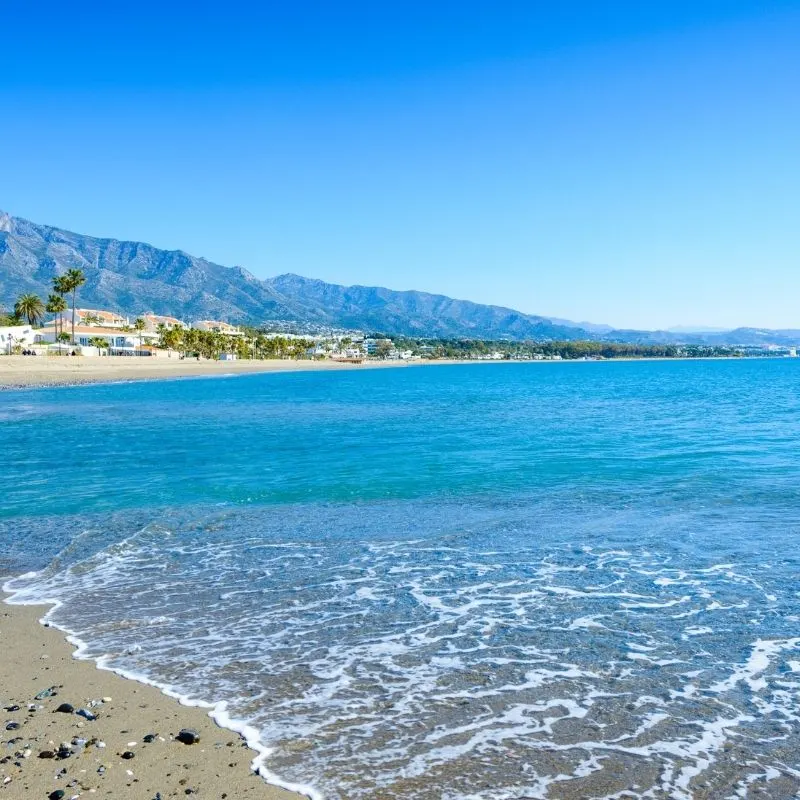 This post contains affiliate links. If you buy via them, I'll earn a small commission which helps me to keep this blog running. As an Amazon Associate I earn from qualifying purchases. All opinions are my own.
Keep calm and read on – pack up your beach gear for the day and use our handy guide to plan your ultimate holiday by the Andalusian sea.
Whether you're planning on staying put in Malaga or sinking your toes into the sand along various beaches within an 80km distance, we've got you covered.
Overview: Best Beaches in Malaga and Costa del Sol
Pedregalejo Beach
Playa de la Caleta
Cabopino, Marbella
Burriana, Nerja
La Rada, Estepona
El Castillo Beach, Fuengirola
Bil-Bil Beach, Benalmadena
Useful Travel Information About Malaga
✈ Book cheap flights to Malaga with Skyscanner

⚘ Avoid tourist traps and get the customizable "Andalucia Like a Local" itinerary. – Get it here

✔ Book tours in Malaga with GetYourGuide

➳ Find the best hotels in Malaga with TripAdvisor

❖ Rent a car with at the best rates with DiscoverCars

✎ Never leave without travel insurance! I got mine at SafetyWing. It is easy to set up, cheap and reliable.

$ Withdraw money without hidden fees and avoid exchange charges with TransferWise (Free Mastercard debit card to spend money abroad)
Best Beaches in Malaga City
1. La Malagueta Beach, Malaga
With a sand and gravel mix, this may not be the most attractive beach in Malaga, but it is definitely the most convenient if you're just looking for a quick dip or a morning spent playing volleyball.
It stretches on for about one kilometer, and its leisure area is roughly 40 meters wide, allowing for plenty of space to spread out your towel even on a busy day. This Malaga beach offers:
One of the greatest things about La Malagueta beach is its location – just a 20-minute walk from the very city center, you will pass through the Parque de Malaga and pass Muelle Uno and the funky Centre Pompidou building along the way.
It's one of the best beaches in Malaga since it is very close to the city center and is part of our 1 day in Malaga itinerary.
Are you thinking about moving to Malaga? Here's a guide that will help you buy the best properties in Malaga and la Malaguena district is one of the most beautiful areas to live in.
2. Pedregalejo Beach, Malaga
Looking for the perfect place to combine your beach-bum and foodie tendencies? Then Playa Pedregalejo – also known as Las Acacias Beach – is the spot for you.
A traditional fishing area, it has some of the best fish and seafood restaurants along the promenade.
So, once you've worked up a hunger, roasting in the sun and swimming in the sea, throw on your beach dress or tie up that sarong, and head over to one of the restaurants for boquerones or Spanish chicken croquettes.
Pedregalejo is a nice beach with:
A great selection of beachside restaurants
Showers and toilets
Hammocks and umbrellas for rent
Small gardens beneath palm trees
Playgrounds
Parking
Kiosks
It's a long walk to Pedregalejo Beach from the center of Malaga, but it's a perfect opportunity to rent a bike and work up your anticipation as you feel the sea breeze in your hair.
You'll reach the beach in about 15 minutes, and the roads there are relatively smooth.
Alternatively, you can make your way there in a rental car, which will take you around ten minutes. -You can rent a car here.
3. Playa de Maro, Malaga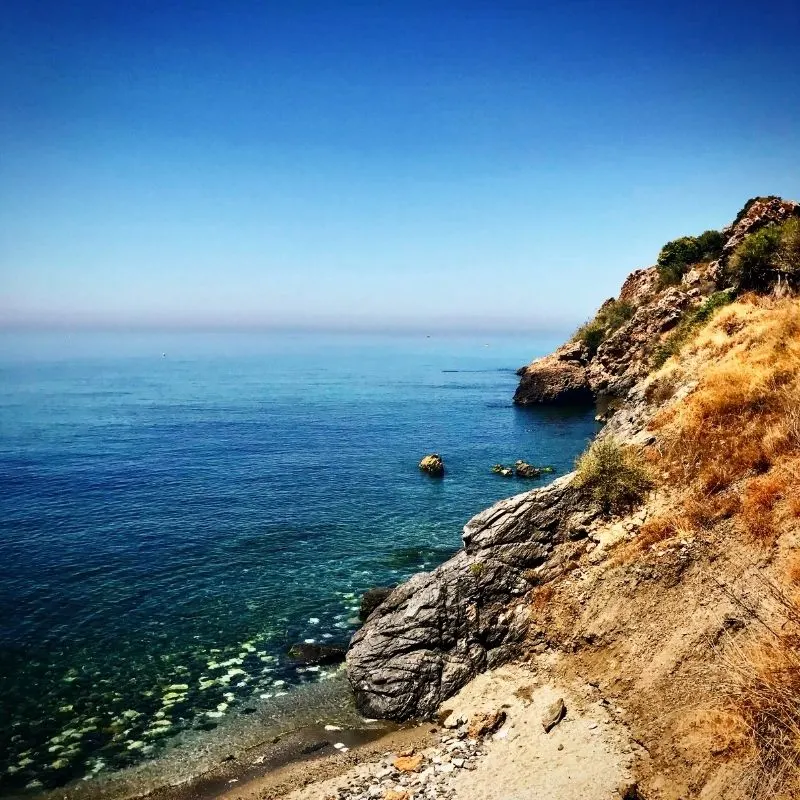 For one of the most beautiful clear water beaches in the region of Malaga, you'll need to head to Nerja – to the Playa de Maro, to be exact.
This is where you will get your fix of picturesque beach scenery, as well as a great selection of the best watersports in Malaga to partake in for the day.
Whether you're just looking for the perfect backdrop for your holiday photos or invitingly clear waters that make snorkeling and kayaking extra fun, Playa de Maro is for you.
Nestled behind the cliffs of the Tejeda mountain, this beach is quiet, unspoiled, simply breathtaking, and, most importantly, accessible for the differently-abled and pushchairs.
To ensure your day is as relaxed as possible, you will find:
A beach restaurant
Kiosk
Showers and toilets
A small car park
Sunbeds
Playa de Maro truly is one of the best beaches near Malaga, and it also happens to be located near the town of Nerja, a tourist favorite thanks to its all-year holiday vibe.
Make your way to this beach by car so you can aprovechar (take advantage) of a little stroll through Nerja first.
Simply get on the E-15/A-7 from the Carretera de Almeria in Malaga, until you reach exit 245.
Once you've exhausted your views of the sea and surrounding beaches from atop the Balcón de Europa, hop back into your rental car and drive along the Carretera de Almeria N-340 following the signs to Bajada a Playa de Maro. – Rent a car for your trip here.
4. Playa de La Caleta, Malaga
Situated between la Malagueta and the Baños del Carmen, you'll find another one of Malaga, Spain's beaches, namely Playa de la Caleta.
Measuring around 25m wide and stretching on for around 1000m, this is one of many Costa del Sol beaches frequented all year round by tourists and locals alike.
While it is close enough to the center of Malaga by car (around six minutes) and only a brisk, thirty-minute walk, it is far enough from the hustle and bustle to make you feel you have escaped city life completely.
Here you'll find:
Chiringuitos
Lifeguards
Showers and toilet facilities
Sun lounge hire
Children's play area
Parking
Paseo Maritimo
To get to Playa la Caleta, follow the Paseo del Parque towards Calle Molina. From the roundabout, keep in the direction of Avenida de Cánovas del Castillo (N-340).
5. Playa de el Palo, Malaga
Ask three Malagueños about the origin of the name "El Palo", and they'll all have a different theory.
But, according to historian Victor Heredia, it was most likely taken from a once-popular roadside venta on the way to Vélez-Málaga.
Playa el Palo stretches from the Arroyo Gálica all the way to Pedregalejo and is as popular among fishermen as it is among beachgoers.
Counting as one of the best beaches near Malaga it is equipped with:
Bars and restaurants
Sun lounge hire
Sport area
Lifeguards
Ample parking
Shower and toilet facilities
Children's play areas
Summer cinema screenings (June-August)
By car from Malaga, follow the Paseo del Parque to Avenida de Cánovas del Castillo; at the first cross road, turn left onto Calle Bolivia and followit all the way down to Calle Quitapenas.
The journey will take you around 12 minutes.
6. Playa Peñón del Cuervo
Just seven minutes by car from La Cala de Moral, an idyllic little beachside town outside of Malaga, on the south coast of Spain, you'll find Playa Peñon del Cuervo.
A leisurely lounge-day on this beach should definitely form part of your Costa del Sol holiday – it's just 450m long but is a hub for cultural events such as concerts, moragas and, it also happens to be home to the endangered plant species, Siempreviva.
You can't miss this beach: the big rock formation after which it is named is a real eye-catcher. Noteworthy amenities include:
Barbecue areas
Green zones
Children's play areas
Sport area
Sun lounge hire
Accessible by public bus
To get to Playa Peñón del Cuervo by bus, get on Line 3 or 6 at the estacion de autobuses next to the María Zambrano train station. The trip will take around 63 minutes. – Book your ticket here.
7. Playa De La Misericordia, Malaga
The Playa de La Misericordia, close to the museo automovilístico and the parque del oeste is one of the city's most popular beaches.
It stretches on for 2000m, its waters are clear and the sand feels clean and refreshing between your toes.
But ojo! You might find yourself surprised by el Melillero – a tide that comes in quickly and without much warning, soaking towels and even carrying people's belongings out to sea.
Here is what you can expect at Playa de la Misericordia:
Snorkeling zone
Accessible by bus
Floating platforms
Summer cinema screenings (June – August)
Chiringuitos, bars, and restaurants
Sports equipment
Playgrounds
Shower and toilet facilities
If you don't fancy renting a car or schlepping all your beach gear around, jump on the L40 bus at Avenida Maria Agustin Heredia, which will get you there in just over twenty minutes. – Buy tickets here.
Alternatively, enjoy a nice bike ride along the Paseo Maritimo.
Best Beaches near Malaga
8. Cabopino Beach, Marbella
Ready to head to one of the most beautiful beaches near Malaga? Then hit the road in the direction of Marbella to visit Cabopino beach.
For spectacular summer beaches, pictures that truly capture the best beach getaway vibes, a stunning natural environment, and sand dunes offering plenty of privacy, this is the place to be.
Wooden walkways lead you down to a narrow but wonderful stretch of beach, part of which is nudist.
There is not much here in terms of attractions and amenities, but you will find some bars and restaurants on either side of the beach – direction La Cala de Mijas (Chiringuito Las Dunas) and direction Marbella (Restaurante Chiringuito Triana Marbella).
The best way to get to this, one of the best beaches in Spain, is by car following the highway A-7 from Malaga in the direction of Marbella and taking the Cabopino exit.
There is a big parking space at the entrance to the beach and walkways.
9. Nikki Beach, Marbella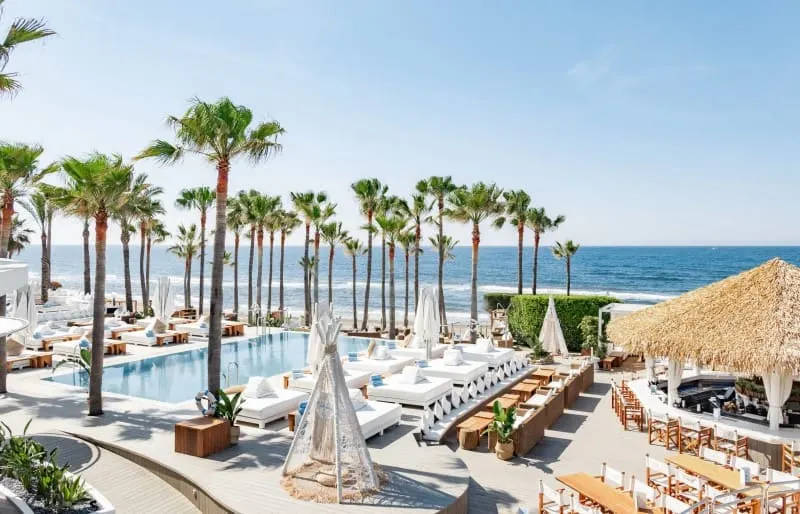 There are plenty of things to do in Marbella, but if you've come to the Spanish riviera to find the ultimate hot spots for relaxation, Nikki Beach is a must.
It's not so much a beach as it is an experience – a luxurious beach club and restaurant experience, "famous for champagne tastings, opulent lunches, daytime dancing, signature White opening parties, and Red closing parties."
Swimming pool
Sunbeds
Raised Deck
Sandy white beach
Open-air restaurant
Terrace
Lifestyle Boutique
Follow the AP-7 and A-7 direction Marbella, then take the exit at Elviria/Cambio Sentido.
Stay on the Calle Ciudad de los Periodistas, then follow Avenida Zurita to Avenida del Naviero.
10. Puerto Banús, Marbella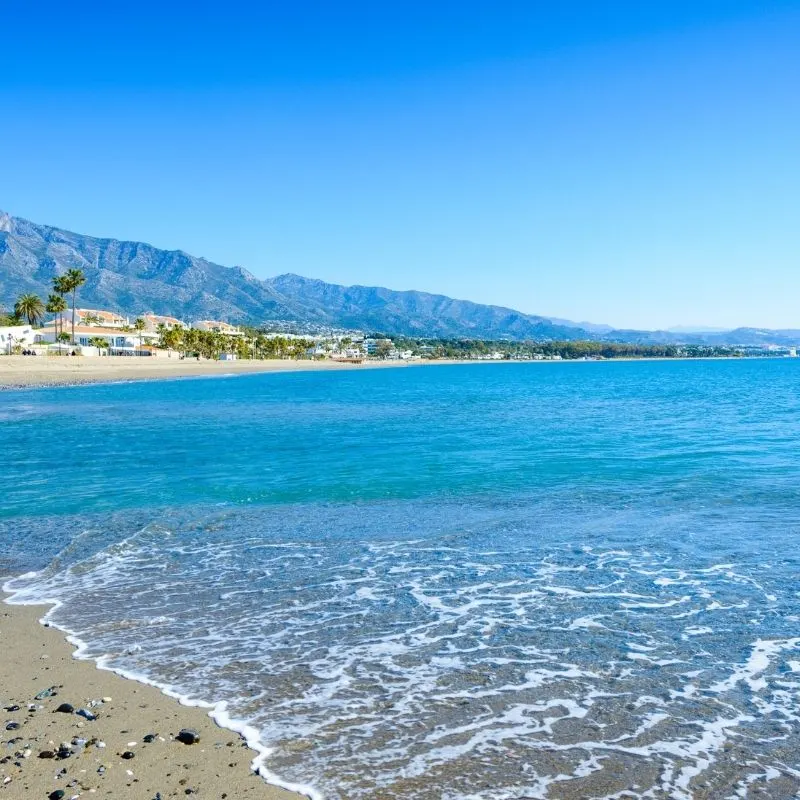 Possibly one of the most famous places in Spain's Costa del Sol, is Puerto Banus, the port that is home to luxury yachts, designer boutiques, and many celebrities.
Here you have your choice of three beaches: Playa Puerto Banus (also known as Playa de Levante), Playa Nueva Andalucia, and Playa del Rio Verde.
They are all nice beaches that have been awarded blue flags for their top-notch facilities including:
Sun Loungers
Parking
Wheelchair accessibility
Children's play areas
Shower and toilet facilities
Lifeguards
Chiringuitos and restaurants
By car, take the AP-7 to Marbella; take exit 181A to Puerto Banus. Alternatively, take the Avanza L-304 bus from the estación de autobuses de Málaga. – Book your tickets here.
11. Calahonda Beach, Nerja
According to Nerja's tourism office, Playa Calahonda is the town's most photographed.
It may have something to do with the fact that the water is a beautiful, turquoise color and its sandy beach is decorated with cliffs and striking rock formations.
It wouldn't surprise us at all if you would add it to your list of the world's most beautiful beaches and, certainly, one of the best beaches near Malaga, after your visit. It is foreseen with:
Parking
Lifeguards
Shower and toilet facilities
Sunbeds
Getting to the beach is an adventure in itself, one that will lead you through the Boquete de Calahonda, an arched, picturesque open doorway on the Balcón de Europa.
Very Alice in Wonderland-esque! To get to Nerja from Malaga, hop on the ALSA Ma-Mot-Alm at the estación de autobuses in Malaga, which will get you there in around 50 minutes. – You can find tickets here.
12. Burriana, Nerja
While you're here, there are more beachy things to do in Nerja – especially at Playa Burriana.
There are three volleyball courts, a kayak rental service that will allow you to explore the cliffs of Maro from a whole new perspective, and a choice of restaurants along the promenade.
So there's more to do at the Costa del Sol's best Mediterranean beach than just lounge around all day.
Here you'll find:
Kiosks
Parking
Chiringuitos and restaurants
Promenade
Sunbeds
Shower and toilet facilities
To get here, stroll down from the city center, take a taxi or – for an unforgettable arrival – take the lift from the Parador de Turismo.
13. Playa el Canuelo, Nerja
You may have recognized a theme here when it comes to the best beaches near Malaga – many of them happen to be in or around Nerja!
Playa el Canuelo is another popular beach with its clear waters inviting you to spend the mornings and afternoons snorkeling.
It also happens to be the perfect beach for tired feet: made up of tiny rocks, it offers the perfect texture for a lovely foot massage.
Shower and toilet facilities
Lifeguards
Parking
Restaurant
From the center of Nerja, Playa del Cañuelo is easy to find following the road signs 13km east. Once you arrive, you can opt to climb down or hitch a ride with the public bus. – Book your ticket here.
14. Bajondillo Beach,Torremolinos
Torremolinos, a busy beach town just twenty minutes outside of Malaga, is as beloved for its vibrant nightlife as it is for its beaches – especially Playa Bajondillo, and especially among tourists.
There is a great choice of chiringuitos, all of which offer their own sunbeds and fancy lounge beds at reasonable prices.
You will also find that there are so many things to do in Torremolinos and here's a selection of some of the best ones.
Parking
Sunbeds
Chiringuitos and restaurants
Lifeguards
Showers and toilet facilities
Get to Torremolinos by train on the C-1 from Malaga train station. By car, Playa Bajondillo is just a short, fifteen to twenty-minute drive on the MA-20. – Buy tickets here.
15. La Rada, Estepona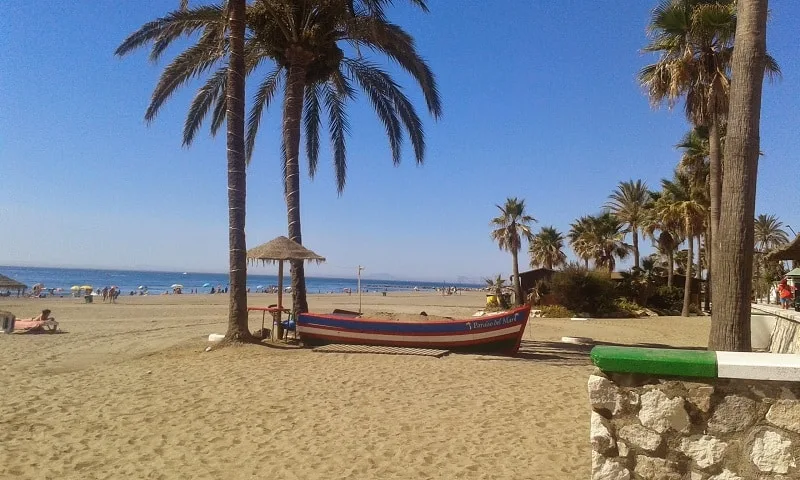 What used to be a small fisherman's village has now turned into one of the most popular beach towns on the Costa del Sol.
You will find many unique things to do in Estepona but if a beach is what you want, we have just the perfect option for you.
If you're looking for one of the best beaches near Malaga during your stay, head to Estepona for a street-art tour and a concert at Café Arte Huber following a day of soaking up some rays at La Rada beach.
Once hunger strikes, just cross the street and treat yourself to a refreshing smoothie and homemade goods at Tolone, or a creative, full menu at Chiringuito Palm Beach.
Shower and toilet facilities
Chiringuitos, bars, and restaurants
Children's play areas
To get to Estepona by bus, hop on the Avanza line for a direct trip. By car, get on the AP-7 direction Algeciras, then take exit 155 to Estepona. – Here you can buy your tickets.
16. El Castillo Beach, Fuengirola
Fabulous beach vibes and a medieval flair? You can have it all at El Castillo beach in Fuengirola among many other things to do in Fuengirola.
The Sohail Castle, which turns into a fantastic venue for concerts, cabaret, and comedy shows during the summer and fall season, overlooks the wonderful beach just outside of the busy town center.
Cross the beautifully lit beach from the castle side to Fuengirola, and you'll be in town in just five walking minutes. El Castillo beach offers everything you might want:
Parking
Chiringuitos, bars, and restaurants
Children's play areas
Showers and toilet facilities
Designated dog beach
To get to El Castillo beach, take the car following the road signs to Fuengirola; take the exit to Miramar shopping center/Castillo Sohail.
Or take the C-1 train from Malaga and make your way there by foot from Fuengirola station, which is just a twenty-five-minute walk that will take you through the town and along the promenade. – Buy your ticket here.
17. Bil-Bil Beach, Benalmadena
Close to one of the most wonderfully designed parks on the Costa del Sol, namely Parque de la Paloma, you'll find Benalmadena's best beach: Playa Bil-Bil.
Spend the day working up a tan, splashing around in the sea and try yourself at new water sports, then head back via a stroll through the park to wind down.
At your disposal you could find a bunch of things to do in Benalmadena:
Parking
Sunbed hire
Shower and toilet facilities
Lifeguards
Gardens
If you'd like to avoid getting stuck in traffic, we suggest opting for a train ride from Malaga to Benalmadena-Arroyo de la Miel. From there, it's just a twenty-minute walk to the beach.
---
Best Hotels in Malaga, Southern Spain
The beach may be the only thing on your mind as you prepare for a much-deserved holiday on the Costa del Sol, but you'll obviously need a place to crash too.
We have three Malaga-based suggestions for you for every budget – take your pick!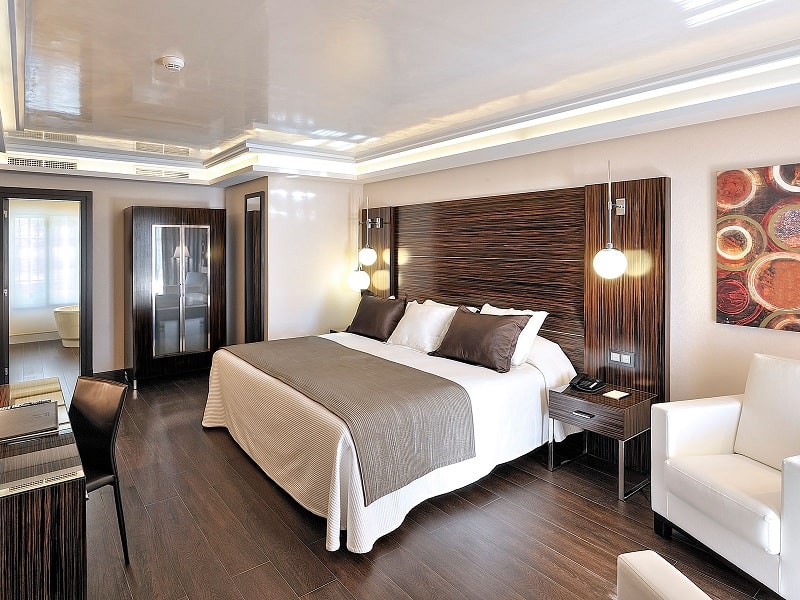 Looking for the closest beach, Costa del Sol, Spain? How about right outside your window?
At the exclusive Vincci boutique hotel, you can practically pick your beach spot for the day from the comforts of your bed, because it is, literally, right outside your door.
Add to that a spa and exquisitely decorated bedrooms and common areas, and you're all set for ultimate relaxation.
Planning on taking your four-legged bestie with you on holiday? Then the Parador de Málaga Golf is an excellent choice for you.
Pet friendly and with the beach and a golf course on the premises, this hotel might just tick all your boxes.
Enjoy breakfast and dinner in the early morning breeze or under the stars, and take full advantage of the location: close to the train station and the Plaza Mayor outdoor shopping center, and just a short bus ride from Malaga city. – You can book bus tickets here.
Check the hotel's rates & reviews here.
The Soho Boutique Las Vegas is a budget hotel that looks like it could easily be voted boho-luxury.
Located at the beach and just twenty minutes from the city center, this hotel offers modern rooms and beach-vibe decorations throughout the common areas, setting the tone for your stay.
With its own pool and indoor and outdoor dining areas, it invites you to linger and simply enjoy.
Take a look at the rates and reviews here.
What to expect from the best beaches near Malaga
So, what makes Malaga perfect for beach holidays? Well, let's start with the fact that local beaches in the area offer a little something for everyone.
One of the best beaches in Malaga City center is La Malagueta since it can be reached by foot.
For a beach day close to the city action, head to Playa de la Caleta in Malaga or El Castillo Beach in Fuengirola.
Prefer a scenery beach? Then the lovely Cabopino beach and sand dunes are for you.
Wherever you choose to go, you can always expect a chiringuito nearby, and plenty of space to set yourself and the family up for a memorable day at the beach.
If you don't want to lug a beach umbrella or tent around with you, reserve your sun lounger in the shade at one of the chiringuitos; this way, you also won't have to worry about lunch whenever you start feeling peckish.
Getting Around Malaga
Your feet are meant for walking, so make sure that's what they'll do – all around Malaga and the promenade too!
Most of the best beaches in Malaga can be reached by foot, bus or taxi.
And once they tire, rent a bike or a segway for smooth rolling around all the narrow shopping streets and through the city parks or simply opt for the Hop-on Hop-off bus.
The urbano bus will also take you wherever you need to go within city limits and even its outskirts and there is no need to buy tickets in advance unless you're looking to go further outside of Malaga. – You can book tickets in advance here.
Map Best Beaches near Malaga
---
Short FAQ about the Best Beaches near Malaga
What is Malaga famous for?
Malaga is famous for its fantastic choice of tapas bars and restaurants. There is also a great selection of museums including the Thyssen, Picasso, CAC, and the Centre Pompidou.
Does Malaga have sandy beaches?
Yes! You'll find all kinds of beaches in and around Malaga – some are sandy and white, others are made up of small stone pebbles, and some are downright rocky. But wherever you are based during your stay, you'll never be far from the best beaches near Malaga.
Does Malaga have nice beaches?
Absolutely – the choices are incredible, and each beach comes with its own charm. While one might be an urban dream, surrounded by lots of exciting bars and restaurants, the other might be just what you were looking for – secluded and surrounded by natural landscapes, such as Cabopino.
---
---
Hola, I'm Paulina! Together with my team, we are passionate about Southern Spain. Here we share all you need to know for great times in Southern Spain with the best places to visit, stay and, of course, the best food to eat.
Let's dive in and explore Southern Spain's outdoors, food and culture con pasión!