A Guide to the Best Attractions in Benalmadena, Southern Spain: the perfect Benalmadena Itinerary
Are you planning a trip to Benalmadena? That's amazing! This cute town, located in the province of Malaga in Andalusia, Spain, offers an incredible range of activities and attractions.
Whether you're looking to explore places of historical significance or prefer swimming at the beach instead, this sunny coastal municipality has something for everyone.
From shopping centres to nature parks and family-friendly aqua parks, there is plenty to keep any traveler entertained during their time in Benalmadena.
In this blog post, we'll be exploring our top picks for things to do in Benalmadena – read on and learn more about why it's such a wonderful holiday destination!
This blog is supported by you, dear reader. If you purchase through a link, we earn a small commission. As an Amazon Affiliate, we earn from qualifying purchases.
Top Things To Do In Benalmadena, Andalucia – Our Benalmadena Itinerary For 3 days
Discovering the best places to go in Benalmadena in 3 days
Visiting the Old Town and lively squares
Exploring the seaside and water activities
Enjoying Andalusian cuisine and tapas
Relaxing on the best beaches in Benalmadena
Visiting nearby towns
Useful Travel Information About Benalmadena
✈ Book cheap flights to Benalmadena with Skyscanner

⚘ Avoid tourist traps and get the customizable "Andalucia Like a Local" itinerary. – Get it here

✔ Book tours in Benalmadena with GetYourGuide

➳ Find the best hotels in Benalmadena with Trivago

❖ Rent a car at the best rates with Discover Cars

✎ Never leave without travel insurance! I get mine at HeyMondo. It is easy to set up, cheap and reliable.

$ Withdraw money without hidden fees and avoid exchange charges with TransferWise (Free Mastercard debit card to spend money abroad)
Day 1 of things to do in Benalmadena
Visit Benalmadena Old Town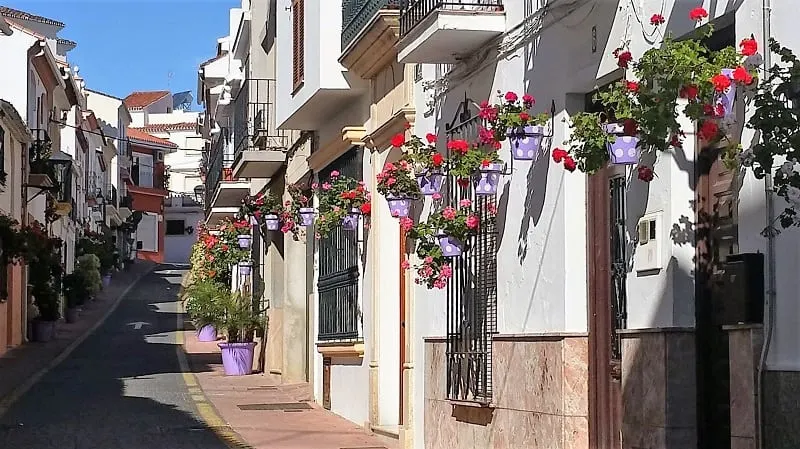 It's a great idea to begin discovering Benalmadena with its most charming and emblematic place – the Old Town (also known as Benalmádena pueblo). Located at the top of a 250 meters hill and looking down at the Mediterranean sea, it retains the authenticity and calmness of Andalusian mountain villages.
Prepare yourself for a mesmerizing labyrinth of narrow, cobbled streets running around typical for the region white houses and a breathtaking Andalusian landscape below!
Very romantic and calm, you'll find plenty of viewpoints and elegant squares where it's just impossible not to sit for a while to observe the town's lively chatter. – Have a look at guided tours here
Have a coffee at Plaza Espana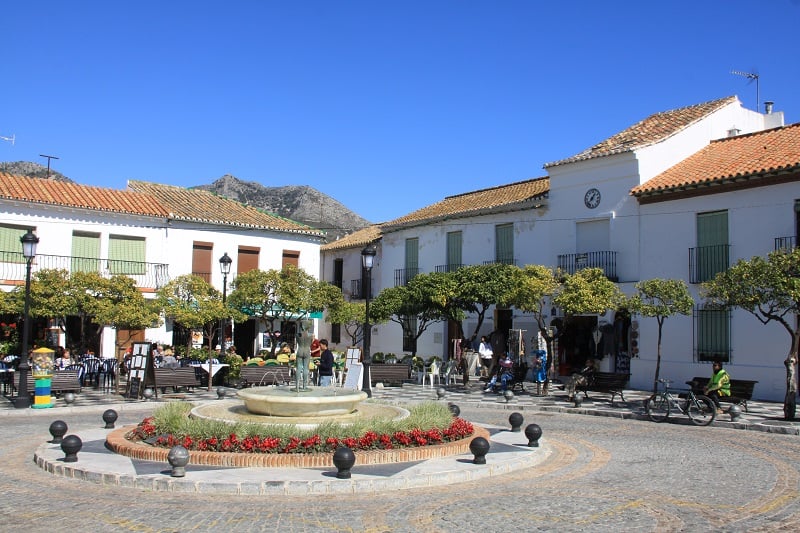 When wandering around the Old Town, there is no way you can miss Plaza Espana in Benalmadena. This small but busy square with a lovely fountain is truly heartwarming!
For a delicious cappuccino or energizing espresso head to Bar Plaza Espana – the warm and friendly atmosphere in a stunning ancient setting from the 1700s will take you back in time and make your coffee break a delicious experience.
Take a ride with Benalmadena Cable Car
To get an outstanding view of the city you must try the Cable Car in Benalmádena – a spectacular journey above the town, reaching the peak of Mount Calamorro. This is one of the best things to do in Benalmádena for couples.
You'll be able to see how the two parts of the city, Arroyo de la Miel and Benalmádena Costa, merge together to finally rest at the endless Mediterranean sea – a view you'll definitely keep in your mind after holidays in Benalmádena Spain.
The trip takes 15 minutes and is 3 km long, and is one of the most unique things to do in Benalmádena! – Skip the line and book tickets here
Opening times:
Late Feb and Mar: 11:00 – 18:00
Apr/May/June: 11:00 – 19:00
Jul/Aug: 11:00 – 00:00
Sep: 11:00 – 19:00
Oct: 11:00 – 18:00
Nov/Dec/early Jan 11.00 – 17.00 hrs
Visit Tivoli World
After flying above the city, it's a great idea to stay high on the excitement! The famous amusement park, located in Arroyo de la Miel has been offering rides and attractions since 1972 and is a perfect place to enjoy fun and exciting carousels, haunted houses, go-karts, water slides, and an indoor play area.
Try going on a Friday morning, to find a large street market and a fantastic funfair with shows in the afternoon!
Opening times:
Mid June – End of July: 17:00-00:00
July and August: 20:00-1:00
Early September-Mid-September: 17:30-00:30
Mid September-End October: 12:00-19:00
Lunch in La Perra Gorda
Not far from the Tivoli World, you'll find La Perra Gorda – one of the best restaurants in Arroyo de la Miel district.
Delicious Spanish cuisine, in a funky and relaxed setting with very helpful and friendly staff, is all you need to have a great time.
Try their famous Gazpachuelo and Pulpo a la Parilla for an unforgettable culinary experience, which will make you fall in love with Andalusia even more!
Have fun in Aqualand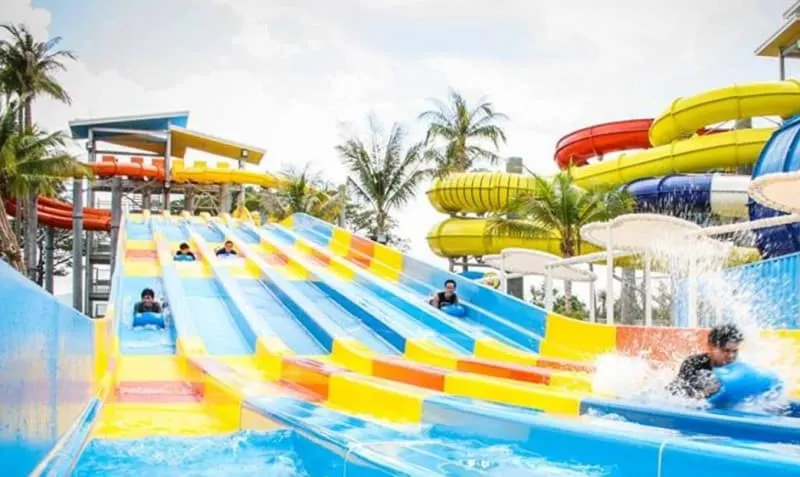 One of the most popular attractions while visiting the Costa del Sol during summer months is the Water Parks – Aqualand being the biggest on the coastline!
Located in Torremolinos, this Water Park will blow your mind and take you on a fantastic water adventure!
Filled with slides, tubes, water rides, and beautiful garden areas in between, Aqualand is a great destination for a few hours active retreat or a full day experience.
You will even be able to set up a small picnic to relax and regain strength after some intense swimming and water rides! – Buy tickets here in advance
If you love Torremolinos, have a look at our complete Torremolinos itinerary.
Opening times:
May/Jun/Sept/Oct: 11:00 – 18:00
Jul/Aug: 10:00 – 19:00
Book tickets in advance & skip-the-line
Marvel at Colomares Castle
One of Benalmadena's most quirky places to visit! Castillo de Colomares was built 30 years ago by 2 bricklayers and took 7 years to finish – making the place even more special and unique!
The whole castle is dedicated to the adventures and life of Christopher Columbus and has plenty of hidden clues and decorations in his memory.
You'll also find here the smallest church in the world, covering an area of 1.96 square meters – yet another little gem you can explore while visiting the Castillo de Colomares!
Opening times: Wed – Sun: 10:00- 20:00
Wander in Parque de la Paloma
One of the most beautiful green spaces in Benalmadena and definitely an amazing spot to relax among the rich wildlife and picturesque fountain squares.
The park is not only filled with extraordinary Andalusian flora and fauna, but you'll also find wild ducks, rabbits, turtles, and other unusual park animals wandering around and swimming in the little lakes!
Absolutely gorgeous and very calming compared to the sunny coast and rumbling city life – a great spot for all nature enthusiasts in need of some relaxation in green space.
This is one of the best free things to do in Benalmadena.
Charter a boat in Benalmadena
Looking for more unusual activities to enjoy the coast to its fullest? Holiday rentals in Benalmadena include boats, yachts, motorboats, and small charters and will definitely bring fun and excitement into your trip!
From short sailing trips to longer excursions from Benalmadena port, you'll see that there are endless possibilities once you go down to the Marina.
Check out some of the best rental places down at the Marina and prepare for another water adventure:
Princess 56 Motor Yacht Charter
"Starfish Dos" motorboat
Center Console Rental
Relax at Benalmadena Beach
The coast has almost 10 kilometers of beach, and surely you'll be able to find a perfect spot for yourself – whether it's a quiet cove or a family-focused area with bars and activities around.
With golden sand, extremely well maintained and clean, the Benalmadena beaches are a must-visit and the main destination for many travelers. Make the most of visiting Benalmadena by heading to the beach!
One of the best beaches in Benalmadena is Playa Bonita and Playa Arraya, both located on the town's coastline, with easy access and connections to the city.
Have a sundowner cocktail in Benalmadena Puerto Marina
If you're looking for a fun and groovy place to grab a delicious cocktail in the Marina – KALEIDO is your spot!
A great atmosphere, perfect location, live music, and outstanding cocktails are all you need to make a summer sunset special and unforgettable.
Not to mention the indoor area being a true green-space wonderland, that will take you away from the city hustle and bustle in no time!
Opening hours: Mon – Sun: 10:00 – 04:00
Enjoy tapas in Benalmadena
Delicious snacks accompanied by a glass of tinto de verano ( the most traditional Andalusian summer drink!) is something one simply must experience!
For an amazing feast head to Erase Una Vez – one of the best tapas bars in Benalmadena! Their mushrooms Spanish croquettes, spicy prawns or vegetarian toast to truly dive into a delicious culinary journey and get yet another unforgettable memory.
Day 2
Enjoy the Butterfly Park
Waking up and heading straight to the Butterfly Park is a perfect start of the second day! Relax and enjoy the peaceful atmosphere of one of the top Benalmadena attractions while looking at more than 1,500 exotic butterflies from all around the world flying above your head and presented in beautiful exhibitions!
The gardens are also a mesmerizing place, filled with orchids, ferns, and other tropical plants and trees.
The ambiance of this green getaway will definitely leave you with a refreshed mind ready to explore more!
Make sure you head to the butterfly garden if you are travelling with kids, it's one of the best tings to do in Benalmadena for families.
Opening Times: 10:00 to 19:30
Learn about the underwater world in Sea Life Benalmadena
For more wildlife and nature why not head under the water! Visit Sea Life Benalmadena and forget about the sunny beaches for a moment – the underwater creatures, vast amounts of colorful fish, giant turtles, and sharks will be your companions for a few hours in this exciting aquarium.
The facility is very welcoming and even prepares guided tours with informative lectures for those who are really interested in getting to know more about this amazing part of wildlife on a visit to Benalmadena.
It's a great excursion for the whole family. – Buy tickets in advance here
Opening times: Mon – Sun: 10:00 – 18:00
Be mindful in Benalmadena Buddhist Stupa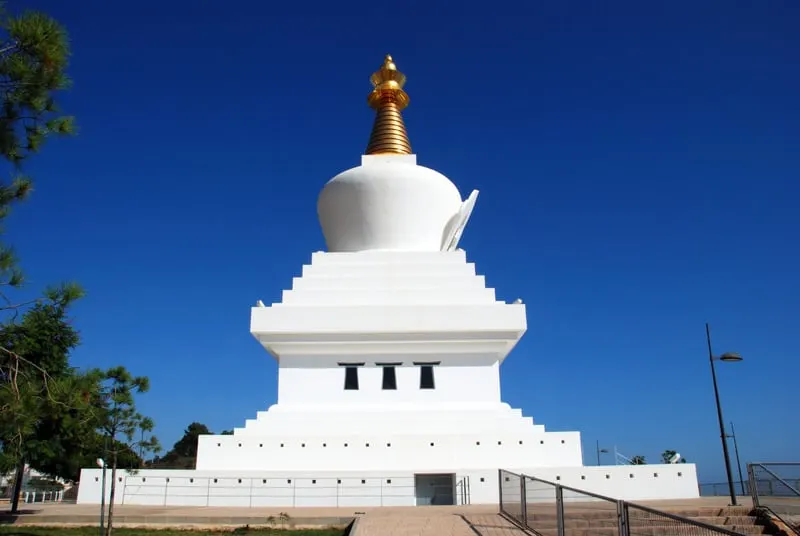 A stupa is a monument representing peace, harmony, and prosperity known from the Buddhist ideology.
It welcomes visitors from all around the world and gives a place to forget for a moment where we are, allowing us to breathe calmly and enjoy personal moments.
The Benalmadena Enlightenment Stupa is one of the town's hidden gems, and a truly peaceful and beautiful place, where you can join guided meditation on Friday and Sunday evenings!
Opening times: Mon – Sun: 10:00 – 14:00/ 16:00 – 19:30
Do water sports in Benalmadena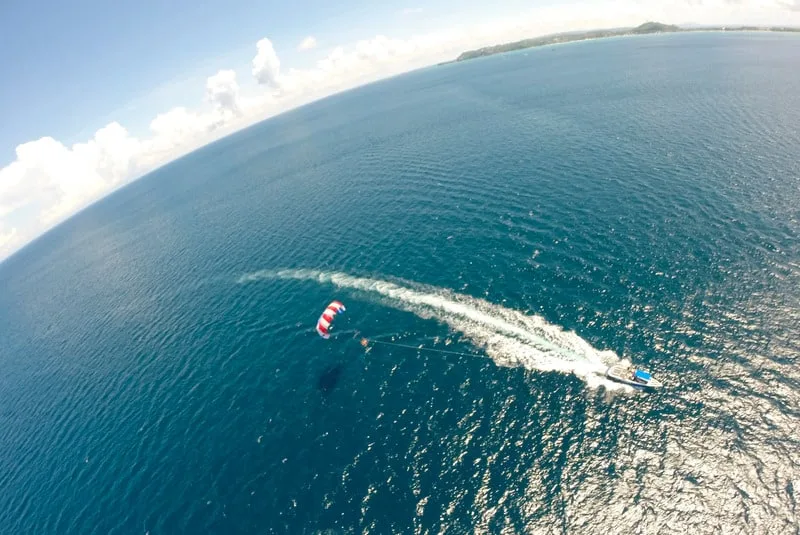 It's time for watersports! For those in need of some adrenaline rush, there are FishFlying and Parasailing options to try – taking you up in the sky just above the Mediterranean sea!
The classic Banana rides and Jet Skies are also another great way of getting your heart pumping. And for those in need of something more peaceful, there are plenty of SUP boards and kayaks available.
Here you'll see why Benalmadena is a heaven for outdoor activities. Check out Adrenaline Hunter for waterport fun and prepare yourself for another adventure in Benalmadena! – Book tours in advance here
Lunch in Lime & Lemon restaurant
One of the best and most known restaurants in Benalmadena, located just in front of Playa Bil Bil (one of the best beaches near Malaga). Having such a great setting and atmosphere only adds to the delicious food you will try here – not to mention their original fruity desserts.
One of the restaurant's top dishes are The Chicken Special and Tartare of Tuna and Avocado – the secret of the Chefs are extremely fresh and high-quality ingredients combined with passion and experience.
Remember to book in advance to make sure you get a table! – Contact here
It's also the perfect occasion to taste typical food from Malaga province.
Take a golf lesson
Fancy taking up a golf lesson while traveling on the Costa del Sol? Since there are plenty of golf courses near Benalmadena, you'll be able to choose the right spot in no time!
The Clubhouses come with beautiful panoramic views and provide all modern facilities that only add to the experience.
Sunny terraces, dressing rooms, bars, and restaurants are usually available on-site, making your day as comfortable as possible while you enjoy the magic of golf in Benalmadena.
For some of the best golf courses check out the locations below:
Golf Torrequebrada
Bil Bil Golf
Benalmadena Golf
Go Canyoning in "The Cathedral" Buitreras
The Buitreras Canyon is a breathtaking gorge located between rocky walls of over 100 meters! This adventurous canyoning trip is perfect for those in need of excitement and active exploration of Andalusia.
The trip takes about 5 hours, therefore you should be prepared and bring with you: food, water, sunscreen, sandals, and swimwear.
This activity is recommended for those who enjoy a bit of a hustle and aren't scared of getting a bit tired and sweaty.
The rough and wild landscape is totally worth the effort and will become yet another memorable moment of your visit to Benalmadena! – Book your tour here
Watch a horse show in El Ranchito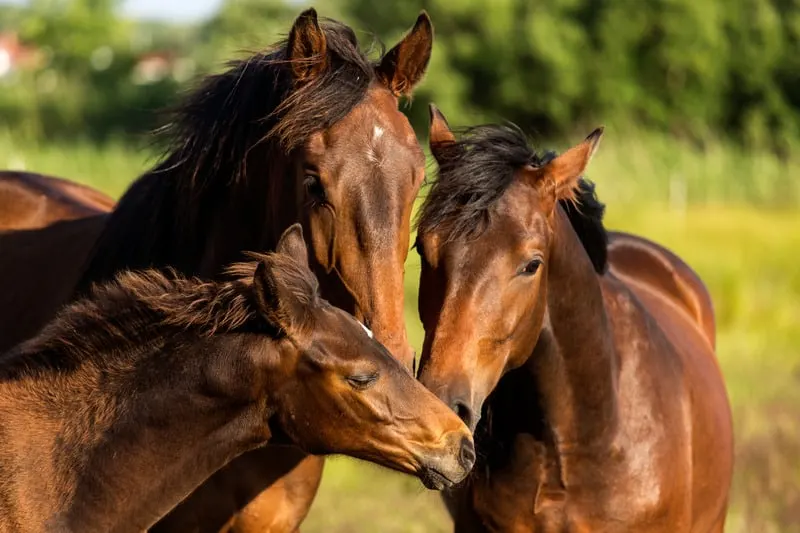 This amazing show is performed every Wednesday at 17:45 and has been going on for the last 22 years!
You'll find Andalusia's finest riders and horses presenting their skills while doing some amazing choreographies – a true masterpiece to watch, especially with the music accompanying the whole spectacle!
After the show, head down to the local bar and grab a delicious tinto de verano to cool down the excitement and get ready for a beautiful evening in Benalmadena. – Buy tickets here
Opening times: Mon – Sat 9:00 – 20:00
Dinner at Bonanza Square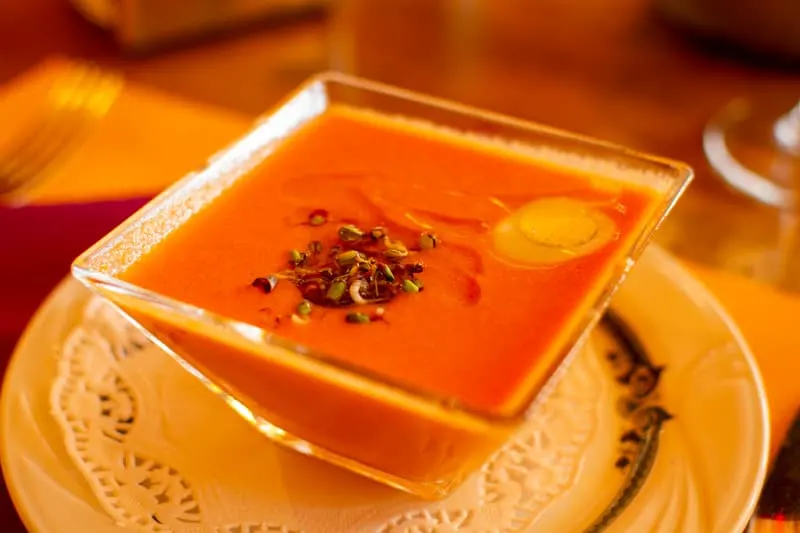 For a delicious dinner in an authentic Andalusian setting head to Bonanza Square in Benalmadena and get a table at El Karmen – one of the best places to eat in Benalmadena – and try their exquisite seafood, pates with homemade bread and truffle ice cream to finish, and I guarantee that your taste buds and belly will feel well taken care of.
Open since 1988, this family-run restaurant is one of the most traditional in Benalmadena and is definitely worth a visit.
Enjoy Nightlife in Benalmadena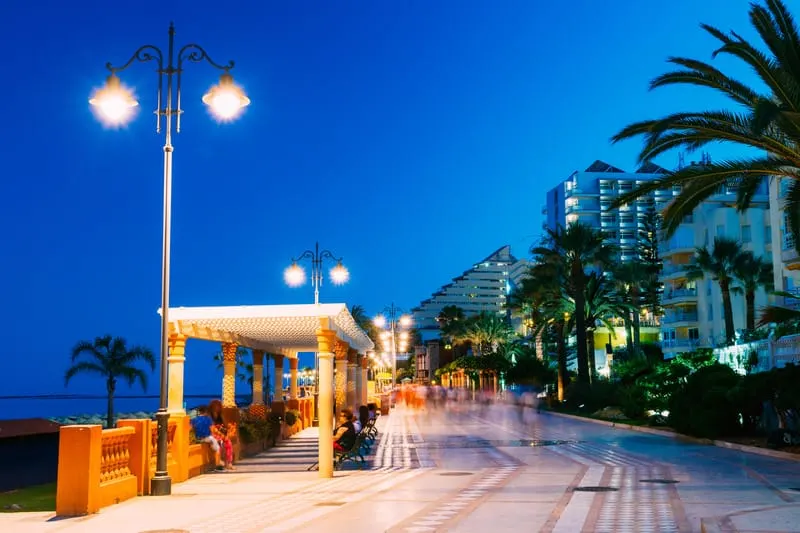 If you are looking for things to do in Benalmadena at night, you're in luck! Benalmadena is a popular destination because of its vivid nightlife – taking place mainly at the Solymar Square and Puerto Marina.
The area of Arroyo de la Miel is perfect for grabbing some beers with Spanish tapas on the bars' outdoor terraces. If you are a vegetarian, make sure you read our post on the best vegetarian tapas so you know what to pick!
Nightlife in Benalmadena, Spain is thriving and offers many fabulous clubs, late-night bars, and discos – all open until the early mornings! So go ahead and check out one of Benalmadena best places to party:
Kiu bar
Ole Bar Benalmadena
El Elefante
La Cubana
Day 3
A day trip from Benalmadena is the best option for day 3. Here are the best things to do near Benalmadena.
Day trip to Malaga from Benalmadena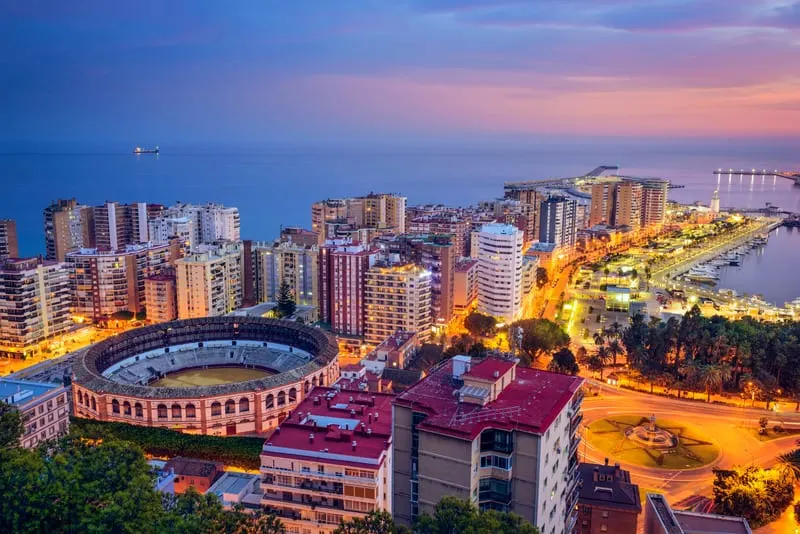 A day trip to Malaga is simply a must when visiting Benalmadena! Just 12 km away you'll find a true cultural wonderland and plenty of historic places to visit, while still staying connected to the coastline.
Make sure you try some Paella in Malaga – it's some of the best in Southern Spain.
Not to mention the famous malagueña cuisine waiting for you at all the tapas bars in town! Here some of the best places to see in Malaga:
Alcazaba Castle ( free on Sundays)
Atarazanas market
Mirador de Gibralfaro
Catedral de la Encarnacion
Malaga is easy to reach by train from Benalmadena. The train station is located next to Plaza de la Iglesia. – Buy tickets in advance here. Alternatively, you could travel to Malaga after visiting Benalmadena. Here are the best accommodation options in Malaga.
You should also check this post we wrote on things to do in Malaga.
Day Trip to Granada from Benalmadena
Located a bit further away, within the famous Sierra Nevada Mountain ranges, Granada is a true Arabic gem, with very contrasting surroundings in comparison to the coast!
Situated on a hillside, with beautiful petite squares and a lot of nature all over the city, it's a perfect place to visit after the sunny beaches of the coast! Use this one day in Granada guide to guide you through your trip.
You should also check this post we wrote on the things to do in Granada and the best places to eat in Granada.
Best places to see in Granada:
The Alhambra Castle ( book your tickets in advance!)
Generalife
Albayzin district
Flamenco show
Make sure to make the most of your time and go with a guided tour from Benalmadena to Granada. – Check rates & reviews here
Day Trip to Ronda from Benalmadena
Best-known for its incredible location atop a profound gorge spanned by a stone bridge, Ronda has a very wide cultural and literary tradition and is known to be the capital of modern bullfighting.
This picturesque mountain town is surrounded by breathtaking nature and will be a perfect place to rest a bit from the coastline's hustle and bustle.
Best places to see in Ronda:
Puente Nuevo
Bullring
Paseo de Ernest Hemingway
El Tajo district
Make sure to make the most of your time and opt for a guided tour from Benalmadena to Ronda. – Check rates & reviews here
Day Trip to Gibraltar from Benalmadena
Visiting Great Britain for a day might just be possible when traveling in Andalusia! Head to the British Colony of Gibraltar and marvel at the unusual location and small size of this separated country.
Surprisingly, there are plenty of things to do in Gibraltar, this small land strip belonging to the UK.
When visiting Gibraltar you must be prepared and have your documents at hand – make sure that you don't need a visa to enter!
Make sure to make the most of your time and opt for a guided tour from Benalmadena to Gibraltar. – Check rates & reviews here
Best places to see in Gibraltar:
Gibraltar Rock
St Michael's cave
Mosque at Europa Point
Do a the Caminito del Rey Trail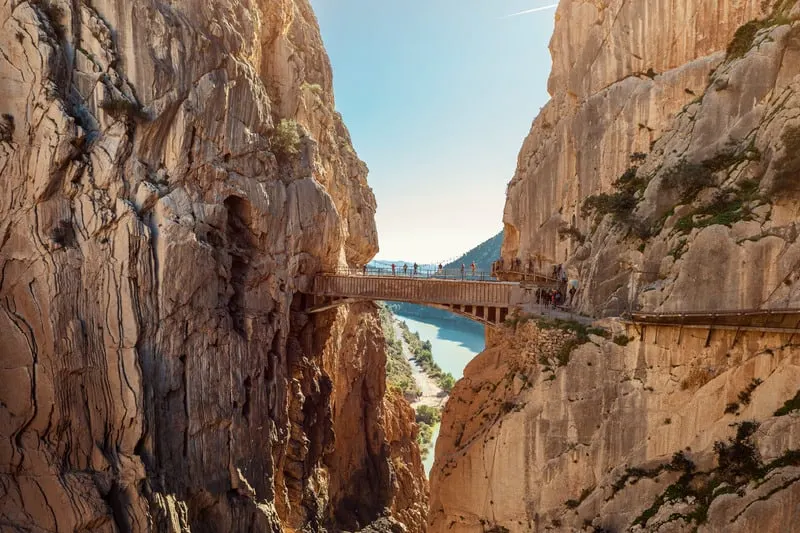 Located an hour drive north from Malaga, this mountain walkway in El Chorro gorge, Caminito del Rey takes from 2 to 3 hours and is a perfect place to relax in nature.
The path is extremely well prepared and it is a fantastic day trip into the mountains! Remember to bring snacks and water to be able to have lunch while looking down into the deep and steep valley below.
It's best to go on this day trip with a guided tour since it includes all the equipment, guides and often even insurance! – Check this guided tour
Really quick, before getting into the accommodation make sure to also check this post we wrote earlier on the things to do in Estepona or our Marbella itinerary which is only a stone's throw away from Benalmadena.
A Day Trip to Fuengirola
Located just a 20-minute drive away from Benalmadena, Fuengirola is the perfect day trip option. You could even do this drip in half a day if you are short of time.
Fuengirola also has some fantastic beaches if you like to beach-hop.
Make sure you take a stroll along Paseo Maritimo. This is also the best place to find lunch in Fuengirola. However, if you're visiting on a Tuesday and Saturday, I recommend visiting the famous Tuesday and Saturday markets.
Fuengirola's charming Old Town (see the picture), also known as 'Pueblo Blanco' (White Village), is a delightful area to explore during your day trip.
The Old Town offers a glimpse into the town's history and authentic Spanish culture with its narrow, winding streets, whitewashed houses, and traditional Andalusian architecture.
If you are travelling with kids, the Bioparc Fuengirola is the perfect option. This modern zoo features immersive habitats for a variety of animals and is dedicated to conservation and education.
There are plenty of nightlife options in Fuengirola, and being so close to Benalmadena, you could extend your trip late into the night. The town is known for its lively nightlife, with numerous bars, clubs, and live music venues.
Best Hotels in Benalmadena, Southern Spain
Finding the perfect hotel in Benalmadena, Costa Del Sol might seem tricky, because of the huge amount of places to choose from.
Below you'll find the 3 top spots from luxury to cheap accommodation in Benalmadena, which will provide you not only with good night sleep but also great location and commodities.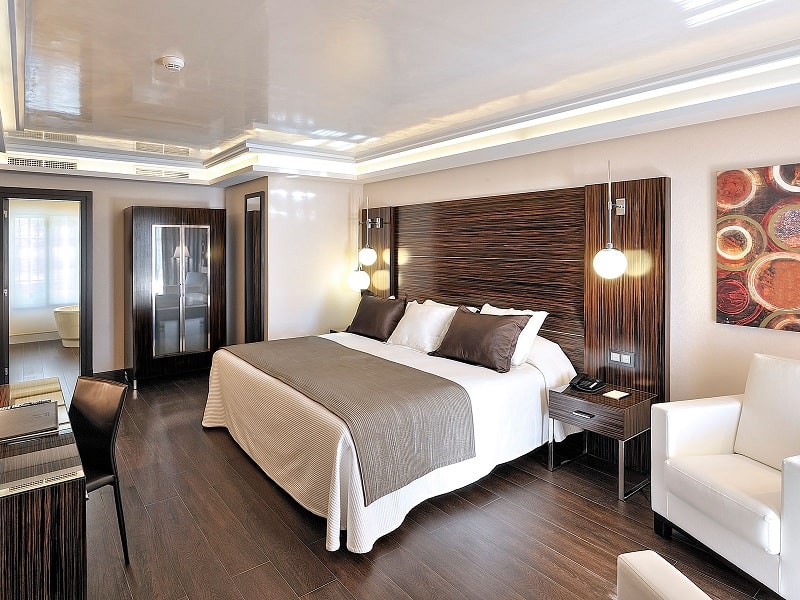 One of the most sophisticated 5-star hotels in Benalmádena near the Benalmadena Marina and a great choice for the most demanding travelers!
The rooms of Vincci Selección Aleysa are just marvelous and have an amazing view of the sea, which you will wake up to every morning!
You'll be able to choose from various activities and facilities such as indoor and outdoor pools, sauna, jacuzzi, spa treatments, gym, restaurant and bar, a beautiful terrace, access to the beach, and more! – Check rates & reviews here
The Mac Puerto Marina is located right next to the Benalmadena marina, restaurants, bars, and places for shopping in Benalmadena. Not to mention the sandy beach at its doorsteps!
Elegant and clean rooms, a fantastic restaurant and buffet, swimming pool on the courtyard and gym access, are one of many commodities available on site!
A great choice for those looking for a mid-range hotel to relax close to the beach. – Check rates & reviews here
Located close to Parque de la Paloma, Sahara Sunset is a great choice for those looking for cheap hotels in Benalmadena, with easy access to the beach.
You'll definitely find plenty to do thanks to the hotel amenities and activities, making it one of the best accommodation options in Benalmadena. An outdoor pool, gym, and restaurant are all at your disposal, and will definitely keep you busy after sightseeing!
Being close to markets in Benalmadena is also one of the hotels' assets and will make shopping easier than ever! – Check rates & reviews here
---
How to get to Benalmadena
How to get from Malaga to Benalmadena:
Take a direct bus from Málaga Terminal Muelle Heredia (40m). There is also a direct train from Málaga Centro-Alameda to Benalmádena-Arroyo de la Miel (35m). – Book tickets here
How to get from Marbella to Benalmadena:
Take a direct bus from Marbella Bus Station to Costa Puerto Marina in Benalmadena (45m). – Book tickets here
How to get from Torremolinos to Benalmadena:
Take a direct bus from Casablanca stop to Puerto Marina in Benalmadena (10m). There is also a direct train from Torremolinos Train Station to Benalmádena-Arroyo de la Miel (12m). – Buy tickets here
How to get from Estepona to Benalmadena:
You can take a direct bus from Estepona Bus Station to Playa Bonita stop (1:30h).
If you plan to go on day trips, I strongly recommend having a look at car hire deals in Benalmadena.
Getting Around Benalmadena
The easiest and most economical way to discover Benalmadena is walking, cycling, or using the city bus which communicates its three districts with the rest of the coastline.
For this it's best to get a Local Travel Card, allowing you to use the busses freely! You can also check the car hire possibilities to have easy access to the surrounding areas and towns.
Another great way to get around is with HopOn-HopOff bus. – Check tickets here
Can't get enough of Benalmadena activities? Have a look at our webstory about the best things to do in Benalmadena.
Map of Benalmadena, Spain Map
A short FAQ about things to do in Benalmadena, Spain
How far from Torremolinos to Benalmadena?
Torremolinos is 10 to 12 minutes far from Benalmadena.
What are things to do in Benalmadena for families?
An excursion to the underwater world in Sea Life is a great thing to do in Benalmadena for families.
What are things to do in Benalmadena when it's raining?
You could have lunch in Lime & Lemon restaurant and enjoy traditional Andalusian food.
Is Benalmadena worth visiting?
Yes, Benalmadena is a popular destination on the Costa del Sol, known for its beautiful beaches, vibrant nightlife, and numerous attractions. Enjoy a mix of cultural, historical, and leisure activities, including stunning beaches.
Is Benalmádena like Benidorm?
While both Benalmadena and Benidorm are popular coastal resorts in Spain, they are very different. Benalmadena is situated on the Costa del Sol and is generally more laid-back, while Benidorm, on the Costa Blanca, is known for its skyscrapers and lively atmosphere.
How far is Benalmádena from the airport?
Benalmadena is a 19-minute drive from Malaga Airport, making it a very convenient destination. You can reach Benalmadena from Malaga Airport by public transport in 26 minutes.
Is Benalmádena a lively resort?
Yes, Benalmadena is known for its lively atmosphere, particularly in the Marina and Arroyo de la Miel areas. You will find a wide range of bars, clubs, and restaurants.
What is the hottest month in Benalmádena?
The hottest month is August, where you can expect daily temperatures that average 32°.
---
---
Hola, I'm Paulina! Together with my team, we are passionate about Southern Spain. Here we share all you need to know for great times in Southern Spain with the best places to visit, stay and, of course, the best food to eat.
Let's dive in and explore Southern Spain's outdoors, food and culture con pasión!