There is a particular type of Spanish tapas that is super simple to make and everyone loves, and that is the Spanish croquettes recipes.
We talk in plural because all of the croquettes recipes are easy to make and they don't require any type of knowledge about cooking, plus you don't need any fancy equipment to make them.
Keep scrolling down this article to see some of the best Spanish croquette recipes that you can find, and get ready to have your mouth watering soon.
This post contains affiliate links. If you buy via them, I'll earn a small commission which helps me to keep this blog running. As an Amazon Associate I earn from qualifying purchases. All opinions are my own.
Best Spanish Croquettes Recipes
1. Chicken Croquettes Recipe
The chicken croquettes are one of the most common Spanish croquettes that you will find, and along with the ham croquettes, it is one of the oldest recipes.
You prepare them like any other croquettes recipe, but you use the chicken as the filling.
For the chicken croquettes, you should use chicken breast, but technically you can do it with any leftover chicken that you have by hand.
Get the recipe: Spanish Chicken Croquettes Recipe
2. Spanish Mushroom Croquettes Recipe
When it comes to vegetarian tapas for these types of Spanish tapas, the mushroom croquettes are a solid fan favorite.
The flavor of the mushroom is different from the one of the meats in the classic Spanish croquettes recipe, but the texture is pretty similar.
The recipe for this mushroom version became more popular after the 1950s, as the vegetarian diet also became more mainstream and started gaining more followers in Spain and the world in general.
Get the recipe: Best Spanish Mushroom Croquettes Recipe
3. Bacalao Croquettes Recipe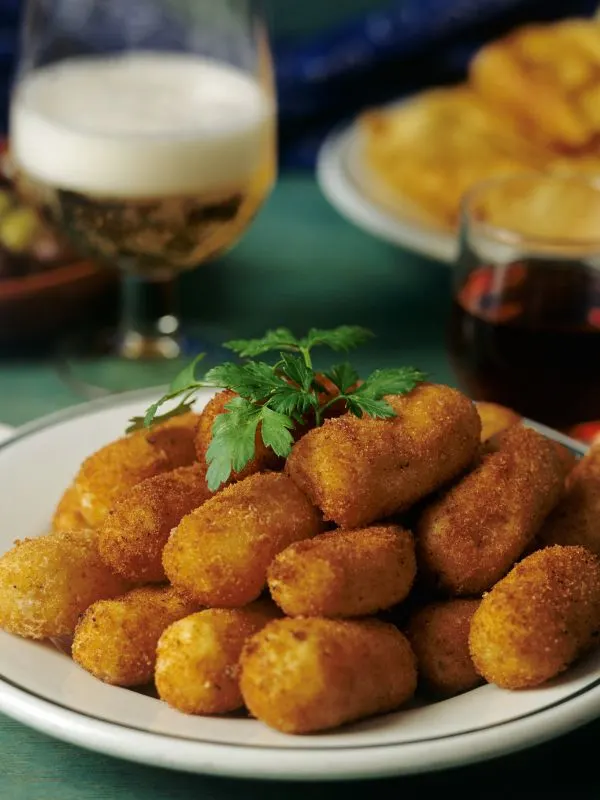 If we are talking about recipes that come from Southern Spain, then you have to know that seafood will always be a great alternative.
The same happens with croquettes, as soon as they became popular, people started trying on different fillings, and the bacalao croquettes were an instant hit.
The only tricky part of this croquette recipe is to clean the bacalao, removing the skin and bones, but if you buy it from the fish shop and ask them to clean the bacalao then you don't have to worry
Get the recipe: Best Bacalao Croquettes Recipe Ever!
4. Spanish Ham Croquettes Recipe
It is believed that the Ham croquettes are the oldest of the Spanish croquettes recipes, so you could say that all the other versions were born after this.
To make the Spanish ham croquettes you need Serrano ham, onions, milk, flour, eggs, breadcrumbs, and oil for frying.
The Serrano hams bring the Spanish flavor to this recipe, but if you want these croquettas to have an even more Andalusian taste, you can serve them with aioli as a dipping sauce.
Get the recipe: Must-Try Spanish Ham Croquettes Recipe
5. Cheesy Potato Croquettes Recipe
When it comes to Spanish appetizers, cheesy potato croquettes are the ones that everyone in the whole world loves.
This is because the potato and cheese (manchego, sharp white cheddar, or mozzarella) are basic ingredients that can be found all over the planet, so it doesn't matter if you are in the United States or Japan, you can prepare this recipe.
Not only does it stand out from other easy Spanish recipes because of that, but another factor is that it is simple to make and pretty cheap too.
Get the recipe: Cheesy Potato Croquettes Recipe
6. Spanish Chorizo Croquettes Recipe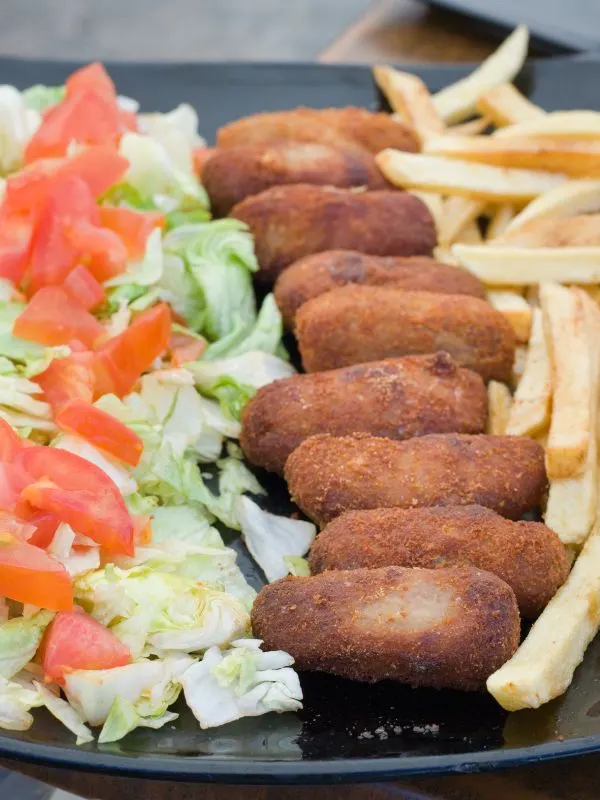 If it has chorizo on it then you know that it is an Andalusian recipe, and with this one, you have everything you love about Spanish croquettes, plus the fantastic chorizo flavor.
This recipe was developed to make a change to the classic ham croquettes, and chorizo was chosen as the new filling because everyone in Southern Spain loves it and it also works to represent the region.
Of course, chorizo is one of the main ingredients and it gives a strong flavor, but still, you can serve the croquettes with dipping sauces like sour cream, tomato sauce, aioli, ranch, or anything you like.
As well as it happens with other easy chorizo recipes, the quality of the Spanish chorizo is key to nailing the flavor, so keep that in mind.
Get the recipe: Easy Spanish Chorizo Croquettes Recipe
7. Spanish Rice Croquettes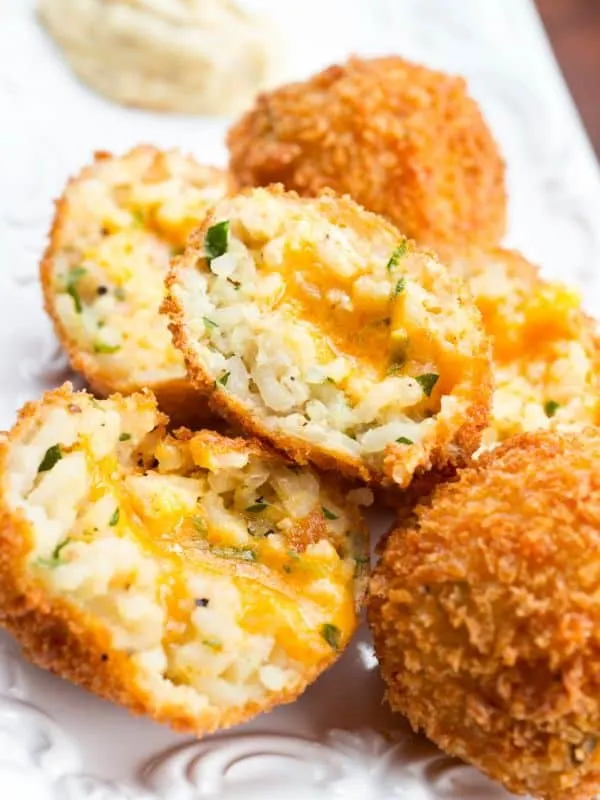 Other croquette recipes have potatoes or a bechamel sauce as the component to join all of the ingredients together, but when it comes to this recipe the rice is in charge of that.
Cooked rice is the main ingredient to prepare this croquette, so if you have leftover rice this is an amazing alternative to not waste good food and transform it into Spanish appetizers.
If the rice is too dry, you can rehydrate it by heating it with some broth or water before making the recipe.
8. Spanish Bean Croquettes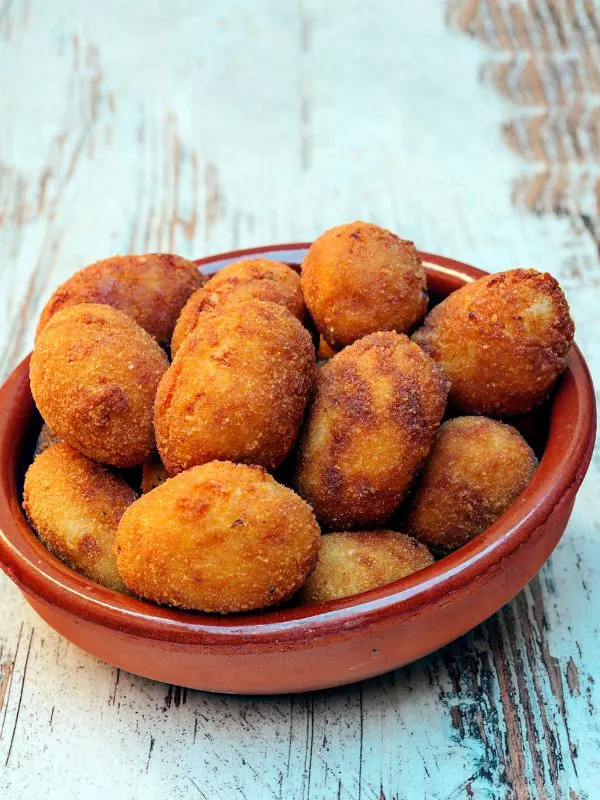 Another great twist on the classic easy tapas recipes, that can work as a vegetarian or vegan version, is the bean croquettes.
Similar to what happens with the rice croquettes, it is a great alternative if you prepared a lot of beans and you have some leftovers, or if you simply want to improve the canned beans.
We know that it might seem intimidating because the beans are the main ingredient, but keep in mind that you don't need any set of skills to prepare this recipe.
9. Spanish Tuna Croquettes
If you thought that bacalao croquettes were all of the seafood that you will find on this Spanish tapas recipes list then you are wrong: the Spanish tuna croquettes are another alternative that works well.
Some people debate whether it is better to make this dish with canned tuna or with fresh tuna, but at the end of the day, you should make what's easier for you: the flavor will be great anyways.
In this case, using canned or fresh tuna doesn't make much difference because of the cooking process (frying) of the croquettes, and the presence of the other ingredients.
10. Spanish Banana Croquettes
Who says that Spanish croquettes recipes can only be savory? The banana croquettes are the first ones to take this myth down.
The banana Spanish croquette recipe isn't the first one to play with sweet ingredients and frying them (see fried Oreos, deep-fried ice cream, and more), but it nails it.
Technically, you just need a small amount of sugar for the banana croquettes as the fruit already adds some sweetness, and the coating is a bit different too.
In some recipes, you make the same step-by-step as the one for the regular croquettes, and in others, the coating is made with milk, eggs, and flour batter.
11. Spanish Chocolate Croquettes
If you have a sweet craving but you still want to enjoy tapas dishes, then you have to try and make chocolate croquettes.
The best part about this Spanish snack, is that if you serve it hot the chocolate will melt in your mouth and who doesn't love that?
If you don't want to have melted chocolate melting all over you, you can serve them cold so that the chocolate is solid (or just have a napkin near you).
When it comes to dipping sauces, you can place a small bowl with condensed milk, whipped cream, or dulce de leche to dip your croquettes on.
12. Spanish Vegan Potato Croquettes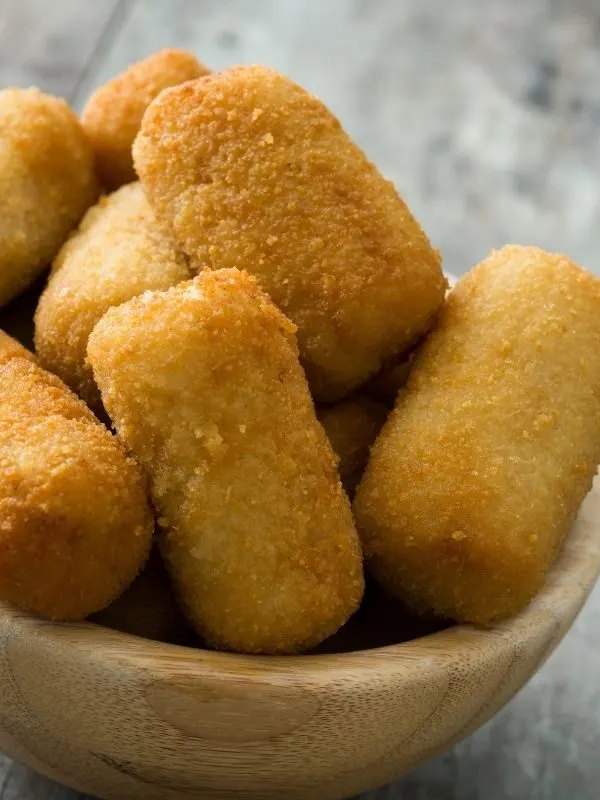 You can imagine by now that croquettes are the most popular Spanish starters, so it became almost a necessity to create a vegan alternative for this recipe.
Thanks to that the vegan potato croquettes were born, and the main difference is that you use vegetable milk, margarine (or vegan butter), and you skip the eggs.
The taste is still amazing, and if you are vegan then it is the perfect alternative to the classic Spanish croquettes recipes.
If you want it to feel more like the typical croquettes, you can put a small square of vegan cheese inside and let it melt while cooking.
Get the recipe: Vegan Potato Croquettes Recipe from Spain
13. Fried Goat Cheese Recipe from Spain
Fried goat cheese is one of the best Tapas recipes, especially when it comes to mixing sweet and savory flavors.
This dish is commonly served with a drizzle of honey on top, or some people go as far as to coat the croquettes with honey marinate.
You can choose whatever sounds better for you, or go for the classic dipping sauces like aioli, tomato sauce (or ketchup), sour cream, etc.
Get the recipe: Sweet-Sour Fried Goat Cheese Recipe from Spain
14. Spanish Shrimp Croquettes
There is one more seafood tapas among the Spanish croquettes recipes, and that is the shrimp croquette.
Compared to the previous ones, this is probably the easiest and fastest one to make, because the shrimp only takes a couple of minutes to cook, and then you use the same ingredients as for the other croquettes recipes.
Some people like to give an Asian twist to this recipe and use soy sauce or oyster sauce for the dips, and they work wonders.
Of course, other creamier sauces like sour cream dip and aioli are an amazing pair for this croquette.
Get the recipe: Best Shrimp Croquettes Recipe from Spain
15. Spanish Beef Croquettes
Red meat isn't the most common ingredient in classic Spanish croquettes recipes, but that doesn't mean that it doesn't work great.
Contrary to what you may imagine, the beef croquettes are simply amazing, and a fantastic twist for all of the meat lovers out there that want to have great beef everywhere.
You have to cook the beef and let it cool (to room temperature) before using it for this recipe, or you can use any leftover meat that you have at home.
Short FAQ about the Best Spanish Croquettes Recipes
What are Spanish croquettes made of?
The base ingredients for almost all of the Spanish croquettes recipes are milk, flour, eggs, potatoes (in some cases), and then a filling of choice.
The same happens with how to make croquettes, the process is the same for every type, except for small changes in some cases.
What is usually in croquettes?
The most common ingredients to go inside the croquettes are ham and cheese, but as you can see with the help of this article, there are different alternatives.
For example, when Spanish chorizo recipes became more popular the chorizo croquettes were created, and the same happened with the vegan potato ones or the bacalao croquettes.
---
---
Hola, I'm Paulina! Together with my team, we are passionate about Southern Spain. Here we share all you need to know for great times in Southern Spain with the best places to visit, stay and, of course, the best food to eat.
Let's dive in and explore Southern Spain's outdoors, food and culture con pasión!