Are you looking to experience the laid-back charm and soul of Spain's beautiful Southwest coast? Then, make Huelva, Spain your next destination!
Located in the provinces of Andalusia, this bustling port city is full of life – from its vibrant culture to its rich history.
From outdoor adventures and stunning beaches to amazing local cuisine and beyond, there are countless things to do in Huelva.
We here at Visit Southern Spain particularly like that the city and its surrounding area are still considered a hidden gem among travelers.
So get ready for an unforgettable journey as we take a look at all that awaits you in the captivating city & area of Huelva!
Whether you're a solo traveler or traveling with family or friends, this coastal region truly has something for everyone.
From stunning beaches to historical monuments, there are plenty of activities around for everyone – no matter your age or interests.
Whether you're spending a day here or looking for somewhere new and exciting to stay in Spain longer-term, there's something for every traveler looking for adventure near the Atlantic Ocean.
This blog is supported by you, dear reader. If you purchase through a link, we earn a small commission. As an Amazon Affiliate, we earn from qualifying purchases.
Resources to visit Huelva, Spain
✈ Book cheap flights to Huelva with Skyscanner

✔ Book tours in Huelva with Civitatis

⚘ Avoid tourist traps and get the customizable "Southern Spain Like a Local" itinerary. – Get it here

➳ Find the best hotels in Huelva with Trivago

❖ Rent a car at the best rates with Discover Cars

✎ Never leave without travel insurance! I get mine at HeyMondo. It is easy to set up, cheap and reliable.

$ Withdraw money without hidden fees and avoid exchange charges with Wise (Free Mastercard debit card to spend money abroad)
What to do in Huelva?
Nestled in the southwest corner of Spain lies the charming city of Huelva.
Rich in history, culture, and natural beauty, this city offers endless possibilities of things to see and do.
Explore the old town and marvel at the stunning architecture and historical landmarks such as the Cathedral of La Merced.
For nature lovers, there are miles of unspoiled beaches with crystal-clear waters and wildlife reserves with exotic species.
Take a culinary journey and indulge in mouth-watering seafood cuisine and local wine. Whatever your interests may be, Huelva has something for everyone.
From exploring the ancient ruins of Tartessos to wandering through the charming streets of the historic center, there is no shortage of things to do in Huelva.
Stroll along the wide beaches of Punta Umbría, or hike through the beautiful natural park of Sierra de Aracena and Picos de Aroche.
Feast on fresh seafood at the local markets, or indulge in the delicious traditional cuisine of the region.
With so much to offer, Huelva truly has something for everyone.
Things to do in Huelva, Spain
This small city on the southwestern coast offers a plethora of activities and sights to see.
For history buffs, the Rio Tinto mines and the Christopher Columbus Museum are must-visits.
Outdoor enthusiasts will love the stunning beaches, including the picturesque El Rompido, and the nearby Doñana National Park.
And foodies can indulge in the local specialties, including seafood and refreshing gazpacho soup.
Whether you're interested in history, nature, or cuisine, there are plenty of things to do in Huelva, Spain!
Is Huelva worth visiting?
When it comes to exploring Spain, the city of Huelva may not immediately come to mind.
However, as someone who has personally visited this hidden gem, I can assure you that it is absolutely worth adding to your travel itinerary.
Located in the southwestern region of the country, Huelva boasts stunning beaches, historic landmarks, and delicious cuisine.
Not only that, but the city also has a rich cultural heritage, having been inhabited for thousands of years by various civilizations.
Whether you're interested in relaxing by the sea, immersing yourself in local history, or tasting the flavors of Andalusia, there's something for everyone in Huelva.
So, if you're asking yourself "Is Huelva worth visiting?", my enthusiastic answer is a resounding yes!
How far is Huelva from Seville?
If you're planning a trip through Andalusia, you might find yourself asking: "How far is Huelva from Seville?"
Well, my friend, I'm excited to tell you that the distance between these two beautiful cities is approximately 94 kilometers.
And let me tell you, the drive from Seville to Huelva is an absolute treat.
As you wind your way through the gorgeous landscapes of southwestern Spain, you'll catch glimpses of rolling hills, olive groves, and quaint little villages.
Make sure to stop along the way and bask in the region's natural beauty – it's truly something to behold. So, pack your bags and get ready for an incredible adventure through Andalusia!
---
LIMITED OFFER: the Ultimate Andalusia Itinerary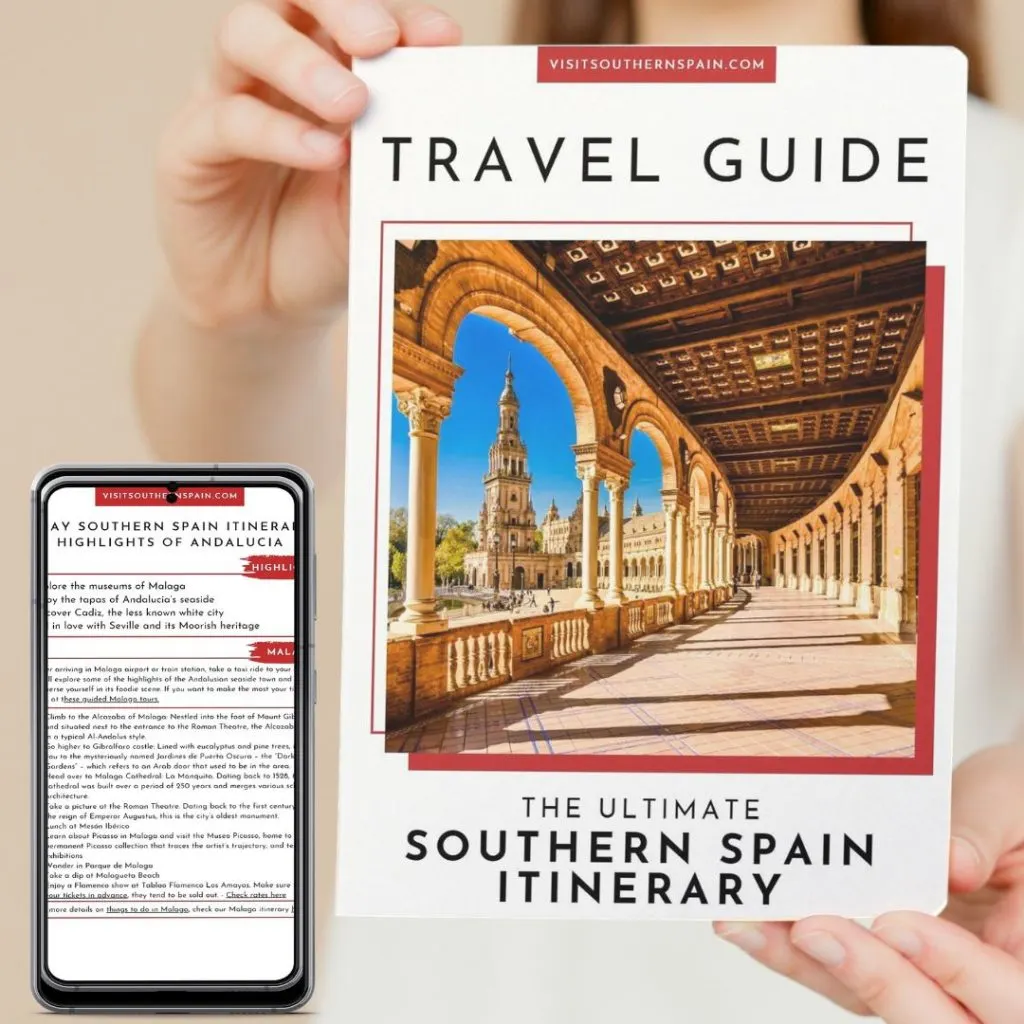 Visit Andalusia like a Local!
After calling Southern Spain my home for several years and organizing customized Andalusia trips, it was about time to put the best places in Andalusia into this handy travel itinerary.
Save time and money, avoid tourist traps and see only the very best of Andalusia.