A Guide to the best attractions in Huelva, Southern Spain: the perfect Huelva Itinerary
It's surprising how much you can fit into a 3-day trip – especially when you're headed to a place like Huelva, Spain.
Just a two-hour drive from Portugal and a half-hour drive from the famous Doñana National Park between Seville and Cadiz, Huelva is the ideal holiday destination for road-trippers and beach-bummers alike.
So go ahead and book your tickets, pack your bags, and get ready to explore two beautiful countries from your base in Huelva.
This blog is supported by you, dear reader. If you purchase through a link, we earn a small commission. As an Amazon Affiliate, we earn from qualifying purchases.
Top Things To Do In Huelva, Andalucia – Our Huelva Itinerary For 3 days
Barrio Reina Victoria
La Rabida Monastery
Castillo de la Niebla
Gran Teatro
Resources to visit Huelva, Spain
✈ Book cheap flights to Huelva with Skyscanner

✔ Book tours in Huelva with Civitatis

⚘ Avoid tourist traps and get the customizable "Southern Spain Like a Local" itinerary. – Get it here

➳ Find the best hotels in Huelva with Trivago

❖ Rent a car at the best rates with Discover Cars

✎ Never leave without travel insurance! I get mine at HeyMondo. It is easy to set up, cheap and reliable.

$ Withdraw money without hidden fees and avoid exchange charges with Wise (Free Mastercard debit card to spend money abroad)
Day 1 of things to do in Huelva
Visit Casa de Colon
The Casa de Colón, also known as the Columbus House is one of the best things to see in Huelva, It first opened its doors as a hotel in 1883.
This historic building has a design reminiscent of the plantation houses in America's south, with its wrought-iron balconies and a central courtyard – which comes as no surprise, being associated with the man who discovered America.
The Casa de Colón is located on the Alameda Sundheim and regularly hosts exhibitions and events.
Stroll through Barrio Reina Victoria
If you happen to be upon Huelva's "working district", Barrio Reina Victoria, by accident, you might have a moment of panic and find yourself thinking you might have taken a wrong turn and somehow ended up in Victorian England.
Just a short walk from Huelva's city center, the Barrio de Reina Victoria, a quirky, picturesque mix of Victorian colonial architecture feels otherworldly against its Andalusian backdrop.
Declared a "Site of Historical Interest", this barrio is definitely worth a visit. – Check guided city tours here
Explore Muelle del Tinto
What was once the hub for the commercial trade of materials from the Rio Tinto company's mines, is now one of the most popular Huelva attractions and a good spot for romantic evening strolls, people watching and afternoons spent dangling your feet above the Rio Odiel waters from atop the Muelle de Rio Tinto dock.
The bridge is situated along the Puente Muelle Levante, part of Huelva's harbor.
Discover the Museums of Huelva
If you're currently putting a plan in place of things to do in Huelva, be sure to include at least a visit or two to one of the city's museums. Here are the top three museums you should build into your holiday itinerary:
Museo del Jamón – What sounds weird to some is a dream come true for others: a visit to the jamón (ham) museum in Aracena. Located in the Parque Natural Sierra de Aracena y Picos de Aroche, Aracena is a lovely little town full of mysteries, including the Groto of Marvels. It's a little over an hours' drive from Huelva and worth the visit. Its Museo del Jamón will teach you everything you've ever wanted to know about Iberian pigs and local ham-making traditions – View hire car prices here.
Museo Destilerías Martes Santo – As you can see, there seems to be a bit of a theme going in the Huelva region, as far as museums are concerned. Moving swiftly on from the mouth-watering environment of the Museo del Jamón, stop for a visit at the Museo Destilerías Martes Santo in Higuera de la Sierra, just a 15min drive from Aracena. Here you'll get a historic tour through the Martes Santo distillery with tasting menus of the different products on offer.
Dolmen de Soto – For a quicker outing, head to Trigueros, only 20mins by car from Huelva. This is where the Dolmen de Soto was found in 1922, a chamber housing eight tombs of varying sizes. Go on a guided tour through these eerily beautiful corridors dating back to 3000 and 2500 B.C.
If you enjoy museums, you should head to Seville too which is located at only a 1-hour drive from Huelva. Check out this 3-day itinerary Seville we wrote earlier for the complete information.
Lunch in La Teja
For a casero (homecooked) lunch in a traditional setting, the La Teja restaurant is the place to go.
Located in the Calle Arcipreste Manuel Gonzalez García on the Plaza de Andalucía, La Teja is a local favorite for imaginatively prepared fish dishes and fabulous desserts that will make your day.
Hot tip: try their lemon meringue; it's to die for!
Love cooking? Try making these Spanish seafood recipes, including our special Spanish Fried Fish recipe or the traditional Shrimp Empanadas.
Have a coffee at Plaza de las Monjas
Named after the Convento de las Madres Agustinas, the 18th-century convent that first inspired the foundation of this square is now the city of Huelva's main plaza – the meeting point for young and old, the place to go for an aromatic cup of coffee, people-watching and, on market day, browsing.
Plaza de las Monjas is the perfect place to stop for a coffee-break after lunch or morning of sight-seeing in and around the city.
Visit the Churches of Huelva
The weather in Huelva is fantastic throughout most of the year, but on scorching hot, Andalusian dog days, a visit to one of the city's many churches will offer a cool and visually beautiful respite from the heat when you visit Huelva.
To find out more, read our guide to the weather in Southern Spain.
Hermitage El Rocío ­– A thirty-minute car-ride inland of Huelva, Almonte will make for a pleasant evening escape into the countryside.
It is home to the Ermita del Rocío, which plays an important part in Andalusia's religious culture. This is where people pilgrimage to during the Romería de El Rocío processions on the second day of Pentecost.
Iglesia de la Milagrosa – With its stained-glass windows and carvings, its white-washed walls and vaults, the neo-gothic Iglesia de la Milagrosa is as impressive on the outside as it is on the inside.
Admire the Christopher Columbus Monument
If you are or are traveling with a history buff and wondering what to see in Huelva, Spain, you've come to the right place.
Huelva invites you to follow the trail of Christopher Columbus and meet the man himself in statue form on the Plaza de las Monjas.
The monument was sculpted by Elías Rodríguez Picón and is made of bronze.
Stroll through the Parks of Huelva
One thing that makes Huelva so popular is its spacious, green urban parks. These are the two best parks to stroll through on a mild evening or to walk off a leisurely brunch:
Parque Zafra – After your morning coffee, a 10min walk to the Avenida Julio Caro Baroja will take you to the Parque Zafra, a wonderful, open park full of sculptures, colorful and immaculately kept gardens and fountains.
This is one of the best things to do in Huelva, Spain when you're a nature lover.
Parque Moret – Come to the Parque Moret on any day and you'll be met with a harmonious park vibe – families picnicking in the grass, children feeding ducks, musicians busking to set the tone.
Located in the center of town, along with the Avenida Santa Marta, this is a great place for a little break from the city.
Enjoy tapas in Huelva
After all that park fun you will have worked up an appetite, so it's time to hit up the best tapas bars in Huelva.
El Portichuelo – Only now that you've visited the Museo de Jamón you will truly appreciate the quality of El Portichuelo's jamón ibérico specialties.
Located in the Calle Vázquez López, close to the Muelle de Riotinto, it is close to all the main sites of your day-one itinerary and a great place to enjoy typical Andalusian food.
Bar Pappis – This family-run bar is just outside of the Barrio Reina Victoria and is known city-wide and beyond for its creative take on fish and meat montaditos and different spins on cooked prawn recipes.
Day 2
Bird Watching at Marismas del Odiel
For a day out in nature, visit the Paraje Natural de las Marismas del Odiel, one of the region's most important wetland reserves and part of Rio Odiel and Rio Tinto marshlands.
This is where pink flamingos come for their annual spring fling, which should not be missed.
Don't forget that you can also see the Odiel river which is just amazing!
How to get there: Follow Calle San Sebastián and Calle Aljaraque to Calle Ramón Menéndez Pidal; get on to the Avenida Costa de la Luz/A-497.
Take the first exit on the roundabout on to Dique de Contención de Arenas Príncipe Juan Carlos I, then follow the signs to Marismas del Odiel.
Do a pilgrimage to La Rabida Monastery
The Arabic word "Rábida", translates into a fortress, which it was when it was first constructed in 1412, before becoming the home to Franciscan monks.
This is where Christopher Columbus stayed between 1491-92, just before discovering America.
Destroyed in the 1755 Lisbon earthquake, it wasn't reopened until 1856. Sign up for a guided tour of the Monasterio de La Rábida to learn more about its fascinating history. The entrance is €3.
How to get there: From the Calle San Sebastián, get onto the H-3 to Carretera Palos Rábida/A-5025, then follow the signs to Monasterio de La Rábida. – Check guided tours here
Opening times:
Tuesday-Saturday, 10L00-18:00
Closed on Monday's

Explore Columbus Ships in Palos de la Frontera
Walk the grounds from which Christopher Columbus first prepared to set sail on the voyage that would turn out to be the discovery of America in 1492.
The well from which the water was drawn to send Columbus on his way still stands outside the small village of Palos de la Frontera.
Continue your journey through the past through Muelle de las Carabelas, a picturesque waterfront exhibition a ten-minute drive from Palos de la Frontera.
Take in the scenery and climb aboard life-size replicas of Santa María, Pinta or Niña, Columbus's three ships. It's hard to believe that the New World was discovered with such tiny boats. – Check guided tours here
How to get there: Take the Calle Rábida/Calle Cristóbal Colón and get on to the A-5025 to La Rábida. Follow the signs to Muelle de las Carabelas.
Opening times:
Wednesday to Sunday 9:30-19:30
Closed on Monday's and Tuesday's
Visit the best beaches in Huelva
There's only one beach in Huelva and you're bound to love this secluded sandpit, which forms part of the Paraje Natural de las Marismas del Odiel.
Unlike many other Andalusian beaches, Playa el Espigón is never over-crowded. This Huelva beach is clean and opens up to turquoise blue waters that wash the Andalusian summer heat right off you.
Although if you're interested, take a look at the beach resorts near Seville.
Beaches Close to Huelva
A popular beach very near Huelva is Playa de Punta Umbría, which features miles of golden sand, shallow water, and plenty of restaurants and bars along the promenade.
To get there, hop on bus M-301 for 41 minutes. Alternatively, you can drive in 19 minutes.
Very near Huelva city is Playa de Mazagón, a long, wide sandy beach with crystal clear water that offers visitors a perfect opportunity to enjoy sunbathing, swimming, and various water sports activities.
Mazagón is a 20-minute drive from Huelva city or a 43-minute ride on the M-402 bus. If you're planning to visit lots of beaches on your trip, it's best to hire a car. You can view hire car prices here.
For more inspiration, read our post on the best beaches in Southern Spain.
Lunch in Juan Jose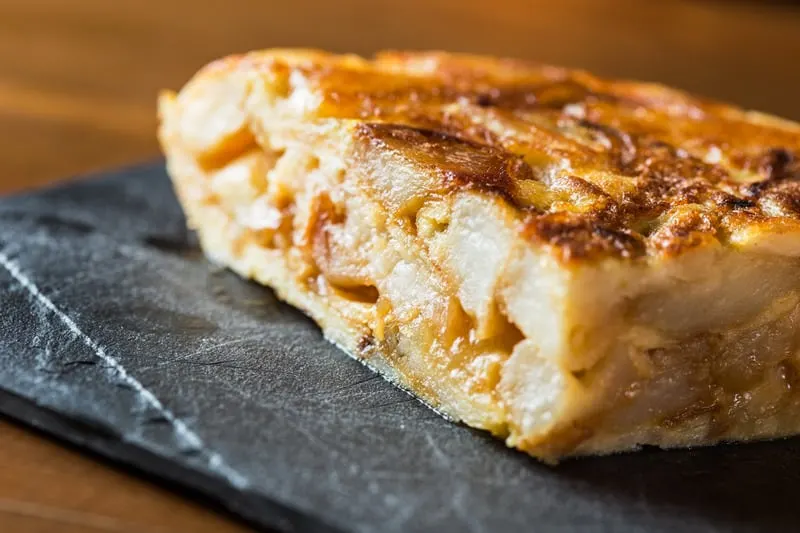 One thing you must try during your stay in Andalusia is the typical tortilla de patatas and, fortunately, you have come to the perfect place.
Juan José, a friendly neighborhood restaurant in the Calle Villa Mundaka near the Plaza Isla del Hierro, is famous for its tortilla de patatas and homemade aioli.
Paired with a cold Cerveza, juicy tomato salad, and a few fish tapas, you'll be good to go for the next leg of your day.
Visit Castillo de la Niebla Castle
A good place to visit near Huelva is the Castillo de la Niebla castle. Juet a half-hour drive southeast of Huelva, the small village of Niebla will transport you back in time.
The ancient walls and buildings that make up this city have many stories to tell and the name of its castle alone inspires tales of mystery and triumph: Castillo de la Niebla, "Castle of Fog".
How to get there: Take the Calle San Sebastián/Avenida Andalucía and get onto the H-31. Stay on the A-49/A-5001. Take exit 60 on the A-49, then follow the HU-4105 and Avenida Andalucía/A-472 to Calle Cruz.
Opening times: Monday-Sunday – 10.00-18.00
Watch the sunset from Paseo de la Ria
Huelva's seaside boulevard, Paseo de la Ría is one of the most attractive promenades in Andalusia, and forms part of the Paraje Natural de las Marismas del Odiel.
With views and access to the Muelle de Rio Tinto and the Muelle de Pertrechos docks, this is one of the best spots from which to watch the sunset.
How to get there: The Paseo de la Ría is a twenty-minute walk from the Plaza de las Monjas.
Yet another breath-taking sunset to see is that from Santa Catalina Castle. For more information read this topic on the things to do in Cadiz.
Watch a Show in Gran Teatro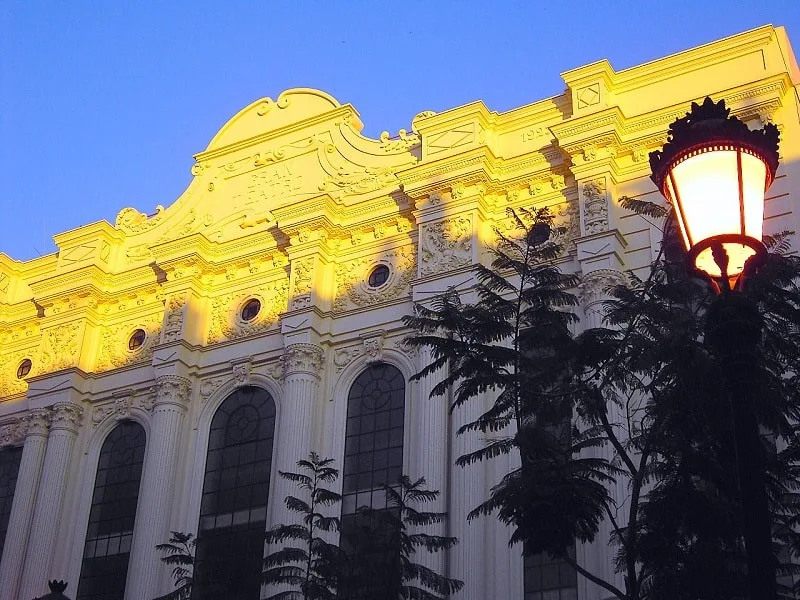 Nothing rounds up a holiday quite like a night at the theatre – especially one as impressive as the Gran Teatro in Huelva.
The best time to catch a show here is during the carnival season in February when local chirigotas – groups performing music and political satire specifically around carnival – fill-up the Gran Teatro with their colourful costumes and hilarious bits.
You may not understand it all but the atmosphere in itself is contagious!
Dinner in Charlotte Huelva
Treat yourself to a special dinner at Charlotte Huelva, a modern and inviting restaurant a five-minute walk from Plaza de las Monjas.
With creative interpretations and local fish specialties such as the cod fillet served with gratinated tomatoes and almond and asparagus mayonnaise, you're guaranteed a spectacular culinary experience at a great price.
Opening Times:
Tuesday to Thursday 11:00-17:00 and 20:00-00:00
Friday to Saturday 11:00-00:00
Sunday 11:00-17:00
Day 3
Day Trip to Portugal from Huelva
Find a Rent a Car in Huelva, and set off for Portugal for the day – you'll be there before you know it! Another option is to go on a guided tour to Portugal to make the most of your time. – Check tours here.
Portugal is a wonderful country and you won't have to get far passed the border to get to know its true essence. In just three hours, you can get as far as Faro and even Albufeira, two popular Algarve holiday destinations.
On your way back from Faro to Huelva, be sure to stop in Olhão, a town that forms part of the Ría Formosa Natural Park.
How to Get There: There is no direct Faro to Huelva bus, but you can take the ALSA to Sevilla which stops in Huelva. – Check guided tours here
Explore Doñana Natural Park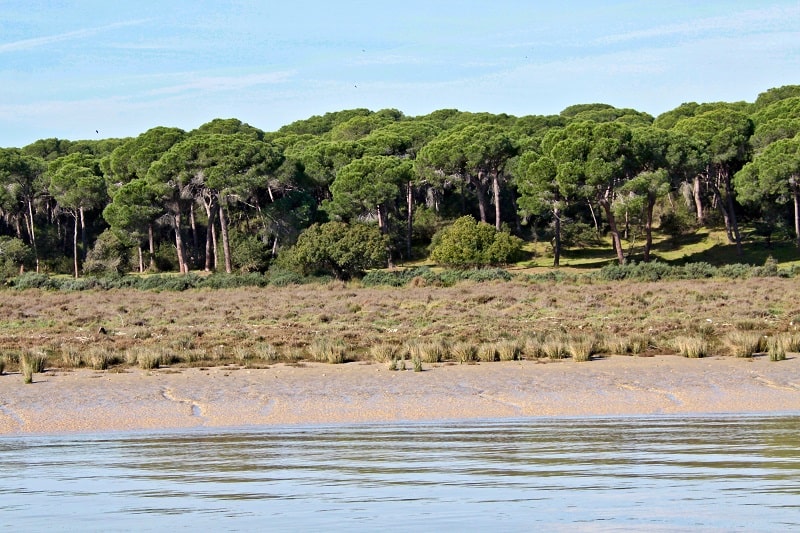 For potential sightings of the Iberian lynx and the imperial eagle, head to the pine forests of the Doñana Reservas, one of the best things to do near Huelva – just a 30-minute drive away.
With more than 300 bird species, 21 reptile species, 37 mammal species, and many more inhabitants, the Doñana Natural Park has the highest biodiversity in Europe. – Check guided tours of Doñana National Park here
Learn to Kite Surf in Playa del Espigon
Burn off all those tapas and churros by booking a special kind of beach, water, and exercise combo: kite surfing. Playa del Espigón is the perfect beach for beginners and home to many professional instructors ready to get you on to the board and into the water.
With good winds, easy waters, and minimal crowds, it makes for a relaxed and fun learning atmosphere.
There are plenty of lessons to choose from. – Book yours in advance here
Visit the City of Seville
If you love exploring cities, a day trip to Seville is one of the best things to do near Huelva and an experience you won't forget. Seville is one of the most beautiful and culturally rich cities in Spain.
Once you arrive, you'll be amazed by the stunning architecture, winding streets, and beautiful parks and gardens that make Seville so unique.
You can visit the iconic Plaza de España, the Seville Cathedral, or the Alcazar Palace, all of which are must-see sights that showcase the city's rich history and culture.
Remember to try some of Seville's famous tapas and enjoy the city's vibrant energy.
To get to Seville, you can get the train which takes 1 hour, 27 minutes. Get your train tickets here.
You can also drive from Huelva to Seville in 1 hour, 5 minutes. View hire car prices here.
Do an Andalusian Traditions Tour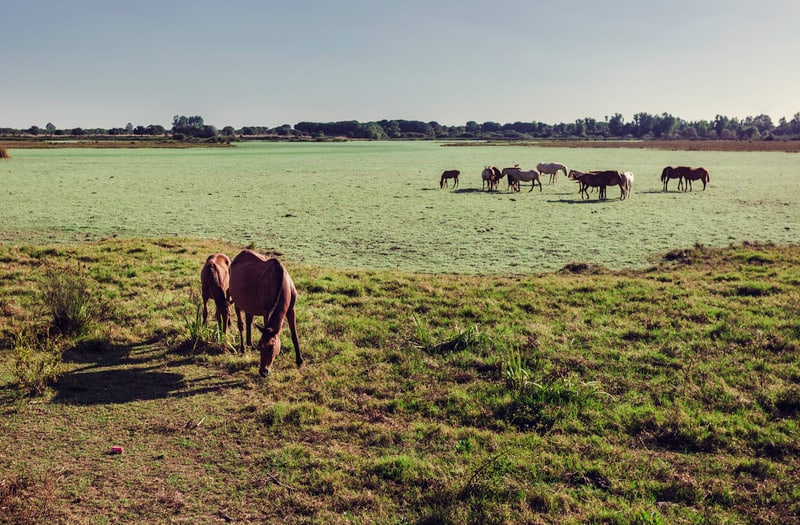 Starting with a visit to a prestigious cattle breeding ranch for fighting bulls and pure-bred Spanish horses, the Andalusian Traditions Tour will then take you on to a wine tasting at a local facility, followed by a visit to El Rocío.
If you want to get a real taste of Andalusian culture, this is a great way to do so. It's considered one of the top hidden gems for Southern Spain lovers. – Book the tour here
Best Hotels in Huelva, Southern Spain
The best hotels in Huelva, Spain come in all price ranges, styles and convenient locations. Here are our top picks:
The Hacienda Montija hotel sets itself apart with its elegantly rustic, Andalusian design and is built in the style of a sophisticated cortijo.
With open-air pools and hot tubs, and junior suites featuring bathtubs built on a platform, you're in for the royal treatment.
The interior design merges campo chic with a touch of English country style. Hacienda Montija feels secluded whilst still forming part of the city. – Check rates & reviews here
The Senator Huelva Hotel in the heart of the city offers everything you might need for a comfortable stay.
With light wooden features, free WiFi and a TV, each room is designed to help you wind down your day and start your mornings feeling rested and energized. The Senator Huelva Hotel offers a breakfast buffet and has its own restaurant. – Check rates & reviews here
Ten minutes outside of Huelva, Punta Umbría is a paradise for beach-goers and hikers: because that's what this area mainly revolves around, the beach and the Paraje Natural Enebrales de Punta Umbria.
The Hotel Ayamontino is the perfect place from which to explore this stunning natural environment and all other cities of interest around Huelva. – Check rates & reviews here
---
How to get to Huelva
By Bus: From Seville, take the Madrid-Ayamonte, Seville to Huelva bus; it takes around 1hr and 33mins. From Faro, take the FlixBus, which takes around 1hr and 54mins. – Buy tickets here
By train: From Seville, you can easily reach Huelva by train on a direct trip of around 1hr and 30mins; there is also a line from Córdoba, which takes roughly 2hrs on the ALIVIA line. – Buy tickets here
How to get from Malaga to Huelva:
Take the AVANT train, which will take you from Malaga to Huelva in around 4hrs and 20 mins. By car, follow the A-45, A-92 and E-1/A-49 to Avenida Andalucía in Huelva, then continue along the Calle San Sebastián.
How to get from Huelva to Faro:
By car, get on to the A-495, then take the HU-4403 and HU-5401 to R. Catarina Eufémia/N265 in Beja, Portugal. Follow the N265 and A22 to Faro.
How to get from Seville to Huelva:
To get to Seville to Huelva by car, get on to the E-1/A-49 to Avenida Andalucía in Huelva, then follow the Calle San Sebastián.
Where is Huelva?
Huelva is situated in the South of Spain, a two-hour drive from Jerez de la Frontera – where you'll find the best Sherry in the world – and bordering Portugal.
You shouldn't miss Jerez de la Frontera and here you can read more about Jerez, Spain.
Huelva Vs Huelva Province
Huelva is both a province and a city in Spain. Huelva Province is one of the eight provinces comprising Andalusia, Southern Spain.
Huelva City is the capital of the province of Huelva and one of the best places to visit in Andalusia for first time visitors.
Getting Around Huelva
There's no fancy red double-decker bus to take you around on a tourist tour of Huelva, but you can hop on and off the urban bus line to get you around.
This city will also make for a fun excursion on foot, giving you the chance to stop at any of the many cafes, parks, and Instagram-able backdrops you'll come across any time you want.
---
Best Attractions in Huelva, Spain Map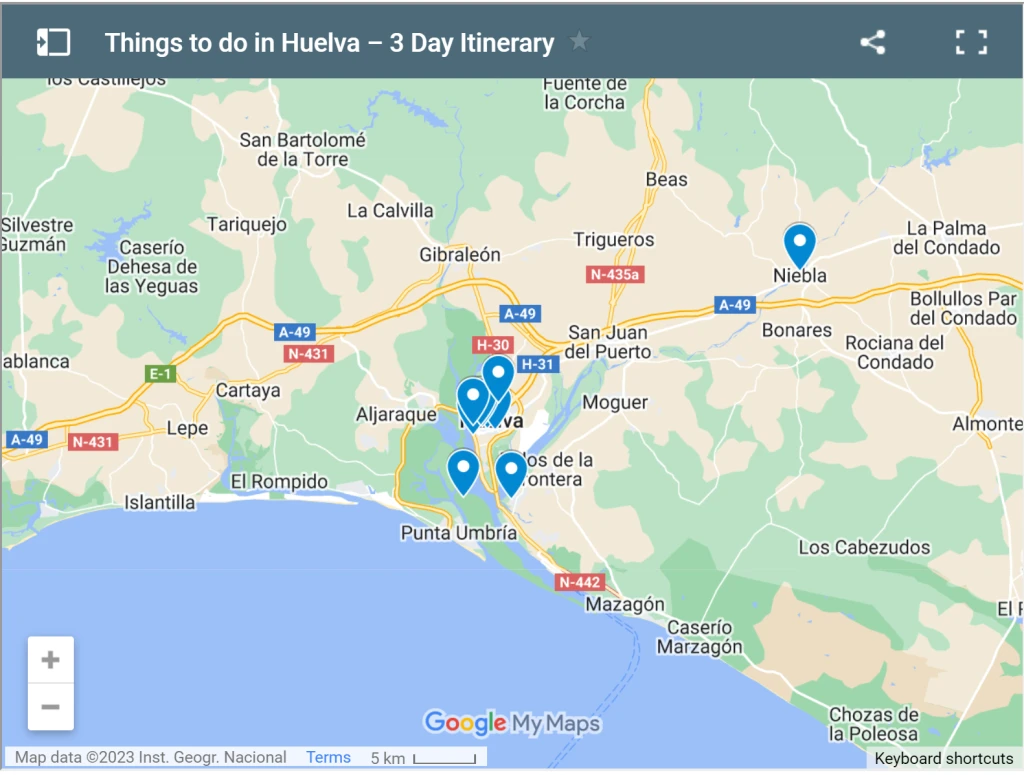 ---
A short FAQ about things to do in Huelva, Spain
What are some of the best beaches near Huelva?
Huelva has only one beach and it's called Playa el Espigón.
Is Huelva worth visiting?
Of course! Just take the Columbus Ships in Palos de la Frontera for example and you'll have no doubt about visiting Huelva!
How to get from Faro to Huelva?
There is no direct Faro to Huelva bus, but you can take the ALSA to Sevilla which stops in Huelva.
What is the nearest airport to Huelva, Spain?
The nearest airport to Huelva, Spain, is Faro Airport (FAO) in Portugal. It is located 113km southwest of Huelva (1 hour, 8-minute drive).
Another nearby airport is Seville Airport (SVQ), which is located approximately 108km northeast of Huelva (1 hour, 17-minute drive).
How far is it from Santander to Huelva?
Going from Santander to Huelva involves traveling from the far North of Spain to the deep south.
The distance between Santander and Huelva is 975km, and the driving time is just over 9 hours.
What language do they speak in Huelva?
The official language spoken in Huelva, Spain is Spanish. Specifically, the local dialect spoken in Huelva is Andalusian Spanish, which has its own unique features and characteristics compared to standard Spanish.
Due to its location on the southwestern coast of Spain, many locals also have a basic understanding of Portuguese, which is spoken in neighboring Portugal.
In more touristy areas of Huelva, you may find that some locals also speak English or other foreign languages.
---
---
Hola, I'm Paulina! Together with my team, we are passionate about Southern Spain. Here we share all you need to know for great times in Southern Spain with the best places to visit, stay and, of course, the best food to eat.
Let's dive in and explore Southern Spain's outdoors, food and culture con pasión!