A Guide to the best attractions in Nerja, Southern Spain – 3 Day Itinerary
As you've been toying with the idea of planning a trip to the Costa del Sol, you'll have most likely come across pictures of cliffed coastlines with inviting blue waters and promenades lined with palm trees.
Chances are you were looking at images of Nerja, one of Andalusia's most popular beach towns. Visiting Nerja is one of the best things to do in Andalucia!
So if you're planning a quick getaway, treat yourself to holidays in Nerja, Spain – the perfect hangout for beautiful sunsets, tapas by the beach, shopping, and sightseeing.
It's also a popular option to do a day trip from Malaga to Nerja. Read more about this in our 3 day Malaga Itinerary.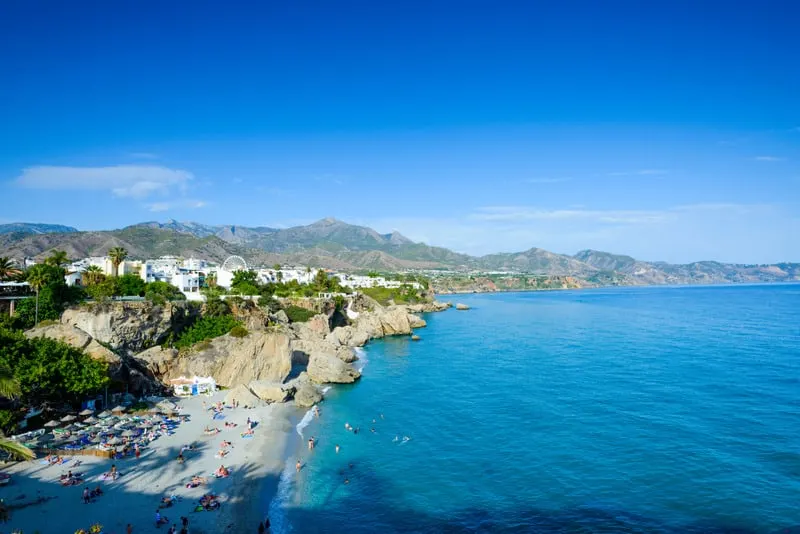 This blog is supported by you, dear reader. If you purchase through a link, we earn a small commission. As an Amazon Affiliate, we earn from qualifying purchases.
Top Things To Do In Nerja, Andalucia – Our Nerja Itinerary For 3 days
Hike the Rio Chillar
The Secret village of Acebuchal
Tapas Food Tour
Hike up El Cielo
Useful Travel Information About Nerja
✈ Book cheap flights to Nerja with Skyscanner

✈ Book airport transfers to Nerja with Solhop

✔ Book tours in Nerja with GetYourGuide

⚘ Avoid tourist traps and get the customizable "Andalucia Like a Local" itinerary. – Get it here

➳ Find the best hotels in Nerja with Trivago

❖ Rent a car at the best rates with Discover Cars

✎ Never leave without travel insurance! I get mine at SafetyWing. It is easy to set up, cheap and reliable.

$ Withdraw money without hidden fees and avoid exchange charges with Wise (Free Mastercard debit card to spend money abroad)
Day 1 – Things to do in Nerja
The Nerja Caves – Cuevas de Nerja
If you're traveling with children who fancy themselves pirates or are into a bit of sea-life mystery yourself, go and explore the Nerja caves, which are one of the best things to do in Nerja for families.
At 158 meters above sea-level, the Cuevas de Nerja is a stunning piece of natural art that will spark the imagination.
The many clandestine meetings that must have taken place here once upon a time!
If you happen to be here in June, be sure to secure tickets for the annual Festival de Música y Danza which takes place inside the cave with amazing acoustic effects.
You haven't experienced a true flamenco performance until you've caught a show in the Cuevas de Nerja. – Buy tickets in advance here
Opening times: Daily, 09:30 – 15:30
Stroll through Nerja Historic Center
You'll find many modern urbanizations and flashy bars and storefronts near the sea promenade, but Nerja's centro histórico – the historic part of town – has a completely different feeling to it.
That of a classic Andalusian pueblo, with white-washed townhouses and potted bougainvillea and geraniums on many house walls and adorning the plazas. Be sure to visit the El Salvador church, one of the best things to do in Nerja.
Built-in baroque-neoclassical style, the El Salvador church is one of the few places of worship featuring representations of St. Michael, the archangel.
Enjoy the View From the Balcón de Europa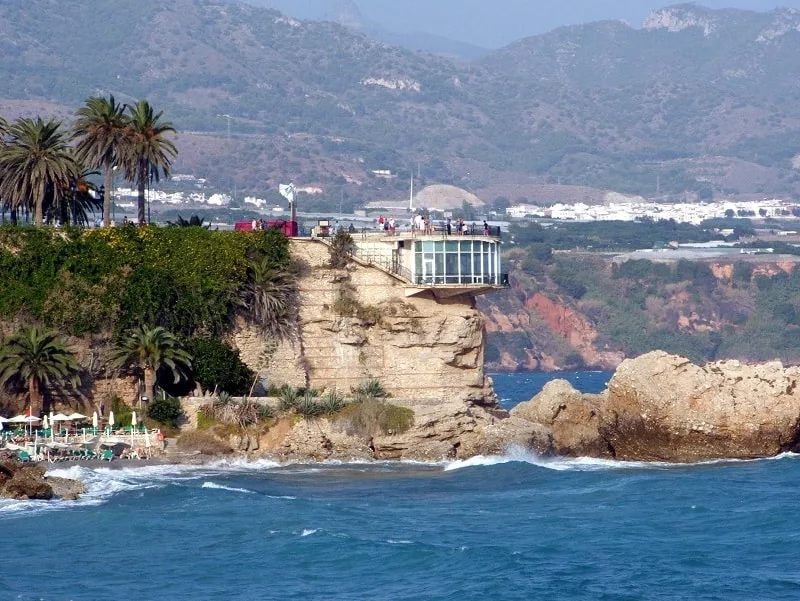 The famous Balcony of Europe, Nerja is one of Andalusia's top tourist attractions – and for good reason.
What was once a fortress from which locals scanned the seas for British pirates is now a stunning viewpoint and one of the best places to go sightseeing in Nerja.
You'll feel a great sense of freedom and gratitude looking out onto the sea and Nerja's Mediterranean color pallet.
You might even find yourself having a "King/Queen of the World" moment inspired by the famous Titanic scene and the statue of King Alfonso XIII guarding the balcony he named.
Go Shopping for Artisanal Products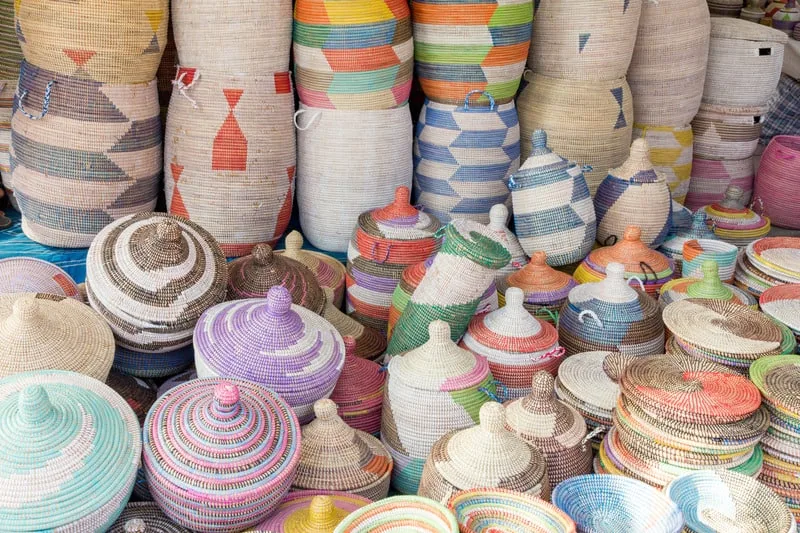 For those always on the lookout for unique, handmade items and clothes to bring home, Nerja is a shopper's paradise.
With lots of little artsy and artisan boutiques, most of which can be found in the centro histórico which is one of the best places to see in Nerja. You'll be coming home with plenty of souvenirs for your friends.
Between June and October, the arts and crafts street market between Calle Diputación and Plaza Cangrejo offers a wealth of handmade treasures from local and international artists and creatives.
Lunch in El Pulguilla
Seeing as El Pulguilla is not only a restaurant but also offers apartments to rent in Nerja, you might already be familiar with this establishment.
The El Pulguilla restaurant offers a wide range of tapas, prepared with fresh vegetables from local huertos (vegetable gardens). You can view our Spanish tapas recipes here.
Known for its fried fish specialties and spacious terrace, this is a fantastic lunch spot.
Why not try cooking some fish the Spanish way once you're home? Take a look at our Spanish Seafood Recipes here.
Head to Aqueduct of El Águila
Referred to as "a historic jewel of Spanish architecture", the 19th-century Aqueduct del Águila (aka Puente del Águila, Eagle Bridge), is a beautiful structure that can be seen from the road connecting Nerja to Maro.
It's one of the most popular Nerja attractions, visited by many people year after year.
If you're going to spend your holidays in Nerja, you can't possibly go home without having at least stopped here to take a picture.
How to get there: Find a car hire in Nerja, Spain and follow the N340 out of town, towards Maro for about three minutes, then follow the signs to Acueducto del Águila.
There is free, spacious parking but no amenities such as restaurants and cafes nearby. Alternatively, take the ALSA bus line direction Maro for views from the bus or a walk there from the Maro town center.
Check Nerja Beaches
Spending time at the beach is one of the most popular activities in Nerja. For the best beach in Nerja, head to Playa de Burriana (Burriana Beach), once featured on the popular television series Verano Azul.
Playa de Burriana Beach is one of the best beaches near Malaga.
This is where you'll find the Chiringuito de Ayo and plenty of tourist attractions such as kayak rentals and children's play areas along the 800m stretch of beach.
For a bit more privacy, find your spot at Playa El Salón, beneath the Balcón de Europa. The Playa El Salón is a great place to relax next to the crystal clear waters.
Do Watersports in Nerja
If you're not one to laze around in the sand and would rather have an active beach experience, you're going to love the exhilarating watersports options here.
Along the Marinas de Nerja, you'll find plenty of watersport centers offering everything from paragliding to wild banana boat rides and jet skis.
Rent a Kayak and explore the waterfalls of Nerja
Take a break from discovering Nerja by foot and see what the sea and scenery have to offer by kayak.
Sign yourself up for a kayak tour that will take you through the Acantilados de Maro-Cerro Gordo natural park: crystal clear, turquoise waters, breathtaking waterfalls, and an underwater life that begs to be explored snorkeling or diving await you here.
If you are a water sports lover, Nerja will be your heaven!
Enjoy tapas in Nerja
For the best tapas in Nerja, visit either one of these local gems:
El Sevillano – There are three of them in Nerja, but the most popular El Sevillano tapas bar is in the casco antiguo.
With a choice of typically Andalusian tapas and a lovely terrace from which to people-watch, you'll feel yourself relaxing into the holiday spirit.
La Piqueta – Located in the Calle Pintada, La Piqueta changes up its tapas and menú del día offer daily, whilst keeping classics such as Spanish potato salad or ensalada rusa and gambas al pil-pil on the fixed menu.
Redondo – Another casco antiguo favorite is Redondo, an eye-catching bar decked out in wood, with outdoor beer-barrel tables and bar stools inspiring many late-night tapas and cervezas. – Book a Nerja food tour here
Day 2
Hike the Rio Chillar Trail
There are many things to do in Nerja – and they don't have to revolve around beach-bumming and sight-seeing.
There's so much to see in its natural environment, most importantly the Rio Chillar, a clear and refreshing river that flows through the Cahorros natural park, one of the most unique places to visit in Nerja.
There are many great hiking trails near and around the Chillar river, but the most popular walk is through the Rio Chillar.
For the most part, you'll be wading through ankle deep water, but at times it can reach up to your knees.
You'll pass two natural pools along the way, deep enough for a well-deserved swim and the grand finale is the Vado de Patos, which features a waterfall.
An aquatic trek to the Vado de Patos requires around eight hours in total – a 16km wade'n'walk to and fro if you will – so a good level of fitness is essential. There are plenty of other trails around for easier hikes, though.
How to get there: From Nerja, head on to the Carretera de Almería/Avenida de Pescia/N-340 and follow the signs to Rio Chillar. Alternatively, book a guided tour.
Hike up to La Maroma peak
Nerja, Costa del Sol is full of surprises – for one it is at the foot of the Sierras de Tejeda, Almijara y Alhama natural park, which is home to La Maroma, the highest mountain in the Malaga province.
This is one of the best hikes in Andalucia.
If you fancy a hike with clear views over to Granada's Sierra Nevada or a proper climb, you're going to love it at the Sierras de Tejeda.
It's one of the most popular tours for outdoor lovers. We also have a topic on a 3 day itinerary Granada, check it out for more info!
How to get there: From Nerja, follow the A-7 towards Torre del Mar, then take the A-7 and A-7207 towards Canillas de Aceituno.
Lunch in Marisquería La Marina
You can't get through a holiday on the Costa del Sol, Nerja without having tried Andalusian fish specialties, and the Marisquería La Marina is the perfect place to immerse yourself into this exciting culinary world.
Located in Calle Castilla Pérez, in the town's harbor, you'll be served a deliciously fresh sea-to-plate experience.
It is also close to the Hotel Marinas de Nerja, so if you happen to be staying there, you can always head back to change and doll yourself up for lunch at the Marisquería.
If you want to recreate some traditional Spanish recipes at home, why not try our Spanish beans and tomatoes recipe, or try making the amazing Pan de Leche?
Opening times: Daily, 12:00 – 16:00, 19:00 – 00:00
Have fun in a water park near Nerja
For some splashing fun and crazy waterslides, head to either of two water parks near Nerja: the Aquatropic Water Park in Almuñecar, a 25min car ride; or the Aquavelis Water Park in Vélez-Malaga, 20mins by car in the other direction.
How to get there: To Aquavelis, follow the A-7 in direction Vélez-Malaga then follow the signs; to Aquatropic water park, follow the A-7 and Carretera de Almería/N-340; to Aquamijas, follow the A-7 direction Malaga, and exit the AP-7 to Camino Viejo de Coín/A-7053 in Las Lagunas de Mijas.
The 'Secret' village of Acebuchal
Tucked away in the Sierra Tejeda, Almijara y Alhama natural park, the "lost village" of El Acebuchal was originally founded in the 17th century and was deserted for many, many years until finally being restored by a man nicknamed El Zumbo.
This village didn't even have electricity until 2003!
Now it has become a wonderful escape to the mountains, where you can feast on the freshest, locally grown food before hiking down to the Fábrica de La Luz – the perfect spot to pop open a bottle of local wine and drink in the views.
How to get there: Take the Avenida Alcalde Antonio Villasclaras and MA-5105 to Camino del Pedregal and continue along until you reach El Acebuchal; this is a 25min drive from Nerja.
Do a Tapas Food Tour
Each summer, towns, villages, and cities all along the Costa del Sol and beyond, organize the annual Ruta de la Tapa – the tapas food tour.
Taking you through all the best tapas bars in Nerja Espana in which each establishment serves its signature dish with drinks included, you're in for a wonderfully Andalusian food feast.
It's the perfect occasion to taste typical food from Malaga province.
Each year one bar/restaurant takes home the winning prize for best tapas. – Book a food tour in Nerja here
Have a Paella at Ayo at Burriana Beach, Nerja
The weather in Nerja is what you want from any holiday destination: mild during the spring and autumn months, a pleasant heat in the summer months.
What better place to celebrate the temperatures in Nerja than by feasting on paella cooked on a firepit on the beach? At Chiringuito Ayo, you'll get the full Spanish summer experience of lunching on fresh fish and hearty paellas with views of the sea.
Chiringuito Ayo has been a staple in Nerja's gastronomic history since 1969, and continues to surprise holiday-makers from all over the world with its quality cuisine.
Day 3 of the Nerja itinerary
Day Trip from Nerja to Frigiliana
There are lots of things to do around Nerja. You have lots of day trip choices. Frigiliana is only a ten-minute car ride from Nerja to the picturesque town of Frigiliana, so make sure to work an outing into your itinerary.
Stroll through the flowery streets and take in the scenery over a cup of coffee in the town's casco antiguo. – Book your tour here
Relax at Maro Beach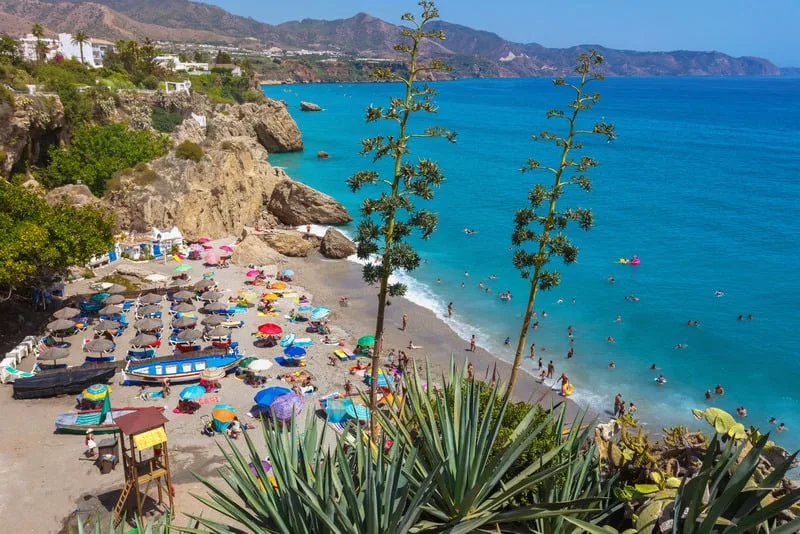 Playa de Maro, just a few kilometers outside of Nerja, is famous for its coves and clear waters and, most importantly, its marine life. Visiting Playa de Maro is one of the most popular activities in the Nerja area during the summer months.
Fishing is not allowed in this area and part of the waters are protected, leaving it clean and with a bustling underwater life you can observe on an afternoon of snorkeling or diving.
How to get there: Take the Carretera de Almería/N-340 and exit at Carretera de Bajada a Playa de Maro. By Bus, take the ALSA to Maro; from town it is a 15min walk to Playa de Maro.
Hike up El Cielo, Nerja
Where is Nerja, Spain? Just an hour from Malaga and, if you're standing atop El Cielo, the closest to heaven you can get in this region.
As part of the Sierra de Tejeda, Almijara y Alhama natural park, the El Cielo mountain is just 6km from the coast and yet, once you reach the top, you'll feel as though you have reached celestial heights with divine views.
How to get there: Follow the same route to Cuevas de Nerja, then pass through the gates of the natural park if open, otherwise park your car there.
Walk from here or continue to drive up to El Pinarillo, park there and start your hike from there.
Take a Day Trip to Malaga
Treat yourself to a day of shopping at Malaga's famous Muelle Uno shopping center followed by a tour of the city's great choice of museums: the Picasso or Carmen Thyssen Museum and the Centro de Art Contemporáneo, near the funky Soho District.
A day trip to Malaga is a great chance to get to know the Andalucia region.
Round it off in style with a visit to the Hammam Al Ándalus. The 45min car-ride back from Malaga to Nerja will go by in a flash after a lush massage!
For more in-depth info, please take a look at the things to do in Malaga post we wrote. – Book a day trip here
Have a sardine espeto at the beach, Nerja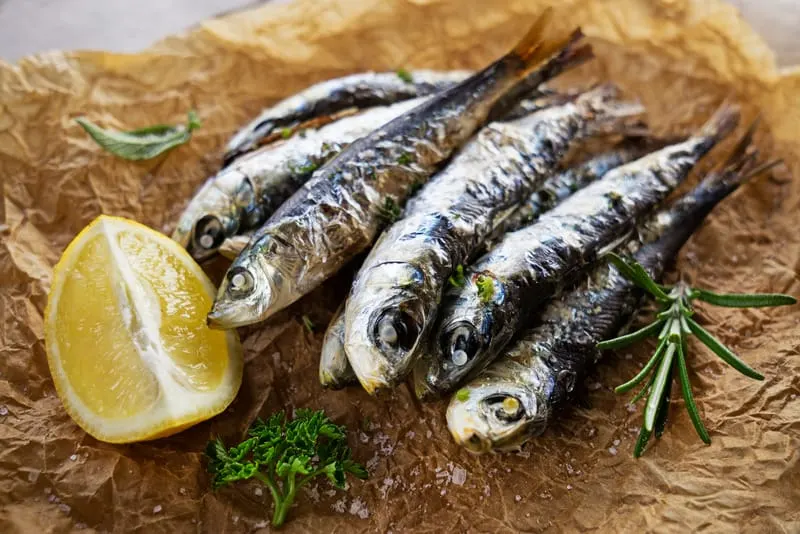 Treat yourself to a little bite between sight-seeing and your tanning process, and delight on sardine espetos at Chiringuito Ayo.
This will set the tone for a truly Mediterranean holiday feel you'll never quite be able to recreate at home.
Best Hotels in Nerja, Southern Spain
Accommodation in Nerja isn't hard to come by, even during the high seasons.
Whether you're looking for holiday apartments in Nerja or hotels offering all the services needed for a relaxed stay, you'll find something to suit your taste and budget.
Here is our pick of the best hotels in Nerja.
If you're looking for a hotel in Nerja that will allow you to disconnect fully whilst you enjoy your breakfast with views of the manicured gardens and private beach, the Parador de Nerja is an excellent choice.
It's considered one of the best parador hotels in Spain.
Situated on a clifftop and home to one of the best restaurants in Nerja, a stay at the Parador Hotel is like staying on your very own Balcón de Europa. – Check rates & reviews here
For a private little oasis to retreat to at the end of a long day walking the scenic streets and testing the cuisine along the Costa del Sol, book yourself into the Los Arcos hotel in Nerja.
Beautifully designed and with its own brasserie, you'll often find yourself having dinner in the hotel – why leave a place that invites you to linger? – Check rates & reviews here
There are a choice of great budget hotels in Nerja, Spain, including the Boutique Hotel Carabeo, named after the street that it's on, namely Calle Hernando de Carabeo, in the town's old fisherman's quarter.
With spacious rooms, a pool and various tapas bars right at your doorstep, it makes for an excellent holiday base. In fact, you'll love it so much, you'll find yourself sneakily looking at long-term apartments to rent in Nerja! – Check rates & prices here
---
How to get to Nerja
By Bus: The bus is one of the easiest ways to get to Nerja. From Malaga to Nerja, bus line ALSA in direction Motril will take you there in around 1hr and 35mins.
From Granada, take the ALSA, also the direction of Motril, which will take you around 1h and 45mins. – Buy tickets here
By train: There are no trains to Nerja; the closest train station to Nerja is Malaga, from where you can take the ALSA bus line. – Buy tickets here
How to get from Malaga to Nerja:
Follow the A-7 to Avenida Antonio Villasclaras, then take exit 292. Keep on the Carretera de Almería/Avenida de Pescia/N-340 to Nerja. Alternatively, you can catch the bus from Malaga bus station. – Buy tickets here
How to get from Granada to Nerja:
Follow the A-44 and E-15/A-7 to exit 295; stay on the Carretera de Almería/N-340 to Nerja.
How to get from Seville to Nerja:
By car, follow the A-92 to Villasclaras until exit 292 from A-7; stay on the Avenida Antonio Villasclaras and Carretera de Almería and Avenida de Pescia/N-340 to Nerja.
Alternatively, take the ALSA bus from Seville to Malaga, which will take around 2 hrs and 45mins.
Getting Around Nerja
Getting around Nerja is easy using the urbano bus that stops all around town.
Otherwise, walking and biking is always a great option, as it will give you the time and the freedom to stop and linger wherever and whenever you want. The tourist train is also fun for a tour around town!
Can't get enough of Nerja activities? Have a look at our webstory about things to do in Nerja,Costa Del Sol.
---
Best Attractions in Nerja, Spain Map
---
A Short FAQ about the best things to do in Nerja, Spain
What are things to do in Nerja when it rains?
On a rainy day, you should definitely visit the Nerja Caves!
What are things to do in Nerja for families?
If you're travelling with children who fancy themselves pirates or are into a bit of sea-life mystery yourself, go and explore the caves of Nerja.
What are things to do in Nerja at night?
Enjoy amazing tapas. For the best tapas in Nerja, visit either one of these local gems: El Sevillano, La Piqueta
Where is Nerja?
Nerja is located between Malaga and Granada, about an hour's drive each way, making it the ideal base from which to get to know the Costa del Sol.
Can you swim in the sea in Nerja?
Yes, you can swim in the sea in Nerja, Spain. Nerja has several beaches, including the famous Burriana beach, a Blue Flag beach with clear waters and sandy shores, making it an ideal spot for swimming.
However, it's essential to remember that sea conditions vary, and you should always check the conditions before entering the water.
What day is the Nerja market?
The Nerja weekly market is held on Tuesday from 8:00 am – 2:00 pm in Nerja's Plaza Tutti Frutti area.
At the market, you can find a variety of goods, such as fresh fruits and vegetables, clothing, handicrafts, souvenirs, and much more.
Which is better Mijas or Nerja?
Mijas and Nerja are both beautiful towns in the Andalusia region.
If you love beaches, Nerja will be much better for you. It's home to Burriana beach. On the other hand, Mijas does not have any beaches.
Mijas is known for its quaint, traditional Spanish village atmosphere. At the same time, Nerja has a more modern, bustling town vibe with plenty of restaurants, bars, and nightlife.
The one that's better for you will depend on your interests.
Is Malaga or Nerja better?
Although both Malaga and Nerja are beautiful Andalusian destinations, they are very different. Malaga is a bustling city where, whereas Nerja is an atmospheric village.
If you're looking for quiet beaches, head to Nerja. Malaga does have beaches, but they are often very crowded (but amazing to relax after exploring the city).
Malaga has a rich cultural and historical heritage, with numerous museums, art galleries, and landmarks to explore, including the Picasso Museum and the Alcazaba fortress.
Nerja also has some cultural attractions, including the famous Nerja Caves.
Does Nerja have a promenade?
Nerja has a beautiful promenade called the Balcón de Europa. The promenade is located in the heart of Nerja town center. It offers stunning views of the Mediterranean Sea and the surrounding coastline.
It was initially a fortress converted into a promenade in the 1930s. It is now lined with palm trees, restaurants, and cafes.
What is the wettest month in Nerja?
The wettest month in Nerja is usually November. This is when the town experiences the most rainfall, with an average of around 23mm throughout the month.
---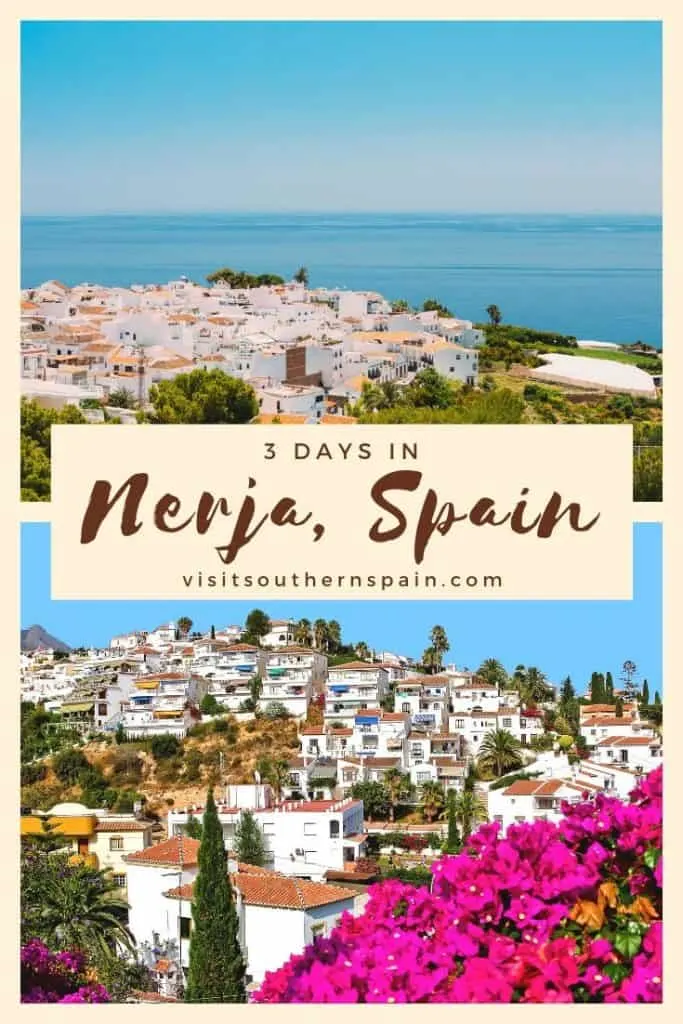 ---
Hola, I'm Paulina! Together with my team, we are passionate about Southern Spain. Here we share all you need to know for great times in Southern Spain with the best places to visit, stay and, of course, the best food to eat.
Let's dive in and explore Southern Spain's outdoors, food and culture con pasión!