A guide to the best villages in Andalucia that you should visit at least once.
If you're planning a trip to Andalusia, Spain, you probably want to make sure you hit all the must-see destinations.
You could easily spend a year in Andalucia without running out of things to do and see. If you can only visit for a short time, make sure you visit some of these 20 best villages in Andalucia.
Some of these small Spanish towns are along the coast while others are in the mountainous Spain countryside. However, they all offer rich culture and history to all who visit!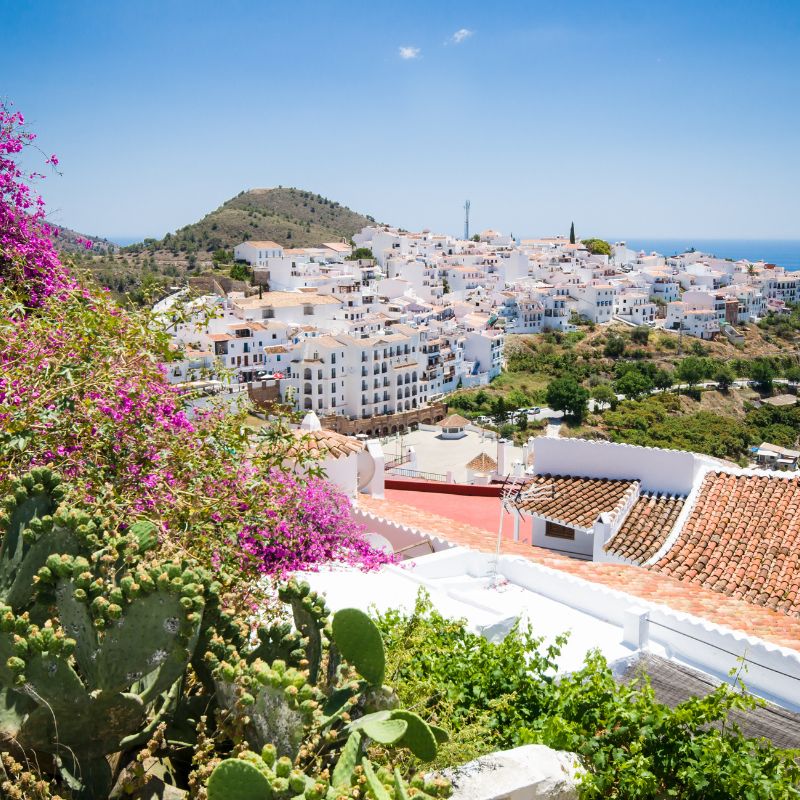 This post contains affiliate links. If you buy via them, I'll earn a small commission which helps me to keep this blog running. As an Amazon Associate I earn from qualifying purchases. All opinions are my own.
After reading this article, you'll be able to finalize your travel plans to include some cute villages in southern Spain.
You won't want to miss some of the most beautiful places in Spain!
OVERVIEW: Best Villages in Andalucia
Gaucin, Malaga
Cazalla de la Sierra, Seville
Pampaneira, Granada
Agua Amarga, Almeria
Frigiliana, Malaga
Montefrío, Granada
20 Best Villages in Andalucia
1. Gaucín, Malaga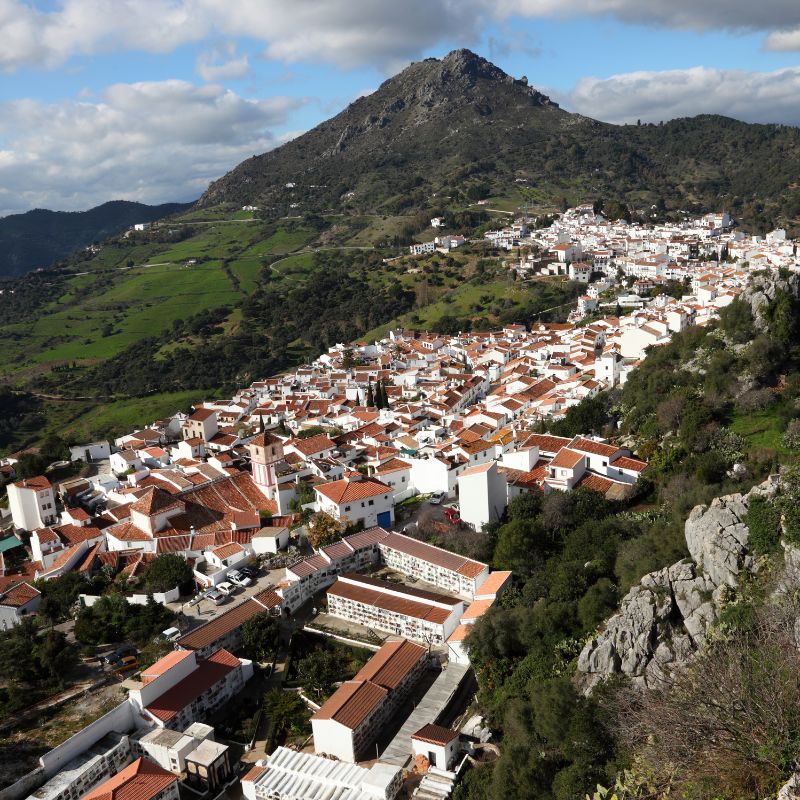 Guacín is a small Spanish village located in the mountains of southern Spain. It sits 2,053 ft (626m) above sea level.
This little mountain village has been nicknamed the "Balcony of the Serrania" because of its beautiful views of Gibraltar and Morocco.
Guacín is one of the best villages in Andalucia for bird-watching. Home to "Castillo del Aguila," or "the eagle's castle," Guacín has many eagles and kestrels flying overhead. To visit the castle, plan your trip during the summer.
If you visit in early September, you can experience the procession of the Holy Child. Plan your visit over Easter Sunday to participate in the annual Toro de Cuerda, or bull run.
A bull has free reign over the streets of Guacín while locals tease it and try to stay safe.
If you choose to stay here, know that many of the towns in this list are great day trips from Malaga.
2. Cazalla de la Sierra, Seville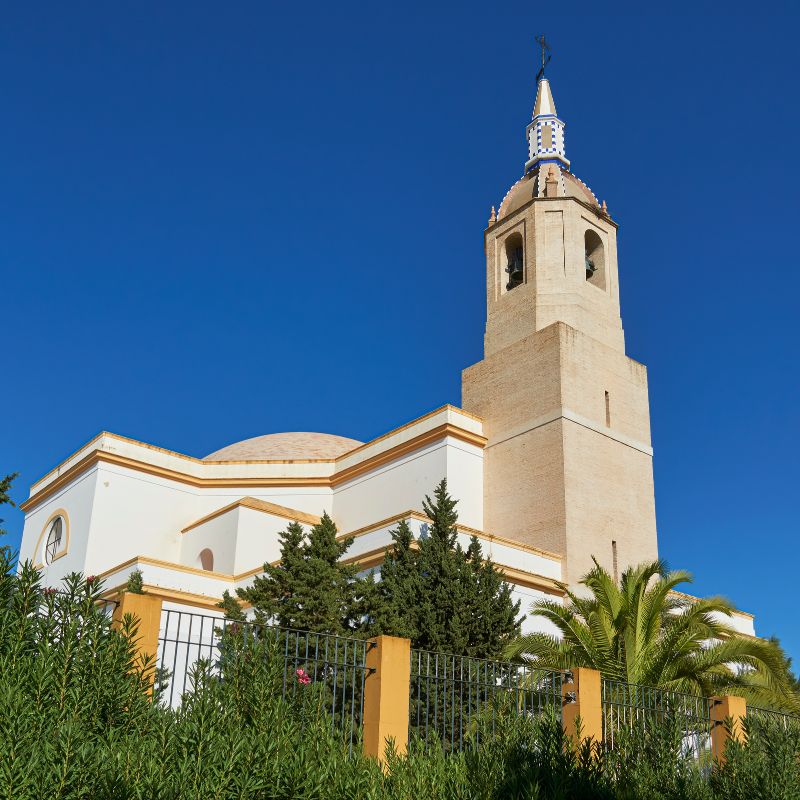 A village of 5,000 people, Cazalla de la Sierra in Seville is one of the biggest and best villages in Andalucia on this list.
This lively village has festivals year-round. We love that there is always something to do here.
The Iglesia Parroquial de Nuestra Señora de Consolación is a gorgeous piece of Sevillian architecture.
In addition to that church, you can also find many historical convents and other churches. Many of them are no longer used for their original purposes but are still interesting to visit.
Some of them are used as liquor factories. Cazalla de la Sierra owes its prosperity to the wine and liquor made there.
It is known for its anise-based liqueur, cherry brandy, and organic wine. Consider spending a portion of your trip in this city because you can easily take day trips from Seville to visit other Andalucian villages.
3. Pampaneira, Granada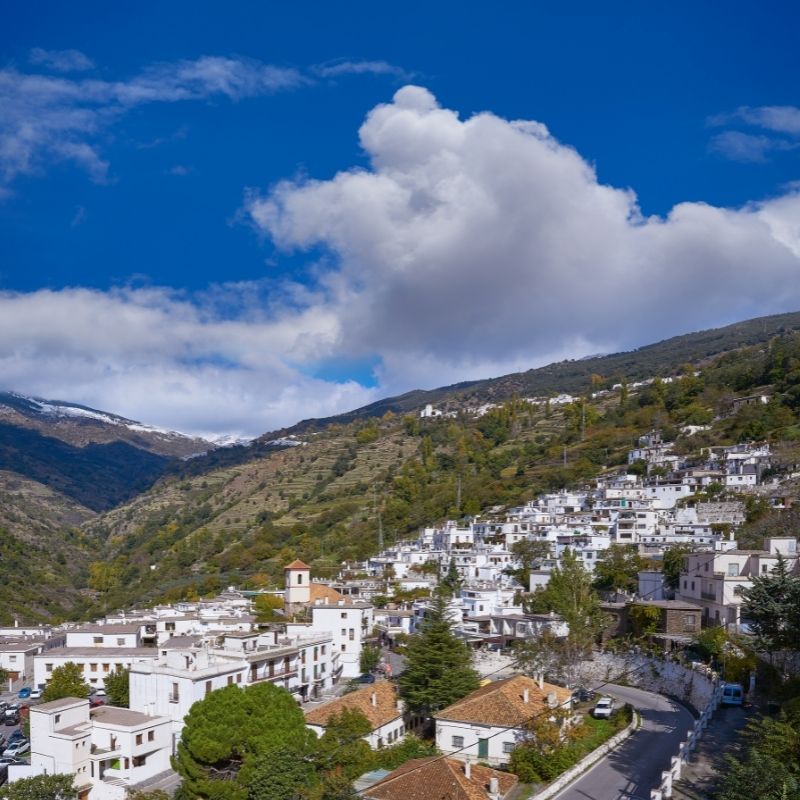 With fewer than 400 inhabitants, Pampaneira is small but full of life. It is one of the many pueblos blancos, or white villages, in Andalucia. These are towns made up of whitewashed buildings.
However, this pueblo blanco is quite a colorful village in Granada. Flowers decorate the streets all year long.
This community is also surrounded by the greenery of the Alpujarras mountain region.
You will also find many jarapas everywhere you look. Jarapas are thick colorful rugs that locals have been weaving for centuries.
This tiny village is a must-stop for tourists traveling the Spanish countryside and of course, one of the best villages in Andalucia.
4. Agua Amarga, Almería
Agua Amarga, once a mining village, is one of many Spanish beach towns. The beach scene is quite lively as it consists of families and fishermen.
After a day of swimming at the beach, you can eat fresh-caught fish at any of the local restaurants! Foodies will definitely enjoy the restaurant scene.
There are plenty of beachfront bars and restaurants. Whether you're in the mood for tapas, paellas, or just any vegetarian option, you'll be able to find an impressive meal.
Another reason why this is one of the best villages in Andalucia: it hasn't been exploited by tourism yet. Many of the tourists visiting this fishing town are not traveling from afar.
5. Frigiliana, Málaga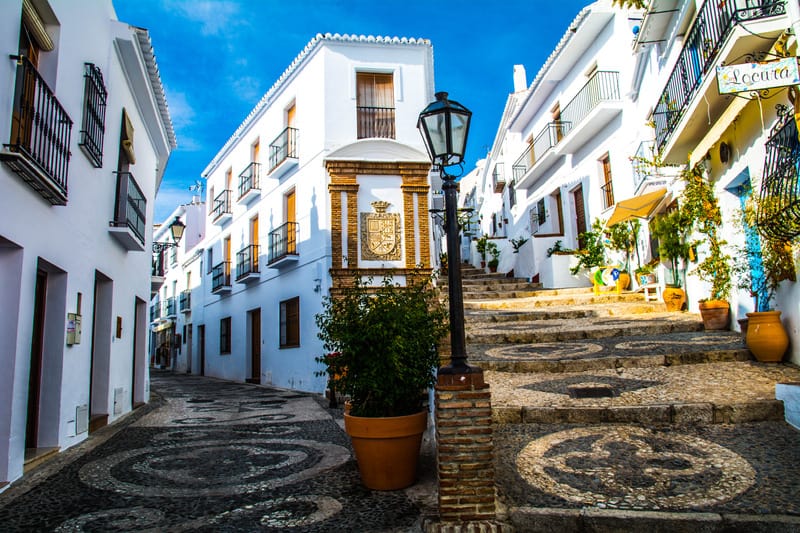 Voted the "prettiest village in Andalucia" by the Spanish tourism authority, Frigiliana lives up to the hype.
Even the roads are pretty! They are made of cobblestone creating intricate designs and patterns.
It's a whitewashed village, but with pops of bright blue. These colorful accents make it one of the most beautiful villages in Spain.
The Mudejar neighborhood is the upper portion of the village. This is where you'll find exciting things to do in Frigiliana.
Fuente Vieja, or old fountain, is where the old town was begun. Vista Panoramica gives you a view of the entire village. The Castillo de Lizar is the remains of an old Moorish castle with great views.
All in all, Frigiliana is the one of the best villages in Andalucia, with many things to do while visiting it.
6. Santiponce, Seville
Santiponce, originally known as Italica, is what remains of the first Roman city in Spain. While much of the city is in ruins, you can still see the splendor of what this city once was.
You can visit the archaeological site of Italica. Here you will see mosaics, temples, and thermal baths. It isn't too far from a Roman amphitheater, either.
If you would love to see reenactments of historic Roman living, be sure to visit the Cotidiana Vitae.
This museum will help you to have a better understanding of what Italica was before it became modern-day Santiponce.
7. Almonaster la Real, Huelva
Almonaster la Real is another picturesque village. The whitewashed houses have copper-colored roofs which make for a beautiful community nestled within the Parque Natural Sierra de Aracena y Picos de Aroche.
Since this area has been occupied since the Stone Age, we can find a lot of history throughout the community.
This village has been occupied by Muslims, Visigoths, and the Portuguese. Therefore, we see many different cultures represented in modern-day Almonaster la Real.
Because of its Muslim influence, it is also home to the only rural mosque in the Iberian Peninsula. This is one of the best things to do in Huelva.
8. Montefrío, Granada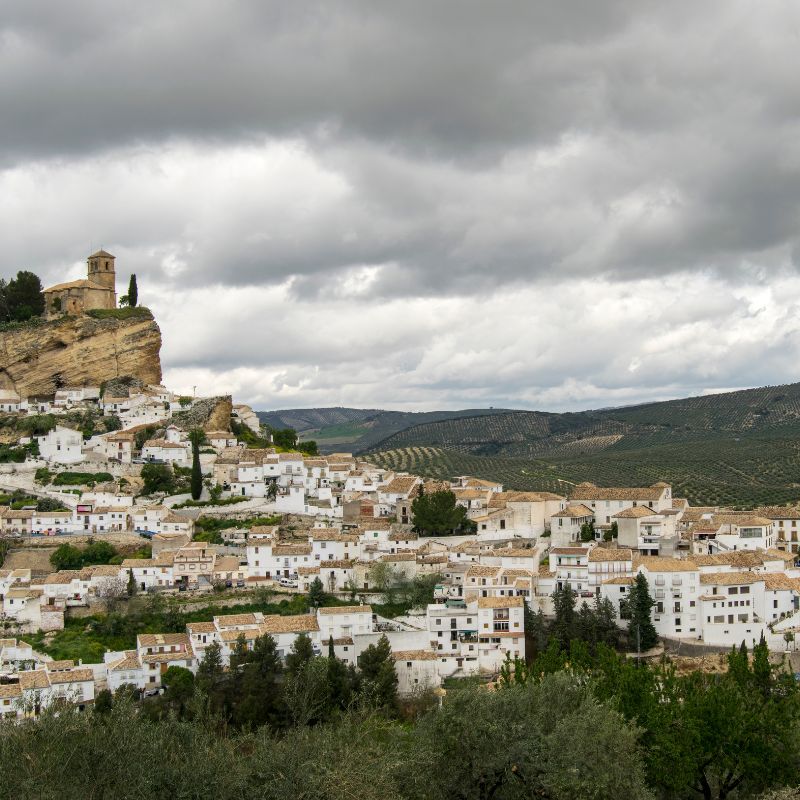 Montefrío is one of the top ten views in the world, according to National Geographic. Do you need another reason to visit?
The village is spread out and occupies a mountain with a beautiful rocky land formation.
Be sure to visit La Peña de los Gitanos, an archaeological site. You can even find over 100 megalithic dolmens in the area.
We recommend taking the Montefrío tourist train if you want to make sure you see everything!
This will allow you to get a good look at everything while learning more about the history of this village.
Make sure you give Montefrio a chance to prove why is one of the best villages in Andalucia.
9. Isleta del Moro, Almería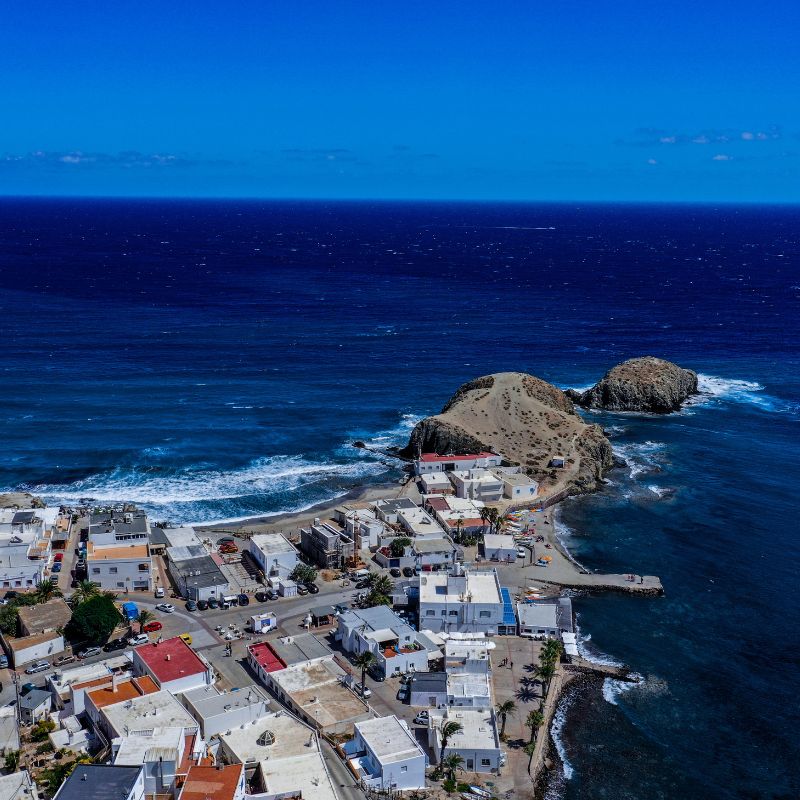 Islea del Moro is another coastal village. Located on the coast of the Cabo de Gata Níjar Natural Park, it is a great town for fishing and photography.
If you want to take good photographs, there are a few viewpoints you must check out!
The Mirador de La Isleta and the Amethyst Viewpoint both offer breathtaking sights. If you like rock formations, you will love this scenery!
There are also many beaches nearby for a variety of visitors. Whether you're interested in snorkeling, fossilized dunes, or diving, you can probably find a virgin beach that meets your expectations.
10. Zuheros, Córdoba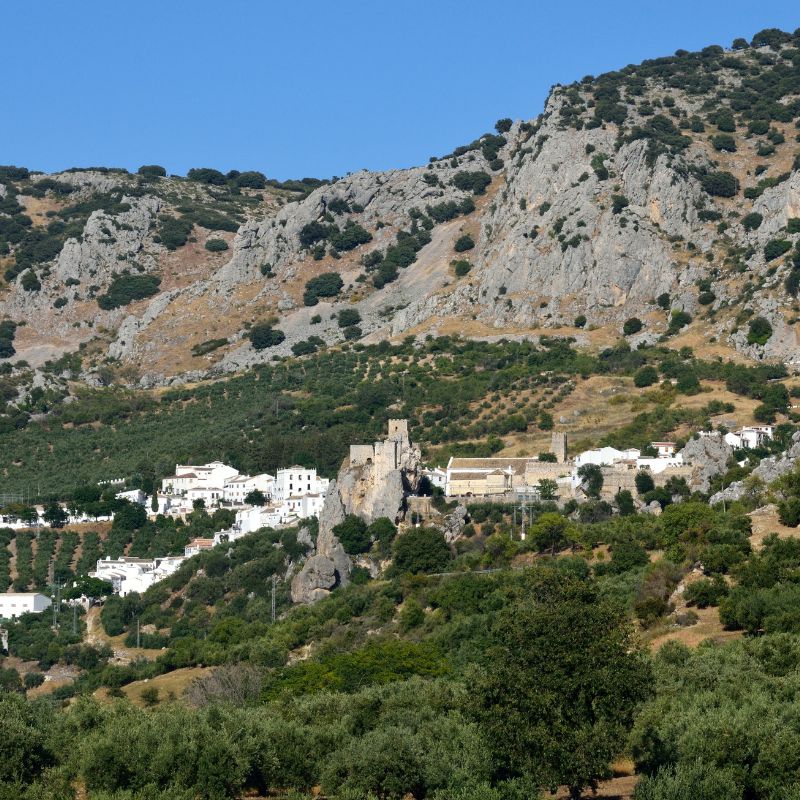 Zuheros is a whitewashed village that leads to the Sierra Subbética Natural Park. Another one of the best villages in Andalucia, Zuheros is home to about 700 people and is located in the province of Cordoba.
You can find many museums here. Zuheros has an Ecomuseum that focuses on the local cave named for the many bats that live inside it.
You can also visit an archaeological museum and the Juan Fernandez Cruz Museum of Customs and Popular Arts. The house of painter Francisco Poyato Serrano is now a museum in his honor.
This is definitely one of the most historic cities in Spain. We think it's quite convenient that it's also in such a scenic portion of the countryside!
11. Aracena, Huelva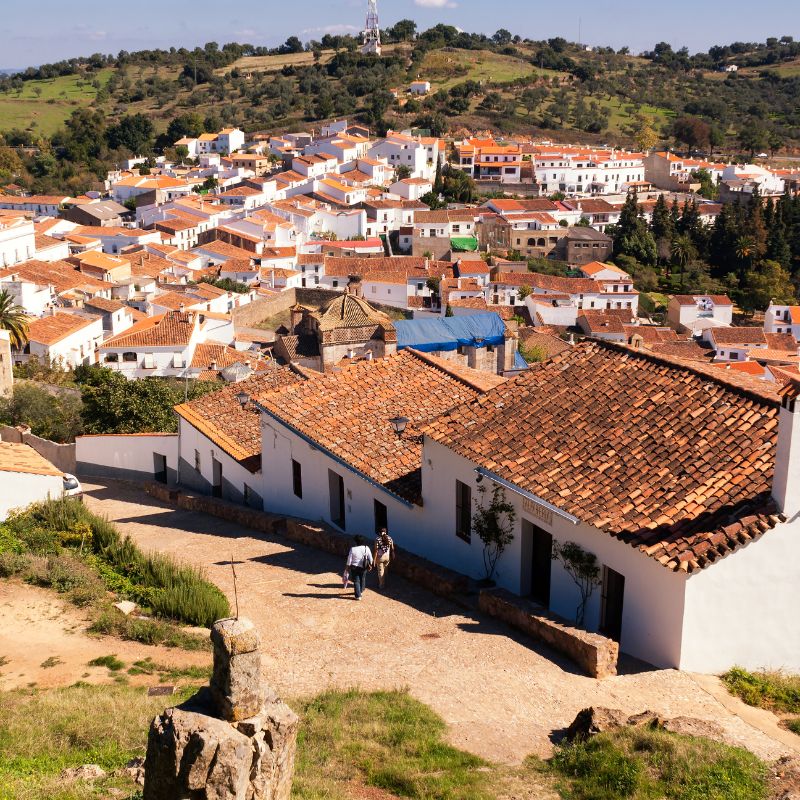 While Aracena is similar to many other small villages in Andalucia, it does stand out for a few reasons.
It is home to the Gruta de las Maravillas. This grotto opened as one of the first tourist caves in the country. With twelve underground chambers and six lakes, this is one of the biggest caves in Spain.
You can also visit the 13th-century castle that presides in the community as well as the fortified walls of the village.
Aracena is also home to many churches, including a Jewish synagogue. And don't forget about the Outdoor Museum of Contemporary Art!
12. Zahara de la Sierra, Cádiz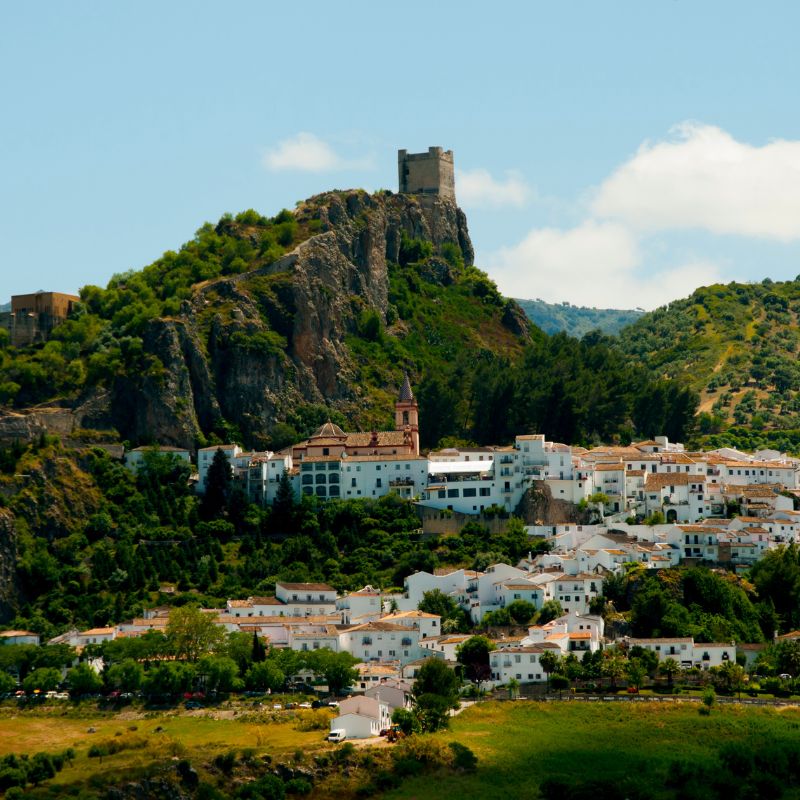 The rural village of Zahara de la Sierra in Cadiz is spread out around a rocky hill with a castle on top.
While this village isn't located on the coast, it does have access to water. It is home to a fairly new man-made lake. You relax on the beach or enjoy water sports on the water.
You can hike up to the castle ruins or towards Alameda de Lepanto Viewpoint. The latter offers a great view of the entire village.
Adventurous travelers may want to go paragliding or cycle along the Via Verde. Since Zahara de la Sierra is so close to the Sierra de Grazalema Natural Park, you can choose from several hiking trails to explore.
Here you can also find some of the best routes for cycling in Andalucia.
13. La Iruela, Jaén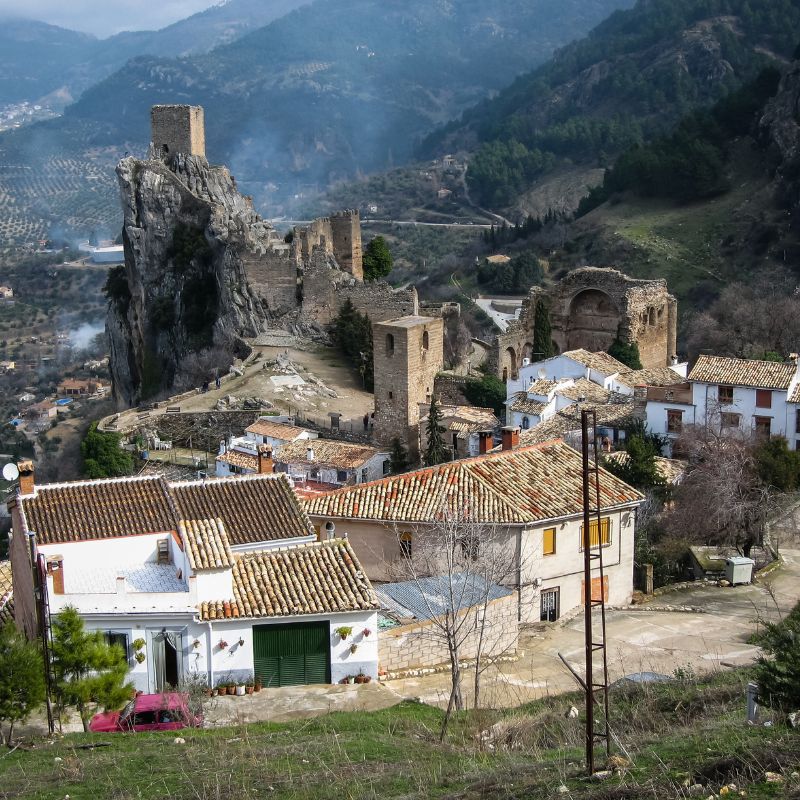 La Iruela in Jaen is known for its olive cultivation and nature tourism in addition to its gorgeous forestry.
Because of its rich olive groves, you can count on delicious food featuring olives.
We can trace human presence in La Iruela as far back as the Copper Age. Some of the architecture dates back to the 2nd century BC. During the 11th century AD, a wall was built around the village.
Since La Iruela was historically a farming town, they still celebrate that culture with the Cattle Fair every August.
You can also visit several historic hermitages in this village. These hermitages all have different purposes within the history of this village.
14. Casares, Málaga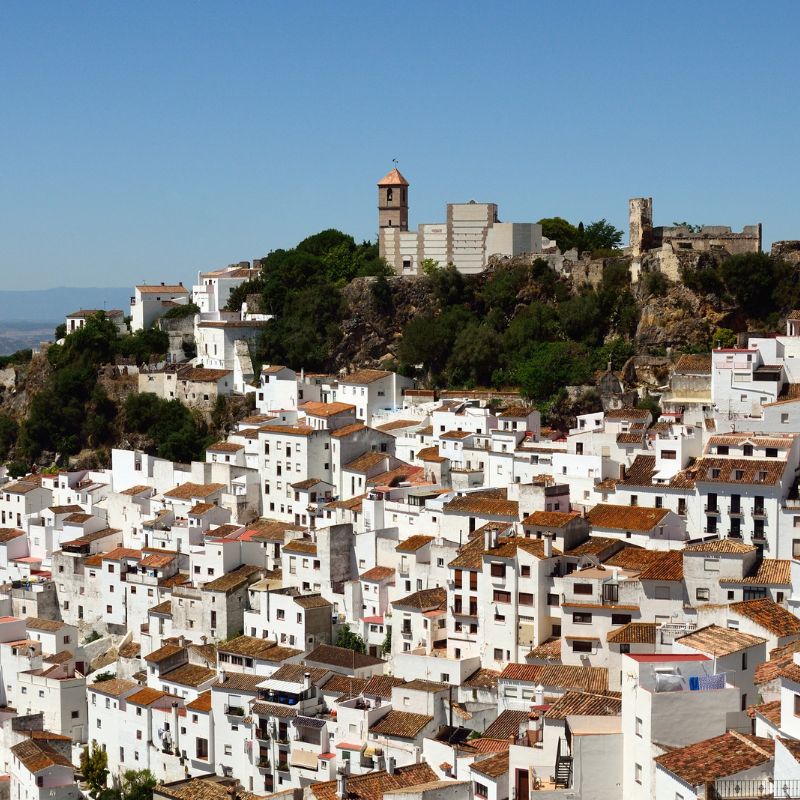 Casares is a small village with a lot to offer. When you first enter the village, you should stop at the Centro de Recepción de Visitantes de Casares to go hiking and check out some views.
While in Casares, you can find restaurants around the area. You will also be able to visit many churches of varying sizes. Be sure to take in the architecture, including the castle and the neighboring Arco del Arrabal.
One of the most popular things to do in Casares is to visit the Casa Museo de Blas Infante to learn all about the famous writer and politician, Blas Infante.
15. Mojacar, Almeria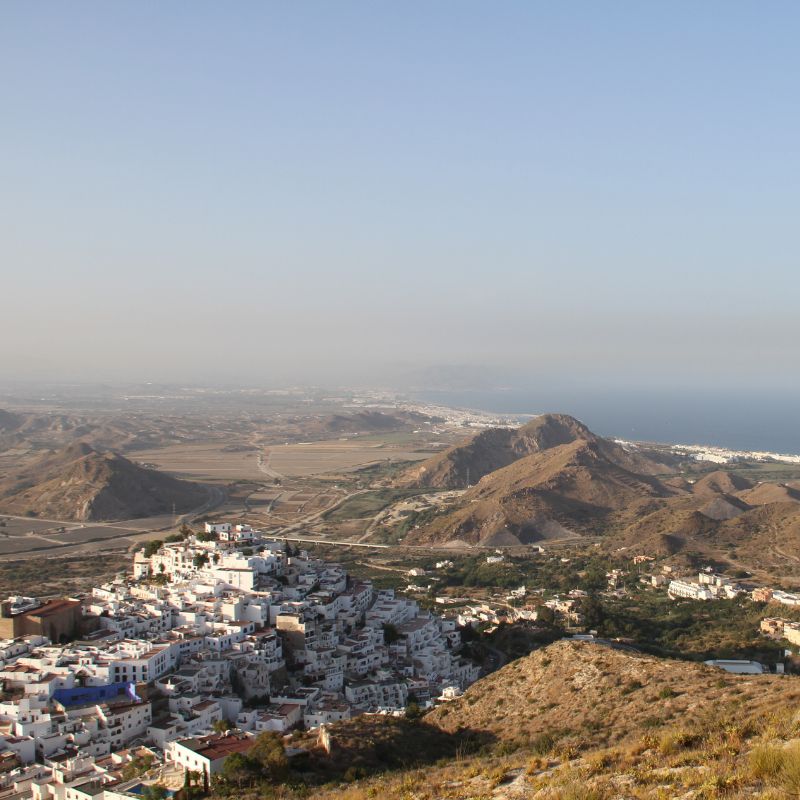 Mojacar in Almeria is another coastal village. But this is one of the best villages in Andalucia because it has so much more to offer than just the beach.
This artists' colony is divided into two parts: the Mojacar Pueblo, or traditional village, and the Mojacar Playa, or the beach.
The beach is 10.5 miles (17 km) long and has a lot to offer. You can sunbathe or visit one of the chiringuitos, or beach bars. Sporty travelers may prefer the water sports, such as snorkeling, banana boats, or windsurfing
In the village, you can visit the markets or the mall. Stroll around to admire the architecture and learn about its history. Or you can try some of the best Andalusian foods, like gazpacho, at the popular restaurants!
16. El Rompido, Huelva
Traditionally a fishing district, El Rompido in Huelva is a great destination with a port, lighthouse, and beaches.
Whether you want to ride a segway, race go-karts, or visit a water park, there is something for everyone!
The Portil Lagoon Route is a great place for a stroll. It will take you by the Marismas del Odiel natural area and to the viewpoint of the Laguna del Portil nature reserve.
Nature lovers may also want to explore the pine forests of Cartaya by horseback. Or go birdwatching at the Piedras y Flecha de El Rompido Marismas Natural Park.
Adventurous travelers may want to try windsurfing, kitesurfing, or diving. History buffs may want to visit the Castillo de los Zúñiga, hermitage, or pillars. This is one of the best villages in Andalucia for tourists to visit.
17. Ubeda and Baeza, Jaén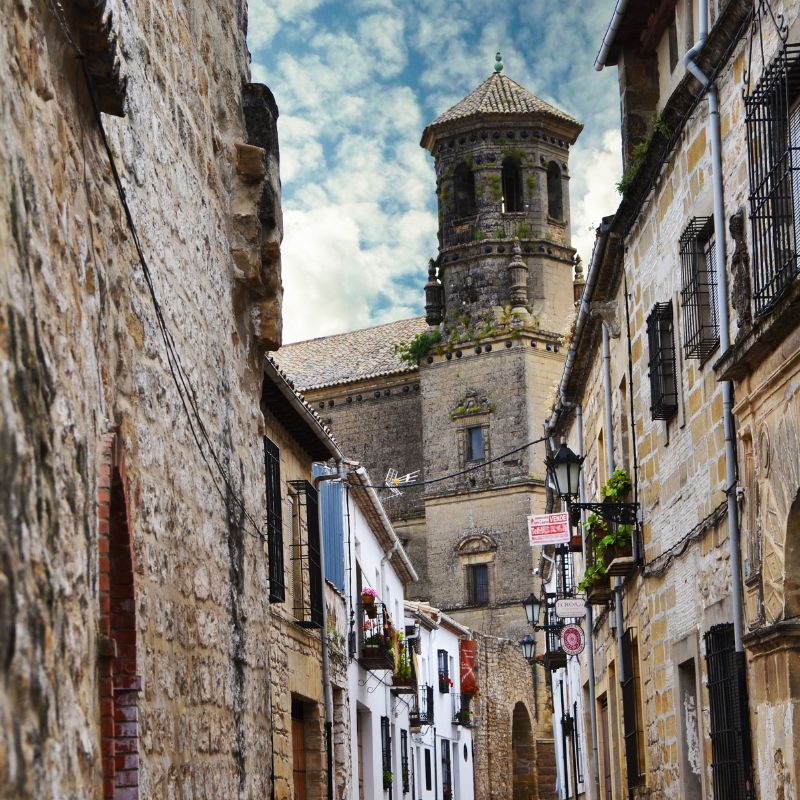 The monuments in these Spanish villages were declared UNESCO World Heritage Sites in 2003.
With a combined population of over 50,000 people, Ubeda and Baeza are not as small as the other villages on this list.
They are still quite rustic compared to many cities in southern Spain. A visit here will take you back in history.
In Ubeda, be sure to visit the Vázquez de Molina square. This is where you'll find many historic buildings, the Palace of the Marquis of Mancera, a monument of Andrés de Vandelvira, and a beautiful Renaissance fountain.
Ubeda is also home to the Santiago Hospital, which is now a cultural center with free admission.
Baeza is a quaint village with two town squares. The Plaza de Leones is where you'll find some traditional architecture and the namesake lion fountain.
The Plaza Santa Maria is where you'll find the cathedral which was also a mosque and Roman temple at different points in its history.
18. Medina Sidonia, Cadiz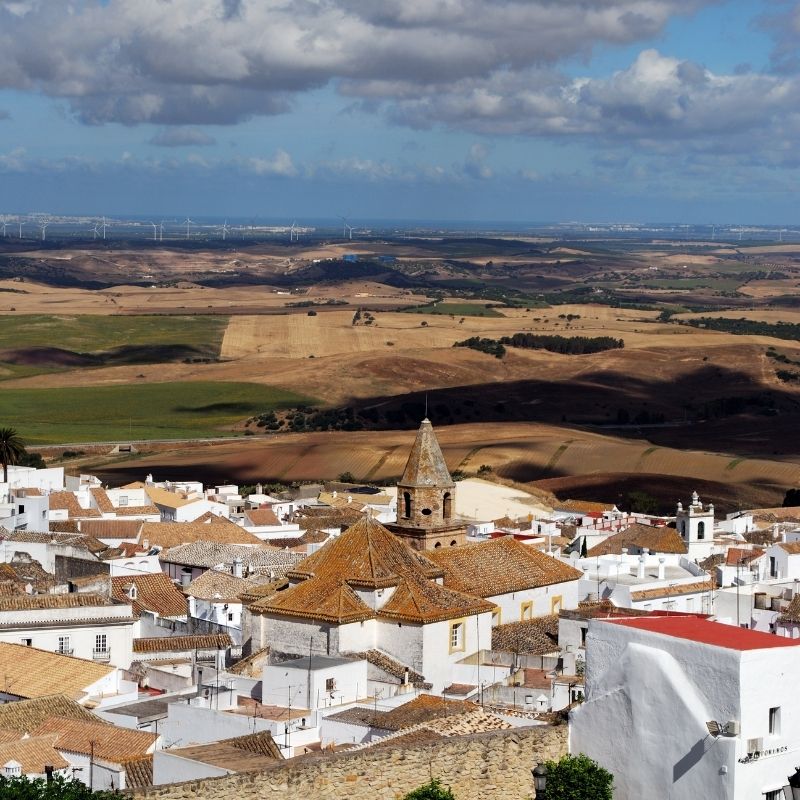 Medina Sidonia is the oldest white village in Andalucia. This village also has a complex history as cavemen, Visigoths, Tartessians, Romans, Moors, and Middle Age Christians have all claimed this village at some point.
Medina Sidonia is known for raising bulls to fight. This town also has the Church of Santa María de la Coronada, a spectacular example of 16th-century Gothic architecture.
Wander the streets to find many examples of historic architecture everywhere you look!
19. Castro del Río, Cordoba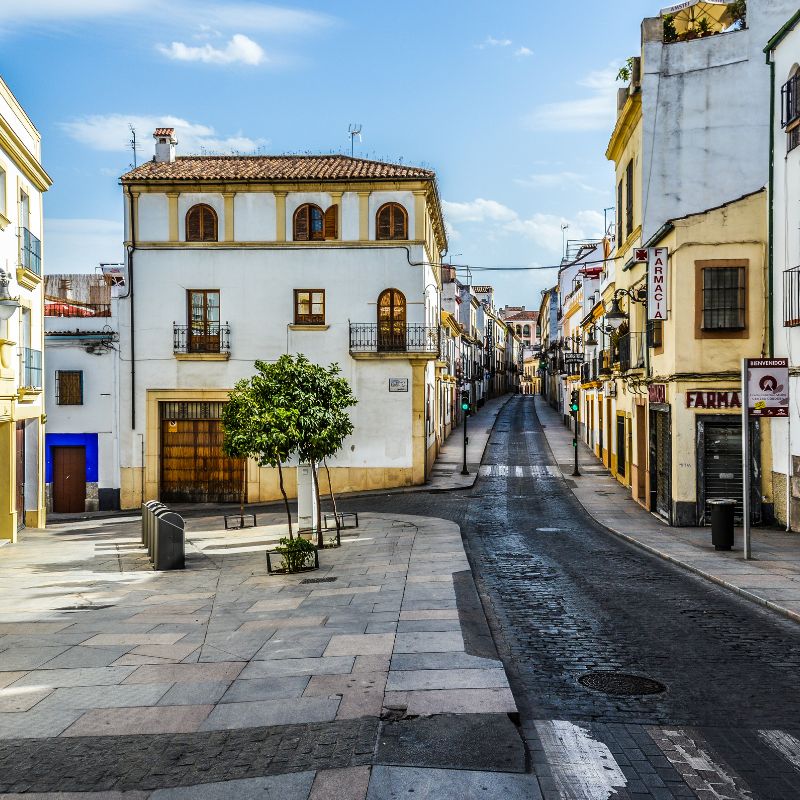 Castro del Rio is known for its olive oil and olive wood furniture. But this village is also a great place to celebrate many festivals throughout the year.
Foodies would love to eat the traditional foods they serve along with the holidays and seasons!
The Parroquia de la Asunción is a lovely church with many pieces of artwork depicting religious events. There are actually many churches, chapels, hermitages, and convents to explore in this village.
Don't miss the gorgeous Triunfo de San Rafael at the Plaza San Rafael. This plaza is also home to the Castillo Fortaleza.
This was declared an Asset of Cultural Interest, along with the Recinto Amurallado, or walled enclosure of the town.
One other must-see is the Reñidero de Gallos, where you can watch roosters fight.
Things To Do While Visiting The Best Villages In Andalucia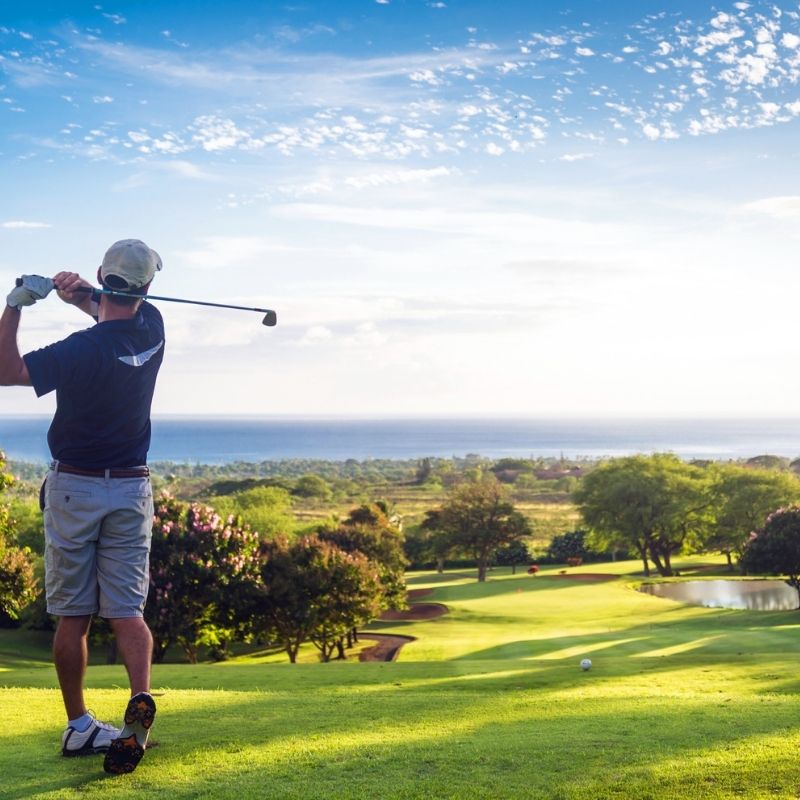 If you visit Spain, you must visit the white villages in Andalucia! These villages are home to some of the best things to do in Andalucia for the 1st time visitors.
In these villages, you can try traditional foods such as Espetos or grilled sardines, wander cobblestone roads, and relax on the beach.
Be sure to admire historical architecture, such as the many castles in Andalucia.
Golf in Andalucia is also a must-do activity if you are here since Southern Spain has the best courses in Europe for advanced and beginners alike.
Visit in the spring or the fall for the best experience, especially in May or October. Plan your vacation around the best festivals in Andalucia to attend them during your travels.
The weather in Andalucia makes it perfect to visit all year round, with nice temperatures for both sunbathing and skiing. The ski resort in Sierra Nevada is another reason to visit Andalucia in winter.
To easily travel to the best villages in Andalucia, you will want to rent a car when you arrive in Spain.
You may want to stay at paradores, or government-sponsored, historic hotels. Many of the best paradores in Andalucia can be found in the white villages.
If that isn't your style, you can find hotels in Andalucia for every budget, as well as stunning villas for rent to have the best Spanish experience.
Short FAQ about the Best Villages in Andalucia
What is the prettiest town in Spain?
Of all the Spanish beautiful places, Frigiliana, Andalusia is one of the prettiest towns in Spain.
It was voted the "prettiest village in Andalucia" by the Spanish Tourism Authority. Many people agree it is the most beautiful place in Spain.
Where are the white villages in Spain?
The white villages of Spain are located in the provinces of Cádiz and Málaga in Andalucia.
These are some of the most popular things to do in Andalusia.
Where is the best place to live in Andalucia?
Málaga, Almería, and Cádiz are great southern Spain cities to live in if you want to immerse yourself in the culture.
---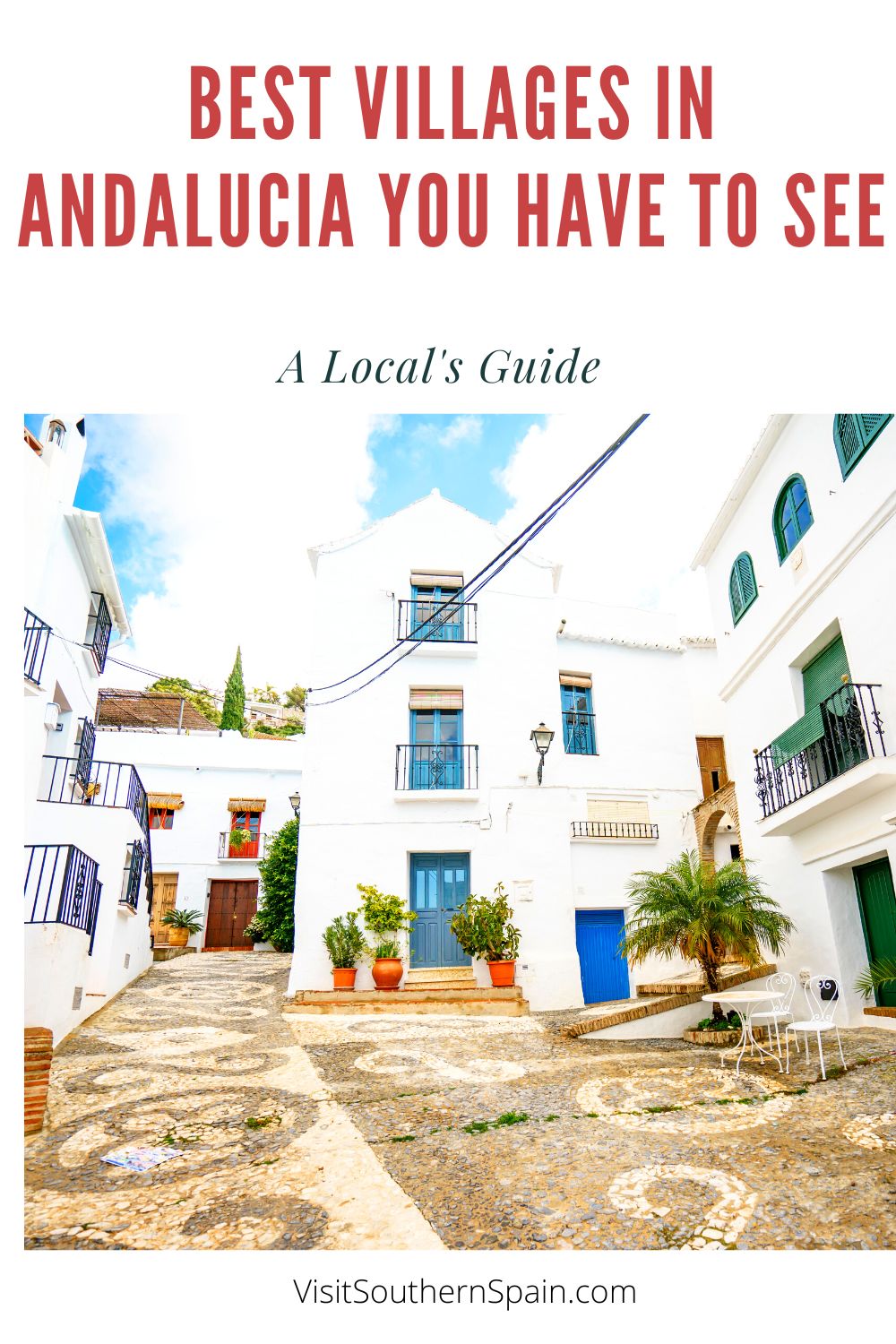 ---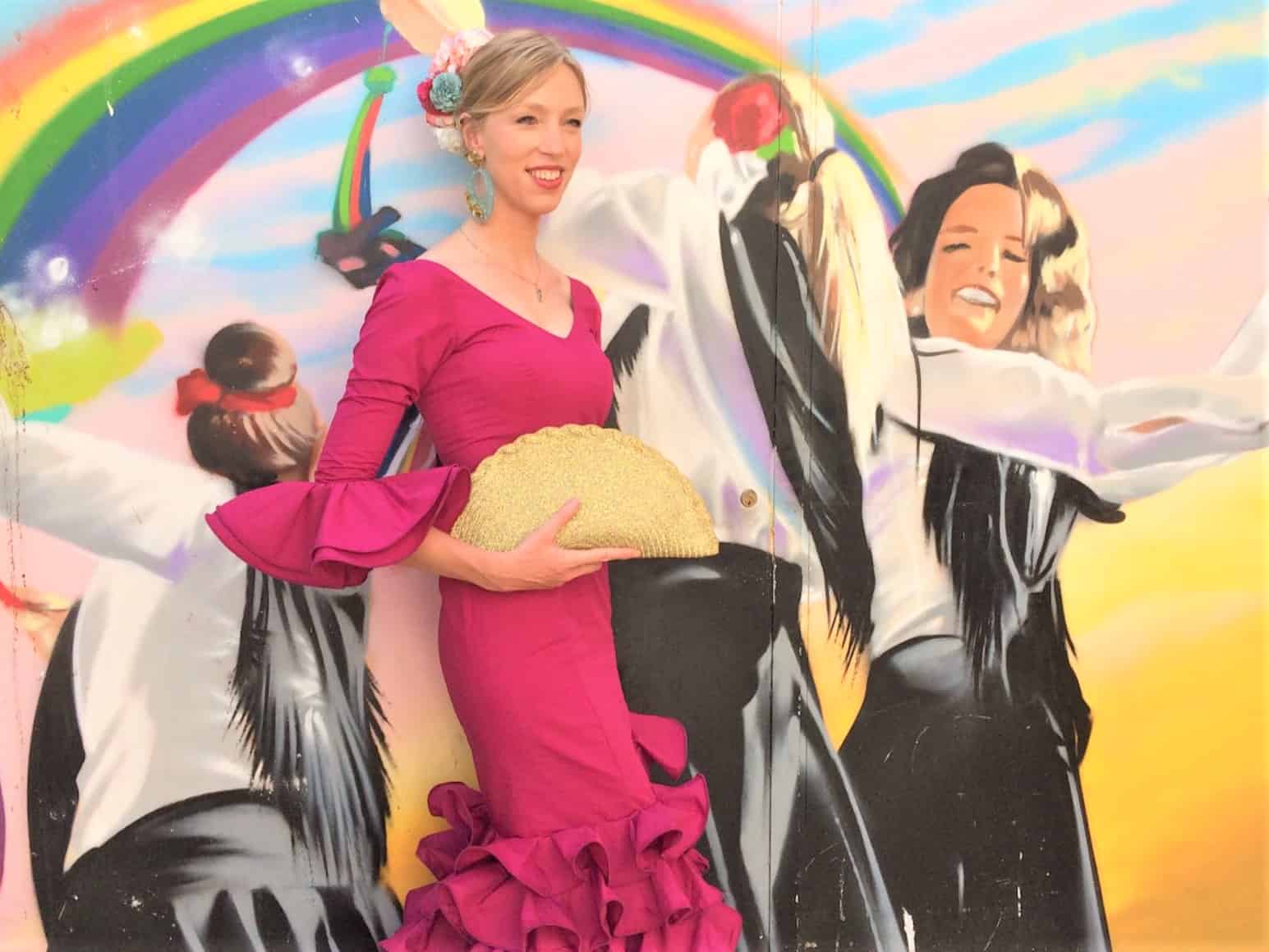 Hola, I'm Paulina! Together with my team, we are passionate about Southern Spain. Here we share all you need to know for great times in Southern Spain with the best places to visit, stay and, of course, the best food to eat.
Let's dive in and explore Southern Spain's outdoors, food and culture con pasión!