A guide to the best resorts in Andalucia where you can sit back and relax.
In the guide below, we have listed what we consider to be the best 20 resorts in Andalucia, what they offer, and why you should stay in one over another.
From 5-star luxury resort hotels to boutique hotels and all-inclusive spa resorts, you will find something that ticks all the boxes in our comprehensive guide.
While Madrid and Barcelona may be Spain's two largest cities, most people conjure images of Andalucia when they think of Spain.
This post contains affiliate links. If you buy via them, I'll earn a small commission which helps me to keep this blog running. As an Amazon Associate I earn from qualifying purchases. All opinions are my own.
With a Mediterranean and Atlantic coastline, endless sunshine, and rich history dating back to Phonecian traders, Andalucia has everything you need for a perfect Spanish vacation.
Besides its stunning beauty, much of Andalucia's charm stems from the fact that it sat on the frontier of Islam and Christianity for eight centuries, and the spices and fruits brought from the orient were used to help create the Spanish cuisine we love today.
Ancient Moorish white villages dominate the hilltops, while 30% of Andalucia remains environmentally protected Natural Parks with endless recreational opportunities, which proves why the best villages in Andalucia are so famous.
OVERVIEW: Best Resorts in Andalucia
Best 5 Star Resorts in Andalucia
Located near Marbella on Spain's Costa del Sol, the Oasis by Don Carlos Resort is a 5-star boutique luxury hotel dedicated to wellness and well-being.
Designed to balance mind and body, the 35-room adults-only oasis has carefully thought out every detail to ensure you have the most memorable stay.
Combining a mixture of suites and apartments, the Oasis by Don Carlos Resort is furnished with replica pieces from the 1930s-1950s with quality materials and natural fabrics.
Dining at the Oasis by Don Carlos Resort is a perfect balance between pleasure and nutrition with a heavy emphasis on seasonal and organic products.
The 17,222 square feet spa offers guests a water circuit, sauna, steam rooms, flotation tanks, shower temple, and aromatherapy cabin.
Named the 'Best National Resort' in the country by Conde Nast Traveller magazine, the 5-star Finca Cortesin Hotel Golf & Spa is located between Marbella and Sotogrande, overlooking the Mediterranean Sea.
Inspired by traditional Andalusian architecture, the Finca Cortesin Hotel Golf & Spa features an 18-hole championship course designed by Cabell Robinson.
Other on-site facilities include the Jack Nicklaus Academy, two tennis courts, and two padel courts.
Built around two grand courtyards, the hotel offers guests 67 large suites with lofty 14-foot ceilings that give it a bright, spacious feel.
The Finca Cortesin Hotel Golf & Spa offers guests the choice of six restaurants that include REI, a Japanese-inspired experience of dishes prepared using the highest quality seafood and raw materials.
Don Giovanni provides guests with the best of Italian cuisine, while the Golf Club Restaurant, Beach Club, El Jardin de Lutz, and the Blue Bar offer traditional Spanish dishes and tapas.
Marbella is a 35-minute drive from the resort, and the international airport in Malaga is 60 minutes away.
Located a 10-minute drive from Marbella in the "Valley of Golf", the Westin La Quinta Golf Resort & Spa, Benahavís, Marbella, is a world-renowned golfing destination.
Surrounded by the Sierra Blanca mountains overlooking the Mediterranean Sea, the 170-room resort offers three 9-hole championship courses designed by Manuel Piñero.
For non-golfers, the Westin La Quinta Golf Resort & Spa invites guests to unwind at its heavenly spa or relax by one of two swimming pools while the children are kept entertained at the Kids Club.
The resort has two restaurants and three bars serving gourmet delights made from locally sourced products.
Set in lush gardens, a stone's throw away from Marbella's famous marina, the 5-star Hotel Don Pepe Gran Melia is the Costa del Sol's answer to paradise.
Located a 15-minute walk from Marbella's old town and the Plaza de los Naranjos, the Hotel Don Pepe Gran Meliá offers guests luxurious rooms with either a mountain or sea view.
The hotel also features two swimming pools, a tennis court, and two paddle courts.
Guests at the Hotel Don Pepe Gran Meliá are invited to dine in the resort's signature Tahini Japanese restaurant or enjoy a char-grilled steak in its Mediterranean grill/bar.
Best 4 Star Resorts in Andalucia
Located a 35-minute drive from Malaga Costa del Sol Airport (AGP), the 4-star La Cala Resort is set between the Sierra de Mijas National Park and the Mediterranean Sea.
The manicured complex features three championship 18-hole courses designed by world-renowned architect Cabell B. Robinson.
Together with the golf courses, there is a driving range putting green and a six-hole short course that allows golfers to practice their short game.
For non-golfers, the 107-room La Cala resort offers guests the ability to visit a gorgeous destination spa, eat in one of its three restaurants, or just laze by the pool.
Regarded as being one of the best all-inclusive 4-star resorts on the Costa de la Luz, its unique location offers families modern, spacious rooms with every amenity overlooking an unspoiled beach.
The Barceló Punta Umbría Beach Resort offers guests a choice of four themed buffet restaurants, four swimming pools, and a kids club to help keep the little ones busy.
Seville and Faro on Portugal's Algarve are the nearest airports to the resort.
Situated within the exclusive Islantilla Golf Course a four-minute drive from the beach, the 4-star DoubleTree by Hilton Islantilla Beach Golf Resort features four restaurants, a health spa, and an outdoor swimming pool.
Considered as being one of the best-golfing destinations on the Costa de la Luz, the course features 27-holes, a driving range, and a putting green.
The resort also offers two paddle courts, and during the summer months, there is a kids club.
The DoubleTree by Hilton Islantilla Beach Golf Resort is located next to the Atlantic Ocean 11 miles from the Portuguese border, and 31 miles from Faro Airport (FAO).
Conveniently located close to the AP-7 autopista del Mediterráneo motorway in eastern Almeria, the 4-star Valle Del Este Golf Resort features an 18-hole José Canales-designed golf course.
The hotel has 130 large double rooms and 12 suites overlooking the estate, an international buffet restaurant, a poolside grill, and a beach restaurant/bar.
Set in a unique microclimate near Mojacarthe area has more hours of sunshine per year than any other part of continental Europe.
Best Budget Resorts in Andalucia
Located just outside the town of Alcudia de Guadix at the foot of the Sierra Nevada mountains, the 3-star pet-friendly Cuevas del Tio Tobas features 19 rooms, some of which offer views of the surrounding countryside.
Free WiFi is available in the restaurant and business area. There is also an outdoor swimming pool and barbeque.
The city of Granada is 37 miles away, and the Cabo de Gata's pristine beaches are an hour's drive.
Located on the Costa del Sol in the popular resort town of Benalmadena, the 3-star Royal Oasis Club at Pueblo Quinta, features an outdoor pool, whirlpool, fitness center, and spa.
Constructed in a traditional Andalusian style with tropical gardens, the resort is next to the Parque Paloma and is a short walk to the beach.
Each self-contained, air-conditioned apartment has a full kitchen with a washing machine.
The resort has an outdoor swimming pool bar/restaurant and has free WiFi throughout the property.
Located in Huelva, three miles from the Doñana National Park, the 3-star Dunas de Doñana Resort offers guests studio apartments a short walk from the beach.
Ideally suited for families or groups of friends, the Dunas de Doñana Resort features free WiFi, a bar/restaurant, an outdoor swimming pool, and a children's playground.
Located slightly over half a mile from the luxurious Puerto Banus marina and a 12-minute walk from the beach, the 3-star Vasari Resort offers guests an oasis of tranquility in one of Marbella's top urbanizations.
Set in lush tropical gardens, guests have a choice of two and three-bedroom fully equipped comfortably furnished, and decorated apartments.
The pet-friendly resort has two outdoor swimming pools, three paddle courts, and a beauty salon.
Marbella is just 4.3 miles away, and Las Brisas and Los Naranjos golf courses are 3.1 miles away.
Best Resorts in Andalucia near the Beach
Located in a privileged seafront location five minutes from the beach, the 5-star Marriott Marbella Beach Resort offers fully fitted and equipped elegantly furnished apartments with direct beach access.
The resort features two indoor and two outdoor swimming pools, a sun terrace, and a fitness center. There is also a small supermarket on-site, along with several restaurants and bars.
Located on Spain's sunny Atlantic Ocean, Costa del las Luz the 4-star Gran Hotel del Coto is a two-minute walk from Matalascañas Beach.
The hotel is situated within the Doñana National Park, a wetlands that attract thousands of migrating birds and is home to the Iberian Lynx.
With panoramic views of the sea, the Gran Hotel del Coto's La Rocina restaurant features the best of Andalusian cuisine, all made using the freshest locally sourced products.
All the hotel rooms are air-conditioned, decorated in soft neutral tones, and come with a flat-screen TV and refrigerator.
The hotel offers guests free parking; the closest airport is Seville (SVQ), 55 miles away.
Ideally located on one of the best beaches in the Province of Cadiz, the 4-star Hotel Fuerte Conil-Resort is a large complex a 15-minute walk from the center of Conil de la Frontera.
All rooms have either a terrace or balcony and come with satellite TV and free WiFi.
The hotel's signature El Olivo restaurant serves international cuisine, and there is a poolside restaurant that specializes in paella.
There is also a bar with entertainment most nights and a snack bar with multiple options. The hotel's best feature is the Blue Flag family-friendly gently sloping Fontanilla Beach.
Located in Chiclana de la Frontera, Province of Cádiz on La Barrosa Beach, the 4-star Iberostar Royal Andalus offers guests three outdoor swimming pools and two championship golf courses designed by Seve Ballesteros.
With stunning views of the Atlantic Ocean, the complex has three restaurants and a health spa.
All the Iberostar Royal Andalus come with a balcony, have air conditioning and are decorated in soft neutral colors, and come with a satellite TV and a minibar.
Situated on Spain's Costa del Sol, 1,000 yards from the swanky Puerto Banus Marina, the 4-star Iberostar Selection Marbella Coral Beach features several outdoor pools, a beach club, a gym, and rooms with private balconies.
Decorated with Andalusian and Arabian touches, all rooms at the hotel have air conditioning, free WiFi, a satellite TV, and a safe.
The hotel has two restaurants serving Andalucian and Mediterranean dishes and a poolside bar that serves lunches and snacks.
Downtown Marbella is 2.5 miles away, and Malaga Costa del Sol Airport ( AGP) is a 45-minute drive.
Considered to be one if not the best boutique hotels in Malaga, the 5-star Gran Hotel Miramar is housed in a 20th-century listed building opened in 1926 by King Alfonso XIII.
Offering spectacular views of the Bay of Malaga, the hotel is a ten-minute walk from the city's main attractions and museums.
Surrounded by extensive lawns and gardens, the hotel features several outdoor swimming pools and a stunning spa.
All the rooms are decorated to a high standard and come with complimentary Bulgari toiletries.
Dining options at the hotel include the highly rated Príncipe de Asturias and four other gastronomic restaurants focused on national and international cuisine.
Guests particularly like the roof-top bar where they enjoy cocktails with stunning sea views.
Overlooking the Straits of Gibraltar and surrounded by orchards and orange groves, the Trafalgar Polo Club offers beachside accommodation in Vejer de la Frontera.
Named after the nearby 1805 naval Battle of Trafalgar, in which Admiral Horatio Nelson decisively defeated Napoleon's fleet, the Trafalgar Polo Club features 12 comfortable rooms, a bar, lounge, and a garden.
Free WiFi is available throughout the property, and as the name suggests, polo is available with trained ponies so that any player can enjoy hitting at their level.
The area where the hotel is located is popular with hikers and cyclists, with bike hire available for guests who want to get out and explore.
Set within the beautiful Cabo de Gata Nature Reserve on Southeastern Spain's unspoiled Costa de Almeria, the Complejo La Ermita offers guests the choice of two villas with terraces and sea views.
They are located within what was once a church; the eco-friendly villas come with a sofa bed, flat-screen TV, and an iPod docking station. The kitchen includes a microwave, fridge, oven, and toaster.
The Complejo La Ermita is ideal for people looking to escape the stresses of everyday life and is ideally suited for hiking, horse riding, cycling, and fishing.
Playazo Beach is just under a mile away, and the villages of Las Hortichuelas and Las Negras are less than 1.24 miles from the property.
When Should you Visit the Best Resorts in Andalucia?
Almost like a country within a country, Andalucia's Moorish past gives it a unique feel unlike anywhere else. There are endless things to do in Andalucia, you just need to choose your favorites.
Whether looking for an all-inclusive holiday, stunning villas to rent in Andalucia, or hotels in Andalucia for every budget, Southern Spain has some of the country's finest hotels and resorts.
As for when to visit Andalucia, it depends on what you want to do. The region has over 320 days of sunshine a year and can be warm enough in the winter to sit on an outdoor terrace.
The weather in Southern Spain is one of the most perfect weather in Europe, where you can swim in the morning and ski in the afternoon.
As for the cities like Malaga, Granada, Cordoba, Seville, and Cadiz, the summer months between June and September can be scorching.
Most of the best festivals in Andalucia, like Santa Semana or Halloween in Malaga, take place all year round, so April, May or October are ideal, whether you're a beachgoer or not.
Andalucia also boasts Europe's most southerly ski resort near Granada in the Sierra Nevada mountains, having another reason to visit Andalucia in Winter.
With a long season that stretches into April, Andalucia is one of the few places in the world where you can ski in the morning and have lunch on the beach.
If you're after a bit of history, make sure you visit the white villages in Andalucia and the best castles in Andalucia.
Short FAQ about the Best Resorts in Andalucia
---
---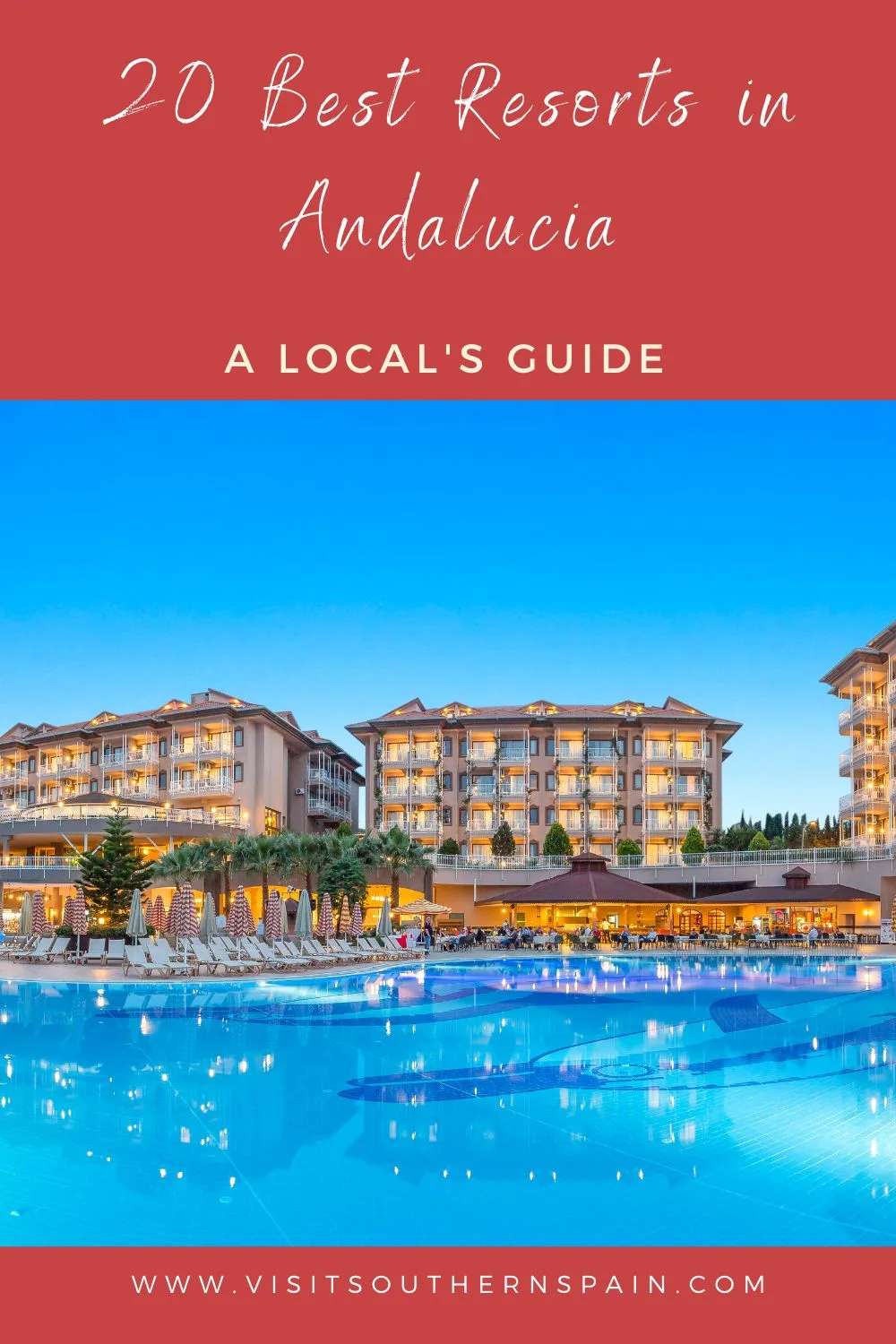 ---