A guide to the best hotels in Andalucia for every budget
If you are looking for recommendations for the best hotels in Andalucía, you are in the right place.
Not only that the South of Spain has breathtaking nature and rich cultural and architectural heritage, but also miles of coastline for you to enjoy, as well as the authentic cuisine that will make you want to come back.
Andalusia is a region of art and heritage. It is a place where Picasso was born, where flamenco is danced, and where the unique landscapes and architecture merge under the UNESCO World Heritage sites.
This post contains affiliate links. If you buy via them, I'll earn a small commission which helps me to keep this blog running. As an Amazon Associate I earn from qualifying purchases. All opinions are my own.
Whether you plan on visiting Malaga, Seville, Marbella, or any other towns in Andalucía – the most southern part of Spain, you'll need a place to stay.
This guide will give you an insight into the best hotels in Spain (at least in this part of the country), considering different categories. It can encompass a wide range of choices fit for every budget.
What makes this guide unique? How have the hotels been chosen? On what criteria?
Best Hotels in Andalucia
| Hotel | Highlight | Location | Price | Review |
| --- | --- | --- | --- | --- |
| El Lodge, Ski & Spa | Best for a winter visit | C. Maribel, 8, 18196 Sierra Nevada, Granada, Spania | $$$$ | Check here |
| Vincci Selección Aleysa, Hotel Boutique & Spa, Benalmádena | Best for luxury | Av. Antonio Machado, 57, 29630 Benalmádena, Málaga, | $$$$ | Check here |
| Hotel Patria Chica, Priego de Córdoba | Best for outdoor activities | C. Carrera de las Monjas, 47, 14800 Priego de Córdoba, Córdoba, Spania | $$$ | Check here |
| Apartamentos Coronado, Marbella | Best for the beach proximity | C. Cta. Correa, s/n, 29604 Marbella, Málaga, Spania | $$ | Check here |
| Ibis Malaga Centro Ciudad | Best for the budget | Hotel Ciudad 2*, Cerrojo 1 Num Reg T H Ma 01981, 29007 Málaga, Spania | $$ | Check here |
Best 5 Star Hotels in Andalucia
This is one of those luxury hotels you'll want to check out if you plan to spend some time in Jerez de la Frontera. And the Palacio in the name is not in vain. You'll be staying in a palace-like 5-star hotel.
Apart from luxury hotel suites offered at the premises, you can enjoy a beautifully arranged garden, or simply sip your morning coffee from the spacious terrace.
The Jerez Cathedral is just a few minutes walk from the hotel along with the Plaza del Mercado, and since the reception works 24/7, you can explore the area without any worries.
Another thing to know about one of the best hotels in Andalucia is that it is pet-friendly.
Learn more about the hotel here.
When we talk about famous hotels in Spain and consider some of the best hotels in Andalucia Vincci Selección Aleysa has to be on the list.
As this is a beachfront hotel, one of the finest pleasures is a hot tub with a view of the Mediterranean. If you, however, prefer a pool over a hot tub, there is an outdoor option as well.
You can start your morning with the free yoga or Pilates classes in the garden or simply have a drink at the lounge bar.
When it comes to food – it will not fail you because Vincci Selección Aleysa offers international cuisine choices.
For those who are more into golf or boats, the golf course is within a 10-minute drive, and the Puerto Marina is just nearby.
To see more info click here.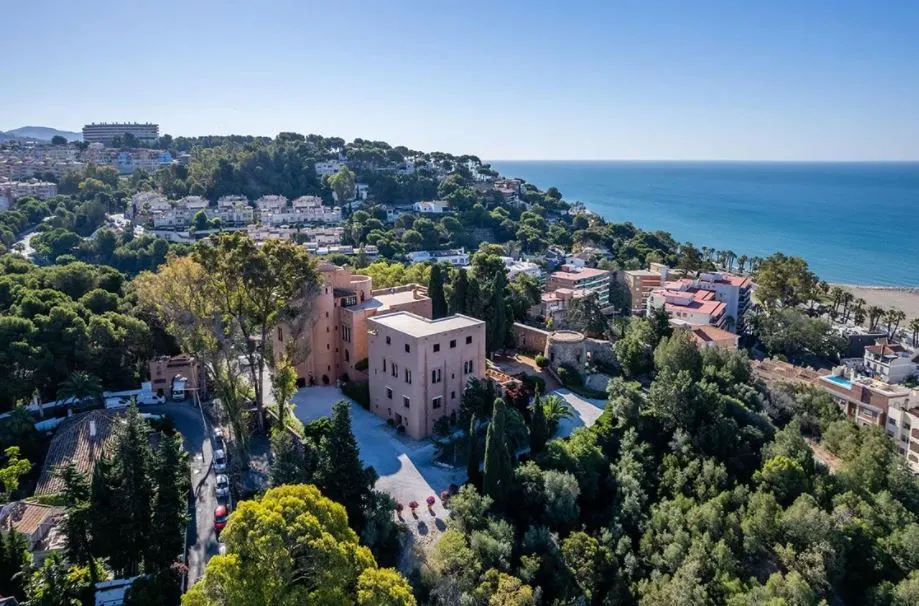 If you have an appreciation towards history, and you prefer to stay in hotels with a tradition, you'll want to check the Soho hotel among the hotels in Malaga.
The building is over 90 years old and it has a huge space filled with terraces and gardens.
One of the things that are very loved by the guests is the view on the Bay since the hotel itself is located on the hill.
Rooms are also very classy and cozy, they have marble floors and nice furnishing, and you will have everything you need to relax to the fullest.
If you wish to explore, or looking for things to do in Malaga, La Caleta beach is less than 1km from Soho Castillo de Santa Catalina.
The city center is also very close and you can reach it in about 15-20min on foot.
Sevilla – the city known not only through Rossini's masterpiece but also through its enormous cultural and historical heritage is a place to visit.
Also, the local dishes are a must-try, especially tapas and paellas.
One of the best hotels in Seville Spain is Hotel Mercer, so you should check the accommodation options and prices for your designated dates.
The hotel is situated in the city center and a 10-minute walk from Main Square.
Apart from spacious and well-decorated rooms, hotel Mercer offers a variety of content such as the outdoor pool and on-site restaurant.
One of the places you don't want to skip when in Seville is La Isla Mágica which is less than 2km from the Mercer.
So if you are wondering where to stay in Seville – look for this hotel, its offer, and its proximity to main shopping and tourist sites in the city.
Get the latest info here.
Great for winter
Connected to the Ski Resort
For those looking for things to do in Andalucia in winter and enjoy the ski season – you should check the El Lodge.
The hotel is situated among the ski runs of Sierra Nevada, and it is well-connected to the Ski Resort called Maribel.
Ski lifts can bring you to the top of El Veleta, and you can enjoy the slopes located above 2000m above sea level.
The hotel's content doesn't lag behind its great surroundings, and it offers a sauna, gym, treatment rooms, and swimming pools to its guests.
The restaurant and the bar are also on the premises of the El Lodge so you don't have to worry about going too far after a full day of outdoor activities.
See if the hotel fits your needs and your budget here.
Best 4 Star Hotels in Andalucia
Another hotel with a traditional taste to it and with a bit more modest budget as it has 4 stars is the hotel Don Miguel in Ronda.
Don Miguel is tasteful yet simple, with rooms that have all the necessary amenities and an in-house restaurant in a modern Spanish style.
One of its nice features is also the terrace with a bar – it is spacious and relaxing.
One of the places to visit nearby is the New Bridge, but you can also rent a car to visit the beach or a bike to explore the amazing nature surrounding the hotel.
To get more info about the hotel you can check the link here.
Outdoor activities
Ambience
Hotel Patria Chica is a 4 star hotel placed in a convenient location in Priego de Córdoba.
It is a nicely decorated hotel with the possibility of organizing outdoor activities such as hiking and horse riding for the adventurous types.
The hotel itself also has a good restaurant and even a gift shop in case you want to get a souvenir from your trip.
The ambiance of the hotel and a historical note to it is one of the features you might like as well.
Also, the fact that apart from the rooms with city and garden views, there are also rooms with a quiet street view which is great for those who want to avoid the city buzz and just enjoy a silent night.
Take a look at the offer here.
Great surroundings
Free parking
Planning on visiting La Herradura or Acantilados de Maro-Cerro Gordo? Then one of the Spanish hotels that might fit your needs is Peña Parda.
Although it is not among the hotels with a pool, it has a nice sea view and a sunny terrace where you can enjoy the day.
Also, since the beach La Herradura is just 30m from the building, you can try snorkeling in the Mediterranean.
On the other hand, it is also possible to try horse riding as the surroundings in La Herradura are like the whole Andalucia – pretty great.
For those traveling by car, it is nice to know that the parking is free and it is easily accessible.
Check the availability here.
In the old town
Attractive offer
One of the amazing things about Andalucía is that besides the nature and the beaches many historical sights and old towns preserved the authenticity over the centuries.
Eurostars Puerta Real is one of the hotels in Granada Spain that can be just the place to book if you are looking to stay in the old town center.
Alhambra is one of Granada's touristic highlights to visit, and it is within walking distance from the hotel.
The rooms are cozy and well-equipped, and the hotel has a gym, wellness, sauna, and a Turkish bath.
Since Eurostars Puerta Real is located in a very attractive location, you can enjoy the lively atmosphere of the tapa bars, restaurants, a variety of tourist-oriented programs, and even flamenco shows.
See more about the Eurostars Puerta Real here.
Away from the city
Surrounded by nature
The variety of accommodation options in Andalucía is not a surprise as it is a very popular destination.
Although hotels are the most common choice, there are still some amazing alternatives out there that just had to be on this list.
One of them is La Esperanza Granada Luxury Hacienda & Private Villa.
It is located about 30km from Granada, and it features an amazing garden and a spectacular view of Sierra Nevada.
This is not one of the hotels near the beach, it is, however, one of the hotels with an inside pool. There are two pools on the premises, but only one is currently open.
The spacious rooms away from the city are a guarantee that you will take a break from the busy life and reconnect with yourself and with nature.
There are many outdoor activities to choose from, whether you like hiking, cycling, or simply reading a book surrounded by nature.
Best Budget Hotels in Andalucia
Home feel
Service-oriented stuff
For those looking for a homelike atmosphere in one of the best locations in San Pedro de Alcantara, the Doña Catalina hotel has all the necessary features.
Since it is a family-run hotel in the middle of the city the whole staff is fully focused to make you feel welcome and comfortable at all times during your stay.
The rooms are clean, nicely decorated, and have all the necessary amenities.
Also, if you are up to exploring the area while enjoying local dishes and drinks, the restaurants and bars start about 100m from Doña Catalina.
On the other hand, the beach is also nearby, just 5min by car or around 20min by foot.
For those enjoying sports, some of the best golf courses in Andalucia are about 3km from the hotel. There are also tennis courts, along with golf clubs and golf resorts in the vicinity.
To see if this hotel is what you are looking for, and to check if you can get a cheap hotel deal, click here.
Beachfront
Near attractions
Among the beach hotels in well-known Torremolinos, you'll find the hotel Mediterraneo Carihuela – a 3-star hotel situated just a few kilometers from the city center.
The hotel is full of light, and it has a pleasant ambiance. There is a big and comfortable sunny terrace with a cafeteria in the hotel where you can have a nice breakfast.
You can also have a drink or a light snack before you go out to explore the town, or simply enjoy the day on the beach.
The rooms are also comfortable with nice decor, and they have terraces, so you can pretty much enjoy the sun, the beach view and still have privacy and the quiet.
There is an Aqua land waterpark within about 20min walk from the hotel, and since the Parador de Malaga golf resort is also just over 5km away, Mediterraneo Carihuela might be the place to consider
It is a great option if you are wondering where to stay in Malaga and you are a golf lover. The Malaga airport is also just 15min drive from the place.
Learn more about the hotel's offers here.
Budget wise
Suitable for people with disabilities
Malaga is one of the Andalusian cities you'd most certainly like to stop by whether you are aiming to visit Spain during summer, or you are looking for the best places to visit in Andalucía during Christmas.
It is a lively, touristic town that can offer something to anyone. Regardless of the type of the trip, or the number of people, there is always amazing food to try or famous sightseeing places to visit.
One of the affordable accommodation options to consider in case Malaga is on your travel list is most certainly Ibis Malaga Centro Ciudad hotel.
First of all, as its name says – it is located in the city center. This means that you'd be staying in a place just next to the Cathedral and within meters from the famous Picasso Museum.
The hotel is quite flexible, it has a 24/7 working reception, and a Rendez-Vous bar where you can relax and have a drink during your spare time.
The shopping district is also close as well as the bars and good places to try local dishes.
You have private parking, and one of the things that should be noted is that the hotel is suitable for people with disabilities.
Take a look at the hotel offer here.
Perfect for families
Suitable for children
Hotel Adria Vera is one of those places you'll want to look up if you are searching for an affordable place, next to the beach but away from the city noise to spend your free time.
It is situated near the port called Puerto Rey. Less than 5 min walk from the beach, but about 15min drive from Vera.
It is a resort that has everything on its premises. You can have all the meals in their restaurant, a drink in the bar, or simply stay in the lounge room.
One of the great things about this place is that it is great for kids.
Although it has two swimming pools for the adults, there is a separate children's pool, as well as the game room. Hotel Adria has designated entertainment programs during the summer.
If you are planning a family vacation in Spain, this just might be one of the best hotels in Andalucía for that.
Best Hotels in Andalucia near the Beach
Exquisite
The luxury of all kind
Gran Hotel Miramar can be described with one word – majestic. The luxurious, gorgeously decorated hotel features a seasonal pool and a spa center.
Beach named La Malagueta is 10m from the hotel, and the views from the hotel rooms and terraces are mesmerizing.
It is one of the best hotels in Andalucía when it comes to 5-star hotels near the beach.
The rooms are elegantly furnished, and you can choose to have either a city view, garden view, or sea view.
Although it is situated next to the beach, you'll need just 10 minutes on foot to reach the city center. Even less if you want to sightsee near the Alcazaba (700m away).
The on-site restaurant Príncipe de Asturias serves exquisite food from all around the world, but with the Mediterranean touch.
The hotel offers content for children as well as conference rooms suitable for business purposes.
In between cities
Therapeutic and beauty treatments
Another lux hotel with a beach view, but this time located in Estepona. More precisely, on the Costa del Sol, which is outside Estepona.
This is a stylish resort-oriented hotel. It's ideal for fully relaxed days in Andalucía. It is a complex that offers a variety of options in terms of treatments on one side, and food on the other.
You can book a place in one of the 3 themed restaurants in Elba Estepona Gran Hotel, or you can schedule some of their therapeutic or beauty treatments.
Also, there is a possibility of enjoying a hot tub, a sauna, a water circuit, or even an igloo.
Although it is not one of the hotels in Marbella Spain, you'd need just 20 minutes by car to reach and explore Marbella as well.
Near bars and restaurants
Seasonal pool
Soho Boutique Las Vegas is a well-positioned boutique hotel just half an hour walk from the city center but in the vicinity of the regular bus stations.
However, the surroundings of the Soho Boutique Las Vegas are quite lively. There are many bars and restaurants just a few meters away.
The rooms are modern and airy, and you can even enjoy an outdoor pool during summer and the reception always works along with the café bar next to it.
One of the things you should be aware of is that although the parking is available on site, it has a limited capacity and it can't be reserved.
Three restaurants on site
Patio and additional amenities
Silken El Pilar Andalucía is a hotel situated less than a 5-minute walk from the beach called La Rada.
It is a beachfront hotel with a wide offer of rooms with all necessary amenities as well as on-site facilities such as a comfortable terrace and a bar where you can get a drink and relax.
When it comes to additional amenities, it is good to know that the hotel has an equipped coffee machine for each room.
Some rooms even have their patio. This 4-star hotel has three restaurants and a friendly staff.
You can reach Malaga Airport which is 65km away from the hotel via car or airport shuttle as an additional cost.
Best Hotels in Andalucia with Pool
Central location
Great for sightseeing
Hotel Don Juan Boutique has an excellent location in Úbeda. For those looking for accommodation that will allow them to explore and sightsee easily, this hotel is among the places you should consider.
In addition, apart from having standard rooms, Don Juan Boutique features family rooms along with a pool that is open during the summer season. Rooms are comfortable and tastefully decorated.
When it comes to the places you can visit nearby, apart from the city of Úbeda, and the local cuisine you should check out Baeza.
The is around a 15-minute drive from the property while Carzola is one hour away by car.
Historical sights nearby
Modern
HO Puerta de Purchena is a hotel in Almeria, a small Andalusian city ideal for avoiding crowded places.
Almeria has a vast historical heritage. HO Puerta de Purchena is located just a 5-minute walk from the famous Almeria Cathedral. Also, the Almeria Museum is about 15 minutes away by foot.
The hotel offers a seasonal pool and a nice terrace on the rooftop along with a snack bar.
The apartments in Puerta De Purchena are well equipped, and they include a sitting and dining area and a kitchen with all necessary elements.
The hotel is within the walking distance of many nice restaurants and bars so you can explore the city to the fullest without worries.
Two beaches nearby
Outdoor heated pool
Hotel & Spa La Residencia Puerto is a 4 star hotel located in Tarifa. There are two beaches within 200m – Playa Chica and Los Lances.
When it comes to the features, it is nice to know that this hotel has an outdoor heated pool so you can enjoy a swim and a view of Morocco even if you don't visit during summer.
The hotel rooms are comfortable and well equipped.
They have an on-site restaurant and bars, but it should be noted that the restaurant serves light meals either Mediterranean or Spanish.
Apart from Tarifa, you can explore Punta Paloma which is about 20 minutes away by car.
On the other hand, when it comes to the airport connections, the closest airport is Jerez (130km) while the Malaga airport is over 150km away from the property.
Well-equipped apartments
Affordable
When talking about the best hotels in Andalusia for every budget, Apartamentos Coronado located in Marbella are the perfect choice.
They have a great location not far away from the beach, nice amenities and they are affordable.
The apartments are spacious, they have their terraces and a kitchen equipped with necessary elements along with the living room and dining area.
Another thing to note is that guests of the Coronado apartments have free access to the Playa Real Club facilities.
The facilities include a bar, a restaurant, fitness center, sauna, and a pool. The restaurants offer local dishes but also Italian and other international options.
The Marbella city center is about 15 minutes away from the apartments by car, and Fuengirola is also nearby, less than half an hour away from Apartamentos Coronado.
Why I love Andalucia
I love Spain, period. But the Andalucia region is indeed a gem you wouldn't want to miss. There is so much to see and experience.
And as you can see there are plenty of boutique hotels in Andalucia where you can be one with the history.
So many things to try, food to taste, cultural differences, and similarities to learn about.
Amazing nature, even more, a mesmerizing melting pot of history and contemporary, Andalucia and its cities offer so much more than a visit – they offer you an experience of a lifetime.
So many worldly significant things to see are located in Andalucia. Not to mention that here's the home to some of the most beautiful and famous Paradores in Andalucia as well as some of the most authentic villas to rent in Andalucia.
If you visit Malaga – you can't miss the Picasso Museum. – get your guided tour here.
If you, however, visit Seville, you will have to take a stroll through the old streets and enjoy a tapa and a flamenco dance on the street.
Jerez has the Royal Andalusian School of Equestrian Art, where some of the most famous ballet dancers were schooled.
In Granada, you'd want to visit El Albaicín – the Moorish quarter. In Cordoba, there is a Great Mosque, and even Synagogue built during the 1315s.
And in all of these places, you'll need a place to stay, so you can use this guide to point you in the right direction of the best hotels in Andalucia for every budget.
Map – The Best Hotels in Andalucia for Every Budget
---
Short FAQ about the Best Hotels in Andalucia for Every Budget
How much does it cost to stay in a hotel in Andalucía?
This depends on whether you are looking for a 5-star hotel, 4-star hotel, 3-star hotel, or another accommodation. The prices might vary from 50 $ per night to 400$.
What are the best resorts in Andalucia?
Depending on the preference of the hotels with pools, Adaria Vera from this guide can be the right choice. Other resorts that stand out are Aldiana Club Costa del Sol or Finca Cortesin Hotel Golf & Spa.
What hotels in Andalucía have nice views?
Gran Hotel Miramar or Soho Boutique Castillo de Santa Catalina in Malaga are some of the best hotels in Spain and have amazing views. Guests staying in Andalusia praised the views from their rooms at Hotel Alfonso XIII as well.
---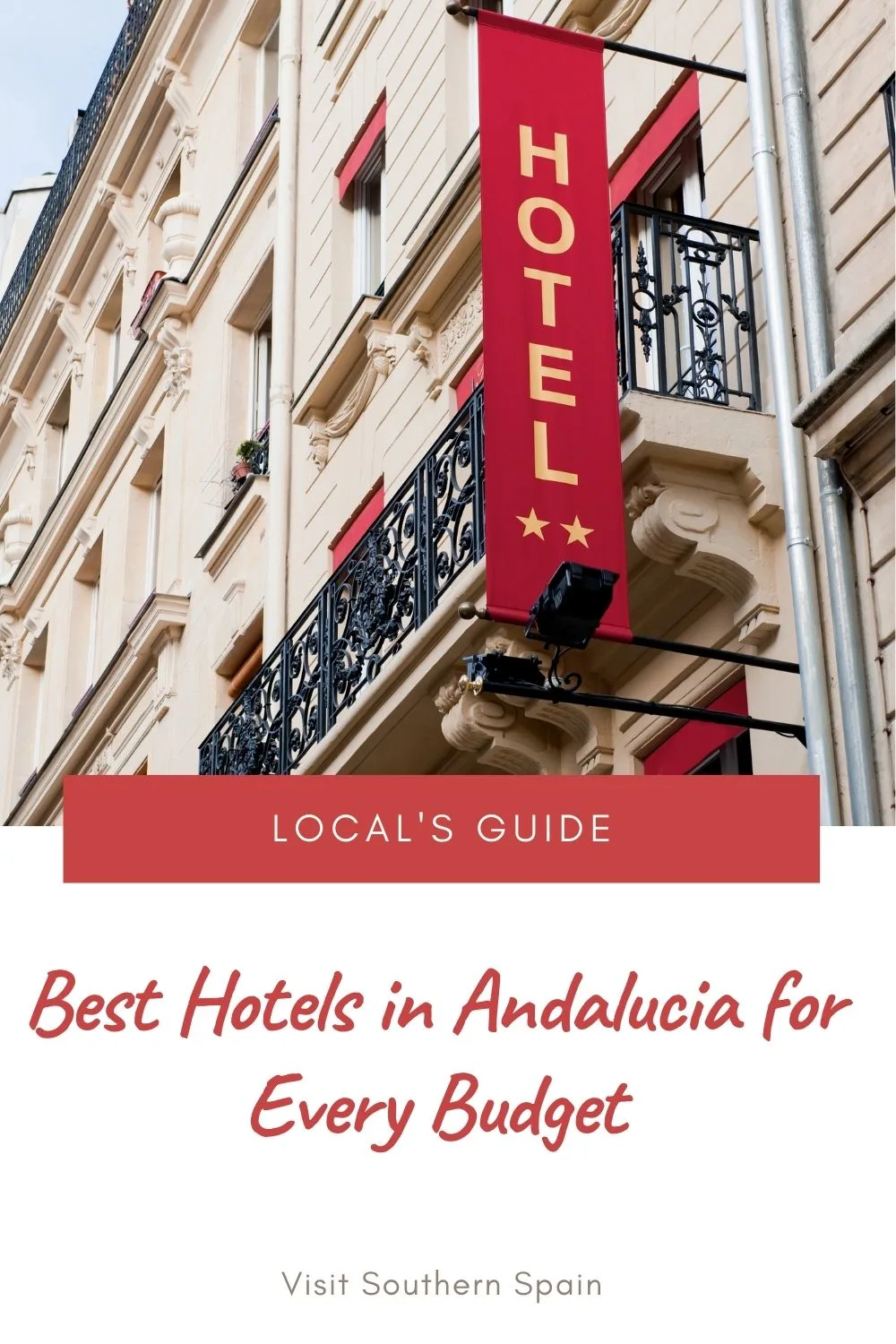 ---
Hola, I'm Paulina! Together with my team, we are passionate about Southern Spain. Here we share all you need to know for great times in Southern Spain with the best places to visit, stay and, of course, the best food to eat.
Let's dive in and explore Southern Spain's outdoors, food and culture con pasión!