A guide on where to eat the best paella in Malaga, Southern Spain
If you're planning a trip to the beautiful city of Malaga, you simply must put sampling some delicious paella on your list of things to do!
Whether it's authentic seafood or vegetarian paella, this coastal town has some of the best in all of Spain.
Get ready for an unforgettable meal as we tell you about our top 5 picks for the best paellas in Malaga!
This post contains affiliate links. If you buy via them, I'll earn a small commission which helps me to keep this blog running. As an Amazon Associate I earn from qualifying purchases. All opinions are my own.
5 Best Food Tours in Malaga with Paella
Malaga Guided Food Tour is a budget-wise tour, and an excellent way to taste some of the typical food and drink from Spain.
During the tour, you'll have at least 4 stops, and you'll get the opportunity to taste some of Malaga's common tapas such as boquerones which are basically anchovies, or you can taste fried squid.
This tour is also an ideal opportunity to try one of the most famous Spanish products – Jamon Iberico. – Check prices here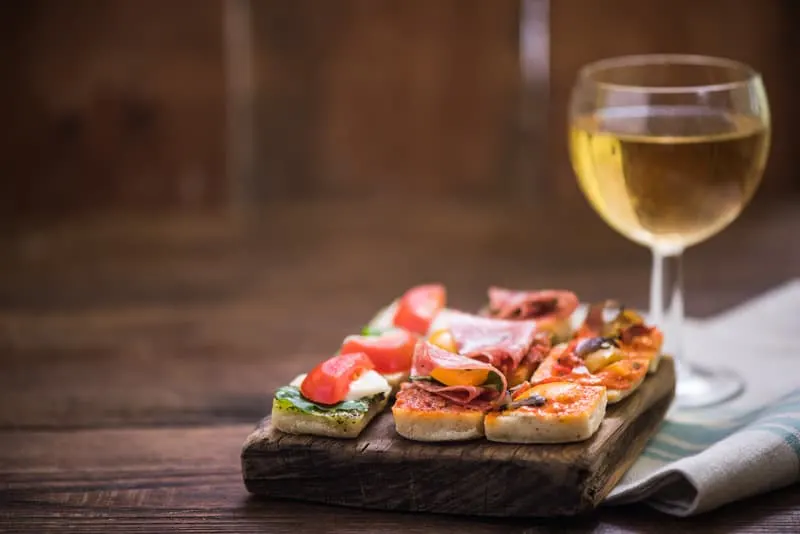 This tour, as the name suggests, is an evening-planned tour that will give you an authentic Malaga experience.
You'll get the chance to taste 5 types of wine and 8 types of food during this tour.
The guide will give you an insight into the importance of food in the Spanish culture and the way of life in the city as well as in the country.
The tour includes visiting a traditional tavern, a family-run store, a small bar to taste the cheese and sausages, and ending up in one of the most famous bars in the town. – Check reviews here.
The tapas tasting tour is also a tour envisaged for a smaller group of tourists. It includes food tasting in the places in the city center, but also the visit of Mercado Central de Atarazanas.
You'll have the chance to see and taste fresh ingredients typical for the area as well as tapas in 4 popular stops around the place and in the Old town. – Check prices here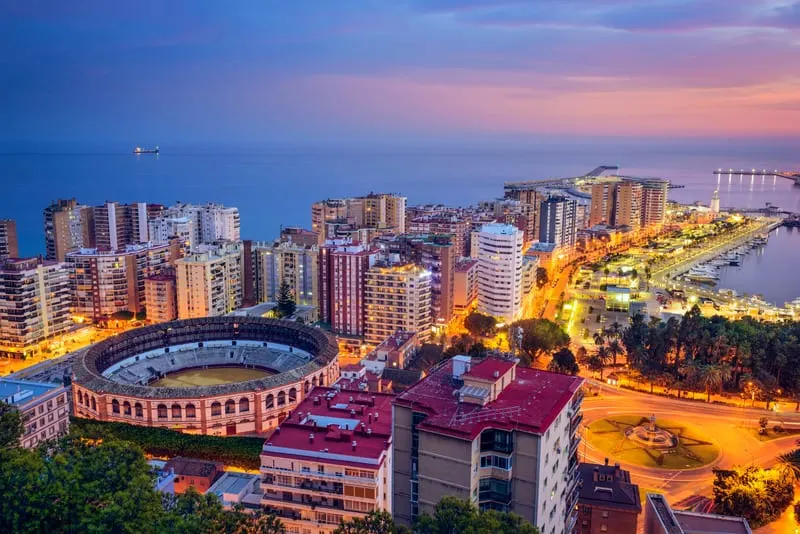 If you would prefer a private tour rather than a group food tasting, then this half-day option might be the option for you.
The tour starts at the Plaza la Marina and encompasses the Historic quarter, Ataranzas, the main shopping street, the Alcazaba, the Roman theater, and many more attractions.
Malaga won't fail you when it comes to the historical and architectural heritage. – Check prices here
The Foodie Tour of Atarazanas Market starts in the 200 years old winery in Malaga. It is an amazing opportunity to learn more about the wine history of the city as well as to taste some.
The guide will take you through the history of your surroundings, and you will have the time to sample some of the typical local products such as sardines or olives. – Check prices here
Food and dance – is there a better combination? This tour allows you to enjoy some of the best flamenco shows in Malaga while trying out some of the authentic dishes from the area.
The local cuisine and available options are explained in detail by the guides professed in gastronomy. – Check prices here
Where to Eat the Best Paella in Malaga
1. Arrozeando
Although it started working in 2016, Arrozando quickly became one of the places both local folks and tourists gladly go to and a place where you can eat the best paella in Malaga.
The menu offers a variety of typical Spanish dishes, but most of all, a vast number of paella varieties.
Arrozeando is the place where you might eat your best Paella Valenciana in Malaga. The food is prepared in the Spanish Levante style as the restaurant describes it.
It is a paella restaurant where, apart from the traditional paella, you can order a deer paella, mushroom paella, and many other paella flavors.
This is the place where you will find many traditional dishes with a twist. Also, it should be noted that there are vegetarian options.
''Dry paella'' is a vegetarian paella you should go if you want a combination of fresh, caramelized vegetables and perfectly cooked rice.
Opening times: 1:30–6 PM
Address: Av. Juan Sebastián Elcano, 5, 29017 Málaga, Spain
2. El Gastronauta
The concept of El Gastronauta is to combine gastronomy and art. The restaurant is located in the center of Malaga and it has a contemporary design as well as some modern twists to its food.
The ingredients are fresh and besides traditional food, there are plenty of veggie options.
When it comes to paella, chicken paella is a must-try in El Gastronauta, but also the stuffed eggplants and mushrooms.
The restaurant is considered by many a place where you can eat the best paella in Malaga.
The offer of the local wines in El Gastronauta is genuinely good, but make sure to try one of the best wines they serve in Malaga – Pedro Ximenez. Also, make a place for dessert, you won't regret it.
Opening times: 12:30–4:30 PM, 7:30 PM–12 AM
Address: C. Echegaray, N. 3, local 2, 29015 Málaga, Spain
3. María Restaurant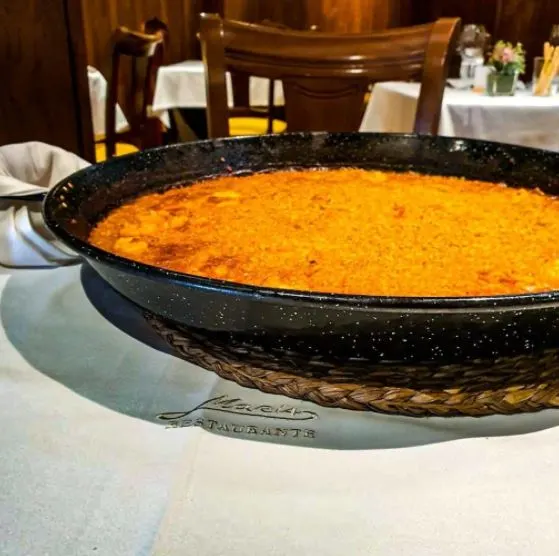 Although it is not located directly in the tourist path, Maria is a charming restaurant with various specialties.
Maria's paella is made every day and you can either have it at the restaurant or take it with you.
They prepare all sorts of paella, from the traditional to the less traditional ones, but the ones you should pay attention to are the shrimp paella and paella where the main ingredient is spinach.
Maria restaurant gives you a homey feeling and if you are up to trying meat, make sure you order a roasted suckling lamb as your Spanish dinner, they prepare it deliciously.
Opening times: 1:30–4:30 PM, 8:30–11 PM
Address: Av. del Pintor Joaquín Sorolla, 45, 29016 Málaga, Spain
Buenavista Gastrobar is a nice, friendly Spanish food restaurant located in an alley approachable on foot, and with a lovely small terrace.
They specialize in seafood paellas, so you can try rice with lobster, octopus paella, fish paella, and so on.
However, their most famous paella and one of the best paella in Malaga is the paella with black rice, as per recommended by many guests.
There are two things to note about Buenavista Gastrobar. The first one is that they have gluten-free and vegetarian options which are important for those with specific dietary requirements.
The second one is that the portions are large so you might consider ordering half of the portion.
Opening times: 1–4 PM, 7:30–11:45 PM
Address: C/ Gaona, 8, 29012 Málaga, Spain
5. La Proa de Teatinos
La Proa de Teatinos is located in Costa del Sol. The interior of the place is modern and stylish, and it is not pricey.
Since this is very near the beach area of Malaga it is no wonder that it is often referred to as the best Spanish restaurant to try tapas and seafood paella.
One curiosity about this place though is that they serve black rice only with paella.
There is no black rice in any other dish served here, and it is one of the most delicious dishes on the menu. Other specialties you should try are baby clams or coquinas.
They are a perfect appetizer before you dig into the main meal.
Opening times: 1–4 PM
Address: C. Andrómeda, 11, 29010 Málaga, Spain
6. El Cabra Restaurant
With over half a century of tradition, the beach restaurant El Cabra was a family-run restaurant.
Later on, it was bought by a group of young people who tried to keep the same spirit. The ambiance and the sea view are splendid.
The thing you might find interesting is that they prepare sardines in the front of the restaurant, on the beach.
As they are mainly oriented on fish-based dishes, the paella they serve has similar main ingredients.
The one you should try if you decide to book a place in El Cabra is a lobster paella as the lobsters are fresh, which makes it one of the best paella in Malaga.
When it comes to the typical tapas related to the beach restaurants – you should get that sardines on a skewer!
Opening times: 1–5 PM, 8 PM–12 AM
Address: P.º Marítimo el Pedregal, 17, 29017 Málaga, Spain
7. Beluga Malaga
Beluga is situated in Plaza de las Flores, in the heart of the city. The concept of the place is simple – they combine Mediterranean culinary traditions with their own contemporary approach to it.
This is a perfect place if you want to enjoy the less crowded and quiet part of Malaga's center. They have a tastefully decorated big terrace and relaxed atmosphere.
Beluga is also a place to visit if you want your paella served properly – in a paella pan, which makes them a great choice for the best paella in Malaga.
They have a variety of paellas to choose from and they really pay attention to provide you not only with the taste but the whole point of the paella dish.
The desserts are also amazing. Their apple cake combined with vanilla ice cream is something to look forward to.
Opening times: 1 PM–1 AM
Address: Pl. de las Flores, 3, 29005 Málaga, Spain
8. D'Platos
D'Platos restaurant is just a few meters from the famous Picasso Museum. It is a very chick place and it has many variations in the menu as well as the possibilities of shared plates.
It is interesting to note that among paellas, the classic, vegetable paella is one of their best ones.
The paella portions are large, so you might consider it as an option for two. Among other things from the menu, D'platos has interesting pork cuts with green pepper, served with the hand-cut potatoes.
The bao bread they serve is super tasty as well!
Opening times: 11:30AM–1AM
Address: C. Granada, 51, 29015 Málaga, Spain
9. Las Acacias
Las Acacias is located just a few meters from the sea. The concept of food preparation is similar to the other beach restaurants – there is a beach BBQ set on the beach where the fish is prepared.
You can witness the food preparation at all times. A lot of locals visit Las Acacias since here they can find the best paella in Malaga in terms of ingredients.
Since fish is the main ingredient in the restaurant (they even offer a ''daily catch''), the fish paella is served.
However, be prepared to wait for the paella to be done as one of the restaurant policies is that all the food is prepared when it's ordered so it'll take about 45 minutes before it reaches your table.
Consider ordering a local wine, or a glass of Spanish sangria until you wait.
Opening times: 10:30 AM–6 PM
Address: P.º Marítimo el Pedregal, 90, 29017 Málaga, Spain
10. Taberna El Mentidero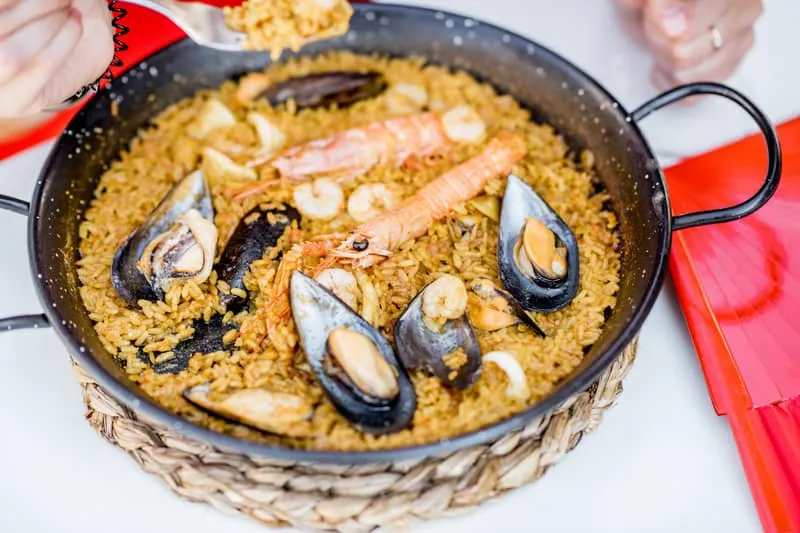 This is a tavern in the city center, loved by tourists and also popular among them. El Mentidero has excellent service and average prices.
It is a great place to order a delicious seafood paella. It is flavorsome and tender, and the portions are just right.
Other than paella, you should try Jamon Iberico and patatas bravas if you are up for some delicious tapas and warm recommendations for the grilled sea bass which is very well made in Taberna El Mentidero.
Opening times: 12:30 PM–1 AM
Address: C. Sánchez Pastor, 12, 29015 Málaga, Spain
11. El Vegetariano de la Alcazabilla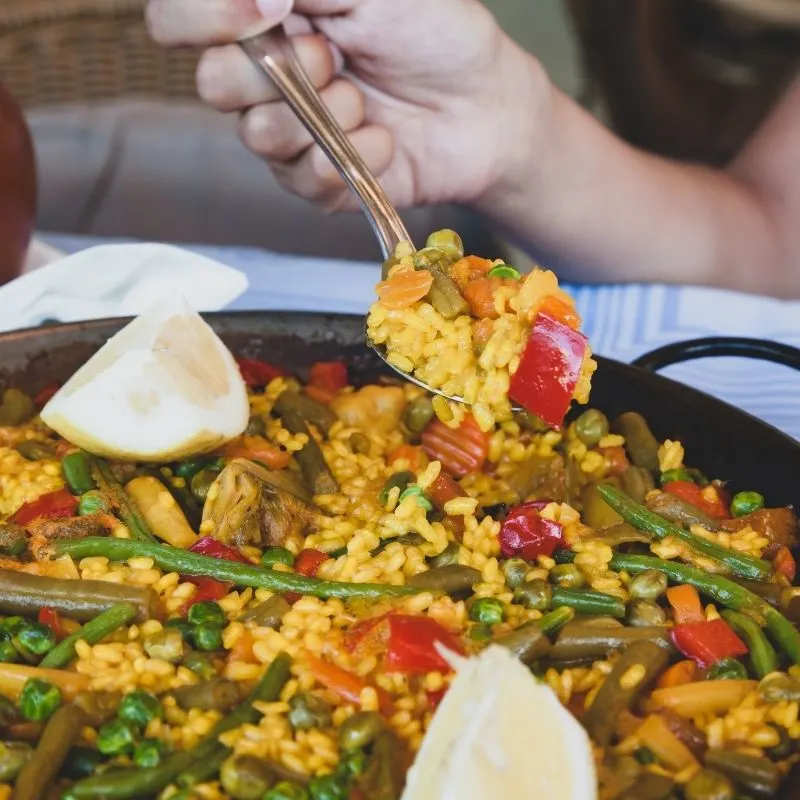 Situated in the shade of the famous Alcazaba this small restaurant with the lovely terrace will offer you vegetarian/vegan paella dishes in Malaga.
El Vegetariano de Alcazabilla has tasty plates for both options, and they serve good vegetarian kebab and humus, and for a reasonable price.
One of the specialties, besides veggie paella, is the moussaka served warm and in just the right portion for you to have a good lunch.
The detox smoothie is also worth trying as it will refresh you before you continue exploring the city.
Opening times: 1–4 PM, 7:30–11 PM
Address: C. Pozo del Rey, 5, 29015 Málaga, Spain
12. Chiringuito El Cachalote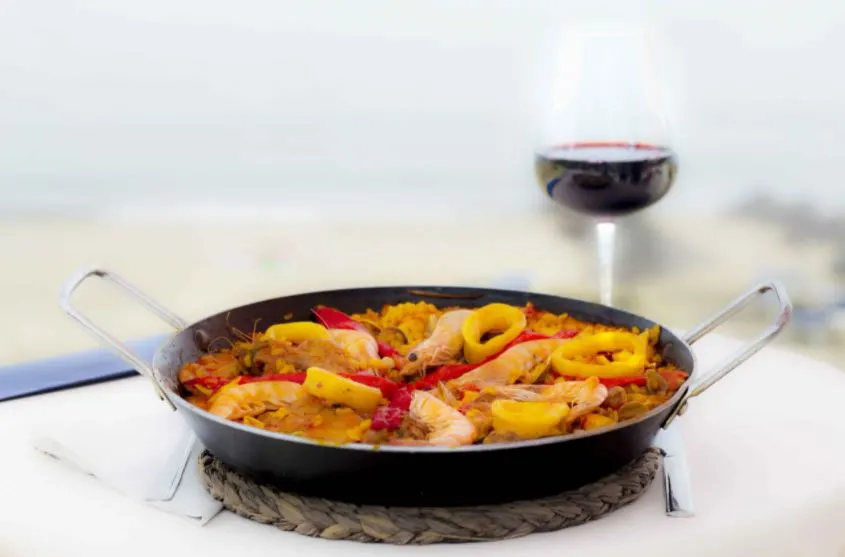 If you are looking for an on-the-beach restaurant with a cozy atmosphere, where the prices are good, and the portions are grand, then the Chiringuito El Cachalote is the restaurant to check.
This is another fish-based restaurant, so the best paella in Malaga they prepare is obviously the seafood one.
There were some different views on the quality of their paella because there have been cases when the rice wasn't properly cooked.
However, the overall and personal impression is that this is a nice place with a fantastic opportunity to taste the typical Malaga-flavored food.
Opening times: 11–11:30 PM
Address: P.º Marítimo Pablo Ruiz Picasso, s/n, 29016, Málaga, Spain
13. Los Marangos Beatas
This restaurant offers an open kitchen concept which increases the anticipation and provides the whole experience of Spanish cuisine.
Los Marangos Beatas is located on the street corner in the Old town, and it has a wonderful terrace. Moreover, you have a chef who explains how your dish is made.
The atmosphere is lovely and intimate, and the menu varies from more central cuisine such as Spanish pork stew to seaside specialties such as octopus.
The seafood paella is excellent and prepared in front of you so you can see first-hand how it's done by the professionals.
Opening times: 12–11:30 PM
Address: C. Beatas, 23, 29008 Málaga, Spain
14. Restaurante Amador
Amador is a classic, classy restaurant in the residential area, situated on the hillside. It has a wonderful view of the city and a large comfortable terrace.
Amador is actually operating along with the boutique hotel next to it which is considered by many tourists a great place to eat the best paella in Malaga.
The guests can enjoy typical and very tasty tapas such as croquettes. Their paella is one of the best ones in the city, but their specialty is also a slow-cooked lamb shoulder or Peruvian crab.
Opening times: Closed
Address: Calle de Bandaneira, Nº6, 29190 Málaga, Spain
---
The History of Paella
It is said that the first paella recipe is more than 2 centuries old and that it originates in Valencia.
Rice is one of the main paella ingredients and since the eastern region of Spain is known for its fields of rice grown in these parts ever since the Moors came to the Iberian Peninsula.
So it shouldn't come as a surprise that rise being the main food ingredient of the working class, combined with the various fresh available ingredients at the time became something that we today know as Spanish paella.
Paella Valenciana is a traditional paella and is known as one of the most famous Spanish dishes.
However, paella became a dish prepared throughout the whole of Spain, gaining authentic touches and twists depending on the region where it was introduced to and the available ingredients.
If you want to have a ''paella definition'' it would be this: a dish prepared in a specific pan also known as paella, and it represents a combination of rice, seasoning, and various types of vegetables, meat, or seafood, depending on the region or the season.
Some of the most traditional paella meats are chicken, smoked sausage, or rabbit. Originally, paella without seafood was the common paella.
Nowadays, seafood paellas are some of the best paellas you can try in Spanish restaurants, and they can include clams, shrimps, lobster, mussels, and many other seafood variations.
Since one of the authentic things about paella is that traditionally it is eaten in a group and directly from the pan (paella), this simple dish is not hard to try at home.
The simplest way to do it is to heat the oil in the paella pan, add the vegetables and the meat, season it and pan-fry it, and in the end, add a bit of water and rice and simmer it until everything is cooked.
Although it might sound simple to make it at home, a true paella, as many foodies tend to say, is only eaten in Spain.
Check out our traditional Spanish Paella recipe here and read about how paella is one of the best Spanish food facts.
---
Short FAQ about Where to eat the Best Paella in Malaga
What city in Spain has the best paella?
Paella is undoubtedly the most famous Spanish dish in the world, and it is on the bucket lists of many tourists to Spain.
Since Paella Valenciana originated in Valencia, it can be said that Valencia is the place you should opt for the best traditional paella.
Does Malaga have good food?
Yes, you can have a great seafood paella in Malaga, along with other delicious dishes in some of the best Spanish restaurants.
The city has modern tapas bars, each with its own take on Spain's famous dishes.
What food is Malaga known for?
Malaga is known for amazing tapas such as sardines on skewers, great vegetarian/vegan paella choices, and in general, well-prepared food from all over Spain.
Some of the most famous dishes are Fritura Malaguena, Gambas al Pil-Pil, Rabo de Toro, Porra Antequerana, Ajoblanco.
---
---
Hola, I'm Paulina! Together with my team, we are passionate about Southern Spain. Here we share all you need to know for great times in Southern Spain with the best places to visit, stay and, of course, the best food to eat.
Let's dive in and explore Southern Spain's outdoors, food and culture con pasión!