Granada is a magical place to explore, offering countless activities for the curious traveler.
From its charming heritage-filled streets and captivating Moorish architecture, to the vibrant culture alive in every corner of the city – Granada truly has something for everyone as you never run out of things to do in Granada.
We at Visit Southern Spain are convinced that it is one of the cities you must have seen at least once in your life.
Whether you crave adventure or prefer more leisurely pursuits, this enchanting southern Spanish destination offers an abundance of fascinating experiences that will make your trip unforgettable.
From exploring its majestic cathedrals, to sampling delicious cuisine or wandering around its bustling markets, there's no shortage of fascinating things to do when you visit this beautiful city.
This blog is supported by you, dear reader. If you purchase through a link, we earn a small commission. As an Amazon Affiliate, we earn from qualifying purchases.
Resources for Granada itinerary
✈ Book cheap flights to Granada with Skyscanner

⚘ Avoid tourist traps and get the customizable "Andalucia Like a Local" itinerary. – Get it here

✔ Book tours in Granada with GetYourGuide

➳ Find the best hotels in Granada with Trivago

❖ Rent a car at the best rates with DiscoverCars

✎ Never leave without travel insurance! I get mine at HeyMondo. It is easy to set up, cheap and reliable.

$ Withdraw money without hidden fees and avoid exchange charges with Wise (Free Mastercard debit card to spend money abroad)
Must things to do in Granada, Spain
If you're planning a trip to Granada, Spain, you absolutely cannot miss out on some of the city's must-see attractions.
From the majestic Alhambra Palace to the winding narrow streets of the Albayzín neighborhood, there's so much to explore and discover in this vibrant city.
Take a stroll through the lush Generalife gardens, marvel at the ornate architecture of the Cathedral of Granada, and soak up the culture at the Museum of Fine Arts.
And let's not forget about the delicious local cuisine – be sure to try the iconic dish of fried eggplant with honey while you're here.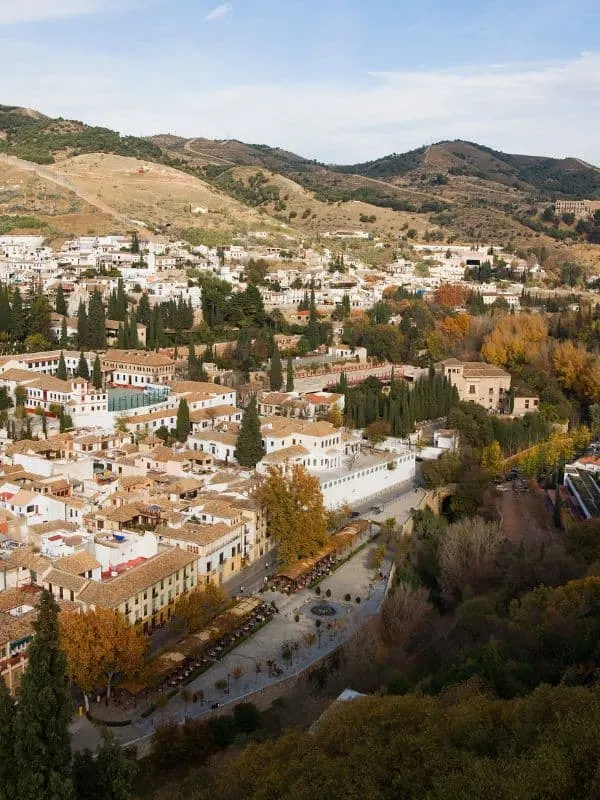 Another attraction worth visiting is the Sacromonte caves, which offer an insight into the lives of the gypsy communities that call this area their home.
The city's vibrant culture and history can be witnessed at the vibrant Plaza Bib-Rambla, where tourists can try out some of the local cuisines.
No matter what your interests may be, there's something for everyone in Granada, and these must-see attractions are just the beginning of what the city has to offer.
Granada itinerary
If you're planning a trip to Granada, it's essential to have a well-planned itinerary to make the most of your time in this enchanting city.
One thing that makes Granada unique is the fusion of Arab and Spanish cultures, evident in everything from the architecture to the food.
With so many things to see, from the stunning Alhambra Palace to the charming Albayzin Quarter, it's important to prioritize what you want to do and see.
And, don't forget to take some time to indulge in the delicious tapas and wine that Granada is famous for!
Granada food
If you're planning a trip to Granada, get ready to indulge in some of the most delicious cuisines you've ever tasted.
Whether you're a fan of traditional Spanish dishes or innovative fusion cuisine, you're sure to find something to satisfy your taste buds in Granada restaurants.
Granada is home to some of the most talented chefs in the country, who strive to create dishes that are both beautiful and delicious.
From tapas bars to fine dining establishments, the city has it all. So, put on your stretchy pants and get ready to feast your way through the best restaurants in Granada.
Your taste buds will thank you!
How many days in Granada?
If you're considering a trip to Granada, the question on your mind might be, "How many days in Granada are enough?"
From the stunning views of the Alhambra to the winding streets and delicious tapas, there's no shortage of things to see and do in this vibrant Spanish city.
Personally, I found that spending at least three full days in Granada allowed me to really soak up the culture and history of the area and immerse myself in the daily rhythms of the city.
Of course, with more time, you can explore further afield and discover hidden gems beyond the popular tourist hotspots.
Whatever your timeframe, I'm confident that you'll find plenty to keep you busy, captivated, and inspired in Granada.
How to get from Seville to Granada?
Looking to make the journey from Seville to Granada? Good news!
You have a few options to choose from. If you're looking for the most hassle-free route, taking a train is your best bet.
The trip takes about 2.5 hours and offers beautiful views of the countryside. However, if you prefer a more unique experience, consider taking a bus or driving yourself.
The drive takes a little longer but allows you to stop at charming towns along the way. Whichever option you choose, trust me, the destination is well worth the journey.
Granada's rich history and breathtaking Alhambra Palace are sure to leave you awe-struck.
---
LIMITED OFFER: the Ultimate Andalusia Itinerary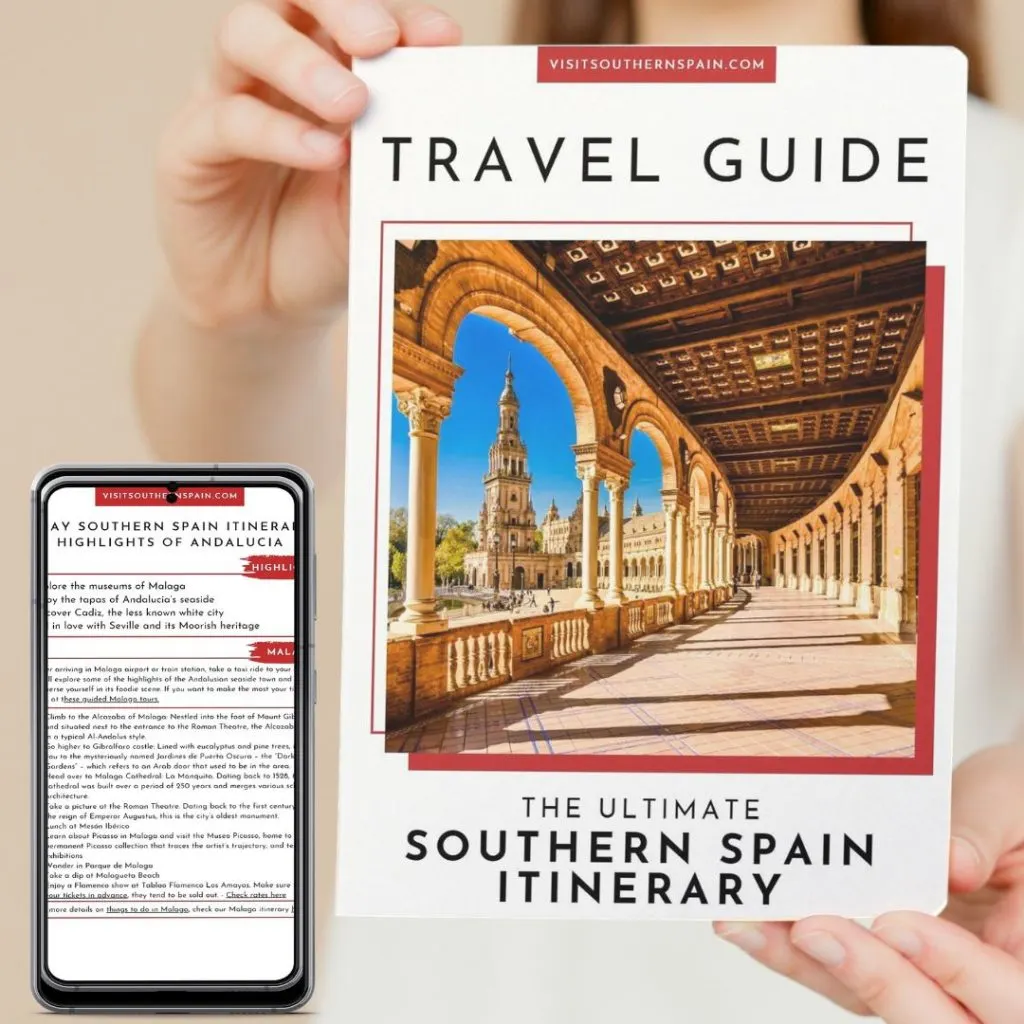 Visit Andalusia like a Local!
After calling Southern Spain my home for several years and organizing customized Andalusia trips, it was about time to put the best places in Andalusia into this handy travel itinerary.
Save time and money, avoid tourist traps and see only the very best of Andalusia.