A guide to help you have the best one day in Granada
Are you looking for the perfect itinerary for one day in Granada? Yes! Great, because you've come to the right place – our blog.
Whether spending one day in Granada or more, this detailed guide has everything you need to make the most of your trip.
From cultural experiences to unique sights, we have all the inside information from residents and experienced travelers alike.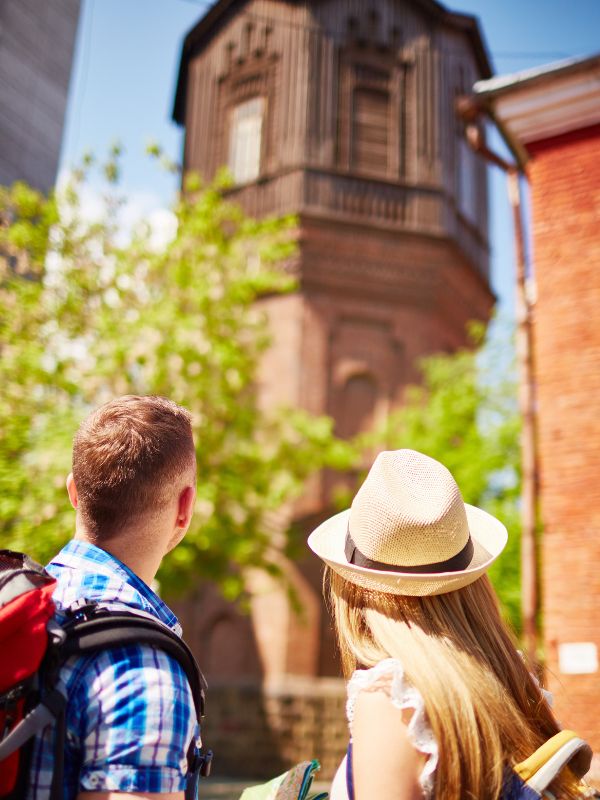 This post contains affiliate links. If you buy via them, I'll earn a small commission which helps me to keep this blog running. As an Amazon Associate I earn from qualifying purchases. All opinions are my own.
With this itinerary, one day in Granada will feel like one week, so pack your walking shoes and camera phone and let's go!
OVERVIEW: One Day in Granada
Granada One Day Itinerary [StepbyStep]
1. Breakfast at the Traditional Café 4 Gatos Restaurant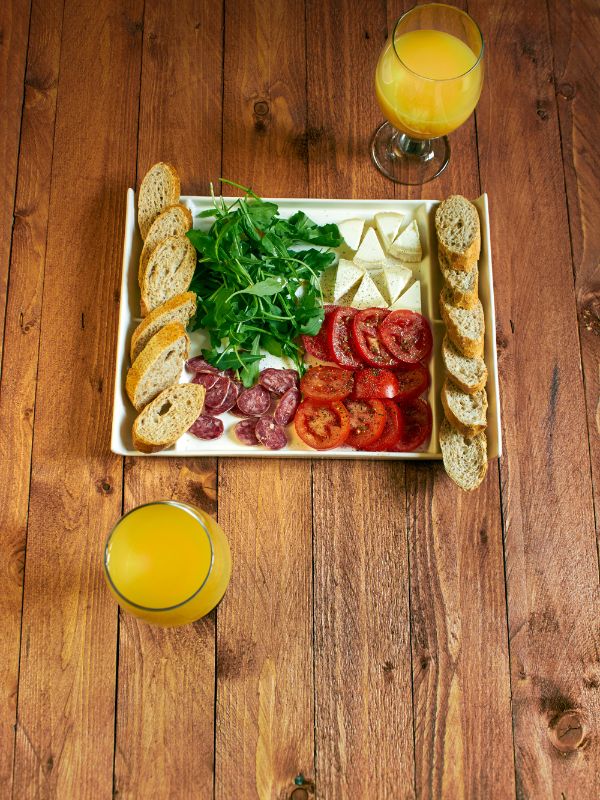 No one should start the one day in Granada without a Spanish breakfast. Café 4 Gatos is one of Granada's oldest and most popular breakfast spots.
You can find Café 4 Gatos in one of the city's most romantic neighborhoods; this traditional café is a must-do on your one-day itinerary.
The atmosphere of Café 4 Gatos is one of its main draws.
With a charming but on-trend vibe, friendly staff, and stunning views of the Alhambra from its terrace, this café is one of the city's hidden gems and best pit-stops for coffee, pastries, and healthy breakfasts.
Calling all vegetarians, vegans, or those needing a gluten-free breakfast, this cafe is for you.
One thing, though, is the portions are enormous, so if you have a small appetite, either share your food or take a Tupperware box to eat what's left later.
Once you are fuelled and ready to go, we are hitting the main attraction, as you need a decent amount of time to take in all the culture before lunch.
Opening times:
Monday – Sunday 8.30 – 16.00
2. Alhambra: Nasrid Palaces & Generalife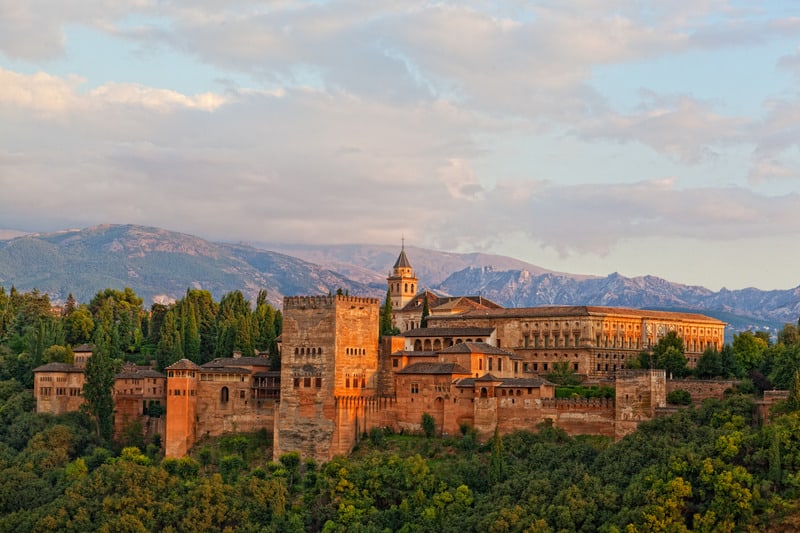 Second, on your one day in Granada itinerary is a marvelous palace with an impressive history.
The Alhambra is the most famous palace in Spain, if not Europe, and the chances are if you're one day in Granada, the Alhambra Palace is at top of your sightseeing list.
Located on one of Granada's highest hills, the Nasrid rulers built the Alhambra castle in the 14th century, and now the Alhambra is one of Spain's best-loved tourist attractions. – Get tickets in advance here.
The palace has several buildings, including the Mexuar Palace, Comares Palace, Palace of the Lions, Royal Baths, and the Christian Section.
Not forgetting the Partial Gardens, it is home to one of Spain's most impressive and beautiful gardens.
The palace also has one of the world's best-preserved monuments in its center, the Generalife Palace, surrounded by Granada's stunningly beautiful gardens and an amphitheater.
It is a bucket list place others talk about, but you can only experience it in full by being there.
If you're visiting in the summer, it will be sweltering; the weather in Granada, Spain, is famous for its sunny days, so visit the gardens first before the day heats up and use the afternoon to visit the palaces.
There is a lot to see in 1 day, so this is a taster trip because you must return to get the full flavor of the Alhambra Palace.
3. Cathedral of Granada, Royal Chapel & Albaicín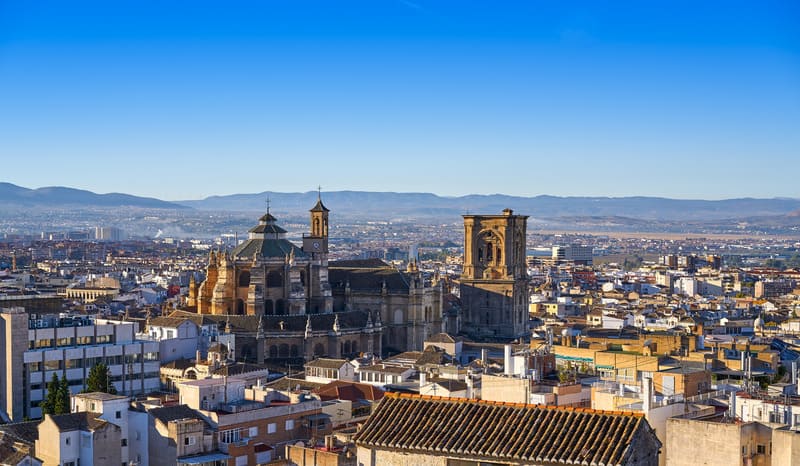 The Albaicín originated as an urban area around the 10th century and is full of places that remind visitors of its Muslim past.
Begin your one-day exploration by visiting the Cathedral of Granada and its Royal Chapel, one of Spain's most important religious buildings.
The cathedral is a 16th-century religious homage and an example of one of the world's most beautiful Gothic-Renaissance cathedrals.
Situated in the historic heart of Granada, and is one of the most historically rich places in Southern Spain. – Check the guided tour here.
As we only have 1 day to take in the sites, we suggest you visit The Church of Sagrario on your way to the cathedral as hors d'oeuvres to stimulate your appetite for what's to come.
When approaching the cathedral, look up – Alonso Cano (the Spanish Michelangelo) designed the facade as a mixture of Renaissance, Gothic, and Baroque styles with a bit of Neoclassicism thrown in.
Not to be outdone, The Royal Chapel dedicated to St. John the Baptist was King Ferdinand's gift to the Christian world.
While we stand in awe of the Cathedral of Granada, Royal Chapel, we love the Plaza de San Miguel Bajo, one of three squares where you can stand and contemplate life while looking back at the Alhambra.
You will be pleased to know it's time for lunch…
4. Lunch at La Autentica Carmela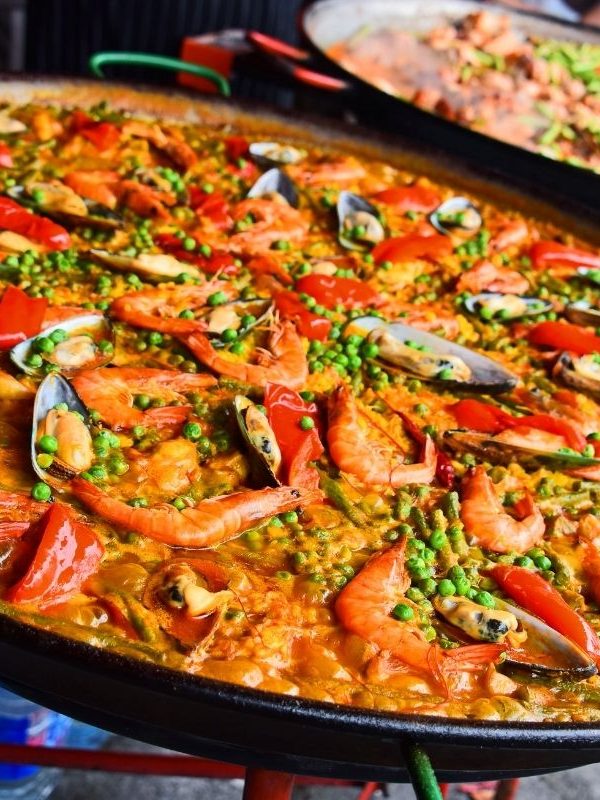 The great thing about La Auténtica Carmela is that it's open all day for breakfast, lunch, and dinner, with a rustic interior of exposed brick walls and beams.
The cafe has a terrace that opens onto one of the city's best squares, one of Granada's most popular lunch spots.
The menu features contemporary Spanish cuisine with a few traditional dishes as well.
Specialties include black pudding croquettes, pork tartar, or one of their signature dishes such as a classic stone-grilled steak or famous paellas.
The prices are reasonable, and the quality is top-notch – a perfect lunch spot to take one last break before you embark on your one day in Granada adventure.
Let's get back to our Granada itinerary…
Opening times:
Monday to Sunday 1:30 PM – 4:30 PM and 7:00 PM – 11:00 PM
5. Explore the town of Albaicín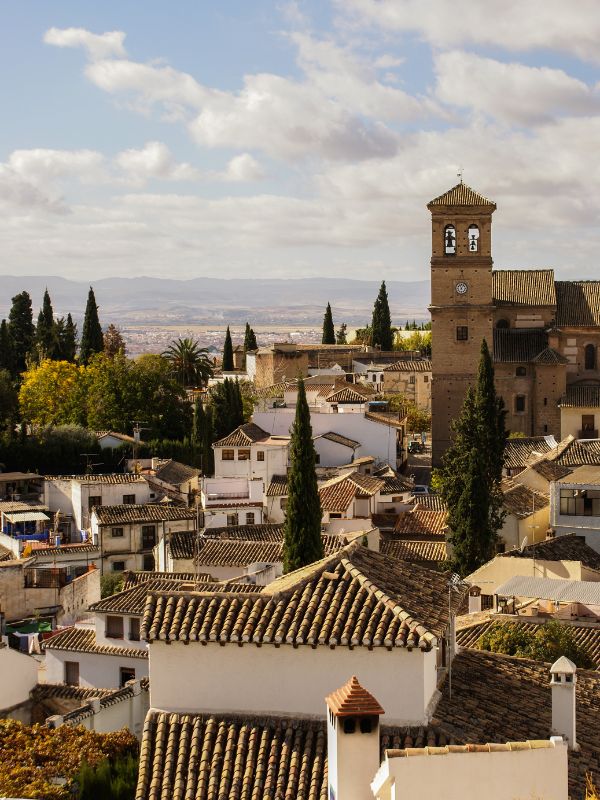 We touched on Albaicín earlier but not in-depth. The Town of Albaicín comprises Lower Albaicín, Upper Albaicín and Sacromonte.
We will start in Lower Albaicín, only five minutes from the cathedral in Plaza Nueva next to Santa Ana, which contains the Royal Chancery Building belonging to King Phillip II.
Stop to admire the Fountain of the Bull – Pilar Del Toro, the last noted work of Diego de Siloe, a local artist of great repute.
We are now moving through to the Casa de la Pisa, where St. John the Baptist died – or so legend has it.
Moving down the Carrera Del Darro, we can walk along the River Darro in the shadow of the Alhambra Palace until we reach the Mirador de San Nicolas.
This little-known hilltop terrace offers one of the most breathtaking views over Granada, one you will never hear about in a guidebook.
Cross the bridge to the Bano del Nogal if you have time pop in, one of the few historic baths that have survived since the 11th century.
Opposite is the Puente de Cadi which links Albaicín to the Alhambra. We can't leave the town of Albaicín without visiting the Paseo de la Triste, one of the most charming places in the world.
This part of our one day in Granada itinerary, Spain, would only be complete with a visit to Sacromonte Caves Museum…
6. Sacromonte Caves Museum
Sacromonte is part of the Albaicín region and was home to 18th-century gypsies, who lived in the caves and built their houses by digging into the hillside.
The Sacromonte Caves Museum is one of Granada's most visited attractions and one of its most interesting cultural experiences.
The museum is situated in one of the caves, from where you will have a great view over Granada and look at the artifacts that its former inhabitants left behind.
The museum will also give you an insight into the area's history and its customs and traditions – music, flamenco, gastronomy, and what went on in everyday life.
As one of Granada's most iconic attractions, a visit to the Sacromonte Caves Museum is a must-see if you only have one day in Granada.
The caves are one of the best ways to get an insight into this gorgeous Spanish city.
After all that walking, it's time to rest your lower back with a traditional massage…
Opening times:
Monday to Sunday 10 am-08 pm
7. Relax with a massage at the Hammam Al Ándalus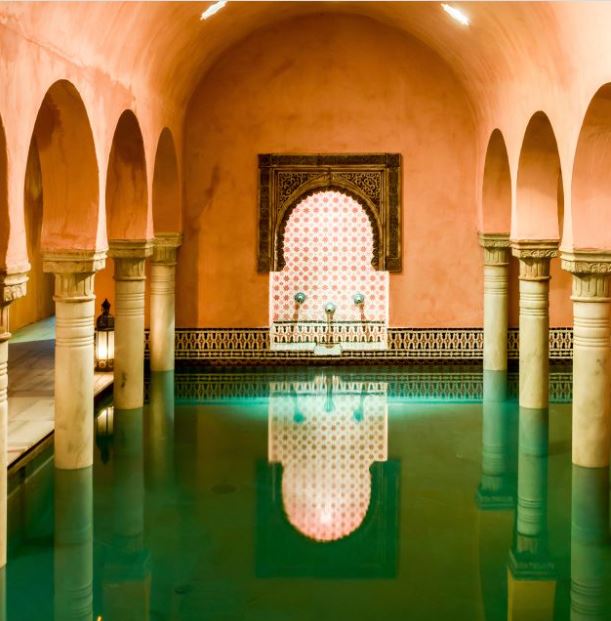 The Hammam Al Ándalus is one of Granada's most renowned places for relaxation and well-being. This traditional Turkish bathhouse will make the best one day in Granada.
The experience includes a refreshingly cold or hot pool with a light show, a massage, a sauna, steam rooms, and other treatments such as body wraps and facials.
The Hammam Al Ándalus is one of Granada's most unique attractions and will leave you feeling relaxed, rejuvenated, and ready to start your evening adventures.
When you have 1 day in Granada, you must do a tapas crawl. It's on our list of essential things to do in Granada, Spain…
8. See a Flamenco Show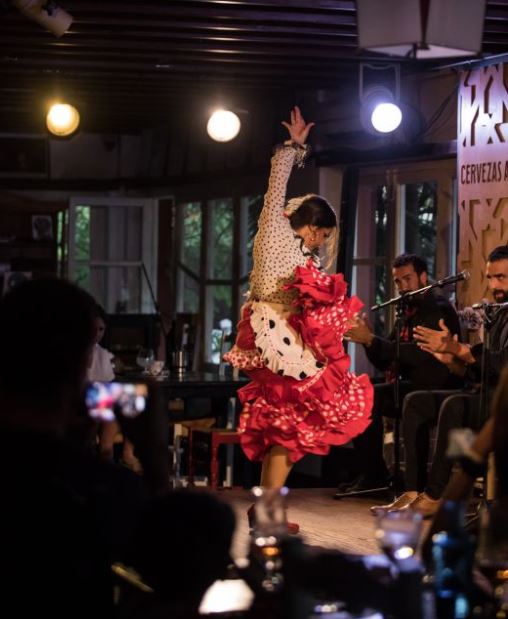 You can't visit Granada, especially Sacromonte, without seeing an authentic Flamenco show.
Flamenco was developed and performed in the gypsy caves of Sacromonte, one of Granada's oldest neighborhoods.
Sacromonte is still one of the best places in Granada to experience Flamenco today.
The lively rhythms of a live flamenco show will accompany you during one of Granada's most cherished and talented acts.
Real Flamenco is a one-of-a-kind experience that is hot on the list of things to do in Granada, and if you get the right show, one that will stay with you long after your holiday is just a memory.
Shows you should see: El Templo Del Flamenco on C. Pernaleros Alto, 41 is a Flamenco show with a difference, full of power and passion, and one which will have you feeling like a part of Granada's vibrant nightlife.
A great alternative is Tablao Flamenco La Alborea Granada on C. Pan, 3.
What makes this show stand out is the central location and the beautiful performances by some of the city's leading Flamenco artists.
Whichever one you choose, one thing is sure – a one day in Granada wouldn't be complete without experiencing one of these incredible Flamenco shows.
If traditional shows have you hot under the collar and ready to party, take a look at our suggestion for a Pubs & Clubs Crawl with Drinks & Club Entry Ticket
9. Tapas Crawl in Granada
For those who don't know, tapas in this part of Spain is a snack served with your drink in some bars and cafes.
In some places, the snack is free when you buy an alcoholic drink; in others, each tapa is a few euros.
They can be as simple as a piece of cheese or a plate of Padron peppers, up to an elaborate seafood concoction on a wedge of bread.
Tapas crawling is one of the best things in Granada, as it gives you a taste of the city's unique cuisine.
We recommend starting in the late afternoon at Bar La Riviera in Cetti Meriem, 7, for traditional fares such as calamari and croquettes.
Stop off at La Sitarilla for small plates of cheese, olives, and a glass of cava before heading to one of the city's most famous tapas bars – Bar Poë, C.
Verónica de la Magdalena, 40 – this traditional bar serves delicious plates such as garlic prawns, pork cheeks and patatas bravas.
Finally, round off your tapas crawl with drinks at the Restaurante Parador de Granada bar for the fantastic view and stunning surroundings.
Now you will be ready for some entertainment.
10. Pubs & Clubs Crawl with Drinks & Club Entry Ticket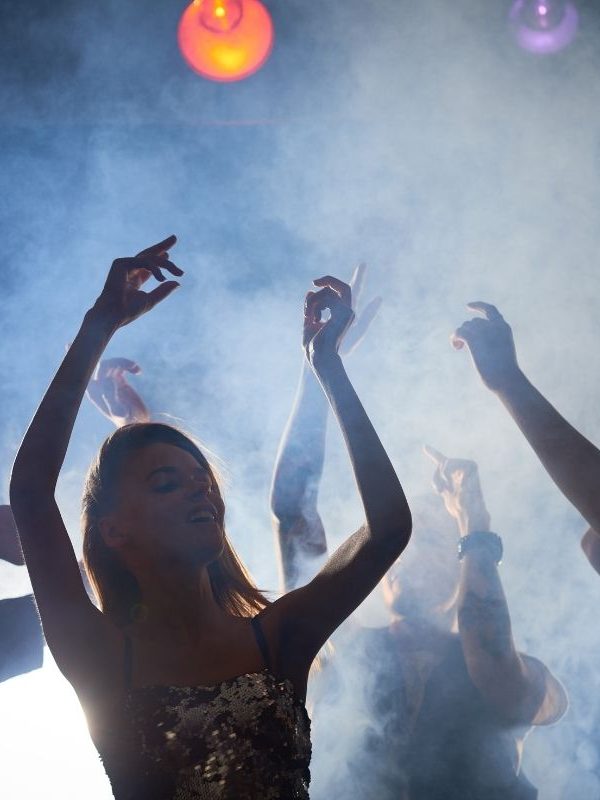 Granada is one of Spain's vibrant nightlife cities, and one of the most exciting things to do in Granada after dark is a pub and club crawl.
City trips and short getaways are a great way to get a feel for a place, and Granada lives up to its reputation.
Start your evening in Granada at one of the city's most famous pubs – The Amsterdam Café Pub on C.
Pedro Antonio de Alarcón, 52, an excellent drinking venue in classic pub style, much less Amsterdam than the back streets of Paris – you could be anywhere, but the staff is friendly.
Move on to Café Pub Rainbow, C. Marqués Don Gonzalo. An excellent place for metalheads and those who love loud music and exciting decor. Next is the Stereo Music Club on C.
Almona del Boquerón to party until dawn and enjoy one of the best clubbing experiences in Granada.
Finally, for one last drink and a dance, head to the Efecto Club, one of the most famous places in Granada.
With a lively crowd and a great vibe, this is one place that you will want to take advantage of if you're looking for one memorable day in Granada.
Best Time to Plan for One Day in Granada
The best time to plan one day in Granada is usually between April and October when the city enjoys warm temperatures and plenty of sunshine.
The best visiting time, in our opinion, is the week that leads up to Easter Sunday to see the best festival of the year, Semana Santa.
Semana Santa is one of the biggest religious festivals in Spain and one you will want to attend if you visit Granada.
The weather in Granada is not too hot but warm enough to step out without your coat.
Visiting Granada in April or early October can also be a great idea.
At these times, the streets are lively, the street musicians are playing Spanish music, and the flamenco dancers are in full swing.
Don't forget to buy souvenirs at The Alcaicería Market, something to remember your trip – Granada's Great Bazaar and the ancient Moorish silk market.
Initially, a collection of streets between Plaza Nueva and Plaza Bib-Rambla, the area was packed with Arab silk sellers, spices, and other luxury items.
The Calle Alcaicera is the last preserved portion of the bazaar. It is a historic and culturally rich neighborhood with intriguing and exotic products for sale.
Consider hand-painted pottery, inlaid wood, and stained glass lamps. The Granada bazaar is quite touristy, with narrow lanes filled with little souvenir and fabric shops.
Finding somewhere lovely to stay in Southern Spain is always tricky, so here are our recommendations to include in your travel itinerary.
Best Hotels in Granada, Southern Spain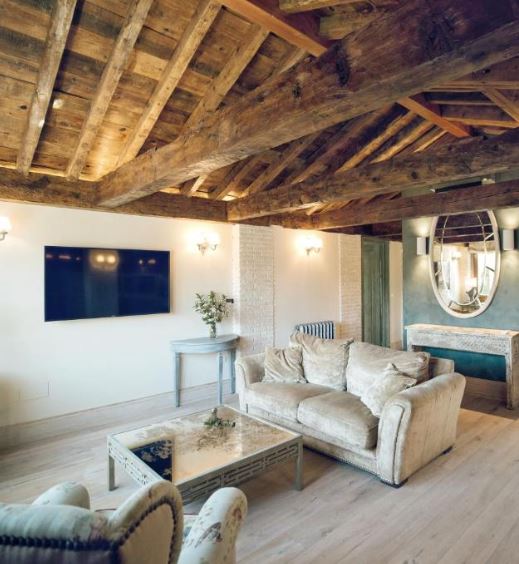 La Corrala Del Realejo – Boutique Apartamentos is the perfect place to stay for luxury travelers looking for a one-of-a-kind experience.
Located just 15 minutes from iconic attractions such as Alhambra Palace and Granada Cathedral, this 5-star boutique hotel in Granada offers stylish contemporary accommodation with every amenity you would expect from a luxury establishment.
On top of that, the on-site restaurant serves a traditional Spanish breakfast every morning, and there is also an outdoor pool for guests to take advantage of.
With the help of the concierge, guests can even get skip-the-line tickets for the flamenco shows in Granada and one-day itinerary examples tailored to them on request.
In other words, nothing is too much trouble at La Corrala del Realejo
BiBo Real Chancilleria is one of the best hotel apartments in Granada, Southern Spain.
Situated in the Albayzin part of Granada, this 3/4-star property offers an array of facilities to make your stay comfortable.
The BiBo Real Chancilleria is ideally located close to major attractions such as Alhambra Palace and Granada Cathedral, making it one of the best places to stay for those looking to explore Granada's sights.
Plus, one can take a pleasant stroll in the Albaicín and visit the Nasrid Palaces. And if one is an outdoor enthusiast, one can hike up in Sierra Nevada Mountains while they're here.
The Palacio Almagra may be budgeted, but it's one of the best picks for a one day stay in Granada.
Located 650 yards from Granada Cathedral, this former 17th-century building offers free wifi, air-conditioned rooms, and fully equipped kitchens.
Visitors can explore one of the most popular places in Granada, with attractions like La Alhambra Palace, Generalife Gardens, and the Royal Chapel of Granada all within reach.
Besides, you can stroll down one of the many cobblestone streets, take in a tapas bar or two, and shop in one of the artisanal souvenir shops.
The historic atmosphere is why Palacio Almagra is one of the best hotels for travelers exploring Granada on a 1 day itinerary.
Getting Around Granada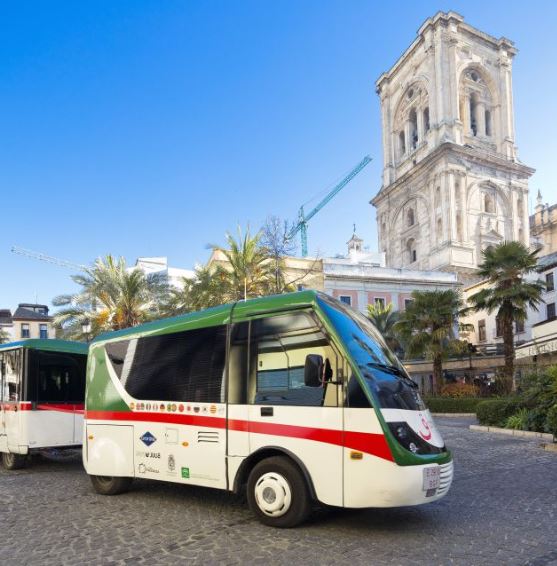 Granada is easy to explore on foot, but after a full day walking around, you might need to use one of the public transport options.
Taxis are one of the easiest ways to get around the city, although one should be aware that in Granada, taxi fares are expensive.
There are other ways to explore the city, such as the Hop-on/Hop-off bus. – Check out tickets in advance here.
Public transport, such as buses and trams, is an efficient, if not boring, way to get around. You can purchase tickets in one of the many kiosks or online through the official websites.
Better yet, taking a horse-drawn carriage around the city is possible.
These carriages are one of the most romantic and unique ways to explore Granada.
Expect to drop a lot of cash for the privilege, but if this relaxed kind of travel is your thing, then you can find them in some of the main squares like Plaza Nueva.
If you want to learn more about itineraries in Andalucia, check these articles:
One Day in Seville: A Local's Itinerary for 10 Fun Things to Do
1 Day in Malaga: 10 Fun Things To Do
1 Week Itinerary in Andalucia by a Local
20 Cool Things to do in Cordoba, Spain – 3 Day Itinerary
Things to do in Seville, Spain – 3 Day Itinerary
Short FAQ About One Day in Granada
Is one day enough in Granada?
Yes and no, one day is enough to explore the city's main attractions and glimpse its vibrant culture.
However, one day might not be enough to experience Granada and discover all its hidden gems, like the nearby Sierra Nevada mountains.
Is it walkable in Granada?
Granada is a highly walkable city, with most attractions within one square mile.
You can easily explore one day's worth of sights on foot, but consider one of the public transport options available for more convenience.
Does Granada have a beach?
No, Granada does not have a beach. However, many beautiful beaches are one hour away from the city, such as Almuñécar.
If you plan on visiting one of these beaches during your stay in Granada, renting a car or using one of the bus routes available for a faster commute is best.
---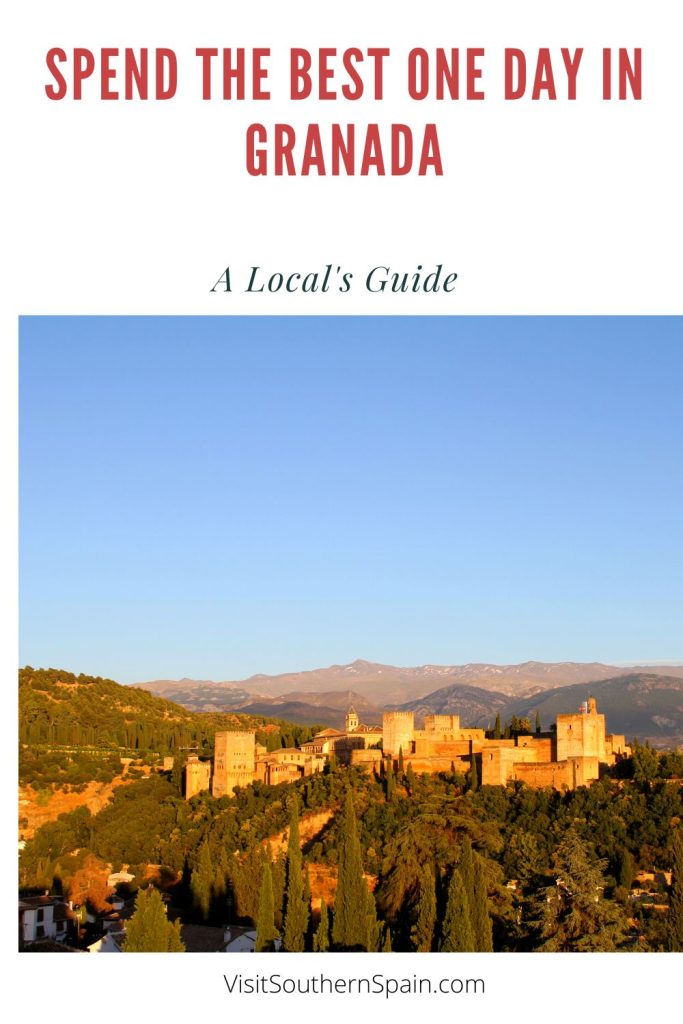 ---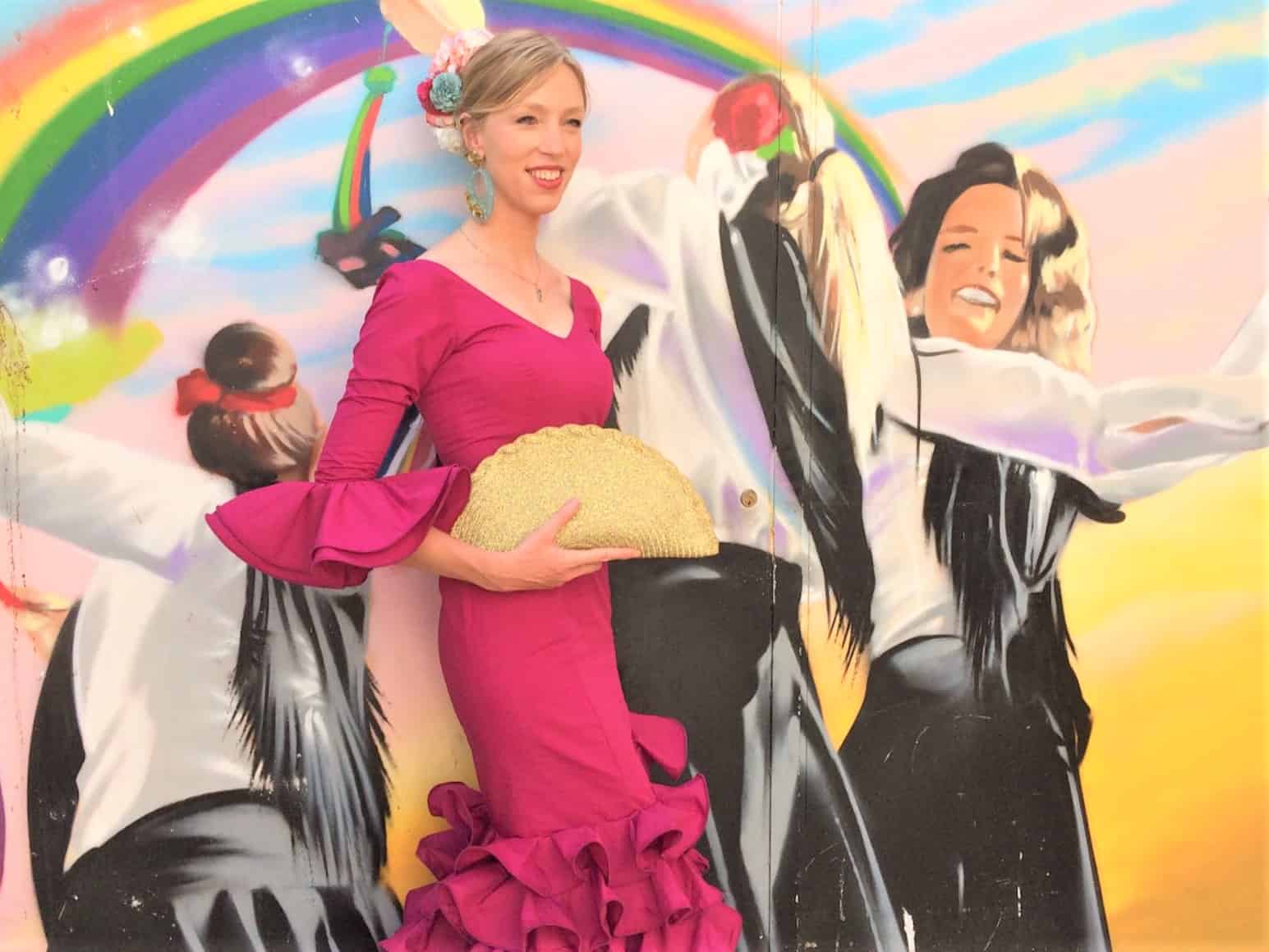 Hola, I'm Paulina! Together with my team, we are passionate about Southern Spain. Here we share all you need to know for great times in Southern Spain with the best places to visit, stay and, of course, the best food to eat.
Let's dive in and explore Southern Spain's outdoors, food and culture con pasión!