A guide to help you navigate the best things to do in Granada at night
Are you looking for the best things to do in Granada at night? Granada Spain is an amazing city to visit with lots of fantastic daytime attractions. But is Granada worth visiting during the evening?
There are plenty of things to do in Granada during the daytime, but even more to enjoy when the sun goes down in this magnificent city.
Whether you love to eat, dance, discover culture and history, or take a stroll, there's an activity for you. Granada Spain tourism is varied and exciting, and there's sure to be something for everyone.
Are you ready to visit Granada and its tourist attractions at night? Then read on!
This blog is supported by you, dear reader. If you purchase through a link, we earn a small commission. As an Amazon Affiliate, we earn from qualifying purchases.
Pssst…!!?? You can't get enough of Granada? Have a look at my other posts:
Top Things To Do In Granada at Night
If you're wondering what things to do in Granada at night, you'll find all the information you need here. Some of the very best things to do after the sun dips below the horizon include:
10 Things To Do In Granada At Night
1. Flamenco show in Sacromonte neighborhood
If you're looking for cool things to do in Granada at night, you should head to the Sacromonte caves. – Check out the guided tour here.
Once the homes of Granada's gypsy families, these caves now host flamenco shows at night. The Zambra of Maria La Canastera is one of the most beautiful places in Granada to see live music and flamenco dancing.
Amazingly talented dancers, fantastic singers, and plenty of Spanish passion make this flamenco show a must-see.
The unique setting makes the event even more special and memorable.
The show costs 30 Euros for adults and 25 Euros for children and lasts an hour. It's best to arrive at least 20 minutes early to be sure of a seat.
Opening time: 9:15 pm
2. Visit the Alhambra by night
If you only have one day in Granada, the Alhambra is the single top attraction to visit.
This Andalusian palace is visited by millions of tourists from around the globe every year. It's one of Spain's best-known sights. – Get a guided tour here.
During the day, the Alhambra can get extremely crowded but at night, it's far quieter and more pleasant to visit.
The mosaics, aromas, lighting, and water are even more spectacular by moonlight.
An evening visit takes between 1 ½ and 2 hours. It can be self-guided with an audio guide or led by an expert. Only part of the site is visited during night tours, so visiting during the day is also recommended.
Opening times:
8 pm in Winter, 10 pm in Summer
3. Live Concerts at Industrial Copera
If you love live music, you should head to Granada's Industrial Copera Club. Attracting some of the biggest names in hip-hop and electronica music, Industrial Copera is an enormous disco.
Its atmosphere is incredible, with outstanding pyrotechnics and amazing performances.
First established in the 1990s, this music venue has earned a strong reputation for its quality acts.
Most importantly, it's also famous as a "safe space" for everyone to enjoy with discriminating behavior of any sort outlawed.
That means everybody can have fun things to do in Granada at night.
Opening times:
Varies depending on the performance.
4. Dance the night away at Granada's clubs
If you're a night owl, you're going to be spoiled for choice in Granada. There are countless clubs where you can dance the night away.
No matter what kind of music you enjoy, you'll find a club to suit your tastes. – Check out guided tours and tickets here.
The Discoteca Aliatar is a great choice for dancing all night. One of the town's hottest nightspots, this club is located in an old cinema.
For cheap beer, La Marisma is hard to beat. Popular with students, this club is always lively and exciting.
Located in the heart of the town, the Planta Baja Club attracts a diverse crowd of revelers.
It also often hosts well-known European DJs. Enjoy lounge music upstairs or hip hop and funk downstairs.
Mae West is another popular Granada nightclub that boasts two floors and three rooms. Each one boasts different styles of music, and the DJs are excellent.
Opening times:
Nightlife in Granada doesn't get going until after 11 pm and clubs won't be busy until after midnight. Expect to be partying until well after dawn!
5. Take a walk at Paseo De Los Tristes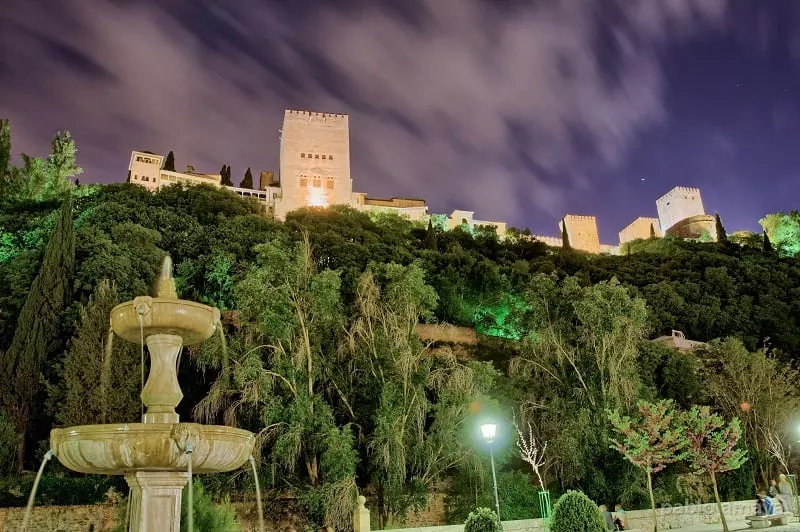 Officially called Paseo del Padre Manjon, this romantic street got its name because of the funeral processions that passed here.
Located in the city's Albaicin neighborhood, this part of Granada is also a World Heritage Site. – Check out the guided tour here.
Close to the heart of the city and bordering the Darro River, this street passes churches and bridges.
It winds up at a beautiful fountain where you can soak in the unique evening atmosphere.
There's nothing more charming than exploring this unusual area by starlight.
Opening times:
The area is freely available all night, but individual venues on the street have varying opening hours.
6. Tapas Tours
When you're looking for the best things to do in Granada at night, local cuisine should definitely be on the list.
Trying authentic tapas is a must-do when you're visiting the city. The best way to make sure you're experiencing the best flavors is to take one of the guided tapas tours. – Get your guided tour here.
Several companies offer these tours which visit two or three local bars that are off the tourist trail.
You'll taste delicious local food and drinks during an experience lasting around three hours. Tour prices start at around 55 Euros per person.
Opening times:
Evening tours start at around 8 pm.
7. Go on a Sunset walking tour in Albaicin & Sacromonte
Visiting the Albaicin and Sacromonte neighborhoods is an absolute must when visiting Granada.
There's no better time to explore these atmospheric districts than at sunset.
Your official guide will take you through the pretty streets and show you the best sights. – Check out the guided sunset tour here.
The Albaicin district is the old Muslim quarter of Granada. Its labyrinth-like streets are perfect to explore during the cool of the evening.
The Sacromonte has over 3000 caves where gypsies once lived. You'll learn about their legends and history on this fascinating tour.
Opening times:
Guided walks start at 7.30 pm.
8. Relax at Hammam Al Andalus
One of the most unusual things to do in Granada at night is to visit a traditional hammam.
The Arab baths are a perfect place to relax after exploring the city by day.
After being closed for five centuries, the Hammam Al Andalus was reopened in 1998.
Now, you can enjoy different temperature baths and massages here after a long day of walking.
With soothing sounds, luxurious oils, and beautiful aromas, it's a unique experience. – Check out the guided tour here.
Opening times:
Friday and Saturday nights from 11.30 pm until 1.15 am.
9. Enjoy a drink on the rooftop B-Heaven Bar
One of the top city nightspots, B-Heaven Bar is found at the very top of the Hotel Barcelo Carmen Granada.
Here, you can admire the entire city by night as you sip a signature drink. You'll also sample gourmet snacks and listen to live music.
B-Heaven isn't only a bar, it's a complete experience. A truly luxurious place to spend the evening, it offers an excellent atmosphere and incredible service.
Opening times:
All evening until 1am.
10. Wander the Bohemian Streets of Albaicin at night
If you're keen to explore the city independently by night, why not just stroll the streets of Albaicin?
The old Muslim quarter of Granada is uniquely beautiful, especially by night. – Get a guided tour here.
Known for its Bohemian character, this neighborhood is full of nooks and crannies to explore.
With traditional white buildings and winding streets and alleys, Albaicin is the perfect spot to stroll after dinner. Or why not take a detour and stop for a snack and a drink at one of the bars?
Opening times:
The area can be freely explored all night, but individual venues have their own opening hours.
Best Hotels in Granada, Southern Spain
If you're wondering where to stay in Granada, we can help! Whatever your budget, we have three hotel options to suit your needs.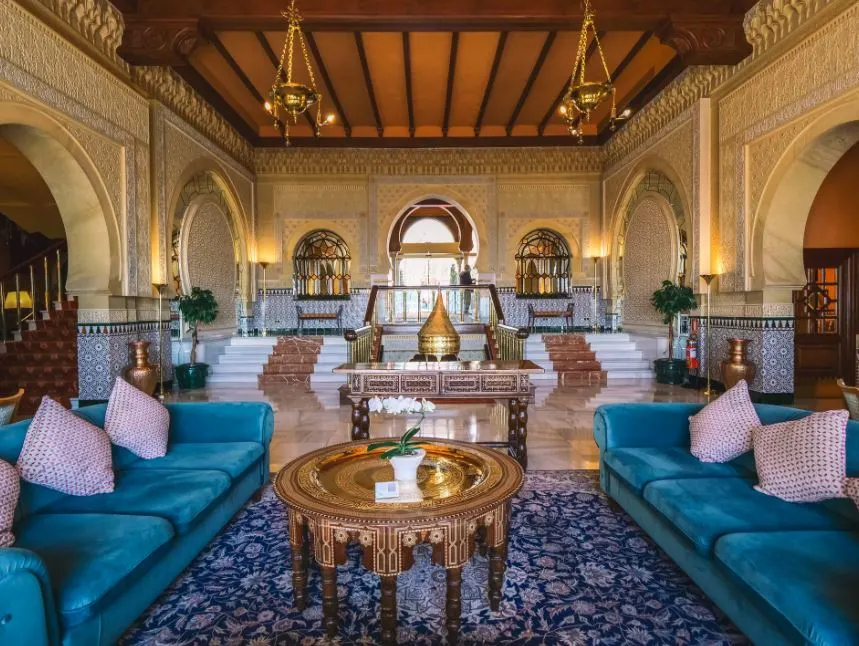 Located on a hilltop, this luxurious hotel was first established in 1910. For over a century, it has symbolized pleasure, luxury, and elegance as well as high-level service.
You can enjoy amazing views from the panoramic bar and restaurant or relax on the terrace. Decorated in stunning traditional style, it's a classically beautiful place to stay in the city.
Just 10 minutes stroll from the Alhambra, it's also perfectly located for sightseeing.
Enjoying an excellent location within walking distance of all the city's top attractions, the BiBo Suites is affordable yet beautiful.
Boasting self-catering facilities and a family-sized space to stretch out, these suites are elegant and stylish. They also offer to air-condition and Wi-Fi included in the cost.
Thanks to its location in the Albaicin district, the BiBo Suites is a great starting point for discovering the city.
Comfortable and well-located, the Casa de Reyes boasts classic-style rooms with modern facilities.
Just seven minutes walk from the cathedral, this hotel offers antique furniture and traditional wooden floors. However, no contemporary convenience has been left out, with flatscreen TVs and WiFi as standard.
You'll be just a short stroll from the Albaicin District and Elvira Street if you stay in this affordable property.
Getting Around Granada at Night
The easiest way to get around Granada at night is simply to walk. It's easy to stroll through this compact city and enjoy its atmosphere and sights. If you're heading further out of the city to the hills, though, you may prefer to rent a bike.
Taxis are available, of course, and buses run from the bus station to all the suburban areas. You can find more information about tickets and timetables here.
There are more unusual ways to discover the city by night too. Evening segway tours and a night hop-on/hop-off bus are two options to consider. – Get a ticket for the hop-on/hop-off bus here.
Short FAQ about Things to do in Granada at Night
Does Granada have Nightlife?
There are plenty of things to do in Granada at night as the city has an exciting and vibrant nightlife scene.
Live music, nightclubs, tapas bars, and flamenco shows are just some of the options available.
Where can I hang out in Granada?
One of the best things to do in Granada at night if you want to just hang out is to head to Plaza Nueva.
Here, you can enjoy music, dancing, and a relaxing drink in one of the popular bars.
Is 1 night enough for Granada?
There are so many things to do in Granada at night that it's best to spend at least two evenings in the city.
That will give you a chance to discover more of the city's top evening attractions.
---
---
Hola, I'm Paulina! Together with my team, we are passionate about Southern Spain. Here we share all you need to know for great times in Southern Spain with the best places to visit, stay and, of course, the best food to eat.
Let's dive in and explore Southern Spain's outdoors, food and culture con pasión!