A Guide to the best attractions in Granada, Southern Spain – 3-Day Itinerary
Granada is one of the most visited cities in Andalusia throughout the year; not only by the Spaniards themselves but also by foreign travelers.
This municipality becomes a tourist attraction suitable for many different types of tourists due to the diversity of historical, artistic, and cultural attractions that can be visited, as well as the multitude of sports activities that can be carried out there.
This beautiful region is located between Malaga and Almeria, and it is also bordering Jaen. Moreover, once you are there you can enjoy its sea and its mountains.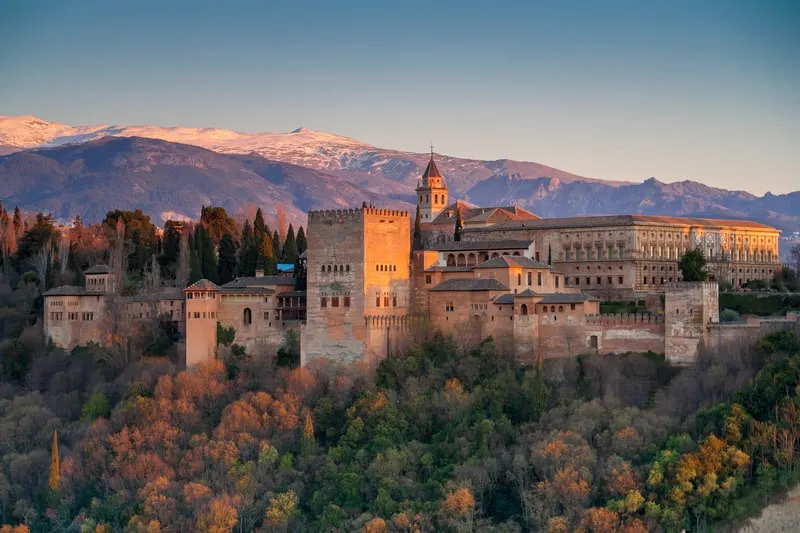 On the one hand, those who enjoy sailing sports – such as windsurfing or kitesurfing – tend to opt for the area located more south of Granada, known as the Tropical Coast.
On the other hand, those who love trekking and snow sports find their ideal place near Sierra Nevada.
In addition, this welcoming city is also attractive to art and culture enthusiasts since Granada's historic city center houses wonders such as the Alhambra Palace, the Royal Chapel and its world-famous Flamenco shows.
All in all, one can say Granada is one of the best cities in Southern Spain, there's so much to see in Granada, and it's perfect stop for your 1 week itinerary in Andalucia. If you're wondering what to do in Granada, here's what you need to know.
This blog is supported by you, dear reader. If you purchase through a link, we earn a small commission. As an Amazon Affiliate, we earn from qualifying purchases.
Top Things To Do In Granada, Andalucia – Our Granada Itinerary For 3 days
As you can see, visiting Granada offers many possibilities; however, under no circumstances should you miss the following Granada tourist attractions:
Alhambra Palace
Granada Cathedral
Flamenco show in Sacromonte
Paseo de los Tristes
Mirador San Nicolas
Cartuja Monastery
Resources for Granada itinerary
✈ Book cheap flights to Granada with Skyscanner

⚘ Avoid tourist traps and get the customizable "Andalucia Like a Local" itinerary. – Get it here

✔ Book tours in Granada with GetYourGuide

➳ Find the best hotels in Granada with Trivago

❖ Rent a car at the best rates with DiscoverCars

✎ Never leave without travel insurance! I get mine at HeyMondo. It is easy to set up, cheap and reliable.

$ Withdraw money without hidden fees and avoid exchange charges with Wise (Free Mastercard debit card to spend money abroad)
Day 1
Alhambra Palace
The Alhambra is one of the most emblematic places to visit in Granada; in fact, it is the second most visited place in Spain and one of the top Granada famous places!
It is a fortress that houses its interior gardens, palaces, convents, and a church that represent a tourist attraction for those who are passionate about Nasrid architecture and art.
The Nasrid style was typical of the Muslim State that settled in Granada during the Middle Ages.
The Alhambra palace in Granada was initially created to house the Emir and his court but it became the Catholic Monarchs' palace when they conquered Granada in 1492. As a result, an eclectic character was given to this building.
It is strongly recommended to purchase the tickets in advance to ensure access on the desired day and to avoid queues.
These tickets allow you to visit the Nasrid Palaces, the Generalife Gardens, and the Alcazaba and it includes an audioguide so that you can walk at your own pace. – Book tickets here
Opening times: 9 am to 6 pm
Entrance fee: 40 €
Make sure to book Alhambra tickets in advance, they tend to be sold out weeks before the desired date. – Get tickets here
Nasrid Palaces
Nasrid Palaces were built in the 14th century and are composed of three independent zones: the Mexuar, the Comares Palace, and the Lions Palace.
The palaces are one of the best things to do in Granada, Spain!
The guided tour across these emblematic buildings will immerse you in the Persian and Muslim-inspired architecture that decorates all its walls, and your five senses will be impregnated with unique sensations.
The Mexuar has plenty of rooms that were used to discuss governmental decisions. Moreover, there is an Oratory oriented toward Mecca and the world-famous Golden Room, with a stunning gold leaf-covered room from which it receives its name.
The Palace of Comares was the emir's private dwelling; for this reason, some of the most beautiful rooms and patios are there. You can not miss the Hall of Ambassadors, the Room of the Boat, the Baths of Comares, and the courtyard of the Arrayanes.
Another Royal Family residence was the Lions Palace. This building has a huge courtyard supported by 124 columns and you can visit the Abencerrajes, Two Sisters, the Mozarabs, and the Kings' rooms.
Finally, you can end the tour without losing track of time at the Mirador de Lindaraja. – Book tickets here
Gardens of Generalife
Generalife is a beautiful rural recreation villa, surrounded by spectacular patios and gardens, which was built in the 13th century for the Nasrid sultans.
It is located outside the walled area of the Alhambra and represents one of the most outstanding architectural ensembles of Muslim civil architecture in Granada city.
The characteristic variety of its patios' vegetation gives a unique character to these spaces. The most standing out gardens are the Acequia courtyard, the Cypress of the Sultana patio, the Altos gardens, and the water staircase.
In order to save money, we recommend purchasing a combined Alhambra, Nasrid Palaces + Generalife ticket – Get tickets here
Opening day times: 8 am to 6 pm
Entrance fee: 7 €
Opening night times: 8 pm to 9:30 pm
Entrance fee: 5 € – Buy combo tickets here
Albayzin
Albayzin is a picturesque district of Granada located in one of the highest areas of the city, so visitors can enjoy great views while strolling through its narrow and intricate lanes.
It is usual to get lost in Albayzin due to the characteristics of its streets but sooner or later everyone finds the right path and realizes they have been discovering some of its most special spots without being aware of it.
Some of the most important places to visit there are the Plaza Nueva, the Paseo de los Tristes and the Palacio de los Córdova. – Get tickets for a guided walking tour here
Lunch in Restaurante Las Tomasas
Taking advantage of the walkthrough Albayzin, it is highly recommended to stop by Restaurante Las Tomasas to have your lunch.
From Las Tomasas you can enjoy wonderful views of the Alhambra and the Generalife gardens. No wonder it is often considered one of the best restaurants in Granada.
Its menu offers a wide variety of sophisticated dishes whose delicious flavor does not leave anyone indifferent.
It is relevant to know that they also offer a daily menu to serve typical Andalusian cuisine; some of its most popular dishes are cheese assortments, garlic prawns or chickpea stew. They are a must when you are looking for typical food from Granada.
Read More: Best Spanish Desserts to Satisfy your Sweet Tooth
Granada Cathedral
The Cathedral of the Incarnation of Granada, built in the sixteenth century, houses fifteen Chapels dedicated to different sanctities. Some of the most remarkable ones are the Main Chapel and the Chapel of San Miguel.
The Main Chapel is decorated with canvases representing scenes based on the blessed Virgin Mary of the renowned painter Alonso Cano; with the busts of Adam and Eve made by Alonso Cano, and with huge stained glass windows designed by Teodoro de Holanda and Juan del Campo.
San Miguel Chapel represents the maximum expression of the Cathedral neoclassical style and there you can find La Dolorosa of Alonso Cano. – Book tickets in advance here – you just can't miss the cathedral off your Granada sightseeing itinerary.
It's considered one of the top things to do in Andalucia for 1st time visitors.
Opening times: 10 am to 6:30 pm (Monday to Saturday); 3 pm to 5:45 pm (Sunday)
Entrance Fee: Free or 5 € (including an audio guide)
Royal Chapel
The Royal Chapel is located very close to the Cathedral and is one of the best Granada places to visit.
It was built as a burial place for the Catholic Monarchs and there are the tombs of Isabel I de Castilla, her husband Fernando II de Aragón, her daughter Juana la Loca and her husband Felipe el Hermoso inside.
Curiously enough, Catholic Monarchs died before the chapel was finished but in her will, Queen Elizabeth explained in detail how she wanted the building to be.
Once the construction had finished, the emperor Charles V ordered their bodies to be moved there.
The architectural style of this single-nave building is predominantly Baroque so although it is not a particularly large building, the details of its façade and interior are stunning.
Opening times: 10:15 am to 6:30 pm (Monday to Saturday); 11 am to 6 pm (Sunday)
Entrance Fee: 5 € – Skip the queue and book tickets in advance here
Alcaiceria Bazaar
The Alcaiceria is an old Muslim quarter in which every tourist should wander at least for an hour in order to soak up the local culture and get to know the most representative handicrafts in the region.
Standing out among them there are the decorative tiles of Fajalauza, the lanterns of colored glass, and the accessories of fur.
Flamenco show in Sacromonte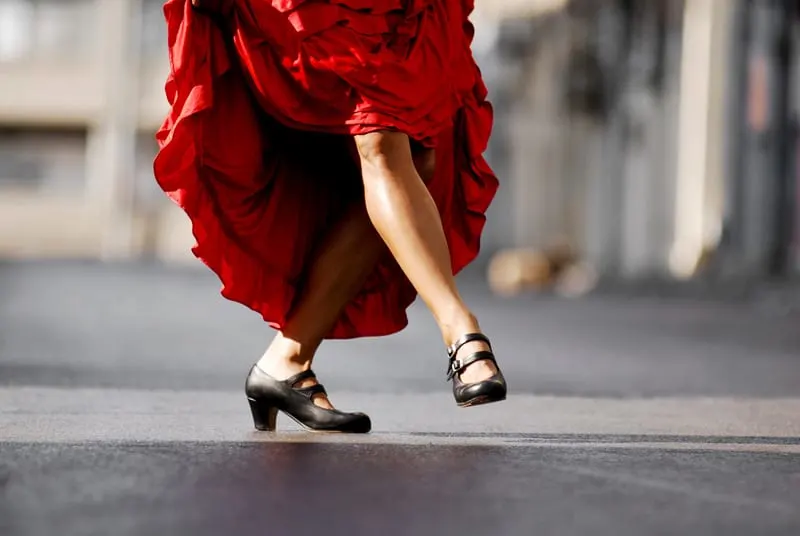 Continuing with the immersion in the Andalusian culture, it is highly recommended to enjoy a flamenco show in Sacromonte.
Modern flamenco comes from an older and more traditional version that gypsies who took over Sacromonte still know and share with locals and tourists.
One of the most recommendable flamenco shows is the Tablao Cuerva de la Rocío because of its location, the professionalism of its dancers, and the performance price. – Buy tickets in advance
Opening times: 8 pm to 1 am
Entrance Fee: 23 € per adult; 12 € per child (including a drink) – Book Skip-the-Line tickets here
Day 2
Corral del Carbón
If you're looking for unusual things to do in Granada, El Corral del Carbón is an early 14th-century building, whose main function was to house merchants who were traveling to Granada to sell wheat.
You can access the enclosure through a large horseshoe arch made of scalloped brick and carved plaster with an aesthetic and ornamental function.
From the interior courtyard, you can access a three-story building, whose ground floor was used to store goods and to serve as a resting place for the animals; and the two upper floors were used by the merchants.
Currently, a part of the building has been transformed into a bookstore and in its large courtyard concerts and performances are held.
Opening times: 9 am to 8 pm (Monday to Sunday)
Entrance Fee: free
Wander on Carrera del Darro
Strolling through Carrera del Darro, which is named after the river that crosses it, allows you to travel to the 17th century because once you are there it is possible to observe not only numerous buildings remaining from this period but also the vestiges of Arab houses.
It is also recommended to stop at the beautiful bridges that embellish the area, especially the Cabrera and the Espinosa bridge.
Paseo de los Tristes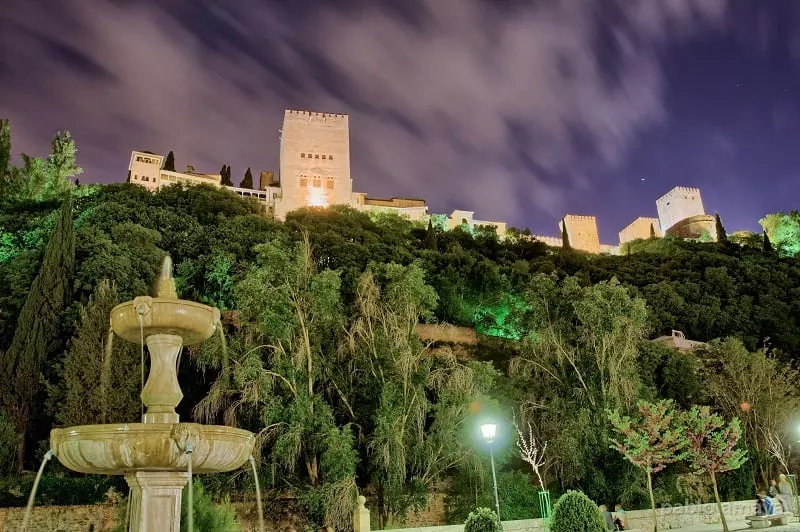 Officially the Paseo de los Tristes is called Paseo del Padre Manjón. When it was built in the 17th century, coffins used to be transported by this way to the cemetery.
One of the most beautiful viewpoints in Granada from where you can see the Alhambra is its Chirimías bridge – one of the most beautiful places in Granada.
In addition, this area is full of cozy bars, where it is worth stopping for a refreshment and to taste some of the most original tapas in the city. – Book a walking tour here
Take Pictures on Mirador San Nicolas
The viewpoint of San Nicolás is one of the most famous in Granada; therefore, it is also one of the busiest in the area.
Its popularity grew exponentially in 1997 due to the fact that Bill Clinton claimed that there you can watch the world's most beautiful sunsets.
It is truly spectacular to stop there and spend some time observing the Alhambra, the Generalife, and the highest Sierra Nevada summits in the background.
It's one of the best free things to do in Granada.
Bañuelo, Ancient Arab Baths
Granada's Bañuelo was built in the 11th century and it may be considered a special construction because there are just a few well-preserved Arab baths in Granada.
You may be wondering how this can be possible if the city was under their control for a long time; the answer is that Catholic Kings considered those sinful places and destroyed them as much as they were able to.
This secluded place is in the Carrera del Darro but it is slightly hidden so pay attention or you may easily pass by.
The entrance costs include a visit to the Dar-al-Horra Palace, the Corral del Carbón and the Casa Horno de Oro.
Opening hours: 10 am to 5 pm (winter season); 9:30 am to 8:30 om (summer season)
Entrance Fee: 5 € and free on Sunday
Lunch in Carmela
Carmela Restaurante is located near the Cathedral and Plaza Nueva – precisely in Colcha, 13 – and its opening hours are 12 am to 12 pm.
It offers Mediterranean dishes elaborated according to the Andalusian tradition.
This restaurant combines quality cuisine and a pleasant atmosphere acknowledged by TripAdvisor reviews.
It's considered one of the best restaurants in Granada for lunch.
Puerta de Elvira
The gate or arch of Elvira was the main access to the city of Granada from the Medina Elvira road during the Islamic reign, and it was a strategic military and customs post.
Elvira's gate was built before the ninth century and it is a large horseshoe arch that was connected to the wall that protected the city.
If you are a sports traveler there is an electric bike tour that includes a local guide, who explains all the curiosities about the arch and the districts of Albayzín and Sacromonte. – Book a Granada Bike tour here
Aperitivo at Huerto Juan Ranas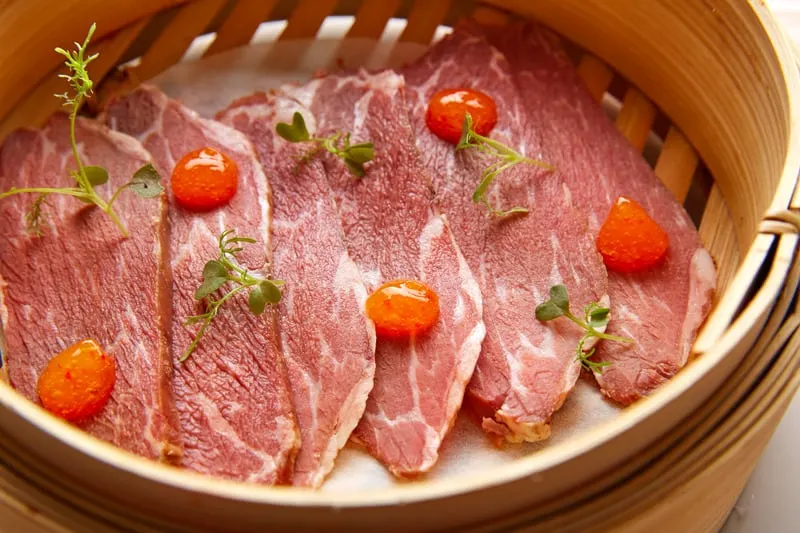 Juan Ranas Orchard is a nice restaurant located in the Mirador de San Nicolás, from where you can enjoy the best Alhambra views in a dreamy environment.
The homemade dishes served in this restaurant are genuinely traditional and they are full of flavor because the owners harvest their own ingredients.
Moreover, no artificial additives are used during the cooking process. Of all their dishes, the most delicious are Iberian Ham from Jabugo, the cured cheese board of sheep, potatoes bravas with ali-oli, and homemade croquettes.
Want to taste more? Book a guided tapas tour here
Tapas Night out
One of the nights spent in the city of Granada should be dedicated to going out for tapas. Below we offer you a list of the best places to enjoy a night out:
Los Diamantes
La Bella y la Bestia
El Rinconcillo
Minotauro
El Rincón de Rodri
Book tickets for tapas crawl in Granada
Day 3
Cartuja Monastery or Granada Charterhouse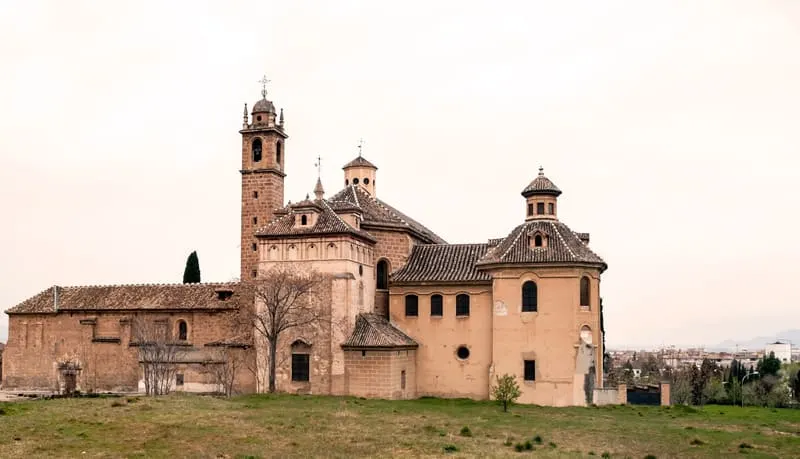 The Royal Monastery of Nuestra Señora de la Asunción de la Cartuja began to be built in the 16th century and was completed three centuries later. The Monastery of the Cartuja represents the culminating work of the Spanish Baroque.
Its exterior has a patio and a cloister in which you should sit back and enjoy the aroma of its orange trees and aromatic plants.
Inside the monastery, there is a Baroque plan church; a sacristy made of reddish marble; the chapter house in which Carthusians used to meet; Profundis Chapel the Chapel intended for penance; and the refectory or dining room of the friars.
It's one of the more unusual things to do in Granada.
Opening times: 10 am to 6 pm (winter season) 10 am to 8 pm (summer season)
Entrance Fee: 5 €
Sierra Nevada National Park – Day Trip Option 1
The Sierra Nevada mountains are located 30 kilometers from the city of Granada. It has the highest peaks in the country and there are more than twenty peaks that exceed 3000 meters of altitude.
The ski resort of Sierra Nevada has more than 100 kilometers of slopes that can be enjoyed by 47 euros a day.
However, if you prefer to spend a more relaxing day but still practice some sport, you can do many excursions. It's one of the best day trips from Granada.
Here are some of the best things to do in Sierra Nevada ski resort for the perfect day trip from Granada, Spain.
Sierra Nevada ski resort is a perfect place for a ski vacation while in Granada and if you don't which hotel to choose, we've got you covered with the 15 best Sierra Nevada hotels.
How to get from Granada to Sierra Nevada:
Nerja – Day Trip Option 2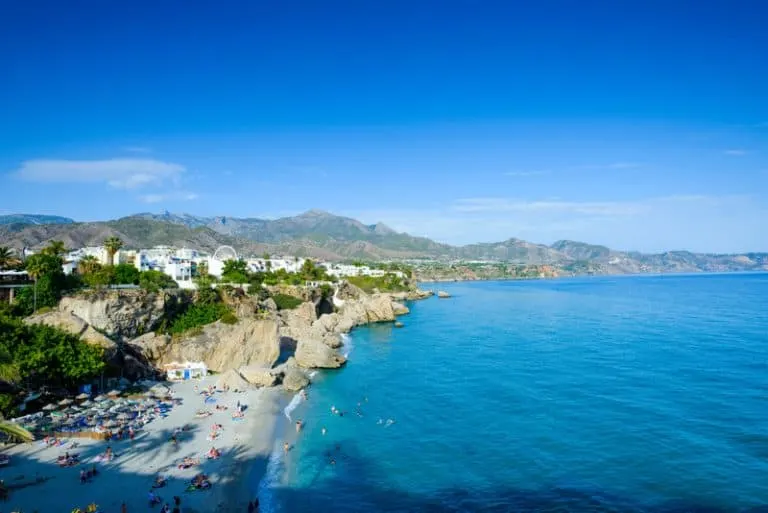 If you want to get away from city life for a day at one of the beach destinations in Southern Spain, Nerja is a must-visit, especially if you plan to visit Granada during the summer months.
The seaside resort is located on the Costa Del Sol, 1 hour away from the city of Granada.
Plan a beach day on Nerja's beautiful beach. For a tranquil beach day, why not drive to Marro, just a short distance from the center of Nerja?
During your day trip, you could also plan a visit to the famous Nerja caves. Walk through the many chambers and see the amazing rock formations. For a cultural day trip from Granada, you could visit the Church of El Salvador, which dates back to the 17th century.
How to Get to Nerja from Granada
The best way to travel from Granada to Nerja is to drive. You can compare hire car prices and availability here. If you don't want to hire a car, booking a taxi or private transfer is also a good option.
If you're on a budget, there is a bus that runs between Granada and Nerja En route; you'll be able to see the stunning towns and villages of Almuñecar, Salobreña, Talara, Padul, and more. You can view more information and timetables here.
Best Hotels in Granada, Southern Spain
Considering the possible diversity of our dear readers' budgets, we present below a selection of the best hotels in Granada, Spain.
If what you want is a dream stay do not hesitate to book a room at Eurostars Washington Irving, one of the best options for accommodation in Granada, Spain.
If you prefer to save some money on your accommodation in Granada without sacrificing the comfort of being in the city center, we recommend Eurostars Cathedral – by far the best place to stay in Granada.
And if you prefer to adjust the budget and still enjoy excellent value for money, your best option is Hotel Santa Isabel La Real.
Also, check here some of the best boutique hotels in Granada, from 5-star ones to budget ones, and know you can also find cheap hotels in Granada.
Eurostars Washington Irving is a luxury hotel located on the Paseo del Generalife, 10. It is very close to the Alhambra and the main emblematic buildings of Granada.
The facilities of the building have been decorated and inspired by the most famous works of the writer Washington Irving.
As a result, the hotel blends literature, romanticism, and comfort. There you can enjoy an outdoor pool with wonderful views, a huge library or cozy common areas in which to relax. – Check rates & reviews here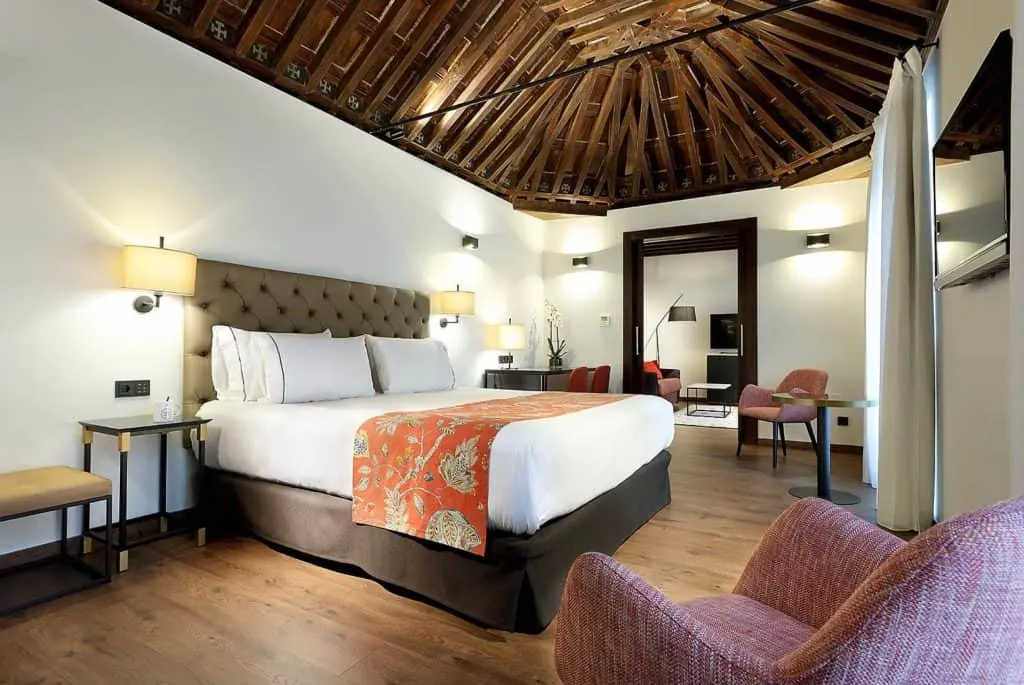 Eurostars Catedral is a hotel composed of stately houses that were built in the 16th century. Its location – just a few meters from the Cathedral – and its outdoor terrace make it an authentic and exclusive viewpoint.
In addition, a large gym allows guests to keep fit and the spa area to relax after a long day of sightseeing.
Another of the hotel's attractions is its spectacular archaeological hall to which the restored Arab ruins confer a unique character. – Check rates & reviews here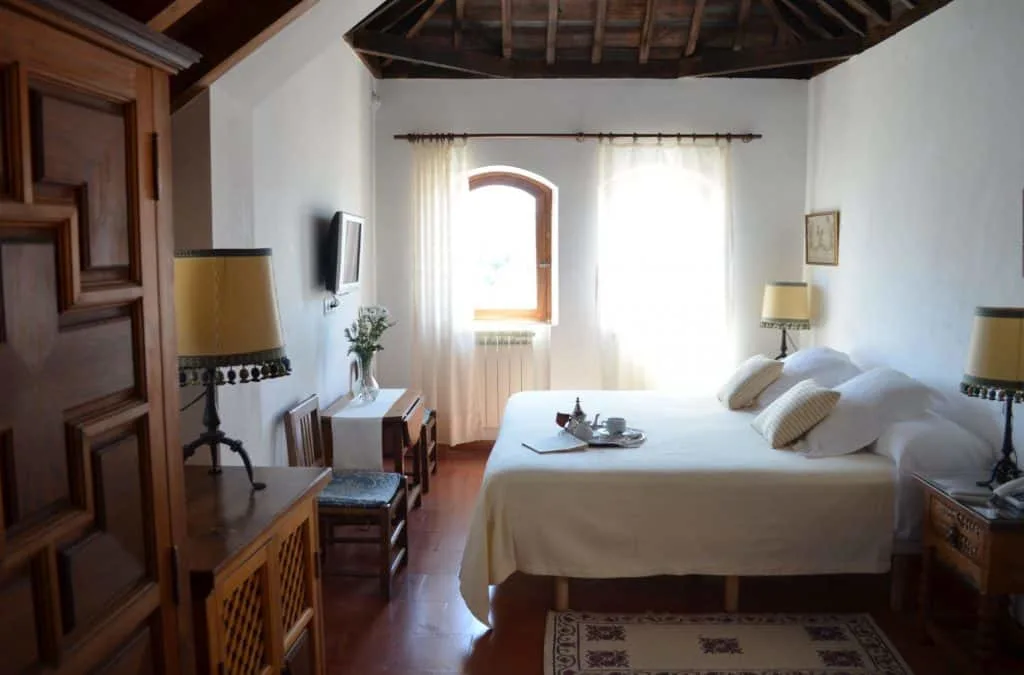 If you're wondering where to stay in Granada, Spain, on a budget, hotel Santa Isabel La Real is located in Albaycín.
It is a traditional Andalusian family house with a beautiful interior courtyard, which has been tastefully renovated to become an exclusive hotel accommodation with only 11 rooms.
The room rate includes a buffet breakfast served between 7 and 10 am. – Check rates and reviews here
How to get to Granada
If you are in Malaga or Seville you can also include this getaway on your trip in a very simple way.
How to get from Malaga to Granada:
How to get from Seville to Granada:
Read exactly how to get from Seville to Granada in our guide here.
Weather in Granada
Summers in Granada are hot and very dry. At the height of summer in July and August, temperatures can vary between 19° and 34°. At the start of the main tourist season in May, temperatures vary between 12° and 25°
If you visit during winter, the climate in Granada will most likely be relatively cold and partly cloudy. The coldest month to visit is January, when temperatures vary from 2° to 12°.
Getting Around Granada
One of the best options to get to know Granada is to walk through its streets since the beauty of its historic center is found in each of its winding streets.
However, the city bus is also an effective and economical way to get around the city and allows you to stop at the most important places in Granada.
Bus tickets are purchased directly from the bus driver. If more than one trip is going to be made, it is highly recommended to apply for the Credibus, which is a transferable and rechargeable voucher that allows free transfers for 45 minutes.
Another option is to purchase the Granada Tourist Card Voucher, which includes a discount for bus lines and a trip on the Tourist Train, whose price for three days is 37 euros.
---
Short FAQ about Things to do in Granada, Southern Spain
Before getting into the FAQ please make sure to check our two other topics on things to do in Malaga and the 3-day itinerary in Almeria.
What are the fun things to do in Granada, Spain?
1. Have Coffee/Tea in the Sacromonte Caves.
2. Visit the Alhambra.
3. Relax in a Hammam.
4. Shop on the Alcaiceria.
5. Explore the Tapas Scene.
What is the Alhambra Palace used for today in Granada?
It is a fortress that houses in its interior gardens, palaces, convents and a church that represent a tourist attraction for those who are passionate about Nasrid architecture and art.
Why should you visit Granada Spain?
Granada became a tourist attraction suitable for many different types of tourists due to the diversity of historical, artistic and cultural attractions that can be visited, as well as the multitude of sports activities that can be carried out there.
Is 3 days in Granada enough?
If you visit Granada for 3 days, it's possible to see a big chunk of the city and visit the main tourist attractions. During this time, you could also go on a day trip to nearby areas such as Nerja or Sierra Nevada National Park. However, the longer you stay in Granada, the more of the city you can see, the more food you can try, and the more you can experience.
Do you need a car in Granada?
Granada has an efficient public transport system and a good network of Taxis. However, if you're staying in Granada for a longer period and you're planning to go on lots of day trips, hiring a car is a good option.
What is Granada famous for?
Granada is mainly known for it's magnificent Alhambra Palace. Granada is also famous for its Arab Baths, where you can have a steam bath or book a relaxing massage. However, the city is also famous for its tapas. As well as having amazing tapas, Granada is one of the only places in Spain where you can get tapas free with drinks (you can also do this in Almeria).
---
---
Hola, I'm Paulina! Together with my team, we are passionate about Southern Spain. Here we share all you need to know for great times in Southern Spain with the best places to visit, stay and, of course, the best food to eat.
Let's dive in and explore Southern Spain's outdoors, food and culture con pasión!