A travel guide to the best things to do in Sierra Nevada Ski Resort
Providing a dramatic backdrop to the Alhambra and the city of Granada, the Sierra Nevada Ski Resort at Pradollano is the most southerly in Europe.
Located inside Spain's largest national park, the Parque Nacional Sierra Nevada, the Sierra Nevada Ski Resort is a popular destination for Spaniards and visitors from abroad.
Whether you are a winter sports enthusiast, hiker, rock climber, or just someone who likes to explore nature, the Sierra Nevada Ski Resort offers something for everyone.
This blog is supported by you, dear reader. If you purchase through a link, we earn a small commission. As an Amazon Affiliate, we earn from qualifying purchases.
With so many things to see and do both in the resorts and the surrounding area, we decided to compile a list of 15 Things to do in the Sierra Nevada Ski Resort.
Top Things to do in Sierra Nevada
With so many things to see and do, here are our top six favorite things to do when visiting the Sierra Nevada:
Ski at Europe's southernmost ski resort
Climb mainland Spain's highest mountain
Tour the whitewashed villages of the Las Alpujarras
Visit the Moorish city of Granada
Visit the famous Spanish spa town of Lanjarón
Go hiking in the Los Cahorros de Monachil Canyon
Useful Travel Information About Granada
✈ Book cheap flights to Granada with Skyscanner

⚘ Avoid tourist traps and get the customizable "Andalucia Like a Local" itinerary. – Get it here

✔ Book tours in Granada with GetYourGuide

➳ Find the best hotels in Granada with TripAdvisor

❖ Rent a car at the best rates with DiscoverCars

✎ Never leave without travel insurance! I get mine at SafetyWing. It is easy to set up, cheap and reliable.

$ Withdraw money without hidden fees and avoid exchange charges with TransferWise (Free Mastercard debit card to spend money abroad)
Where is Sierra Nevada?
Located in the Andalusian provinces of Almeira, Granada, and Malaga, the Sierra Nevada mountain range contains the highest mountain in mainland Spain, Mulhacén, at 11,414 feet above sea level.
Popular with outdoor enthusiasts and those who enjoy winter sports, the Sierra Nevada ski resort is easily accessed by car or bus from Granada.
Things to Know Before Visiting Sierra Nevada Ski Resort in Spain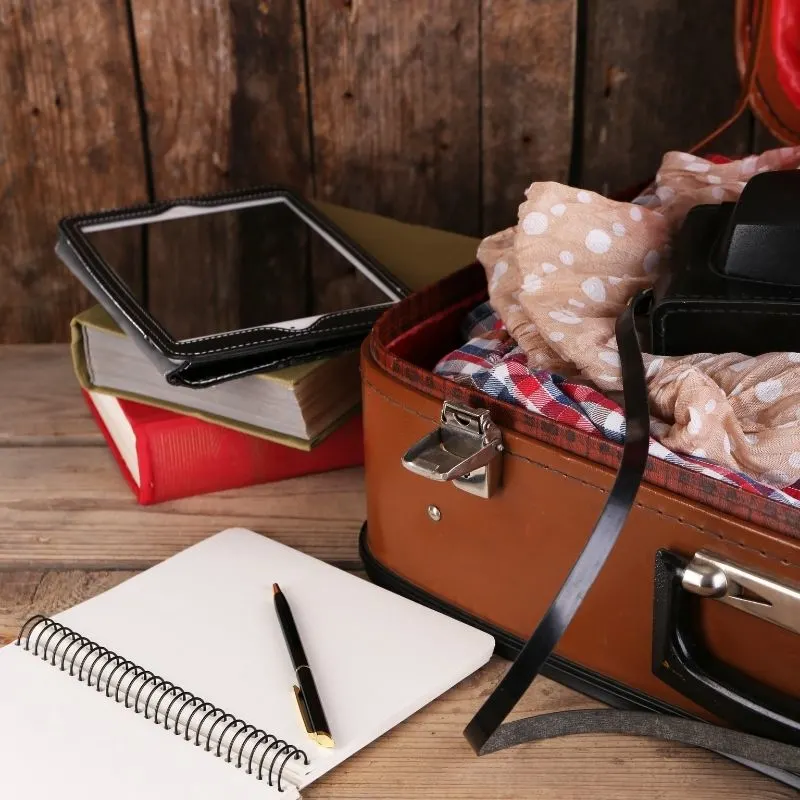 Before deciding to visit the Sierra Nevada ski resort, there are several things you need to do to prepare for your trip.
If you plan to visit during the winter, you must sort out where you will stay and not just show up. The ski resort at Pradollano can be especially busy on weekends and holidays.
If you plan on driving to the ski resort during the winter, you will want to have snow chains for your car.
Generally, the roads are kept free of snow but depending on freak conditions; you may find that the police will not let you drive on the mountain roads without chains.
Even during the summer months, you will need to check the weather forecast to see what clothes you will need and always wear hiking boots if you plan to hit the trails, as tennis shoes will not do.
Ensure the proper clothing for the outdoors, including waterproofs, and if you are out hiking, you have plenty of drinking water and something to eat like an energy bar.
Mobile phone coverage is spotty in parts of the Sierra Nevada, so it would be helpful to have a map and compass if you get lost.
Things to do in Sierra Nevada Ski Resort
Granada: Los Cahorros de Monachil Canyon Hiking Tour
If you are looking for an outdoor activity in the Sierra Nevada ski resort that the entire family can enjoy, consider taking a Los Cahorros de Monachil Canyon hiking tour.
With places to stop off and swim, waterfalls, and hanging bridges, the Ruta de Los Cahorros Monachil could be for you.
A word of warning, it may be challenging if you suffer from vertigo or a fear of heights as there are steep parts to navigate even though you are not high in the mountains.
Despite not being high up on the 9,000 feet peaks, the Ruta de Los Cahorros is one of the most popular hikes in the Sierra Nevada and is ideally suited to beginners who will love the adventures along the way.
Getting to Monachil from Granada by car takes around 20 minutes. If you are driving up from Malaga, it takes 1 hr 30 mins via the A-92.
Once you arrive in the village, you will come to a large dirt parking lot to leave the car. From the parking lot, follow the signs to the trail, which runs alongside the river.
The Ruta de Los Cahorros can easily be done at any time of year but is more fun during the summer as you can stop off and have a swim in the mountain pools.
The length of the hike is five miles and takes around three to four hours to complete.
What to bring?
Large parts of the hike are exposed to the sun, so wear a hat and bring sunscreen.
Good walking shoes and plenty of drinking water are a must, plus maybe swimming trunks and a towel if you fancy going for a dip in the river.
Guided tours are also available and can be found by clicking the link.
Sierra Nevada Small Group E-Bike Tour
If you have had enough of Granada and want to get out and discover nature, a Sierra Nevada small group E-bike tour could be what you are looking for.
All the operators that run E-bike tours in the Sierra Nevada use battery-assisted mountain bikes, making it easy to tackle the few places on the route where you have to travel uphill.
Going on a small group E-bike tour is a great way to reconnect with nature as you cycle down mountains and through forests with the wind blowing in your hair.
Along the way, look out for Golden Eagles soaring overhead and wild mountain goats grazing between the rocks.
All tours are accompanied by an English-speaking guide who will point out things of interest as you cycle through some of Andalucia's famous white villages.
E-bike tours vary in length but usually take between four and five hours. For a list of E-bike tour operators, click on the link.
Sierra Nevada: Snowshoe Hiking Tour
During the winter, when snow is abundant in the Sierra Nevada, it is great to get off the trails and go cross country on snowshoes.
Your guide will pick out the right snowshoes for you to provide the floatation you need.
They will then take you to a location where it is easy to learn the techniques involved in snowshoeing.
Once you have mastered walking on the snow, it's off into the mountains for a day of fun and adventure.
Cross country snowshoeing is also a great outdoor activity for kids. If you are interested in trying cross country snowshoeing in the Sierra Nevada, click on the link.
Hiking in Lavaderos de la Reina
The Lavaderos de la Reina (the Queen's washing place) is one of the most popular spring and early summer hikes when the melting mountain snow feeds gushing streams.
The route offers some of the most spectacular views of the Sierra Nevada mountains.
While not a grueling hike, you need to be fit and own a good pair of boots. If you are interested in doing the walk with a guide, click on the link.
Ski at the Sierra Nevada Ski Resort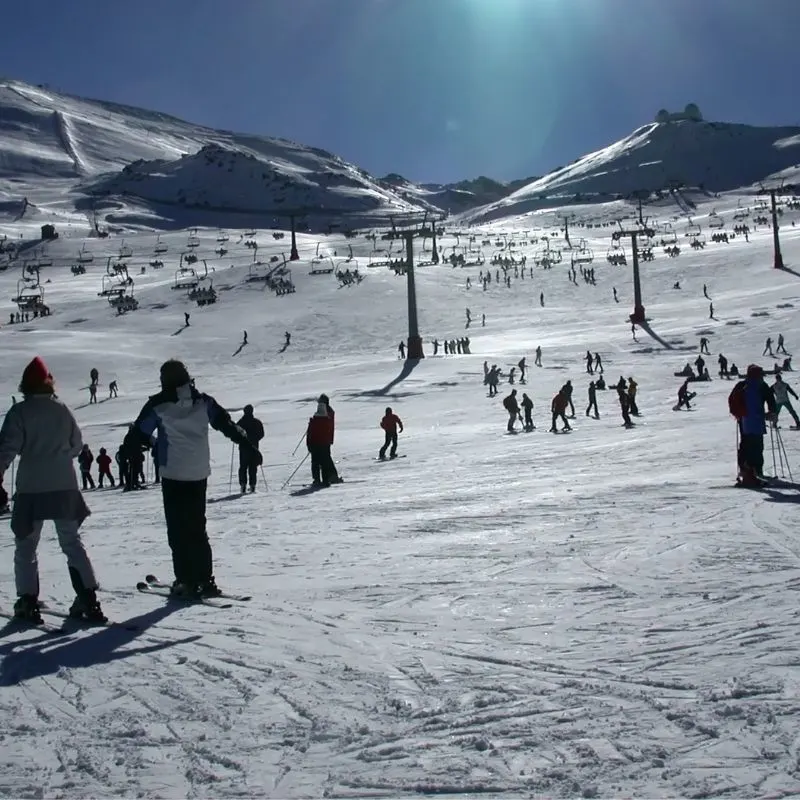 With 131 pistes totaling over 68 miles of ski runs, the Sierra Nevada ski resort is easily the largest wintertime resort in southern Europe.
Located less than an hour from the historic city of Granada, the Sierra Nevada ski resorts offer all types of accommodation, from hotels to self-catering apartments.
The Sierra Nevada ski resort has plenty of beginners slopes and challenging black diamond runs for advanced skiers.
You will find plenty of places to eat and drink in the resort and an active nightlife for people who like to party.
Because of the resort's altitude, the ski season runs from late November to early May, making it one of the few places in the world where you can ski in the morning and be on the beach for lunch.
Skiing can be fun for the whole family and with our Sierra Nevada ski guide, you can find all there is to know about the resort.
Climb Spain's Highest Peak – Mulhacén Mountain
While famous for being the most southerly Ski resort in Europe, the summer months open the Sierra Nevada National Park up to hiking enthusiasts eager to conquer the towering mountain peaks.
One of the best treks that will give you a sense of accomplishment is to climb the highest mountain on the Iberian Peninsula, Mount Mulhacen, at a staggering 11,404 feet above sea level.
While seasoned hikers can climb Mulhacen in a single day, it is far more rewarding to do the hike in two days, staying a night at the Refugio Poqueira hostel 8,200 feet above the Poquiera gorge.
Because of the high altitude, the hike can often be cold even on a sunny day and can be unbearably hot if you have too many clothes on.
For this reason, it is best to dress in layers so that you can adjust yourself to the correct temperature.
Good hiking boots are a must, as is plenty of water and snacks. For a truly memorable experience, make the final ascent to the summit early in the morning in time to see the sunrise.
Cross Country Skiing at Puerto de la Ragua
Located in a lesser-known part of the Sierra Nevada National Park, Puerto de la Ragua is an area of natural beauty and a popular destination for people who like cross country skiing.
While describing itself as a resort, it is a low-key affair with 10 miles of trails, a cafe/visitor center, and an equipment hire shop.
While cross country skiing is great fun for the entire family, if you are looking for fun outdoor activities for kids, two hills behind the visitor center are dedicated to sledding.
The Famous Spa Town Lanjarón
Reminiscent of the English spa towns of Bath and Harrogate, Lanjarón is a town famous for its spring water.
Even the town's name Lanjarón is derived from the Iberian word "lanchar," which means a place blessed with water.
While being a critical strategic location during the Moorish occupation of Spain, Lanjarón is famous for being a town that did not surrender to besieging French troops during the Peninsular War (1807–1814).
The Route to Pico de Veleta
Starting just outside Granada at an altitude of 2,460 feet, the Pico de Veleta is a 26-mile road that rises to 11,148 feet, making it the highest paved road in Europe.
Because of this, it has become a famous hill climb for cyclists looking to test their endurance.
Because of snow, the route to the Pico de Veleta is only possible from May until October.
Rock Climbing in Sierra Nevada National Park
Whether you are new to the sport or a seasoned veteran, rock climbing in the Sierra Nevada Nations Park is something you have to do.
Blessed with over 300 days of sunshine and the possibility of ice climbing during the winter, the Sierra Nevada offers rock climbing year-round.
To make the most of your rock climbing in the Sierra Nevada, you will need a guidebook of the routes and a car to get around.
Visit Pampaneira – the Whitewashed Alpujarras Village
Nestled within the Poqueira Gorge, the whitewashed Alpujarras village of Pampaneira is often described as one of the prettiest villages in all of Spain.
Known for its colorful streets and gorgeous mountain vistas, Pampaneira is home to 340 inhabitants.
During the summer, thousands of tourists visit Pampaneira to witness its beauty and take home traditional handmade pottery and specialty food items.
Go on a hike to Almeria's highest peak, El Chullo
For anyone wishing to say they have climbed a mountain that was over 8,500 feet, El Chullo in the province of Almeria is an excellent place to start.
Located around a 1-hour 20-minute drive from Almeria or Granada, the 5.6-mile hike begins at the Puerto de la Ragua cross country skiing center.
This is one of the most spectacular hikes in southern Spain. It is also relatively easy as the trail only rises 600 meters in elevation.
The Moorish Village of Capileira
Anyone looking for a peaceful escape to the countryside will quickly fall in love with the Moorish Village of Capileira.
Looking as though it was transported to Spain from high in the Atlas Mountains, Capileira is a maze of colorful streets and archways.
With its laid-back beauty and charm, Capileira and the villages of Bubión and Pampaneira were designated as being an area of artistic and historical importance.
What to eat in Sierra Nevada Ski Resort
Lunch in El Club De La Montaña
Because it attracts visitors from Spain and around the world, you will have no problem finding a great place to eat lunch, Pradollano.
Located away from the busy center of town, El Club De La Montaña (The Mountain Club) offers dinners with a mixture of Spanish and international dishes at a price that won't break the bank.
Enjoy tapas in Tito Tapas
Located above the main square underneath Mont Blanc Hotel, Titos Tapas is an excellent bar to stop at for a drink and bite to eat after a day on the slopes.
Recharge your batteries with a delicious lamb burger or some hearty homemade meatballs, in a very cozy and welcoming setting.
Diner in Restaurante Moraima
If you want to have one of the best gastronomic experiences in the Alpujarras, a visit to the Moraima restaurant in Capileira is a must.
Serving homemade local dishes, you can't go wrong with ordering a delightful Spanish Migas, Patatas a lo Pobre or simply go for the three-course menu del dia.
Best Hotels in Sierra Nevada, Southern Spain
Sierra Nevada ski resort is a paradise for nature lovers and after spending your time hiking, skiing, or rock climbing you are going to need a comfortable place to rest and be spoiled.

To help you choose the best hotel, we come to your aid with the best Sierra Nevada hotels from luxury to budget ones.
Featuring just 21 rooms with private terraces El Lodge, Ski & Spa is a luxury hotel and spa with a unique chic feel.
Constructed from wood imported from Finland, the hotel offers its guests an exclusive place to stay in a fairytale-like setting.
The hotel features:
Gourmet dining in The Grill restaurant
The Sun Deck, a unique ski-in ski-out restaurant
The Bar an ideal place for a pre-dinner or late-night drink
The Lounge, a relaxing area with a roaring fireplace surrounded by leather Chesterfield sofas
An indoor and outdoor heated swimming pool
Sauna, Jacuzzi, and fitness gym
The ability to ski door-to-door
Take a look at reviews and prices here.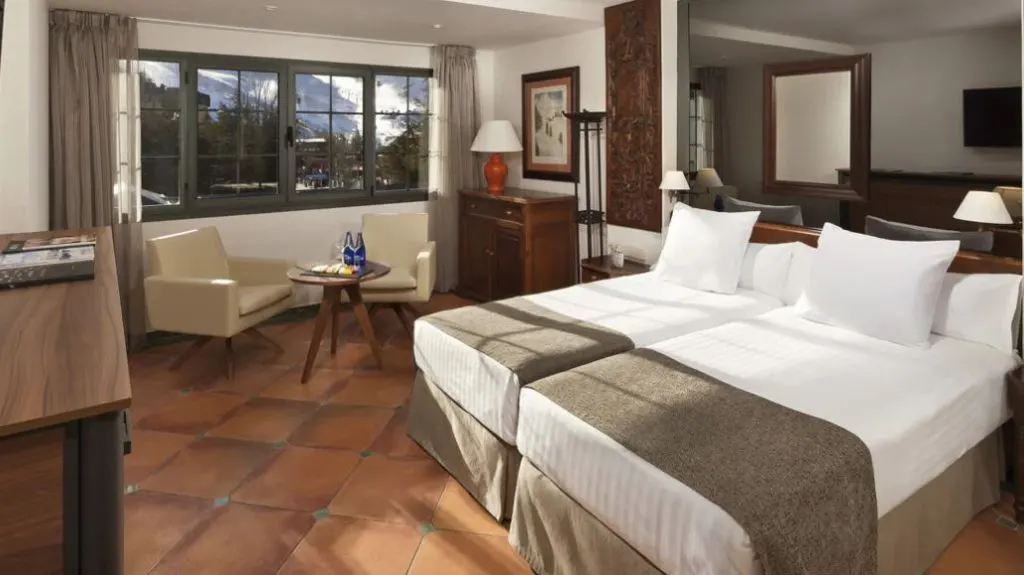 The centrally located 4-star Meliá Sol y Nieve is an avant-garde hotel designed to provide guests with a comfortable place to stay after a day of skiing.
Features at the Meliá Sol y Nieve include:
Ski-pass vending machine
Room service
Free WiFi internet throughout the hotel
Photocopying and printing service
Laundry and ironing service
Public car park with 200 spaces
Wellbeing massages and beauty treatments
Manicure and pedicure
Yhi Spa
Children's Club for kids between five and 12
Games room with pool, table football, and video games
Book your stay at Meliá Sol y Nieve here.
Despite being located over a mile above the village of Pradollano the Apartamentos Boabdil offers guests a selection of modern apartments and secure underground parking close to the ski station and lifts.
Ideally suited for families and people looking for quality accommodation on a budget, the Apartamentos Boabdil offers excellent value for the money.
The Boabdil Apartments also offer the rental of ski equipment and sell passes for the slopes.
Features at the Boabdil Apartments include:
Kitchenette
Towels & linens
Flat-screen TV
Cable channels
Satellite channels
Free WiFi
Secured parking
Ski-to-door Ski pass vendor
Ski equipment hire on site
Photos & Prices can be found here.
Getting Around Sierra Nevada
While it is possible to get to the Sierra Nevada ski resort by bus from Grenada, you are better off hiring a car to explore the region's pretty white villages and scenic attractions.
In Pradollano, finding a free parking place can be difficult but there are a few private parking garages so you can leave your car there.
In case you need to take the bus, Tocina runs three buses every day throughout the ski season, at 08:00, 10:00, 15:00, and 17:00. The roundtrip fare costs 9.00€ and takes approximately 45 minutes.
Also, take into consideration that at night can be difficult to travel and the most convenient choice would be taking a taxi.
---
Short FAQ about Things to do in Sierra Nevada Ski Resort
What is skiing like in Sierra Nevada?
The Sierra Nevada Ski Resort is good for beginners and intermediate skiers. What people will like most about the resort is the modern equipment, number of runs, and the length of some of the slopes.
If possible, try to ski mid-week, and you will have no waiting time for the lifts. On weekends and holidays, the place can seem a little packed. Before you go, check the weather forecast as high winds can force the resort to shut down.
How many ski resorts are in Sierra Nevada?
Not counting on places where you can go cross country skiing, there is only one ski resort in the Sierra Nevada, located in Pradollano.
What is there to do in Sierra Nevada if you don't ski?
Other than skiing, the Sierra Nevada has many other winter sports and fun activities that you can enjoy.
Visit Mirlo Blanco in Pradollano village to ice skate or rent a sled for the day. If you are not the active outdoor type, spend your time relaxing at a health spa.
---
---
Hola, I'm Paulina! Together with my team, we are passionate about Southern Spain. Here we share all you need to know for great times in Southern Spain with the best places to visit, stay and, of course, the best food to eat.
Let's dive in and explore Southern Spain's outdoors, food and culture con pasión!