Guide to the best hiking trails near Malaga to satisfy your wanderlust
Autumn has arrived in all its colorful glory – even in Andalusia, which is mainly known for beach life and summery sangrias.
The inland's autumn color palette and the mild temperatures make this the perfect season to explore the best hiking trails near Malaga.
From easy hiking trails, the whole family can enjoy without anyone lagging behind, to the area's most challenging top trails, the Malaga region is a paradise for experienced and amateur hikers.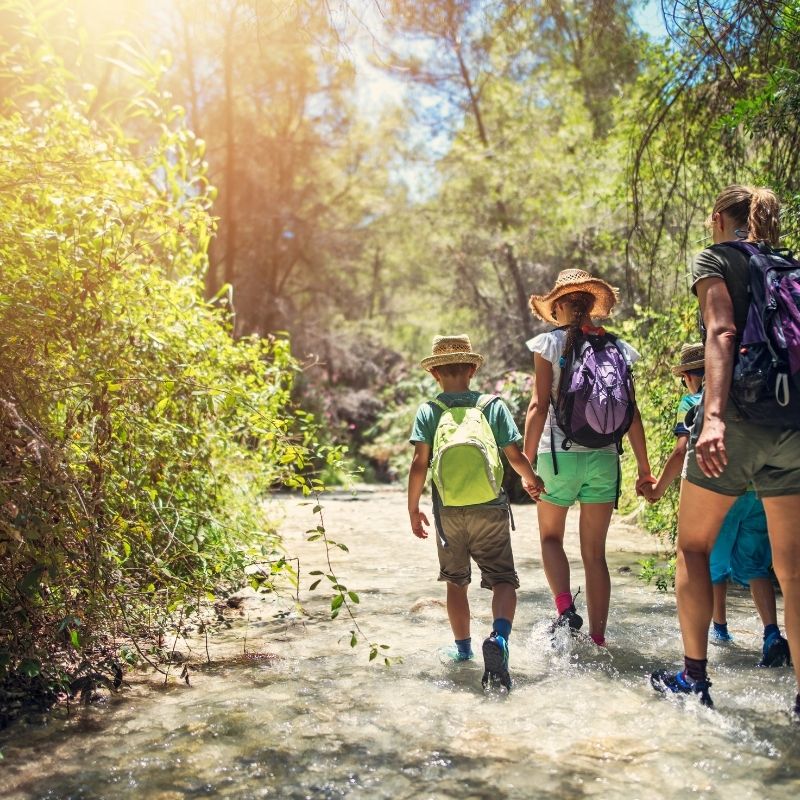 This blog is supported by you, dear reader. If you purchase through a link, we earn a small commission. As an Amazon Affiliate, we earn from qualifying purchases.
And, obviously, you don't have to wait until the fall to hit the trails. It's all about personal preference. Any time is good, except for August – unless you're a hardcore hiker!
Ready to get inspired to plan your next routes? Here are some of the most amazing places to go hiking in the Malaga region.
Top Best Hiking Trails near Malaga
Caminito del Rey
Ribera del Guadiaro
El Candado Urban Trail
Pico del Cielo
Peak of la Concha (Marbella)
La Maroma
Useful Travel Information About Malaga
✈ Book cheap flights to Malaga with Skyscanner

⚘ Avoid tourist traps and get the customizable "Andalucia Like a Local" itinerary. – Get it here

✔ Book tours in Malaga with GetYourGuide

➳ Find the best hotels in Malaga with TripAdvisor

❖ Rent a car with at the best rates with DiscoverCars

✎ Never leave without travel insurance! I got mine at SafetyWing. It is easy to set up, cheap and reliable.

$ Withdraw money without hidden fees and avoid exchange charges with TransferWise (Free Mastercard debit card to spend money abroad)
What to Expect from the Best Hiking Trails near Malaga
Driving along the coast, you wouldn't believe that further inland – up the mountains and into the forests – lush vegetation, different plant varieties, and majestic trees await you.
Some of the most attractive places to walk will surprise you in that, they harbor a completely different vibe and environment to the dry and sandy colored coast.
The Ardales and El Chorro, for example, offer forest and mountain areas bathed in green, even during the height of summer, and a pretty view of the turquoise and blue lakes.
You can find all ranges of difficulty on the hiking trails in and around Malaga, so you'll never be lacking for a wonderful day out, whether you're traveling solo or in a group.
Best Hiking Trails near Malaga
Guadalmina Channel
If you want to hit one of the most popular local hiking trails and get to know one of the prettiest pueblos on the coast, then be sure to plan a day walking along the Guadalmina Channel in Benahavis.
Benahavis is a charming inland pueblo nestled in the hills between Estepona and San Pedro, just a ten-minute drive from the beach, offering you the best of both worlds.
Here you'll find the Guadalmina Channel route, an easy trail leading you along the irrigation canal and over a picturesque wooden bridge overlooking the Angosturas gorge.
If you're planning a weekend trip around this trail, check yourself into the Amanhavis Hotel – a unique accommodation with cozy, themed, and decorative rooms.
Drive up towards Benahavis and park by the bridge (you will see signposts) to start one of the best hiking trails near Malaga.
Are you a canyoning enthusiast? You can sign up for a guided tour that explores the beauty of the Guadalmina Channel. – Get your guided tour here.
Opening times: 24/7
Caminito del Rey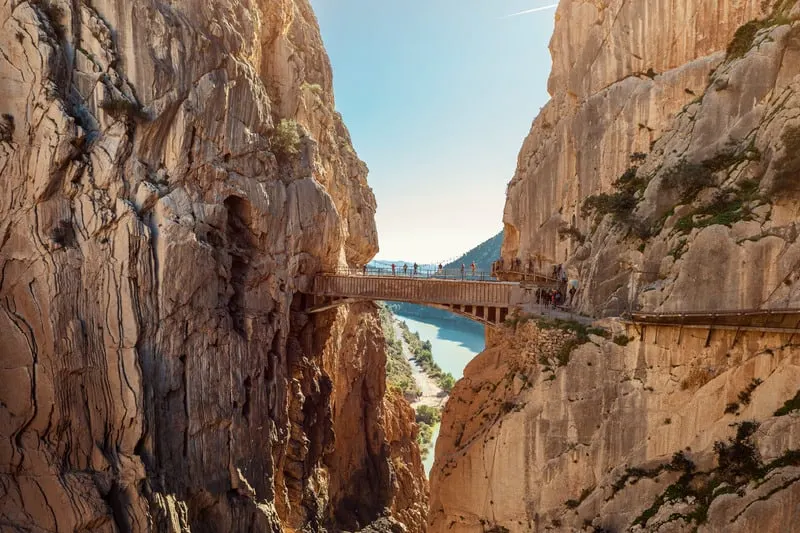 If you want to feel like an extra in an adventure movie a la Indiana Jones, head to the Caminito way – one of Malaga, Spain's most popular hikes and one of the best things to do in Malaga in October.
The Caminito del Rey, Malaga is set in a stunning natural environment close to the town of Alora and just after the Ardales lakes. Overlooking El Chorro, it offers some awe-inspiring views…
…unless, of course, you suffer from vertigo. Then this walk can be, quite literally, breathtaking.
What was once known as one of the world's most dangerous hikes, has been renovated to offer full security – even so, it is definitely not for the faint of heart.
To avoid disappointment, reserve your spot on a guided walk well in advance, as bookings go fast, especially during the high season (March – October).
To get to the Caminito, you can take a train from Malaga to Alora, and up to El Chorro.
Seeing as the Malaga weather is usually warm all year round, you can never go wrong with bringing along some swimming gear too. – Get your guided tour here.
Opening times:
Tuesday – Sunday 10 AM – 2 PM, 4 PM – 6 PM
El Torcal de Antequera
For truly spectacular hikes in the Malaga area, you can never go wrong with a visit to El Torcal, near the idyllic town of Antequera.
This Jurassic environment with its unique stone formations has its own special vibe – and many different hiking routes for all levels.
For an unforgettable magical experience, you can even opt to book a guided tour through El Torcal at the full moon and, if you're lucky, you might hear the wolves of the nearby Lobo Park howling at it.
Head into the town of Antequera and follow the signs to El Torcal or Villanueva de la Concepción. -Get your guided tour here.
Opening times:
November – March, 10 AM – 5 PM
April – October 10 AM – 7 PM
Rio Chillar – Nerja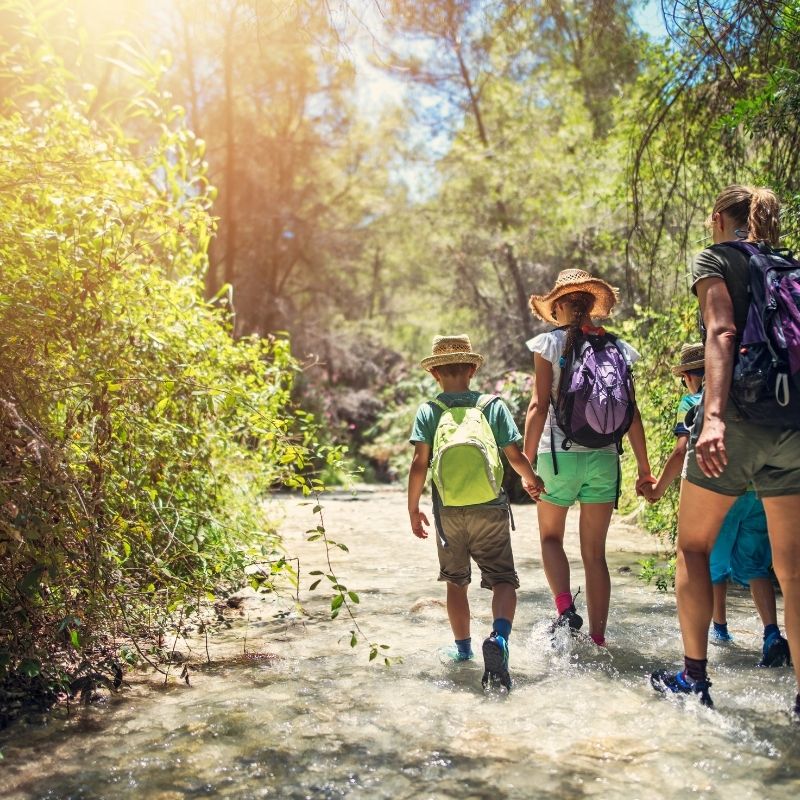 When in Malaga Spain, don't miss out on the opportunity to go on an adventurous hike along and through the Rio Chillar in Nerja – a fantastic day out for anyone looking for a different kind of hiking experience.
The Rio Chillar, which runs through one of the best natural parks near Malaga – namely the Tejeda, Almijara, and Alhama Nature Reserves – attracts people from all over the world.
Book a guided tour if you're looking to do the entire trail to Vado de Los Patos, its natural pools and waterfall (8KM), or stop when you reach the first pool at around 5 KM.
The second option is highly recommended for those hiking with kids or people who require easy paths. The route to Vado de Los Patos is quite tricky with climbs and lots of water hiking.
From Nerja, make your way to Calle Mirto, where you will find a public parking area just a 15-minute walk from the Rio Chillar trail.
Opening times: 24/4
Ardales to El Chorro
If El Chorro is the main event, think of the Ardales as your appetizer – a wonderful lake environment inland of Malaga, it invites relaxing walks and picnics throughout the year.
Once you reach the Ardales from Alora, you can take a left turn down towards the lakes in various locations, and park there.
The good thing about Spain, walking trails aren't necessarily addressed as such, so often – as is the case here – you are encouraged to wing it.
You can either opt to follow the Sendero Ruta del Nueve trail towards El Chorro or, simply trust your instincts, keep walking in the direction of Caminito del Rey, Malaga, and hope for the best.
You can't really go terribly wrong here!
Opening times: 24/7
The Arab Stairway
While you're already here exploring the Ardales and El Chorro, you cannot possibly leave without having hiked up to the Arab Stairway to enjoy fabulous views.
There's a reason why you'll find the Escalera Árabe on any Malaga, Spain map – it's historic, makes for a wonderful family hike, and offers plenty of picture opportunities.
If you get to El Chorro by train from Malaga's Maria Zambrano train station, you're already on the right track. Just exit the El Chorro station and walk towards the bar.
From here you'll see two roads forking – follow the one to the right and you're on your merry way. You will find signs along the rest of the way.
Caution: if you're planning to bring your dog along for the walk, avoid doing so between January and May when the very dangerous procession caterpillars are out and about!
Opening times: 24/7
Ribera del Guadiaro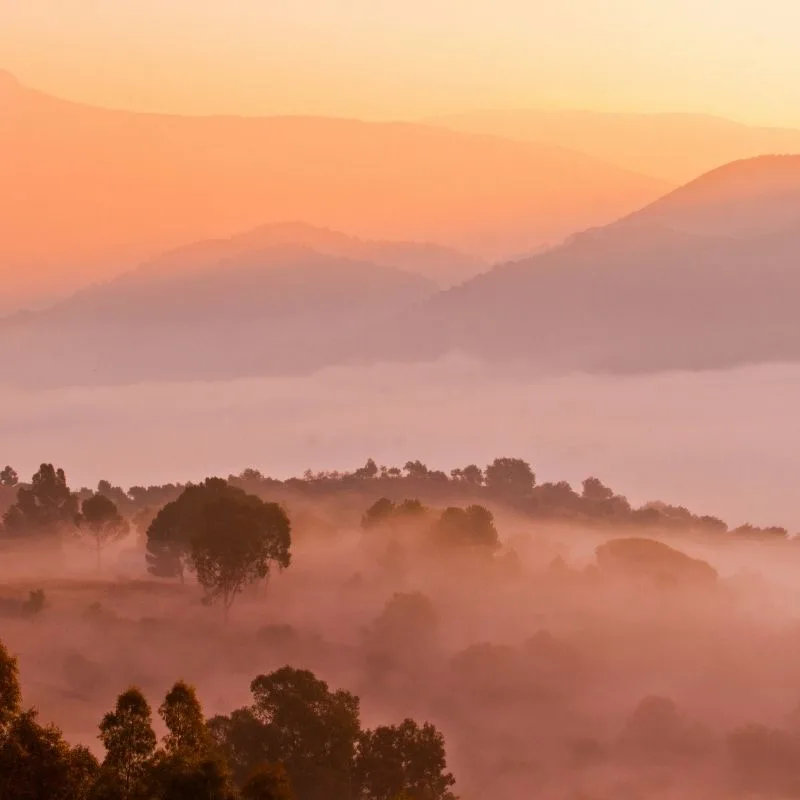 Starting from the bridge of the Guadiaro River, this scenic route makes for a fantastic hiking area between Estación de Benaoján and Jimera Estación.
This is a great route for those who are not up for a more challenging mountain trail as it is mostly flat with few descents along the way.
The Ribera del Guadiaro route spans 9km in total and is recommended almost any time of the year. It is a lovely walk to the sound of the cascades.
To make the most out of this, one of the best hiking trails near Malaga, Spain, head to Ronda for a visit first, then down towards Benaojan via Cueva del Gato.
Opening times: 24/7
El Candado Urban Trail
Here's another one of the best hiking trails near Malaga for you – and this one not only happens to be the first phase of the Gran Senda de Málaga, but it's also a hike of a different kind.
Why? Well, for one, a great portion of it is rather urban, unlike most of the trails around here which take you through Campos, lush vegetation, and along rivers.
On this route, you'll enjoy sea views and a stroll along with enclaves such as El Cantal and Peñón del Cuervo. This is an ideal walk for families and swims breaks!
This hike starts on Malaga's paseo Maritimo from the Calle Pacifico – like we said, very urban!
So if you fancy a tortilla de patatas or a traditional Spanish Migas upon your return, you're bound to find it here.
Opening times: 24/7
The Peaks of the Sierra de Almijara
People think of Spain and they think of beach bumming, people watching from busy cafes in busy plazas, or dancing the night away at the local ferias.
But there is so much more to Andalusia – there is a whole world awaiting you inland of Andalusia, a whole world of mountain hiking to explore.
If you're up for the challenge, make your way to the peaks of the Sierra de Almijara – known as Cerro Lucero – at a height of 1. 774 meters. It is a great way to spend a Sunday.
With killer views and eerie ruins from the Guardia Civil's barracks dating some thirty years back, it is an interesting route – but not one for amateurs. This one takes a seasoned hiker!
The Lucero mountains trails can be accessed from Competa or Canillas de Albaida, from where the route will take around six hours one way.
Opening times: 24/7
Fuente del Esparto
One of the lesser-known hiking areas, but one that is nonetheless worth visiting, is located near Nerja.
Fuente del Esparto is a loop trail, an insider's tip that attracts the adventurous breed of hikers.
Part of the route runs along a river and leads all the way up to the natural viewpoint, La Puerta, a platform situated at 1.200 meters above sea levels.
Overlooking the Chillar valley, this definitely makes for a fabulous picnic opportunity – a place to take a break, have a sip of water or tea from your thermos and drink in the views.
To start this trail, park at the El Pinarillo recreational area, and take a left up towards the Cuesta de Los Galgos.
Opening times: 24/7
Puerto de la Caleta Loop Trail
Get the kids to abandon their screens and come up for some air by taking them out on the La Caleta – Puerto de la Caleta loop trail, starting in Torre del Mar.
This is one of the best hiking trails near Malaga to enjoy with the whole family – from the teeny tots to the abuelos, this walk is a great choice for all levels of fitness, all age groups.
Starting next to the Plaza de la Plaz parking lot, this trail leads you along Velez-Malaga's nicest beaches, through Torre del Mar, and the beautiful La Caleta Vélez fishing port.
This walk is around 3.5 kilometers and is pretty much flat, in other words, the kind of trail you'll enjoy even on a hot summer's night when the terral is at its most brutal.
Opening times: 24/7
La Concha, Marbella
Sure, a day out in Marbella should always form part of your Malaga holiday itinerary.
But once you've seen all there is to see in town and along Puerto Banus, it's time to see it all from a different perspective.
Namely from atop La Concha, the mountain that overlooks Marbella and offers some of the best hikes at varying levels of difficulty.
You can adapt the route depending on whether you're hiking solo or with kids.
Start the trail from Refugio de Juanar in Ojén (where you can also park), and pass through the beautiful olive groves before being led up the path to La Concha.
Don't forget to come prepared: bring plenty of water and sun protection, even during the mild Andalusia weather in winter. There's not much shade here and the Spanish sun is fierce.
You will be passing through many pine tree areas, so if you're planning on bringing your dog along on the hike, avoid the months from January to May. Procession caterpillars alert!
Opening times: 24/7
Monumento Natural de la Cueva del Gato
The Sierra Grazalema is home to some of the best hikes in Andalusia and the most wonderful natural treasures.
This includes the Cueva del Gato, a cave-like natural spring that looks as though it could be located on the island of the ABC hit TV series, Lost.
Located between Montejaque and Benaojan, this trail makes for an exciting day out for the whole family.
Children will love the mystery of the cave and the many (cold!) swimming holes welcoming a splash around.
Known as a place bandoleros used for their smuggling practices, it is also home to cave paintings dating back as far as 14,000 years. This is a hike with history!
A good starting point for this trail is from the village of Benaojan, where you can return to for some tapas and a refreshing Cerveza.
Opening times: 24/7
Lovers' Rock, Antequera
If you like your hiking pleasures served with a side of romantic tragedy, head up to the Peña de Los Enamorados (Lovers' Rock) mountain in Antequera.
Legend has it that, young lovers from rival clans, threw themselves off the rock so they could be together for eternity in peace – quite Shakespearean, really.
So, if you're looking for free things to do in Malaga on Valentine's Day, something that doesn't involve your typical dinner and chocolate, head here for one of Malaga's best hiking trails and beautiful wildflowers.
You can park at the Cortijo Caracate along the way, or find off-road parking en route.
Opening times: 24/7
Pico del Cielo
For one of the best hiking trails near Malaga, you can't possibly go wrong with a route that challenges you to reach the "peak of the sky".
Pico del Cielo, a mid-level trail in the Sierra de Almijara mountain range, offers stunning 360-degree views with an altitude of 1508 meters above sea level.
Trust us when we say, it doesn't really matter when you decide to brave the climb, you should always carry a windbreaker in your backpack – it can get chilly up here even in the summer.
The last bit to the actual pico is a bit tricky. A rocky, steep path with no sidewalls to help you up, forces you to work hard to get to your ultimate goal – and it's so worth it!
Caution: this hike leads through areas populated by pine trees, procession caterpillar alert!
To get here, use Cuevas de Nerja as your starting point and follow the signs by car until you reach the parking area.
Opening times: 24/7
La Maroma
Sometimes there's nothing better than setting yourself a goal, to make a dreamlike hiking the highest peak in Malaga come true.
Working towards and completing a challenge as such can be absolutely exhilarating, it's a true gift for body, mind, and soul. So, what's keeping you? La Maroma awaits you!
With a choice of three different routes ranging from easiest, hardest, shortest and longest, you can set your own pace up to the peak of 2066 meters.
You can commence your famous Spain hike trail from either Alhama de Granada, Sedella, or Canillas de Aceituno, all of which are recommended for their own unique charm.
Opening times: 24/7
Mirador de las Buitreras and Pico del Convento
Whenever you're looking for a day out walking some of the best hiking trails near Malaga, you're bound to find your way back to Ardales at some point or another.
And it's hardly surprising, is it? This wonderful natural environment with its own mountainous range, its lakes, and its trees, offers the perfect getaway from the bustling coastal cities.
The 7.1 km hike up to the Mirador de las Buitreras – Pico del Convento is an incredible route for birdwatching, and can be easily combined with an afternoon of swimming.
You'll also be happy to know that, after all that exercise, you have the Cascades Restaurant waiting to serve your local specialties.
Opening times: 24/7
Best Hotels in Malaga, Southern Spain
Now that you have familiarized yourself with all the best hiking trails near Malaga to Marbella and beyond, it's time to start looking into where to set up a base for your stay.
We recommend staying in Malaga for a perfect fusion of daily nature walks and nightly shenanigans in the city. Wondering where to stay in Malaga? Look no further!
Here are some superb suggestions for every price range.
Overlooking the Alcazaba and the Castillo de Gibralfaro, the AC Hotel in Malaga with its spectacular roof terrace and top-notch restaurant is an excellent choice for luxury dwellings.
From here, you can reach the Malaga Cathedral in minutes, and you'll never have to rush to get to the port for unbeatable sunsets either, it's that close.
After all, that time spent in your hiking boots, you'll be happy to enjoy a little dress-up time and hit the Larios shopping street and treat yourself to something nice – be it clothes or tapas.
It's all happening right outside your hotel's doors!
Check out reviews & prices here
If you prefer having your own apartment in the city, allowing you to live your best holiday life independently and without having to adhere to hotel hours, Apartamento Malaga Centro is a good choice.
When it comes to hiking holidays, it's always a good idea to opt for self-catered accommodations with your own kitchen.
This way you'll be able to prepare healthy provisions for your day out, and have breakfast before the crack of dawn – the best time to head out for a long hike.
Located within walking distance of La Malagueta Beach and the Museum of Glass and Crystal, Apartamento Malaga Centro comes with everything you need for a comfortable stay, including free WiFi.
Book your stay here.
Warm, modern, and welcoming, the Madeinterranea Suites is a fabulous budget hotel just 2.8 km from Misericordia Beach, that offers a popular continental breakfast.
Everything is set for you to rest your tired feet on a comfortable bed in an allergy-free, air-conditioned room with spacious showers and a TV.
The area in which the hotel is located also happens to be close to the Jorge Rando Museum which is definitely worth a visit, and the Gibralfaro Viewpoint which is an absolute must.
Find Madeinterranea Suites' offer here.
How to Prepare for a Hike
To ensure you are properly prepared for your hiking adventures in Andalusia, you should never hit the trail without:
Sunscreen and a hat/cap
A windbreaker
Plenty of drinking water
Light snacks (healthy sandwiches such as the Spanish sandwich, fruit, trail mix, etc.)
Head torch
Comfortable clothing and good shoes
It is also always a good idea to have a map to refer to, and seeing as you won't always have a signal on your phone, you might want to think ahead and print it out, old-school style.
Map of Best Hiking Trails near Malaga
---
What mountains are near Malaga?
Around Malaga, you can find a variety of mountains. There are the Montes de Malaga, the Sierra Almijara, Sierra Bermeja, Sierrania de Ronda and many more.
Can you walk in Malaga?
Yes, you can walk in Malaga! There are many great walking opportunities for all levels of fitness and experience in and around Malaga.
How difficult is Caminito del Rey?
The trail itself isn't difficult and very safe. However, if you suffer from vertigo, Caminito del Rey could prove to be challenging.
---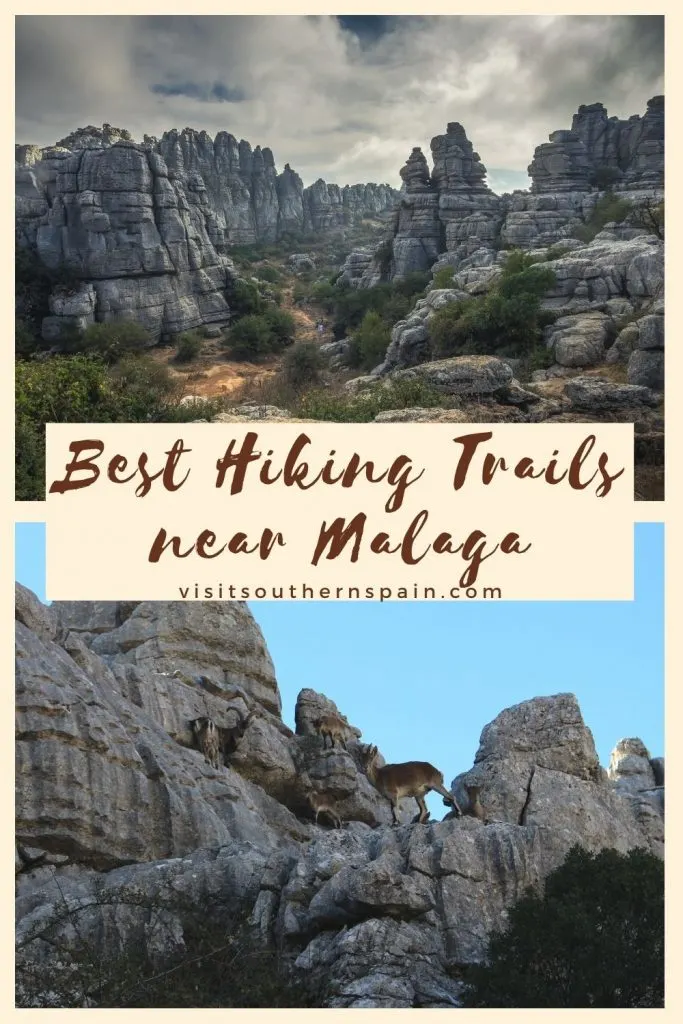 ---
Hola, I'm Paulina! Together with my team, we are passionate about Southern Spain. Here we share all you need to know for great times in Southern Spain with the best places to visit, stay and, of course, the best food to eat.
Let's dive in and explore Southern Spain's outdoors, food and culture con pasión!