A complete guide to the best hikes in Andalucia to help you better navigate the paths.
Andalucia is a hiker's paradise and not only is the region one of incredible natural beauty but it is also littered with brilliant hiking trails.
Within this article, we'll look at some of the best hikes in Andalucia to help you with your planning.
We'll explore everything from easy, relaxed hikes over kind terrain, to extremely challenging difficult hikes that are strictly for the hiking hardcore.
This blog is supported by you, dear reader. If you purchase through a link, we earn a small commission. As an Amazon Affiliate, we earn from qualifying purchases.
Andalucia has varied terrain and cultural diversity and it also has some of the best hikes in the world, so let's jump straight in and take a look at them.
OVERVIEW: Best Hikes in Andalucia
If you're planning a hiking trip or hiking vacation, or just want a few days of physical activity during your trip, make sure to check out some of the best hikes in Andalucia:
Best Hikes in Andalucia – Easy Hikes
1. Torcal de Antequera, Malaga
If you like hikes with a view and are wondering where to hike then look no further.
Torcal de Antequera is one of the most sensational adventure hikes you could ever possibly encounter.
If you're going hiking in Spain then the otherworldly landscapes of the Torcal de Antequera should be near the top of your must-do list.
The views out over the sensational rock formations are an absolute wonder. Couple that with beautiful countryside and you're onto a winner.
Opening times: 24 hours
2. Serranía de Ronda, Ronda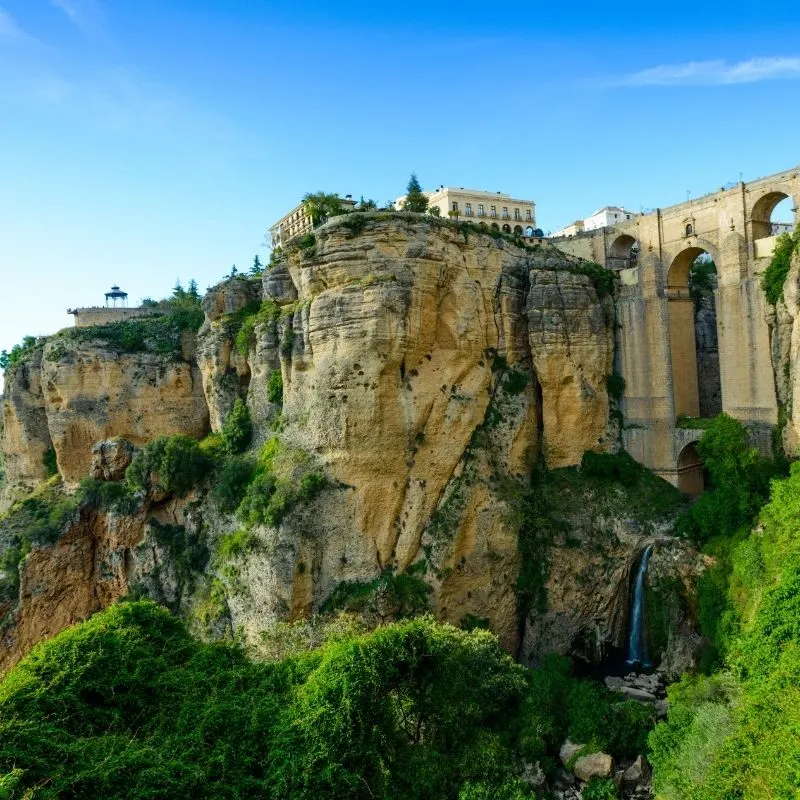 Are you looking for scenic walks with good views?
Then you're in luck. The Serrania De Ronda (Ronda Mountains) are packed with trails that offer some of the most sensational views you're ever likely to encounter.
One thing to be aware of is that in the summer months here it can (read, will) get extremely hot. Far better to go in the cooler months.
After all, this is one of the finest reasons to visit Andalucia in winter.
Opening times:
Anytime except for July and August
3. Sendero Cueva de Nerja-Almijara, Nerja
If you're seeking out an easy hike (more of a walk really), then the Sendero Cueva de Nerja-Almijara is probably the most suitable trail in Spain for you.
Located just outside of beautiful Nerja, this loop trail is less than a mile and a half and follows a route around the famous caves that are located nearby.
It's a very popular trail so expect to see lots of other walkers, and prepare yourself for some sensational views from above the caves.
Opening times: 09:30 to nightfall
4. Ruta De Aracena, Huelva
The Ruta de Aracena, Huelva, set within the stunning Parque Natural Sierra de Aracena, offers one of the best hikes in Andalucia.
While there are various trails throughout this region, the seven miles long circular Ruta de Aracena is by far the most popular, and it's easy to see why.
You'll go through fruit orchards and woodlands and pass through some fascinating villages as you trek through the mountainous terrain.
It's almost as if time stood still around here.
Opening times: 24 hours
5. Pico Terril, Seville
If you want to go hiking in the Spanish mountains but are looking for something that is not too challenging, then Pico Terril in Seville is one of the best mountains to visit for this.
The main trail here sets out for a place on the road between Pruna and Algamitas. The trail will take around 3 to 4 hours.
So if you want to get out into the mountains, yet want easy hiking trails, outdoor trails like that at Pico Terril fits the bill perfectly.
Opening times: September to May
Best Hikes in Andalucia – Moderate Hikes
6. El Chullo, Almeria
El Chullo is the highest peak in the province of Almeria and as such, provides some great, if moderately challenging hikes.
The most popular of which is a nine-mile circular route that sets out from Puerto de la Ragua and takes around five hours to complete.
A highlight of this route is that it takes you past Laguna Seca (named Dry Lake as it dries up in the summer exposing stunning rock formations), one of the best lakes in Andalucia
Opening times: 24 hours
7. Parque Natural del Cabo de Gata-Níjar, Almeria
The Parque Natural del Cabo de Gata-Níjar national park is an area of stunning beauty.
The craggy rock formations (formed by magma flows running into the sea thousands of years ago) and the pristine Mediterranean coastline makes for a great variety for hikers.
The finest route is an eight-mile round trip beginning at either Los Escullos or San Jose.
The route will take you through some sensational landscapes and introduce you to a plethora of weird and wonderful flora and fauna.
Opening times: 24 hours
8. Tajo de las Palomas Loop from Monachil, Granada
The Tajo de las Palomas Loop from Monachil is a five-mile loop trail that requires an intermediate level of hiking proficiency to consider setting out.
One of the beauties of this place is the solitude that you'll find here. While the gorge area does get quite crowded, particularly during the high season.
However, once you get away from that area, you'll find yourself surrounded by…no one!
You can even see all the way to Granada on a clear day.
Opening times: 24 hours
9. Sierra Crestellina, Malaga Province
If you like mountain hiking and are seeking out mountains in Spain on which to indulge your passion, then the Sierra Crestellina is a great option for you.
The views you will encounter on any mountain hike in this area are staggering.
You'll be able to see out over the famous pueblos blancos (white villages) all the way to the Mediterranean coast and the Rock of Gibraltar.
The white village of Casares is the epicenter of all things hiking around here, so make a beeline for it and then get your boots on.
Opening times: Late September to May
10. Marbella Overlook, Malaga
This moderately difficult hike is perfect if you love great views.
The only thing that makes this relatively short hike moderately difficult is the hills you will encounter on the uphill section.
The circular route will take you up into the hills overlooking the bustling glamor of Marbella.
Once there you'll encounter a different world of pueblos blancos and stunning countryside.
The views from the top will make all that effort worthwhile.
Opening times: 24 hours
11. Cerro Fuente del Perro, Malaga
This coastal hike runs for approximately eight miles and takes you past a host of attractions along the way.
Along the route, you'll encounter the sensational El Águila aqueduct, the beautiful village of Maro, and the stunning Barranco de la Coladilla gorge.
The route will take you around four and a half hours to complete and is worth every minute as you stroll through lemon groves, lavender bushes, and hibiscus blossoms. You can even relax in a chirunguito at the end.
Opening times: 24 hours
12. Rio Cerezuelo, Jaen
Setting out from the picturesque village of Cazorla, this hike along the Rio Cerezuelo (Cerezuelo River) is a beautiful way to spend a morning or an afternoon (it will take you around two to three hours to complete).
Along the riverside route, you'll discover numerous small waterfalls, as you traverse through the lush vegetation.
There are wooden rails and bridges along the way to ensure safety and it's difficult to get lost as all you have to do is follow the river upstream.
Opening times: Year round
13. Sendero Repilado to Los Romeros, Huelva
This out-and-back trail runs for just over eight miles and should take around three hours and forty-five minutes to complete, at a reasonable pace.
This is another riverside walk with small cascades among the lush vegetation of the surroundings. Be aware though, swimming in the river here is not allowed.
It's also worth noting that none of the villages along the route have accommodation options so you'll need to stay elsewhere if you're planning on taking this one on.
Opening times: Year round
Best Hikes in Andalucia – Difficult Hikes
14. Pico Gilillo, Jaen
If you're looking for a long hike, then there's one Spanish hiking trail that will take you all day to complete; the accent of Pico Gilillo.
This hike sets out for the village of Cazorla, before heading sharply up into the mountain range of the Sierra de Cazorla.
If you manage to scale the peak (most don't, giving up along the way!), you'll be in for some spectacular views akin to those from an airplane.
Opening times: Year round
15. El Saltillo, Malaga
If you're a lover of the pueblos blancos (the beautiful white villages in Andalucia) then one of the best walks in Spain for you is undoubtedly El Saltillo in the province of Malaga.
This is not a hike for those who suffer from vertigo as it takes you along Spain's third longest suspension bridge, a staggering eighty yards above the ground!
There are also a couple of suspension bridges that hang along the vertical walls of the region's cliffs. In a nutshell, don't tackle this one if you don't like heights!
Opening times: September to mid-June
16. Sierra Nevada and its Wonderful Hikes, Granada
The magnificent Sierra Nevada is home to some of the most awesome mountains in Spain and is scattered with some of the most challenging hiking routes that the region has to offer.
The beauty of hiking these routes is that you can base yourself on the spectacular Costa del Sol, from where it's only a short journey to reach the best mountains.
So if you like extremely challenging long hikes, then get yourself a Spanish mountains map and head out into the Sierra Nevada.
Opening times: Year round
17. Bonales, Huelva
Bonales peak is actually the smallest of the region's mountains. However, the ten-mile walk to the top and back makes for a relatively challenging experience.
You'll go through farmland and oak forest on your way to the summit, from where you will be presented with absolutely sensational views.
Not many hikers attempt this out-of-the-way route, so make sure you have a good map or GPS as it's not always signposted so well. It should take you around five to six hours.
Opening times: September to mid-June
18. El Caminito del Rey, Malaga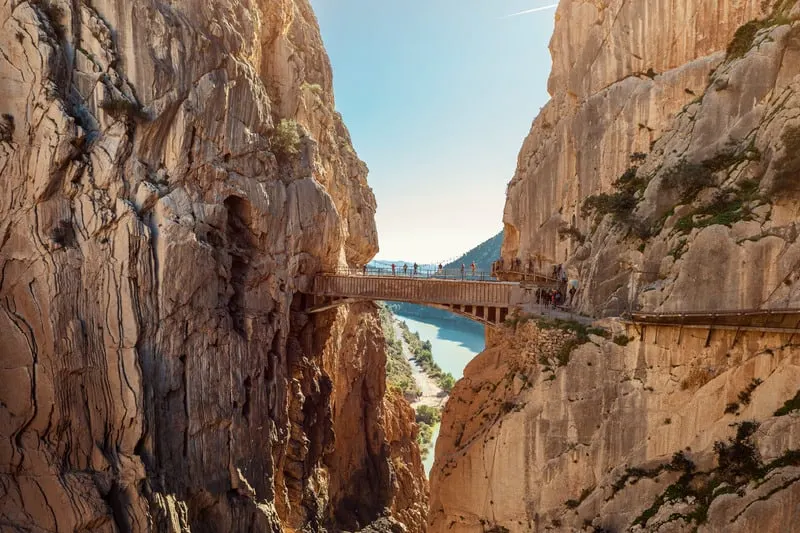 If you suffer from vertigo, then don't consider attempting El Caminito del Rey, one of the most famous hikes in Spain.
If you're looking for a hiking adventure then the walkways of this route are attached to the side of steep cliffs hundreds of feet above the sea.
This is definitely not for the faint of heart!
Should you be brave enough to attempt this five-mile trail you'll find stunning views over the sea as you move through the Desfiladero de los Gaitanes, a gorge carved out by the river Guadalhorce.
Opening times 09:00 – 18:00
19. Route From Conil To Roche Lighthouse, Cadiz
If you're looking for hikes in Spain that have it all, then the route from Conil to Roche Lighthouse, Cadiz has a beach, mountains, and much more.
The route runs for just over seven miles and will take you through areas of outstanding natural beauty as you make your way to Roche Lighthouse
You'll go along clifftops and walk through golden sand coves en route, taking in the magnificent coastal views.
Opening times: Year round
20. Subida Al Aljibe (Path Up The Aljibe), Cadiz
At just under nine miles there and back, the Subida Al Aljibe (path up the Aljibe) is one of the best hikes in Andalucia.
The trail sets out from just outside the town of Alcalá de Los Gazules and will take around five hours to complete.
There's a lot of climbing involved along this route so don't undertake this one if you're not prepared for that.
It can get extremely windy too as you reach higher altitudes so make sure to prepare well for that eventuality.
Opening times: Closes during hunting season (check locally for details)
Things to Know About the Best Hikes in Andalucia
While a large province with richly varied terrain and culture, Andalucia has long been synonymous with over-tourism and its inherent ills.
As a result, in recent years, local authorities throughout the region have been attempting to shed this image and rid themselves of some of the worst effects of over-tourism.
One of the ways in which they have approached this is through the promotion of more sustainable forms of travel such as hiking.
As part of this initiative, the authorities have invested heavily in hiking trails throughout the province.
Therefore, you'll find that many of the trails today are particularly incredibly well-maintained and clearly signposted throughout the routes.
Andalucia also has a magnificent transport infrastructure, making even the most remote of trails relatively easy to get to.
In addition to the southern Mediterranean climate, with year-round sunshine, this makes for a great environment in which to explore the best hikes in Andalucia.
Check out the weather in Andalucia guide to learn more about the climate and weather in Southern Spain.
Southern Spain is also famous for its beautiful cycling routes so if you want to have the best cycling in Andalucia, rent a bike or bring your own and start exploring.
How To Get Ready For The Best Hikes In Andalucia
If you're looking to get out amongst nature then hiking in Andalucia is a great option for doing precisely this.
There are, however, a few things to bear in mind when preparing for any hiking excursion.
Firstly, Andalucia gets incredibly HOT in the summer months. Therefore, always exercise caution when attempting hikes, especially the more challenging ones at this time of year.
It's possibly best not to even consider many of these options during this period.
You'll also need to wear appropriate clothing and footwear when undertaking even the easiest of hikes in the region.
Also, ensure that you take along water and sunscreen (plus a good map or GPS for more off-the-beaten-path hikes).
While many of the hikes we've looked at are open around the clock, don't attempt them outside of daylight hours as you can end up in a whole world of trouble if you're trapped out in the wilds overnight.
One thing you must always do is to factor in plenty of time to complete your hike in daylight hours as many trails can become hazardous after dark.
Should you require rescuing, you are likely to be hit with a heavy bill so don't let that person be you!
Short FAQ about the Best Hikes in Andalucia
Which places provide the best hiking trails in Andalucia for groups?
If you're traveling in a group, then the best option in Andalucia is the Serrania De Ronda (Ronda Mountains) which are packed with trails.
If you have a 1 week itinerary in Andalucia you could undertake a different route every day.
Where can I go hiking in Malaga?
El Caminito del Ray is one of the most famous walks in the whole of Spain.
El Saltillo is another great hike within the province of Malaga.
What is the famous hike in Spain?
El Caminito del Rey, Malaga is undoubtedly the most famous hike in Spain and also one of the best hikes in Andalucia.
Don't attempt it if you suffer from vertigo though.
---
---
Hola, I'm Paulina! Together with my team, we are passionate about Southern Spain. Here we share all you need to know for great times in Southern Spain with the best places to visit, stay and, of course, the best food to eat.
Let's dive in and explore Southern Spain's outdoors, food and culture con pasión!