A guide that will help you find things to do in Malaga in October
If you've been considering an autumn trip to the Spanish coasts, then there are so many things to do in Malaga, Spain in October for all types of travelers and budgets.
When visiting Malaga in October you can expect a much more laid-back experience with a cooler climate.
Whether it's enjoying the many things to do in Malaga in October or simply wandering through the streets and soaking up the culture, you won't regret coming at this time of year.
Let's take a look at some of the best Malaga tourist attractions you can take advantage of this month.
This post contains affiliate links. If you buy via them, I'll earn a small commission which helps me to keep this blog running. As an Amazon Associate I earn from qualifying purchases. All opinions are my own.
Pssst…!!?? You can't get enough of Malaga? Have a look at my other posts:
Top Things to do in Malaga in October

Best Things to do in Malaga in October
1. Celebrate Pablo Picasso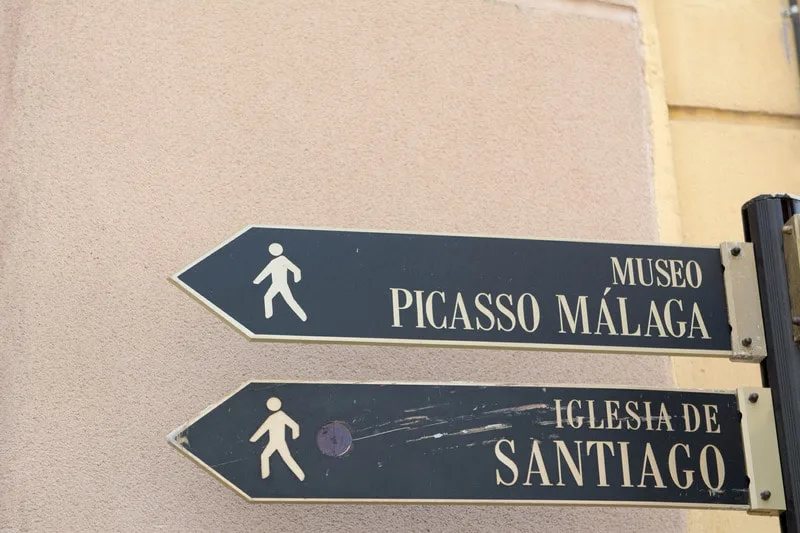 As the birthplace of this world-famous artist, it's no surprise that Malaga honors the life and work of Picasso on his birthday every year, the 25th of October.
There are always events and celebrations taking place, so why not indulge in a little abstract wonder and take in the museum? – Check out the guided tour here.
You can take in 14 of the artist's paintings, as well as over 40 of his unique individual drawings, plus multiple engravings and drawings from his sketchbook.
There are even some charming ceramic pieces hand-crafted by this famous Spaniard.
Visiting museums in Malaga is an especially good option if the weather decides to take a turn for the worse later in the month.
Opening Times:
The Picasso Museum is open from 10 a.m. to 8 p.m. in October.
2. A Unique Halloween in Malaga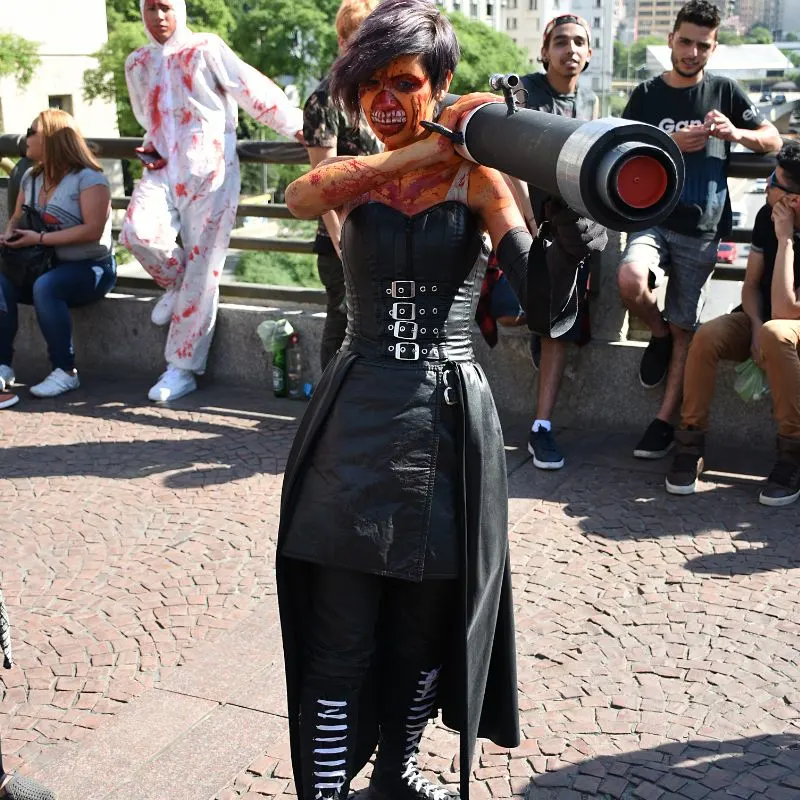 While Halloween is not a Spanish tradition, it has grown in popularity in recent yearsand Southern Spain Halloween traditions are even more interesting.
If you have young children then you are sure to find a themed event for Halloween in Malaga, from the guided tours after the sun sets in places like the Botanical Gardens, or stop by Muello Uno which has activities for kids and adults alike.
It's at this time of year that you can walk along Calle Larios and admire all of the window displays and head to the Soho district to partake in various activities and themed Halloween workshops.
The hotel you're staying at will also be able to point you in the direction of festivities in the local area as the festivities continue in the city for three whole days!
You can even experience the famous zombie walk in Malaga which takes place at the Plaza de la Constitution, a fun evening for adults and children wanting to dress up and experience the magic of the season.
Don't miss out delicious foods that are traditional for Halloween in Malaga like Huesos de Santo (Saint's Bones), buñuelos de viento (Spanish donuts), Pestiños with honey and obviously the famous roasted sweet potatoes.
Opening Times:
Aim to head out around 6 p.m. when most of the evening festivities start.
3. Go on a Hike to Montes de Malaga
The cooler Malaga October weather means that tourists can now enjoy walks which would have been a sweaty chore just a few weeks earlier.
Around 5km north of the city, you'll discover this nature park with trails leading you through pine forests and historical sites.
The best hiking trails near Malaga, like Montes de Malaga, El Torcal de Antequera or La Concha in Marbella are worth checking if you visit Malaga during fall.
No better way to experience the sights, sounds, and natural beauty of the Andalusia region with its abundance of flora and fauna. – Get your guided tour here
Opening Times:
Aim for an early morning start before the sun gains strength in the afternoon.
4. Adventure yourself into the Caminito del Rey Trail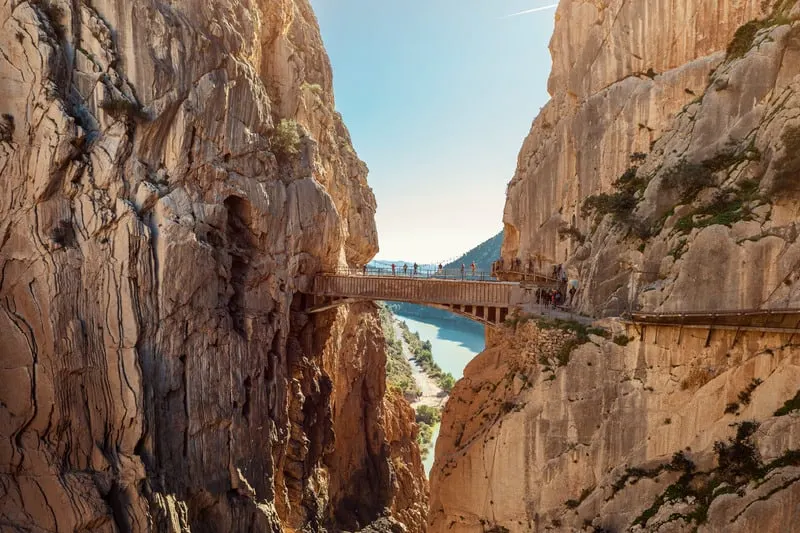 A hiking experience to refresh yourself away from the bustle of the city, this UNESCO footpath trail doesn't disappoint and is one of the best things to do in Malaga in October. – Check out the guided tour here.
You'll take in steep cliffs, gushing waterfalls, and cool caves carved into the rock face too.
One of the best things to do in Malaga with kids, it's advisable to book in advance as it can be popular at this time of year.
Wear comfortable shoes and a sun hat as the route is mainly exposed to the sun.
Opening Times:
The trail is open from 8 a.m. to 5 p.m. throughout October.
5. Take a Traditional Wine and Tapas Tour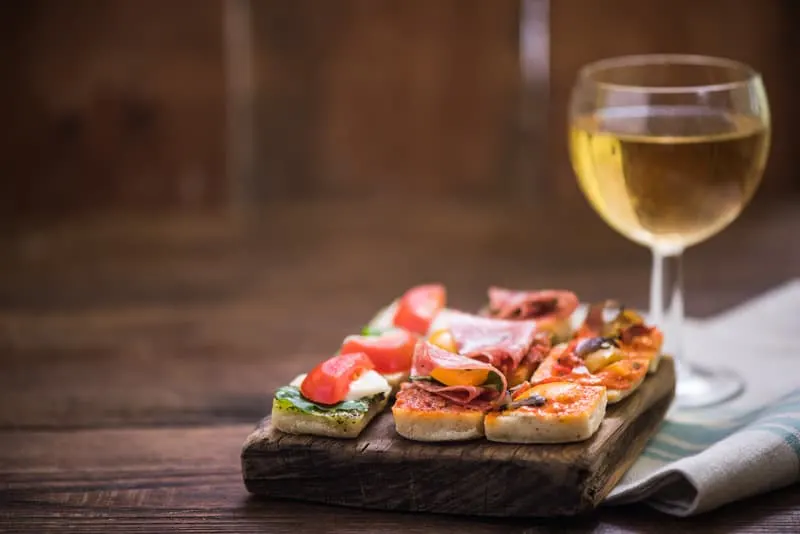 With a heritage of growing wine thanks to the fertile soil of the region, a wine and tapas tour is one of the best things to do in Malaga in October if you're looking to experience authentic food and drink culture.
You will visit wineries and learn a great deal about the different varieties of grapes and wine, paired with delicious tapas and tales from the history of the region. – Book your guided tour here.
Don't expect a big meal, but the tapas are usually enough to suffice. Wine tastings are more focused on the drink aspect, but on a Malaga wine tour you will get the best of both worlds with tasty tapas served as a perfect combination with the wines.
A must-do for the wine connoisseur and a great talking point when you get back home.
Opening Times:
Start times can vary, but the tour takes around 2.5 hours.
6. Food Festival Día de las Sopas Perotas
A festival for soup is something you should not miss in from this list of things to do in Malaga in October!
It is held in a nearby town and you can experience a range of delicious dishes but especially the traditional soup which is made with potatoes, tomatoes, garlic, peppers, and onions.
It's often given out for free to tourists and locals alike. If it doesn't float your boat, you can always stop at a local restaurant for paella in Malaga which is famed for fish and seafood, being right on the coast.
Opening Times:
Takes place on the first Saturday in October around midday.
7. Nikki Beach Marbella Red Party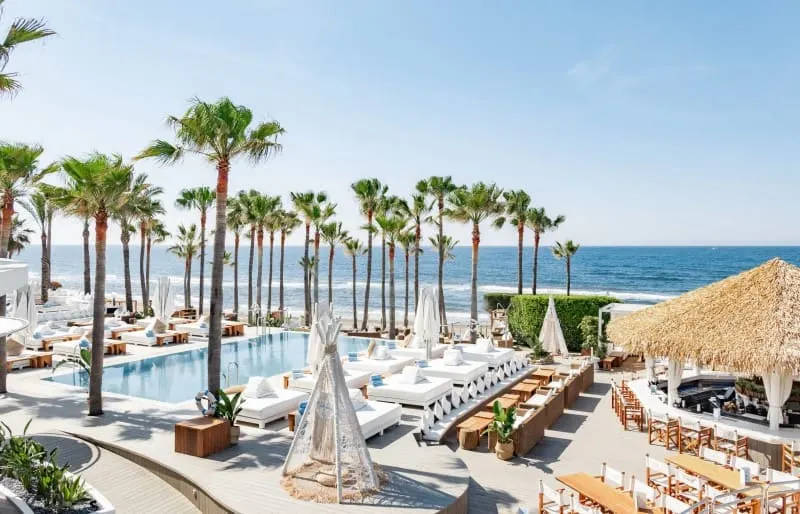 One of the most exclusive clubs in the area, head south to Nikki Beach on the waterfront in Marbella for an end-of-summer party like nothing else.
There is a strict dress code of only red items of clothing, and you can enjoy beats from famed DJs as well as some tasty cocktails and food.
It's not really an atmosphere for children, but women will love the fashion element and it's an all-round good time and somewhere you can make new friends easily.
Opening Times:
Taking place on the first weekend of October, the party starts around 2 p.m. and lasts well into the night.
8. Circle the Gibralfaro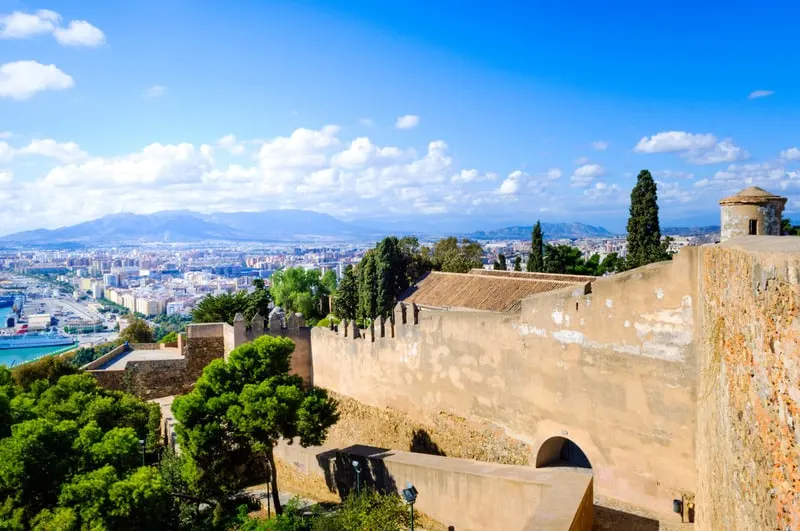 One of the best things to do in Malaga in October if you just want a relaxing day of absorbing the local Moorish history is to take a trip to Gibralfaro Castle.
It boasts magnificent views across Malaga and you will learn a vast amount in a short space of time, especially enjoyable if you're a history buff ready to soak up some knowledge.
The walk can be quite steep, but if you go just before sunset you're in for a real treat.
And the best part is that you can book a guided tour and ride a segway through Málaga, visiting the Gibralfaro mountain and Parador. – Check out the guided tour here.
The tour lasts around 2 hours and it's a great way to explore the Gibralfar Castle without breaking a sweat.
Opening Times:
Open daily from 9 am to 8 pm in October
9. Feast on Autumn Fruit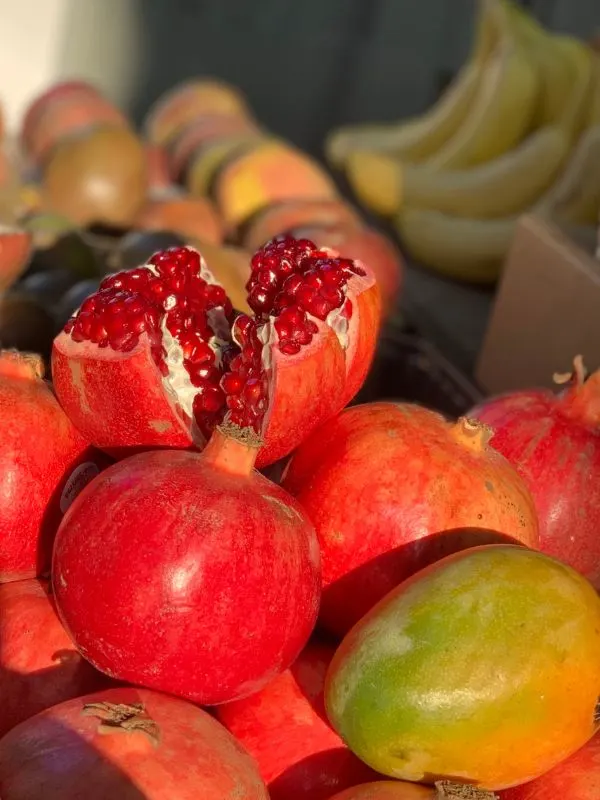 A time of harvest and abundance, all of the fruits that have soaked up the summer sun are ready and ripe in October.
And if you're wondering what to eat in Malaga at this time of year look no further than enjoying all of the autumn fruit on offer.
One of the most culturally pleasing things to do in Malaga in October, you can feast on everything from pomegranates to local delicacies found nowhere else.
Opening times:
Available in many fresh food markets such as Mercado de la Merced and Mercado del Carmen from very early in the morning.
10. Roman Theatre and Alcazaba Guided Tour
Take a step back in time with a guided tour of the Roman Theatre and Alcazaba, one of the things to do in Malaga in October that are best toured in the cool of the day, especially in the autumn months.
During this tour you will learn everything about this impressive landmark, explore the Alcazaba and climb the ramparts of the citadel for a stunning view.
The Roman Theatre in Malaga stands as a captivating testament to the city's ancient past, showcasing well-preserved architectural remnants from the Roman era.
Adjacent to it, the Alcazaba, a fortified palace of Moorish origin, exudes an enchanting blend of Islamic and Roman influences, offering visitors a remarkable journey through centuries of history and architectural marvels. – Check out the guided tour here.
Opening times: Open 9am to 8pm in October.
11. Relax at Hammam Al Ándalus
If you want to let it all go and relax, then one of the best things to do in Malaga in October for couples is a unique hammam experience.
These Arabic baths offer different temperature baths to open up your pores and leave you feeling refreshed and invigorated, ready for an evening meal in the city. – Get your tickets here
Opt for a deep tissue massage or hot stone massage which fills the air with scented oils.
The experienced masseurs will work away all those knots and stress for an affordable price, and it's a true Malaga experience that injects you with the Moorish history of the region thanks to its proximity to Africa just across the sea.
Opening times: Open all day, massages can be booked in advance.
12. Flamenco Show Alegría
Indulge in the authentic flavors of Malaga's cuisine while being mesmerized by the city's finest flamenco performance.
Embark on a guided tour through the heart of the historic center, exploring traditional locales and savoring a delectable array of local dishes, expertly elucidated by your knowledgeable culinary guides.
Fuse the pleasures of gastronomy with the city's premier flamenco art hub. Following your exploration of Malaga's delectable tapas, transition seamlessly into an immersive flamenco spectacle, complete with a welcoming drink, leaving you enraptured by the artistry and energy of this iconic Spanish tradition.
Be sure to arrive early so you can get a good seat. Don't forget the tapas! – Check out the guided tour to the Flamenco show here.
Flamenco is one of the best things to do in Malaga at night and you'll have a once in a life time experience.
Opening times: Shows last for around an hour and there are multiple timings to choose from.
Best Hotels in Malaga, Southern Spain
With such a diversity of accommodation, it isn't too difficult to find your perfect holiday haven for your time in Malaga.
Whether you want exclusive luxury or somewhere more homely, you can find here accommodation from the best boutique hotels in Malaga, to family hotels in Malaga, or cheap hotels in Malaga,
With so many things to do in Malaga it can be tempting to choose any hotel within walking distance of your desired attractions, but spending a little bit of time to assess the area and work out what your main priorities are will allow you to make the most of your time there.
If you're looking where to stay in Malaga that gives you access to all of the unique amenities in this town, we've put together our top three picks for all budgets.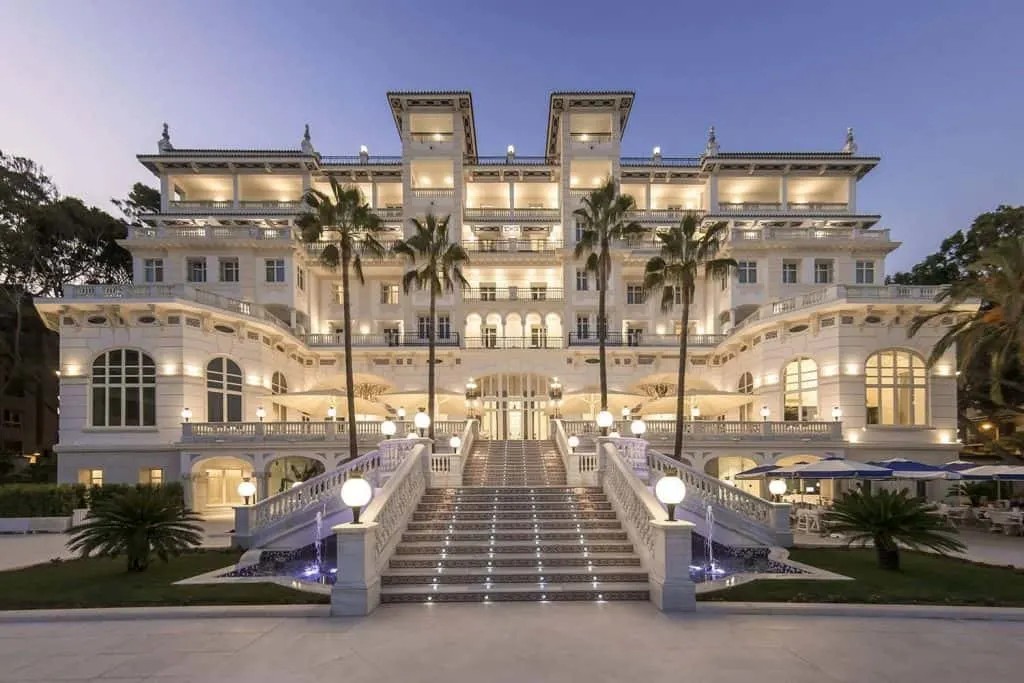 Boasting a prime location on the white sand Malagueta beachfront, this lavish hotel has everything that you could want from your time in the region.
As a five-star resort, you can benefit from a complete spa experience by talented masseurs, sip drinks al fresco on the rooftop bar with spectacular panoramic views, or dive into the cuisine with gourmet dining.
Being situated in an ideal location gives you access to some of the best things to do in Malaga in October, including the Picasso Museum for a touch of the abstract, or the Alcazaba to get lost in the history of the area.
The Grand Hotel Miramar has a unique blend of contemporary charm and historical elegance, making it ideal for those holidaymakers looking for something extra special from their accommodation.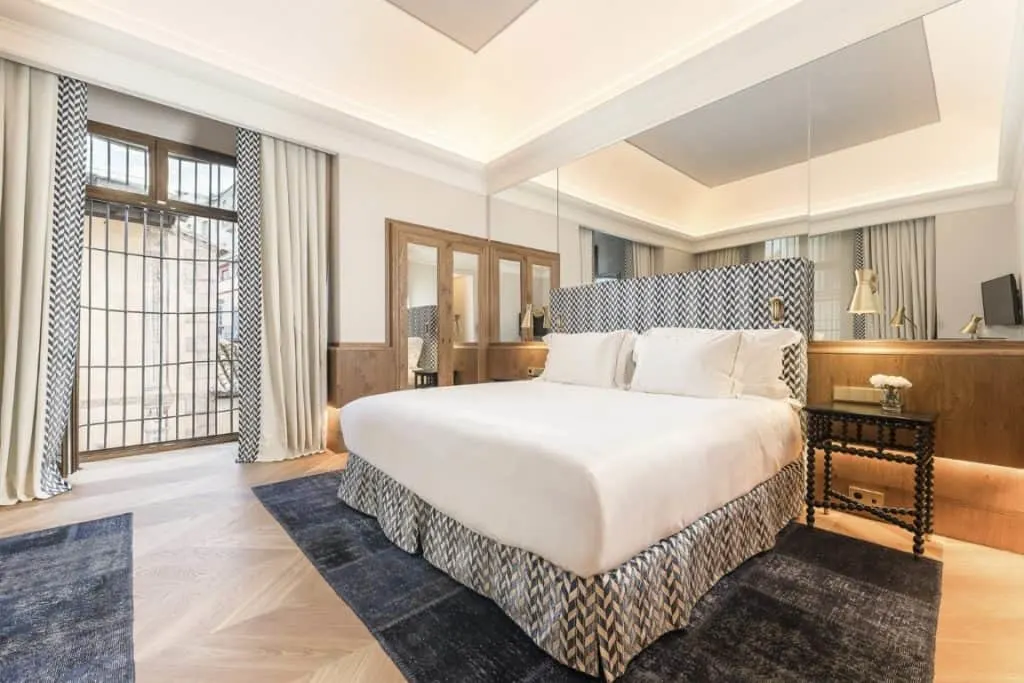 Ever wanted to stay in a palace? Well now you can in this restored building dating from the 1700s.
The history of the location has been carefully intertwined with contemporary elements and you'll feel totally relaxed as you explore this centuries-old structure, especially the courtyard which sits in the middle.
Unusually, this Palacio Solecio does not have a pool, however, it does boast a rooftop where you can take in the views across Malaga and watch the autumn sunsets each evening.
Beautifully decorated, the hotel has all of the modern aesthetics you'd expect coupled with a sense of historical importance.
Calle Larios is just a stone's throw away where you can wander to your heart's content, and even pay a visit to the Cathedral on those warmer days to cool off in its huge interior space.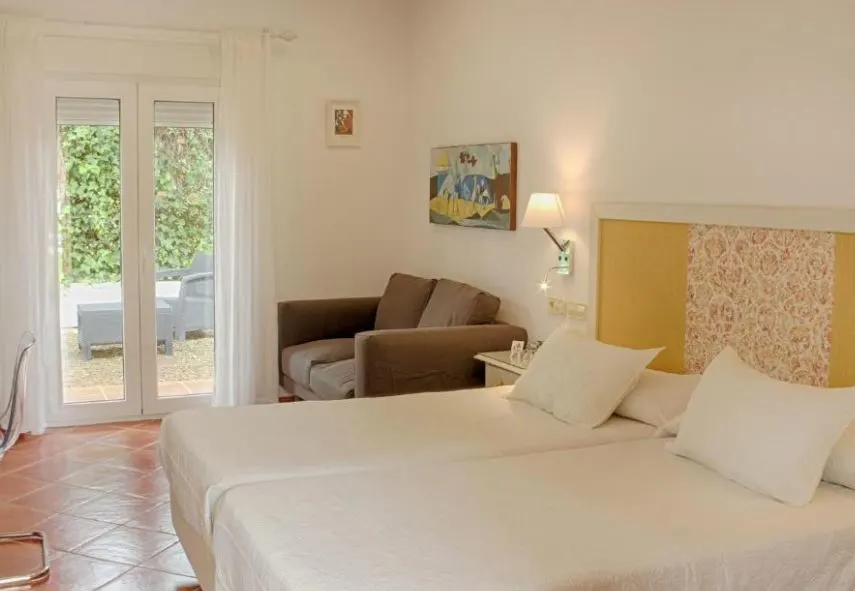 There's no shortage of things to do in Malaga in October when you stay at Hotel Malaga Picasso.
If you want that level of cozy comfort without having to spend hundreds per night in some of the pricier hotels in the region, this is the perfect option.
This three-star hotel has a pool area where you can relax in the afternoons as you soak up the autumn sun.
If the beach is more your thing, then Guadalmar Beach is just a short walk away, and if you're looking to enjoy what's on in Malaga in October then you can make the most of the Botanical Garden which is open all day long into the evening.
The staff is rated as friendly and for a three-star location it has excellent reviews from budget-conscious travelers.
Weather in Malaga in October
Some of the best things to do in Malaga in October are possible thanks to the cooler weather that begins to take hold after the heat of summer subsides.
If you want to discover the city in a leisurely manner and not have to worry about the baking heat of the day, then choosing October as your ideal window to visit is the best idea.
The atmosphere is alive at this time of year as tourists generally return home and locals once again reclaim the streets.
The Mediterranean allure is still abundant at this time of year, and it offers the perfect chance to make memories to last a lifetime.
Unlike northern Europe, Malaga's weather in October is filled with days of warm sunshine which lasts until the end of the month most years before the cooler chills of winter set in.
The days are comfortable and evenings may require a sweater or extra layer to keep the cooling air at bay.
However, this daytime high means that you can enjoy a number of things to do in Malaga in October that would be simply too hot in summer, for example taking part in outdoor activities that require lots of walking.
The way of life here in October is a lot more relaxed than the busy summer months, and this means picturesque walks along the beachfront and finding a table at your favorite restaurant are possible.
If you're planning an October trip to Malaga it's the ideal time to take advantage of this more clement weather if you want to explore places like the Alcazaba fortress or the city's fresh produce markets. – Check out guided tours here.
Whatever your reasons for visiting Malaga in October, you can be sure that this month lets you experience the city in a way that reduces the stress of busy summertime crowds and lets you see another side of Malaga.
Short FAQs about things to do in Malaga in October
Can you still swim in Malaga in October?
You can still swim in Malaga in October because the sea retains its warmth throughout the month.
In fact, many of the water activities such as boat hire and jet ski hire are still possible right until September when the waters can become a little rougher.
How many days in Malaga is enough?
You'd need at least 2 days in Malaga or a weekend getaway to get the most out of it.
This will give you time to explore Malaga attractions and visit places in and around the city rather than just staying around your hotel.
Is October a good time to visit Malaga?
October is a good time to visit Malaga because the great weather and modest temperatures coupled with days of sunshine make a wide range of Malaga sightseeing opportunities much more pleasant.
There are lots of free things to do in Malaga, from evening walks through the streets to watching the autumn sunsets from a number of vantage points.
---
---
Hola, I'm Paulina! Together with my team, we are passionate about Southern Spain. Here we share all you need to know for great times in Southern Spain with the best places to visit, stay and, of course, the best food to eat.
Let's dive in and explore Southern Spain's outdoors, food and culture con pasión!