A guide to the best Southern Spain Halloween traditions
Have you ever wondered how people celebrate the major festivals in other countries and more specifically how is Halloween celebrated in Spain?
What are Spanish scary stories like? And what about Halloween rituals? In Spain Halloween traditions include everything from the macabre to the more spiritual.
Many towns, villages, and cities throughout Spain host their own unique celebrations, and nowhere is this more accentuated than in Andalucía where the sheer variety of Spain Halloween traditions is mind-boggling.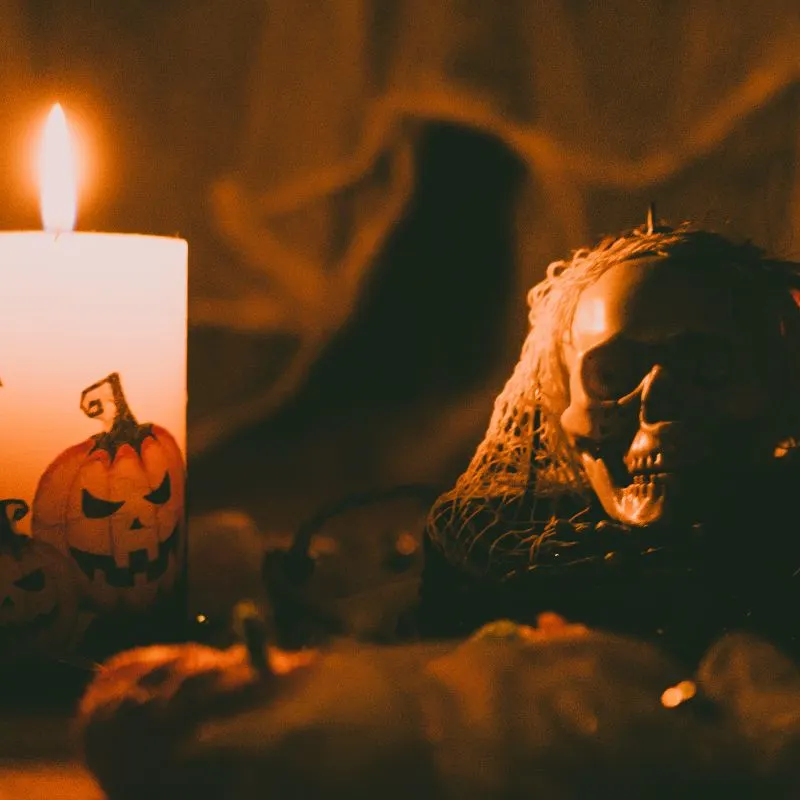 This blog is supported by you, dear reader. If you purchase through a link, we earn a small commission. As an Amazon Affiliate, we earn from qualifying purchases.
So what day is Halloween celebrated in Spain? Well, in Spain you'll find that Halloween is actually a 3-day festival, as we'll explore later in the article.
During this period, wherever you are in the country you won't be far from a fascinating and unique event.
In this article, we'll explore many of the unique Halloween traditions in Southern Spain.
Therefore, if you're planning on spending Halloween in this part of the country, you'll never be short of spooky things to do as Spain Halloween traditions are weird, wonderful, and plentiful.
OVERVIEW: Southern Spain Halloween Traditions
In Spain, celebrations don't come much bigger than Halloween. These are 6 of the main highlights in Southern Spain during the festivities:
Halloween in Malaga
Maroween …Halloween in Maro, Nerja
Haunted Park in Marbella
Wine and Chestnut Festival in Serrania de Ronda
Gathering to Illuminate the Dead
Visit the Haunted Places in Southern Spain
History of Spain Halloween Traditions
Halloween in Spain is a 3-day celebration. The festivities begin with Dia de las Brujas (Day of the Witches), is followed by Dia de Todos los Santos (All Saints Day).
Spain also has a third day of the festivities, Dia de Los Muertos (Day of the Dead) on November the 2nd.
Halloween tradition in Spain is broadly similar to the Hispanic Halloween traditions found throughout much of south and central America, with the dead celebrated.
In old times, Europe was a continent where pagan religions dominated. Pagan festivals included celebrations of the dead that involved feasting and dancing in front of giant fires.
Many elements of these festivities were later assimilated into Catholic traditions.
In Spain, Halloween had its roots in the Celtic traditions of Galicia. To this day in Galicia, October 31st is known as Noite dos Calacús (Night of the Pumpkins).
It is celebrated with a combination of bizarre rituals including dressing up and burning giant bonfires.
Today, Dia de los Santos tends to be a more somber affair where families visit the graves of long-lost relatives in an act of remembrance that also includes sharing food and drink as well as quite often singing songs, playing music or just generally socializing.
Dia de brujas and Dia de los Muertos tend to be more raucous affairs, with all sorts of fiestas, parades and fun activities to indulge in.
Spanish Halloween has remained a weird and wonderful reminder of the roots of the many traditions that still prevail.
Southern Spain Halloween Traditions
1. Halloween in Malaga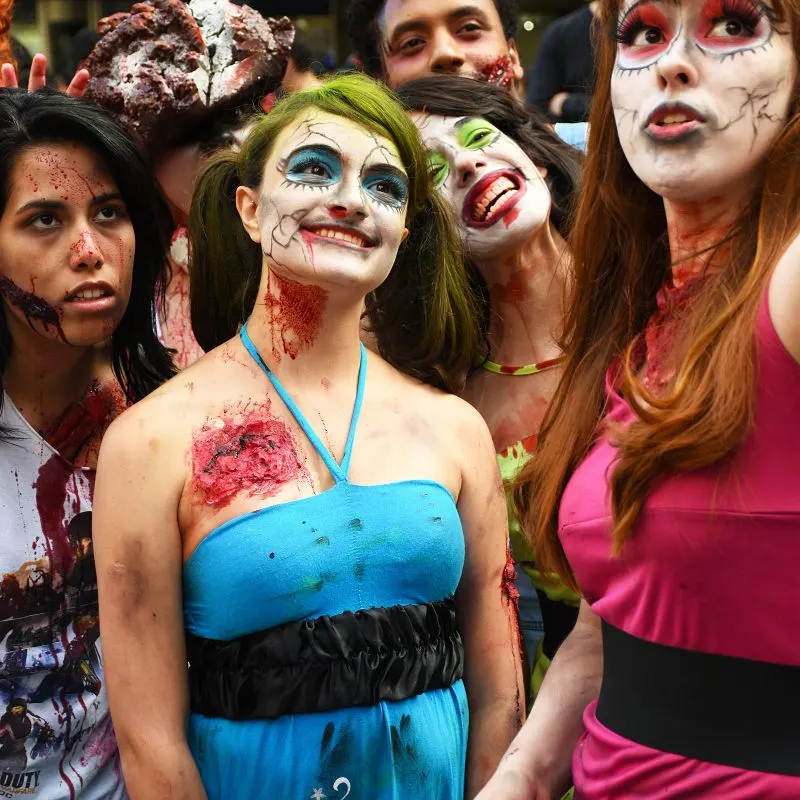 Halloween in Malaga is a fun time to spend a while in this stunning city. The culmination of the festivities is a huge zombie walk, a magnificently fun procession of ghouls that stumbles through the city's streets each year.
As far as Spain Halloween traditions go, the zombie walk is certainly one of the strangest sights you will see!
You'll witness witches, vampires, goblins, and every sort of other associated ghouls you could possibly imagine (and even ones you couldn't!).
The whole city seems to dress up for the festivities so wherever you go, you're sure to encounter ghouls at every turn.
Down at the port, you'll find the Pechá Zombies Party, a large Halloween fair.
Locals also decorate their homes to reflect the festivities and many bars and restaurants get in on the act, donning their establishments in Halloween-themed décor.
2. The Tosantos in Cadiz
If you're looking for fiestas de Halloween (Halloween parties), then they don't come much bigger than the Fiesta de Tosantos in Cadiz, which is known throughout Spain as the largest fiesta of its type in the country.
The Fiesta de Tosantos is celebrated on the 31st of October. This unique celebration goes beyond traditional Spanish Halloween activities to encompass humor and satire, and you'll find street performances taking place throughout the city.
The performances often lampoon politicians and assorted other scandals of the day. As far as Halloween tradition in Spain goes, it's certainly among the most unique!
You'll also find market vendor stalls that have been turned into elaborate displays harpooning current events.
And there are elaborate dolls made of fruit or vegetables to resemble public figures in a further act of biting satire.
3. The Belmez Faces in Jaen
One of the spookiest and most spine-tinglingly places to visit during Halloween is the village of Bélmez, where the supernatural phenomenon known as the Bélmez Faces (or Faces of Bélmez) first appeared in 1971.
This phenomenon took place in a normal family home at Calle Real 5, Bélmez de la Moraleda, in the province of Jaen, and continues to baffle experts to this very day.
Those living in the house claimed that they had seen faces appear on the concrete floor of the house.
The faces have mysteriously been appearing and disappearing since.
Bélmez now receives large numbers of tourists as a result of the phenomenon, particularly around Halloween. It's a great place to take kids and share ghost stories.
4. Dead Nun in Seville
The building that today hosts the Andalucian Parliament in Seville was once a hospital known as the Hospital of the Five Wounds.
For many years now unexplained events of the paranormal type are said to have taken place within the building's walls.
The key myth is that Sister Ursula, a nun of the Order of Charity who used to work in the building in its former incarnation, is said to roam the corridors of the historic building.
Sister Ursula, it seems, is not such a benevolent ghost. She is said to roam the building seeking to cause pain and fear among all those she happens to encounter.
This is another tale to scare your kids with while on a visit to the magnificent city of Seville.
5. Wine and Chestnut Festival in Serrania de Ronda
The annual Fiesta de la Castaña y el Vino (Wine and Chestnut Festival) in Serrania de Ronda is a particularly pleasurable way of spending Halloween.
Although everything revolves around the chestnut, this is actually a much broader festival that foodies will love.
In addition to sampling chestnuts in every form (candied, pickled, in syrup, roasted, and many more), there are many other examples of seasonal fare from the area on offer, including malcocinao dish (a dish featuring chickpeas, bacon, chorizo, and black pudding).
You'll find an artisan market (and larger commercial areas) plus flamenco dancing and singing taking place through the narrow streets.
There's also orchestra music in the town square, competitions, and traditional verdiales performances (a type of flamenco music).
6. Maroween in Nerja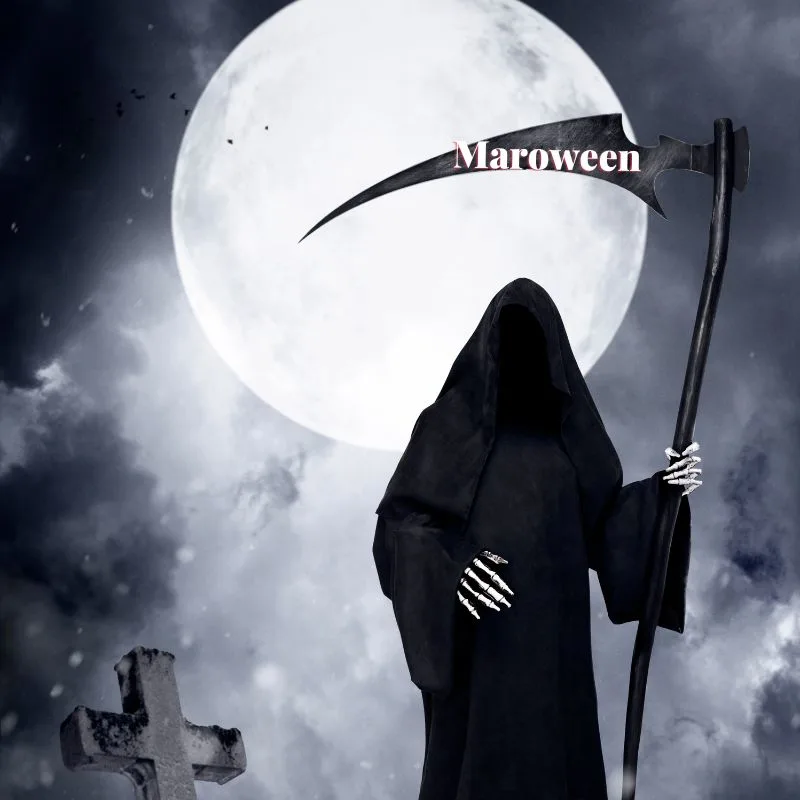 Maroween is a spooky festival that takes place in the village of Maro, which is near Nerja on the Costa del Sol.
The modern-day festival has its roots in the Fiesta de la Castaña y el Boniato (Festival of the Chestnut and the Sweet Potato), which dates back to 1878.
You'll find Maroween to be a pretty relaxed and friendly affair, with the village community being particularly welcoming to those visiting.
Over the course of the festivities, there's a horror parade through the streets of the beautiful village and lots of chestnuts and aniseed liqueur to keep you going.
There's music, dancing, trick, and treating, and a costume competition to keep you entertained.
There's also a bus that runs between Nerja and Maro until late at night. – Check out tickets in advance here.
7. Haunted Park in Marbella
Although the venue has moved around a bit in recent times, the host for the Haunted Park and all that goes in it is now the pretty Parque de la Represa (La Represa Park).
This is a great event, particularly for those with children.
The Haunted Park is absolutely packed with activities to keep you entertained. You'll find zombie hunting, a live cemetery, and scary houses to scare the living daylights out of you and your kids.
Additionally, you discover passages of terror, trick or treating, a panic mansion, a Halloween train, a ghost bus, and laser combat.
There are also non-Halloween-related activities such as trampolines, a boat ride, mini-mounts, and a children's minotaur maze.
Outside the park, there's a Halloween parade through the streets of Marbella.
8. Traditional Foods and Sweets
In Spain Halloween Traditions always encompass the range of traditional food and sweets on offer at this time of year. There's a whole plethora of items to indulge in so let's take a look.
Undoubtedly the most popular of all the festive foods is Huesos de Santo (Saint's Bones). Huesos de Santo are small marzipan rolls filled with custard that are traditionally eaten on Dia de Todos los Santos (All Saints Day).
Probably the second most common foodstuff of the season is buñuelos de viento (this literally translates as puffs of wind). You can even find them as Spanish pumpkin fritters, as the pumpkin season is at peak.
These are small donuts that are topped with sugar and cinnamon. The traditional version is unfilled (which is where the wind bit originates from).
Another seasonal fare you'll find on offer includes roasted sweet potatoes, Pestiños (honey-glazed fritters), leche frita (fried milk), roasted chestnuts, and sweet quince (sweet, thick jelly made from the quince fruit).
9. Visiting the Cemetery on the 1st of November
The November 1st holiday is known throughout Spain as Dia de Todos los Santos (All Saints Day). This is also sometimes referred to as All Souls Day, or more colloquially Day of the Dead.
It is a day of remembrance where the traditions are still particularly strong in Andalucía. Part of this tradition includes decorating the graves of the departed with flowers and candles.
Families will then gather at the graveside to celebrate the lives of their departed loved ones.
Although this is an act of remembrance, it is never a somber affair, with people singing and indulging in food and drink.
A walk through the cemetery at this time is an experience to remember, with all the colorful displays around the graves.
10. Gathering to Illuminate the Dead
On the evening of October 31st, Spaniards gather to illuminate the dead. This is done to guide the dead by giving them light to illuminate their way.
Like many Halloween traditions, this tradition is particularly prevalent throughout Andalucía. It is actually one of the oldest traditions that are still maintained.
It makes for a magnificent spectacle, with families throughout the towns and villages placing candles in the windows of the homes.
Candlelit gatherings and parades take place throughout the region on this night of remembrance for the dead.
Visit the Haunted Places in Southern Spain
1. Casa Encantada, Malaga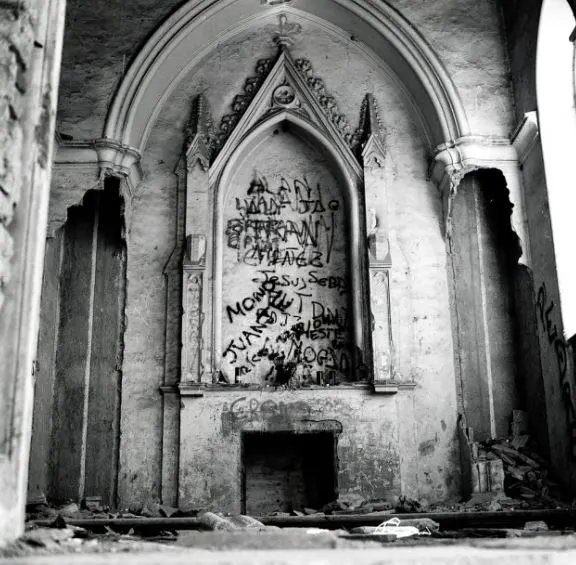 The 19th Century Casa Encantada (Enchanted House) in Malaga is said to be among the most haunted in the whole of Spain.
The legend arose from a period in Malaga's history when between 1890 and 1920 a number of young girls went missing in the area. Some of the bodies were later discovered but others never were.
Rumors began about what had happened to them and their ghosts today are said to haunt Casa Encantada where numerous strange occurrences have supposed to have taken place including voices, screams, mysterious figures appearing, and other paranormal activities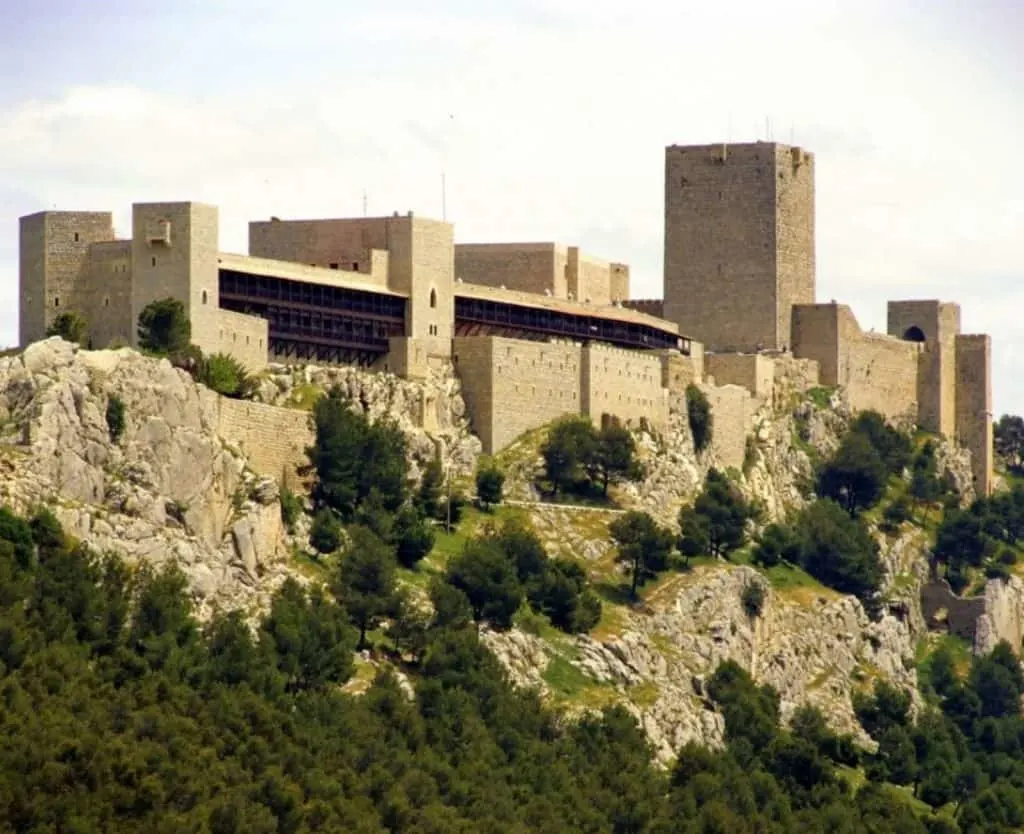 The Parador of Jaén is not only one of the best Paradores in Andalucia, it is also one of the best castles in Andalucia. Oh, and it's haunted.
If you're brave enough to stay in this 18th-century Arab fortress then you may want to avoid Room 22 as this is meant to be the most haunted of the lot.
Guests claim to have been woken in the night by thuds on the door and the sound of a woman crying.
Another ghost to inhabit the walls is known as Lagarto Terrible (Terrible Lizard). He is supposed to be the ghost of a prisoner who died of starvation in the castle's dungeon.
For those who dare, book your stay here.
3. Granada City Council
Stories of ghosts inhabiting the Granada Council Diputación building originate from when works were taking place on the site and human bones were discovered there, many of them children.
The building started life as a Moorish hermitage, before being converted into the church of St. Magdalena and later a council building.
Today, rumors abound of eerie draughts, spectral presences, and strange noises.
The building also has a reputation for accidents happening to those who work within and there have also been apparitions of a priest from when it was the church of St. Magdalena.
4. The University of Cordoba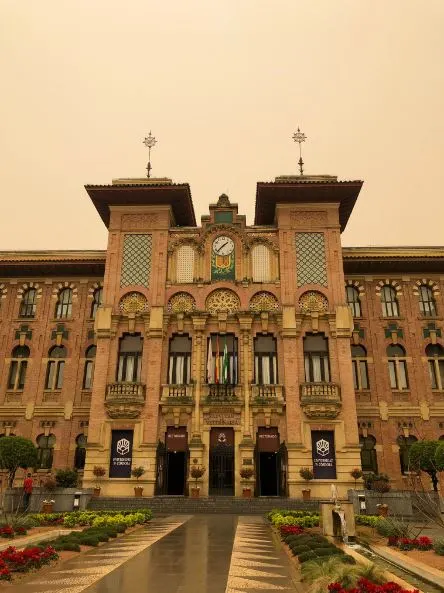 The University of Cordoba is not only an esteemed seat of learning, it's also a haven for ghosts and ghouls of various types.
In a past incarnation, the University was a maternity hospital where many women were said to have died in horrendous circumstances during childbirth.
You won't be surprised to find out that many of the ghostly sightings have been of women.
The faculty of Law, Business, and Economics is said to be particularly haunted. In addition to the former hospital residents, ghosts of past lecturers have also been sighted.
Choosing Costumes for Southern Spain Halloween Traditions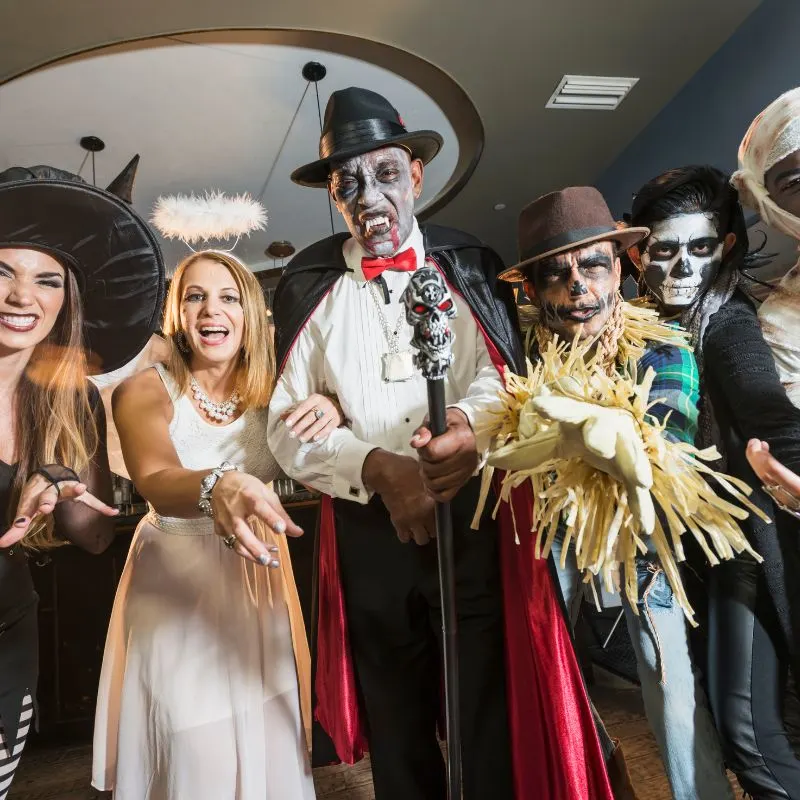 In Spain, Halloween Traditions differ slightly from those of Northern Europe or North America.
Where Halloween costumes in those countries can be quite broad and draw largely from popular culture, in southern Spain they're always grounded in the macabre.
You won't find people dressed up as the scary character from a horror film in southern Spain, instead, you'll come across a collection of witches, ghosts, zombies, werewolves, and other assorted ghouls.
Essentially, the Halloween costumes in southern Spain always stem from the legends of old that remain deeply embedded in the local culture.
So if you're joining in, go with the flow and choose accordingly.
Short FAQ about the Southern Spain Halloween Traditions
What is Halloween in Spanish culture?
Halloween is a 3-day festival (All Saints Day in Spain is a particularly big deal) where activities range from somber and reflective to out-and-out party time!
You'll find huge celebrations throughout the land.
What are Spain's traditions?
In Spain Halloween traditions are vast and varied.
Probably the one tradition that prevails above all others though is visiting the cemetery on the 1st of November.
Where should I go for Halloween in Spain?
There are so many great things to do and places to go in Spain for Halloween but one of the best festivals in Andalucía during this period is the Tosantos in Cadiz.
This is a truly unique event that is famed throughout the country.
---
---
Hola, I'm Paulina! Together with my team, we are passionate about Southern Spain. Here we share all you need to know for great times in Southern Spain with the best places to visit, stay and, of course, the best food to eat.
Let's dive in and explore Southern Spain's outdoors, food and culture con pasión!