A guide to the best and scary ways to celebrate Halloween in Malaga
Would you like to go somewhere different for Halloween? Somewhere with year-round sunshine, fascinating history, and incredible beaches? Then Halloween in Malaga may well be for you!
Halloween in Malaga is a unique experience that will allow you to see the Halloween tradition in Spain in full effect. So, how is Halloween celebrated in Spain and why do people celebrate Halloween?
Well, spending Halloween in Malaga will answer all of these questions and more. Spanish Halloween is one of the unique Spain celebrations.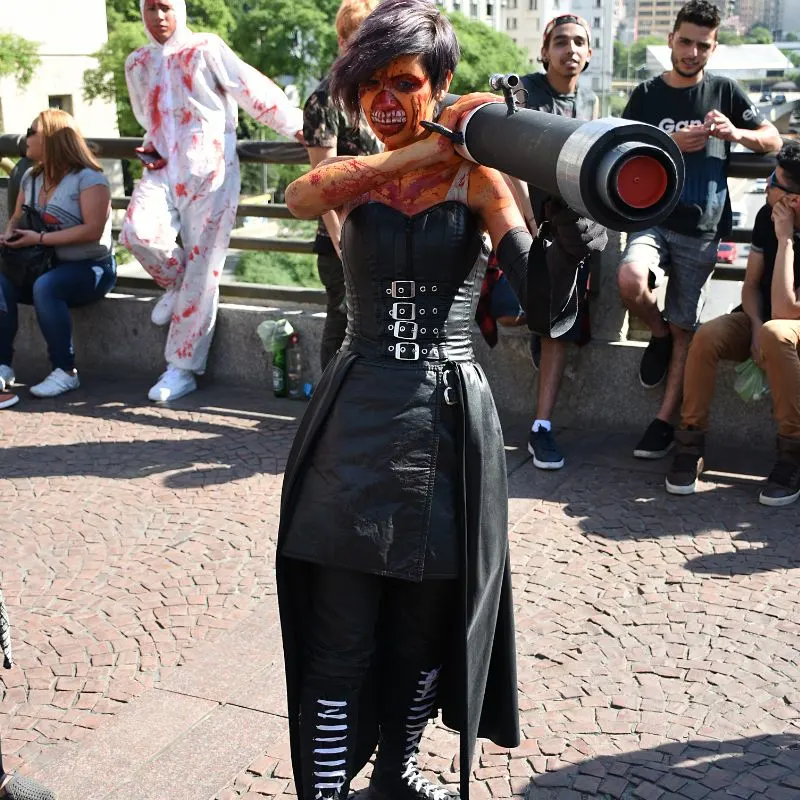 This blog is supported by you, dear reader. If you purchase through a link, we earn a small commission. As an Amazon Affiliate, we earn from qualifying purchases.
The origins of Halloween in Spain actually stem from Galicia, but nowhere is it more celebrated than in Andalucía.
In this article, we'll ask (and answer!), how is Halloween celebrated in Spain. What is the day of the witches? What happens on All Saints' Day in Spain? What day is Halloween?
Halloween in Malaga is a fantastic time to spend time in this sensational city. By day, you can explore the historical sites or laze on the stunning beaches.
By night you can turn into a zombie and stalk the streets scaring people. What more could you ask for?
Best Places to go for Halloween in Malaga
El Ventorrillo del Cura
Hard Rock Cafe Malaga
La Trinchera
La Plaza Beach Restaurant at Dona Lola
Muelle Uno
History of Halloween in Malaga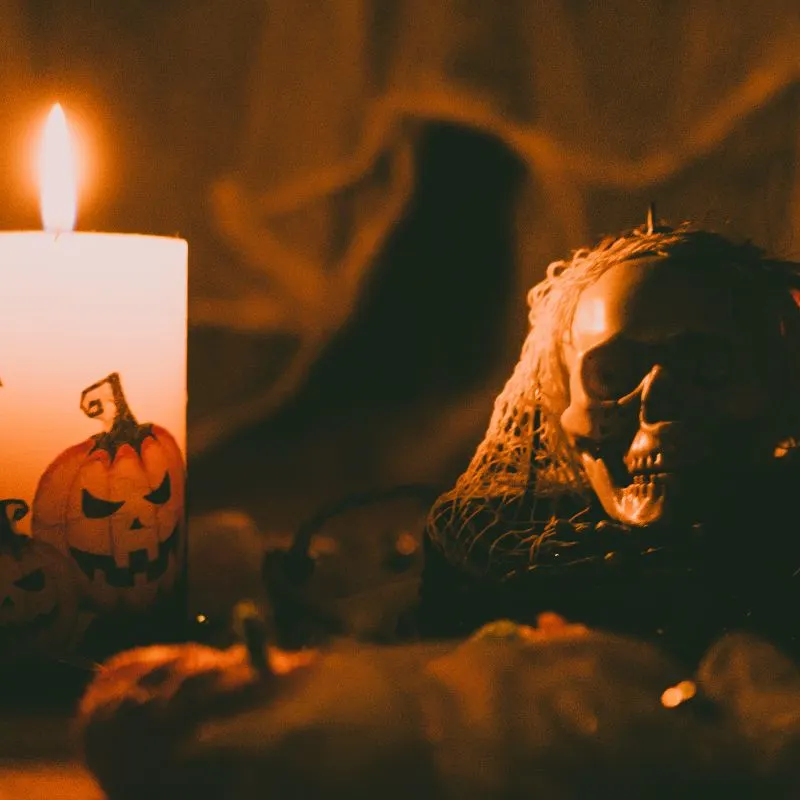 Halloween tradition in Malaga is broadly similar to the Hispanic Halloween traditions found throughout the Spanish-speaking world.
Halloween actually originated in Spain, in the province of Galicia. Today, the celebrations are particularly eventful in Andalucía, and nowhere more so than in Malaga.
Halloween derives from an age when pagan religions were prevalent throughout Europe. Many elements from Pagan festivities went on to be absorbed into Catholic traditions.
Today's celebrations have their roots in these traditions and they are on the list of the best things to do in Malaga in October.
Halloween in Malaga lasts for 3-days. The first day of the celebrations is on October the 31st and is known as Dia de las Brujas (Day of the Witches). November the 1st is called Dia de Todos los Santos (All Saints Day).
There is also a further day of festivities that round everything up, Dia de los Muertos (Day of the Dead) on November the 2nd.
Dia de los Santos is a day of reflection. Families use this day to visit the graves of loved ones in an act of remembrance.
It's not entirely somber though as this occasion involves food, drink, and quite often music being played.
Dia de brujas and Dia de los Muertos are the true party days when people take to the streets to celebrate. In modern-day Malaga, the pinnacle of this is the famous zombie walk.
How to Celebrate Halloween in Malaga
1. A Walk to the Creepy Cemeteries
When it comes to Halloween in Malaga, the November 1st holiday is a particularly big deal.
November the 1st is called Dia de Todos los Santos (All Saints Day) and one of Malaga's biggest Halloween rituals is for families to visit the graves of their departed loved ones.
If you want to give yourself a fright with some Spanish scary stories, then both the San Miguel Cemetery and the English Cemetery are said to be extremely haunted.
A great way to experience the English Cemetery at its most spooky is to take one of the guided night tours that take place throughout Halloween.
It doesn't cost much and the fee goes towards maintaining the cemetery.
San Miguel Cemetery is home to numerous ghosts, including that of American writer James Bowles. The cemetery also hosts guided tours over Halloween.
A visit to the cemetery is one of Malaga's longest-standing Halloween traditions. Families decorate the graves of lost loved ones with elaborate displays of flowers, making any visit an experience to remember.
Opening times:
English Cemetery: Halloween tours take place from 27 to 31 October at 19:30, 21:00, and 22:30. San Miguel Cemetery: Halloween tours take place at 18:00.
2. Scary Tours at the Conception Botanical Gardens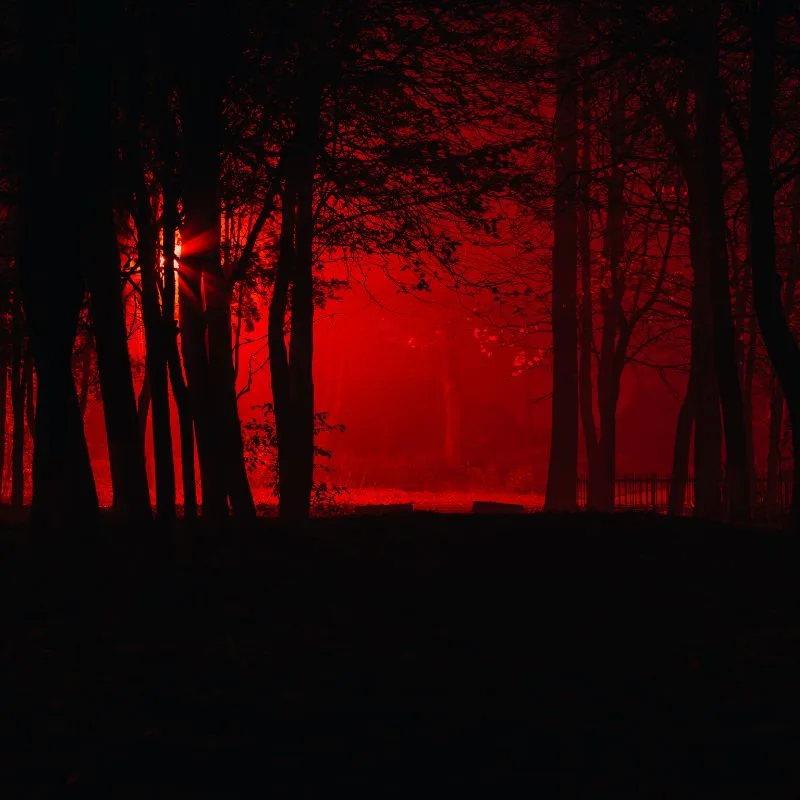 Throughout the year Malaga's beautiful Botanical Gardens are a relaxing place to pass some time.
At Halloween, they turn into anything but a relaxing experience in extreme terror! Dare you risk it?
On the night of Halloween (October the 31st) you can take a 'Terror Route' through the gardens and the buildings within it.
This includes an 'abandoned boarding school'. The only problem is the 'former students' are roaming the building haunting the place and will give you no end of frights if you dare to venture inside!
The former students don't hold back on telling you scary tales of the dastardly things that happened to them in their past lives.
There are also plenty of nasty surprises waiting for you throughout the garden's extensive grounds. Don't venture off alone!
Opening times: Tours start from 20:00 and last around an hour.
3. The Feast of Chestnut Roast
The Feast of Chestnut Roast is an ancient custom throughout the province of Malaga.
While not celebrated as vigorously as Halloween, this is still a big celebration and an event unique to Malaga province.
During this time, Families from Malaga get together and take a trip to one of the many small towns or villages in the beautiful countryside that surrounds the city to take in the festivities.
Just north of Marbella is the village of Ojén which holds a particularly popular event to celebrate the feast. Events center on the village square where the aroma of roasting chestnuts permeates the air.
The chestnuts are traditionally combined with a homemade spirit known locally as aguardiente (the literal translation of which is firewater).
Opening times: The feast takes place the first Sunday after November the 1st.
4. Eat Saint's Bones and other Spanish Foods
Halloween in Malaga always involves food and lots of it!
At this time of year, you'll find vendors throughout the city selling all manner of seasonal specialties.
These are usually very cheap so if you have a sweet tooth, you'll be able to sample as many as you want.
Specialties include the aforementioned roasted chestnuts, 'Saint's Bones', Spanish sweet potatoes, leche frita bites (fried milk), dulce de membrillo (sweet quince paste ), and Pestiños (honey-glazed fritters).
In addition to the ubiquitous roast chestnuts, probably the most popular treat during this time are Huesos de Santo (Saint's Bones).
These are small, custard-filled marzipan rolls. Tradition has it that these are eaten on All Saints Day but you'll find them available throughout the festivities.
Another popular treat is buñuelos de viento, a type of small donut topped with sugar and cinnamon.
The traditional version is unfilled but today you'll find them available with fillings of many flavors. There are even Spanish pumpkin fritters available if you are looking for pumpkin desserts.
5. Halloween in Malaga City Centre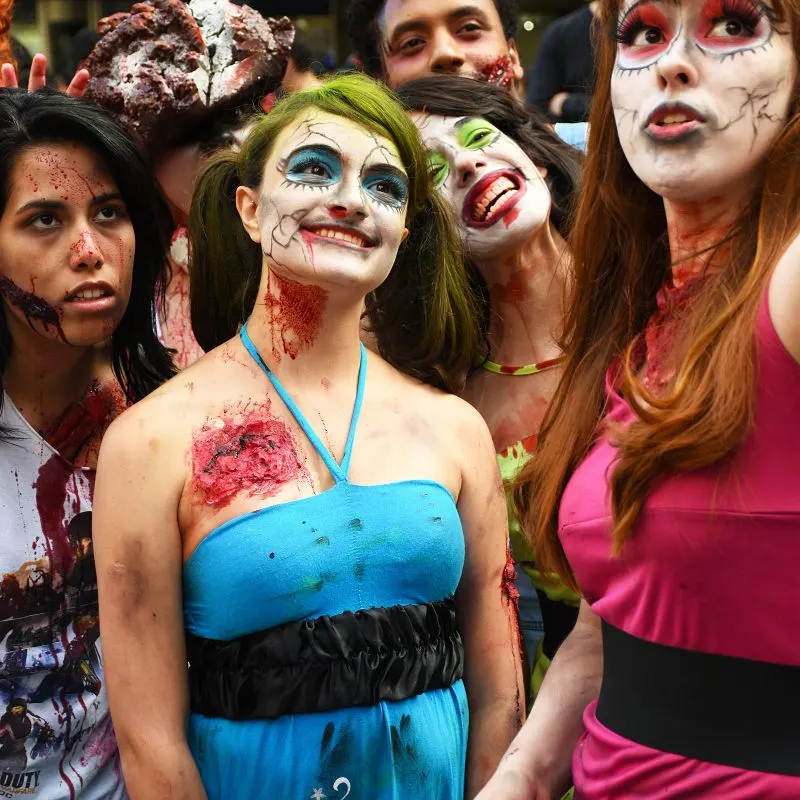 Halloween in Malaga is one of the largest fiestas de Halloween in the whole of Spain so if you're planning on taking a vacation in Malaga, you could do worse than choosing this time to do it.
Spanish Halloween traditions feature costumes that are always focused on the macabre.
Nowhere is this demonstrated more than in the fantastic zombie walk that scares its way through the city's streets each year.
In addition to the zombies, you'll find a selection of ghosts, werewolves, witches, and other ghouls among the throng.
Halloween costumes in Malaga are drawn from the myths and legends that permeate the local culture. You won't find people dressed as characters from horror movies for example.
There are plenty of shops around town selling costumes so you'll be able to join in what is one of the biggest Halloween celebrations in Spain.
Opening times: The zombie walk begins at 22:30 in Plaza de la Constitucion in the old town.
6. Halloween in Theme Parks and Museums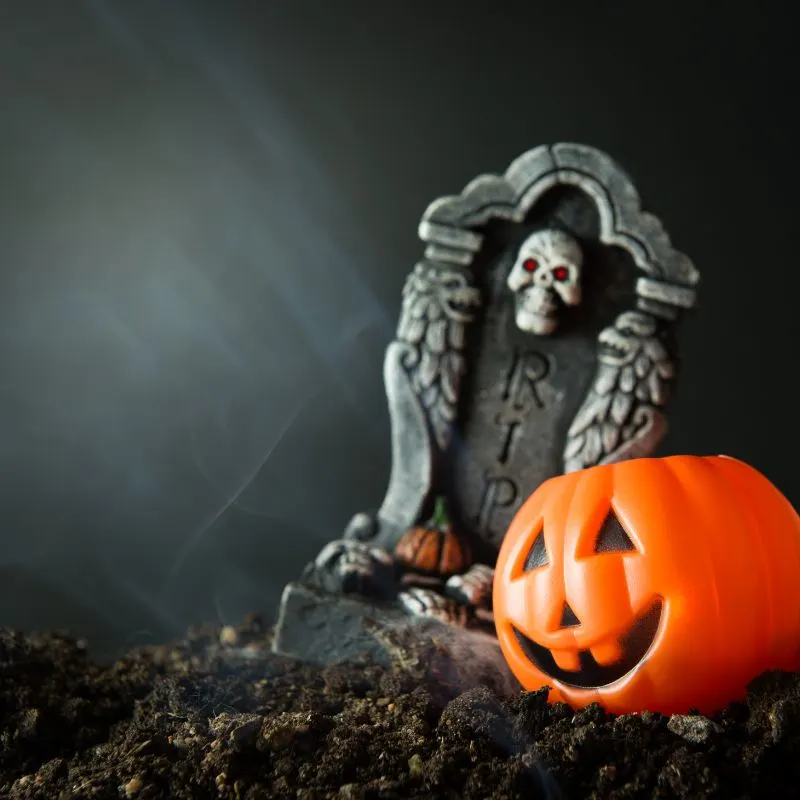 Many of the theme parks and museums in and around Malaga put on special Halloween events to celebrate the festivities.
Most of the activities start in the week that builds up to Halloween so make sure to check local websites for exact timings.
Sea Life turns itself into an 'Ascarium' throughout the festivities with events aimed mainly at children.
Serafina the Sea Witch will guide little ones through a series of puzzling challenges which they must solve throughout the aquarium.
The Benalmádena Cable Car decorates their cabins in Halloween-themed garb and turns the event into a fancy dress party.
BioParc hosts a children's Halloween gymkhana with those in fancy dress getting in for free. Likewise, the Aeronautical Museum offers a free gift to those that attend in fancy dress.
The Automobile and Fashion Museum turns itself into the Fear Museum on the 31st of October, for those who dare to go!
Opening times: Various times (check websites near the time for details).
7. Halloween in Shopping Centers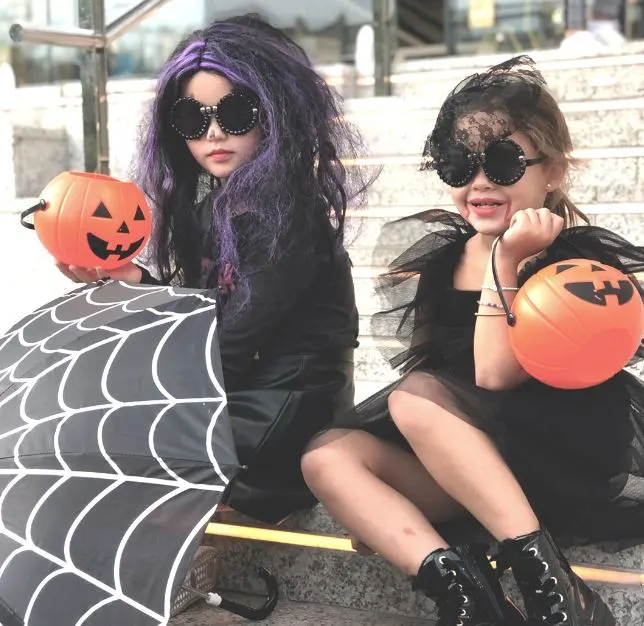 In the city's shopping centers you'll find Halloween in Malaga celebrated with events aimed largely at children.
Events include things like workshops for children to create a scary Halloween masks. Other events include competitions, raffles, and fancy-dress events.
Larios Centro goes one step further and has a great fun ghost hunting event in which participants must search through the shopping center hunting down the ghouls that roam there.
Many of the shopping centers in Malaga host their own special Halloween events.
In addition to Larios Centro, Málaga Nostrum, Málaga Plaza, Rosaleda, El Corte Inglés, and Ikea Málaga all stage their own Halloween-themed events.
Opening times: Various times (check websites near the time for details).
8. Halloween in Marbella and Puerto Banús
Halloween in Marbella is celebrated particularly vigorously, with a giant Halloween parade that meanders throughout the city's streets.
You'll find all kinds of witches, ghosts, and vampires at this great fun event.
Perhaps the most famed of all Marbella's Halloween events though is when the Parque de la Represa (La Represa Park) becomes the Haunted Park for the duration of Halloween.
Throughout the park, you'll find various Halloween-themed activities such as passages of terror, a Halloween train, a ghost bus, and a panic mansion.
At Halloween in Puerto Banús, the whole town gets in on the event. You'll find almost every restaurant decorated in a Halloween theme and putting on its own special Halloween party.
Opening times: Time slots for the Haunted Park require booking and are from 11.00 to 14.30, 16.00 to 19.30, and 20.00 to 23.00.
9. Terrifying visit to Cortijo Jurado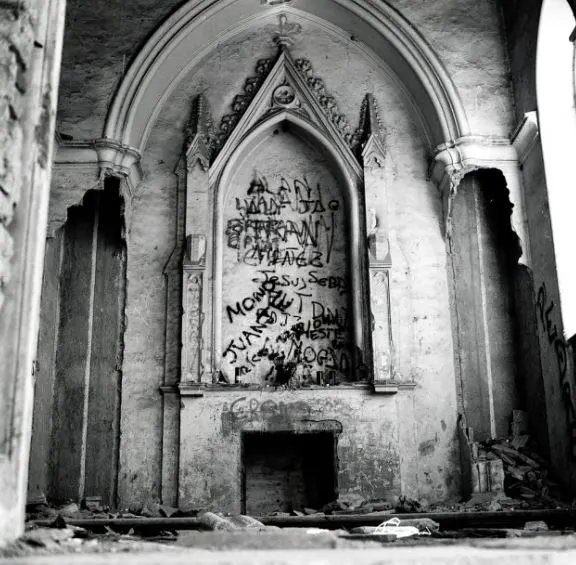 The Cortijo Jurando is a mid-nineteenth-century building located in the Campanillas district on the outskirts of Malaga. It is also one of the most haunted buildings in the whole of Spain.
Known locally as Casa Encantada (Enchanted House), the building is home to a whole multitude of ghosts, with mysterious events occurring throughout the building at an alarming frequency.
Disembodied voices, haunting screams, and mysterious figures appearing in windows are just some of the supernatural occurrences that regularly take place here.
The building has a dark past. From 1890 and 1920 several local young girls disappeared from around here.
Some bodies were later found, and some weren't. Their ghosts are said to be the ones doing all the haunting today.
Opening times: 'Parapsychological' experiences are held here at 20:00, 22:00, and 23:59. These events last an hour and a half.
10. Gymkhana "Escape from the Monsters"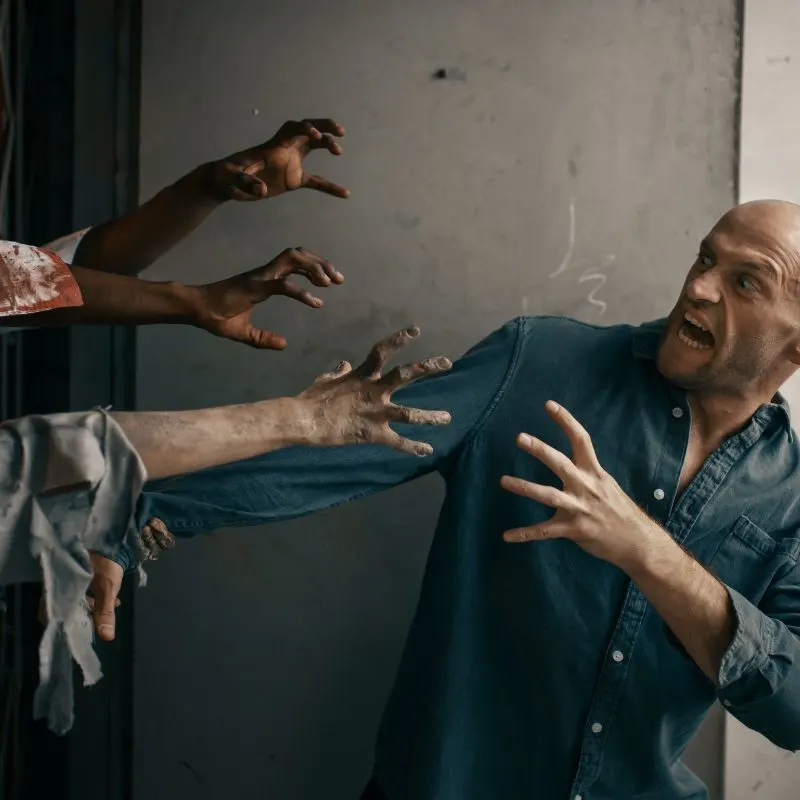 Gymkhana "Escape from the Monsters" is an event targeted at those in the 15 – 35 age group. The basic premise is to follow a route through Malaga and solve a series of clues along the way.
Throughout the route, you'll encounter vampires, zombies, and monsters all out to scare the living daylights out of you.
There are various meeting points around town from where you can begin the route, with Diego Fernández Mendoza and Navarro Ledesma streets being the main ones.
On the 31st of October only, you can also congregate outside the old prison in Cruz de Humilladero, behind the Baños del Carmen restaurant, and in Parque Litoral.
Opening times: Friday 29 October and Sunday 31 October from 20:00 to 00:00.
Halloween in Malaga Province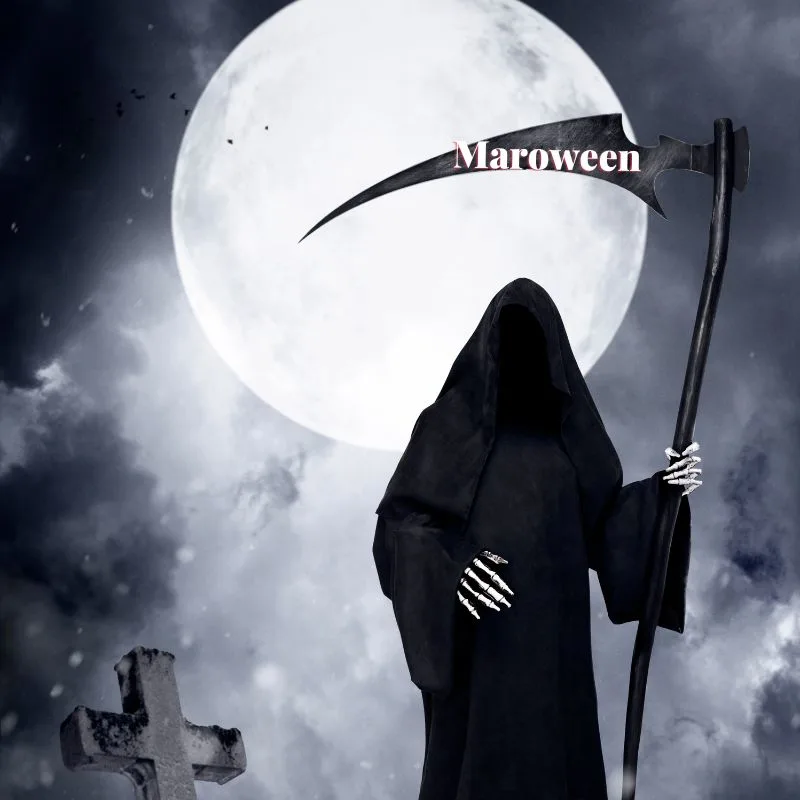 Special Halloween celebrations also take place throughout Malaga province, with special events each year in many towns and villages.
The friendly Maroween festival in Maro features music, dancing, trick and treating, a costume competition, and a horror parade.
It's one of the great Southern Spain Halloween traditions so don't miss it!
Velez-Malaga hosts its own VelezWeen festival you'll find a terror train, face painting workshops for the kids, and horror films being projected outside.
There are also several horror parades throughout the different neighborhoods.
Benalmadena's most unusual event is held in the Plaza de las 3 Culturas. Here you'll find a costume contest and also a screaming contest!!!.
Churriana hosts a Pasaje del Terror (passage of terror) in the Las Pedrizas neighborhood.
Fuengirola's main celebration centers on the Plaza de la Constitución and takes place from 21:00 to 00:00. Mijas main events take place in Corte Inglés and in the Ludoteca.
Ronda is home to 'Apocalypse Ronda', a passage of terror lasting for over half a mile.
Halloween in Cartama hosts a House of Horror every year in the Carthima Theater. Entry starts at 18:00.
Torremolinos holds an annual Halloween Gymkhana in the Molino de Inca botanical gardens and a Halloween parade in the center of town.
Estepona hosts several Halloween events, with a Mexican-style Noche de los Muertos (Night of the Dead), Pumpkin Night on the 29th of October, and Black Night on the 30th of October.
The traditional Halloween Night celebrations take place on the 31st of October.
Getting Around Malaga during Halloween
If you're staying centrally then you'll find Malaga to be a very walkable city with all major sights within close proximity.
Buses are cheap and plentiful. Perhaps the most useful route is line 92 (named 'Bus Turístico'), which passes by the cathedral, Malagueta beach, and Gibralfaro castle among others. – Check tickets here.
There are also hop-on-hop-off buses where you can select either a 24-hour or 48-hour pass. Prices start at €20.
Taxis in Malaga are relatively cheap compared to other major cities throughout Spain. You can identify them easily as they are white with a diagonal blue stripe on the side.
If you're driving into the old town, you'll have to pay around €20 per day for parking. Spaces can be very limited during the festivities as many streets are closed at night.
Malaga also has the famous Bike Taxis, or Trixis as they're known locally. These are a great way to do some unhurried sightseeing.
There's a limited two-line metro system. This is mainly of use for those traveling to the airport.
You'll find numerous retailers around town from where you can buy your scary Halloween costume.
Carrasquilla in Calle Juan de Padilla and Calle Peso de Harina is probably the main one of these.
Short FAQ about Halloween in Malaga
What is the Spanish version of Halloween?
The actual Halloween day in Spain is known as Dia de las Brujas (Day of the Witches).
However, Halloween here is a 3-day event with November the 1st called Dia de Todos los Santos (All Saints Day) and November the 2nd called Dia de los Muertos (Day of the Dead).
Is Halloween a big deal in Spain?
Oh yes! In Andalucía it is celebrated with great vigor, and nowhere more so than in Malaga.
The enormous zombie walk has to be one of the biggest Halloween events in the whole of Europe.
---
---
Hola, I'm Paulina! Together with my team, we are passionate about Southern Spain. Here we share all you need to know for great times in Southern Spain with the best places to visit, stay and, of course, the best food to eat.
Let's dive in and explore Southern Spain's outdoors, food and culture con pasión!