A travel guide to the best things to do in Malaga with Kids: the perfect Malaga Itinerary
What's the most important thing about planning a family vacation? You need to make sure it's fun for the children. When you're traveling with kids, you can't simply rely on beach days all day every day to keep them entertained.
They'll get bored of that quicker than you can sip your well-deserved sangria. Fortunately, Malaga is a paradise for kids, and there are so many fun attractions here for a fantastic day out.
The youngest members of the family won't get the chance to complain about boredom. To come to your assistance we've put together a list of all the best things to do in Malaga with kids.
This blog is supported by you, dear reader. If you purchase through a link, we earn a small commission. As an Amazon Affiliate, we earn from qualifying purchases.
Top Best Things to do in Malaga with Kids – Our Malaga Itinerary For 3 days
Tivoli World Amusement Park
Selwo Marina Delfinarium
Sea Life Benalmádena
Visit Bioparc Fuengirola
Museum of the Imagination
The Málaga Airport Museum
Useful Travel Information About Malaga
✈ Book cheap flights to Malaga with Skyscanner

⚘ Avoid tourist traps and get the customizable "Andalucia Like a Local" itinerary. – Get it here

✔ Book tours in Malaga with GetYourGuide

➳ Find the best hotels in Malaga with TripAdvisor

❖ Rent a car with at the best rates with DiscoverCars

✎ Never leave without travel insurance! I got mine at SafetyWing. It is easy to set up, cheap and reliable.

$ Withdraw money without hidden fees and avoid exchange charges with TransferWise (Free Mastercard debit card to spend money abroad)
Where is Malaga?
Malaga, is centrally located between the bohemian, student-city of Granada, and the famous portside town of Marbella, where the rich and famous like to dine on gambas al Pil Pil whilst yacht-watching.
Malaga is in the autonomous community of Andalusia which has a fresh blend of transcultural heritage, art, nature and passion that is not present in any other part of Spain.
The varied tourist-oriented beaches of the Costa del Sol or the mythical mountains of the Axarquía are all part of Malaga province.
How to get to Malaga
By flight: If you're flying to Malaga from Madrid or Barcelona, airlines like Ryanair and Iberia frequently offer low-cost options. You can also take a train from the Mara Zambrano or Alameda train stations. – Check cheap flights here
Bus or Train: Malaga can be easily reached by bus or train and, unlike many cities along the Costa del Sol, you can easily reach the coast by public transport, where you can easily get to your base. All buses arrive at Malaga's bus station. – Buy bus & train tickets here
How to get from Madrid to Malaga:
You can get from Madrid to Malaga comfortably by bus or train. Both methods of transport will leave you at the same final destination: the Malaga bus station, which is conveniently located right next to the María Zambrano train station.
Bus: A bus trip from Madrid to Malaga will take around 6 hours and cost you as little as €16,94. Buy bus tickets here
Train: The direct train from Madrid (AVE) gets you to either of the Malaga train stations (María Zambrano or Centro Alameda) in just two and a half hours. Depending on the season, a one-way ticket will cost you around €70. Buy train tickets here
How to get from Seville to Malaga:
Arriving in Seville? Hire a car, throw your day-bag in the boot, and hit the road to Malaga for a great day trip with the kids. Alternatively go by:
Bus: This will take roughly three hours if you choose a direct option at €19.24 one way. Buy bus tickets here
Train: Catch a train from Seville to Malaga for €24.95, and you'll be sipping your first cerveza at the Plaza Mayor in a little over three hours. Buy train tickets here
How to get from Cadiz to Malaga:
Need a break from surfing and looking to explore different kinds of kid-friendly beach vacations? Malaga and its surrounding beaches won't disappoint.
Bus: Catch a bus for just €19 and arrive in Malaga in less than four hours. Buy bus tickets here
Train: To get from Cadiz to Malaga by train, plan your trip accordingly: it will take you to Cordoba first, which is a city well worth exploring. So, be sure, to carve out enough time in your day, or turn it into a little weekend trip for €63 one-way. Buy train tickets here
Day 1
Aquamijas Waterpark
What's a holiday with children without the obligatory visit to a local waterpark? As far as summer activities with kids go, a day of splashing and sliding around a waterpark is always going to be an absolute winner.
The Aquamijas Waterpark is just a twenty-five-minute drive from Malaga, and in a prime location: at a walking distance into Fuengirola town and the Miramar Shopping Centre, where you will find great places to eat and/or shop.
On top of that, the Aquamijas Waterpark offers ample and free parking right outside of the park, which makes the park one of the best things to do in Malaga with kids.
Opening times:
Every day from 10:30 AM – 7:00 PM
Tivoli World Amusement Park
A visit to the Tivoli World Amusement Park in Benalmadena is like a mini-vacation in itself – and not just for the children. There are plenty of special treats for the adults here too.
From great meals and desserts at the thematic restaurants onsite to the incredible shows that are put on daily and the more than 40 attractions, this amusement park is a feel-good destination for everyone. Tickets can be ordered online to avoid queuing upon arrival.
Opening times:
June, July, August & September, daily from 05:30 PM – 01:30 AM
Low season: 12:00 PM – 08:00 PM
Visit Ataranzas Market
Kids aren't usually as excitable about shopping as us adults, especially not food shopping – unless, of course, there's a chance they might get a delicious snack out of it.
So, when you're looking for a selection of things to prepare for a lunchtime picnic at the beach, visit the Mercado Central de Atarazanas – it's truly one of the best things to do in Malaga with kids.
This is where locals shop for the tastiest regional products ranging from cheeses and cold cuts, too (dried) fruits, vegetables, and fish. The kiddos will love picking out their own bocadillo toppings for the Spanish sandwich.
Book here your cooking workshop and market visit in Malaga.
Opening times:
Monday – Saturday, 08:00 AM – 03:00 PM
Lunch at La Proa de Teatinos
Malaga's Teatinos district is popular for two important reasons: the vibe is always great – possibly thanks to being a university area full of inspired students – and the restaurants always offer the best tapas and menu del dia at an excellent price.
For an unforgettable meal and a menu that is divided into humorously named seafood, such as the traditional paella, meat, and dessert sections, head to La Proa de Teatinos.
With a stylish interior the older kids will feel proud to feature on their Instagram stories, a terrace for al-fresco lunching and mouth-wateringly delicious desserts, this restaurant will satisfy the whole family.
Book your private city tour with tapas and enjoy a tour that takes you to the best of Malaga's local restaurants.
Read more about what to eat in Malaga,
Opening times:
Monday 13:00 – 16:00
Tuesday Rest
Wednesday 13:00 – 16:00 and 20:00 – 23:30
Thursday 13:00 – 16:00 and 20:00 – 23:30
Friday 13: 00- 16:00 and 20:00 to 23:30
Saturday 13:00 – 16:00 and 20:00 – 23:30
Sunday 1:00 pm – 5:00 pm
Visit the Alcazaba and Gibralfaro Castle
One of the biggest requisites for kid-friendly things in Malaga – and anywhere else in the world – is plenty of space to run wild.
They will have the opportunity to do just that during a visit to the Alcazaba and Gibralfaro Castle, where wide walkways and plenty of green spaces provide plenty of room for them to roam freely, instead of having to push through the crowds.
The Alcazaba and Gibralfaro Castle is a perfect way to introduce your kids to a bit of history and also is one of the best free things to do in Malaga.
Built during the Hammudid dynasty and overlooking the city to one side, the ocean to the other, it's exactly the kind of place little Harry Potter enthusiasts will gain new inspiration for fantasy play. – Book here your guided tour.
Opening times:
Monday – Sunday, 09:00 AM – 8:00 PM
Selwo Marina Delfinarium
You don't have to hop on a boat to go see Dolphins – though you have your choice of chartered trips along the Costa del Sol.
If, however, you don't want to risk anyone getting seasick and putting a damper on the outing, just head straight to Selwo Marina Delfinarium in Benalmadena.
Just a twenty-minute car ride or a short train ride from Malaga is one of the best things to do in Malaga with kids if your little ones want to have a closer look at these majestic creatures.
Opening times:
Monday – Friday, 10:00 AM – 6:00 PM
The Málaga Airport Museum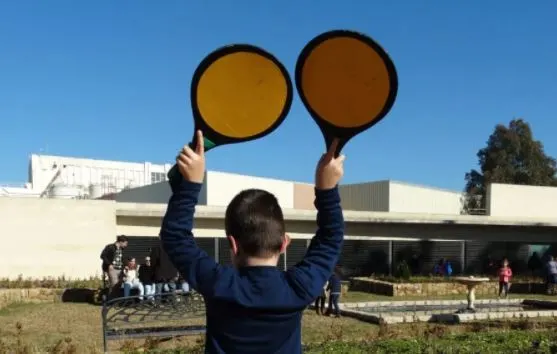 We have come to take flying to beautiful destinations such as Malaga for granted, but this method of transportation was once a luxury.
A visit to the Malaga Airport Museum, one of the best museums in Malaga, will be a great reminder for the whole family of just how far air travel has come. The kiddos will love getting a look inside the cockpit and comparing the pilot uniforms of the past to the ones they see today.
Opening times:
Wednesday – Saturday, 10:00 AM – 2:00 PM
Tuesday, 10:00 AM – 8:00 PM
Museo Interactivo de la Mùsica Malaga
Traveling with a little Mozart or Patti Smith in the making? Then be sure to take your boding rock stars to the Museo Interactivo de la Mùsica Malaga, for an exciting afternoon of experimenting with and learning about different instruments.
Lead them through the installations found in the white room and black room, before letting them showcase their own talents in the red room, where a virtual teacher will show them how to play the cajón, violin, piano, and more.
This is one of the best things to do in Malaga with kids because you are guaranteed to awaken a new appreciation for music here. The general entrance fee is €5, children under six years of age get in for free.
Opening times:
Monday & Tuesday, 10:30 AM – 6:30 PM
Enjoy Tapas at Taberna Monroy
The weather in Malaga, Spain is pleasant pretty much all year round – except for July and August when it can get really hot. On days like this, you won't need much for lunch or dinner and a selection of tapas will suit you just fine.
For wonderfully presented, regional, and super tasty tapas, head to Taberna Monroy, centrally located on the Calle Moreno Monroy. The perfect place to soothe your appetite whilst people-watching.
Opening times:
Mon: 1:00 – 4:00 pm, 8:00 pm – 12:00 am
Tue: 1:00 – 4:00 pm, 8:00 pm – 12:00 am
Wednesday: Closed
Thu: 1:00 – 4:00 pm, 8:00 pm – 12:00 am
Fri: 1:00 – 4:00 pm, 8:00 pm – 12:00 am
Sat: 1:00 – 4:00 pm, 8:00 pm – 12:00 am
Sun: 8:00 pm – 12:00 am
Day 2
Sea Life Benalmádena
One day your children will be old enough to go snorkeling or even diving, but for now, why not take them to Sea Life Benalmádena?
Described as the Costa del Sol's "family aquarium", Sea Life Benalmadena is one of the best things to do in Malaga with kids and one of the most famous ones.
Discover the most amazing underwater creatures up close and watch your kiddos recognize many of them from Pixar/Disney's Finding Nemo.
Opening times:
Monday – Sunday, 11:00 AM – 9:00 PM
Lunch at Picasso Tapas Bar
It's common knowledge that kids tend to get cranky as soon as hunger kicks in. If you're wondering where to eat in Malaga like a local waste no time and head straight to Picasso Tapas Bar at the first sign of a growling stomach.
With a spacious terrace and comfortable, family-sized tables, this restaurant located in the bustling Plaza de la Merced, offers everything from juicy albondigas (meatballs) in tomato sauce, to spicy patatas bravas and prawn skewers.
Museum of the Imagination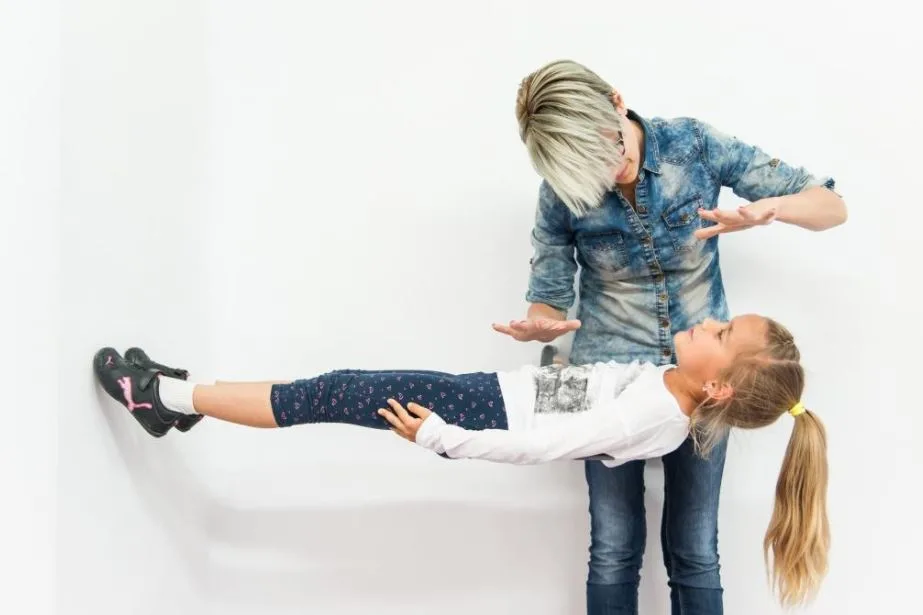 Feel like a family in Alice's Wonderland for a day by visiting the Museo de la Imaginación – a curious world full of optic illusions and fun.
While the youngest kids can hang back in a specially designed playroom with the lovely staff, the older kiddos of the family become fairytale characters for a day while mom and dad relive their childhoods.
Opening times:
Monday, Tuesday & Thursday, 11:00 AM – 8:00 PM
Friday, Saturday & Sunday, 11:00 Am – 21:00 PM
Inflatable Waterpark at La Caleta beach (east of La Malagueta)
Looking for more outdoor activities with kids? Head to La Caleta, one of the best beaches near Malaga for an afternoon of splashing around in the inflatable waterpark.
With slides, trampolines, and crazy obstacle courses, the kiddos will keep themselves busy for hours while the parents can kick back nearby on their unicorn float or get their tan on watching from a beach distance.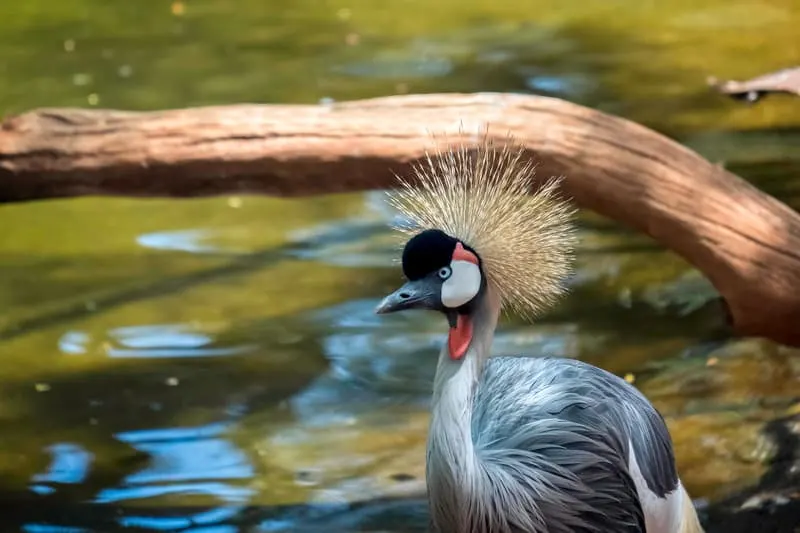 Head to the nearest car rental Malaga, Spain, or catch a train to Fuengirola for a visit to the Bioparc – a small but exciting zoo in the middle of the city. Especially during high season, make sure to buy your tickets in advance.
Watch the monkeys swing from tree to tree, come face to face with a kimono dragon, and marvel at the cuteness of the pygmy hippopotamus as a family. – Buy your tickets here.
Opening times:
Monday, Tuesday, Wednesday, Friday, Saturday & Sunday, 10:00 AM – 11:00 PM
Thursday, 10 AM – 8:30 PM
Get your day ticket here to guarantee fast entry!
Flamingos & Donkeys at Fuente de Piedra
Just an hour outside of Malaga, you will find an unassuming place called Fuente de Piedra – a tiny little village mainly surrounded by campo and the Laguna de Fuente de Piedra.
Here, once a year, you'll find flocks of flamingos hanging out between February and July. Another reason a visit here is a must is the Donkey Sanctuary (El Refugio de los Burritos), where there are plenty of donkeys awaiting a cuddle.
Opening times:
El Refugio de los Burritos, 10:00 AM – 06:00 PM
Day 3
Day Trip to Aqualand in Torremolinos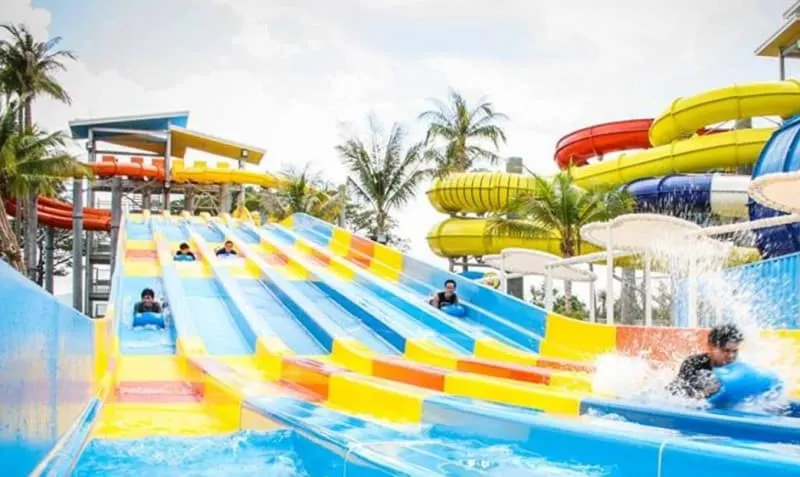 Another one of the best things to do in Malaga with kids is to head to Aqualand in Torremolinos for a day. Home to the Super Slalom slide, a surf beach, and various splashing stations for the youngest kids in the family.
A visit to this exciting waterpark will put a smile on everyone's face. Book your Family Pack ticket online for just €88 (2 adults, 2 children).
Opening times:
Monday – Sunday 11:00 AM – 07:00 PM
Book your ticket here for optimum flexibility. If your plans happen to change last minute – as they often do with kids – there is a free cancellation policy up to 24 hours before your booking.
Day Trip to CostaWaterPark in Fuengirola
With the Malaga weather typically being on the sunny and bright side, you can never go wrong with planning outdoor activities for the kids – especially those involving fun in the water.
That's why a day trip to the CostaWaterPark in Fuengirola should definitely form part of your itinerary. Giant slides, surfboards, and balancing games all day long – what more could a kid want?
Opening times:
Monday – Sunday, 11:00 AM – 8:00 PM
Day Trip to Torremolinos – Visit Cocodrilos Park
Torremolinos, a diverse and popular town just a ten-minute car ride outside of Malaga has been mentioned in various pop culture gems ranging from Monty Python's Flying Circus sketch, "Travel Agent", Fto being the setting of the Spanish comedy, Torrente, el brazo tonto de la ley.
You can book a guided to to this famous park that your kids will never forget. It will stay in their memories as the place they got to see real crocodiles at the Cocodrilos Park. – Book tickets in advance here.
Opening times:
Monday – Sunday, 11:00 AM – 6:00 PM
Tuesday's Closed
Best Hotels in Malaga, Southern Spain
Looking for kid-friendly hotels that will allow mom and dad to relax while the kids live their best vacation lives?
Look no further – whether you want to introduce the kiddos to pure luxury or are eager to find a self-catered aparthotel, we've got you covered.
Here is our selection of the best hotels in Malaga.
Book yourself into your own Andalusian fairytale at the Soho Boutique Castillo de Santa Catalina, one of Malaga's most unique luxury hotels.
Built in 1932, this charming castle overlooking La Caleta beach is stylishly decorated and is guaranteed to make you and your family feel like kings and queens of your own holiday kingdom.
All rooms are accessible by elevator, making the hotel pushchair friendly.
Check rates and reviews here.
Colorfully decorated, modern, and featuring a roof terrace with a swimming pool overlooking the city, the Mariposa Hotel Malaga is the perfect family hangout.
With a funky breakfast area, bold art, and warm lighting in the evening time, it is a wonderful place to wind down after a long day of exploring the best things to do in Malaga with kids.
Surrounded by lots of great eateries – including the Cereal Boom Cafe the little ones will love – this hotel allows for a lot of flexibility.
Take a look at prices and reviews here.
As much as we all love to recharge on a hotel holiday, it doesn't always fit into the family routine – sometimes it's just easier for everyone to have their own space.
Also, a private kitchen for self-catering can be for some a better alternative, instead of having to adhere to strict breakfast, lunch, or dinner hours set by a hotel.
In that case, reserve one of the spacious comfortably furnished Santa Cruz Apartments on the Alameda Principal, the very center of Malaga. In walking distance of all the cool shops, cafés, and the beach, this is a great option for families with kids of mixed ages.
Check rates & reviews here.
Getting Around Malaga
When it comes to getting around the city, one of the best things to do in Malaga with kids is to explore the many cool districts and beaches by foot or bus.
The Hop-on/Hop-off buses are always a fun way to explore a new city and in this way, you won't miss out on all the little hidden gems tucked away in narrow side streets. – Book here Hop-On-Hop-Off Bus Tickets
This will keep you flexible and able to stop at any inviting-looking cafe or quirky little boutique along the way.
If you have a specific destination outside of the city in mind, head to the portillo de autobuses (bus station) next to Estacion María Zambrano; for inner-city explorations, renting a bike or Segway is always a fun option.
Check as well our 1 day in Malaga itinerary if you're visiting the city for a short trip.
---
Map – Best Things to do in Malaga with Kids
---
Short FAQ about the Best Things to do in Malaga with Kids
---
Is Malaga suitable for families?
Absolutely! Whether you're walking along the beach via the paseo maritimo or through the inner city via its pedestrian streets, there is plenty of space for kids to safely roam wild. There are lots of attractions for unforgettable family memories.
What should I not miss in Malaga?
If you happen to be in the city around the second week of August, don't miss out on the famous Feria de Malaga. You will get a real sense of one of Spain's beloved traditions and plenty of sightings of women wearing sevilliana dresses
Is Malaga dangerous?
No, it is a very safe city. However, just like any city, it has certain areas that are best avoided at night time, such as El Palo, Palma Palmilla, and Cruz Verde.
---
---
Hola, I'm Paulina! Together with my team, we are passionate about Southern Spain. Here we share all you need to know for great times in Southern Spain with the best places to visit, stay and, of course, the best food to eat.
Let's dive in and explore Southern Spain's outdoors, food and culture con pasión!