A guide to the best family hotels in Malaga, Southern Spain for every budget.
If you are looking for the perfect place to spend some quality holiday time with your family, or the best weekend getaways, Malaga Spain might be one of the best choices to look into.
This city has it all: rich cultural and historical heritage, amazing food that follows the two, good transport connections, and one thing that children are always looking forward to – great beaches!
Of course, the accommodation offer goes in line with numerous tourist attractions of the town. So it should be no surprise that, when it comes to the best family hotels in Malaga, there are several options to choose from.
Considering hotel family offers can be a huge job, and the fact that there are multiple important criteria (the nature of the trip, the budget, offered amenities, vicinity of the important sites, and overall – the lifestyle of the family itself) this guide is a short overview of the best family hotels in Malaga.
The list with the best family hotels in Malaga is carefully chosen and split into diverse categories by certain commonly browsed characteristics by people looking to visit one of the most popular Andalusian destinations.
Best Family Hotels in Malaga
---
---
Best 5 Star Family Hotels in Malaga
Luxurious and spacious
Authentic and historical
This is one of those 5-star hotels in Malaga that is not to be missed. Gran Hotel Miramar in Malaga Spain is situated next to the beautiful promenade, and it has an amazing beachfront view.
Long strolls along the promenade and getting the front seat to observe the life of the locals is just one of the things to experience along with the amazing offer of the hotel itself (the bar, spa, pool, etc).
This is a luxurious building with around 200 rooms whereas each floor has its own unique style and hotel decoration.
And not only that, the historical background of the hotel – the Spanish Civil War and how the hotel was actually a hospital at the time, can be a nice way to keep the children entertained while teaching them a bit about Spanish history.
Great location, pedestrian zone
Unique
For those looking for more 5-star summer vacation ideas, Vincci Seleccion Posada del Patio is one of the avant-garde ''pearls'' in the center of the city. Although considered a boutique hotel, it offers 105 rooms which can be great for a big family.
It is a hotel that blends very old construction materials such as Roman stones and Arabic bricks (from the 5th and 15th centuries), with a modern minimalistic style.
The location is perfect for families interested in exploring the city on foot, as the pedestrian zone is all over the place. The hotel also has a nice twist for art-lovers as its reception hosts different art exhibitions each month.
Comfort and privacy
Fully-equipped
If you are not really into hotels, and you feel more comfortable renting an apartment, Malaga has a five-star solution to it.
Apartamentos Malaga flat offers 35 accommodation units in diverse locations in Malaga. Two particularly good things should be emphasized here: the first one is that all of the apartments are within the city center and they have all the amenities and the proximity of bars and restaurants in Malaga, Spain.
The second one is that Malagueta beach is approximately 20 min away by foot. And for those who are not fans of walking – all of the apartments have great transport connections as the stations are nearby.
Offers outdoor activities
Close to the beach
Sea view, comfortable, well-equipped rooms, and outdoor activities – this is a short description of a very popular hotel destination in Malaga.
Hotel Castillo De Santa Catalina is not so big. It has 22 rooms, and it is located in the Este district and about 300m from the beach. This hotel can easily be one of the fun places for kids among Malaga hotels as they can go horse riding, scuba diving, and so on.
To check if Castillo de Santa Catalina can be an option among family resorts to spend a great weekend, or a longer vacation, click here.
Best 4 Star Family Hotels in Malaga
Diverse offer
Great for relaxation
This is a rather unique place to stay when in Malaga. The hotel is built next to the castle known as the Gibralfaro castle – hence the name.
It is located in the opposite direction of Citadel (also known as Alcazaba), and one of the slightly different things from the hotels mentioned before is that this building is surrounded by many pines. The hotel has a diverse offer – from food to outdoor activities.
One piece of information that every foody would appreciate is that the hotel has traditional Andalusian dishes, typical for Malaga. On the other hand, there are fields specialized for golf and tennis near the hotel premises.
If this place sounds like a family hotel and kid-friendly place for you, check photos and find more information here. You can also read all about the best Paradores in Andalucia and get familiar with the term Parador.
Kid-friendly
Away from tourist crowds
Mariposa is one of the best family hotels in Malaga to suit those who want to spend some peaceful time in the city.
It can be said that it is one of the all-inclusive resorts for families since it has family rooms. It also offers inserting cots and extra beds upon request while having family rooms and children's TV channels as one of many offerings within its premises.
The hotel is well-located and it has reasonable prices while fostering urban touch to 52 rooms at its disposal. The city center, as well as the train station, is 10 minutes away on foot.
To check if the hotel currently offers family vacation packages visit the following link.
Experience-oriented
Vicinity of important sites
The Molina Lario hotel is a perfect place to fully taste Andalusian life as a local. First of all, its location is spot on.
It is set in a pedestrian district, just across the famous Cathedral, and just a few steps from Malaga's port. It is close to the best tapas restaurants in Malaga, and even the hotel itself has a restaurant called Matiz where you can taste some of the traditional recipes.
All rooms (103 of them) are brimming with light and style, aiming to leave the impression of comfort. It has a charming historical touch to it.
As it is situated in the "heart of the city", the hotel has a good transport connection whether you need to go to the beach or to the Malaga airport.
If you are wondering where to stay in Malaga, check the hotel information here.
Good reputation
Multipurpose areas
Other than being good for a family vacation, this Barceló Málaga also has a reputation for being one of the best business hotels in Spain. Several things helped this hotel earn this position. The first one is the location as it is situated in the city center.
The second one is the direct connection with the high-speed train station. This is a very important thing to note, especially for trips that combine business and family trips.
The main tourist sites are close enough, and the transportation connections are good. In addition, this is a hotel with a high number of rooms available (a total of 221).
If your children are by chance old enough to be on social media, then it would be interesting to see their reaction when they hear that the Barceló Málaga is among the most "Instagrammable" hotels not only in Spain but in the whole Europe.
Best Budget Family Hotels in Malaga
Cozy
Good for families up to 4
This offer suits those who prefer to rent an apartment, rather than staying in a sea life family resort hotel. Santa Cruz Malaga Apartments have 12 well-equipped units with all necessary amenities, including a Jacuzzi.
One of the things that might be important to have in mind is the fact that these units can accommodate up to 4 persons each.
The location is suitable since it is in the center of Malaga. Trying some of the famous traditional dishes such as Spanish Berenjenas con Miel can be done in a close-by restaurant.
Or you can simply try a family cooking project during the vacation, and try making Ajoblanco cold soup on your own.
Malaga city is a great opportunity to book beautiful and unique apartments, especially if you are willing to try some of the best Airbnbs in Malaga.
Check the information about this place as one of your potential family hotels by clicking here.
The Caleta Homes is another option to choose from when searching for nice and comfortable apartments to rent for the family trip you want.
This particular apartment offers 6 furnished and fully-equipped units situated less than one km from Malaga's port. About half a km further, and you'll be at the famous Mercado Central de Atarazanas.
These venues are especially good if you are looking for accommodation up to five minutes walk from the beach but avoid staying in a hotel. And even more because among all of the options mentioned above, this is the first one that is pet-friendly.
The restaurants and bars are not far away. The closest one named La Bahia is known for serving typical Spanish, but also European dishes. Another good thing about this place is that in most cases, you don't need to have a car to reach the location you want.
And for those who are suffering from allergies, the owners made sure to be helpful a bit by keeping a high level of hygiene while providing anti-allergic pillows to guests.
Budget-wise
Simple but comfy
A very good on-the-budget accommodation offer to consider is Casual Málaga del Mar.
This is a simple, yet well-positioned property that has 53 rooms at disposal. Each room has basic amenities such as a private bathroom, toiletries, tv, air-condition, and so on.
The reception at the hotel works 24/7. Since it is located in Malaga's central district, some of the famous sites you can visit (less than km away) are Calle Larios, Malaga's Cathedral, and the Museum of Carmen Thyssen.
Some of the best cheap hotels in Malaga can offer you the same amazing experience without having to worry about spending too much money on accommodation in Spain.
More details can be found here.
Best Family Hotels in Malaga near the beach
Up to 6 people per room
Food choice – two restaurants
When we talk about the best family hotels in Malaga near the beach, we can't omit the charming Malaga Premium hotel as one of the must-consider options.
Although it might seem that this is another hotel located in the most attractive part of the city, this is a perfect accommodation for spending an amazing holiday full of Andalusian spirit.
In addition, it has the capacity of accommodating up to 6 people per room and 23 rooms in total. It's actually really simple – you get a good value for the money, plus the view.
Let's get to the premium part. Unlike the accommodation units above, this hotel has not one, but two restaurants. The menu can be defined as both daring and creative.
Also, if it just so happens that you want to make a celebration (birthday party for example), the hotel has a space for events.
If you want to fully enjoy the warm summer weather in Malaga Spain, while staying in Malaga Premium hotel, the beach is just a few minutes away. It is also known as one of the first gastro-hotels in town.
Two bedrooms, a patio
Great for toddlers
One-room or one-bedroom units are not everything Malaga accommodation has to offer to families. There are places such as Lodgingmalaga Cristo de la Epidemia.
This apartment has broad space and all of the advantages of having a patio, two large bedrooms, a washing machine, and so on. Moreover, it is close to all of the biggest attractions of Malaga.
There is the Picasso Museum close by, the museum of Glass & Crystal, the museum of Jorge Rando, and of course Alcazaba as one of the most significant touristic sites of the city.
One thing about this hotel is that it's possible to book an airport shuttle for an additional price. Furthermore, (and this is especially helpful for families with toddlers), is that it is possible to arrange babysitting services, as well as inserting a baby crib if needed.
To get more details visit the page here.
Entertainment program for all ages
Full resort
Back to the big hotel, or better say to a resort as one of our choices for the best family hotels in Malaga. Sol Malaga Guadalmar by Melia offers 221 rooms. It is set close to the beach, but not as close to the city center as the previous ones.
It is not strange to see people doing recreational activities such as running, cycling, or simply strolling through the day. There is a lot of natural light, and contemporary touch can be seen in all aspects of the hotel's design.
One of the most important things to mention is that Sol Malaga Guadalmar by Melia has programs dedicated to all ages, both during the day and in the evenings.
The rooms are not luxurious, but rather simple and efficient. Except for a well-developed entertainment program, there are two pools to enjoy.
And although this hotel has everything that a family needs to spend a nice and creative holiday, it is difficult not to note that other than Sol Malaga Guadalmar there aren't any bars or even stores in the vicinity.
Best Family Hotels in Malaga with pool
Specialized cuisine
Quality service
This hotel is set in the busy part of the center – the business district. However, what is really interesting about it is the Guernica restaurant. It is said that guests of the restaurant can be a part of something that is quite an event.
Namely, the team of the restaurant is specialized in local cuisine, but also in seasonal themes. It is an exciting way of introducing and tasting food to people.
There are other contents available within the premises of the hotel upon request. For example, it is possible to schedule massage therapy. In addition, there is an outdoor pool with a sauna if you are looking for the best hotels with pool in Malaga.
Finally, several room types are depending on the number of people and the budget. For example, it is possible to book standard double rooms, triple rooms, economy rooms, etc. More importantly, at Salles hotel Malaga there are family rooms available for booking too.
Intimate and peaceful
Close to the beach + the pool
Being on the beach and having a pool at disposal simultaneously has a nice ring to it. When it's summer, that can be a great relaxing combination. One of the ways to have both is to consider booking Atico frente al mar piscina y playa c pacífico.
Why is this the ideal option? The beach is approximately 100 m away. Furthermore, the pool is outdoor, and it is seasonal. So, it means that both – the water and the seawater are close enough.
The apartment is close to the museum for automobiles and fashion. An important note is that the balcony view and the private parking are also included in the offer. However, if you travel by plane, it is possible to arrange shuttle transportation. The airport is 5 km away from the property.
The shopping district is close
Architectural heritage
This is one of those hotels with a broad architectural, historical and cultural background. The façade of the hotel was built in the 18th century.
However, now it is renovated. The renovation brought innovation as well. So design now represents a mixture of the Mediterranean and contemporary aesthetics.
Room Mate Valeria is set in the so-called Soho barrio that is famous for its street art. Along the way, there is a whole shopping district close by. But also the famous gardens Paseo del Parque.
All of the relevant sites, as well as the beach, are close. This makes it a good choice for spending a weekend away to relax.
Getting Around Malaga
One of the main advantages of Malaga, especially when it comes to children, is its wide pedestrian zone. Still, there are a lot of things to see, and many things to explore.
The easiest way to do that without renting a car is by jumping on a "hop-on-hop-off" bus tour. That is also one of the cheapest ways of sightseeing as the ticket is valid for 24 h and it costs 15 h. Note that one sightseeing bus tour lasts for 90 minutes.
Other than hiking and bus tours, bicycles are also common in Malaga. However, for younger children driving a bike in a crowd full of tourists can be tricky.
There are timetables available for buses out of the city, like for example to get from Malaga to Marbella, and you can check them here.
Malaga has good bus and train connections in general, and as an alternative, there are several ways to arrange private transportation to the desired destination.
When you're in Spain and looking for what to eat in Malaga, you can start with the famous Spanish tapas and the Spanish chicken croquettes are most beloved by everyone, especially children.
If you want to offer your children the best holiday, know that this city is full of fun attractions for kids. You can spend an amazing holiday enjoying some of the best things to do in Malaga with kids.
Map – Best Family Hotels in Malaga
---
Short FAQ about Best Family Hotels in Málaga
---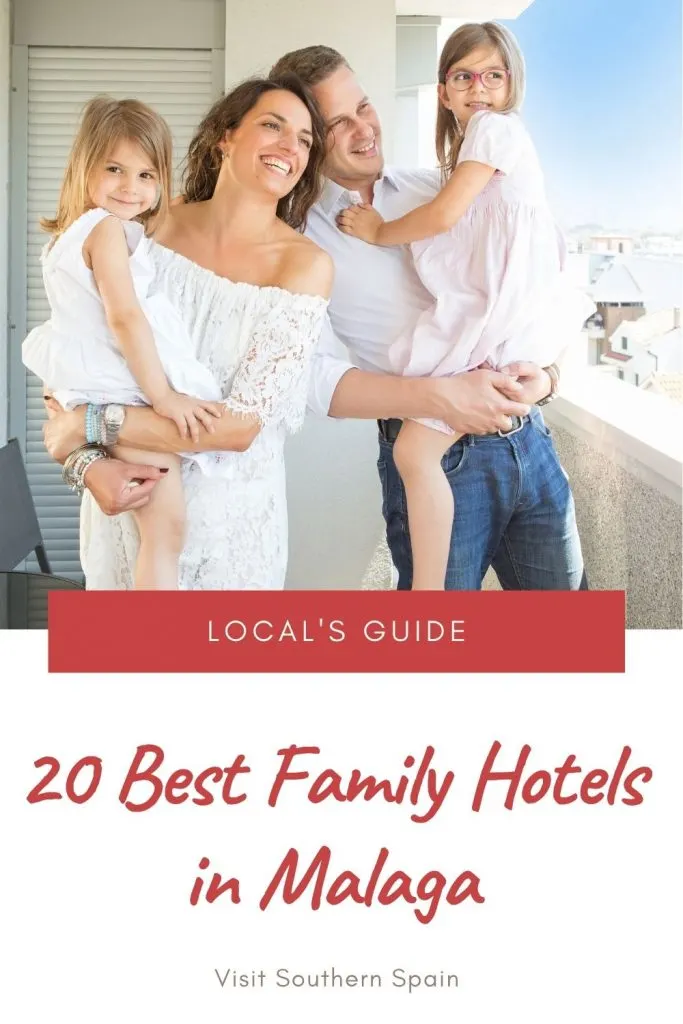 ---