A guide to the best hotels in Malaga with Pool for every budget
Are you planning a trip to sunny Malaga and looking for someplace special to stay? Look no further than the fantastic hotels in Malaga with pools.
Whether you're traveling alone, with kids, or as part of a group, these hotels are guaranteed to be the perfect place for relaxation and rejuvenation after days spent exploring this vibrant city.
Get ready to enjoy beautiful views from your private balcony while dipping into the crystal-clear waters of an inviting pool.
Read on for more information about each hotel's unique features and amenities that make it stand out from other accommodations in town.
This blog is supported by you, dear reader. If you purchase through a link, we earn a small commission. As an Amazon Affiliate, we earn from qualifying purchases.
Best 15 Hotels in Malaga with Pool
---
Best 5 Star Hotels in Malaga with Pool
First-class experience
Luxury
If you are looking for a hotel that provides a first-class experience, and at the same time, it is located in the pedestrian zone, just a few steps away from all tourist attractions, five-star hotel Vincci Seleccion Posada del Patio should be on your list.
It is a boutique hotel of unique design, and as some reviews name it, it is one of the "avant-garde" places in Malaga's city center. It is a spacious hotel with 105 rooms. It can accommodate all sorts of requests whether you are coming to spend your holidays with many family members or not.
Vincci Seleccion Posada del Patio offers a unique combination of modern minimalistic designs and centuries-old constructions in the heart of the city.
Apart from the pool available for the guests, the hotel has nice artistic content as it hosts monthly art exhibitions. It is a good choice for those who love to explore the city on foot, and at the same time enjoy the vibrant life of the streets of Malaga.
More info about the hotel is available here.
Majestic architecture
Next to the promenade
Gran Hotel Miramar is a hotel that is an attraction for itself. Majestic architecture and the size of the hotel that accommodates guests from all over the world in more than 200 rooms is just one of the reasons to have it on your list of the best hotels in Malaga with pool.
The hotel is situated next to a promenade. Plenty of rooms have a beachfront view, and since the promenade is always lively, it takes no time to blend in the crowd and experience the life of the locals firsthand.
The building is rich in both its looks and its history. For those who are interested in knowing the history, during the Spanish Civil War, the building of the Gran Miramar hotel was a hospital.
Nowadays it is a five-star hotel and it offers accommodation of high value. It has a beautiful bar and a big pool nearby, so it can meet all of its guests' expectations.
You can check the photos of the Gran Hotel Miramar here.
Multiple outdoor pools
Private spa area
Although it is 32km away from Malaga, the hotel Vincci Seleccion Estrella del Mar is, as its name says, indeed the "star of the sea".
This hotel has not one, but four outdoor pools. In addition, there is a pool bar, fit for enjoying a cold drink or a cocktail during your stay in Spain. The offer of this five-star hotel is extended to Balinese beds and sun loungers free of charge for all the guests.
If you are prone to have more privacy, there is also an option of booking a private spa. Or simply enjoy your day in the hotel's gardens and restaurants.
One of the main reasons you should consider Vincci Seleccion Estrella del Mar although it is closer to Marabella (8km) than to Malaga (32km) is because it has an infinity pool.
The access to this pool is for adults only, and it comes with the additional cost as well as access to the beach club if you are up to it.
Check out the offer of this hotel here.
High-class spa offer
Different types of pools
Another hotel that should be taken into consideration as one of the Best hotels in Malaga with a pool is the five-star hotel, Senator Banus Spa.
Although it is located about 75km from Malaga's airport, the hotel has one of the best spas in Malaga and Costa del Sol.
At this deluxe hotel, you can use a dynamic pool that is located inside the hotel. In addition, Senator Banus Spa has three types of pools on offer: two outdoor pools and a contrast pool (cold water contrast).
It is also possible to choose an aromatherapy shower, hot tub, steam, or foot bath, depending on your preference.
For outdoor activities, Malaga city center is not that close. There is a hotel offer that will entertain you, especially if you are fond of golf, as there are 3 golf courses just 2km away from the property.
Also, Marabella is in the vicinity, so there are different places to explore and enjoy your stay.
Learn more about the hotel here.
Best 4 Star Hotels in Malaga with Pool
Near the port
Revertible indoor pool
If you are looking for accommodation near the port and with a direct sea view, hotel Ilunion Malaga offers comfortable, well-designed rooms with several additional facilities at the property. First of all, there is an indoor pool along with a wellness area for relaxation.
The indoor pool can be reverted to the outdoor pool during summer. Guests can choose from various treatments. There are beauty treatments, sensation showers, and there is a sauna too.
For those who want to keep up the good shape when on vacation, the fitness center is also a part of the hotel's offer.
When it comes to food, you can enjoy various dishes, whether typically Mediterranean or snacks. Ilunion Malaga is not far from the city center, and tourist attractions such as Picasso Museum are approximately 20 minutes away by foot.
Check more info here.
Rooftop pool
Excellent for couples
Rooftop pool and beautiful view on Malaga's port are the two features you can have when staying in the AC Hotel by Marriott Malaga Palacio.
This 4-star hotel has all of the famous sites nearby, so you can reach Malaga Cathedral or Paseo del Parke in minutes. When it comes to hotels by the beach, the beach known as La Malagueta is close.
It is also possible to walk to the Castillo de Gibralfaro (famous Malaga castle) or the Alcazaba since they are not far away from the property.
Food from all over the world can be enjoyed in this hotel with a pool. There is a restaurant named Atico on the 15th floor of the hotel.
This is one of the best hotels in Malaga with a pool for couples, as the booking rating for it is 9.8.
Check the reviews here.
Unique sights
Attractive historical location
Castillo de Gibralfaro is one of the most famous historical sites in Malaga. It is no wonder that the hotel located just right beside it would be one of the ideal choices when visiting this popular Andalusian city.
When looking for the best hotels in Malaga – where to stay in Malaga, Spain, accommodation at the top of the Gibralfaro Mount might just be the right place to choose. In addition, this sea-view hotel gives a rather unique perspective on the Mediterranean.
Guests are welcomed to use a nicely designed roof terrace and swim in a big, well-equipped swimming pool. Moreover, there are several outdoor activities offered nearby. The visitors can enjoy playing tennis or golf while staying at Parador de Malaga Gibralfaro hotel.
View more information about the hotel here.
Great for business trips
Good transportation connections
Barcelo hotel is one of the hotels that is known for its excellent service and location. It is also known as one of the best hotels in Malaga with a pool, especially when it comes to business trips.
The hotel itself can accommodate guests in 221 comfortable rooms. The design of the whole property is contemporary, and one of its best advantages is its direct connection with the speedy train station, and overall good transport links to all other stations and the airport.
For those interested in conference rooms while in Malaga, Spain, Barcelo hotel offers over 1500 m2 of modern and well-equipped spaces that can be used.
A hotel has a beautiful rooftop with additional facilities, such as a big, modern pool, a bar, a solarium area, and so on. The fact is that Barcelo has a great location, a lot of rooms, and offers content that can meet all of your needs regardless of the season.
To book a room in Barcelo Malaga, click here.
Best Budget Hotels in Malaga with Pool
Good value for the money
Outdoor pool
For those feeling more comfortable staying near the tech and nature-oriented parts of Malaga, Posadas de Espana is one of the best budget hotel options on the market.
The Botanical Gardens of Malaga are close to the hotel, and on the other hand, the well-known Technology park of Andalusia is also within walking distance.
Although the hotel is approximately 13km away from the historical center of Malaga, it is well-connected, and it is not complicated to reach any of the tourist sites of interest.
The closest beach is several kilometers away, but the Posadas De Espana Malaga has a nice outdoor pool within its premises, ideal for the hot sunny days during summer.
Take a look at the hotel here.
Near the airport
Inexpensive
Hotel preferences often depend on several common reasons: the budget, the reason for visiting the city, and the lifestyle of the guest.
If by chance, you are just passing through Malaga, or you just want to be located near the airport with easy access to the motorway, Hotel Malaga Nostrum fits these criteria.
It is among the cheapest hotels you can get for the service it provides. Namely, the rooms are comfortable and bright, and the reception is available 24/7. On the other hand, there is a seasonal pool outside.
So for those who visit during summer, the fact that this is not one of the Malaga beach hotels won't bother you much. However, the beach can be reached in about 10 minutes by car. The city center as well.
See more information here.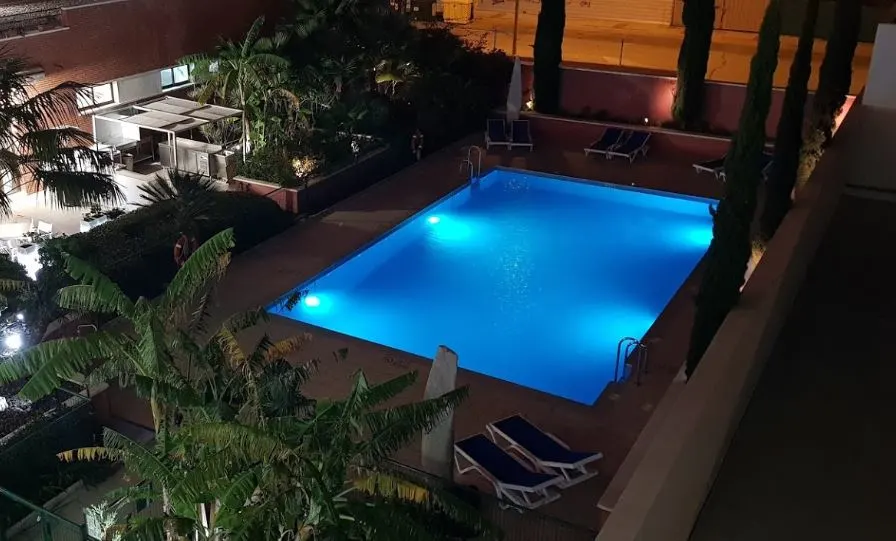 This modern hotel has an outdoor pool. It is situated near the Aquatic center and about 5km from the historical center of Malaga. If you are keen on visiting the historical sites around the city center, arranging rent-a-car at the reception is possible.
Hotel rooms have all the necessary features and a nice, contemporary decor. There is a nice restaurant on the premises of the Hilton Garden Inn. Mediterranean food is on the menu, as well as some classic international dishes.
There is also a bar near the pool so the guests can relax and have a drink while being outside.
Learn more about the hotel here.
Best Hotels in Malaga with Pool near the Beach
Poolside cafe
Excellent service
When it comes to beachfront hotels with a hotel pool, Soho Boutique Las Vegas offers an offer that extends to the gardens and poolside café.
The property can receive guests in 107 rooms, and most of them have private balconies. Although it is not a Malaga spa hotel, the hotel offers professional service, good food, and proximity to the beautiful beach sunsets.
The hotel has a good position since most of the bars and restaurants are around it, and the city center is about half an hour away on foot.
Learn more by clicking here.
Contemporary design
Family-friendly
For those who wander are hotel pools open during Covid, the answer depends from hotel to hotel. With its contemporary design and elegantly decorated rooms, hotel Miramar has its pool opened to the guests.
At the same time, it offers three types of views, so you can enjoy looking at the beach, at the gardens, or have a view oriented to the city.
The hotel offers a restaurant with an international offer of dishes. However, it is always recommendable to order Mediterranean food and get the taste of the typical Andalusian dishes while visiting.
Miramar is also among family-friendly hotels, especially since it has a pool suited for children. On the other hand, it is also good for organizing events as it offers large conference rooms.
The touristic sites are less than a kilometer away, and you can reach them easily on foot.
Check out more about hotel Miramar here.
Eco-efficient
Well-connected
As already mentioned, Ilunion is a good, near-port hotel choice when staying in beach hotels. The building itself is said to be eco-efficient, and the beach is nearby.
Ilunion has an indoor pool and a wellness and fitness area. It makes it ideal for those who come to enjoy their days in Spain as relaxed as possible.
The train station is a 5-minute walk from the hotel, and it takes three times more to get to the main tourist sites. When it comes to food, the hotel has a restaurant as well, and it offers both local and international cuisine.
Note that the indoor pool in Ilunion is converted into an outdoor pool during summer days.
See more about the hotel Ilunion Malaga offers here.
Best Hotels in Malaga with Pool for Families
Well-equipped rooms
Outdoor activities
Benalbeach JR Suite offers well-equipped units for those who'd like to be close to different types of activities. Namely, in the vicinity of the hotel, there is a waterpark. And for those fond of hiking, there are hiking trails and tours close to the property.
Malaga's historical center is a bit farther away – 17.3km to be precise, but the hotel has a big outdoor pool for swimming, and also, La Viborilla beach is less than 3km from the place.
Rooms have all the necessary features to make your stay comfortable, and apart from being one of the best Airbnbs in Malaga, it is generally a good budget choice.
Check the prices and the room features at the BenalBeach hotel here.
Communal outdoor pools
Rich content offer
Holiday World Resort might just be one of the best family hotels in Malaga. The main reason is that this is a complex that features communal outdoor pools which are perfect for families.
In addition, the resort is situated close to the Benalmadena beach, and it has facilities ideal for the kids such as game rooms, buffet restaurant, and so on. At the same time, this resort has a spa, a nightclub, and a bar. But it also has gift shops, hairdressers, etc.
When it comes to transportation, it is possible to arrange a car or a bike rental, and when the time comes to travel from Malaga, the airport arrangements can be done at the 24/7 reception. It should be noted that Malaga airport is 24 km from the Holiday World Resort.
If you are wondering about the best things to do in Malaga with kids, know that Malaga is a paradise for kids, and there are so many fun attractions here for a fantastic day out.
Look at the pictures and the prices here.
Beachfront view
3 pools and entertainment offer
Globales Playa Estepona is a beachfront hotel situated in the province of Malaga. The place has two restaurants that can be a perfect testing area for figuring out what to eat in Malaga.
They are a blend of local and traditional and more open-touristic oriented Andalusian spirit. If you've never tried the famous Gambas al Pil Pil, here it would be the perfect opportunity to do it.
There are a lot of onsite activities for the guests. You can enjoy swimming in one of the three pools, or play tennis at the hotel's tennis court. It is also possible to do water sports and more social games such as darts and table tennis.
The entertainment offer also doesn't lack, and at night you can sing karaoke with friends or just sip drinks while gazing at a beautiful sea view from the terrace.
To take a look at the Globales Playa Estepona offer, go here.
Getting Around Malaga
There are three common ways of getting to know Malaga. The most common one is traveling by bus. As a tourist, it is useful to know that there is a hop-on-hop-off daily bus, and it can be used to comfortably tour the city.
However, there is only so much you can see from the bus. The pedestrian zone is perfect for exploring the authenticity of life of Malaga's locals. It is also a way to get a taste of all kinds of delicious foods or famous tapas such as the Spanish chicken croquettes.
Bicycles are also quite popular in Malaga, so you might consider renting a bike from the city's rent-a-bike office such as Malaga Bici
For a 90 minute drive with a 15 euro ticket which is available for 24 hours, it is best to get on the red-colored city sightseeing "hop-on-hop-off" bus.
It is also good to know that there are good bus connections from Malaga to its provinces or other nearby cities. The timetables with all relevant information are available on the internet, and in some cases, it is even possible to buy tickets online.
In Malaga, you can find many amazing opportunities your you and your family, from the best hotels with pools to some of the best Airbnbs in Malaga as well.
Map – Best Hotels in Malaga with Pool
Short FAQ about Best Hotels in Malaga with Pool
---
---
---