The ultimate transportation guide between Marbella and Malaga, incl. Malaga airport-Marbella
If you can't decide between a beach and a city holiday, a foodie or shopping experience, a budget or luxury vacation, head to Malaga – Costa del Sol's city that has it all.
Dive into the historic realms of this charming city and treat the senses to a memorable holiday.
For an escape onto the famous Golden Mile and people-watching whilst sipping on champagne in Puerto Banus, there are plenty of options on how to get from Malaga to Marbella.
Of course, there's more to Marbella than the glitz and glamour we've seen on TV and have read about in tourist and gossip magazines.
In the old town of Marbella, for example, you won't feel as though you require a dress code as you walk past lovely little boutiques and enjoy coffee or tapas at the Plaza de los Naranjos.
This blog is supported by you, dear reader. If you purchase through a link, we earn a small commission. As an Amazon Affiliate, we earn from qualifying purchases.
Useful Travel Information About Marbella
✈ Book cheap flights to Marbella with Skyscanner

⚘ Avoid tourist traps and get the customizable "Andalucia Like a Local" itinerary. – Get it here

✔ Book tours in Marbella with GetYourGuide

➳ Find the best hotels in Marbella with Trivago

❖ Rent a car at the best rates with Discover Cars

✎ Never leave without travel insurance! I get mine at HeyMondo. It is easy to set up, cheap and reliable.

$ Withdraw money without hidden fees and avoid exchange charges with TransferWise (Free Mastercard debit card to spend money abroad)
Distance from Malaga to Marbella
With a distance of just under 60km from Malaga to Marbella, you can easily cover it in just under an hour by car or taxi service.
Depending on your choice of public transport, it might take a little longer.
BEST OPTION: How to get from Malaga to Marbella
Car or bus: The best way to get from Malaga to Marbella is by car or bus. Buses from Malaga to Marbella are timely and comfortable, especially if you opt for a direct line. – Get tickets here

Rental Car: Renting a car will give you more flexibility on your day trip. – Check car rentals here

Malaga Airport: When it comes to Malaga airport to Marbella, it's best to go with a direct transfer. – Book a transfer from Malaga airport to Marbella here
From Malaga to Marbella by Train
Let's dive in how to get from Malaga to Marbella by train.
While there are no direct trains from Malaga to Marbella, you could choose to have yourself a little adventure on public transportation. You can book your tickets here in advance.
From Malaga's María Zambrano train station in the center of the city, or the station at Plaza Mayor just outside of the city, you can catch a train to Fuengirola.
So while there's no train from Malaga to Marbella, this makes for an easy alternative!
The C-1 cercanías train line departs every twenty minutes from 6.20 AM to 11.20 PM, and takes around 45 minutes to reach Fuengirola; a ticket is €1,80.
The train station in Fuengirola is located just around the corner from the bus station on Calle Alfonso XIII.
Here you can catch a ride to the Marbella bus station, from whence you can begin your exploration of this famous coastal town.
The bus ticket from Fuengirola to Marbella is €4 and buses run from 7.20 AM to 11:25 PM. The journey takes around half an hour. – Check schedules here
From Malaga to Marbella by Bus
Let's dive in how to get from Malaga to Marbella by bus.
The best place to catch a Malaga bus to Marbella, is from the estación de autobuses (bus station) on the Paseo de los Tilos, right next to the train station María Zambrano, located within walking distance of the city center.
This is where you can catch a direct bus from Malaga to Marbella (the L-307), with a traveling time of around 1 hour and 20 minutes.
It is best to book your bus ticket in advance at a cost of around €7; alternatively, you can take the standard bus route, which takes around 2 hours and 30 minutes, as it makes several stops along the way.
Not only is busing it from Malaga to Marbella a cheap and easy transportation option.
But the walk to the bus station will also take you past some great places worth a visit, depending on which direction from the center you're coming from: the Centro Comercial Larios and Jardines Picasso for example.
From Malaga to Marbella by Car
Let's dive in how to get from Malaga to Marbella by car.
Getting from Malaga to Marbella by car is a breeze – once you get onto the carretera, you will get there in one curvy line with plenty of inviting beach views along the way. – Check car rentals here
Rent a car in the city center or a choice of hiring services near the airport, adjust your seat, and hit the road!
Renting a car will allow you to be spontaneous – still hungry for more after completing your Marbella itinerary?
Then hop in the car for a trip to Estepona, with all its colorful macetas and the impressive Orchidarium. Or head even further into the white mountain village of Casares for local wine and breathtaking views!
From the center of Malaga, Get on to the MA-20 via Avenida de Andalucia. Follow the AP-7 in direction Marbella for roughly 30 minutes, then take exit 184. Drive on to Avenida Arias de Velasco and follow Calle Juan Alameda to Avenida de Nabeul.
If you have a specific destination in mind, use the Google Maps app on your phone from here for further directions.
Renting a car is also the best way to explore the best places near Marbella.
From Malaga Airport to Marbella
Don't want to waste a second to get to Marbella upon landing in Malaga?
We don't blame you, with so many things to do in Marbella, why wouldn't you want to get started sooner rather than later?!
Here's how to easily get a bus from Malaga airport to Marbella – and if busing isn't your thing, there's also the train or taxi option!
From Malaga airport to Marbella by train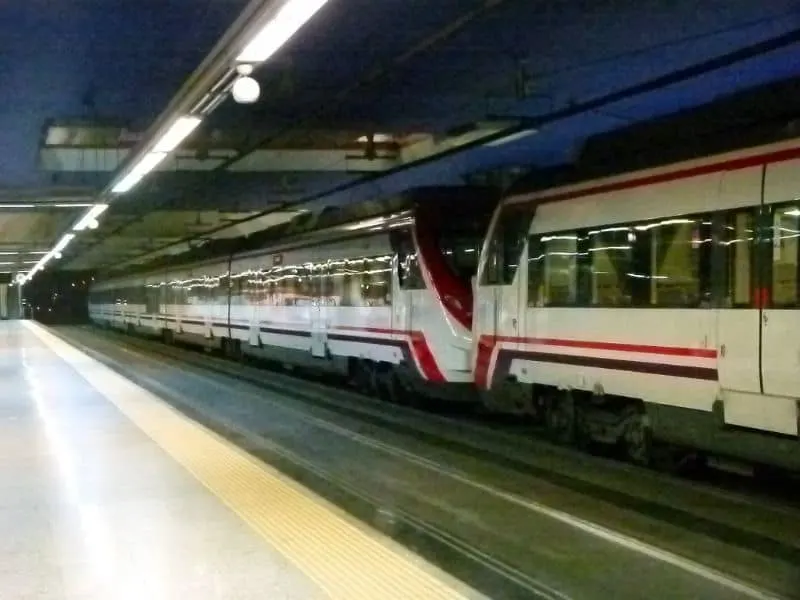 A five-minute taxi drive will take you from Malaga airport to the Plaza Mayor, an open-air commercial center complete with all your favorite shops, a big cinema complex, and an international choice of restaurants – the perfect place to dive into holiday mode!
From here, you can hop on the cercanía train C-1 to Fuengirola, a comfortable 30-minute ride that will cost you around €1,80. – Get tickets here
It will take you to the last stop on the Costa del Sol, namely Fuengirola's train station on the Avenida Jesús Santos Rein.
Upon arriving, simply exit the train terminal and cross the road on to Calle Alfonso XIII, where you'll find the bus station.
This is where you can catch the M-220 bus to Marbella, which will cost you €4 and take around thirty minutes. – Book your ticket in advance for a hassle-free journey.
From Malaga airport to Marbella by bus
Regardless of where in the world you're coming from and how long your plane journey took, there's nothing less appealing than having to stress about public transport when you finally arrive.
Hence, you'll be pleased to know that Malaga airport makes it easy for you – you can hop on a bus to Marbella straight from the airport! – Get tickets here
The Malaga airport bus to Marbella leaves from outside the arrivals terminal and goes every forty minutes.
Hop on to the L-606 and take the opportunity to familiarize yourself with your sunny surroundings by traveling from Malaga airport to Marbella by bus – in just forty minutes you will have arrived at your destination, rested and recharged.
Advanced booking isn't possible for this bus service, but should the ticket counter be closed, you can always pay the bus driver directly, sin problema. The price per ticket is €6,15. – Get tickets here
Taxi from Malaga airport to Marbella
Don't want to have to worry about public transport once you arrive at Malaga airport?
While Malaga airport buses to Marbella are extremely efficient and make for a comfortable journey, we can totally understand why you might be looking for ultimate comfort.
In that case, take a taxi from Malaga to Marbella, to make for a swift trip.
You will find the taxi stand just outside the arrivals terminal, where there are also several coffee shops inviting you to have a hot cup of Joe or a little snack before you commence on the next leg of your journey.
A taxi from Malaga airport to Marbella will cost you around €67 and take 45-60 minutes depending on traffic.
The ride will take you past Torremolinos, Mijas, and Fuengirola along the carretera, from which you will be able to enjoy some welcoming beach views from time to time.
Book your taxi transfer from Malaga airport to Marbella online ahead of time and you might be able to snag a discount depending on the season.
Book airport transfers from Malaga to Marbella
Return: Travel from Marbella to Malaga
Once you feel you've taken full advantage of your time in Marbella, and are looking to head back to Malaga or the airport (which happens to be the airport closest to Marbella), just follow the above travel itinerary in reverse.
You'll end up exactly where you started from!
Indeed it's well worth visiting Malaga from Marbella to enjoy the best restaurants in Malaga and indulge in some typical Malaga food.
If you're in need of a bus from Marbella to Malaga airport – or any other type of public or private transport, for that matter – follow our instructions above, just be sure to flip the script.
The bus times from Marbella to Malaga airport are noted at the station and online, and should you ever find yourself confused, rest assured the staff at public train and bus stations are friendly and helpful. – Check schedules here
You really don't have to worry about how to get back to the airport – catching a bus to Malaga airport from Marbella is just as easy as doing it the other way around!
Book a taxi from Marbella to Malaga airport here
Final words
Whether you're making the short trip just for the day, or have already organized where to stay in Marbella for the night or a long weekend, it'll be oh-so-worth-it.
Visiting Malaga without getting to know Marbella just isn't right – there's so much beauty and charm to soak up here!
As you'll have recognized by now, there are plenty of transport options to get you to Marbella from Malaga and even the airport.
All of them are timely, efficient, and comfortable and fit into anyone's budget unless, perhaps, you're looking to spring for a taxi which is the priciest option on the list.
If you end up renting a car, be sure to aprovechar and travel beyond Marbella and Malaga; head to the healing Roman Baths in Sabinillas, just down the road from Estepona, or get lost in the rocky landscapes of El Torqual near Malaga for the afternoon.
And if you plan to stay a little longer on the Costa del Sol, make sure to have a look at our area guide on where to stay in Malaga.
If you want to roam around Spain, you can now seamlessly plan your next trip with our Barcelona to Malaga, Malaga to Nerja, and Madrid to Malaga free guides.
There's so much to see on this sunny coast, don't allow yourself to go home with a sense of having missed out on something.
---
Short FAQ about visiting Marbella from Malaga
How to get to Marbella from Malaga?
The best options are by bus, car or taxi.
Malaga or Marbella?
If you're looking for a bit of glitz and glamour in the form of luxury cars and clothing boutiques a la Chanel and Armani, Marbella is your go-to. For historic sites, traditional cuisine and a big city vibe, head to Malaga.
How much is the taxi from Malaga airport to Marbella?
A taxi transfer will cost you around €67.
How far is Malaga from Marbella?
Malaga is just under 60km from Marbella.
---
---
Hola, I'm Paulina! Together with my team, we are passionate about Southern Spain. Here we share all you need to know for great times in Southern Spain with the best places to visit, stay and, of course, the best food to eat.
Let's dive in and explore Southern Spain's outdoors, food and culture con pasión!