Andalusia is a region jam-packed full of sparkling blue waters, delicious Mediterranean cuisine, rich historical backgrounds, and sightseeing opportunities galore.
For both locals and first-timers, there is no shortage of things to see and do.
However, while many people choose to visit the area's most popular destinations like Sevilla, Granada, or Málaga, there is one place on Spain's stunning Costa del Sol that deserves more attention: Marbella.
In this article, we take a look at five convincing reasons why the luxurious resort city should undoubtedly be on your Andalusian summer bucket list. There is no reason not to visit Marbella this year.
This blog is supported by you, dear reader. If you purchase through a link, we earn a small commission. As an Amazon Affiliate, we earn from qualifying purchases.
Related:
Useful Travel Information About Marbella
✈ Book cheap flights to Marbella with Skyscanner

⚘ Avoid tourist traps and get the customizable "Andalucia Like a Local" itinerary. – Get it here

✔ Book tours in Marbella with GetYourGuide

➳ Find the best hotels in Marbella with Trivago

❖ Rent a car at the best rates with Discover Cars

✎ Never leave without travel insurance! I get mine at HeyMondo. It is easy to set up, cheap and reliable.

$ Withdraw money without hidden fees and avoid exchange charges with TransferWise (Free Mastercard debit card to spend money abroad)
Where to stay in Marbella
Budget Hotels in Marbella
Hotel Central Boutique **
Hotel Doña Catalina ***
Family-friendly Hotels in Marbella
Molo 44 Suites Puerto Bonus
Hotel Guadalmina Spa & Golf Resort ****
Mid-Range Accommodation in Marbella
The Marbella Heights Boutique Hotel ****
Melia Marbella Banús ****
Luxury Hotels in Marbella
The Oasis by Don Carlos Resort *****
Nobu Hotel Marbella *****
Related: Where to stay in Marbella, Spain
1. The Beaches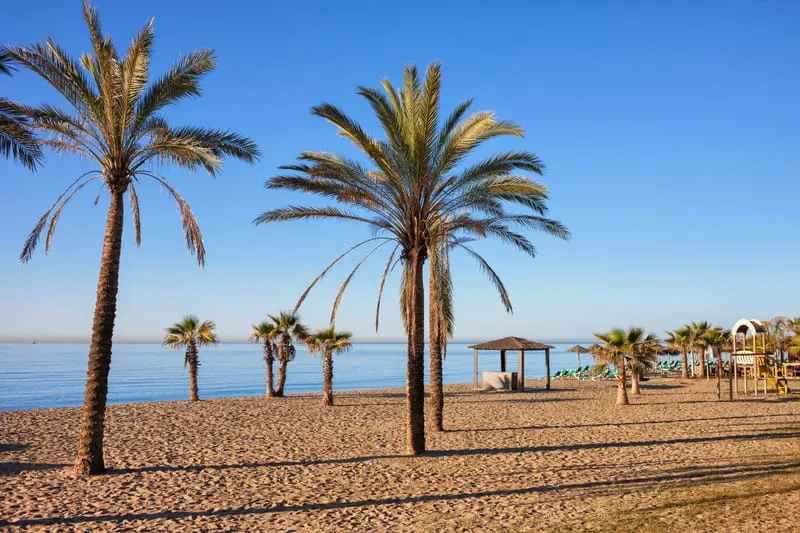 It's impossible to talk about Marbella without bringing attention to its spectacular selection of beaches. From those that are long and wide to those that are urban, pristine, trendy, or mountainous, each beach boasts its own unique individual style and flair.
No wonder that they are often seen as some of the best beaches in Southern Spain.
Not to mention a large portion of the city's 23 beach sites have been promoted to 'Blue Flag' status, the international award given to those stretches of shores that display elite water quality and supreme environmental conditions.
Regardless of your preferred type of beach, Marbella has some portion of coastal paradise waiting to welcome you with open arms.
2. The Casinos and Nightlife
Aside from its weather and beaches, Marbella is known for its lively and glamourous nightlife and casino scene that has been frequented by the rich and famous for decades now.
Some of the most sought-after clubs include Olivia Valère, an exclusive, sophisticated setting with open-air patios, and Dreamers, an expansive dance venue, and so-called 'Cathedral of House Music'.
Marbella is also home to a variety of glitzy gaming destinations, such as its most famous example, the Casino Marbella, which is situated on the grounds of the Andalusia Plaza Hotel.
Since 1978, this boutique casino has offered various entertainment options from various slot machines to popular table games.
Even if you are unfamiliar with all the rules behind classic games like roulette or blackjack, visiting and observing can still be worthwhile.
However, nowadays as the industry expands its reach into the virtual environment with online casino games in different categories, players have more opportunities to brush up on their skills remotely before hitting the physical tables.
Whether you venture out for a night of non-stop dancing or thrilling gaming, Marbella's swanky evening spots promise not to disappoint.
3. The Gastronomy
Checking out Marbella's diverse gastronomy culture is a must.
After you've hit the beaches and before you've danced the night away, head on down to one of the city's most luxurious dining locales and relish in their Michelin-star-worthy cuisine.
After all, Andalusia is world-famous for its delectable paellas and refreshing gazpacho.
n the summertime, there is truly nothing better than sipping a cold glass of this tomato-based soup while soaking up the Marbella sunshine.
For travelers who fancy international food, there are also plenty of French restaurants around town. And because of the city's proximity to Morocco's tip, visitors can also enjoy a great selection of Moroccan cuisine in addition to the Mediterranean.
4. The Shopping
Given its luxurious personality, it's no wonder that Marbella is home to some of the best name-brand shopping in the south of Spain.
From Louis Vuitton to Gucci, Burberry, Lacoste, and more, the Andalusian gem has become famous nationwide for its expansive shopping centers.
Even for those not interested in high-end buying opportunities, window shopping through the gorgeous, sunshiny streets of Marbella is still a great way to spend an afternoon in the capital of the Costa del Sol.
5. The History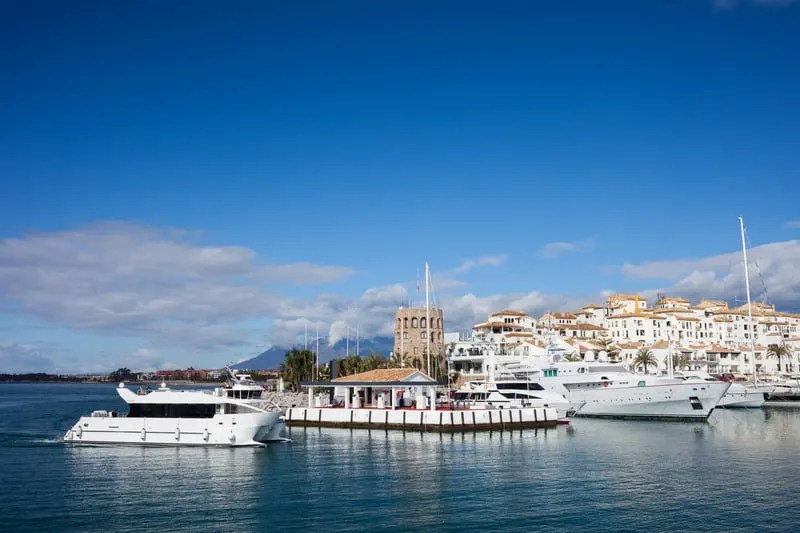 Last but not least, the fascinating history of Marbella is a great reason to visit, in and of itself. Here tourists can find a large variety of museums, ancient sites, and artistic treasures.
Also, one of the most popular things for visitors to do is take a stroll around the quaint area of Old Town Marbella, where colorful flower beds rest against white buildings and orange trees are plentiful.
Not to mention many of the flats found along these strips are hundreds of years old!
Hola, I'm Paulina! Together with my team, we are passionate about Southern Spain. Here we share all you need to know for great times in Southern Spain with the best places to visit, stay and, of course, the best food to eat.
Let's dive in and explore Southern Spain's outdoors, food and culture con pasión!