Guide to holidays, surfing and sunbathing at the best beaches in the south of Spain
Spain is the third most visited country in the world. This land of siesta and fiesta has a vibrant culture and a fabulous culinary scene not to mention its boundless landscapes.
While the majority of visitors flock to Madrid, Barcelona or Ibiza, Southern Spain has an allure all its own. Andalusia is particularly coveted for its warm climate and beaches.
Because one of the things that Spain is most known for is its laid back lifestyle, it's no wonder that it has some of the best beaches in the world.
And nowhere is this more apparent than in the Southern Spain beaches. Pack your bikini as today, I bring you the best beaches in Southern Spain!
This unique region houses some of the country's oldest historic sites most intricate architecture (such as Seville or Cadiz), tantalizing cuisine, and the nicest beaches in Spain, or anywhere else in the world.
I have visited most of the Southern Spain beaches in this post. Some are still on my list though!
So, without much ado; let's get started and go for beach time in Spain!
This post contains affiliate links. If you buy via them, I'll earn a small commission which helps me to keep this blog running. As an Amazon Associate I earn from qualifying purchases. All opinions are my own.
What to expect from the best beaches in Southern Spain
There's nothing better than sunbathing or hanging out and eating churros, one of the tastiest snacks from Spain on the most beautiful beaches in Spain!
Southern Spain has scenic beaches offering an escape from the busy city life, to those action-packed with thrilling water sports, parties and adventure. There are plenty of options if you are looking for beach holidays in Spain.
These beaches can be their own vacation, or easily added to a Tarifa itinerary or while relaxing at one of the best beach resorts near Seville. Either way, the best beaches in southern Spain are not to be missed!
Here, I will walk you through the best beaches in Andalusia according to your preference, and layout why the beach is one of the essential things to do in Andalucia!
I'll also let you know the best beach towns in Southern Spain in case you need a break from the water.
1. Best Beaches South Spain has for Surfers
Valdevaqueros, Tarifa
Valdevaqueros Beach is one of the best things to do in Tarifa, and one of the most famous beaches in the south of Spain for wind and kitesurfing. Its famously windy climate has made it the kitesurfing capital of Europe, with adrenaline junkies flocking here to enjoy the monster waves.
There are clearly demarcated zones for kitesurfing, windsurfing, and bathing. You can go kitesurfing all year round but the best months are between May and November. – Book surf classes here
Whether you are participating in some seaside sports or are more content sitting in the pristine, white sand and watching the world go by, there is always something to do here.
This is not only one of the best beaches in Southern Spain for adventurers but also for families with kids and various amenities:
Beach bars and restaurants
Public restrooms and changing rooms
Police surveillance
Parkings
Kite schools (they rent out equipment as well)
Campings
How to get there
Valdevaqueros Beach is located 10 km northwest of Tarifa, that's reached by a short drive along the lovely coastal N340.
You can even take a bus running from Tarifa to the beach. Tarifa is one of the best beaches near Seville and makes a perfect day trip from Seville.
Playa El Palmar, Cadiz
Considered one of the most virgin areas of the province of Cadiz, Playa El Palmar is one of the best beaches to visit in Spain.
It is a beautiful and huge beach with extraordinary conditions for surfing, bodyboarding, and a myriad of adventure sports. – Book surf classes here
Playa El Palmar is definitely one of the best beaches in Southern Spain for surfers. In fact, it is considered a paradise for surfers. The best time to visit here is between October and May.
The waters at Playa El Palmar are very clean and shallow. They invite to bath and make it an ideal beach for children too.
Although there is no urbanization on the beach, it has many services such as:
Small shops
Lifeguards
Restaurants with toilets
Craft stalls
Bars
Outdoor parkings
How to get there
Playa El Palmar is well connected through the A-2233, which connects Conil de la Frontera with Barbate. It passes along El Palmar, Zahora and Los Canos de Meca.
When travelling on this road, it is common to see country houses, orchards, and livestock. The access to Playa El Palmar is through wooden walkways in order to preserve and conserve the dune system that surrounds its entire coastline. – Check rental cars here
Cortadura Beach, Cadiz
Cortadura is a huge beach which lies between the township of San Fernando and the town of Cadiz. It has a big group of sand dunes of high biological value. This beach has fine-grained golden sand and has been awarded seven blue flags.
This means that it meets stringent environmental and quality standards.
The coastline of Cortadura beach is a great place to have your first contact with the surf since the waves here are soft. It's hence one of the best things to do in Cadiz.
Cortadura beach is one of the best beaches in south Spain mainland to practice and advance in kitesurfing, as well as enjoy and view some wild vegetation. – Check surf classes here
The beach is well-equipped with:
Restaurants and toilets
Showers and changing rooms
Lifeguards
Sun loungers
Kitesurf schools and shops
How to get there
Cortadura Beach is located at about 4 km from Cadiz and can be reached by train, bus or taxi.
The train departs from Cadiz station on an hourly basis. The bus service departs from Audiencia Provincial station. When you reach Cortadura, the access points to the beach are through wooden boardwalks.
Book here your train from Cadiz
Hierbabuena Beach, Barbate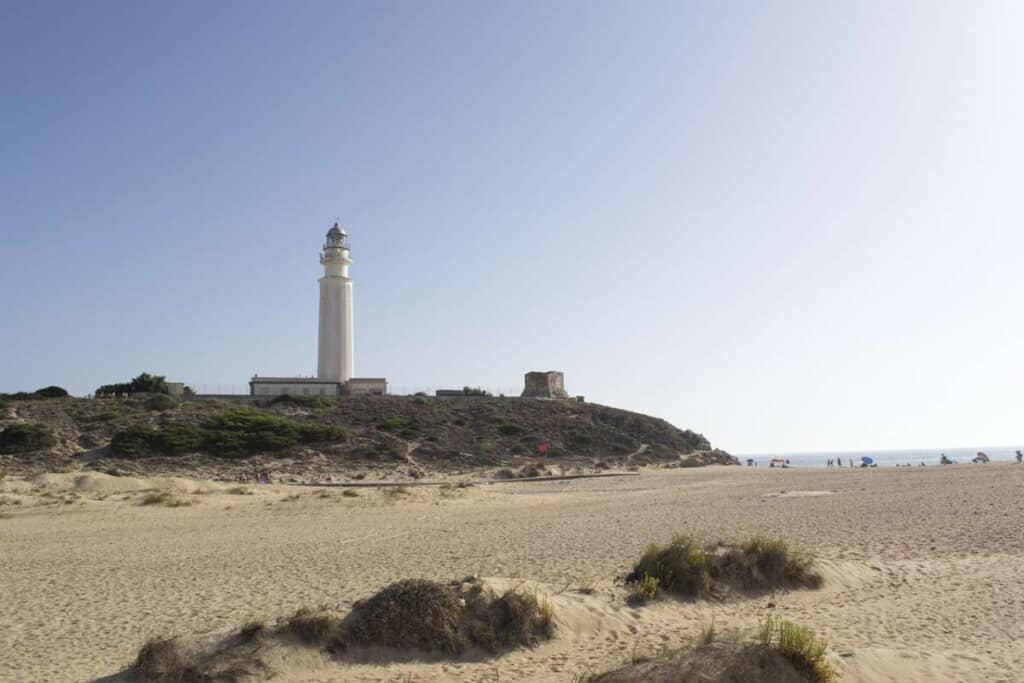 With the Natural Park of the cliffs of Barbate, Hierbabuena Beach is one of the nicest beaches in Spain Mediterranean area for surfers. Visit this beach if you are a big fan of the sport.
The local food served here, the almadraba red tuna, is the perfect meal to recover from the energy spent practicing surf. Barbate itself, a small fishing village, is well worth a visit too. Indeed, Barbate is famous for selling some of the best tuna fish in the world.
This amazing beach has very clean waters and fresh, golden and fine sand. At one end of the beach, nudism is practiced.
From the beach, you can reach the pine forest that is declared as the Natural Park of the Acantilado and Pinar de Barbate.
The facilities available at the beach include:
Refreshment stalls
Surf practice areas
Scuba diving areas
Toilets and showers
Parking space close to the beach for up to 100 vehicles
How to get there
Hierbabuena Beach can be reached on foot, by car or you can even take a bus. The nearest road is the A314 which connects Barbate with Vejar de la Frontera. – Check rental cars here
2. Best Beaches in Southern Spain to Relax and Enjoy
Playa de Maro, Malaga
The Playa de Maro is one of the best beaches near Malaga located in the Nerja province (also known as Cala de Maro).
It's also very close to the Costa Tropical, close to Granada. It is thus the perfect day trip from Malaga and a must on any Malaga itinerary.
Maro beach is a hidden gem among the natural area of the Cliffs of Maro, agricultural land from which you can see the remains of an ancient Arab watchtower enclave. All this gives it a special, wild charm.
Book here your Malaga Boat rental
The dark sand and limpid and turquoise waters make it an ideal spot to do snorkeling or diving and discovering an impressive array of marine fauna. However, if you don't want to go diving, you can hire a sunbed and bask in the sun.
This makes Maro Beach a perfect place to unwind and escape from the busy city life. A snack bar provides all the necessary refreshments and sustenance, including full meals.
The temperatures are mild throughout the year, thus Costa del Sol is one of the best places for winter sun holidays in Spain.
The other facilities available include:
Beach showers and toilets
Warning signals
Kayaks
Sunbeds
How to get there
Playa de Maro is located near Nerja, approximately 62 km east of Malaga.
Follow the signs on the coastal highway E15/A7, Autovia del Mediterraneo and take the Nerja-Maro exit (near 295). Playa de Maro is well signposted and if you are visiting the area in summer, get there early to find a parking space along the road, close to the beach.
If not, you may have to park 1000 meters from the beach and walk 15 to 20 minutes to reach the spot.
Related: Things to do in Nerja, Spain, How to get from Malaga to Nerja.
Playa Las Salinas, Almeria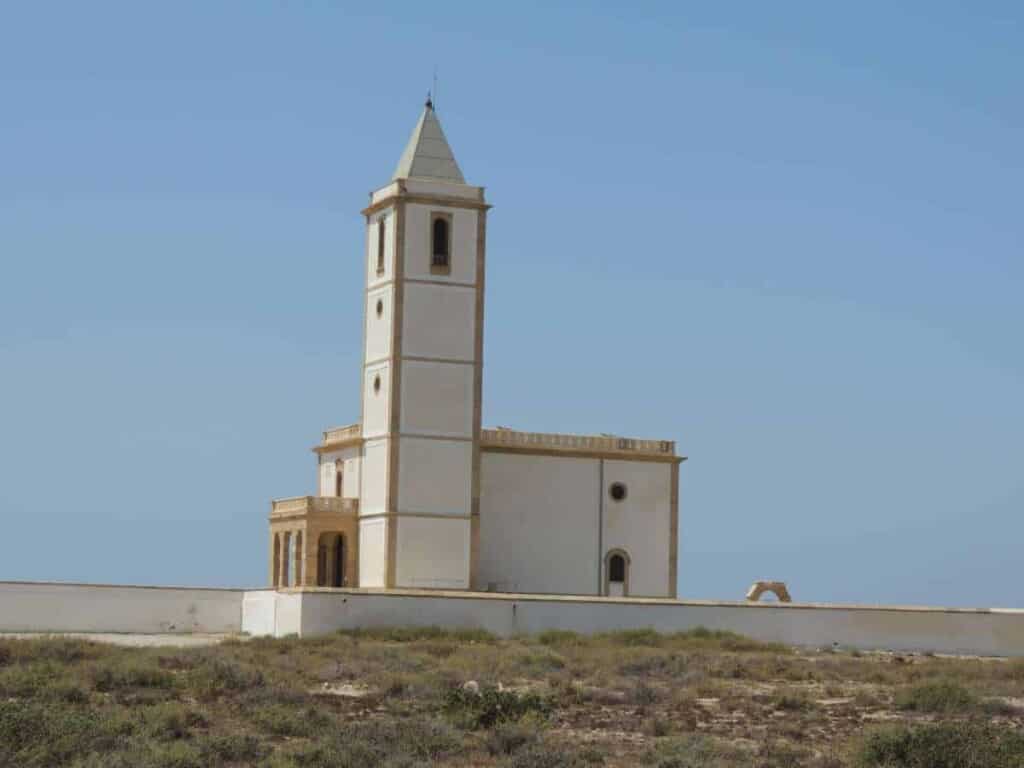 The beach of Las Salinas is the biggest in the Natural Park of Cabo de Gata, close to Almeria. The variety of sand satisfies everyone's preferences, making it an ideal place to spend a relaxing sunny day with your family.
Enjoy the picturesque church of Las Salinas from the middle of the beach with various unique spots to watch the birds of the natural ornithological reserve of Las Salinas.
You can even spot flamingos. From here, it is only a stone's throw to the salt mines… a must on any Almeria itinerary.
The natural beauty of Playa Las Salinas makes it easy to see why this area is considered one of the most beautiful places in Spain, and why this is one of the best beaches in Southern Spain for anyone who loves the outdoors.
This beach is entirely outside the urban area, so there aren't any bars or restaurants. You need to bring everything to have a relaxing and enjoyable day at the beach. Showers and toilet facilities are available.
How to get there
Playa Las Salinas can be reached by car. The road runs parallel to the beach and you can park your car right on the side of the beach.
The access to the beach from the road is through wooden walkways. – Check car rental deals here
El Rompido, Huelva
East of the marshland of the River Piedras and Flecha de El Rompido, lies El Rompido beach, flanked by a beautiful fishing port. El Rompido is easily one of the best beaches in Andalucia, Spain for nature lovers.
The majestic views of the sandy formation known as Flecha del Rompido will fill your eyes. If you fancy getting closer, Flecha can be reached by ferry.
Huelva has some of the best beaches south of Spain has to offer.
If you want to reconnect with nature and the quietness of the blue sea, El Rompido is the right place to be. In general, the beaches of Huelva are vast and pristine, and of course some of the top things to do in Huelva!
The beach has facilities such as:
Showers and toilets
Lifeguards
Restaurants and leisure facilities
How to get there
The easiest way to reach El Rompido beach is through the road.
There are two options to get to the beach if you are traveling via a car: coming from Seville, you have to follow the A49 until exit 99 and then take the N431 towards Cartaya. Then follow the A5053, which will take you directly to El Rompido beach.
Coming from Portugal, you will enter the A49 but you will leave at exit 105, taking the HU3402 towards Cartaya and then connect with the A5053.
Playa de Paraiso, Cartagena
Playa de Paraiso (Paradise Beach) is known as one of the best beaches in Cartagena, Spain as it has a beautiful stretch of golden, fine sand with clean waters.
These are considered some of the most beautiful beaches in Spain and are a must when looking for things to do in Cartagena, Spain.
Playa de Paraiso is excellent for families to relax and enjoy their day with a whole host of water sport activities and varied services such as:
Restaurants and bars
Toilets and feet showers
Parasols and sunbed hiring
Sports material hiring
Surf practice areas
How to get there
Playa de Paraiso is located close to the Autovia de La Manga MU312 Salida 11 road and can be reached by car or bus.
Playa Punta de Umbria, Cadiz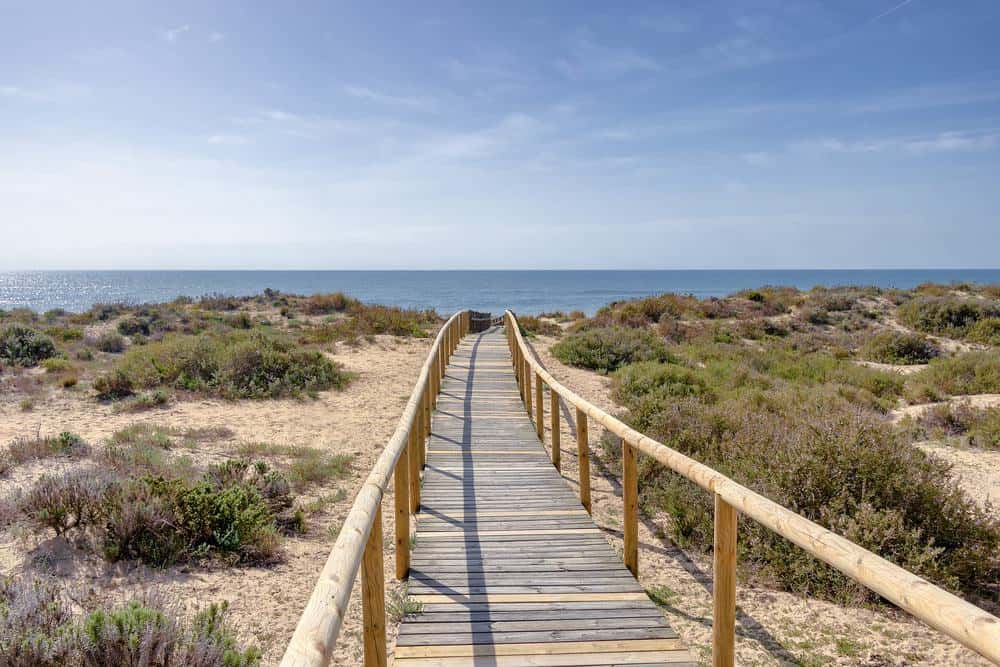 Cadiz has some of the best sandy beaches in Southern Spain and playa Punta de Umbria is one of them.
It is a perfect beach if you prefer to laze in the sun with your family and friends. It is the oldest tourist beach and has been regularly awarded the Blue Flag for its high standards of cleanliness and excellent facilities.
Restaurants and bars
Ample parkings
Clean restrooms
Showers
Book here your Cadiz boat rental
How to get there
Playa Punta de Umbria is well connected to the A497 and you can either take a bus or car to reach there.
If you are staying in Seville, it would take 01h20 to reach there.
Torre del Mar Beaches
Torre del Mar has some of the most alluring beaches in southern Spain which were once among the best-kept secrets of Costa del Sol.
The beaches around here are great to enjoy a wonderful day in the sun and are ideal for visiting with the family.
Book here your Costa del Sol holiday home
The beach has been awarded the Q quality, a distinction that is awarded to beaches that provide a good service to tourists and recently received at the Blue Flag as well.
The services available here are:
Lifeguards and rescue
Access for disabled
Restaurants and bars
Rentals of sunbeds, chairs, and umbrellas
Water sports activities
How to get there
If you leave from Velez-Malaga, just follow the signs towards "Torre del Mar" and you'll reach the beach in 10 minutes.
From Malaga centre, you need to take the E15 which will take you to Torre del Mar beach in less than 30 minutes. It is thus a great day trip from Malaga as well.
La Manga, Murcia
The La Manga strip in the region of Murcia is around 21 km long. The full name is La Manga Del Mar Menor and comprises of a number of best beaches in Murcia, Spain.
All the beaches present here are great for spending quality time with your family and enjoy water sports.
All the beaches have great facilities to offer:
Restaurants and bars
Rental sunbeds and parasols
Clean restrooms with showers
Sporting equipment rentals
How to get there
La Manga can be reached by bus, train, air or car. The nearest airport is Murcia-San Javier which is 39 km away. Buses go every day from Cartagena and Murcia to La Manga.
The nearest train station is in Cartagena and if traveling by car, take the AP7. – Book here your train.
Related: Best Things to do in Murcia, Spain
3. Best Beach Areas in Southern Spain for Nature Lovers
Playa Bolonia, Cadiz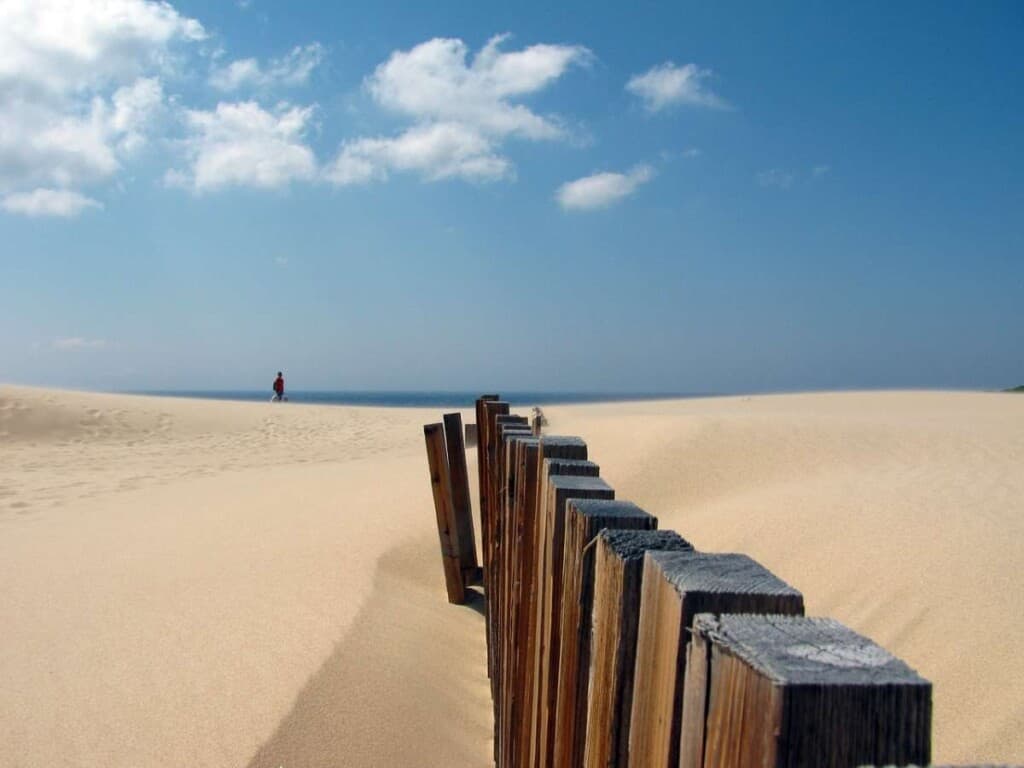 Bolonia beach is known for its unique natural environment with a magnificent landscape full of almost virgin nature. It has one of the largest dunes in Spain.
Fine white sand, crystal clear water and a very nice sea breeze make it a great place for relaxation and enjoying the beauty of the site.
Book here your Cadiz Boat rental
Bolonia is a must-visit beach for nature lovers as it is located in the limits of El Estrecho Natural Park. The natural pools add to the beauty of the beach.
The services you can find here include:
Restaurants and bars
Toilets and showers
Surfing and rock climbing equipment rentals
How to get there
Access to this beautiful beach is not easy as there is no public transportation.
Travel by private vehicle following the N340-E5 in the direction of Vejer de la Fronter.
After about 15 km from Tarifa, turn left at the CA8202 and follow the road down until you reach the village of El Lentiscal, Bolonia beach is right in front.
Playa de los Genoveses, Almeria
Los Genoveses is a pristine beach with no buildings, no power lines, no bars, and no roads preserving its natural beauty. It is located in the heart of the Natural Park Cabo de Gata and one of the best beaches near Almeria.
The beach is surrounded by sand dunes where you can collect seashells, a small eucalyptus forest, and the volcanic ridge Morron de Genoveses. This is one of the best beaches in Almeria Spain to enjoy the natural beauty.
As Los Genoveses is a virgin beach, you won't find any restaurants or bars here. You´ll need to carry everything you need.
Did you know that this beach was a film location for several of the best western movies set in Spain?
How to get there
It is a natural area that is accessed by an unpaved lane past the town of San Jose.
Leave your car at the main road and walk through the beautiful set of cactus fruit plantations.
Playa el Canuelo, Nerja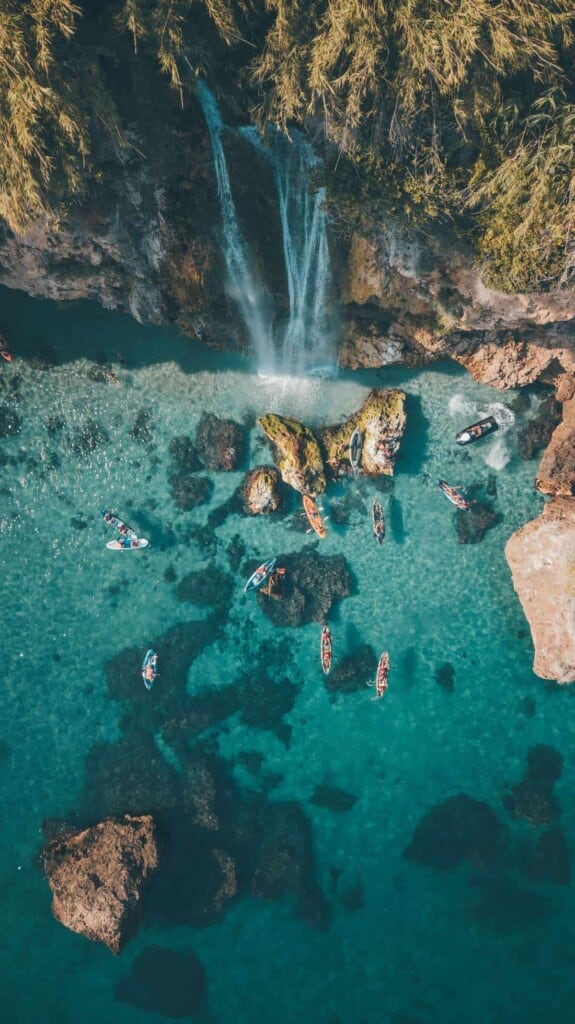 Playa el Canuelo is located in the natural landscape of the Acantilados de Maro-Cerro Gordo and Maro-Cerro Gordo with steep amazing cliffs. About 01h30 drive away from Malaga, it is one of the best day trips from Malaga.
It is a secluded rustic beach surrounded by a natural environment of great beauty. The water here is exceptionally clean, crystal clear and teeming with fish, making it ideal for snorkeling and diving without any problems.
Playa el Canuelo is perfect for relaxing on a sunny day as it is one of the quietest places on the Malaga coast.
The services here are:
Free parking
Accesses for disabled people
How to get there
Situated just on the border with Malaga and Granada, Playa el Canuelo is easy to drive through when following the N340. It is 9 km from Nerja and clearly signposted.
Playa Isla Canela, Huelva
Isla Canela is a very broad beach located at the mouth of Guadiana River.
The beach is part of the Marismas de Isla Cristina nature area and is home to an abundance of wildlife. This area also has some of the best beach resorts near Seville.
The vast sand dunes give it a wild appearance, while its endless stretches of sand are an invitation to take long walks.
It has a full range of services and infrastructures including:
Accesses adapted for people with reduced mobility
Summer beach bars
Parasols and hammocks for hire
Showers and restrooms
How to get there
Isla Canela is easily accessible from any part of Europe as there are two airports, Seville airport (157 km by motorway A49 Huelva – Seville) and Faro airport in Portugal (74 km).
You only need to cross the international bridge that unites Spain and Portugal.
Cala de Roche, Cadiz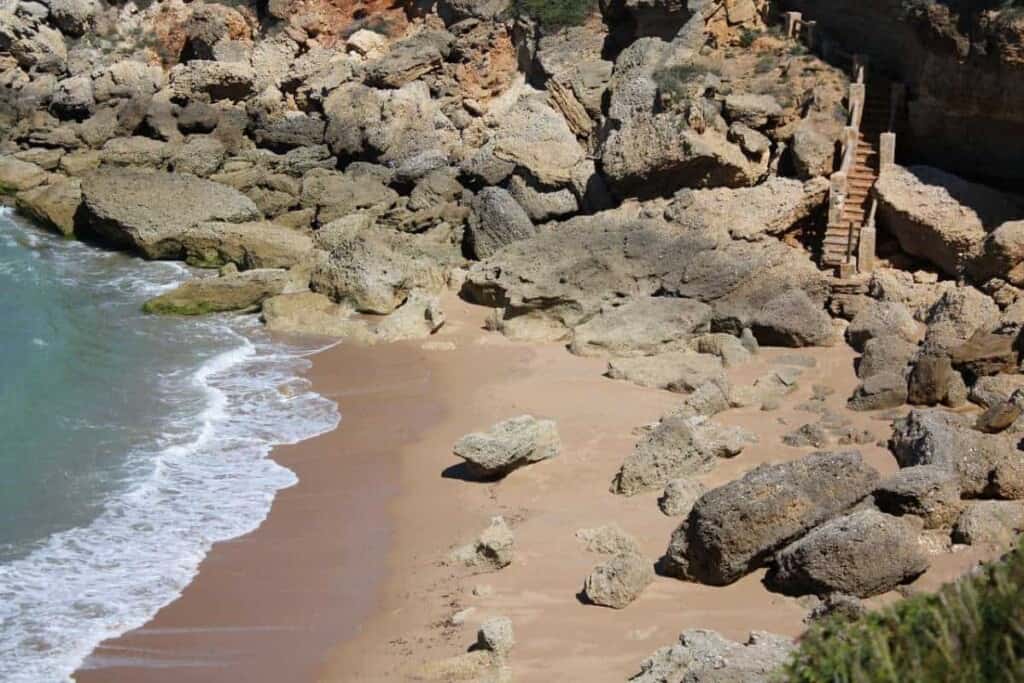 Cala de Roche beach has a series of small coves that lie between the port of Conil de la Frontera and Roche.
It is characterized as being rocky and to be under impressive cliffs of red color and of great beauty. They are little frequented beaches and nudist beaches in southern Spain.
Book here your Cadiz Boat rental
The environment of the coves is ideal for walking or cycling.
Services offered:
Parking at top of the cliffs
Restaurants
Restrooms and showers
How to get there
Drive to Conil de la Frontera. Next to each car park, there is a path with wooden walkways leading to the main coves. The route of these to the edge of the cliffs is short (1-2 minutes).
Then, you have to follow a dirt road that becomes very pleasant to walk through smelling of sea and juniper.
4. Best Beaches Southern Spain has for Party Lovers
Nikki Beach, Marbella
There is no place to party like Marbella and that's why people who enjoy the good life come from all over the world to Nikki beach in Costa del Sol.
Marbella is one of the best beach towns in southern Spain for partiers, if not the best. On top, there is a wide range of gorgeous places to visit near Marbella.
Renowned for its electric party scene and regular events include champagne contests, dinner and dance nights, full-moon parties, opening white parties, closing red parties with live music, and entertainment nights with dancers, DJs, and musicians.
It's a true paradise for party lovers.
Book here your Marbella Boat rental
During the day, make sure you check out all the other amazing things to do in Marbella, including lots of swimming and sunbathing!
Amenities available:
Beach clubs
Sun loungers rent
DJs, go-go Dancers, fire throwers, acrobats,…
How to get there
If traveling from Marbella, take the N340-A7 eastward towards Malaga. If traveling to Marbella from Malaga, take the N340-A7 westwards.
Nikki beach is well signposted. Related: where to stay in Marbella.
La Malagueta, Malaga
La Malagueta is a manmade beach and one of the most popular things to do in Malaga city because of its easy access and its proximity to the city center.
Although it is considered one of the best beaches in Malaga, it is probably the most touristic beach that Malaga has.
Great parties and events are organized here during the weekend and if you want to have fun, come to this beach. There are many beach bars (chiringuitos) serving amazing tasty food.
Book here your Malaga Boat Trip
Facilities Include:
Various restaurants
Disabled accesses
Sunbeds and parasols hire
Showers and restrooms
Children play areas
How to get there
Malaga is the closest beach to the center of the city and is just 15 minutes' walk along a lovely promenade.
Read more about the best hotels and where to stay in Malaga, Spain. Malaga also has one of the best Paradores in Spain, if you are looking to stay in a unique historic hotel.
Torremolinos Beach
Torremolinos' picturesque coastline runs for about 7 km and is divided into four main beaches.
The beaches are characterized by the variety of activities, parties and many services they offer. The Torremolinos coastline has some of the best beaches in Andalucia, Spain.
Accompanied by a pleasant and always lively promenade, this stretch of coastline is a heaven for those seeking a comfortable and effortless beach holiday.
Not surprisingly, the beach is one of the most popular things to do in Torremolinos. There are plenty of restaurants to choose from.
Services Offered:
Beach bars
Restaurants and restrooms
How to get there
There is a regular train service connecting Torremolinos to Malaga and Malaga Airport to the north of it and south to Fuengirola.
The journey to Malaga takes about 30 minutes. Local bus service is also available which serves most of Torremolinos allowing you to get to the town center from the outlying parts which can be up to 2 km away.
Can't get enough of Spain's beaches? Have a look at our webstory about the best beaches in Andalusia.
Best Beaches in Southern Spain: Map
Includes all the best beaches in Andalucia, Spain from Malaga to Marbella, and all the best beaches near Seville.

---
To make the most of your trip and avoid tourist traps and get the customizable "Andalucia Like a Local" itinerary. – Get it here
---
Short FAQ about the best beaches in Southern Spain
Where are the best spots to vacation in Spain?
Although anyone looking for a beach vacation will love Spain, Southern Spain has some of the best beaches. In South Spain the best spots for the beach are Cartegena, Tarifa, and Malaga.
But Sevilla is also perfectly located to take a day trip to the beach, while still being in a big, historic city.
What are some underrated places to visit in Spain?
El Rompido in Huelva and Cortadura Beach in Cadiz are still relatively off the beaten path beaches to visit in Spain.
What are the best beaches in the South for family vacations?
Some of the best beaches in Southern Spain for families are: Playa Las Salinas in Almeria, Playa Punta de Umbria in Cadiz and La Manga in Murcia
---
---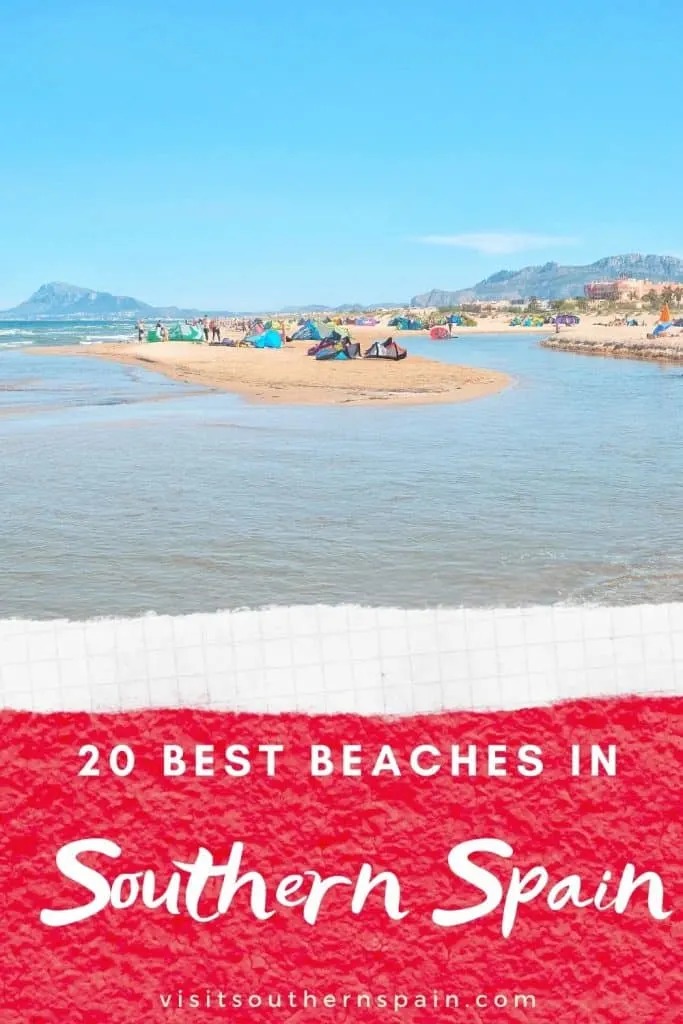 ---
Hola, I'm Paulina! Together with my team, we are passionate about Southern Spain. Here we share all you need to know for great times in Southern Spain with the best places to visit, stay and, of course, the best food to eat.
Let's dive in and explore Southern Spain's outdoors, food and culture con pasión!