If you're looking for an idyllic beach destination to relax and enjoy the sunshine, look no further than Cabo de Gata in Almeria, Spain!
From crystal-clear waters to secluded coves, this coastal paradise has something for every type of traveler.
Whether you prefer to bask on golden sands or explore hidden boardwalks nestled amongst untouched cliffsides, you'll be sure to find the perfect getaway here in Cabo de Gata.
Read on to discover why it's a top holiday spot and which beaches in Cabo de Gata are must-visits!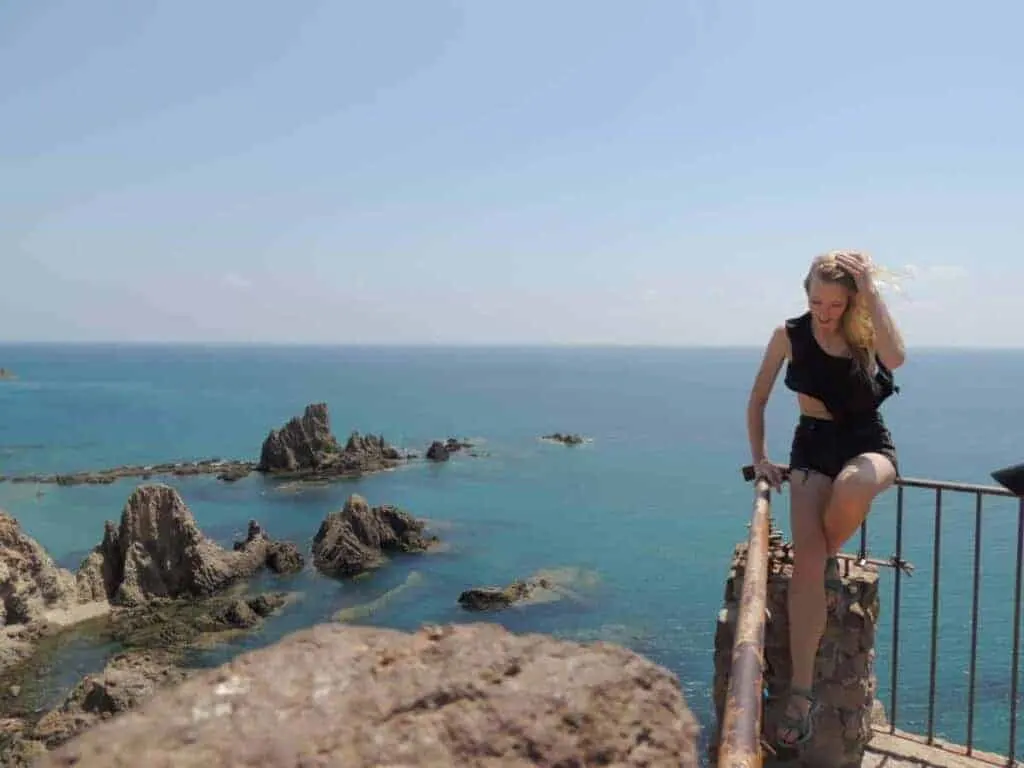 This blog is supported by you, dear reader. If you purchase through a link, we earn a small commission. As an Amazon Affiliate, we earn from qualifying purchases.
Book here your day trip to Cabo de Gata Natural Park from Almeria
Resources for things to do in Almeria
✈ Book cheap Almeria flights with Skyscanner

⚘ Avoid tourist traps and get the customizable "Andalucia Like a Local" itinerary. – Get it here

✔ Book tours in Almeria with GetYourGuide

➳ Find the best Almeria hotels with Trivago

❖ Rent a car at the best rates with DiscoverCarHire

✎ Never leave without travel insurance! I get mine at HeyMondo. It is easy to set up, cheap and reliable.

$ Withdraw money without hidden fees and avoid exchange charges with Wise (Free Mastercard debit card to spend money abroad)
1. El Zapillo Beach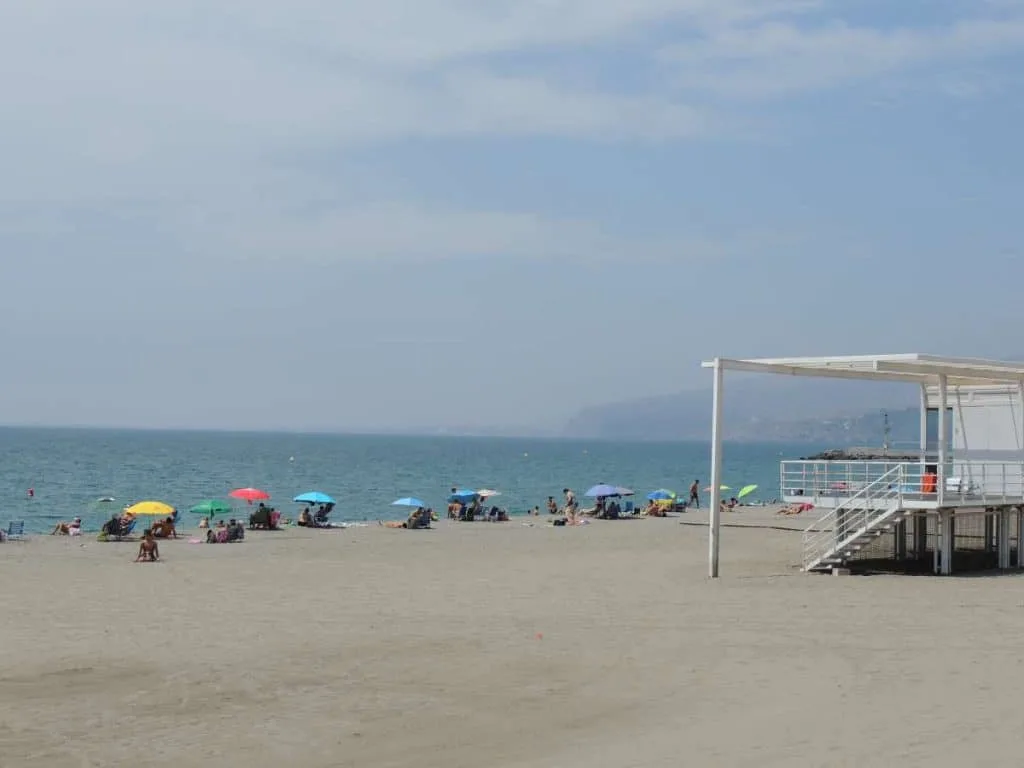 Strictly speaking, El Zapillo Beach is not located in Cabo de Gata natural park, but on the outskirts of Almería. Nevertheless, it is situated along the road connecting Almería to Cabo de Gata, and is one of the best beaches in Almeria City.
It's also one of the few beaches that has a good public transport connection. As Almería usually gets really hot in the summer months, it's always good to know where the next sandy beach is.
El Zapillo is only a 15 min drive away from the city center of Almería. It has golden sand, very large and thus spacious enough to host all urban dwellers craving some refreshment.
If you're looking for things to do in Almeria, you can't go wrong with a day at the beach!
If you want some delicious Andalusian food to eat, there are several chiringuitos, beach bars, serving traditional seafood from Almeria like Sardinas con Migas, Bacaladilla, Jurel or Gallo Pedro.
My favorite dish from Almería are probably "Rejas", fried octopus tentacles.
Book here your Trip to Cabo de Gata
2. Las Salinas Beach
Playa Las Salinas was one of my favorite beaches of Cabo de Gata. Maybe not mainly due to the beach itself, which has nothing very special unless that it's veeery long, close to Almería city and excellent water quality.
The best of Las Salinas beach is the natural setting and its surrounding attractions. The tiny village of Las Salinas is known for its salines. With their bright white and soft pink shimmering color, they give a very charming character to Las Salinas village.
Then, just outside Las Salinas village, there is a large wetland with dozens of flamingos. Yes, you read F.L.A.M.I.N.G.O.S. ! (I spent at least 90 min trying to capture their beauty with my camera…. Sorry for the rather mediocre result; I guess I was just too excited to focus)
There were at least 50-60 of them, looking peacefully for food in the pool. There were only a few meters away from us. That's when I got to understand why Cabo de Gata is such a popular destination for bird-watching.
On top the chapel of Las Salinas is a true eye-catcher as well: its sandy yellow and bright white front forms a lovely contrast with the deep blue Andalusian sky. Nowadays it's a coveted wedding location and popular photo motive when traveling to Almería.
Las Salinas is really a must when visiting Almería and Cabo de Gata. Even if you don't like beaches, this dreamy little village will capture your heart. This is easily one of the best beaches in Cabo de Gata because something about it will appeal to everyone.
There are a few bars in Las Salinas and good parking options. This is a family-friendly beach.
Book here the best tours in Andalucia, Spain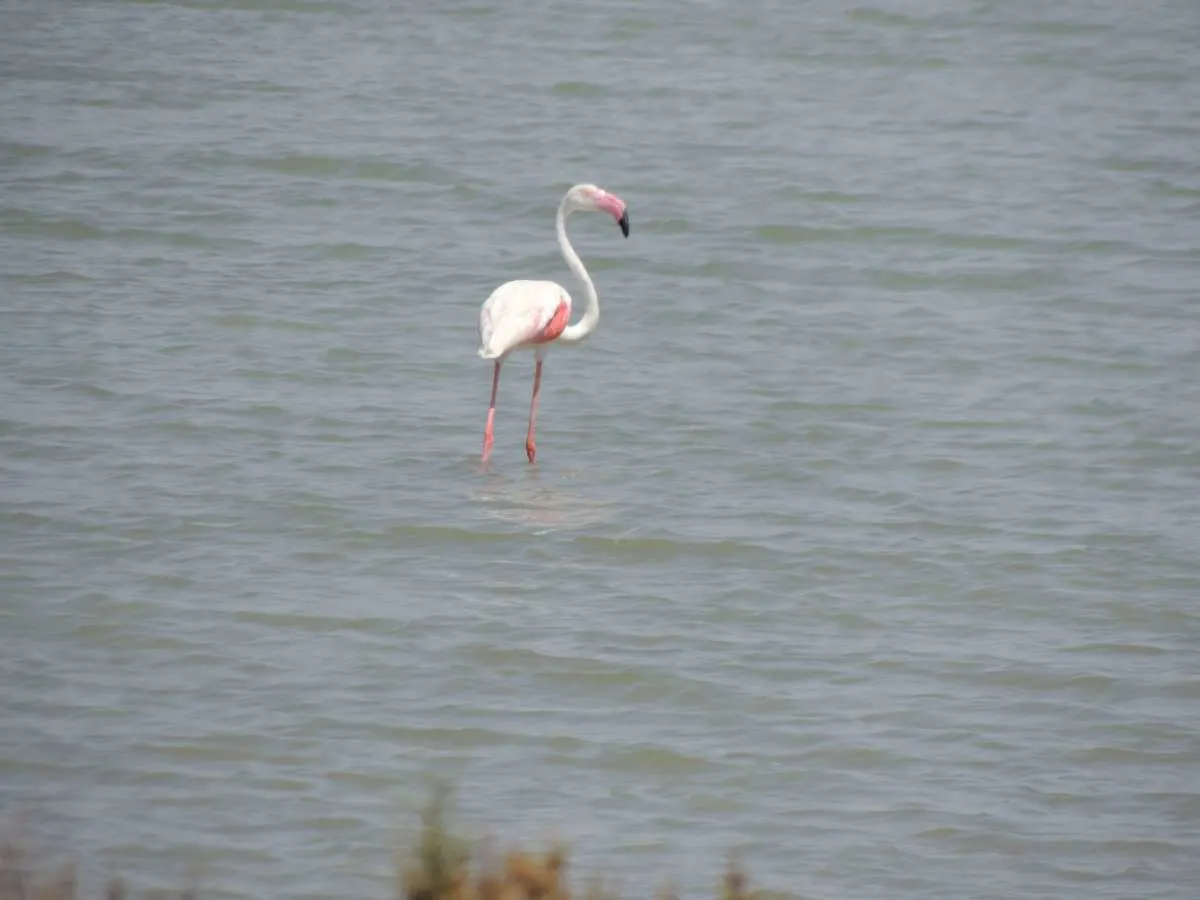 3. Faro Cabo de Gata Lighthouse Beach
If you continue driving the road after Las Salinas village, you'll arrive at the Lighthouse of Cabo de Gata (Faro de Cabo de Gata). The panorama view from the lighthouse is one of the best in the entire natural park.
You can see all along the coast and the rocks of "Arrecife de las Sirenas", outcrop of rocks sticking out of the sea. They are one of the most photographed motives of Cabo de Gata.
On the left you can go down to Cala Las Sirenitas, which is a paradise for snorkelers. On the right of the lighthouse, you'll find a large, although not sandy beach.
It seems to be popular among nudists. (But there are also dressed beach goers as well). The water is tremendously clear and has an opaque turquoise color.
I especially enjoyed snorkeling along the rocks where you find different fish species. We got warned that sometimes there might be sea urchins.
"Restaurante El Faro" is located on a rock right on top of Playa del Faro Cabo de Gata. It serves delicious lunch with probably the best views of Cabo de Gata area.
Book here your Trip to Cabo de Gata Natural Park
4. Cala Las Sirenas
Cala de Las Sirenitas is located on the left when you're in front of the lighthouse of Cabo de Gata.
It's quite difficult to access but you'll be rewarded with the best view on the protruding rocks which reminded me of the rocky coastline of Algarve or Playa Benijo in Tenerife.
This beach is one of the most emblematic ones in the region and figures among the best beaches in Andalucia.
Cala de las Sirenitas is usually not very crowded and snorkelers will love it due to the crystal clear water. Again be aware of the sea urchins and nudists! 🙂
Although this is is one of the best beaches in Cabo de Gata it does have one downside! As there is no shade on Cala de las Sirenitas, I strongly recommend bringing a parasol.
Parking options are also limited. In case you get hungry, Restaurante El Faro is located only a few minutes away from the beach.
Book here the best tours in Andalucia
5. Playa Monsul Beach
Playa Monsul, together with Playa Los Genoveses are probably the most scenic beaches of the entire natural park of Cabo de Gata.
Both beaches are very spacious, with golden sand, great water quality, and are surrounded by impressive natural landscapes which have their origins in volcanic eruptions.
Large lava tongues reach into the sea and have been shaped by seawater and the wind. Its pristine setting inspired producer Steven Spielberg to make it the backdrop for Indiana Jones and the Last Crusade.
You have to drive to San José and there the way to the beach is already indicated. The valley that you need to cross in order to access the beach and its corresponding parking reminded me of the desert in a Wild West movie. You could be in Arizona or Texas.
No surprise that Cabo de Gata and the surrounding desert Las Tabernas have been popular film locations for series or movies like The Good, the Bad, and The Ugly or Doctor Who.
Parking is 5€, but it is totally worth it since it limits the number of people on the beach. On top Playa Monsul is located inside the natural park where traffic is restricted.
Did you know that this beach has been the location for one of the most emblematic movies set in Spain? Can you guess which one?
Book here your Trip to Cabo de Gata Natural Park
6. Playa Los Genoveses Beach
Playa Los Genoveses is located about 10 min by car away after passing along the parking of Playa Monsul. Also here you need to pay 5€ for parking.
After crossing a scenic landscape, inspiring Arizona, and cowboy movies, you reach Playa Los Genoveses. This beach is absolutely gorgeous since there are no bars, no roads, no buildings… It is definitely one of the best beaches near San José.
The setting is pristine, the water crystal clear. It might get windy and you have to be careful with strong currents. This beach is very flat, you have to walk for a long time thus it might be a good choice in case you travel with kids.
I especially liked the contrast of the white ashes rock longing into the sea and the turquoise water. With its 1200m it is one of the longest beaches in the area.
Playa de Los Genoveses is famous for its historical background. It got its name by the landing in 1147 of the Genevan fleet that sailed to Spain to support the Spanish troops to "re-conquer" Almeria, which at that time belonged to the Moorish kingdom of Granada.
Book here the best tours in Andalucia, Spain
7. El Playazo Beach
Playa El Playazo (The Great Beach) is located near Rodalquilar on the north-eastern side of the natural park and is clearly signposted.
It is particularly popular among families since it has good parking options, it's protected by the wind and the golden sand is fine. Curiosity might be the gold mines that are close to the beach.
There is a little bar selling some drinks and snacks. But as with most beaches at Cabo de Gata, you better bring all your drinks and snacks along.
Also here nudism is frequent but respected.
Book here your Trip to Cabo de Gata Natural Park
8. Playa Las Negras Beach
I do not 100% recommend this beach, but still it's not a total no-go. (which will be at the bottom of this list)
Las Negras village has the charm of a former fishing village which apparently has unintentionally turned into a very coveted beach resort.
The houses of the seafront and the historic center seem to have a long history and the fishing boats on the beach remind the fishing tradition of Las Negras.
But the rest of Las Negras village looks like an improvised agglomeration of concrete buildings. There are a few international tourists, but most are Spanish.
After seeing all the other pristine and wild beaches of Cabo de Gata, Las Negras was quite overwhelming me.
So many people, so many restaurants, party and music in most bars…. I just wanted to go back to one of these virgin beaches. I visited during a weekend in August and the village was just too crowded.
The beach of Las Negras village is tiny with black sand. But still, if you are looking for a more animated afternoon at the beach with sangria, beach volley or seafood restaurants, and all the Andalusian food to eat you could dream of, then Las Negras is the right beach for you.
Due to its closeness to Cala San Pedro, Las Negras village has some alternative, bohemian feeling.
Fortunately, Josh from Spain for Pleasure had a better experience in Las Negras, that I don't want to completely deter you.
Book here the best tours in Andalucia
9. Vera Playa
Vera Playa is a popular naturist beach resort area situated along the Almeria coastline, and it is considered one of the best naturist beaches in the world.
The beach extends 7km of beach, although only 1km of it is officially designated as a naturist area by the council.
The most popular place to stay in Vera Playa is the Vera Playa Club, where it is clothing optional throughout the entire hotel.
Except the pool where guests are required to be naked at all times. I imagine this rule might make water sports awkward for some!
The Vera Playa Club is actually is definitely one of the best resorts in Almeria for the more adventurous couples out there. It even has it's own waterpark on site!
Book here your Trip to Cabo de Gata Natural Park
10. Barronal Beach
Barronal Beach is one of the best sandy beaches in Almeria, especially for adults. Although it isn't officially designated as one, Barronal Beach is used predominantly by naturalists.
So anyone who visits is likely to see a lot of nudists swimming and tanning.
Some consider it the best beach in Almeria for naturists due to it's isolated nature. Barronal Beach is surrounded by rocky cliffs that protect it a bit from the general public.
Further along the cliffs are the Barronal coves which are even more secluded.
Even if you're not a nudist, but are happy to be around, Barronal Beach is worth a visit due to the beautiful sandy Almeria coastline. It is mostly covered in fine sand, with some sections covered in volcanic basaltic rock. There are even sand dunes!
Book here the best tours in Andalucia
11. Playa Los Escullos Beach
Playa Los Escullos Beach is one of the most popular Cabo de Gata beaches, and for good reason. This beach has a little bit of everything: water sports, rock climbing, sand dunes, and snorkeling!
It's actually one of the best beaches in Cabo de Gata for snorkeling and diving due to the large diversity of ocean fauna available to look at. And for those who love animals, dogs are welcome on the beach!
You can also take a walk over to the Castillo de San Felipe. This is an old abandoned stone castle you can wander through and get great views over the Almeria coastline.
Book here your Trip to Cabo de Gata
12. Cala del Plomo Beach
This is one of those beautiful Almeria beaches no one seems to know about as it is fairly secluded.
As you approach, you'll see lots of rocks and even some larger rock formations, but in fact, Cala del Plomo is one of the best sandy beaches in Almeria. The fine sandy beach stretches for 200 meters along pristine water.
Visitors will enjoy swimming or snorkeling in the clear waters.
Further along is Cala del Enmedio, a cove made up of beautiful white rock. A visit to the cove is one of the best things to do in Almeria, so make sure you make time to go!
Book here the best tours in Andalucia
13. No-Go: Cala San Pedro
The beach of Cala San Pedro was basically the reason why we decided to head to Las Negras village.
A friend recommended it as this totally remote, bohemian, virgin and unspoiled bay, promising it would be one of the best beaches in Cabo de Gata. There would be only a few hippies that had re-settled to Cala San Pedro to live a free, alternative lifestyle in peaceful coexistence with nature.
Although wild-camping is forbidden in Spain, we grabbed our tent and couldn't wait to make it to Las Negras village.
I read a few blog posts from people that had camped there and they confirmed that never a policeman had been seen in Cala San Pedro, and that wild-camping could be done without any risk as on top the beach has no paved road access.
Just let me tell you 1 thing: I really didn't like Cala San Pedro!
Maybe our expectations were too high after reading all those lovely posts on Cala San Pedro, the hippie beach of Spain. But, just read on…
You can get to Cala San Pedro by boat from Las Negras village (12€ round way) or by 1h hiking. We decided to hike and I've to admit that it was the best part of my Cala San Pedro experience.
The trail starts in Las Negras village. It's an easy walk and you can't get lost.
The trail itself is gorgeous: you get some scenic views on the Andalusian coast and it goes through unspoiled nature. The views are tremendous. Be aware that there is no shade during the entire trek, so you better go in the early morning or afternoon.
After the last curve of the trail, we finally got a glimpse on Cala San Pedro bay. Hmmm… this looked quite crowded from a distance.
The closer we got, the more camping tents me counted… There were at least 20 or more! Since the bay was gorgeous and "hope is usually the last to die", we made all the way down to the beach.
After descending the uneven trail, we first encounter the sweet water source, which allows dropouts to live here all year round.
But, gosh, this smell…. There's waste everywhere and we had a hard time avoiding all the poop.
A few hippies with a lost expression crossed our path. Some of the "cabins" rather look like landfill sites than accommodations. There is no functioning sewage system or waste collection in Cala San Pedro.
After a poopy – steeplechase, we finally reached the beach… Well just let me put it that way that it was the total opposite of what we had imagined: There was not 1 free spot on the beach, beer bottles and plastic bags everywhere, naked and/or drunk people dancing, girls pooping a few metres away from the beach…
We just had 1 thought: we have to get out of here ASAP.
Luckily there are zodiacs that connect this "virgin" beach with Las Negras village. We hopped on the first boat we could get and we were more than happy to escape the most dirty and spoiled beach of Cabo de Gata.
It's experiences like Cala San Pedro that inspired me to make a Like a Local Guide to Spain, to help others avoid the sites that aren't worth it and find all the hidden gems! If you are looking for the best beaches in Cabo de Gata make sure to stay far away from Cala San Pedro!
Buy here your Like a Local Guide to Andalusia
---
Why you should visit the beaches of Cabo de Gata, Almeria
One jump ahead: Cabo de Gata is off the beaten track. Maybe that's why it was able to preserve its authentic, rough charm and its virgin
beaches.
I started seeing many stunning photos of the beaches in Cabo de Gata, and it was being recommended in the most prestigious travel magazines as the last virgin spot on the Andalusian coast.
But even with all this press, it is still one of the least touristed parts of Spain. That's why many of the Cabo de Gata beaches figures among the best beaches south of Spain, and are among the most popular things to do in Andalusia.
And it's absolutely right what they say about Cabo de Gata: there are so many non-touristy beaches that you'll have a tough moment choosing only one. Of course, there are some villages that are en route to becoming tourist hot spots, and concrete buildings along the coast are already being planned.
Therefore I recommend visiting Cabo de Gata as soon as you can in order to experience one of Andalusia's best-kept natural secrets. In order to facilitate this task, I arranged this selection of the best beaches in Cabo de Gata… and 1 absolute No-Go Beach.
How to get to Cabo de Gata
By Plane
Closest airports are Almeria, Malaga, and Granada. Get the best deal for your flight and compare the rates of all major flight companies, including low-cost airlines. – Check flights here
By Train
Closest train station is Almeria. – Get tickets here
By Car
We departed from Malaga by car. The drive to Almería capital is already very scenic. You're driving along the coast and you'll get to see the legendary "Plastic Sea", which are the large greenhouses. Several areas are all covered in white. Unfortunately, public transport is not very efficient in the area, that's why I recommend renting a car. – Check car rentals here
Book here your day trip to Cabo de Gata Natural Park from Almeria
Where to stay in Cabo de Gata
Budget
Villas Montemar
Hostal Brisamar
Bitacora
Mid-Range
Hotel de Naturaleza Rodalquilar & Spa Cabo de Gata
Cortijo El Sotillo
El Jardín de los Sueños
Luxury
Hotel MC San José
Cortijo El Paraíso
Hotel Spa Cala Grande Cabo de Gata
Cala Chica Cabo de Gata
---
Map of Best Beaches in Cabo de Gata, Almeria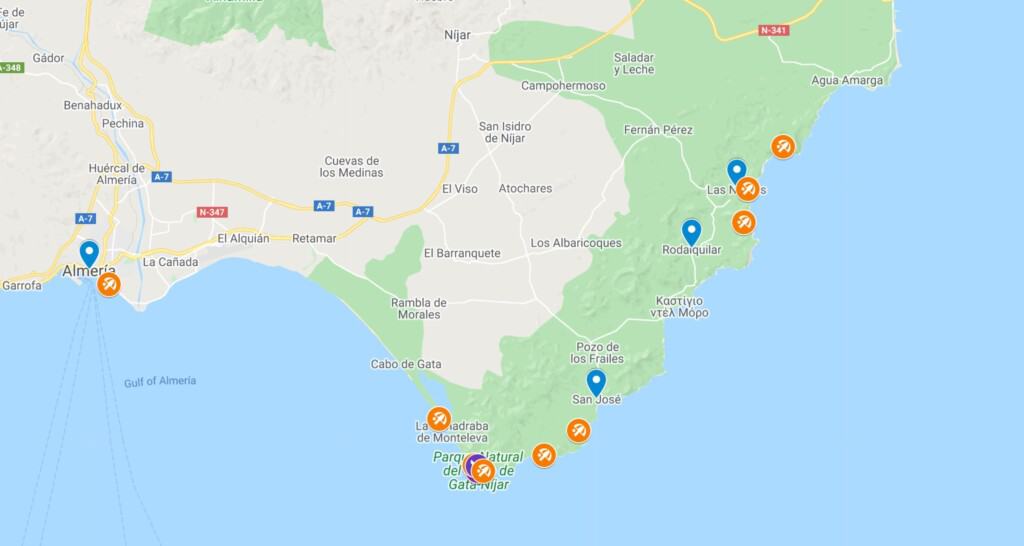 ---
Whereas Cala San Pedro should be avoided, the other beaches in Cabo de Gata are totally worth a visit. There are only a few beaches in Spain that can compete with them and it will be hard to find equivalents anywhere else on the Andalusian coast. That's why the Cabo de Gata beaches are consistently being voted as the best in Spain.
It's not only a lovely excursion from Costa del Sol, but also the perfect location to spend your holidays close to virgin and pristine beaches.
Have you been to Cabo de Gata, Almería? What do you think are the best beaches in Cabo de Gata?
---
In order to get more information on tourism in Cabo de Gata – Almeria (Spain), I recommend the site of Tourism Board of Andalusia.
---
Short FAQ about Beaches in Almeria
What are some lesser known sights to see when visiting Almeria Spain?
In general the Almeria coastline is one of the somewhat lesser known beach spots in Spain, but it still gets busy in peak season. To really avoid the crowds, try the Cala del Plomo Beach, one lesser known beaches in Cabo de Gata, and the nearby cove, Cala del Enmedio.
Is there a beach in Almeria City?
There are multiple beaches along the bay in Almeria City, so you never need to leave the city! My favorite of the Almeria beaches is Playa Zapillo.
What are the beaches like in Almeria?
The beaches in Almeria are beautiful and sandy. There is a lot of diversity on the beaches from volcanic rock to sand dunes. Several of the beaches are great for snorkeling, while others have restaurants with delicious Andalusian food to eat!
---
Hola, I'm Paulina! Together with my team, we are passionate about Southern Spain. Here we share all you need to know for great times in Southern Spain with the best places to visit, stay and, of course, the best food to eat.
Let's dive in and explore Southern Spain's outdoors, food and culture con pasión!