A Guide to the best attractions in Murcia, Southern Spain: the perfect Murcia Itinerary
While in Andalucia you can escape the tourists by visiting the capital of Murcia province: Murcia.
Yes, it is a little confusing when the city and the province it is in both have the same name, but that should not stop you from enjoying what is a young vibrant city full of plenty of things to see and do.
Whether you have two, three, four or just one days to spend in Murcia, this travel guide's itinerary can be geared especially for your trip.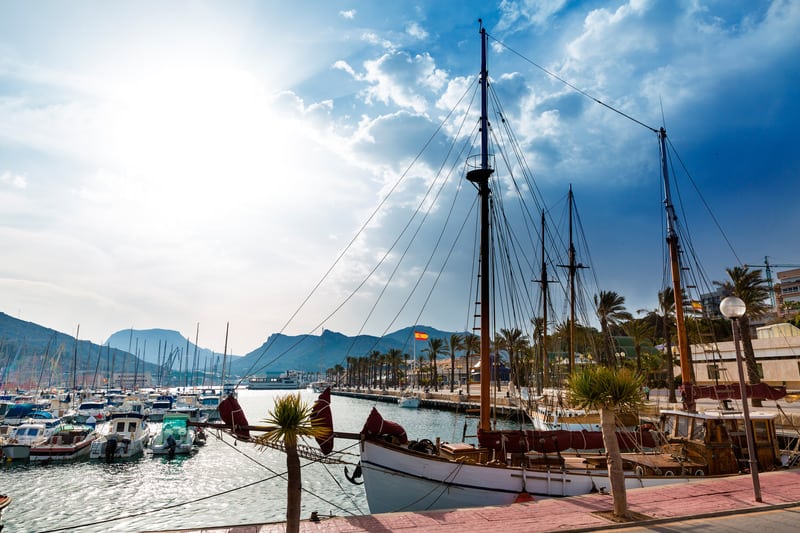 Located on the Segura River in south-eastern Spain, Murcia has a population of around 450,000 inhabitants making it the seventh-largest city in the country.
Founded by Abd-Al-Rahman II the then emir of Cordoba in 831, Murcia was an important city during Moorish rule prospering from the export of silk and paper.
Following the Christian conquest by James II of Aragon in 1296, Murcia fell into decline until the neighboring Muslim kingdom of Granada was defeated in 1492.
Wealthy once more right the way up to the 18th century, it is from this period that most of Murcia's great churches and buildings were constructed.
Today Murcia is known throughout Spain for being a university town and home to some of the best tapas bars in the country.
While not on the tourist trail like Alicante and Valencia, Murcia boasts an interesting old town with narrow winding streets and attractive plazas.
This post contains affiliate links. If you buy via them, I'll earn a small commission which helps me to keep this blog running. I received services for free for an honest review. All opinions are my own.
Top Things To Do In Murcia, Southern Spain – Our Murcia Itinerary For 3 days
Catedral de Santa María
Real Casino de Murcia
Museo Arqueológico
Plaza de las Flores
Museo Salzillo
Castillo de Monteagudo
Useful Travel Information About Murcia
✈ Book cheap flights to Murcia with Skyscanner

⚘ Avoid tourist traps and get the customizable "Andalucia Like a Local" itinerary. – Get it here

✔ Book tours in Murcia with GetYourGuide

➳ Find the best hotels in Murcia with Trivago

❖ Rent a car at the best rates with DiscoverCars

✎ Never leave without travel insurance! I get mine at SafetyWing. It is easy to set up, cheap, and reliable.

$ Withdraw money without hidden fees and avoid exchange charges with TransferWise (Free Mastercard debit card to spend money abroad)
How to get to Murcia
How to get from Alicante to Murcia:
There are several buses a day to Murcia from the main bus stations in Alicante (1h) or travel by train from the main station (1h 24m). – Buy tickets here
How to get from Benidorm to Murcia:
There are direct buses from Benidorm to Murcia with a stop in Alicante (1.45m). – Get tickets here
How to get from Torrevieja to Murcia:
Getting to Murcia from Torrevieja by bus or train requires a stop in either Orihuela or Alicante (2h 31m). – Buy tickets in advance here
How to get from Madrid to Murcia:
Getting to Murcia from Madrid is very simple via high-speed train departing from Atocha Train Station (3h 28m) by bus with a stop in Albacete (4h 35m). – Buy train tickets here
DAY 1
Visit Murcia Cathedral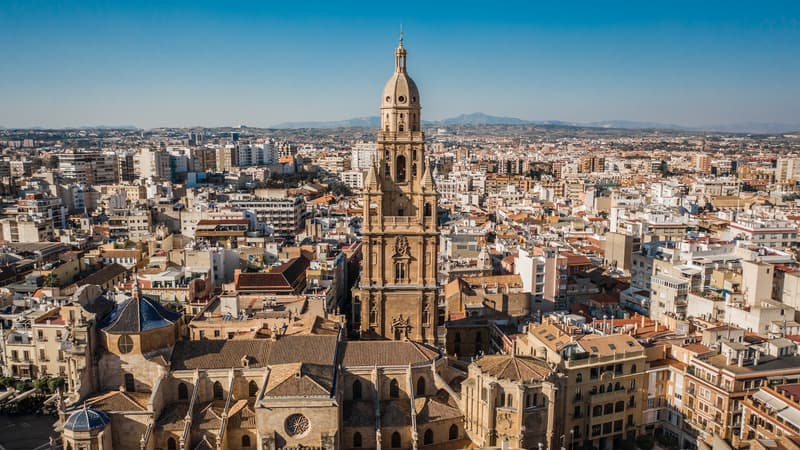 Constructed in 1394 on the site of what was once a great Mosque, the gothic-inspired holy place received a baroque facelift in 1748 and now has a stunning façade overlooking the plaza.
The highlight of the Cathedral of Murcia is its 15th-century Capilla de los Vélez. Dedicated to St. Lucas and funded by the Marquis of Vélez, the chapel was declared a National Monument for its outstanding artistic value.
While visiting the cathedral don't miss the chance to explore the cathedral museum where along with religious artifacts you will discover the remains of an 11th-century Moorish dwelling and a small Mezquita (mosque).
If you don't mind a bit of exercise take a tour of the 305-foot tall tower, the second-largest cathedral tower in Spain after the Giralda in Seville.
Even if you just have one day in Murcia, visiting the cathedral is a must. – Check rates for guided tours here
Address: Plaza del Cardenal Belluga, s/n, 30001 Murcia
Opening times: 10:00 to 17:00
Admission: Adults 7€ Children 5€
Marvel at the Real Casino de Murcia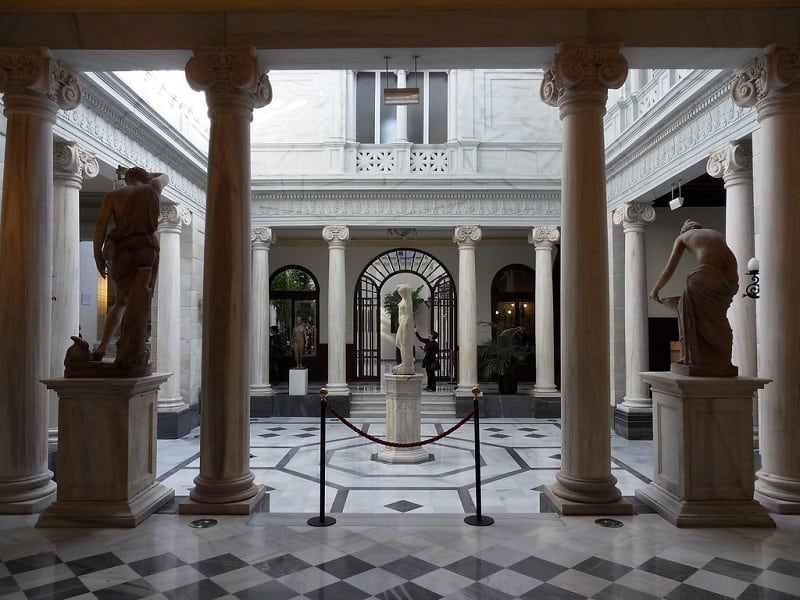 First opened as a gentleman's club in 1847 the resplendent building has been painstakingly restored to all its former glory. With its historical design dating back to an era when opulence was the de rigueur of the day, the Real Casino de Murcia is one of the main attractions in Murcia.
Beyond the decorative facade, you will discover a Moorish patio crowned with a large iron and glass dome and Arabic inscription taken from the Alhambra and El Alcázar that repeats the question "Is no one greater than god"?
In the mini palace-like building you will discover a two-tier library built by English company Waking Gilow in 1916; a grand ballroom complete with crystal chandeliers, and a ladies powder room with cherubs and angels painted on the ceiling.
Address: C/ Trapería, 18, 30001 MURCIA
Opening times: Monday – Sunday: 10:30 to 19:00 August: Monday – Saturday: 10:30 to 14:30pm. Sunday and Bank Holiday closed.
Admission: Adults 5€ Children 3€
Visit Museum Salzillo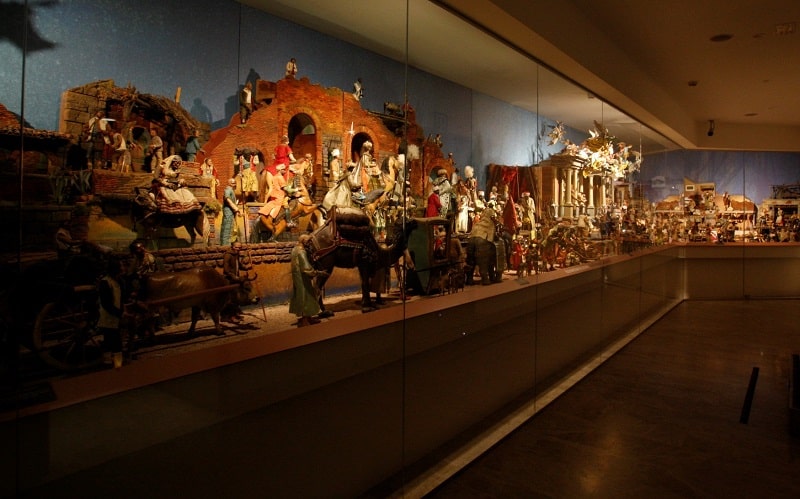 Famous all over Spain for its magnificent Easter week processions, the Museum Salzillo is one of the highlights of the city of Murcia.
Dedicated to Francisco Salzillo, a baroque sculptor who lived between 1707 and 1783, the museum houses many of his most outstanding religious works that were saved from being destroyed during the Spanish Civil War.
Sculpted from wood and then polychromed, the lifelike sculptures are carried through the streets during Holy Week.
The museum also features a nativity scene made from 600 pieces which makes the museum one of the best things to see in Murcia.
Address: Calle Dr. Jesús Quesada Sanz, 1, 30005 Murcia
Opening times: Monday-Friday 10:00 to 14:00 closed Saturday and Sunday
Admission: 5€
Wander along the Segura River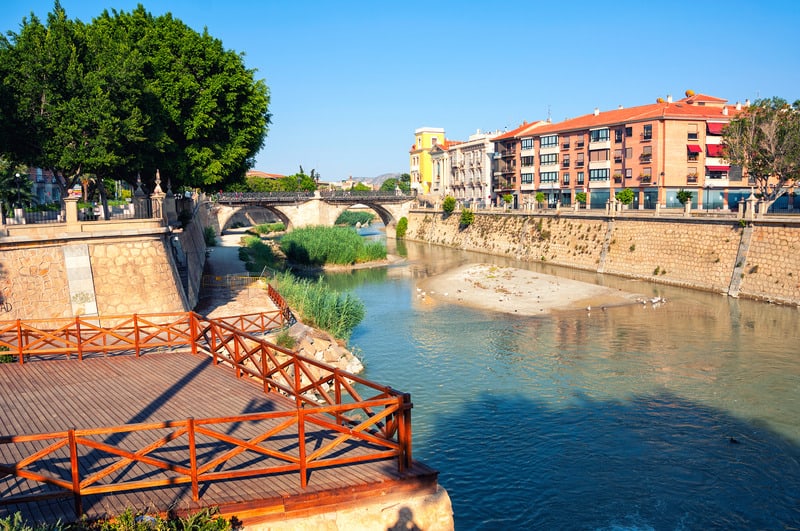 The Segura Riverbank is home to several parks connected to each other by paths, cycle lanes, and bridges. The most important of these parks and the one you really must-see is the Malecón Gardens or botanical gardens.
Designed during the 19th century the Malecón Gardens is a favourite place where locals go to walk and admire not only indigenous plants but fauna from around the world.
If you are in the mood for a longer stroll head out of the city in the direction of Javalí Nuevo until you come to a bend in the river where they have picnic tables for the many people who like to come there and go swimming during the summer.
A great way to enjoy the Murcia river is by bike. – Check bike tours in Murcia here
Lunch in Meson de Pepe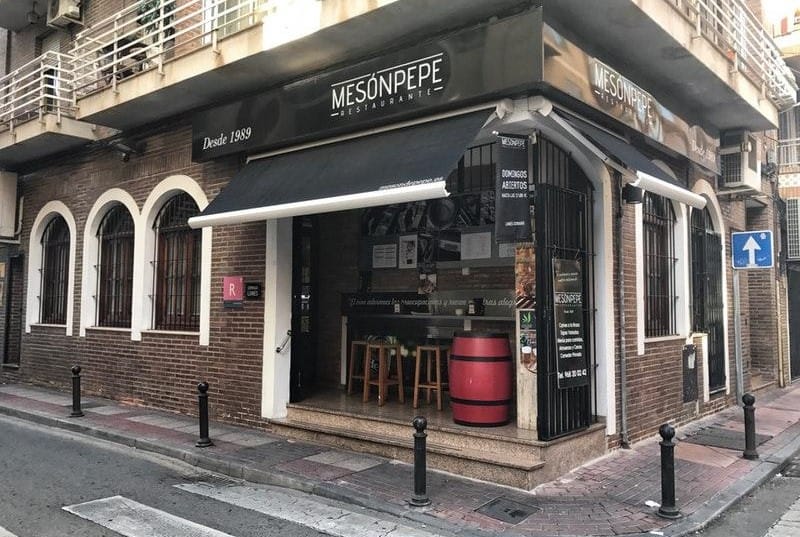 Located in the Vista Alegre neighborhood, just a short walk from the city center Meson de Pepe has been serving traditional Murcian recipes since 1989.
With a variety of both fish and meat dishes, you are bound to find something on the menu that you will like.
Between Monday and Thursday Meson de Pepe offers a three-course set menu del dia that offers you to try local favorites at an amazing price.
Address: Calle Arquitecto Emilio Perez Piñero, 16, 30007 Murcia
Opening times: Tuesday to Friday – 08:30 17:00 20:00 to 23:00 | Saturday 12:30 to 17:00 20:00 to 23:00 | Sunday 12:30 to 17:00 | Monday closed.
Visit Monteagudo Castle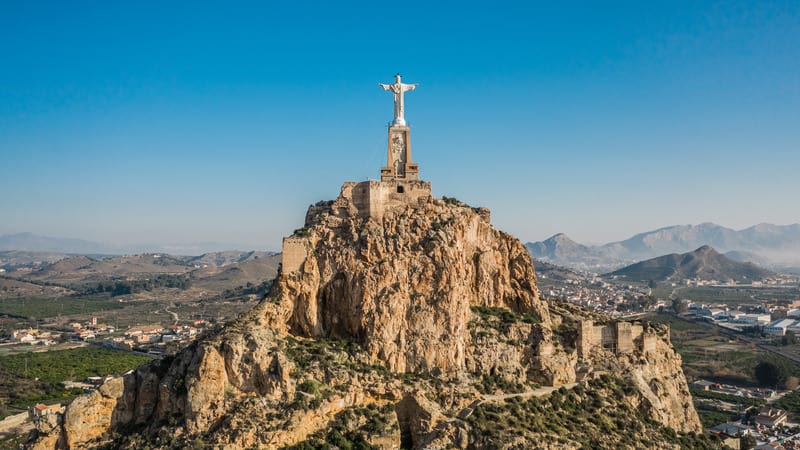 Built around 1078 to protect the city of Murcia, Monteagudo Castle lies five kilometers outside the town on top of a rocky hill.
Following the defeat of the Moors by James I of Aragon in 1266, the castle guarded the border of Aragon and Castile up until the 15th century.
In 1926 a 14-meter tall statue of Christ was erected on top of the castle, but Communist fighters destroyed it during the Spanish Civil War.
The current figure you see today is a replica of the first statue and was placed there in 1951. Today the castle is mostly just a pile of ruins that remain closed to the public. You can, however, drive up to the fence that surrounds it.
Have a coffee at the Plaza Cardenal Belluga Square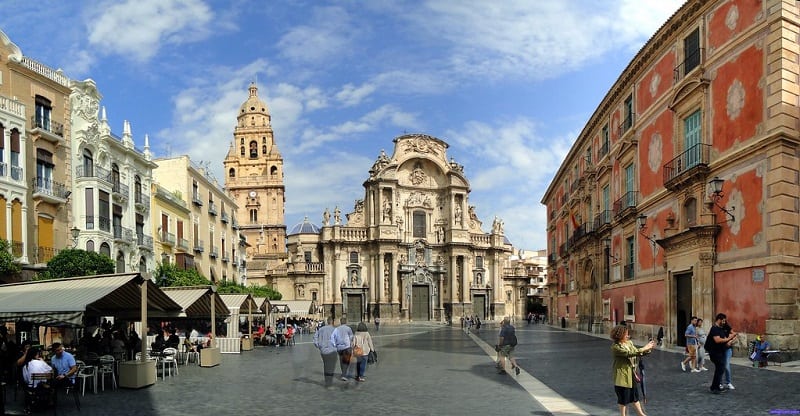 Located near the river in the historical center of Murcia, Plaza Cardenal Belluga Square is home to the city's iconic cathedral, the bishops' palace, and the Salla Belluga exhibition rooms.
On the right side of the square opposite the cathedral, you will find the tourist office where you can pick up a free map of the city.
Pop into one of the bars or better still an outdoor table where you can have a cup of coffee and study the map before heading off into the old town.
Wander in Floridablanca Gardens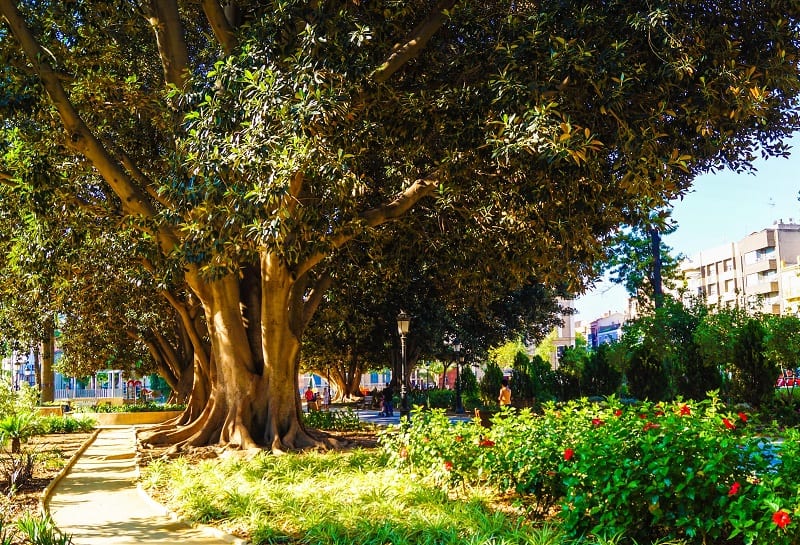 Named after economist and lawyer José Moñino Redondo, Count of Floridablanca, the Floridablanca Gardens were the first public gardens to open in Spain.
Located in the El Carmen district of the city the park is an oasis of shade during the sizzling summer months thanks to centuries-old ficus trees that line the pathways.
Enjoy tapas in Murcia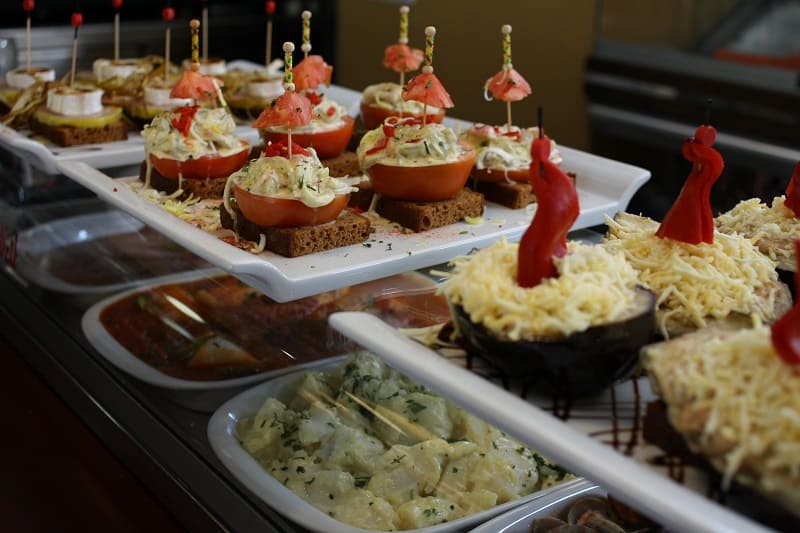 Ask any knowledgeable chef, and they will tell you that Murcia has the best tapas in all of Spain. Surrounded by fertile arable land and close to the Mediterranean Sea, it is easy to see why food plays such an essential part in everyday Murcian life.
When it comes to finding tapas bars in Murcia, start your culinary tour in Plaza Cardenal Belluga with a plate of mussels and an ice-cold Estrella Levante beer at La Mejillonera.
Around the corner is Los Zagales, an old school bar that serves fried baby squid from the Mar Menor.
After Los Zagales head over to the Plaza de las Flores where you will find half a dozen or so excellent tapas bars where you can spend the evening eating and drink to your heart's content.
Day 2
Visit Murcia Market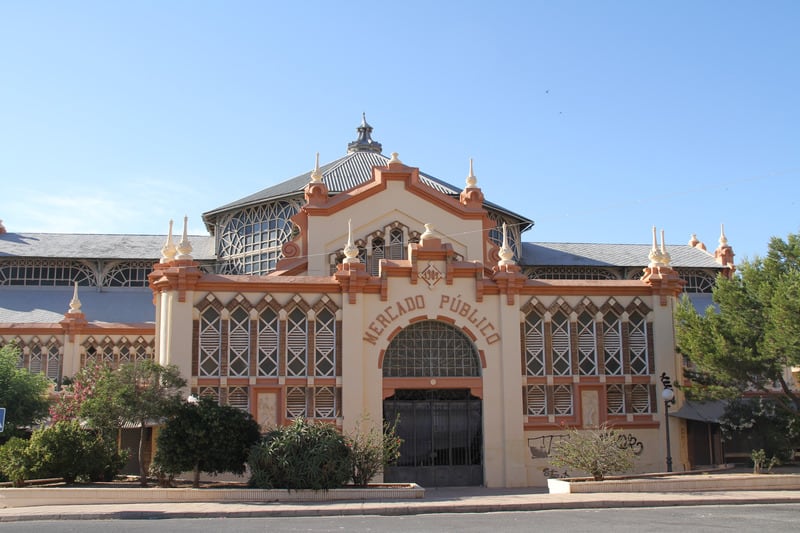 When it comes to things to do in Murcia, don't forget to visit one of the city's indoor food markets. The best one in Murcia is called Veronicas Market on Calle Plano de San Francisco.
Built between the years 1914 and 1917, Veronicas Market has a real Modernist feel about it and has vendors whose families have owned stalls in the market since it first opened.
This is a must on any Murcia walking tour. – Check guided tours here
Opening Times: Monday-Saturday 08:00 to 15:00 Closed on Sunday
Do a Murcia Bike Tour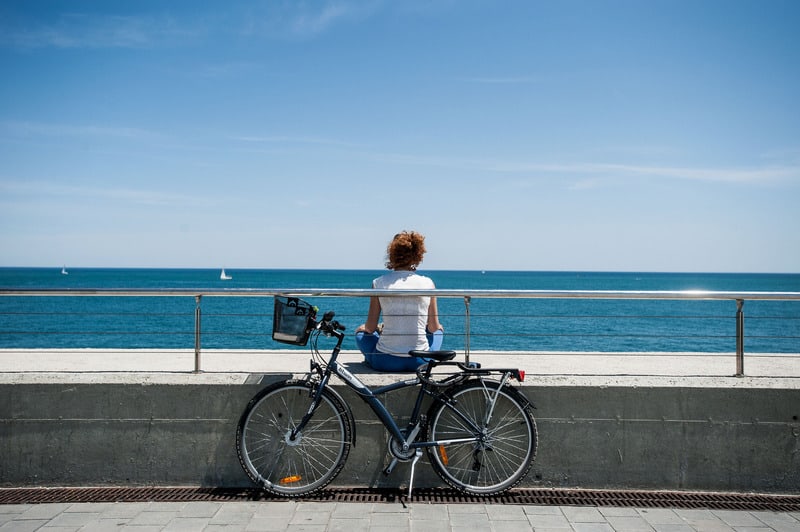 One of the things to do in Murcia, Spain that people often don't think about is to rent a bike or go on a Murcia bike tour.
Going on a bike tour with a local is a great way to learn all about Murcia and its historical agricultural origins.
Tours generally last around 3.5 hours and involve leisurely cycling through orange and lemon groves along the Segura River. – Check bike tours here
Visit the Roman theatre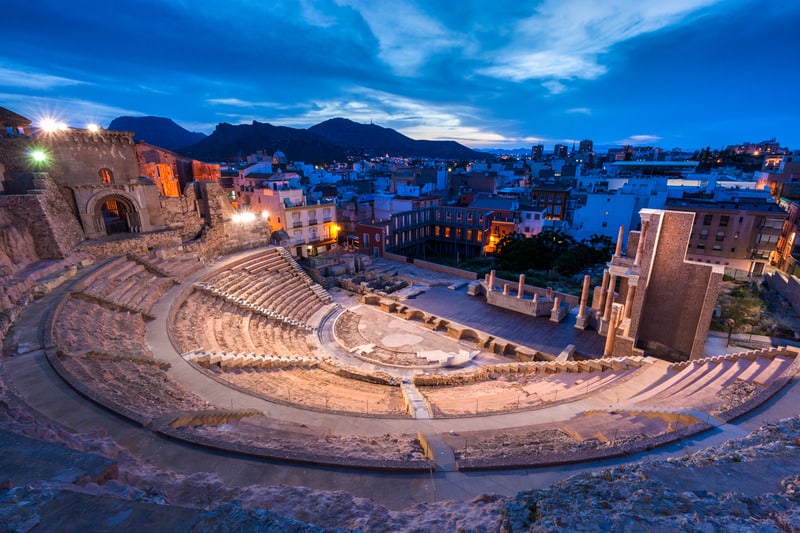 Not in Murcia, but in the city of Cartagena the Roman theatre is one of the largest Roman archaeological sites in all of Spain.
Built in the 1st century BC during the reign of Emperor Augustus, the theatre was able to seat 6,000 people. It was used not only for entertainment but also for propaganda and political purposes.
Want to know more about this hidden gem in Murcia Province? Read our complete guide on things to do in Cartagena, Spain.
Opening times: Tuesday-Saturday: 10:00 to 20:00 Sunday: 10:00 to 14:00 Closed Monday
Admission: 6€
Lunch in Restaurante El Churra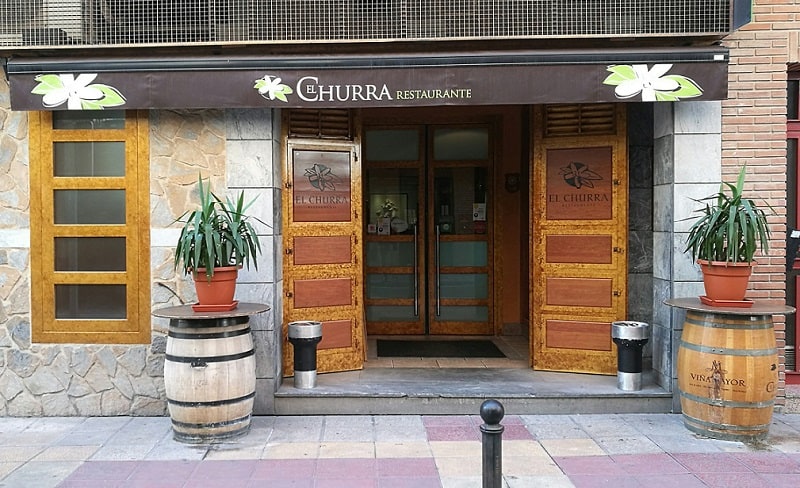 To sample an original taste of Murcian cooking, you will not find a better place than Restaurante El Churra for lunch.
Traditionally Spanish, with wood-paneled walls, tile floors, and cloth table linens, the restaurant's primary focus is beef and lamb.
With Murcia not being too far from the sea, you also are given an excellent choice of seafood to select from.
Address: Calle del Obispo Sancho Davila 13, 30007 Murcia
Opening times: Mon-Sat 08:00 to 24:00 Sun-Sat 13:00 to 17:00
Have a tinto de verano at Plaza Flores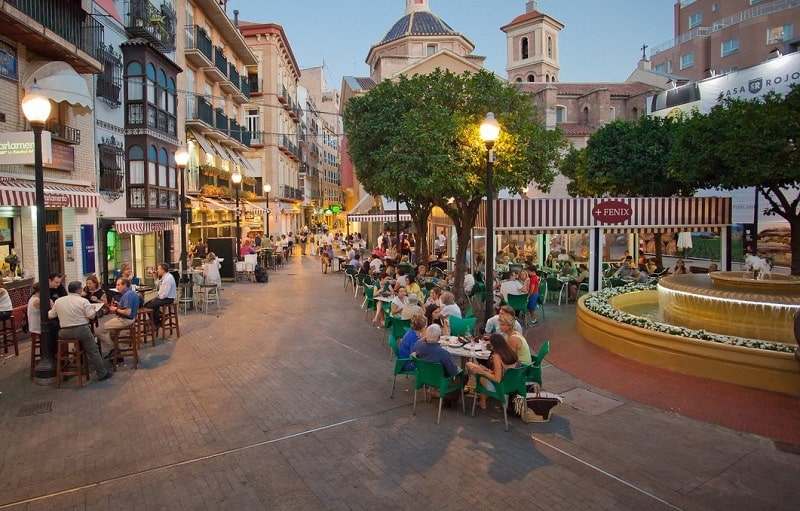 Located in the heart of Murcia's old quarter, the Plaza Flores is where locals go when they want to enjoy a drink al fresco.
Pedestrianized with a fountain as its focal point, the Plaza Flores is the perfect spot to enjoy a tinto de verano.
Similar to sangria except without the fruit and sugar tinto de verano is a refreshing summer drink made from red wine and Spanish fizzy lemonade.
Enjoy a water park in Murcia (Terra Natura Murcia)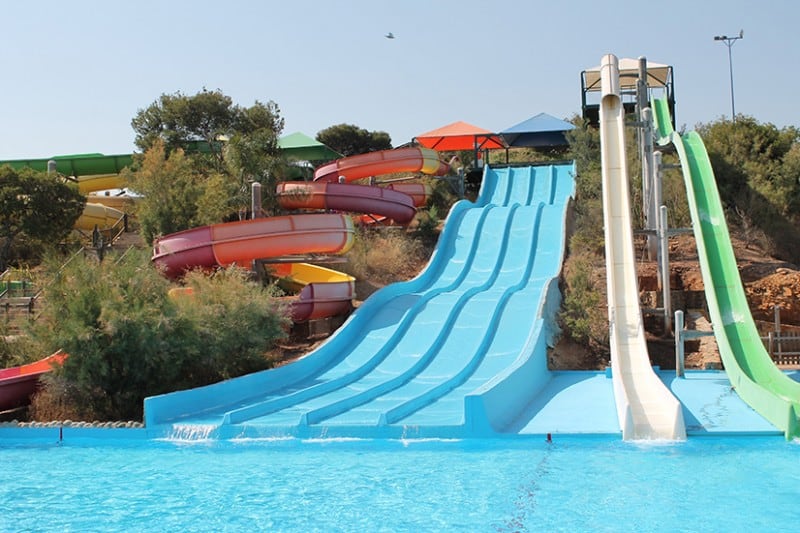 If you have kids in tow and want to do something the whole family can enjoy, consider spending the day at a water park.
Located on the outskirts of town Terra Natura has several swimming pools suitable for both adults and children.
The water park features several water slides that vary in height and a lazy river ride for those just looking to relax while soaking up the sun. – Buy tickets in advance here
Address: Calle Regidor Cayetano Gago, s/n, 30100 Espinardo,
Opening times: 11:00 to 20:00
Dinner in Murcia
If you are looking for something other than Spanish food and tapas, try Oven Mozzarella Bar for traditional Italian cooking that will make you feel as though you are in Tuscany.
More pizza and pasta rather than Ossobuco and Saltimbocca, Oven Mozzarella Bar nevertheless serves up quality Italian cuisine in a warm contemporary atmosphere.
Address: Plaza Julian Romea 5, 30001 Murcia
Opening times: Sunday-Thursday 12:20 to 24:00 Friday-Saturday 12:30 to 01:00
Day 3
Visit Mar Menor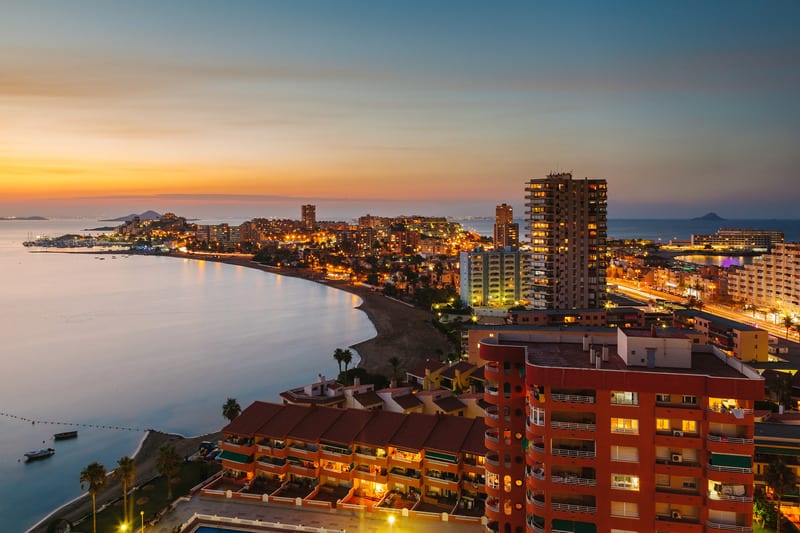 When it comes to things to see and do near Murcia, a trip to Mar Menor has to be on your list of places to visit in Murcia.
Considered to be the largest Lagoon in Europe the Mar Menor is separated from the sea by a narrow strip of land called La Manga.
Ideally suited to water sports and shallow enough for young children to swim, the area around Mar Menor has some of Spain's best golf courses making it a year-round resort.
Visit some of Murcia's best beaches at Costa Calida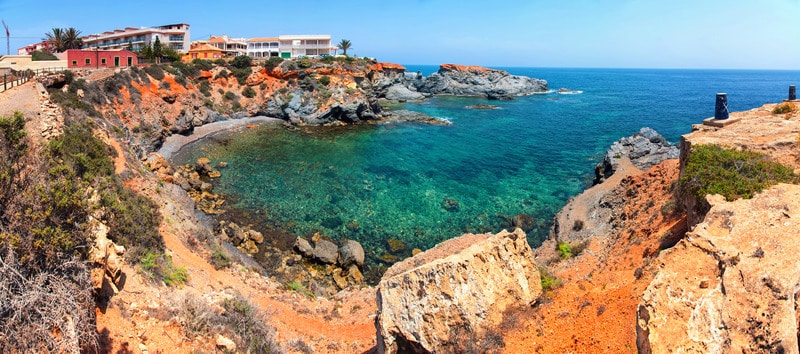 The beaches in Murcia are some of the best in Spain and not crowded like the Costa Blanca. On the Costa Calida, dunes and virgin pine forests back many of the beaches.
Popular resorts include the hotels on La Manga, a 22-kilometer long strip of land that separates the Mar Menor from the sea. From here it is only a short trip to the pink lake of Torrevieja.
Of the beaches, our favorite is Playa Honda where you will find a lovely promenade and plenty of water sport activities. – Book here the best activities near Murcia
A Day trip to Lorca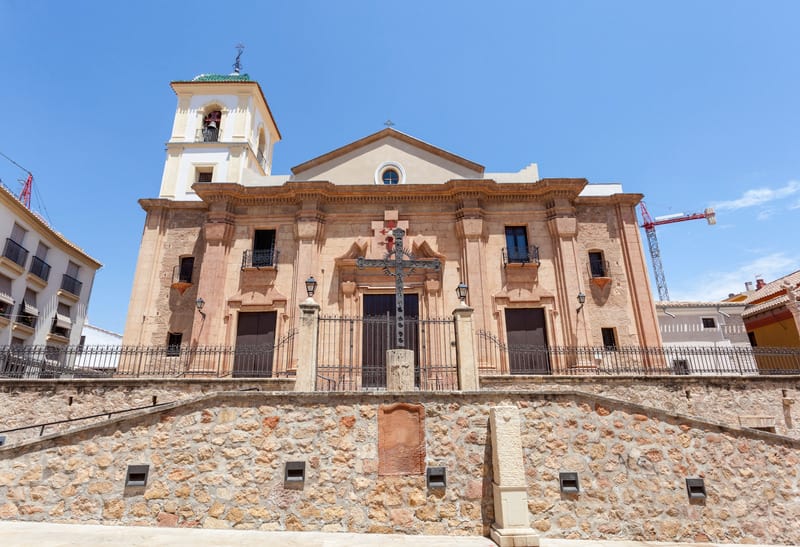 When people ask what to do in Murcia, we always say be sure to visit the Baroque city of Lorca. Indeed, it's one of the best day trips from Murcia and a major tourist attraction in the region of Murcia.
While in Lorca, there are plenty of things to see and do like the magnificent castle of the sun, a towering fortress that served both the Moors and Christian armies.
Dive into Lorca's past by starting your tour of the old town in the Plaza de España. Along with the stately looking buildings is a unique church dedicated to Saint Patrick.
The church celebrates the Battle of Los Alporchones and the Christian victory over the Caliphate of Granada on March 17th, 1452.
In the near surroundings of Lorca, you'll also find plenty of outdoor activities such as hiking or biking.
You should also check out this post we wrote on the things to do in Granada.
A Day Trip to Cartagena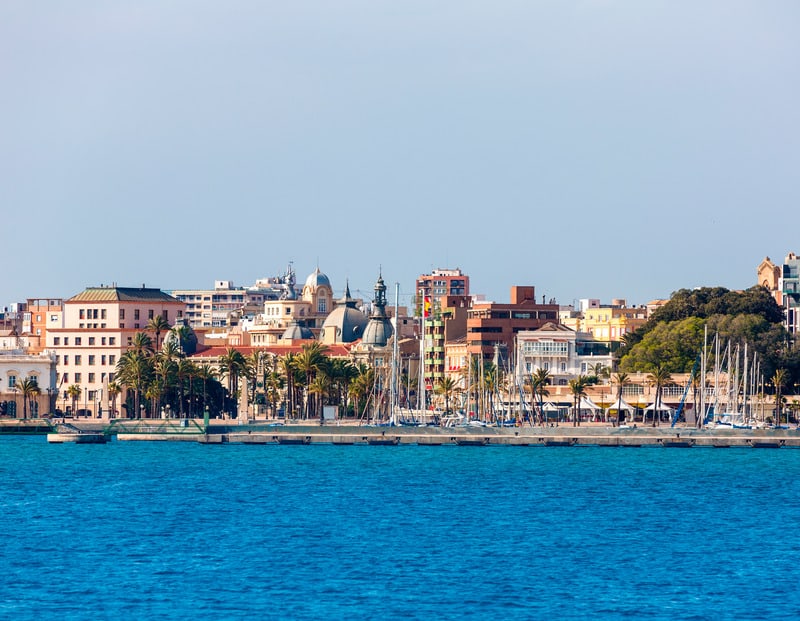 Home to the Spanish navy's most extensive base, the natural harbor of Cartagena was first settled by the Carthaginians around 220 BC and went on to become one of the most important Roman cities in Spain.
Today a history buffs dream Cartagena is easily seen on foot thanks to an extensive network of pedestrian streets and waterfront walkways.
Highlights of any trip to Cartagena must include visiting the Roman theatre and the archaeological museum to learn all about the civilizations that called Cartagena home.
Exploring Cartagena is definitely one of the best things to do near Murcia. – Check guided tours here
Best Hotels in Murcia, Southern Spain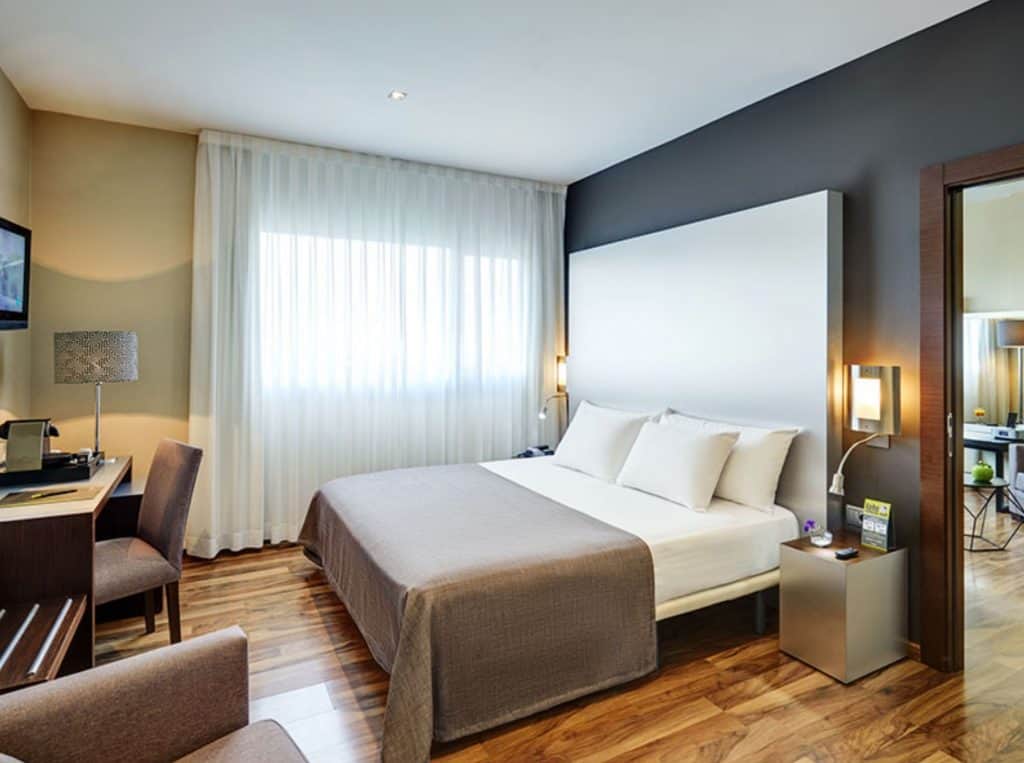 Based in the business district, a 5-minute tram ride from the historic center and shops in Murcia, this modern, stylish hotel features every amenity.
All rooms are air-conditioned and have a private bathroom, minibar and satellite television. The hotel also features a spa and gym that are available for a surcharge.
At the Sercotel JC1, Murcia guests enjoy a complimentary coffee service and breakfast buffet. The hotel's restaurant serves lunch and dinner either inside or out on the terrace. – Check rates & reviews here
Address: Av. Juan Carlos I, 55, 30100 Murcia
Located close to all the things you want to see in Murcia, the recently refurbished Hesperia Murcia Centro is just 200 meters from the cathedral.
All rooms' air-conditioned rooms come with private bathrooms, free Wi-Fi and satellite television. The Hesperia Murcia Centro operates a 24-hour reception desk and its guests a complimentary buffet breakfast.
This hotel is a great option when looking for accommodation in Murcia with a mid-range budget. – Check rates & reviews here
Address: Calle Madre de Dios, 4, 30004 Murcia
Tel- 968 21 77 89
The BCool Hostel is a money friendly option with rooms starting from around 24€ per night.
Located 400 meters from Murcia's old town and 700 meters from the Fine Arts Museum, the Bcool hotel is within walking distance of all the city's attractions.
Despite being a basic hotel for travelers, guests particularly liked the location near plenty of bars and restaurants and especially loved the on-site restaurant where you could have a home-cooked meal for just 12€. – Check rates & reviews here
Address: Calle de los Infantes 5, 30001 Murcia
Getting Around Murcia
If you are staying near the city center, you can quickly get around the old town and significant Murcia attractions on foot.
If you are staying out in the suburbs or want to get to and from the university Murcia has a fleet of modern air-conditioned buses and 18-kilometers of tram tracks.
The tram is especially useful if you wish to visit some of the larger shops in Murcia and need to get from Murcia city center. Taxi ranks are found throughout Murcia and operate using a taximeter.
All Murcia taxis are white and have a red and yellow sticker with their cab number on the front doors.
In case you are looking for a day trip from Murcia or the next stop on your Southern Spain itinerary, you should have a look at our 3-day itinerary, Almeria.
---
Best Attractions in Murcia, Spain – Map
---
A short FAQ about Murcia, Spain
Where is Murcia in Spain?
Murcia is located on the Segura River in south-eastern Spain.
What are things to do in Murcia when it rains?
On a rainy day, you should definitely visit Museum Salzillo.
Is Murcia Spain an interesting place to visit?
Yes, there's no doubt about it. Just look at the Monteagudo Castle for example.
---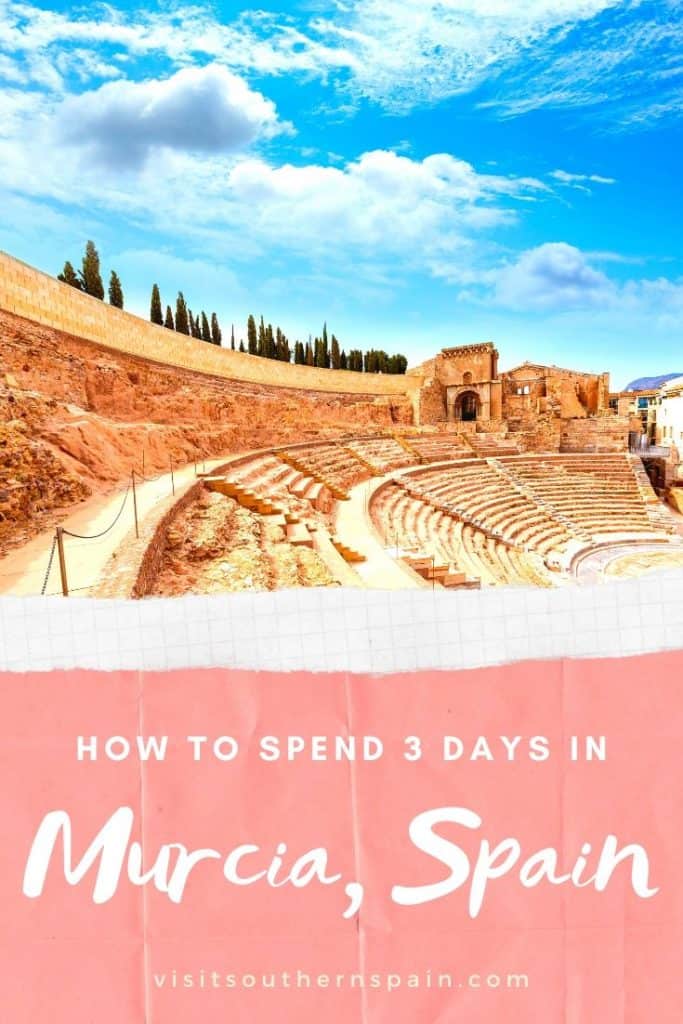 ---