A travel guide to the best attractions in Tarifa, Southern Spain: the perfect Tarifa Itinerary
Looking for things to do in Tarifa? Tarifa is a hidden gem nestled in the province of Cádiz, Southern Spain. Tarifa's windswept beaches are just the beginning.
The area is one of the best surfing spots in Spain and there are plenty of beaches to relax on too.
The city is a melting pot of culture, history, and art, beckoning you to explore its ancient castles and vibrant streets.
This blog is supported by you, dear reader. If you purchase through a link, we earn a small commission. As an Amazon Affiliate, we earn from qualifying purchases.
Top Things To Do In Tarifa, Andalucia – Our Tarifa Itinerary For 3 days
There is no doubt that there are lots of things to do in Tarifa, Spain. However, under no circumstances should you miss:
Castillo de Santa Catalina
Castillo de Guzmán el Bueno
Puerta de Jerez
Valdevaqueros Beach and other beaches in Tarifa
Baelo Claudia ruins
Parque Natural de Los Alcornocales
Useful Travel Information About Tarifa, Spain
✈ Book cheap flights to Tarifa with Skyscanner

⚘ Avoid tourist traps and get the customizable "Southern Spain Like a Local" itinerary. – Get it here

✔ Book tours in Tarifa with Viator

➳ Find the best hotels in Tarifa with Trivago

❖ Rent a car at the best rates with Discover Cars

✎ Never leave without travel insurance! I get mine at HeyMondo. It is easy to set up, cheap and reliable.

$ Withdraw money without hidden fees and avoid exchange charges with TransferWise (Free Mastercard debit card to spend money abroad)
Where is Tarifa, Spain?
Tarifa is the southernmost point of Spain, which also means that it is the closest one to Morocco.
Tarifa is bordered by Algeciras, Los Barrios, Medina Sidonia, Vejer de la Frontera, and Barbate and it is bathed by both the Atlantic and the Mediterranean sea.
Tarifa is on the Costa De La Luz popular for its less-developed stunning beaches, vibrant nightlife, and abundant outdoor activities
It's easy to get to Tarifa from Malaga, Seville and Cadiz by bus. – Buy tickets here
How to get to Tarifa
The nearest airport to Tarifa is the one located in Algeciras. From there, you can take a bus that will get you dropped straight to Tarifa's city centre.
If you are visiting Málaga, Sevilla, Marbella or Cádiz, you may also include this getaway to your trip.
In this section you will find the most relevant information regarding how to get to Tarifa, Spain by bus, which may be considered the best option in terms of price range and timetable flexibility.
How to get from Málaga to Tarifa:
Málaga to Tarifa bus:
Departure – Arrival: Málaga – Tarifa
Time: 4 hours and 55 minutes – Buy tickets here
How to get from Seville to Tarifa:
Seville to Tarifa bus:
Departure – Arrival: Sevilla – Tarifa
Time: 3 hours 30 minutes – Buy tickets here
How to Get from Gibraltar to Tarifa
Gibraltar to Tarifa bus:
How to get from Marbella to Tarifa:
Marbella to Tarifa bus:
Departure – Arrival: Marbella – Tarifa
Time: 2 hours 40 minutes – Buy tickets here
How to get from Cadiz to Tarifa:
Cadiz to Tarifa bus:
Departure – Arrival: Cádiz – Tarifa
Time: 1 hour and 45 minutes – Get tickets here
Getting to Tarifa from Tangier:
There is no bus from Tangier, Morocco, to Tarifa because the journey has to be done by ferry. The ferry from Tangier to Tarifa takes just 1 hour, and 3 different ferry companies run the route.
There can be up to 23 sailings daily to the port of Tarifa from Tangier, so you'll definitely find a time to suit you. It's essential to buy your tickets in advance. Get your tickets here.
Day 1
The itinerary presented below is a three-day journey about what to do in Tarifa. However, it may be easily adapted to two or four days, depending on your travel rhythm.
Visit the Castillo de Santa Catalina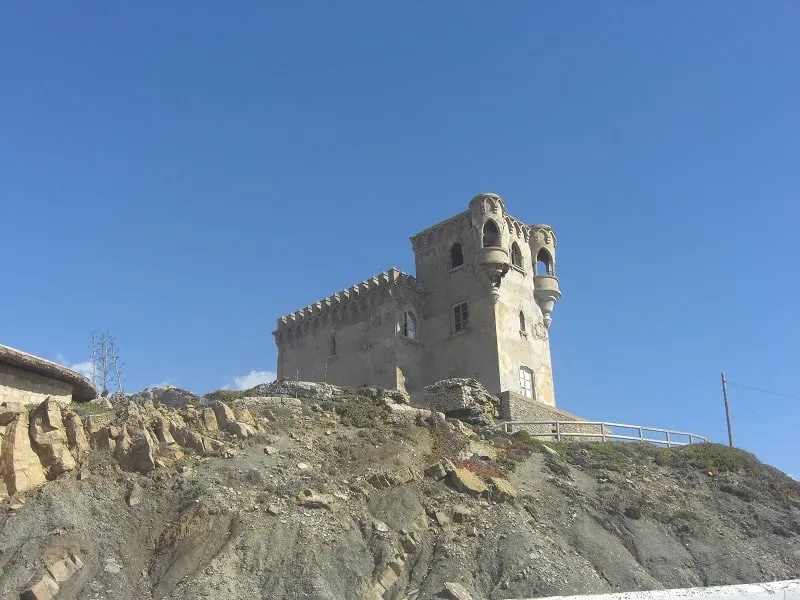 Castillo de Santa Catalina is a Renaissance castle located on the top of the Santa Catalina hill. In the past, it was a strategic area to defend the city.
In contrast, nowadays it is just a place where cultural events are held and a fantastic natural viewpoint from where you can observe the Isla de las Palomas and the Castillo de Guzmán el Bueno.
Opening times:
Winter: Monday to Sunday: 11am to 7:30pm
Summer: Monday to Sunday 11:00am-8:30pm
Visit the castle of Guzman El Bueno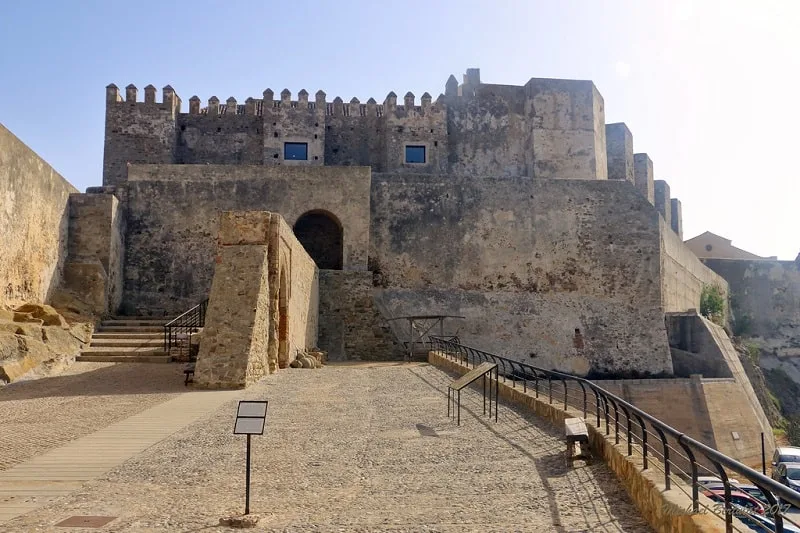 Visiting the castle is one of the best things to do in Tarifa. Castillo de Guzmán El Bueno is a fortification also built to protect the city from pirates.
A curious fact is that it was named after its governor Alonso Pérez Guzmán, who sacrificed his own son in order to keep the population safe when they were attacked.
The de Guzman el Bueno was refurbished in the XVII century to serve as a quartering to Spanish-British troops that were defending Tarifa from the French army.
Opening times:
Wednesday to Sunday 10:00am-3:15pm
Wander in Tarifa old town
When you visit Tarifa, the old-town is one of the best places to explore. The old city centre hides numerous charming corners so it seems that walking around Tarifa is a must to those who want to be impregnated by their beauty.
Certainly, it may be the best possible way to discover the area. You'll notice that a distinct feature of parts of Tarifa old town is the enchanting cobbled streets.
Some of the places that you should visit are the Iglesia de San Mateo, which was built on the remains of an old mosque; the medieval walls that used to protect its citizens from external threats; and its long harbor.
Another must-visit is Plaza de Santa Maria, located at the heart of the area near Catillo de Guzmán el Bueno. Make sure you see the fountain in the middle of the square which has 8 mini frog statues just like a similar fountain in Seville.
In order to make the most your time, consider going on a guided tour. – Check tours here
Go shopping in Tarifa's surf shops
There are lots of shops in Tarifa, but the most crowded ones are surf shops. There you will be able to find thousands of bikinis, exclusive beachwear, and all the equipment you may need to practice sports such as kitesurfing, skimboarding, or bodyboarding, among others. You'll also be able to buy things you may need for surf lessons.
Some of the most popular surf shops in Tarifa are:
Lunch in El Lola
El Lola is a cozy and traditional Andalusian restaurant located on Calle Guzmán el Bueno, that serves typical regional dishes with a touch of modernity.
One of its main well-valued aspects is its extensive menu, as it will satisfy everyone's desires. Chocolate dumplings, shrimp salad, or salmorejo are some of its most popular dishes.
Moreover, its delicious desserts won't disappoint anyone. However, it is highly recommended to book a table in order to avoid the queues formed during peak hours.
Opening times: Monday to Sunday: from 1:30 pm-4:30 pm and 7:00 pm-12:00 am
Take a picture at Puerta de Jerez
Puerta de Jerez is one of the biggest tourist attractions and a famous landmark of the city. Its also one of the best things to see in Tarifa. The main reason is that Puerta de Jerez is the only conserved gate of the great wall that surrounds the historic quarter.
It was restored in 2000 and El Cristo de los vientos, which is a painting of Guillermo Pérez Villalta, was placed there to decorate the portico.
Go horse-riding in Tarifa
Horse riding in Tarifa has become a popular activity as it is considered a wonderful and unforgettable experience. Indeed, it allows you to feel the breeze of the sea while you are galloping along its endless sandy beaches.
There is also the possibility to go horse-riding through Tarifa's Natural Parks, which are the Parque Natural del Estrecho and the Parque Natural de los Alcornocales. – Book your experience here
Hang out at Tarifa's best beaches
Tarifa is one of the coastal cities with the greatest tourist projection since it is internationally renowned as the windsurf and kitesurfing paradise.
However, it is also the perfect place for those who prefer to chill sunbathing and enjoy a refreshing bath. Some of the best beaches in Tarifa for all of them are:
Bolonia beach
Valdevaqueros beach
Río Jara beach
Playa Chica
Playa De Los Lances beach and Punta Paloma beach/sand dunes are also beautiful beaches.
If you're interested in other beaches in Southern Spain, make sure to check out the following our article about the best resorts near Seville.
Enjoy tapas in Tarifa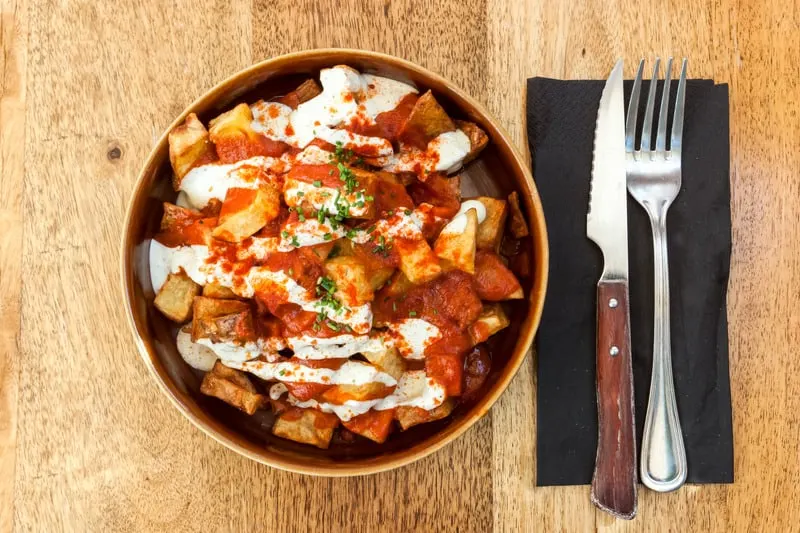 Tapas are a typical Andalusian appetizer served on almost every bar you will visit. Some of the most well-rated tapas bars in Tarifa are:
Day 2
Visit the markets in Tarifa
The Mercadillo local market in Tarifa is located on the Barriada de Huerta del Rey and it is held every Tuesday from 9 am to 3 pm.
It is an ideal place to walk around as there you will find more than fifty shops, where you can buy new and second-hand furniture items and clothes.
Take a surf lesson
Tarifa is one of the best spots for surfing in Andalucia.
Surfing in Tarifa may become an unforgettable experience for everyone because there is no need to be an expert to enjoy the waves. Moreover, in order to learn the basics, you can join a surf camp in Tarifa. Kitesurfing is one of the best things to do in Andalucia.
It will help you to understand the principles of the sport, to dominate the surfing technique, and to try to put it correctly into practice. – Check surf lessons here
Learn how to kitesurf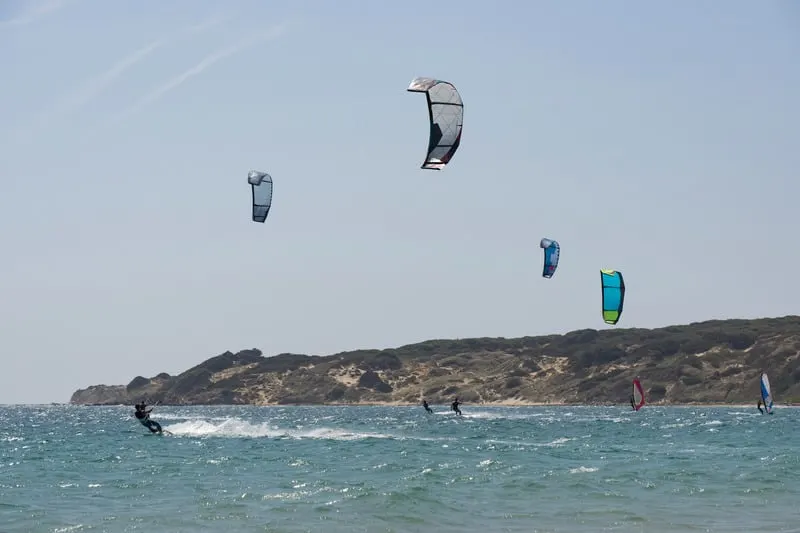 Kitesurfing in Tarifa is also one of the most popular activities there; however, it may be really difficult to learn it on your own.
If you want to avoid injuries and accidents, maybe you should consider taking a few lessons in one of the kitesurfing schools in Tarifa.
As there are different companies teaching how to practice kitesurfing, you will be able to choose the most suitable option for your budget. – Check offers here
Watching the kite surfers is another fantastic thing to do in Tarifa. It's mesmerizing.
Scuba Diving in Tarifa
An alternative to kitesurfing in Tarifa is scuba diving. Tarifa is one of the best places to go scuba diving in Spain. The water has unique currents, which cause an abundance of aquatic life.
Many of the dives are done at Isla de las Palomas which is part of Los Alcornocales Natural Park.
You can't dive there by yourself so you must book a guide or course. Courses are offered for all levels, from beginner to professional. Yellow Sub Tarifa offers a wide range of courses.
Lunch in El Chozo restaurant
El Chozo is popular among locals for its unbeatable location. The restaurant is just in front of the beach and from there you will be able to see Africa on clear days.
Moreover, it is specialized in traditional Spanish cuisine, which is elaborated using local products.
Another positive aspect is that the staff is really kind and all the waiters and waitresses are keen to help you to make the best decision.
El Chozo is open from 9 am to 12:30 pm Friday to Tuesday and it is located on the Camping Torre de la Peña.
Go whale-watching in Tarifa
If you are a nature lover, one of the best things to do in Tarifa is to go dolphin and whale watching.
It's always just magnificent to witness this natural wonder. There are lots of different companies offering this kind of trip to Tarifa. – Check the best offers here
Go trekking in the natural parks near Tarifa
Tarifa is not just the perfect place for surfers, it is also a wonderful spot for those who enjoy wildlife tours. There are two huge Natural Reserves in Tarifa:
Parque Natural del Estrecho: Where visitors can enjoy not only strolling through Los Lances or Bolonia beach, but also spending some time at Baelo Claudia Roman city.
Parque Natural de Los Alcornocales: Which is the ideal place to go hiking and camping in Tarifa. However, as it offers so many possibilities, it is advisable to choose the route in advance in order to avoid wasting your time.
Book excursions from Tarifa here
Dinner in Surla restaurant Tarifa
Surla is an elegant beach bar in Tarifa opened almost all day long, from the very early morning until the evening.
There you will be able to taste their spectacular breakfast options, elaborated with top quality products, and a wide variety of healthy and flavorful main courses, such as sushi, woks, salads, or burgers.
Enjoy Tarifa nightlife
Be ready to get surprised by the nightlife in this small town! The nightlife in Tarifa is also one of the biggest attractions there and visitors should not miss the opportunity to enjoy a night out in the city.
There are lots of bars and pubs that get quickly crowded by surfers, as soon as the sun goes down. Some of the most recommended places are:
Taco Way Tarifa
Aloha Tarifa
SurfBar Tomatito
Cuchitril Tarifa
Day 3
Visit the ruins of Baelo Claudia
The Roman ruins of Baelo Claudia is a really well-preserved factory-city of saltings declared a National Historic Monument.
It is located close to the sea on the Parque Natural del Estrecho and it is an impressive natural viewpoint.
Opening times: Tuesday to Sunday from 9 am to 3 pm
Entrance fee: 1.50 €
Day trip to Tangier from Tarifa
If you are spending your holidays in Tarifa, you may want to enjoy a day trip to Tangier. The best option to travel from one place to another is by ferry as the journey takes just one hour and it runs all day.
Ferry to Tangier from Tarifa:
Departure – Arrival: Tarifa – Tangier
Frequency: from 08:00 am to 22:00 pm each 2 hours
Time: 1 hour to cross
In order to make the most of your time, I strongly recommend going on a guided tour. They take you to the best highlights in the Moroccan town. – Check rates here.
For an alternative, day-trip options make sure to check out these two articles we wrote on things to do in Marbella and a 3-day itinerary Estepona.
Day Trip to Gibraltar from Tarifa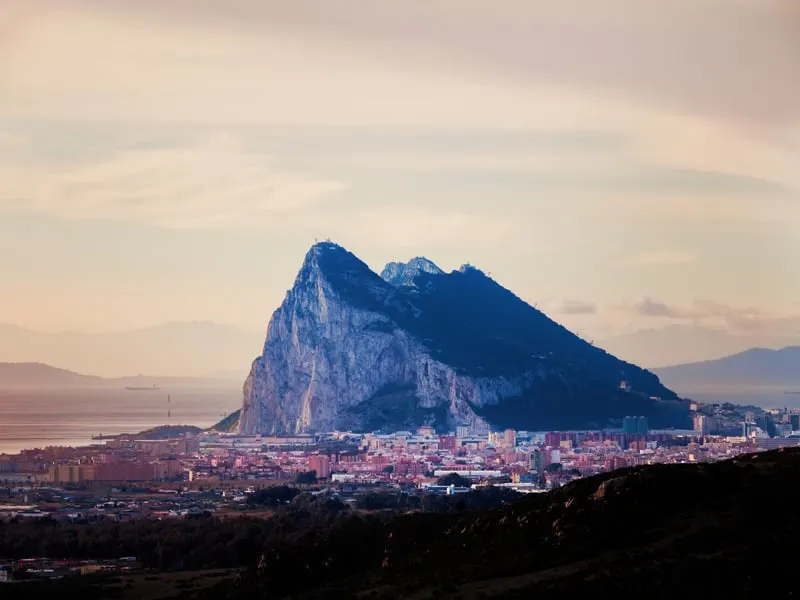 Another interesting place to visit is Gibraltar and it may be the best option for you if you do not feel like taking a boat tour. There are so many things to do in Gibraltar, so it's best to book a guided tour to see the highlights.
There are several day trips offering you the possibility to travel by bus accompanied by a multilingual guide. This break will allow you to purchase some bargains in a tax-free territory. – Check Gibraltar tours from Tarifa here
A Day Trip to Cádiz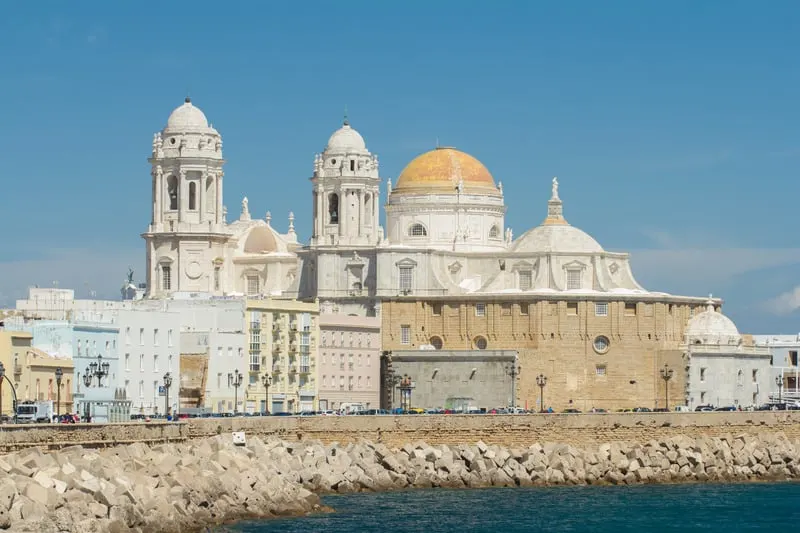 Cádiz is the perfect destination for a day trip and one of the best places to visit in Andalucia if you're looking for a blend of history, culture, and seaside charm without venturing too far from Tarifa.
Explore the Cádiz Cathedral and the ancient Roman Theatre, then unwind at La Caleta beach, nestled between two castles. Discover more of the best things to do in Cadiz here.
Don't forget to visit the Mercado Central de Abastos or try some of the best Spanish tapas dishes to sample the local cuisine.
For inspiration, take a look at our Patatas Bravas recipe or discover some of the Spanish vegetarian tapas you could try.
View the tours available in Cadiz here
Go rock-climbing near Tarifa
Parque Natural de Los Alcornocales is the ideal place to spend a morning rock-climbing in a fantastic area near Tarifa.
It is highly recommended to climb to El Pinacho as from there you will be able to get a panoramic view of Cádiz.
However, if you prefer enjoying easier trekking you should head up to Ruta de los Molinos, a path through which ranchers and milling craftsmen usually passed for centuries. – Check guided excursions here
It's one of the best outdoor activities in Cadiz province. You should also check our 3-day itinerary Cadiz town we wrote earlier in order to make the most of your time.
Taste the local red tuna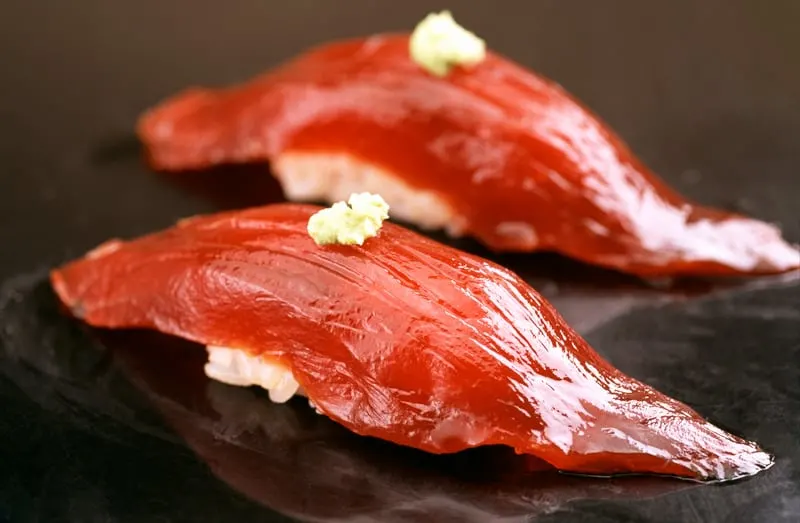 Red tuna has been fished in Tarifa for three thousand years and the city honors this kind of fish every year in summer.
Do not forget to check if the Ruta del Atún is being celebrated while you are in Tarifa, as some of the best restaurants in the city elaborate special dishes using this precious product for a limited period of time.
It's held during the tuna migration time when the swim from the Mediterranean to the Atlantic Ocean.
Best Hotels in Tarifa, Southern Spain
Considering the possible diversity of our dear reader's budget, we present below a selection of the best hotels in Tarifa, Spain.
If you want a dream stay do not hesitate to book a room at the Hotel & Spa La Residencia Puerto ****. If you prefer to save some money on your accommodation in Tarifa without sacrificing the comfort of being in the city centre, we recommend Hotel Punta Sur.
And if you prefer to adjust the budget and still enjoy excellent value for money, your best option for accomodation in Tarifa is the Beach Hotel Dos Mares.
One of the most special and exclusive hotels in Tarifa Beach is the Hotel & Spa La Residencia Puerto ****, which is located between the harbor and the historical district.
One of the best hotel features is its welcoming rooftop swimming pool, the Moroccan inspired spa, and its healthy and varied breakfast buffet. – Check rates & reviews here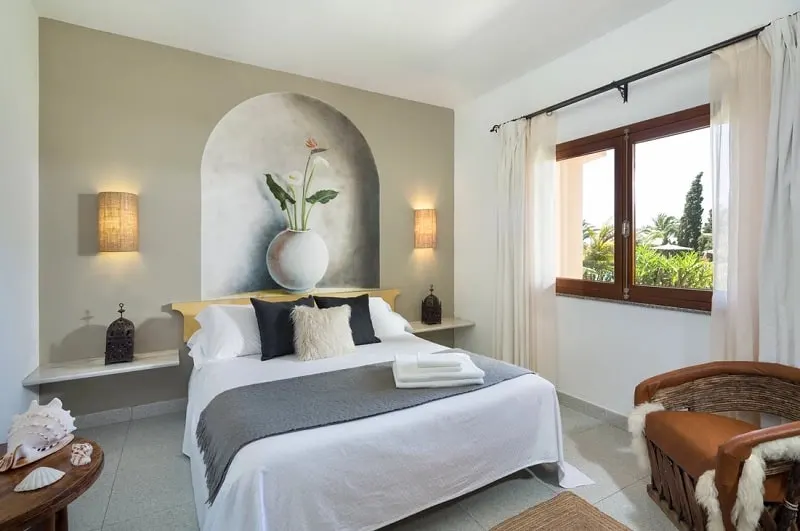 Hotel Punta Sur *** is outside the city center but just five minutes walking away from the beach. It is an elegant place to stay, as it is surrounded by wonderful gardens in which lots of weddings are celebrated.
Moreover, it is characterized by the privacy granted to its guests. Some of the most appealing aspects of this hotel are the gym area and the sauna. – Check rates & reviews here
Beach Hotel Dos Mares *** is a boutique hotel in Tarifa close to Los Lances beach, for this reason it is one of the favorite surf fans' places to stay.
One of the main attractions of Beach Hotel Dos Mares is the tasteful decoration of all the bedrooms. In addition, there you will find a huge swimming pool with a massage area, tennis and paddle courts, and a gym.
Moreover, the hotel offers you the possibility to take windsurf and kitesurf lessons and an equestrian center. – Check rates & reviews here
Getting Around Tarifa
One of the best possible ways to discover Tarifa is walking through its streets as it allows you to discover every hidden corner of the city.
However, from the bus station in Tarifa you will be able to take a bus that stops at the most relevant places, which may be useful if you are running out of time.
---
Map of Tarifa, Spain
---
A short FAQ about Things to do in Tarifa, Spain
What are fun things to do in Tarifa?
You could learn how to kitesurf, or even horse-riding since they are considered some of the most fun things to do in Tarifa, Spain.
What are things to do in Tarifa town?
You should wander in the Old Town of Tarifa and have a look at the cute shops.
What to do in Tarifa when it rains?
Have a dinner in Surla restaurant is a great idea when looking for things to do in Tarifa when it rains.
Is Tarifa walkable?
Yes, Tarifa is a small town, and most of its attractions, restaurants, and beaches are within walking distance. The old town in particular, is very pedestrian-friendly.
Can you swim in Tarifa?
Yes, you can swim in Tarifa. It has several beautiful beaches with clear waters. However, winds can be strong, making the sea conditions rough on some beaches. If you want to go swimming, pick your beach wisely.
---
---
Hola, I'm Paulina! Together with my team, we are passionate about Southern Spain. Here we share all you need to know for great times in Southern Spain with the best places to visit, stay and, of course, the best food to eat.
Let's dive in and explore Southern Spain's outdoors, food and culture con pasión!