A Guide to the best attractions in Estepona, Southern Spain: the perfect Estepona Itinerary
What was once a sleepy little fishing port back in the sixties, has developed into one of the most popular tourist destinations on the Costa del Sol: Estepona and one of the best places to visit in Andalucia.
Holidays in Estepona offer that little something for everyone – a fabulous choice of tapas bars and restaurants; long stretches of clean beaches on which to work up a tan; a rocking nightlife and, last but certainly not least, plenty of fun activities for the kiddos.
This resort town has its own special charm to it with its polka-dotted flowerpots and stunning murals to be admired all around the urban center.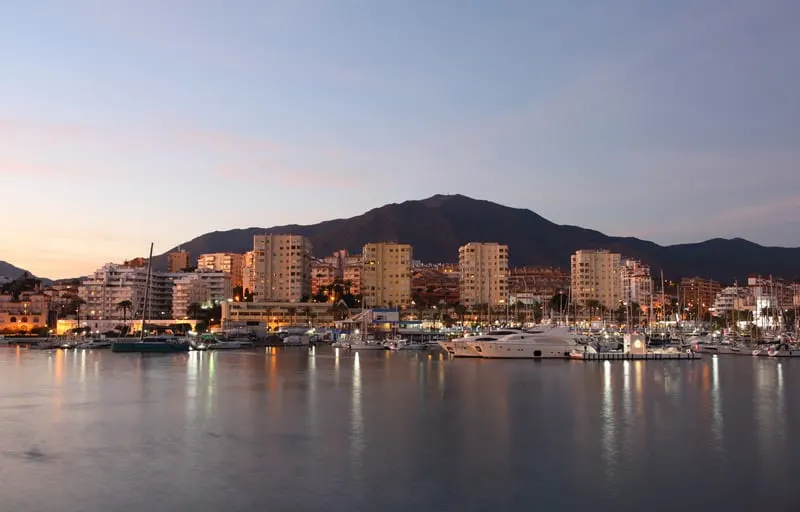 This blog is supported by you, dear reader. If you purchase through a link, we earn a small commission. As an Amazon Affiliate, we earn from qualifying purchases.
Top Things To Do In Estepona, Andalucia – Our Estepona Itinerary For 3 days
Visit the Estepona Orchid House
Have Coffee at Plaza de las Flores
Lunch at Tolone
Ruta de Los Murales
Hiking in Los Reales de Sierra Bermeja
Selwo Adventure Park
Useful Travel Information About Estepona
✈ Book cheap flights to Malaga Airport with Skyscanner

⚘ Avoid tourist traps and get the customizable "Andalucia Like a Local" itinerary. – Get it here

✔ Book tours in Estepona with GetYourGuide

➳ Find the best hotels in Estepona with Trivago

❖ Rent a car at the best rates with DiscoverCars

✎ Never leave without travel insurance! I get mine at HeyMondo. It is easy to set up, cheap and reliable.

$ Withdraw money without hidden fees and avoid exchange charges with TransferWise (Free Mastercard debit card to spend money abroad)
Day 1
Visit Estepona Orchid House
El Orquidario, the Orchid House in Estepona, is a striking presence in the middle of Estapona's historical center along the Calle Terraza and one of the best things to do in Estepona (one of the BEST cities in Southern Spain to visit).
The building itself is a surprising piece of modern architecture surrounded by the town's typical apartment blocks, making for an interesting juxtaposition between old and new.
Curvaceous and sporting a glass ceiling made up of three domes – the highest reaching 30m high, the lowest 6m – it is home to a 17m high waterfall, 5000 plants and 1.300 species of orchids from all over the world. There's also a vertical garden!
Entrance is free for children up to 4 years old, €1 for children from 4-11 years old and €3 for adults. Be sure to follow El Orquidario on Facebook to stay up to date on any events such as concerts or exhibitions that might be taking place there.
Opening times:
Monday: closed
Tuesday to Saturday: 09.00 to 14.00 hrs and 15:00 to 17.00 hrs
Sunday: 10.00 to 14.00 hrs
Stroll through Estepona Historic Center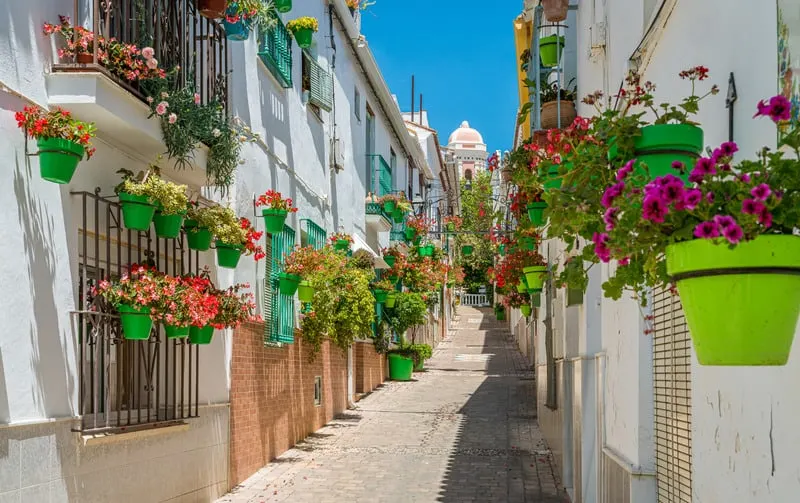 If you're looking to discover the best areas of Estepona, start by exploring the town's historic center, one of the most fun things to do in Estepona.
Truly the heart of Estepona, its casco Antiguo – historic center – is what brings many tourists here and makes many of them stay for a lot longer than they had anticipated.
There's just something special about these narrow streets and the traditional townhouses decked out with colorful flowers and coordinating pots.
Visit Casa de las Tejerinas
The Casa de las Tejerinas plays a big part in this town's history and is named after the two sisters – Carmen and Francisco Tejerinas – who left the house to Estepona, so it could be turned into a hospital in the 1940s – one of the much higher standards than the one around at the time.
These days, the sisters would be happy to know that their former residence is one of the top things to do in Estepona.
The building is used as an exhibition and lecture space, where local and national artists come to present their books, art and music.
Opening times:
Monday – Closed
Tuesday – Friday 9 AM – 8 PM
Saturday – 10AM – 2PM, 4PM – 8PM
Sunday – Closed
Marvel at Torre del Reloj
As is true for most towns, cities, and pueblos across Andalusia, Estepona is also home to Moorish monuments, the most important of which is the Torre del Reloj.
This clock tower is the only surviving part of the former Los Remedios church, originally built in 1473 and destroyed by the 1755 earthquake.
A neo-classic dome was added to the clock tower in the 18th century and now looks over the Plaza del Reloj, which is one of those idyllic little places you stumble upon on a leisurely evening walk.
This is where many festive events are celebrated, including New Year's Eve, when everyone gathers here to eat 12 grapes at each stroke of midnight.
Lunch at Las Gitanillas
For the perfect place to soak up the Estepona atmosphere and every last bit of salsa on your plate with all the pan in the breadbasket, the Las Gitanillas restaurant is the place to go.
Surrounded by the flowery whimsy of Calle Caridad, Las Gitanilla's blue-painted decor and typical Andalusian patio is inviting on any day of the year – as is its menu.
Known for its seafood paella and swordfish, it is one of the best restaurants in Estepona.
Opening Times: Every day, 12 AM – 12 PM
Have a coffee at Plaza de las Flores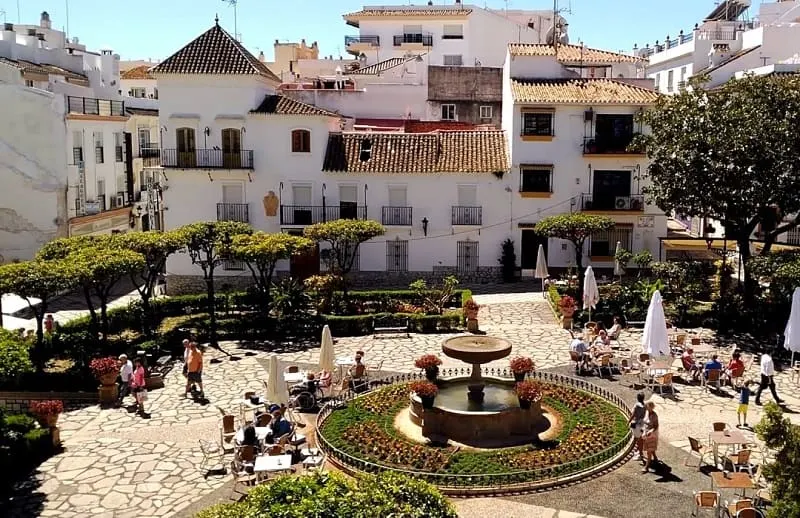 Plaza de las Flores is a classic meeting point for locals that never fails to bewitch tourists with its typically Andalusian charm. The Plaza is one of the top things to see in Estepona and can't be missed!
This is where you'll get to enjoy all the perks of the beloved Estepona vibe and café and tapas culture.
Visit the boutiques in the narrow side streets leading up to plaza de las Flores, then sit back with a delicious cup of coffee of your choice – and there are many here in Spain.
The weather in Estepona, Costa del Sol is fantastic throughout most months of the year, and this is a wonderful spot to enjoy it.
With plenty of trees for shade and your choice of hot spots in the sun, Plaza de las Flores will ignite the true holiday feeling.
Visit the Archeological Museum
Venus de Estepona – sounds mysterious, doesn't it? If you want to learn more about this clay figure that is estimated to be more than 5,000 years old, a visit to the Archaeological museum should be on your list of priorities.
It's one of the top Estepona attractions.
It can be found in the old part of the town, on the Plaza Blas Infantes. Known as "the old town hall", the Casa del Ajibe holds more than 400 pieces of Estepona's past, some artifacts of which date back more than 100.000 years.
And if you're looking for the best things to do in Estepona when it rains, the Venus de Estepona is one of your best options.
Opening times:
Tuesday to Sunday from 10.00 to 14.00 hrs
Guided Tour in Spanish 10.30 hrs and 12.00 hrs
Guided Tour in English 11.00 hrs
Explore Secret Ermita del Calvario
Parque del Calvario is the secret garden you would never expect to find along the road of the Avenida Andalusia.
The park is extremely well-kept with comfortable pathways leading all the way up to the Ermita del Calvario, a hermitage building that dates back to 1829.
After its destruction in the Civil War, it was rebuilt in 1936 and now features a spacious, open plaza leading up to it.
While the chapel is mostly kept locked, visitors can sneak a peek at the virgin through the iron bar gate.
Do a boat tour near Estepona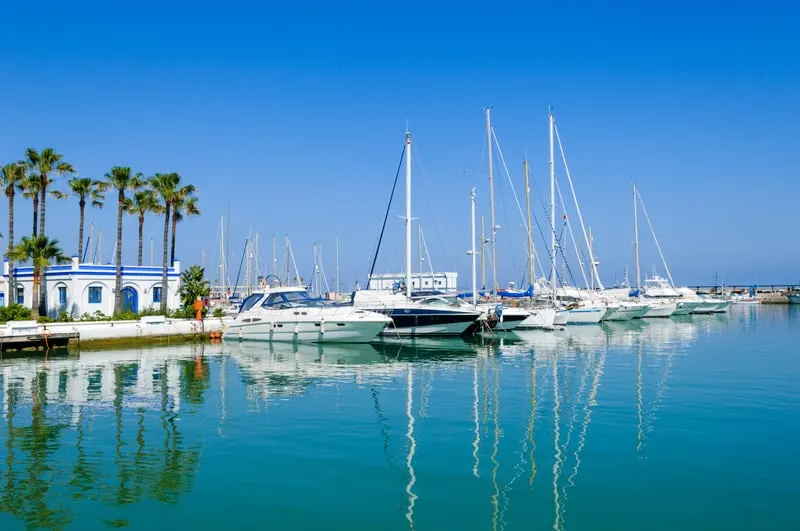 Just an hour's drive from Estepona, you will find Tarifa, also known as Andalusia's surfer's paradise.
Tarifa offers everything you could possibly want from aquatic daybreak: from kite-surfing lessons to paddle yoga and exciting boat trips. Check out our Tarifa itinerary for more insights.
One of the most exciting opportunities is brought to you by PescaTarifa and its Moby Dick Tours.
This boat tour will take you through the Strait of Gibraltar where you can observe dolphins and even whales in their natural habitat.
This is the perfect adventure to go on as a family or a group of friends.
At €200 for a two-hour trip, it is very affordable when split as a group and will guarantee a memorable, Instagram-worthy experience!
If you love water sports, then Estepona is your place. – Check boat tours in Estepona here
Enjoy tapas in Estepona
There are three things you can always count on in this town: the temperature in Estepona is perfect more than 300 days a year, there's always buen rollo (good vibes), and the tapas are delicious!
Casa del Rey: Delight on a great assortment of tapas at the Casa del Rey in Calle Rafael, a tiny side street just off Plaza de los Flores.
With its cozy indoor patio sporting a decorative mural of a tree, the restaurants' casual chic visuals will spur the appetite for seafood crepes, shared platters of Jamon Iberico, and other specialties.
El Toque: On the other side of town, close to the Puerto Deportivo (Estepona's harbor), you'll find the El Toque restaurant in the Calle Guadiaro.
Translated, "el toque" means "the touch" – and boy do they have that special touch when it comes to quality and beautifully prepared tapas.
From gourmet burgers to fish wraps, you can't go wrong with any of the choices on the menu.
Day 2
Visit Dolmenes de Coromínas (Archaeological Museum)
This underground museum chamber situated in Los Pedegrales is home to five original dolmen stones.
To this day, no one is completely certain why they were built or what purpose they served, though most archeologists believe they were funeral structures, i.e. tombs of some sort.
The Dolmenes de Coromínas is a great museum for children, as the wonderful setting of the Pedregales Park will invite you to linger. Admission is 4 euros for children and adults.
How to get there: By car, follow the Avenida Andalucia up towards the Poligono Industrial, if you're coming through the city, or take the motorway in the direction of Algeciras (not to the toll road!).
Both roads will lead you to a big roundabout next to the Poligono Industrial; from there, follow the signs to Los Pedregales. For bus tours, visit the local tourist center for offers.
Opening times: Tuesday – Sunday 9:30 – 14:00, English Tours: 11:30 (by appointment)
Enjoy the Ruta de los Murales (Mural Road)
All around Estepona town, you'll find yourself stopping to marvel at massive murals adorning the walls of apartment blocks and buildings.
In total, you can find sixty murals in Estepona, by following the Ruta de los Murales to ensure you see every one of them.
Painted by local artists such as Dadi Dreucol, and internationally renowned artists such as Vyacheslav Gunin, you will be exposed to a variety of captivating styles.
How to get there: Pick up an informational leaflet and map at the tourist information center and plan your route according to your day's itinerary.
Relax at Rada Beach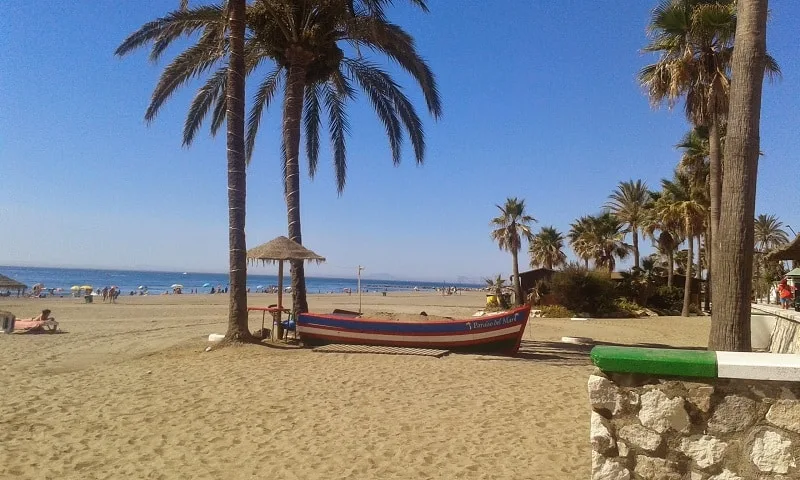 For a lazy beach day, head to Playa la Rada for a refreshing dip and siesta in the sun.
La Rada Beach is Estepona's main beach and stretches 2.5 km long from the town's entrance on Avenida España to Punta de la Plata. There are many sun loungers available, and the beach has the best accessibility for wheelchairs and strollers too.
How to get there: If you're coming from the direction Malaga, Playa la Rada is one of the best beaches near Malaga to visit. Take the first exit into Estepona then take the first exit off the roundabout at Carrefour for free parking.
If you're coming from the Cadiz direction, take the Poligono Industrial exit and follow the road down into town; follow the Avenida Juan Carlos and park in the underground garage Parking Paseo Maritimo or Parking Zapallito.
If you're more like a beach person, have a look at the best beach resorts near Seville.
Lunch at Tolone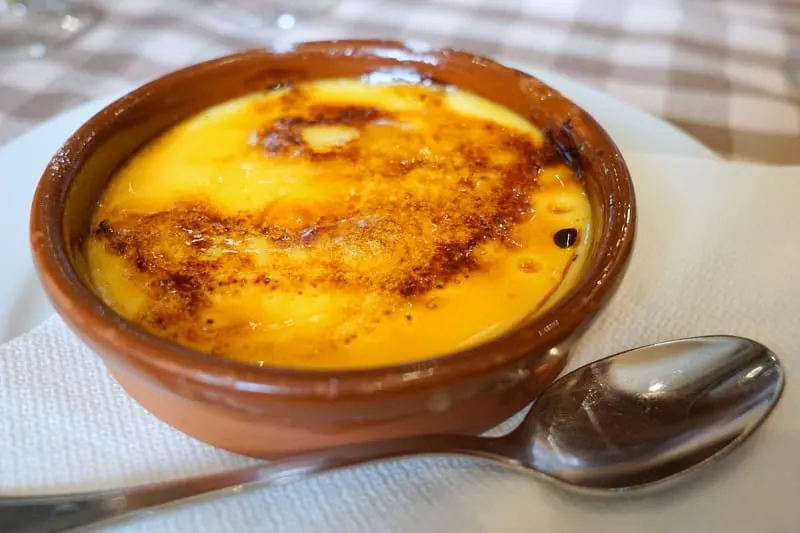 This is far from the typical Spanish tapas bars you expect tourists to flock to but the Tolone Bar in the Calle Real/Avenida España is a popular meeting point for locals and travelers alike.
Tolone offers the perfect fusion of light lunches, homemade and finger-licking-good desserts, and a massive smoothie menu ranging from sweet delights packed with Oreos and healthy energy boosters full of fresh fruit and veggies.
The bar itself is beautifully decorated in a bohemian, artistic style and the terrace offers views of the sea.
Hiking in Natural Park Los Reales de Sierra Bermeja
With breathtaking views over Estepona and beyond, wonderful fauna, and easy footpaths all around, you cannot miss out on a hike through the Los Reales de Sierra Bermeja natural park, one of the best hiking trails near Malaga.
Just an hour outside of Estepona, this is a beautiful mountainous and forest area (part of the 'red range' mountain range) that calms the senses and pleases the eyes.
How to get there: Unless you're extremely fit and brave biking up the Sierra Bermeja, the only way to get to this natural park is by car.
Follow the Avenida de Andalusia in the direction of Genalguacil (MA 557). Turn left at the Peñas Blancas sign about half an hour outside of Estepona, then left at the sign for Lose Reales.
Have fun in a water park near Estepona
If you're looking for something a little more exciting than the beach and want to enter the cool waters in an exhilarating fashion, head to Aquamijas water park in Mijas.
Just an hour's drive from Estepona in the direction Malaga, Aquamijas offers a full-day's worth of sliding and splashing fun for the whole family. Get your tickets online for great discounts!
How to get there: By car, follow the AP-7 and A-7 in direction Malaga; take the exit Fuengirola/Coín/Cambio de Sentido, then follow the Calle Virgen de Fátima to the Mijas Water Park.
Go Karting in Estepona
If your feet are starting to tire from walking along the Estepona seafront promenade, why not burn some rubber participating in adventure activities instead?
Head to Kart & Fun close to the Feria grounds and decide who's going to get the next round of drinks based on who wins the race.
With a track of more than 1160 meters, you'll be sure to get your adrenaline pumping go-karting in Estepona.
How to get there:
By car, follow the Avenida Juan Carlos in the direction highway, then head off straight from the roundabout, past the gas station; follow the signs to Kart & Fun. By bus, take the L1 to Parque Calvario and walk from there following the signs to Recinto Ferial.
It's one of the best outdoor activities in Estepona.
Opening times:
July/August – Monday to Friday, 10:00 – 22:00, Saturdays, 10:00 -23,00, Sundays and Bank Holidays, 10:00 – 22:00;
Winter – Monday to Friday, 11:00 – 21:00, Saturdays 10:00 – 22:00. Sundays and Bank Holidays, 10:00 – 21:00
Enjoy the sunset at Estepona Seafront Promenade
Catch the perfect sunset by kicking back with a cool Spanish drink in one of the many cafés or Chiringuitos along the Estepona seafront promenade. You'll also walk along the scenic Estepona marina.
On clear days, you will even be able to look beyond Gibraltar Rock and see the coast of Africa – the perfect holiday experience!
Have a Paella at Taberna Miguel, Estepona
For the best paella in town, enjoy an atmospheric night at Taberna Miguel in the Calle Caridad just on the corner of Plaza Ortiz – centrally located between the Tolone Bar and Las Gitanillas.
With eye-catching décor and scrumptious dishes made with traditional Spanish ingredients, Taberna Miguel is a real gem in Estepona's gastronomy.
This restaurant may be on the pricier side but the spectacular feast for both palate and eyes is way worth it.
Day 3
Spend the day in Selwo Aventura (Safari Park)
Being so close to Africa, the mood for a safari-style outing might arise – and you're in luck!
Just outside of Estepona, and conveniently close to the beloved Sonora Chiringuito, you'll find the Selwo Aventura park which offers an exciting safari experience for young and old.
Home to lions, elephants, and many other beautiful creatures, a trip through Selwo Aventura will bring you even closer to Africa.
The park also hosts some of the best walking trails near Estepona. Make sure to book your tickets in advance to avoid lines during high-season. – Check rates here
How to get there: From Estepona, head on to the A-7; after about ten minutes, take the Parque Selwo exit A-7 Cambio de Sentido and follow Avenida Parque Selwo to your destination. Parking is free. – Book tickets in advance here
Opening times: May, 10:00 – 18:00, June 10:00 – 19:00, July, 10:00 – 22:00
Go diving in Estepona
Whether you're an experienced diver or are finally ready to brave your first dive, Estepona is a great place to do so. Sign up for a course or a guided dive at the Estepona Dive Center and discover its aquatic world.
You will be supervised by a PADI professional and will be provided with all the necessary equipment for the perfect underwater experience. – Check diving tours here
Do a day trip to Gibraltar
If you want to hear a wild mix of Spanglish, meet cheeky monkeys and wind down the day with a traditional English pub dinner, then head to Gibraltar for the day.
A trip to Gibraltar is one of the best things to do near Estepona and should be a must-do on your 1 week Andalusia itinerary.
Park your car in La Linea and walk into Gibraltar to save time on traffic jams and parking – both of which can be a nightmare around here.
This quirky little town will make you feel as though you have discovered a mini Britain in the sun. Don't forget to take pictures with the famous Gibraltar apes, it's a must on any Gibraltar itinerary.
Make the most of your time and visit with a guided day tour. – Check guided tours to Gibraltar here
How to Get There: Gibraltar is just a 35-minute drive from Estepona – perfect if you've hired a car. There's also a bus route that takes 1 hour, and 24 minutes from Estepona Antigua.
You can also get to Gibraltar easily from Malaga.
If you are looking for a day trip from Estepona, have a look at our Cadiz itinerary.
Do a day trip to Nerja and Frigiliana
For picturesque beaches and a laid-back holiday vibe, head to Nerja and Frigiliana, two lovely little beach towns near one another.
Explore the famous caves in Nerja before lazing around one of its famous beaches for a few hours, then head to Frigiliana for a stroll around a town straight out of a fairy tale, with cobbled roads and whitewashed houses.
There are plenty of things to do in Nerja! – Check tour rates & reviews here
Go on a Day Trip to Marbella
Marbella is one of the most stunning places in Spain, and its distance from Estepona makes the city a perfect day trip destination.
Marbella is famous for its luxurious lifestyle and is a great place to spend a day exploring all this city offers.
You can start your day by visiting the old town – a beautiful collection of winding streets and historical buildings.
Here you will find wonderful examples of traditional Andalusian architecture as well as many shops that offer a variety of goods, from crafts to souvenirs.
After exploring the old town, take a stroll along Marbella's famous Puerto Banus, and grab a bite to eat at one of the many restaurants. And if you want to take it further, why not rent a boat and explore the coasts around Marbella?
How to Get There: You can take the L-79 bus from Estepona Andalucia, which takes approximately 46 minutes, or drive in 26 minutes. Check hire car prices and availability here.
Take Malaga Day Trip from Estepona
The Costa del Sol's capital city, Malaga, is a must for anyone looking to get lost in museums, an overwhelming choice of restaurants and tapas bars, and, of course, plenty of possibilities for shopping.
Visiting Malaga is one of the best places to visit near Estepona. If you're looking for a low cost day trip, there are also plenty of free things to do in Malaga.
It's only a one-hour drive from Malaga to Estepona, so you can plan as much or as little time into your day's itinerary in the city – but you should definitely consider visiting historic sites such as the 11th-century Alcazaba castle and the adjacent Roman Theatre. – Book guided tours from Estepona here.
If you're planning on staying for dinner in Malaga (or even later), find out the things to do in Malaga at night here.
For more information, have a look at our Malaga itinerary.
Dinner: Have a sardine espeto at the beach, Estepona
The Chiringuito El Madero on the Playa la Rada is famous for its sardine espetos.
Grilled on a skewer above a typical fisher's boat right outside the restaurant, you can watch as this delicious, Andalusian fish specialty is prepared for you.
Trying sardine espetos is one of the very best things to do in Estepona, Costa Del Sol.
El Madero serves food from 10:00 – 23:00 and has a large terrace with tables right on the beach as well.
Located right opposite the Plaza Ortiz and the entrance into Calle Real, you can go on to enjoy Estepona's nightlife after dinner.
Best Hotels in Estepona, Southern Spain
Some of the best hotels in Estepona, Spain are located just outside of town, with large leisure complexes including swimming pools, bars, and restaurants, and children's areas.
After a day exploring some of the best Estepona tourist attractions, settle down in the luxury of these hotels.
We have put together a list of the nicest hotels in Estepona to suit every budget!
If you want to be made to feel like absolute royalty, check yourself into the Anantara Villa Padierna Palace in Benahavis.
This is one of the most stunning villas in Estepona's surroundings and invites you to spend your holiday enjoying the nearby golf courses, and taking in the scenery by strolling along the properties' lake and Roman amphitheater after a day of sightseeing.
With spacious rooms and spa facilities, you are guaranteed a restful holiday experience. This is one of the best options when looking for luxury accommodation in Estepona. – Check rates & reviews here
The H10 Estepona Palace hotel located near the popular Playa del Cristo is a great choice for families as well as those looking to take full advantage of the nightlife.
Just a twenty-minute walk from the Puerto Deportivo, where you'll find all the best bars – including Louie Louie, famous for its live concerts – this hotel is ideally situated for a carefree holiday.
It's one of the prettiest hotels in Estepona old town.
It has all the amenities you could possibly desire for a comfortable stay – views of the Mediterranean, a Daisy Club for kids, and fantastic food. – Check rates & reviews here
Sabinillas, just 10 km outside of Estepona direction Cadiz, is a bustling little beach town famous for its Sunday market and the Baños Romanos – healing Sulphur baths in an idyllic, hidden location.
The Doña Luisa Hotel is on the first line of the beach and is the perfect base from which to explore Sabinillas, the port of Duquesa, Casares, and, of course, Estepona.
The hotel puts on exciting events for festivities such as the famous Noche de San Juan on the night of June 23rd to 24th and is known for its friendly staff and stylish simplicity. – Check rates & reviews here
If you're traveling to somewhere in Andalucia after Estepona, make sure you check out our guide to the best hotels in Andalucia.
How to get to Estepona
By flight: The nearest airport to Estepona is Malaga airport. From here you'll have direct bus transfers when traveling from Malaga to Estepona. – Book airport transfers here
By Bus: From Malaga airport, take the L79 to Estepona; it goes every two hours and up to seven times a day during the summer; it takes around 1hr and 50 mins, at €11,10 a ticket. – Buy tickets upfront here
By train: There are no train lines to Estepona; the nearest train station is in Fuengirola, about 20mins from Malaga's Plaza Mayor, 40mins from Estepona. – Book tickets here
How to get from Malaga to Estepona:
The best way to get from Malaga to Estepona is either by bus – see options above – or by car. By car, follow the AP-7 from Malaga and take exit 155 after about 50mins.
For better roads and less traffic, you can opt to take the tollway; prices range between €3,50 and €5,50 depending on the season.
How to get from Seville to Estepona:
By car, follow the E-15/AP-7 direction Sevilla for duration of 2hrs and 40mins; take the A-381 and E-5/AP-4 to Avenida de las Razas, then exit from E-5/A-4 to Sevilla; continue along the Paseo de las Delicias and Avenida de Menéndez Pelayo to reach the centre.
Alternatively, take the AVE City train from Malaga to Sevilla; the trip is around 2hrs, starting €24,65 depending on the season. – Book train tickets here
How to Get from Malaga to Estepona
By Car: Get on E-15/A-7/AP-7 from Av. Mercado and C/ José Luis Morales Marín for 6 minutes. Then follow the E-15/AP-7 to Av. Juan Carlos I for 18 minutes. Take exit 1070 A from E-15/AP-7. Finally, Follow Av. Juan Carlos I to C. Sierra Cazorla in Estepona for 4 minutes. Get your hire car here.
Alternatively, a bus runs from La Carolina, Marbella to Estepona with a duration of 51 minutes. Buy tickets upfront here
How to get from Cadiz to Estepona
Follow the scenic route along the E-15/AP-7 from Estepona's Avenida Juan Carlos I, then follow the A-7 and A-381 direction Cadiz.
After about an hour, take exit 24 from A-281. Then follow A-389 and A-2003 to the city center.
How to Get from Madrid to Estepona
The fastest way to get from Madrid to Estepona is to fly to Malaga and book an airport transfer from Malaga to Estepona. View flights here.
It takes a similar amount of time to get the train from Madrid to Malaga (2 hours, 26 minutes) and then catch the L-526 bus to Estepona. Get your bus tickets here and search for trains here.
Driving from Madrid to Estepona takes 6, hours, and 11 minutes and passes beautiful towns and cities along the way, including Jaen. Get your hire car here.
Where is Estepona?
So, where is Estepona, you ask? Conveniently located between Marbella – home to the rich and the famous – and Casares, one of the beautiful white villages in Spain, where wine is sold on many a local's doorsteps.
It's thus a great place to visit near Marbella!
While Marbella and Casares will make for great day visits, if you prefer to simply stay put that's just as well – there are so many great things to do in Estepona, and you certainly won't get bored.
If you consider visiting the neighboring town of Marbella, have a look at our Marbella itinerary.
Getting Around Estepona
Estepona is a relatively big town but if you're just going to be exploring the center, then walking or biking is the best option – this will give you time to take it all in.
If you're looking to head further out, towards the port, the mountains, or the Selwo Aventura area, you can do so by bus or car. A taxi to Sonora Beach in Selwo will cost you around €18.
Best Attractions in Estepona, Map
A short FAQ about Estepona, Spain
Is Estepona a good holiday destination?
Definitely! There is a variety of fun and interesting things that can be done in Estepona.
How to get from Malaga airport to Estepona?
From Malaga airport, take the L79 to Estepona; it goes every two hours and up to seven times a day during the summer; it takes around 1hr and 50 mins, at €11,10 a ticket.
Is there a train from Malaga to Estepona?
There are no train lines to Estepona; the nearest train station is in Fuengirola, about 20mins from Malaga's Plaza Mayor, 40mins from Estepona.
Is Estepona a party place?
No, Estepona is not a party place. It is an ideal destination for those looking for a relaxing beach holiday away from the hustle and bustle of busier resorts.
How long is the transfer from Malaga Airport to Estepona?
The drive from Malaga Airport to Estepona is 58 minutes. A shared transfer may take longer due to stopping at other destinations on the way.
Do you need a car in Estepona?

Having a car in Estepona can be helpful. It's a great way to explore the area, and many attractions are located outside of the city center. However, if you're planning on staying within the city, especially within the historic city center, it's better to walk.
How warm is Estepona in October?
Estepona has pleasant temperatures during October, with daily averages ranging from 23°C during the day to around 17°C at night.
Does Estepona have nice beaches?

Yes, Estepona is known for its beautiful beaches. There are many to choose from, with soft golden sand and stunning views of the Mediterranean Sea. From windsurfing on Galera beach to relaxing on Playa del Cristo, there's something for everyone.
---
---
Hola, I'm Paulina! Together with my team, we are passionate about Southern Spain. Here we share all you need to know for great times in Southern Spain with the best places to visit, stay and, of course, the best food to eat.
Let's dive in and explore Southern Spain's outdoors, food and culture con pasión!