A travel guide to the things to do in Malaga at night: the perfect Malaga Itinerary
Malaga is known for many things: its sandy beaches and cultural offerings; its fabulous selection of restaurants and tapas bars; the annual feria de Malaga, and, of course, its bustling nightlife.
Yes, you guessed it – a trip to this city isn't just about daytime fun, it's about all the amazing things to do in Malaga at night too!
Whether you're looking to go clubbing into the early morning hours or would much prefer an evening of cervezas and tapas at one of the many incredible bars and restaurants around, Malaga will not disappoint.
Whatever kind of trip you're on – a four-day stay or a quick one-nighter before you head deeper down South – we're here to inspire the best all-nighters Malaga has to offer. Read on for fun inspirations!
This post contains affiliate links. If you buy via them, I'll earn a small commission which helps me to keep this blog running. As an Amazon Associate I earn from qualifying purchases. All opinions are my own.
Top Things To Do in Malaga at Night
Liceo Club
Theatro Club Málaga
Los baños del Carmen
Clarence Jazz Club
Velvet Club Málaga
Antigua Casa de Guardia
Useful Travel Information About Malaga
✈ Book cheap flights to Malaga with Skyscanner

⚘ Avoid tourist traps and get the customizable "Andalucia Like a Local" itinerary. – Get it here

✔ Book tours in Malaga with GetYourGuide

➳ Find the best hotels in Malaga with TripAdvisor

❖ Rent a car with at the best rates with DiscoverCars

✎ Never leave without travel insurance! I got mine at SafetyWing. It is easy to set up, cheap and reliable.

$ Withdraw money without hidden fees and avoid exchange charges with TransferWise (Free Mastercard debit card to spend money abroad)
Where is Malaga?
Malaga is the heart of the Costa del Sol, one of the most popular holiday destinations in Spain. Due to its proximity to charming pueblos such as Frigiliana and beaches for all preferences.
From kitesurfing in Tarifa to suntan-lounging in Estepona – Malaga city is the perfect base to set up for an unforgettable holiday there are many things to do in Malaga at night.
How to get to Malaga
How to get from Madrid to Malaga:
Airlines such as Ryanair and Iberia often offer low-cost options if you are flying from Madrid or Barcelona to Malaga. The Mara Zambrano or Alameda train stops also allow you to take the train. – Check cheap flights here.
Here are your best travel options!
Bus: Catch a bus from the bus station in Madrid at nine in the morning and arrive in Malaga by three in the afternoon – just in time for a leisurely siesta on the beach! Tickets are available for as little as €14. – Buy bus tickets here.
Train: The AVE (which translates into bird) train, will have you flying into Malaga in just over two hours. Tickets cost around €73 depending on time and season. – Buy train tickets here.
How to get from Seville to Malaga:
Spending most of your holiday in Seville but don't want to leave without having checked out Malaga? Not to worry, Costa del Sol's public transport systems will get you there.
Bus: Catch a bus at the estación de autobuses at the Plaza de Armas en Sevilla; it takes just over three hours to get you to Malaga at just under €20 one way. – Acquire your bus ticket here.
Train: Hop on a train at the Santa Justa station at 15:30 and arrive in Malaga at 17:30; tickets start at €46.70. – Buy your train ticket here.
How to get from Cadiz to Malaga:
One of the best ways to get to Malaga from Cadiz is by renting a car and road-tripping – there are just so many cool stops along the way!
Bolonia, Tarifa, Estepona, to name but a few. If that's not within your budget or you want to take a break from driving, here are two alternatives.
Bus: Catch a bus to La Línea de la Concepción, and take a direct bus to Marbella from there. One more switch in Marbella will get you to Malaga. The total travel time is around four hours. – Buy bus tickets here.
Train: The train connections along the Costa del Sol aren't the greatest. To get from Cadiz to Malaga by train. You'll have to take the direct train to Cordoba (around 160km from Malaga), then head back in the opposite direction to Malaga.
This trip will take around five and a half hours with tickets starting at €39.49. – Aquire train tickets here.
Things To Do in Malaga at Night
The Retro Theatro Club Málaga
Ready for day one of the things to do in Malaga at night? With so many offerings it's hard to pick a place to start, so let's just jump right into one of the most unique club experiences in the city: Theatro Club Malaga.
The name already says it all: with its retro, theatre-esque decor, a variety of musical genres, and different theme nights throughout the week and weekends.
Theatro Club Malaga offers the perfect fusion of clubbing and catching a show – in other words, the perfect place for fun late-night activities.
Opening times:
Daily 09:00 PM – 02:00 AM
Late-night Shenanigans at Plaza Mitjana (Mitjana Square)
Ask any local for things to do on a Saturday night, and they'll most likely start with a drink at Plaza Mitjana.
For many years, this has been the central meeting point to kick off the weekend and late-night shenanigans, as this is where you'll find lots of bares de copas (bars serving drinks and little else).
You might even go as far as to say that Plaza Mitjana is to late twenty and thirty-somethings, what the botellon (street drinking) is to teens and young adults.
Visit La Malagueta
Looking for fun and free things to do in Malaga at night during summertime? Then you can't go wrong with a visit to La Malagueta.
This triangular district of Malaga has it all – culture in the form of the Centre Pompidou, open-air shopping opportunities at Muelle Uno and, of course, La Malagueta beach right there at your disposal for a quick dip day or night.
Opening times:
Muelle Uno: Daily, 10:00 AM – 10:00 PM
Dinner in Malaga
Once you've checked out all the shops at Muelle Uno, you might ask yourself where to eat in Malaga like a local.
Dinner at Toro guarantees an authentically delicious experience.
Kick back with a special tasting menu or dig into your choice of flavorful tapas whilst looking out onto the sea or people-watching. Your choice.
Enjoy a Night out with Friends at Plaza Uncibay
For typical things to do in Malaga at night, you can never go wrong with starting at one of the many plazas where people typically gather in cafes and bars or simply stand around in a group of friends drinking whatever they brought from home.
Plaza Uncibay in Malaga's Centro Historico is always a great starting point for your night out. Home to mythological sculptures Rapto de las sabinas and Muerte de Acteón, this plaza has a unique vibe.
Dance the Night Away at Sala Gold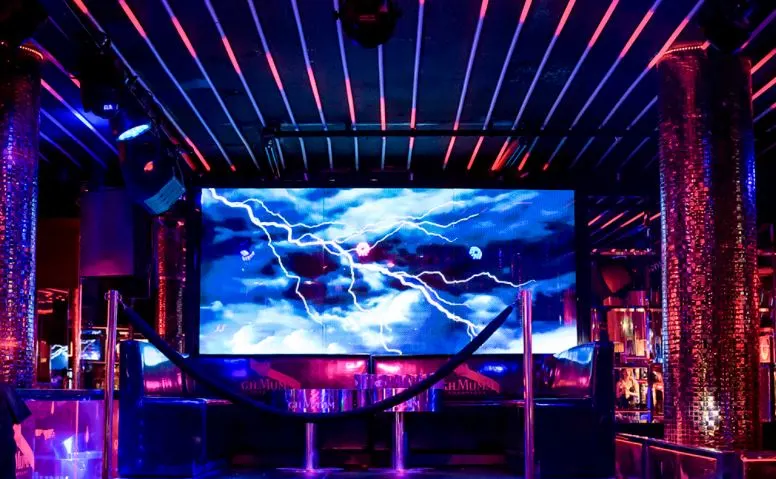 One of the best things to do late at night with friends when out and about in Malaga? Dance the night away at Sala Gold!
This glamorous club guarantees beats that get everyone moving and grooving, an enticing cocktail selection, great entertainment, and a fabulous night of fun with your crew.
Opening times:
Thursday – Sunday, 10:30 PM – 6 AM;
Closed Monday, Tuesday, Wednesday
The Famous El Pimpi Restaurant
Fancy a meal in a restaurant that forms an important part of Malaga's cultural history? Then a visit to El Pimpi is a must. Established in 1971 as a bodega, El Pimpi has grown into one of the most beloved restaurants and meeting points for cultural gatherings in Malaga.
Having been featured in the mini-series "Young Picasso" and the film, "Road of the English" – directed by Malaga's very own, Antonio Banderas – it continues to attract creatives from all over the world and all walks of life.
Opening times:
Monday – Friday, 12:00 AM – 12:00 PM,
Wednesday 12:00 PM – 10:30 PM
Delicious Tapas at La Guarida
Looking for things to do on a Friday night? How about you start with a scrumptious selection of tapas at La Guarida, a twenty-minute walk from Jardines Picasso.
With a spacious outdoor terrace and a varied selection of tapas ranging from homemade croquetas to montaditos with a choice of creative toppings, you will have found the right place to fuel up for all the night activities you have planned for later on.
Opening times:
Tuesday – Friday, 07:30 PM – 12:00 AM
Saturday & Sunday, 12:00 PM – 04:00 PM, 07:30 PM – 12:00 AM
Closed on Mondays
Enjoy Tapas in Malaga
Can't get your fill of tapas? We don't blame you – after all, these small but oh-so-delicious portions of authentic Andalusian dishes are one of Malaga's main attractions.
So, once you're ready for your next dose of Spanish chicken croquettes or salpicón de marisco, head to El Tapeo de Cervantes, a rustic little tavern just a one-minute walk from the famous Teatro Cervantes.
If, however, you are readying yourself for all the things to do in Malaga at night at Plaza Uncibay, grab yourself a table at Casa Lola, where the jibia en salsa de almendras is as good as this restaurant's vibe.
In case you want to have the full tapas experience and enjoy what Malaga has to offer regarding tapas, you can try a tapas guided tour.
Book your private city tour with tapas, so you won't miss anything from the Andalusian cuisine.
An Amazing Sunset from Los Baños del Carmen
Los baños del Carmen is named after a spa where the upper-class people of Malaga used to treat themselves to the ultimate wellness experience back in the early nineteen-hundreds.
These days Los baños del Carmen is known as one of the area's most popular beaches from which to catch the most spectacular sunset.
It is also famous for the restaurant, Terrazas El Balneario, where you can always catch local tunes during weekend summer nights.
As far as things to do at the beach go, Los baños del Carmen has you covered on all sources of entertainment: a midnight swim, live music, and delicious food – what more could you want?
Good Quality Music at Clarence Jazz Club
Are you in a sultry kind of mood, yearning to spend your evening listening to the kind of music that reaches your heart and soul with sexy sax notes and the deep bass of the cello?
Then one of the best things to do in Malaga at night is to hit a jazz bar – the Clarence Jazz Club to be exact.
Located in Torremolinos, a bustling beach town just twenty minutes outside of Malaga, the Clarence Jazz Club offers the best jazz acts from the Costa del Sol and beyond in an incredible environment.
Dinner in Malaga Restaurant
For a typical Malaga restaurant, from which you are guaranteed to leave satisfied after a traditional dinner, make your way to Palocortado.
With a stylish, open-plan kitchen, and a varied menu that includes almejas al ajillo and surprising oyster dishes, your palette will be left delighted. Not feeling fishy and much more in the mood for a rice dish?
Then go arrozeando (a wordplay meaning, eat rice). Arrozeando is located in Pedregalejo and specialized in – you guessed it! – rice dishes. And not just your standard paella either!
Hit the Dance Floor at Liceo Club
Need inspiration for more fun night activities? Then it's time to hit the best discoteca in the city – the Liceo Club!
Here you'll get your fix of live entertainment, all the time you want to bust a move on the ample dancefloor, and, of course, a dizzying drink and cocktail assortment that will help you let your hair down.
Opening hours:
Friday and Saturday, 00:00 AM – 06:00 AM
Malaga: 3-Hour Tapas Tour and Flamenco Show
When visiting Malaga, there are two absolute musts: eating your heart out on tapas and catching a Flamenco show.
With the three-hour Get Your Guide tour, you'll get to do both – another fantastic outing to add to your "things to do at night in Malaga" itinerary.
Book your tickets now and start polishing your Flamenco shoes – you're going to want to stomp along to this beautiful genre of music and style of dance.
Travel Back in Time at Antigua Casa de Guardia
For one of the more classic things to do at night, a dining experience at the Antigua Casa de Guardia must form part of your itinerary.
Stepping into this tavern is like walking into a time machine; its decor takes you back into the late eighteen-hundreds when it was first established, whereas its selection of dishes and wines offers the perfect fusion of past and present.
Opening times:
Daily, 10:30 AM – 10:00 PM,
Sunday 10:30 AM – 03:00 PM
See a Gig at Velvet Club Málaga
No matter where you are in the world, what is one of the top things to do late at night? Go see a gig, of course!
In Malaga, the place to do so is at the Velvet Club located in the Calle Comedias, just around the corner from Plaza del Teatro.
Whether you're craving a bit of stoner rock a la The 59 Sound or the raw flamenco-infused rock numbers performed by Adormidera, you'll always find the right musical fix at the Velvet Club.
Opening times:
Friday & Saturday, 11:00 PM – 04:00 AM,
Thursday 11:00 PM – 03:00 AM
Things To Do in Malaga at Night
Málaga's nights begin at 10 p.m. with tapas, beer, and shots in the traditional Andalusian style. After that, people move from one terrace to another, drinking beer and cocktails, before heading to the clubs, which open at 1 am. In Málaga, a good night is all about the movement of the body.
Best Hotels in Malaga, Southern Spain
For the best Malaga hotels, look no further – we've compiled a list of the most popular accommodations for every budget.
Every holiday starts with finding the perfect place to stay, and we want to ensure you find just the right pick for you.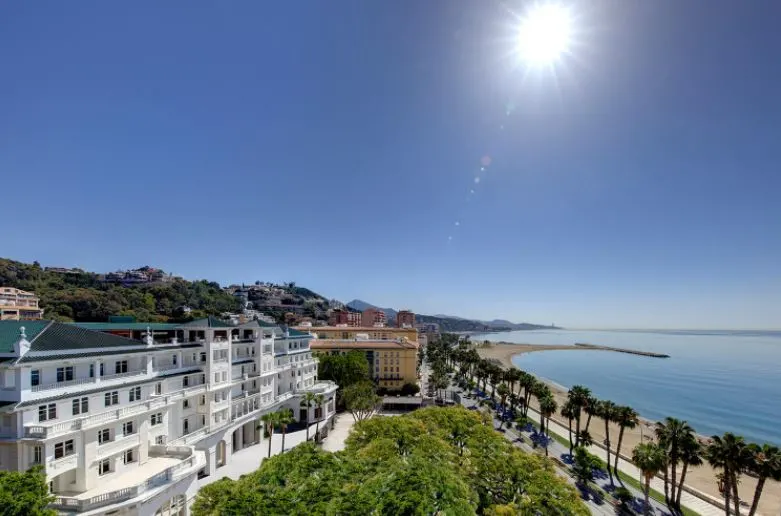 You spend so much time caring for everything and everyone at home, it's time to treat yourself to the ultimate pampering experience at the Gran Hotel Miramar in Malaga.
You deserve this kind of luxury during your stay. Featuring its very own spa and elegantly decorated rooms, you are going to come back from this holiday fully rested.
Rates and reviews can be found here.
This boutique hotel with its Andalusian patio and a terrace overlooking the city sets the tone for all the modernly unique touches Malaga has to offer.
The Room Mate Valeria is more than just a crash-pad – with the wonderfully designed public spaces it invites you to linger after your day of exploring the Costa del Sol.
Take a look at prices and reviews here.
If you've got kids under the age of eight at home, no one's going to blame you for booking yourself into an adults-only accommodation, such as the Hotel Brö.
On the contrary, those in the know will applaud this move! Enjoy the peace and quiet of the hotel's green areas, the pool, and the common area and take this opportunity to relax and recharge in the heart of Malaga.
Check rates and reviews here.
Getting Around Malaga
If you're looking for things to do in Malaga at night and you don't feel comfortable walking – due to high-heeled shoes or otherwise – you can easily get around by taxi or the public bus.
Hop-on/hop-off buses are usually a wonderful way to see a new city, and you won't miss out on all the little hidden gems tucked away in narrow side streets this way. – Book here Hop-On-Hop-Off Bus Tickets
There is a metro, however, it is the Costa del Sol's insider joke – it's been in the works for around ten years and still doesn't cover all areas of Malaga.
Another fun way of getting around Malaga is by renting a bike from Malaga Bici. There are lots of designated bike lanes around the city, and nothing beats catching the sunrise or sunset whilst biking along the beach promenade.
Map – Things to do in Malaga at Night
---
Short FAQ about the Things to do in Malaga at Night
---
Is Malaga good for nightlife?
Malaga has a great nightlife with many fun things to do at night. From bar hopping to clubbing, midnight dips at the beach, or the full-on feria experience.
Which is the best area to stay in Malaga?
There are lots of great areas to stay in Malaga, such as the Soho district close to the CAC Museum or the Ciudad Jardín. It is the ideal starting point if you're planning to go hiking or biking through the nearby pine forests, where picture-worthy lookout points await.
Is Malaga really touristy?
During the height of the summer season, it can get rather touristy. The Holy Week of semana santa during Easter also attracts its fair share of visitors from around the world. If you're looking to avoid the touristy crowds, the fall and early spring season is a good time to visit.
---
---
Hola, I'm Paulina! Together with my team, we are passionate about Southern Spain. Here we share all you need to know for great times in Southern Spain with the best places to visit, stay and, of course, the best food to eat.
Let's dive in and explore Southern Spain's outdoors, food and culture con pasión!